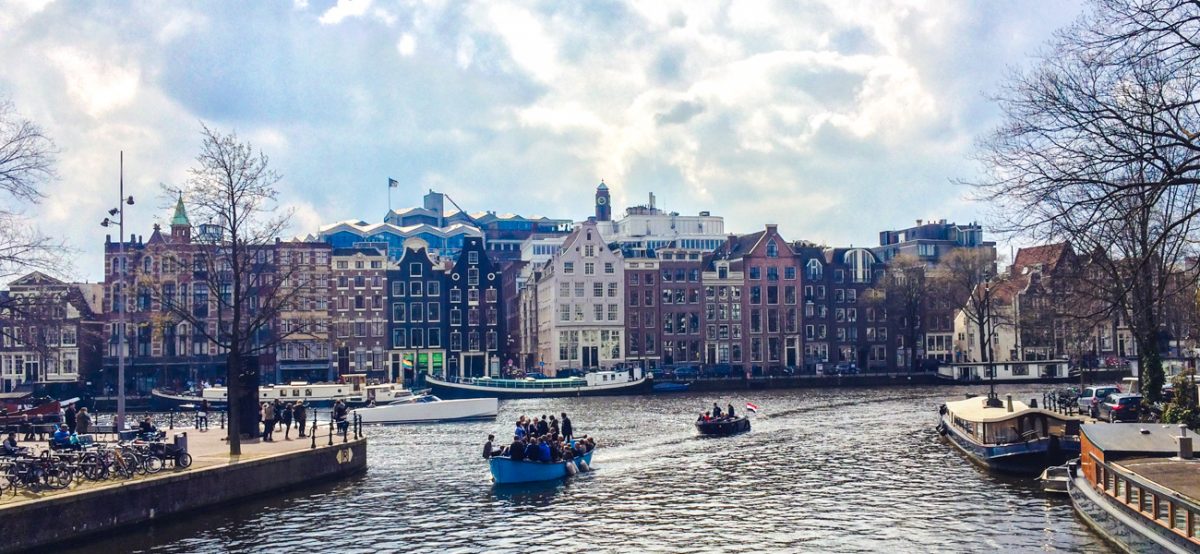 This post may contain affiliate links. I receive a small commission at no cost to you when you make a purchase using my link.
I am writing this post emotionally drained and tired as I leave the Schiphol airport after what was supposed to be a short weekend in Amsterdam.
All two days I had in Amsterdam were spent walking the endless labyrinths of crooked houses, canals and small bridges linking them. Cannot remember when was the last time I walked that much, but everything is situated so close by that there is no point in taking on the public transportation.
If you go to cities like Amsterdam, most of it's excitement is about having fun partying. Therefore, taking on Amsterdam solo was not much fun for me.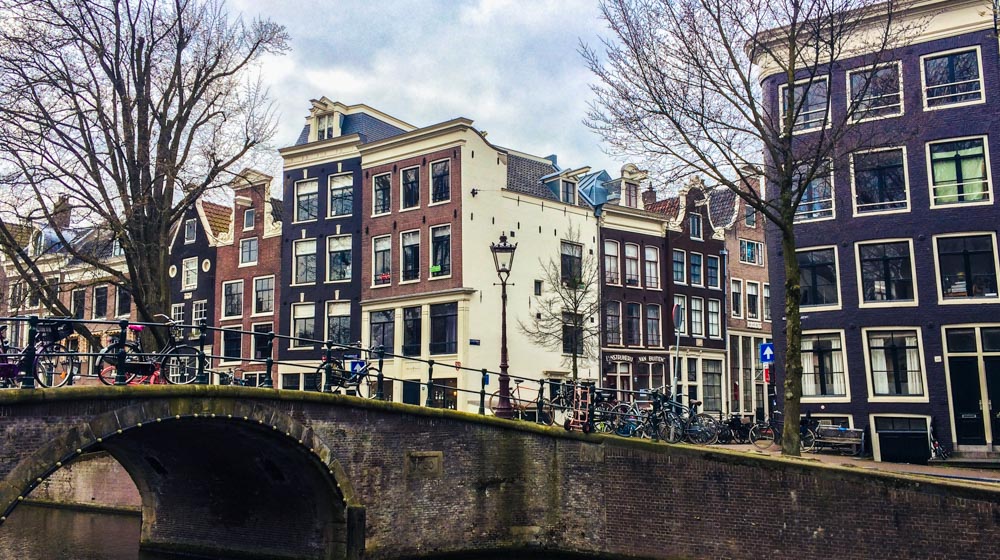 I was supposed to feel excited, and impressed by the city, but most of the time I ended up feeling overwhelmed and annoyed. It is not even summer yet, but tiny streets of Amsterdam are already overflown by tourists from all over the place. Giggling groups of young boys in the red light district, stoned youth and American families, all mixed with never ending flows of cyclists, who either don't follow any apparent rules for cycling or are all tourists simply not knowing that there are rules. And all of this would spread out for a second to let a modern city tram pass through what seemed to be a walking street. In all of this, I was supposed to enjoy the city. It didn't quite work for me, probably because I was exploring Amsterdam solo.
On the other hand, further away from the city center I could breath with ease in some of the beautiful green parks and areas on Voldenpark and nearby museum areas. Fortunately, there are plenty of free things to do in Amsterdam.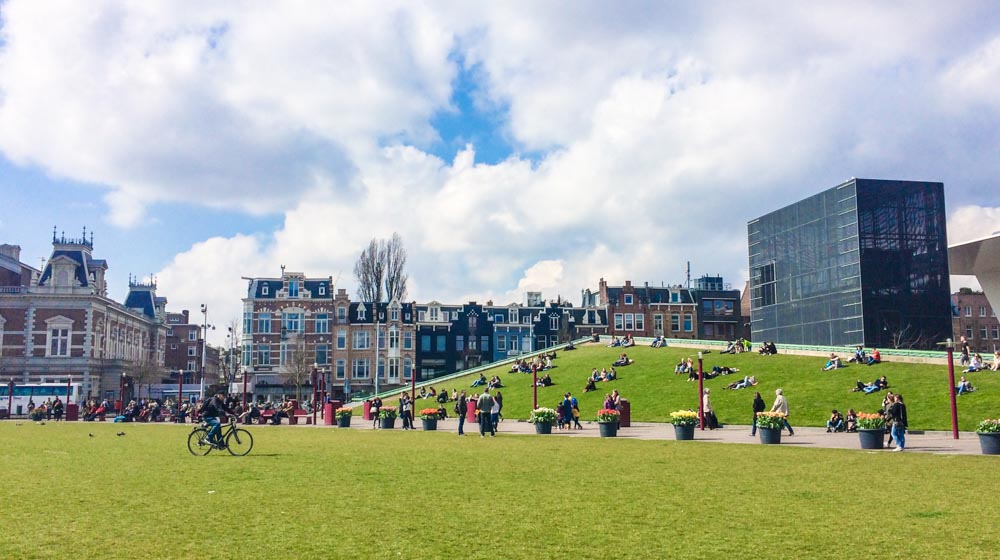 The area near Vondelpark is a museum quarter with Van Gogh museum, Stedelijk museum of modern and contemporary art and Rijksmuseum of Dutch arts and history all situated right next to one another making them easy to visit.
Attending Van Gogh museum at 9:30 in the morning was a good idea, since it opens at 9:00 and there are still not a lot of people. Impressive collection of less famous works of the artist are available in Amsterdam together with his masterpiece drawing of Sunflowers. I learned about the life and struggle story of Van Gogh through his paintings and their progression over time.
Enjoying Amsterdam can be found in simple city walk and sitting by the canal having your meal. City has water everywhere and if you find the right spot by the canal you can just enjoy the views impressed by how unconventionally the city has been built making one wonder what prompted the architects to go for the tall slim look of the building that always seem to almost lean towards the street. The charm of Amsterdam is hidden in it's endless rows of these houses that catch your imagination and make you think you're in some sort of sketched anime.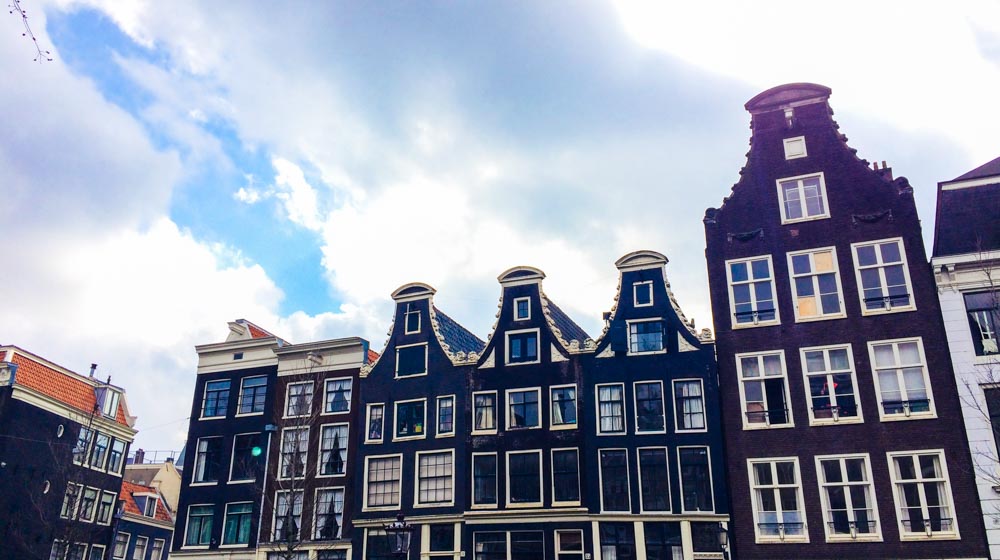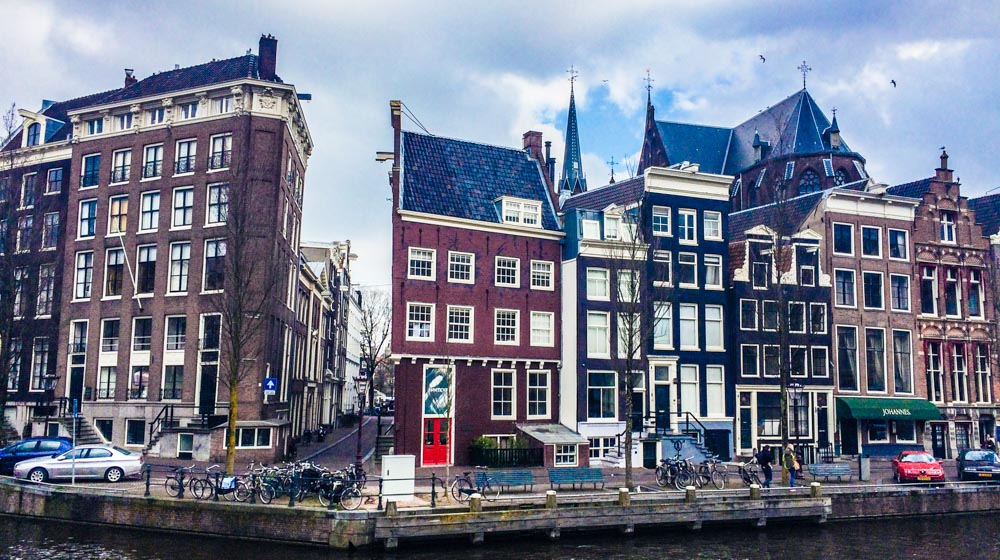 Where to stay in Amsterdam?
Finding a good hostel in Amsterdam isn't easy. They are expensive, busy and get booked pretty quickly. I was lucky to get a place in a dorm room of one of the good located hostels: Stayokay Vondelpark. I liked the location because it is close to the museum area and allows you to go there early in the morning. City center is still only 20 minutes walk away. The delighter of stay in Stayokay is the inclusive breakfast buffet and possible room upgrade if you are lucky (at least  I was). Plus, an extremely good location right next to the museum quarter.
I am aiming to return to Amsterdam soon with a group of friends to enjoy this absolutely tolerant and all-allowing city to its fullest. And then, hang on Amsterdam!!!
Like It? Pin It!
---
Have you been to Amsterdam already? Any recommendations on what I should do when I'm there next time?