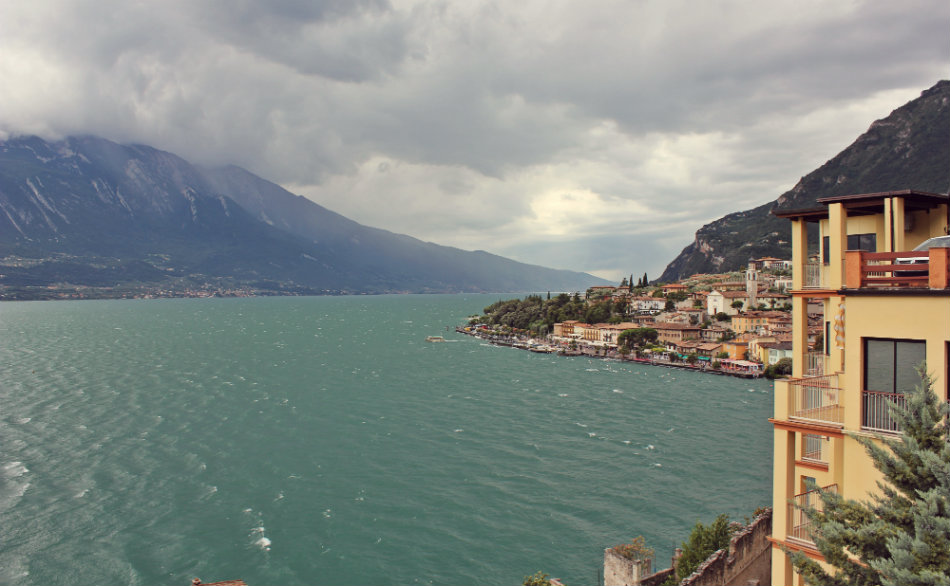 This post may contain affiliate links. I receive a small commission at no cost to you when you make a purchase using my link.
Italy is the country of amazing food, dirty side-roads, many tourists and people with attitude. But it is a 'must visit' country, due to its natural beauty, its amazing architecture and worldwide historical influence. If you're planning to go, make sure you check out a few of the most popular Italy tours.
After our alarming experience driving in Austrian Alps, and not being sure about if our car can handle more of high alpine roads, we decided to totally cancel all of our plans in Switzerland, which included a lot of those. This meant that we are going to start our travel in Italy couple of days earlier than expected, taking a different route than planned. That's why I called this post "Improvising Italy" because half of the travel arrangements in this country we had to figure out on the spot.
We crossed the border in North-East Italy, driving in near the city Bolzano. Our first stop is Riva Del Garda which lies on the most Northern point of the largest lake in Italy – Lake di Garda.
RIVA DEL GARDA
Since now all our plans were out the window, we needed to find a new place to stay, which we did on the arrival. There are quite a few camp spots in Riva Del Garda, but since it was a peak of the tourist season – July – everything was pretty much packed. Therefore, it took us couple of hours to find a place to settle down.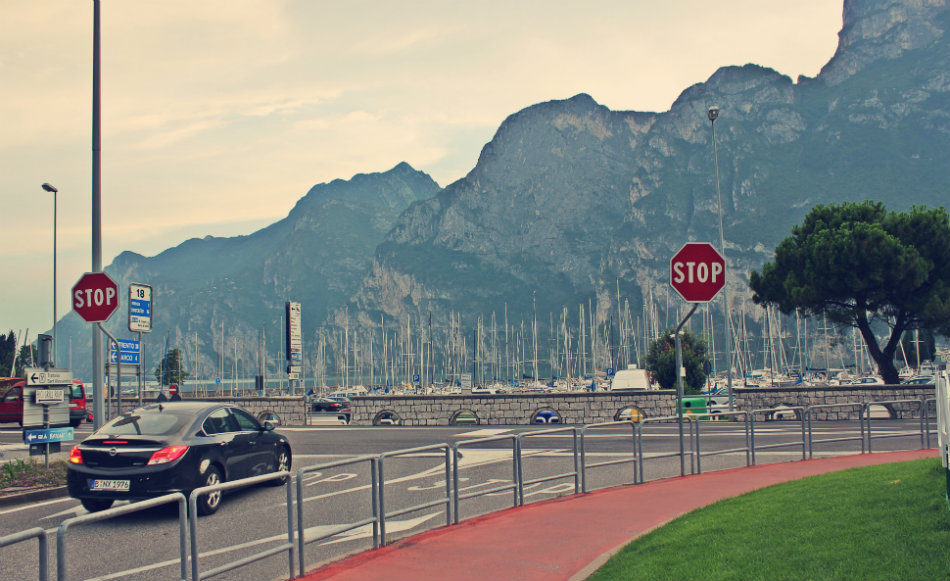 We find a campsite that is affordable and can fit a car and two tents (50EUR for everything per night). The camping site by itself is not very impressive, as it just looks like a small backyard of the house with a lot of asphalt and a little bit of grass, however, the facilities, including clean toilet,  shower and the internet, were very good.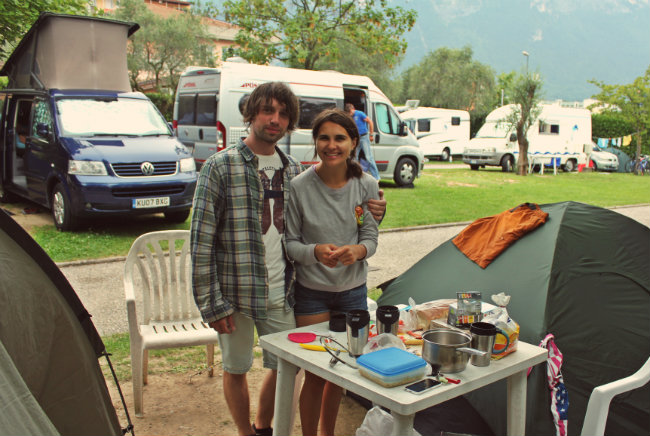 The view of the biggest lake in Italy that is backed up by the tall mountains is really breathtaking.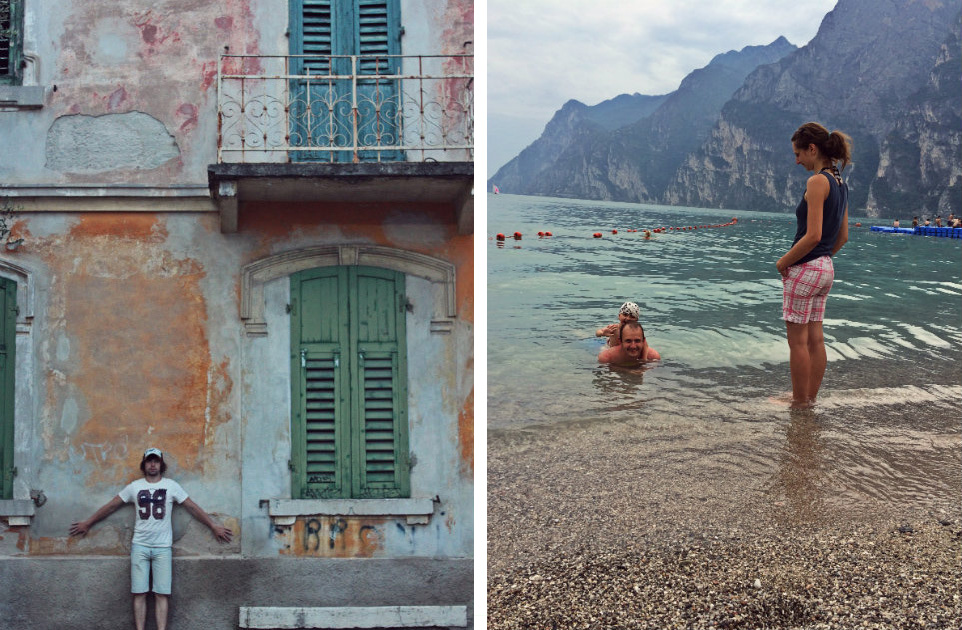 We stopped in Riva Del Garda for only one day and after taking a dip in a cold lake, we spent the rest of the evening walking around the town.
Lake Garda is also home to a spectacular Scaliger castle straight out of fairy-tale.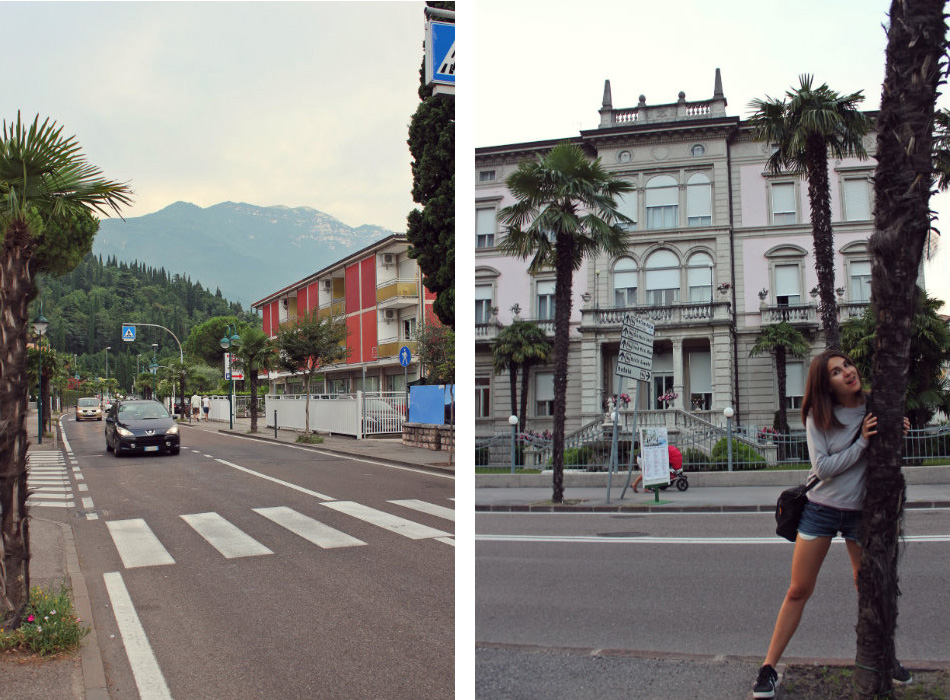 Next day we hit the road again heading towards the western part of Northern Italy, as we wanted to see the famous Camogli village.
Driving through Italy was both a pleasure and a challenge: first, because of amazing views of mountains and ocean and second because of extremely hilly and often narrow roads and yeah, crazy traffic, including a lot of motorbikes.
GENOA
In order to get to Camogli we had to drive through Genoa, which is a big port city in Italy. Driving through it was more of a necessity than a plan, but still, being a big city we expected it to be much more spectacular than it turned out to be.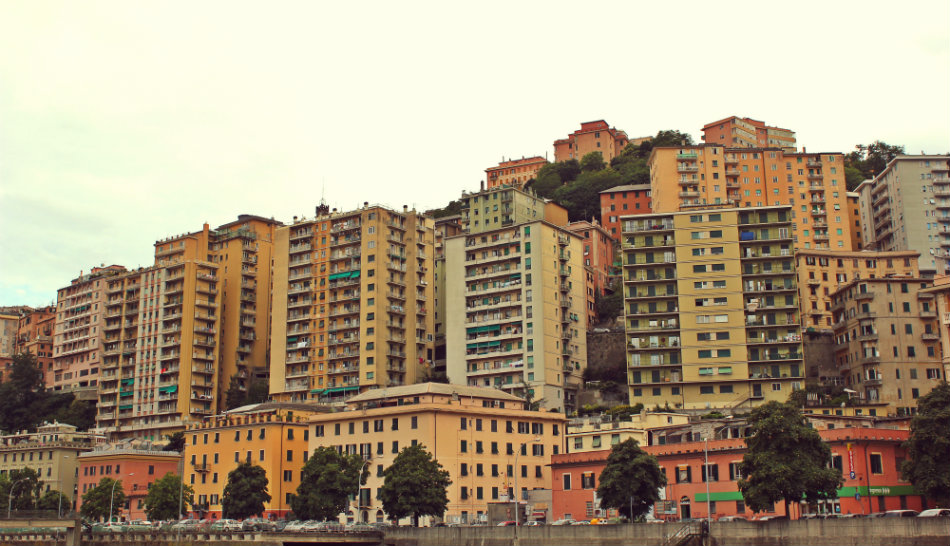 After chilling in beautiful Riva Del Garda, Genoa appeared as a big contrast of a busy working class vibe. The streets are full with cars and motorbicycles and I suspect that not many of those are tourists.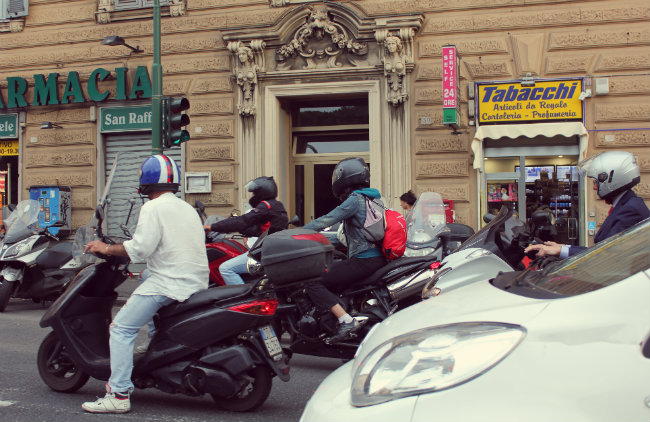 It left an impression on me as a place occupied with heavy air and real life problems, as apposed to beach, sun and cocktails that you would expect to see in Italy. We decided not to make any stops in Genoa and drive through to Camogli right away.
Since the way from Genoa to Camogli lies on the coast line, we had some pretty amazing views opening right in front of us. And that's how our road trip through Italy began.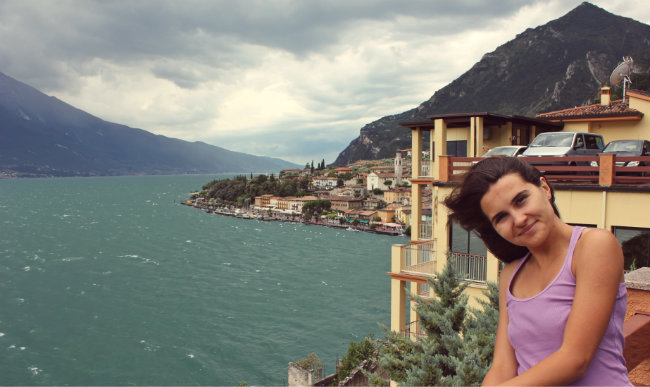 Next to come : Camogli, famous fishing village and a tourist haven of Italy.