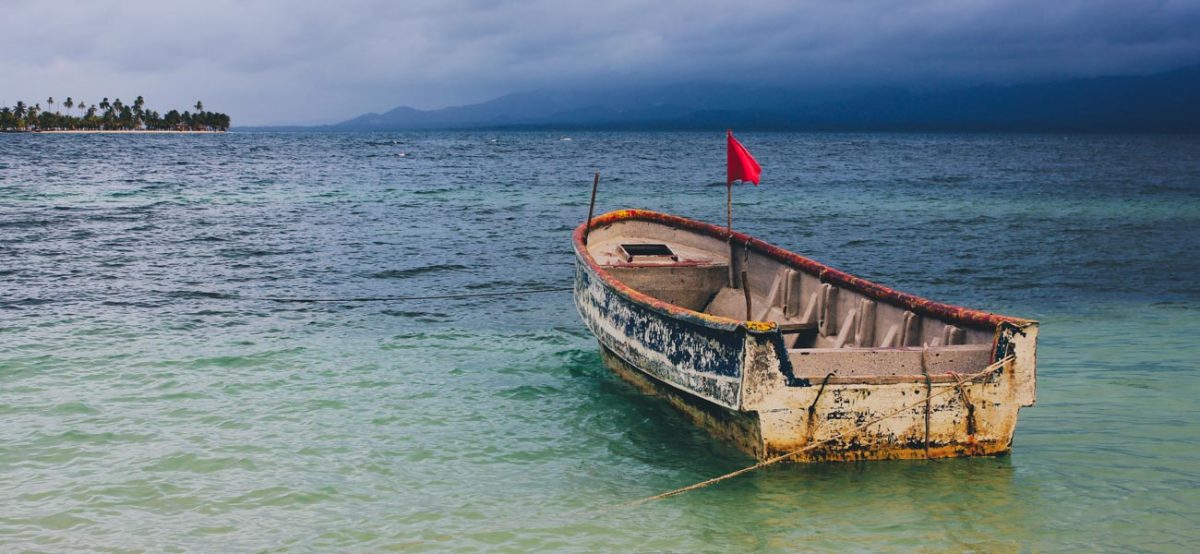 This post may contain affiliate links. I receive a small commission at no cost to you when you make a purchase using my link.
Oh, where do I begin my tale of the life-changing experience that San Blas islands tour granted me with?
You have probably seen those desktop background pictures showing a 'paradise-on-earth' beautiful places where everyone wants to end up at some point in their life. Well, San Blas Panama, islands spreading across the Caribbean Sea, is exactly one of such places.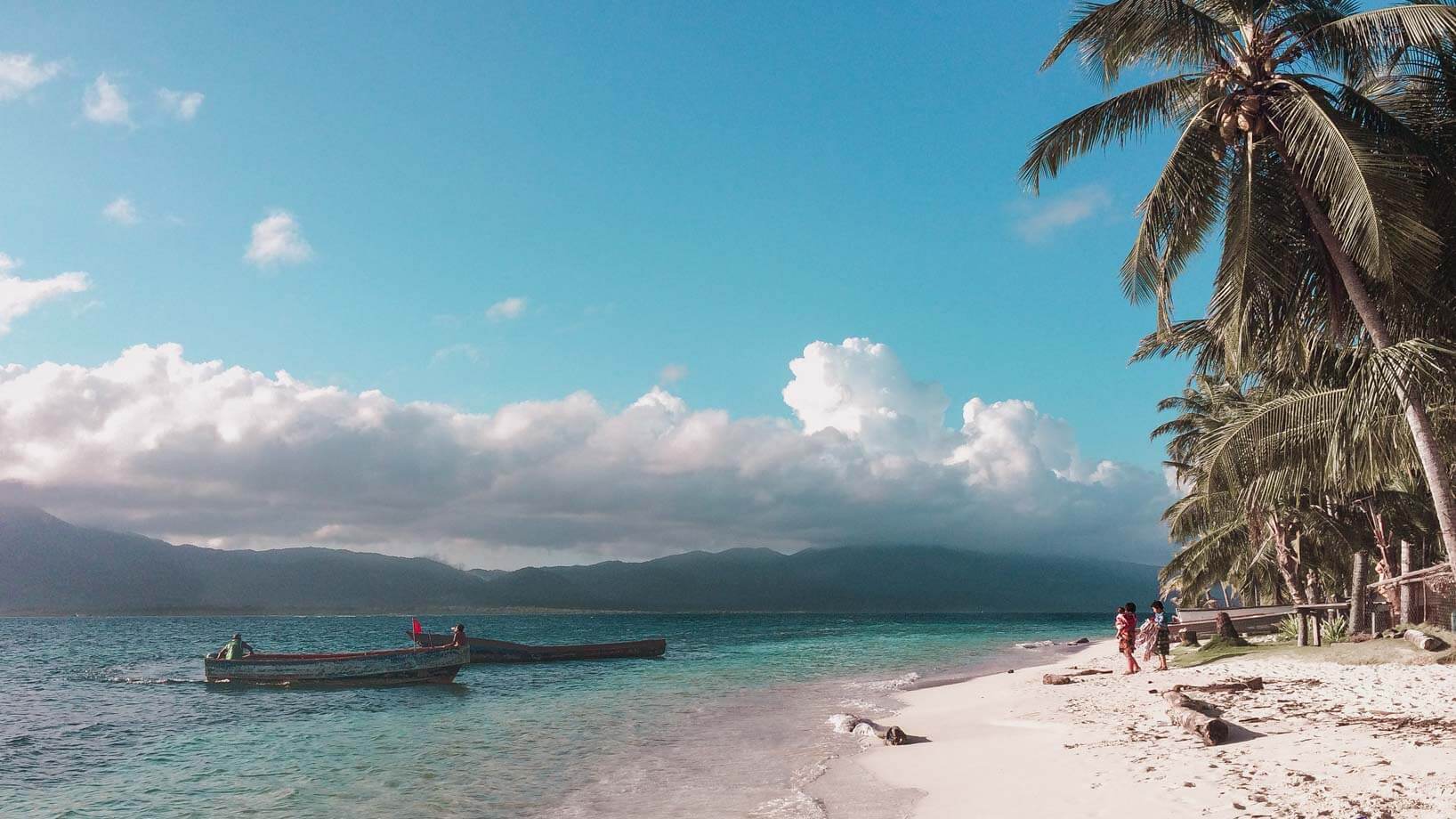 A trip to San Blas, Panama actually inspired me to start this travel blog, which you are reading now. It was the combination of unique experience, interaction with indigenous people, disconnect from electronics, and simple island life that made me see traveling in a completely different light, a more humble one, more sustainably aware and more mindful of local people and their struggles.
Where are San Blas islands situated?
San Blas island archipelago consists of 365 islands stretching North-East from the capital Panama city in the Caribbean Sea. San Blas islands belong to the protected territory known as Kuna Yala, an autonomous district inhabited and ruled by the indigenous population, the Kuna people. The whole magic of San Blas islands in Panama lies not only in the turquoise waters, white-sand beaches, and palm trees but in its authenticity and culture that survived conquistadors and forceful adaptation of Hispanic culture.
In order to get to San Blas islands, you need to cross the border controlled by Kuna people, who allow you in as long as you are hosted by them. It is not easy to book the San Blas islands hotel or lodge via the Internet, you can do it already on the spot through Panama City. This is why, Kuna Yala territory though being incredibly beautiful is not turned into a touristic buzz, but is preserved as one of the hidden gems of the Caribbean where people go for eco-tourism.
How to get to San Blas islands from Panama city?

I have read about San Blas islands on the Internet prior to our departure to Panama but there was no option to book a San Blas islands tour online (or they were really expensive), therefore, we had to research how to get to San Blas islands from Panama city on the spot. I guess this is exactly the reason why not everyone chooses to go to San Blas islands, but I thought it was worth the trouble!
How to book San Blas islands tour?
As I have mentioned, if you don't want to overpay, book your trip once you are already in Panama. There are many local carriers who can organize San Blas islands tour for you. You can ask your hotel to book a trip for you.
There is a variety of islands to choose from for any budget. Since we were going for the budget option, we were not looking for fancy on-the-water lodges but something more affordable and authentic. Mamallena hostel in Panama City offered transportation to San Blas islands and booking of a lodge for us. We went to the hostel a day in advance and made our reservations, picking the cabins (and therefore, the island) where we want to stay.
Make sure that you are making your reservation at least one day before departure, 7 PM latest.
Once we chose our island and left the deposit that covers the cost of the trip (which was $50 per cabin per night for 2 ppl+$60 for the transportation per person), all we had to do is trust that driver is going to come and pick us up at 5.30 AM in the morning at our hostel in Panama City.
Hotel pick up
When it was already 6.00 AM and no one came to pick us up we were getting concerned. Did they pass by earlier and we missed it? Are they late? Or did they just screw us over? Thankfully, I have a phone carrier with good roaming options so I could call Mamallena and find out what is going on. Turns out that driver could simply not find our hostel as they wrote down the address incorrectly. One other thing that you have to keep in might when in Panama City is that there are no street names, that is why it is extremely difficult to find something without a GPS. Anyways, the car finally arrived around 6.30 with some other passengers and we finally left towards the Caribbean coast to start out San Blas islands tour.
If you wish to explore San Blas islands on your own and do island-hopping, you can read more about how to do it
here
.
The road to San Blas islands
The way to the Caribbean coast lies through a very hilly dirt road that can only be driven by a decent 4×4 and an experienced driver. I, generally, do not have a weak stomach but even I was getting car sick on a 4-hour drive to Kuna Yala. The views on the way to Kuna Yala were raw and pretty incredible but I just wanted the trip to be over as soon as possible because it was so shaky and uncomfortable.
When we finally got to Kuna Yala, we were stopped by Kuna border patrol which basically consisted of a tent and a desk guarded by two people with guns. They checked our passports, gathered a fee of 10$ per person for the entrance and let us through. When we reached the Caribbean coast, the hostel driver said goodbye and just left us there. But the trip didn't't end here as we still needed to get from the seacoast to the island.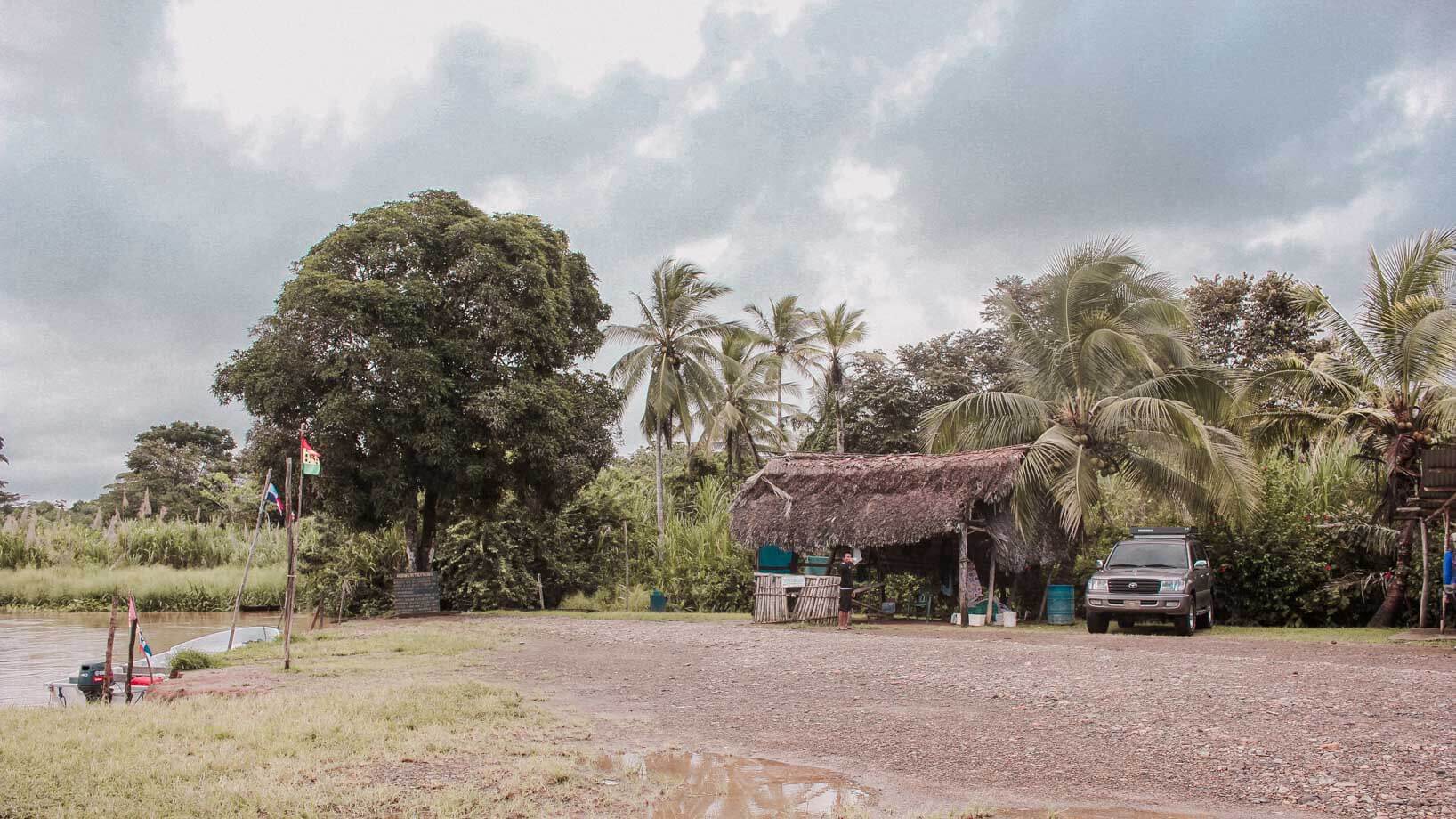 Be ready for some poor transit coordination
At a first glance, it looks like the whole transportation process is completely unorganized and poorly coordinated and you are just left there not understanding what is going on.
We waited for about 30 minutes watching as Kuna people run through groups of tourists screaming something. My Spanish skills are completely absent so I couldn't figure out if someone will be eventually picking us up or not at all. If you don't speak Spanish either, you might want to use your social skills and ask people around you what's going on. As long as you know the name of the cabin or island you are going to and who is the driver or hostel that brought you, you will be fine.
Finally, the boat from our cabin with people who were going back to the Panama city arrived, and the next part of the trip began.
A boat ride to Isla Ina
We were heading to Ina's Cabin on the island Ina. Our nice host Arcadio loaded us onto a small boat and we hit the road, or the sea, to be precise.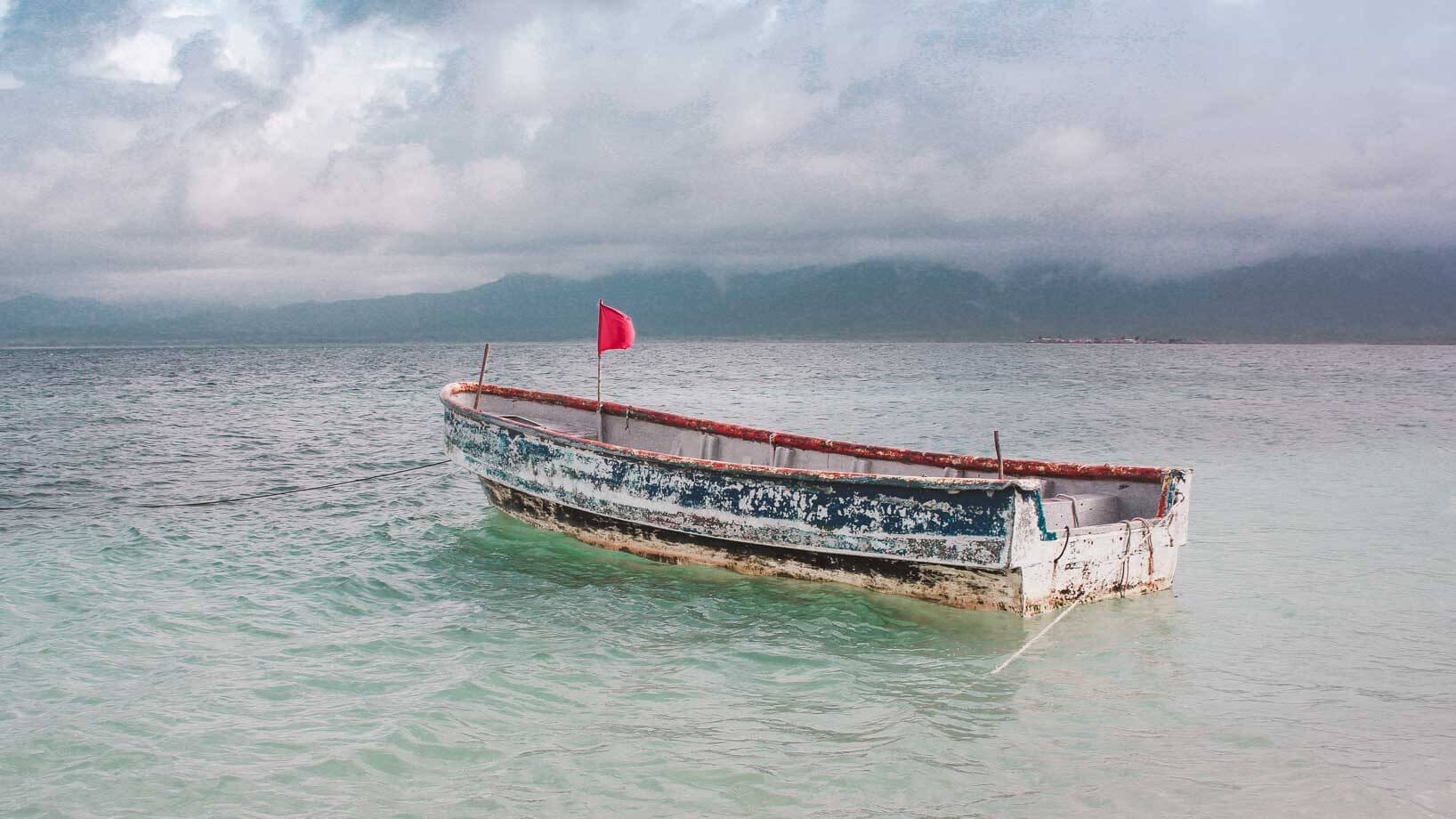 At first, the sail was nice and slow, everyone was enjoying the ride but as soon as we got to the open waters, Arcadio hits full speed and we cruised through the sea so fast that the water was all over everyone. I couldn't even open my eyes to enjoy the view of neighboring islands because the salty water was splashing on my face all the time. Be sure to have your sunglasses on when making a trip like this, it helps.
On the way to our final destination, we had a lot of shop-stops to neighboring islands where Arcadio had to go and pick up food: eggs on one island, fish and rice on the other.
Sailing to the island took way too more time than expected and cut in our holiday time. But on the other hand, it was interesting to see the whole logistics behind how people live on islands and where do they get their food supply from. Overall, we spent around 2-3 hours on the boat before we finally got to isla Ina.
And then: OH-MY-GOD!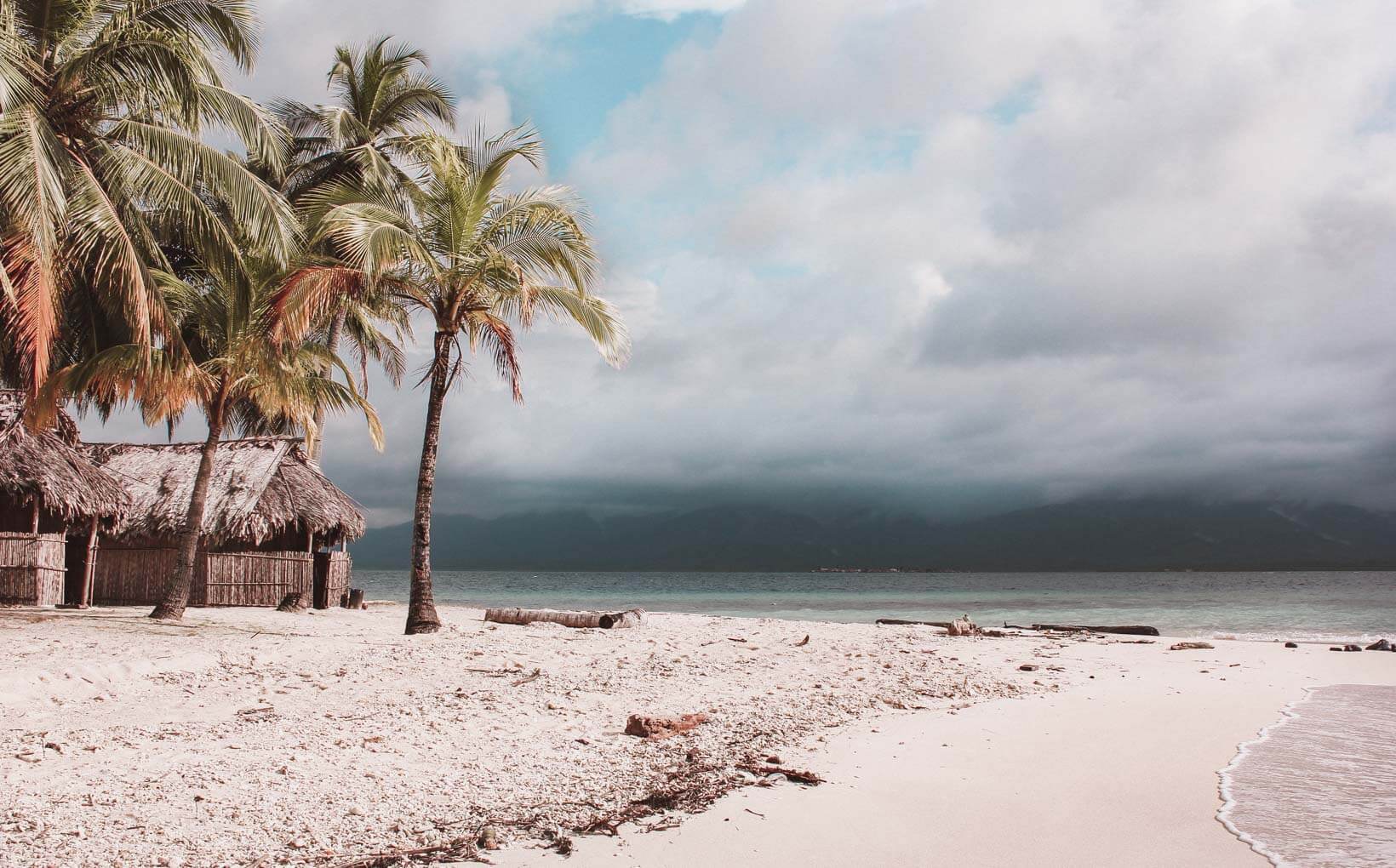 Arrival at Isla Ina in San Blas islands

When we finally got there, it seemed unreal. Not only the white sand beneath the feet or see-through turquoise water, but the whole Kuna settlement was incredible. Chickens, cats, and dogs running around the lodges made of palm trees, and family settlements with happy kids playing in the sun.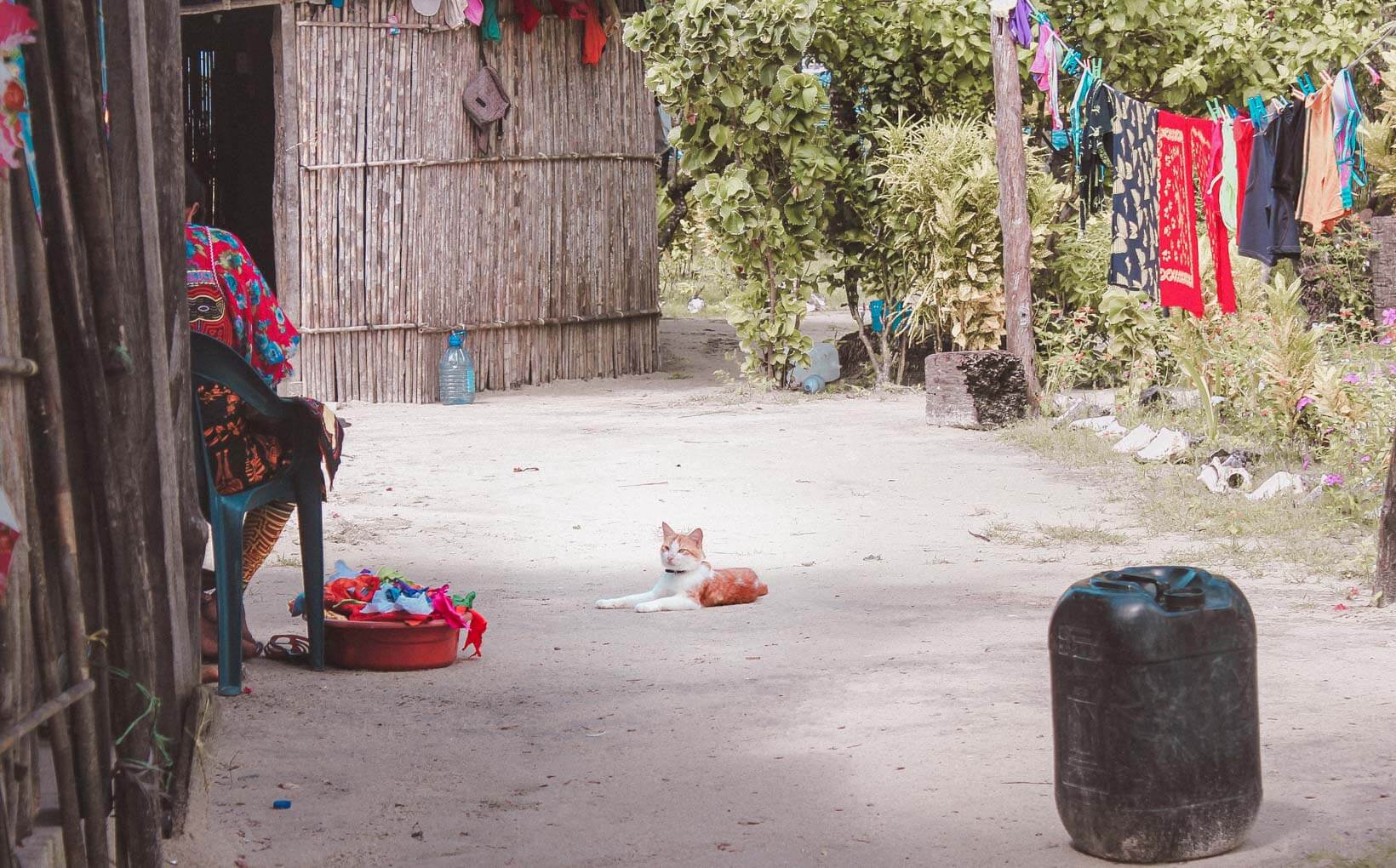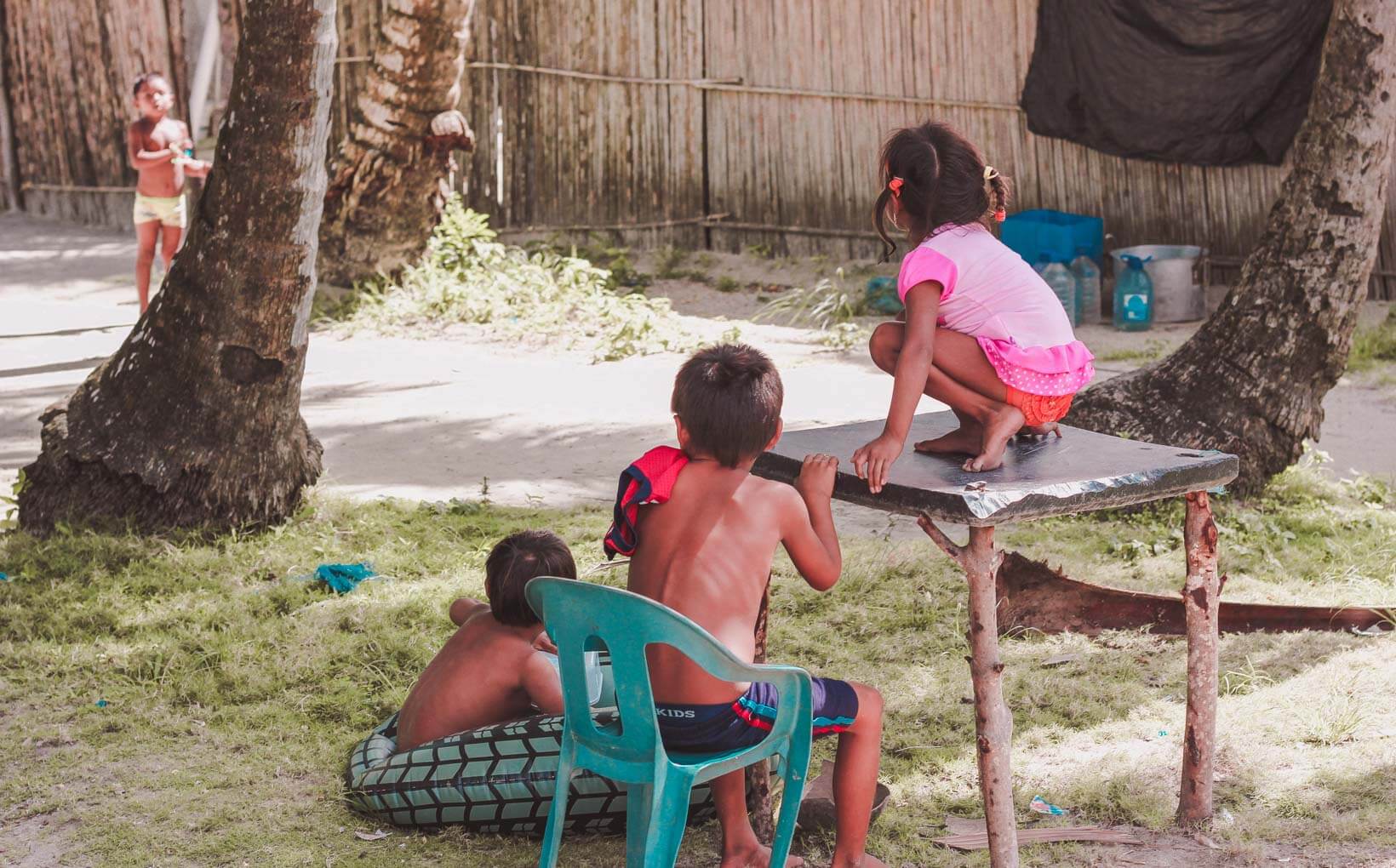 Before we settled, we went through the technicalities of paying for our stay. The hosts are rather flexible, you could decide to stay as long as you want, just let them know evening before if you would like to go back the next morning and they will make sure your hostel driver comes to pick you up.
We already knew that we are going to stay for 3 nights due to other plans we have made for rest of our trip in Panama.
San Blas island food served at Ina's cabin

The night's stay at Ina's cabin also includes three meals a day. And man, did I love those! At a first glance, there was nothing special about the food, but on the other hand, we were enjoying the fresh home-made cuisine of the indigenous people which you wouldn't find anywhere else.
The variety of foods we were served wasn't big due to the fact that food supply wasn't easy (remember I told you it takes them hours to sail between islands to get fresh food? And there are no refrigerators!). We usually got pancakes or fried bananas for breakfast, lunch and dinner consisted of chicken with rice, tuna, potatoes, and fresh seafood including huge shrimp or what looked like a lobster. Anyways, something that you would pay a lot for in Europe. It was all very tasty and made with love.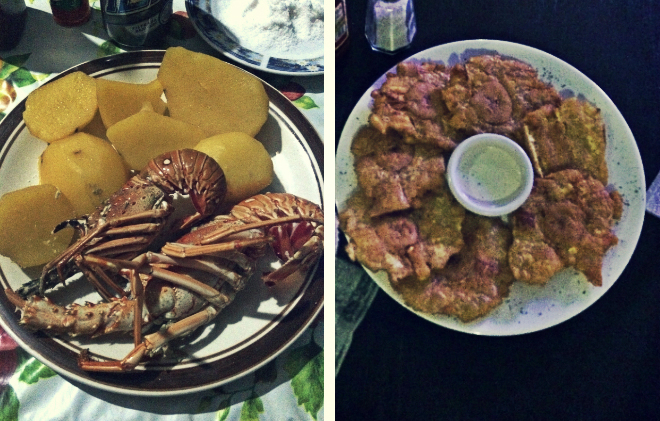 The way we were notified of when it's time to eat was also amazing. Kunas blew the horn in order to let us know when the food is ready, which quickly ended up being everyone's favorite sound of a day.
And in case you were feeling hungry in between the mealtimes, there was always an option to try coconuts, which were lying around everywhere. The only problem is that it is not an easy task to open them, therefore, we had to ask our dear hosts to help us with that. But coconuts are so nutritious that once you open one, it can keep you full for the rest of the day.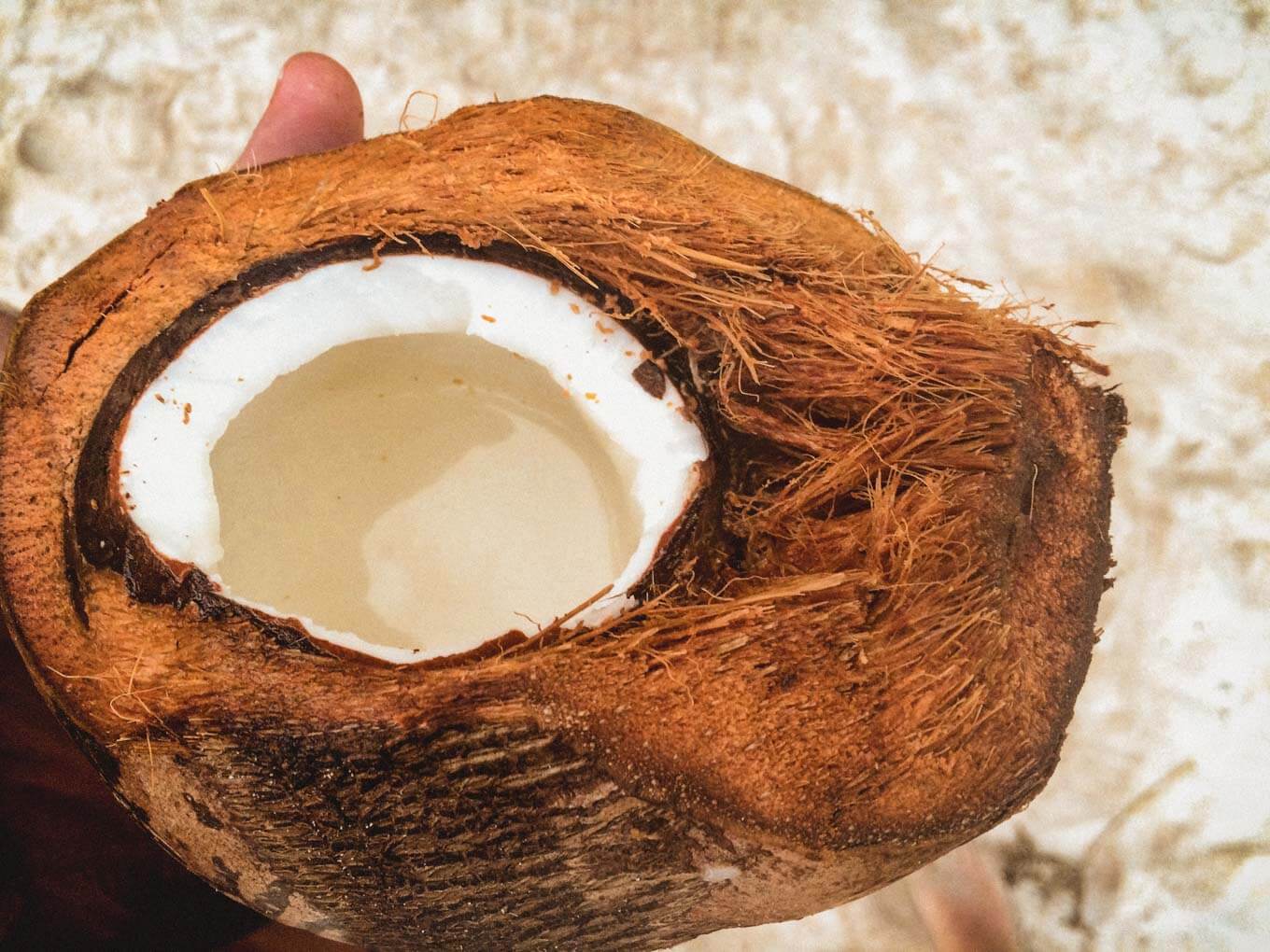 Ina's Cabins lodges, what do they look like?

After we paid for our stay we were directed to our extremely simple, but cute lodge. It is made from straw and is covered with palm tree leaves on top. There is no floor at all, instead, sand is your floor.
You'll be given clean bed-linen (hopefully!) and you will have to make your bed by yourself.
The door to our cabin wouldn't even close all the way, some of the cabins, like the dorm one, didn't have doors at all.
I realize that many people would shy away from staying in basic places like these, but the fact is, this is how locals live here as well. You do not get any special conditions, instead, you get to live like everyone else on the island, so look at it as an authentic experience and a chance to live in these people's shoes.
If you are looking for a luxury escape, you might not enjoy a stay at Ina's Cabins.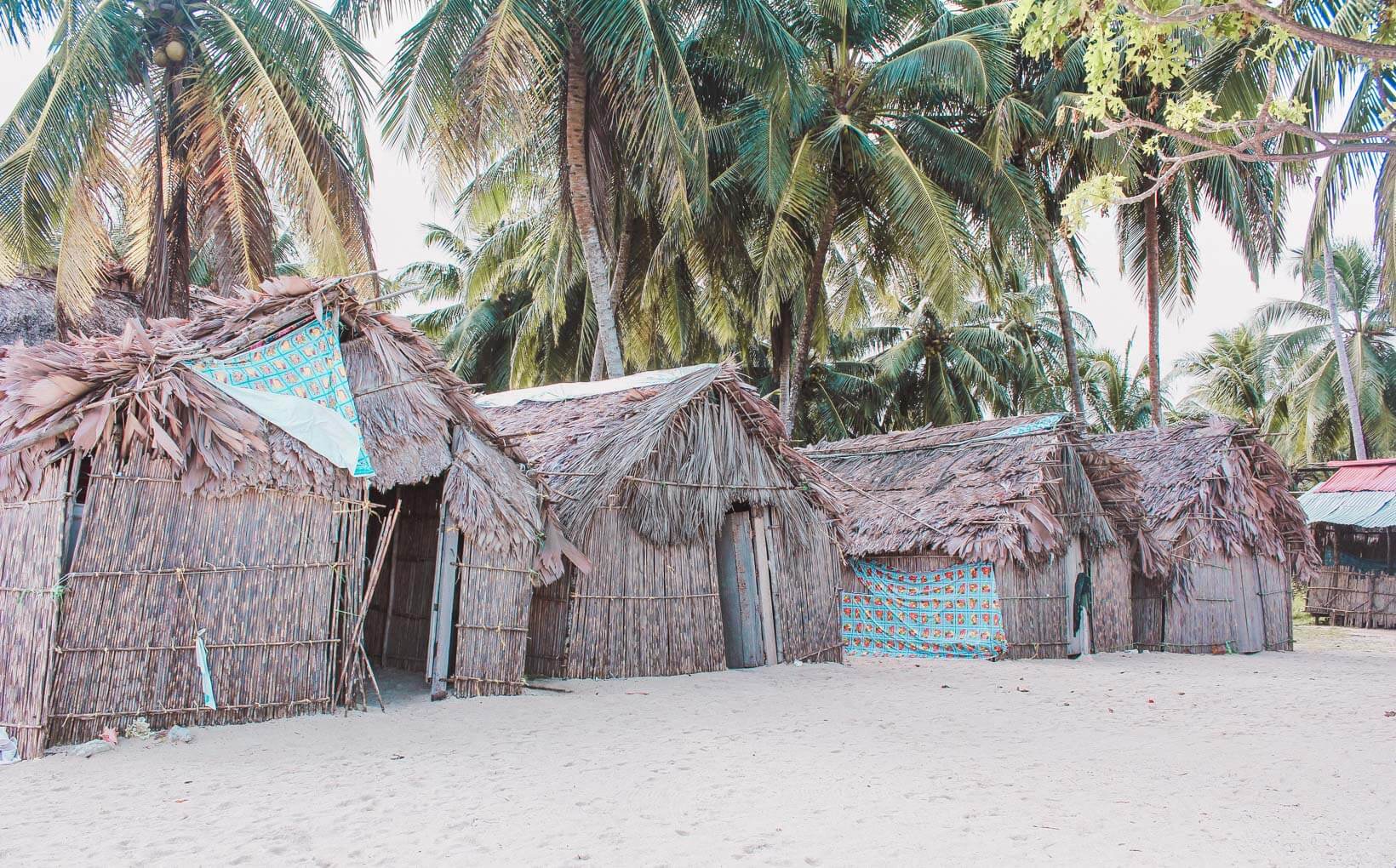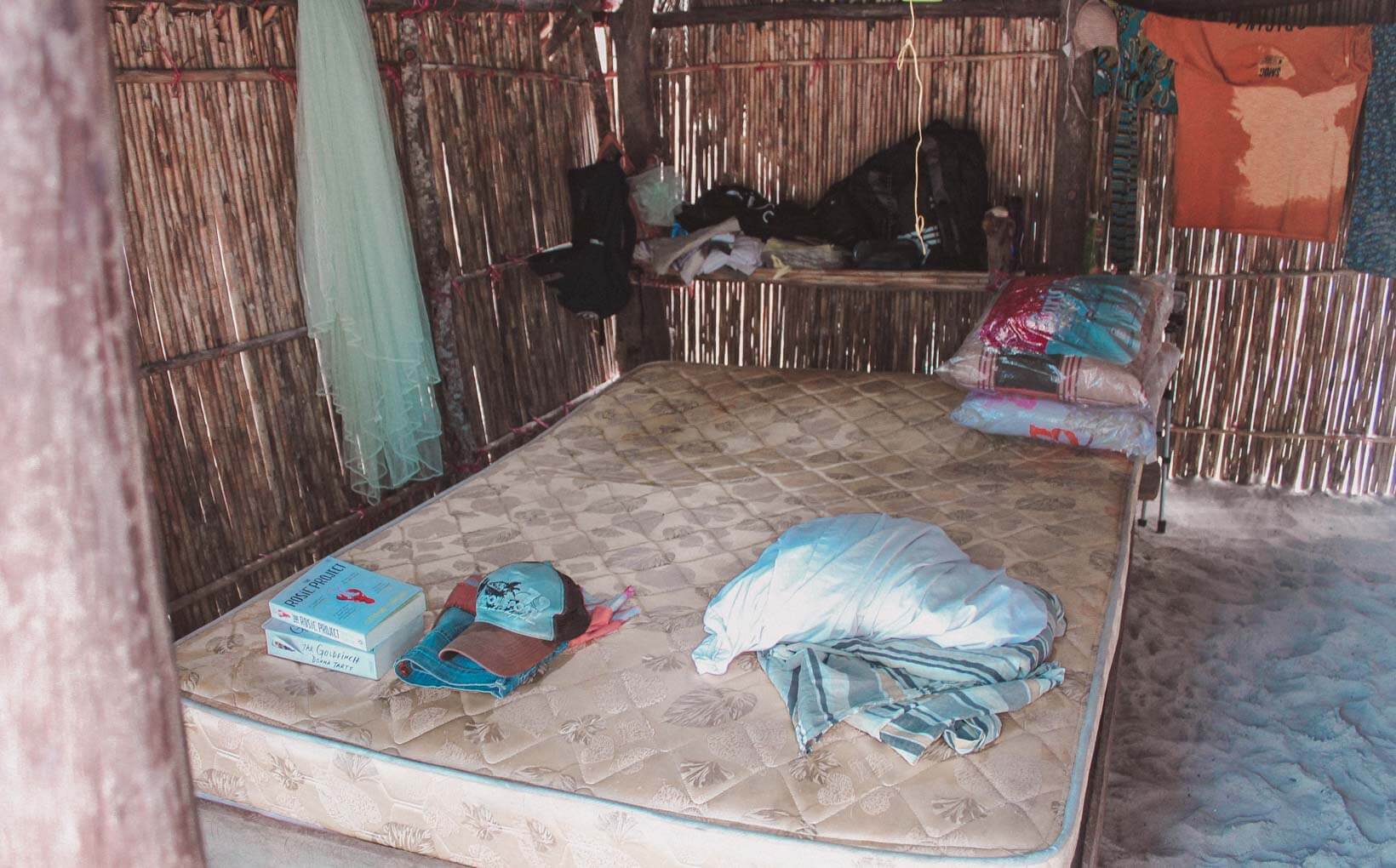 After we settled, we decided to take a tour around the island and see what is what. It took us about 10 minutes to walk across the whole island, including stops to take pictures and stuff. Yes, it is really small. You can see both coasts standing in the middle.
What does a regular day in paradise look like?
I am not an extremely morning person, but living on a tropical island with a two-meter walk to the sea, you're kind of getting used to waking up at 6 AM. And it is the most beautiful part of the day which might only compete with the sunset. The sun is still weak but shining and you are opening your eyes without realizing that you are waking up to be in this amazing beauty.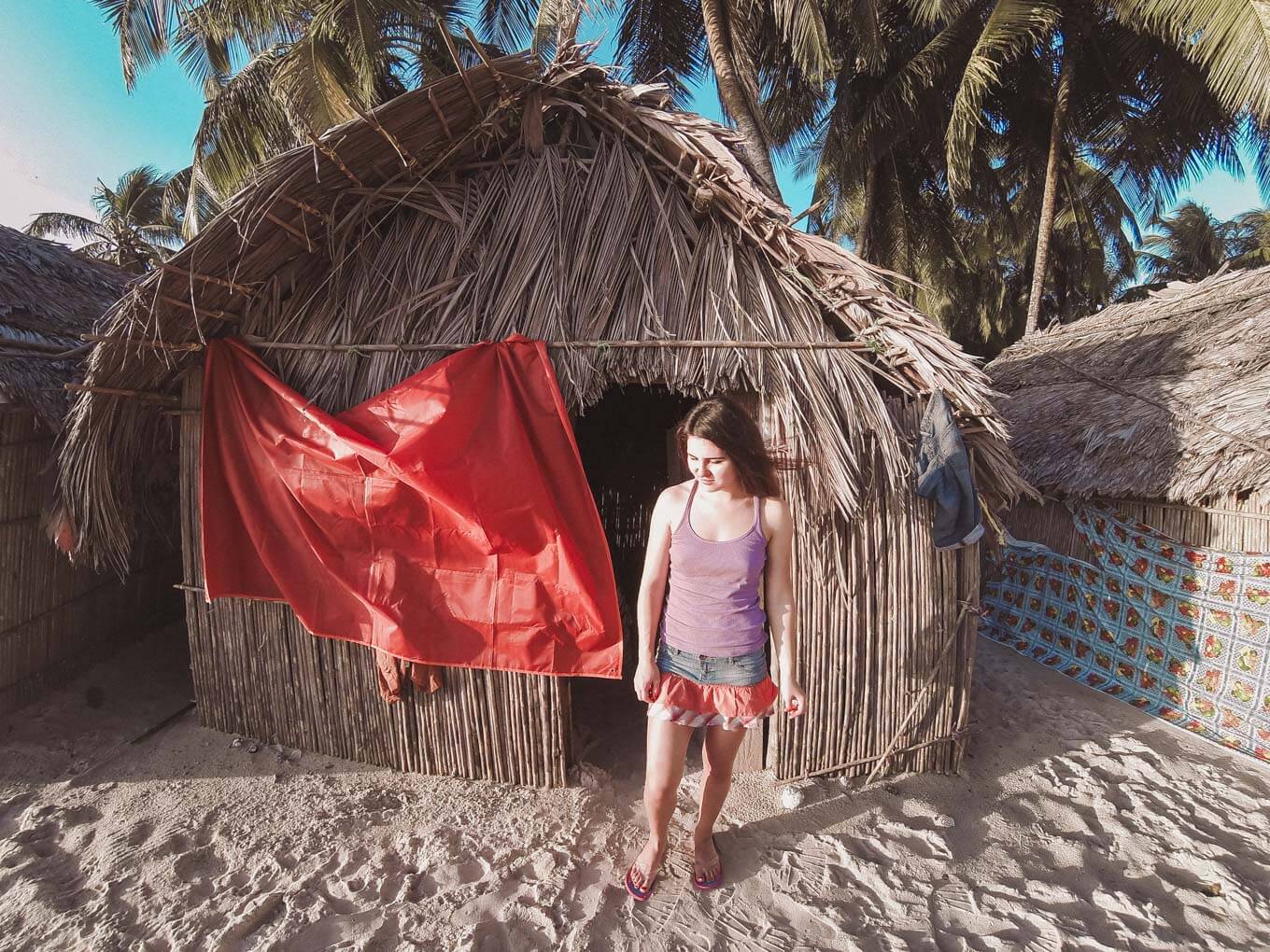 Together with other girls I've met on the island, we started our mornings with a short but very resourceful yoga-session greeting the sun, followed by the short dip into the water before the sun becomes unbearably hot.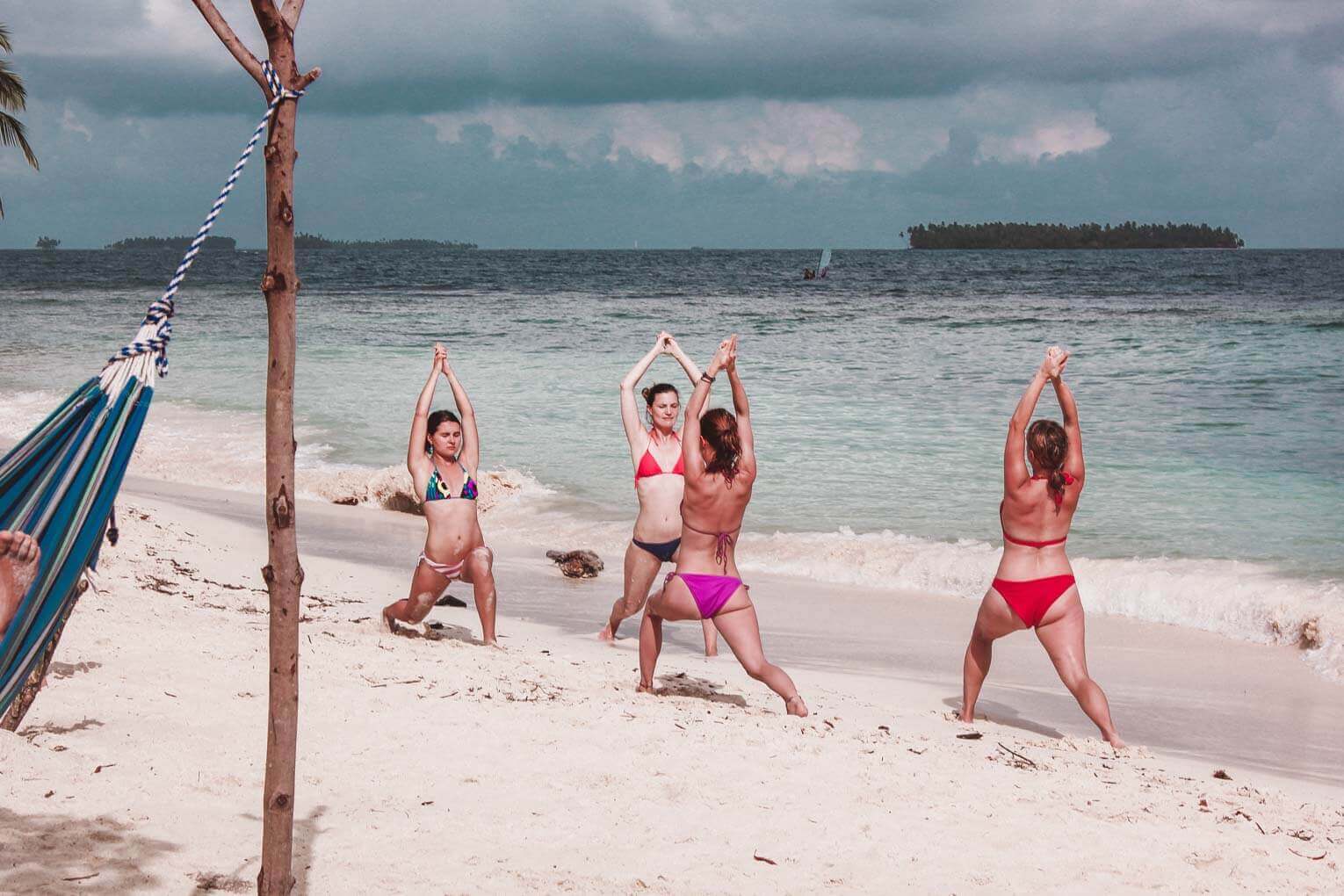 And then comes waiting for breakfast which is usually served around 8-9 AM. You will notice that Kunas are not the most punctual people, hence the horn is a good solution.
We also had a volleyball net on the island, so sometimes we used it to play beach volleyball. All other times were mostly occupied by reading a book, relaxing in the hammock, tanning or snorkeling in the sea.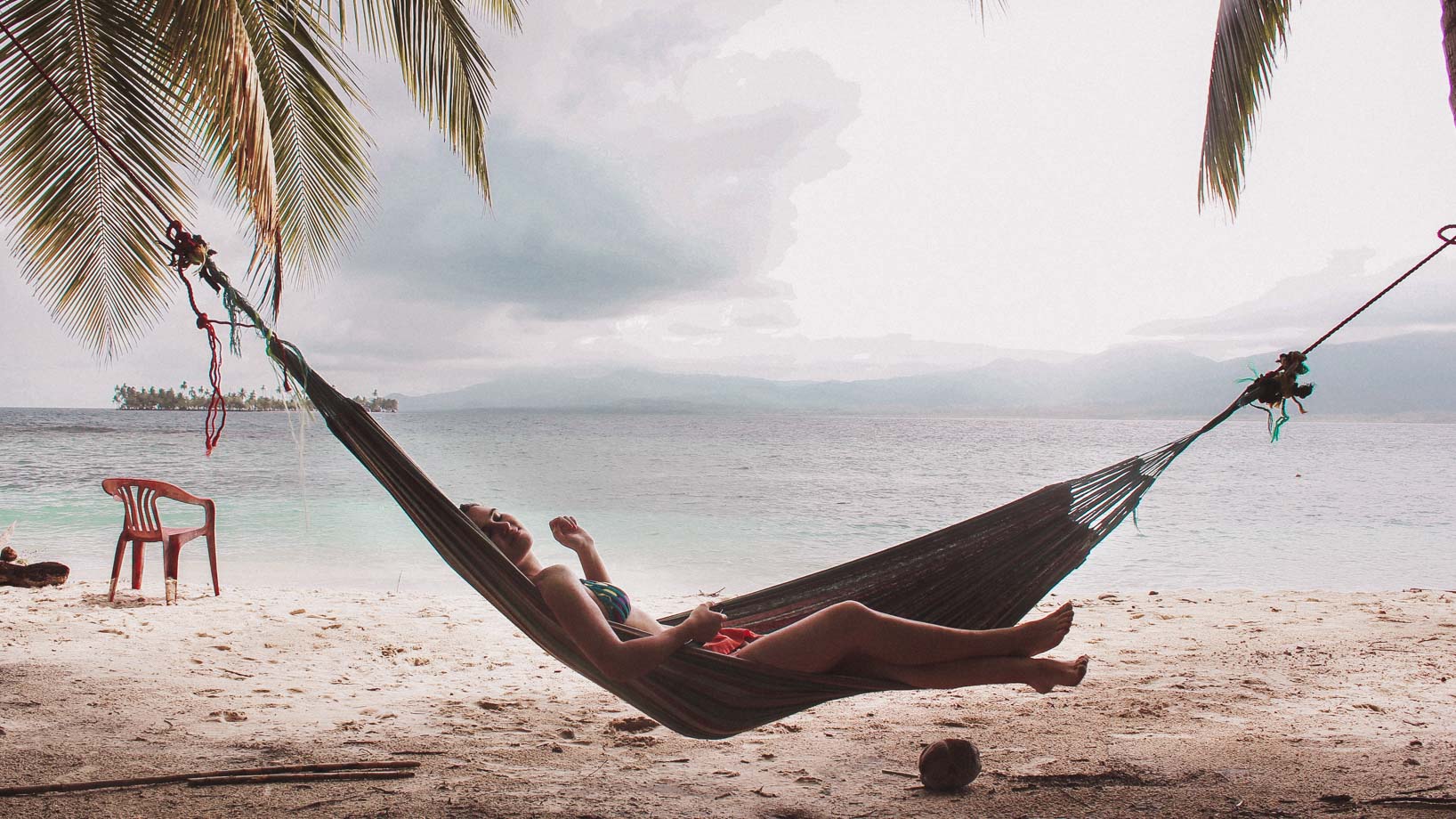 Sun sets down at 6 PM sharp and it gets pitch dark, therefore, there is not much to do in the evening except for drinking with newly-made friends or looking at the stars.
San Blas island hopping to Pelican Island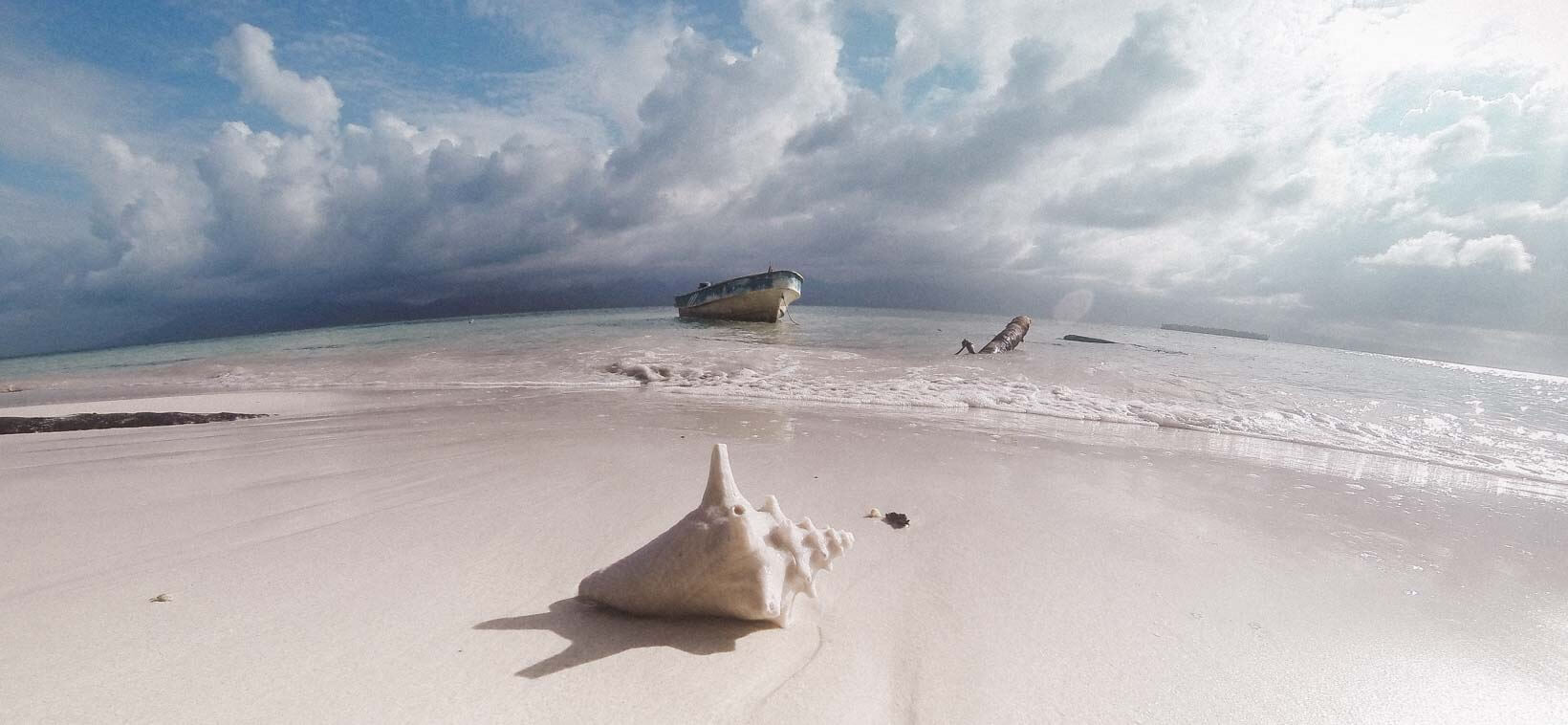 If you've already tanned enough or are getting bored sitting around with a book, you can ask your host to make a trip to the neighboring island which is included in the price. In case you didn't bring your own gear, they have some to borrow for free.
We packed our snorkeling gear and our host Arcadio gladly took us to the island called Pelican. The name of the island derives from the high number of pelicans flying around hunting for fish. It is a good place for snorkeling, we saw some coral riffs and starfish and took plenty of nice pictures.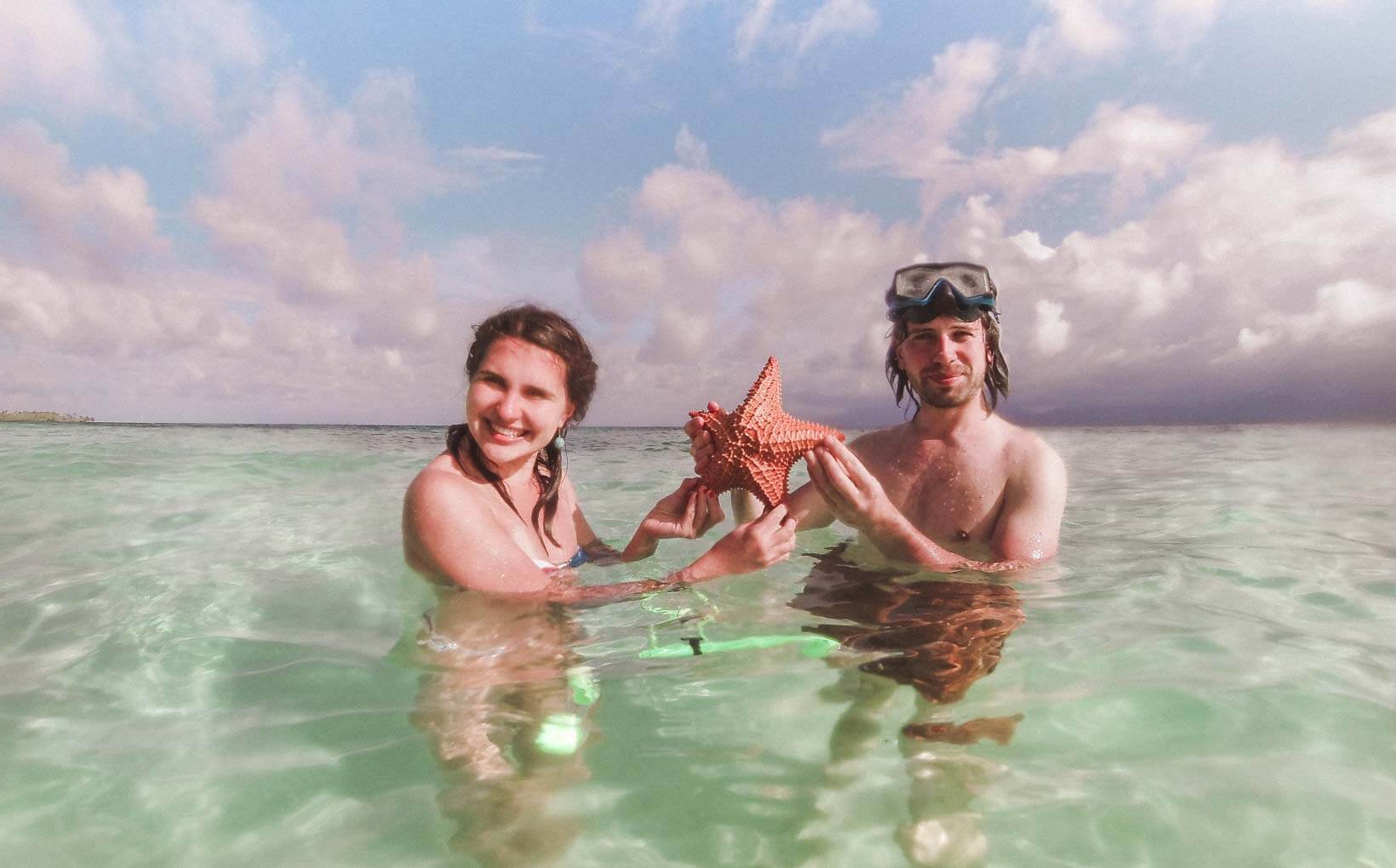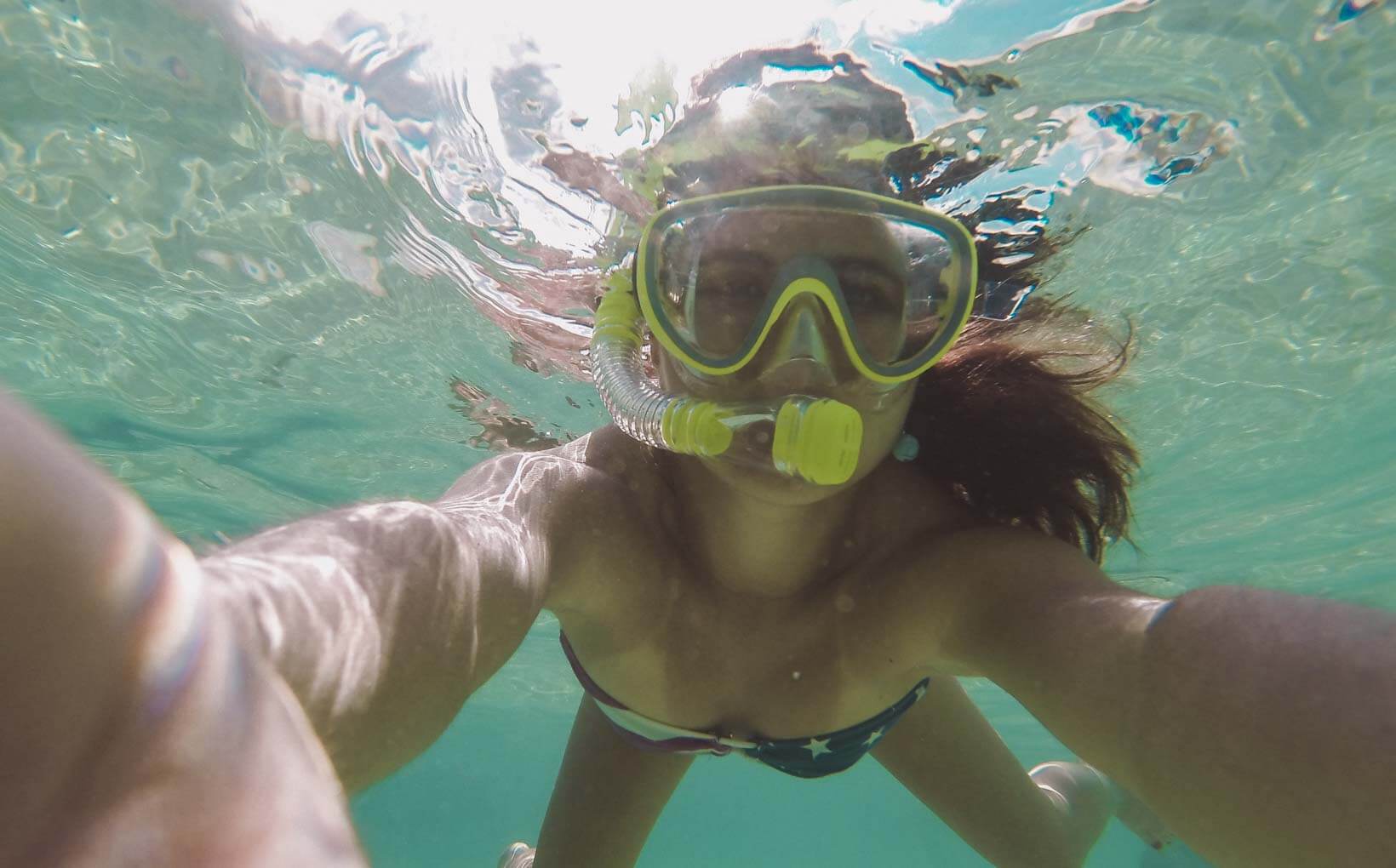 Managing expectations for your San Blas islands tour

In order to manage the expectations, here are some technicalities you have to know before going to San Blas islands tour, such as Ina's Cabin:
the lodge is made of the palm tree, you can hear everything in and out
the sand is your floor, which adds on to the feeling of being on the island, not in the hotel
there is no electricity on the island, so your phone might not last long. But I advise you to forget about phones and computers altogether and enjoy the break away from civilization. Just make sure your cameras are charged, as you will want to take a lot of pictures
there is no running drinking water on the island, so make sure to bring your own supply of drinks. However, you can buy a small selection of water, coke or alcohol from Kuna and it is not as overpriced as they say, but a bit more expensive than in the city, obviously
unless you are staying in the private lodge, there are no doors to your room, so it won't hurt to keep your eyes on your belongings. However, it is rather doubtful that someone will steal something. It is an island, so there is nowhere to escape
There is only one toilet/shower for all guests. Though the toilet has a seat and all, you have to use a rather unique way to deal with flushing and have to keep in mind that shower has only cold water to help you clean from the sea salt
There is absolutely no entertainment on the island, don't expect to see cafes, restaurants and dance clubs, the island is small, so you have to entertain yourself. It's a good idea to bring a book, otherwise, you can borrow something to read from the selection of books that were left behind by previous visitors
The lack of comfort that we are used to is not comparable to what you get instead. It is an extremely refreshing experience to stay on the island like San Blas, Panama. There is no power, no ability to escape, so you are kind of forced to get away from social media, internet life and go talk to real people around you who are in the same place. It is incredible how different life gets if you turn off the electricity and isolate people on a small island. They start to talk to each other! And that was my favorite part of staying on San Blas island, ability to re-evaluate the importance of live communication. We met some really nice and interesting people from all over the world during these three days we stayed there.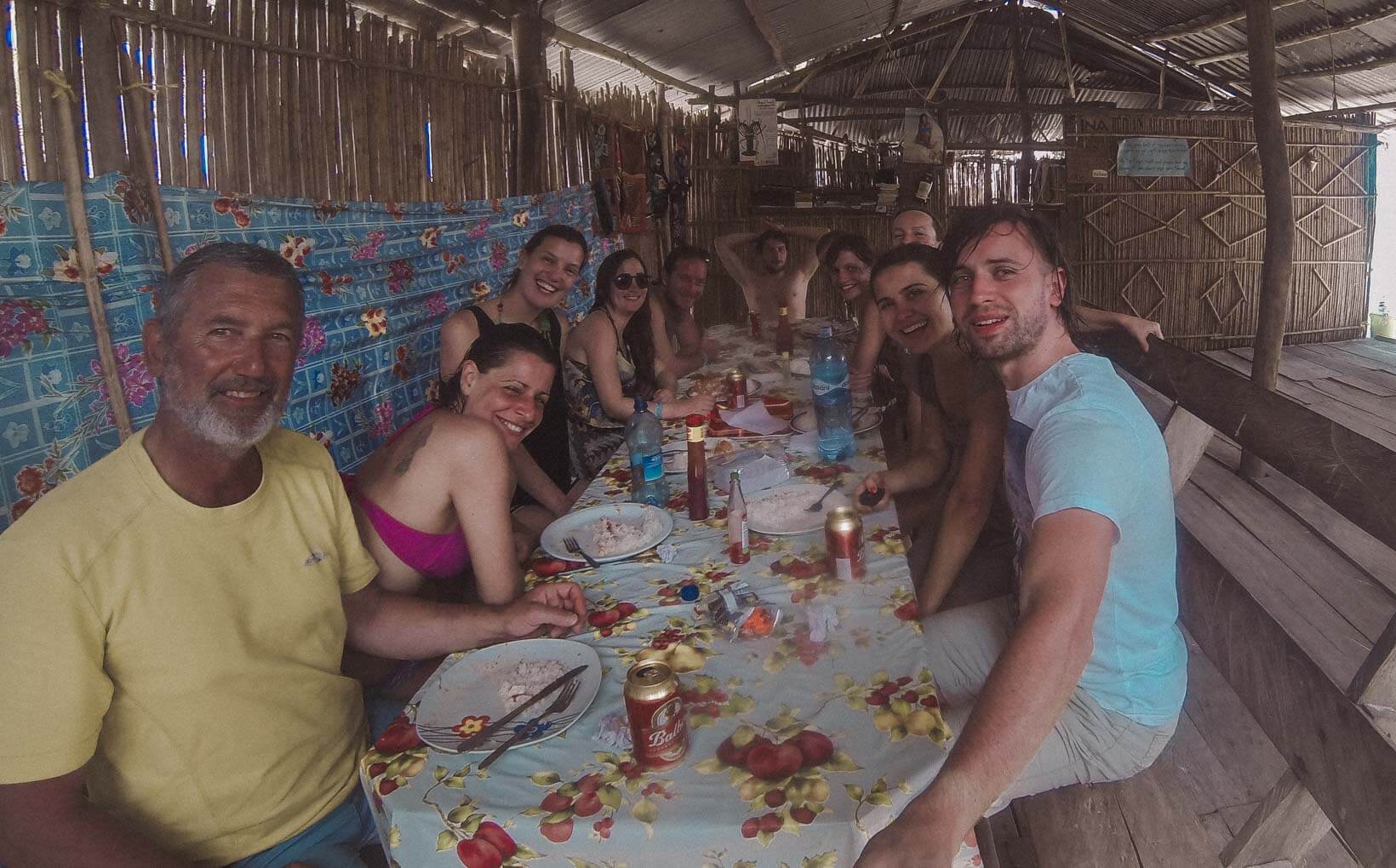 Wrap Up
After four days and three nights on the island, it was time to say goodbye and go back to reality. When we were going back the waves were more merciful and didn't splash that hard, which was a pity cause I already had my sunglasses prepared for the ride :D. We said goodbye to our awesome hosts and were picked up by our hostel driver who brought us back to Panama City.
Our San Blas islands tour was an extraordinary experience. The beauty of the white-sand island and blue sea mixed with warm hospitality of the local hosts made it unforgettable. It is a perfect place to take a break from busy city life and get a complete relaxation, forgetting about troubles, internet, and work. Besides the regular vacation-on-the-beach experience, you get to live alongside the indigenous population of the region and observe how they live, communicate, eat, and raise kids. I will definitely miss it and use it again and again as my 'happy place' during meditation.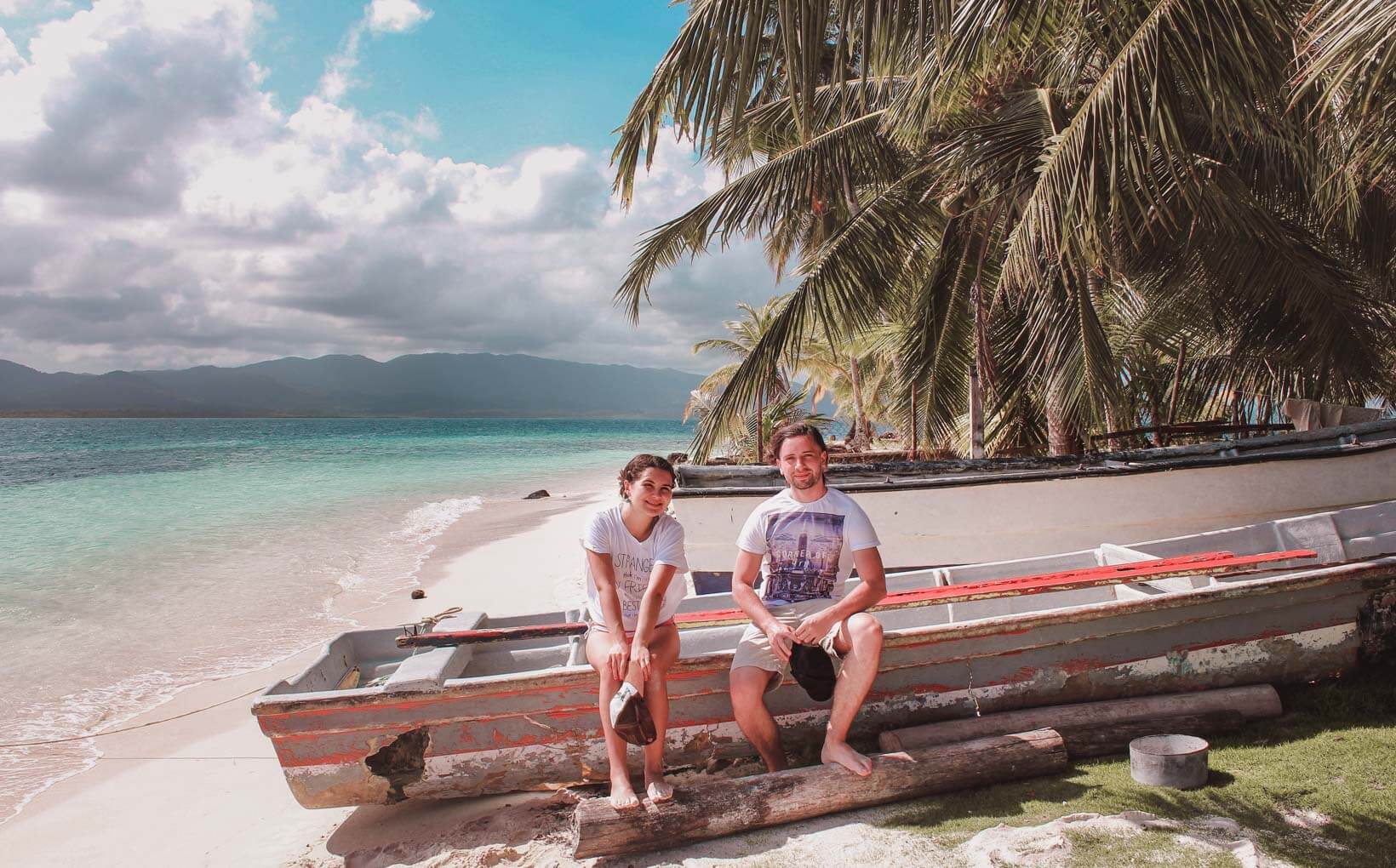 Like It? Pin It!