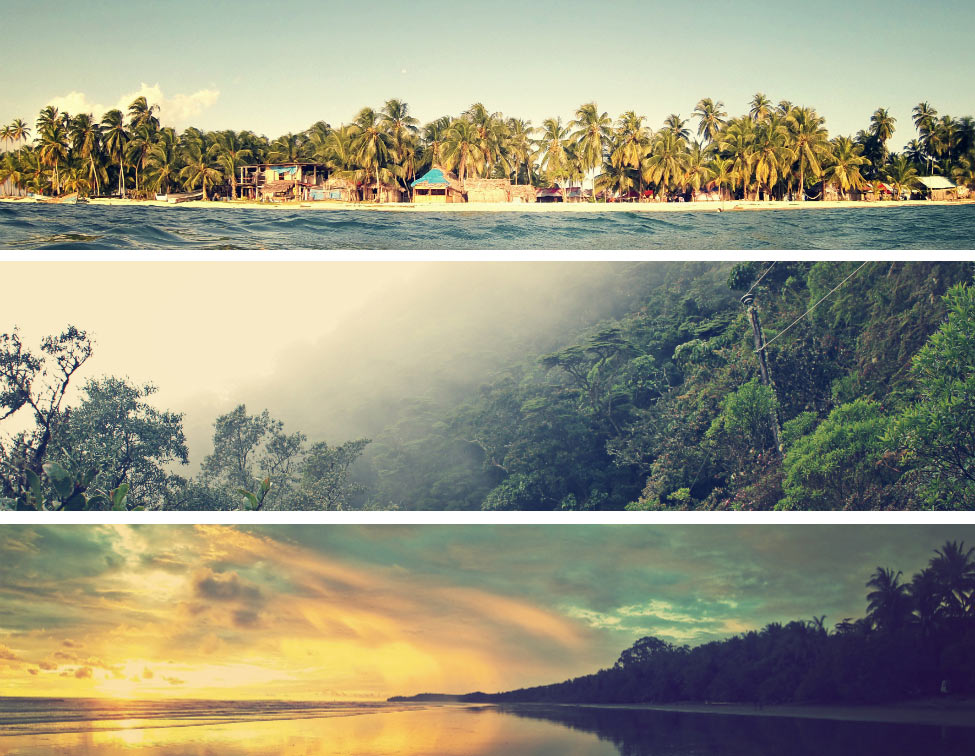 This post may contain affiliate links. I receive a small commission at no cost to you when you make a purchase using my link.
Yes, it is possible to see Central America in 20 days! During this time you should be able to visit the main things in Costa Rica and Panama and not only in a rush travel-through, but enjoy the spots and have some rest as well.
Where have we been?
Day 1-2: Panama City
Day 3-5: San Blas Islands
Day 6: Buffer day to get to Boquete
Day 7-9: Boquete
Day 10: Uvita
Day 11-14: Jaco
Day 15-18: Monteverde, Santa Elena
Day 19: San Jose
Day 20: Airport and flight home
Here is the map of our travel route: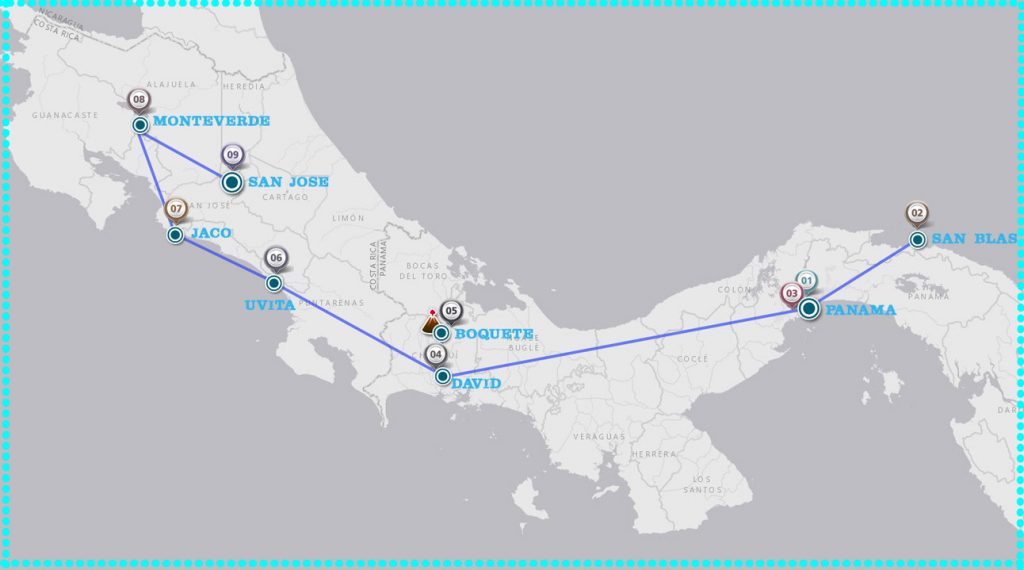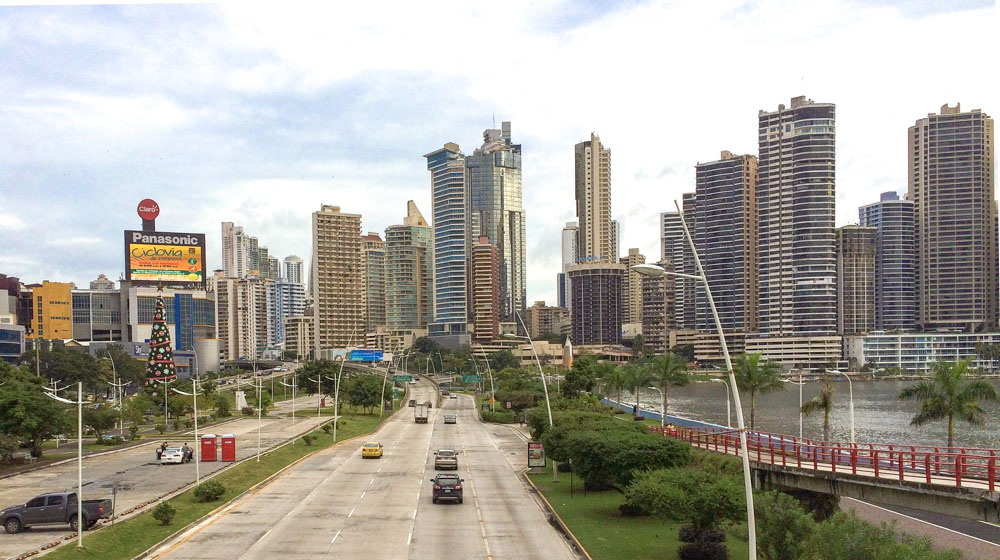 Getting there: We flew to Panama with Iberia airlines from Madrid. The flight took around 11 hours.
Taxi from Tacumen International Airport to Panama city  – 25-30$. There is a bus option but only for those who already bought a card in the city earlier.
Getting around in Panama: You can buy a metrocard for $3 in a booth of any of the metro stations. You have to top it up in order to pay for the ride. Each ride costs around 0.35$. The metro coverage is not huge, but it can take you to city center and help you to get to Panama Canal.
Hostel: We have stayed at Hostel "Entre 2 Aguas" which costs $50 per night per double room including breakfast. If you would like to read more about the hostel and experience of Panama City, read my post Pretty Panama.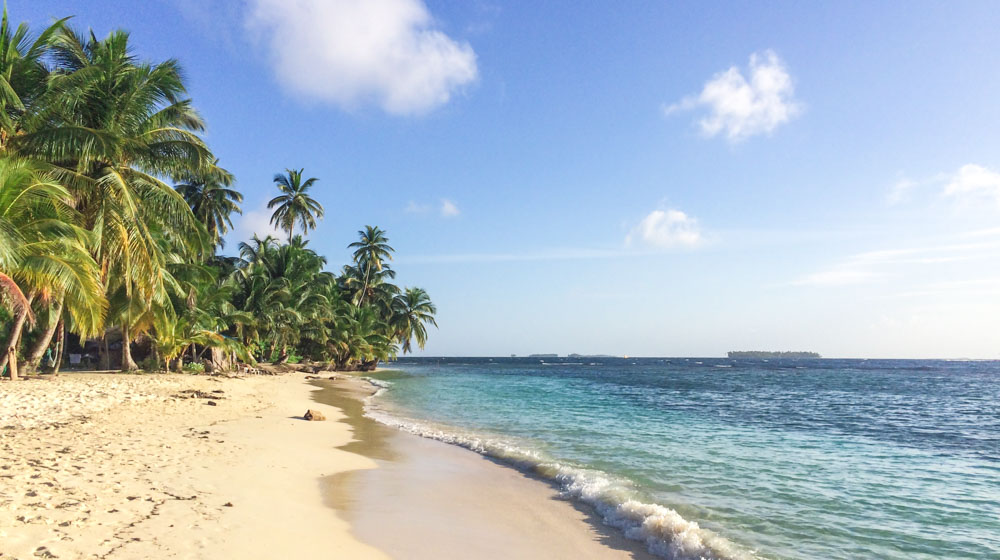 Getting there: Getting to San Blas is a little bit cumbersome. We booked the transportation through hostel "Mammallena" in Panama City, having to leave the deposit of full cost day before the trip.
You can use the link below to search through different island options on their website: http://www.mamallena.com/sanblasisland.html
The way to Kuna Yala on 4×4 costs 60$ per person round trip. You will also have to pay for transportation on a boat to island 20$ per person round trip.
In addition there is a tax for entrance to Kuna Yala territory which you have to pay when crossing the border to the region. They gather 10$+2$ per person for various charges. You only pay when entering
On the island: The cabin that we have selected – Ina's cabin is a low budget option which costs 50$ per double lodge per day including three meals and a free trip to neighboring island.
You can buy some drinks on the island as well. Obviously they are a bit more pricey than in the city. For example, 0.3lt Cola will cost you 1.5$.
What to take:
Dollars. You need cash to pay for your stay to Kuna and it is better to have some change for taxes (12$ pp.) and in case you want to buy drinks on the island
Swimming and snorkeling gear
Towels
Sunscreen, hat and sunglasses
Something to read /keep yourself busy with
Toilet paper
Drinking water
Snacks if 3 meals a day are not enough for you (I was full)
Small light (no electricity on the island)
Cameras for your awesome pictures!
Do not take much clothes, believe me, you will be wearing as little as possible. Bring just one small bag, there is not a lot of room on the boat that will be transporting you
Day 6: Getting to Boquete
Getting from San Blas to Boquete is a bit of a lengthy trip that lies through Panama City and David.
Getting back to Panama: This one you've already paid for on your way there, so just tell Kuna a day before that you will be leaving next morning and they will call your driver to come pick you up. We left San Blas at 8 AM via the same route (boat + 4×4) and were in Panama around afternoon.
Getting to David: From Panama you need to take a bus to David from Albrook Terminal. Buses depart almost every hour, but since we didn't feel like spending the whole day on a bus and pay for a hostel when we get to Boquete we went for a night bus option and spend one more amazing day in Panama.
You can buy the ticket to the bus right on the station. It generally doesn't require booking upfront, but this might be different in the times of public holidays. The first bus from Panama leaves at 5:30AM and the last one at 0:00AM. You can see the full bus schedule here: http://www.cielitosur.com/bussched.htm
Day buses are a bit cheaper – 15.25$, whereas the night express bus will cost 18.25$. The ride takes about 7 hours, which we spent  sleeping perfectly all the way until we arrived to David. We actually well asleep on the bus and woke up to the sound of the bus driver calling out the numbers of the baggage to be picked up, but that's another story.
Getting to Boquete: Buses from David to Boquete are even more frequent, therefore, we didn't even bother to check the schedule. We took the first one available. It costs 1.75$ and takes around 1 hour to get there. Buses run from 6:00AM to 9:30 PM. If you arrive during night you can take a taxi to Boquete for as much as 25$.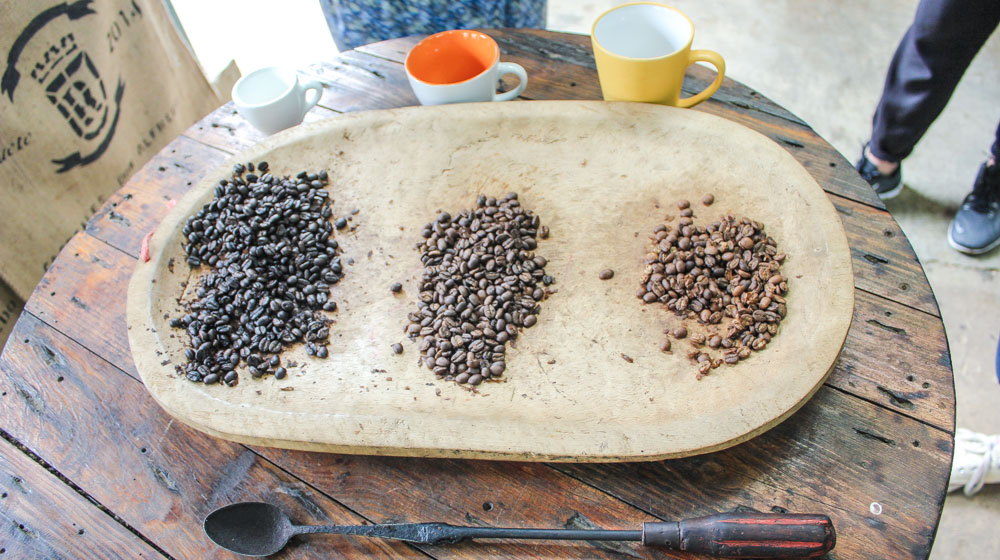 Hostel: We have stayed in the Mammallena hostel which cost us 33$ per night per double room. The hostel is hard to miss as it is the first thing you see coming out of the bus from David. It is in the very center of the town and includes breakfast, 24-hour reception and has plenty of tours available.
Getting around: To get around in Boquete you will need nothing more than your two feet, it is very small.
Tours:  Boquete offers multiple tour options, including hiking, birdwatching, horseback riding, coffee tours and volcano hikes.
We have got a

coffee tour

straight at the hostel for 25$ pp.
For

Baru Volcano hike

you can sign up on the board of the hostel as well. They will drive you to the start of the track in the night for 5$ pp. Guided tour costs more. If you are completely not a fan of walking up yourself, you can hire a jeep to drive you all the way up there for 90$.
Day 9: Crossing the Border to Costa Rica
How to get to Costa Rica from David: There are two ways of getting through the border – the expensive one and the risky one.
Option 1

: From David main station you can take a bus that runs to San Jose. The service provider is Tracopa and buses depart twice a day, at 8:30am and 12:00 pm. Here is the link to their website: http://www.tracopacr.com/rutas-y-horarios. Bus stops at multiple locations on the way (including Uvita and Jaco), but you still have to pay the total price for travel to San Jose regardless of where you get off  – 18-20$.

Option 2

: Get a bus (more like a mini-van) from David main station to La Frontera (1.75$), walk through both borders and catch a bus to wherever in Costa Rica you need to go from there. There are some buses that go straight from the border, but it is likely that you will have to make couple stopovers to make it to your final destination.
Border Control: Takes around 2 hours to cross both borders due to long lines. At the Panamanian border they checked only the passports. At Costa Rican border they are more though, going through all passangers' bags, which obviously delays the process.
Attention! Costa Rica requires you to have the departure ticket and proof that you have enough money for your stay (30$ per day). Obviously, they don't ask everyone for the proof, but we got in trouble because we didn't have a paper. So better be safe than sorry!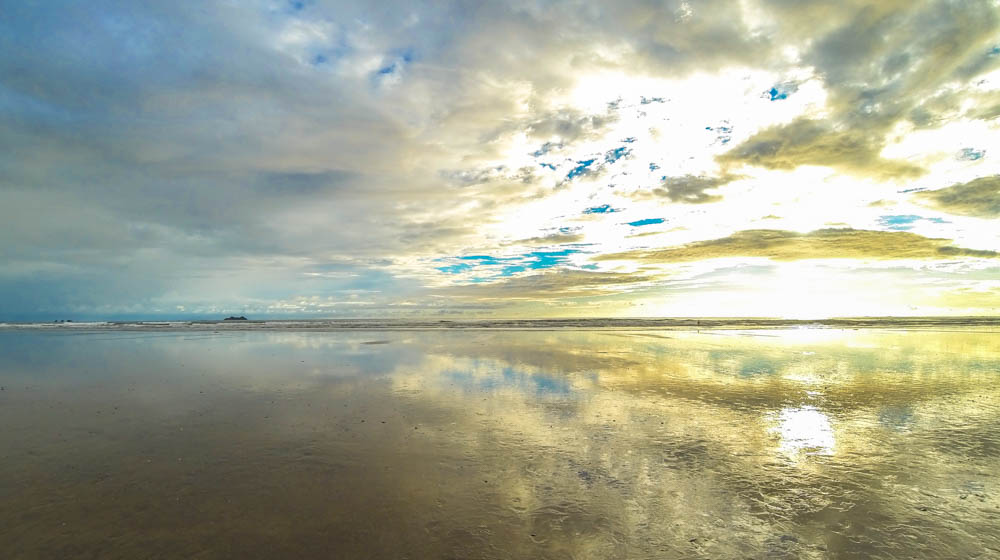 Getting there: The was no easy way to get to Uvita without stopovers from La Frontera (the border), so since we wasted a lot of time on crossing the border, we decided to get on the Tracopa bus David – San Jose running through Uvita. The ride costs 18$ and lasts for around 3-4 hours.
There is also another option available: you can take a bus to San Isidro from the border and change to bus towards Uvita from there.
Hostel: We have stayed in the hostel called "La Ballena Roja" which costs 25$ per night per double room. The stay does not include breakfast, but they do have an option available.
If you like exotic places, there is a number of jungle villas available in area close to Uvita and the Pacific coast of Costa Rica.
Getting around: Uvita is very small but also spread out along the coastline, so the best way to get around is a taxi, which costs 3-4$ per ride.
What to see:
National Marine Park

, entrance fee during the day (until 4PM) is 12$ for a foreigner

Uvita waterfalls

, entrance fee 2$ per person payable at the restaurant by the entrance
Day 11-14: Jaco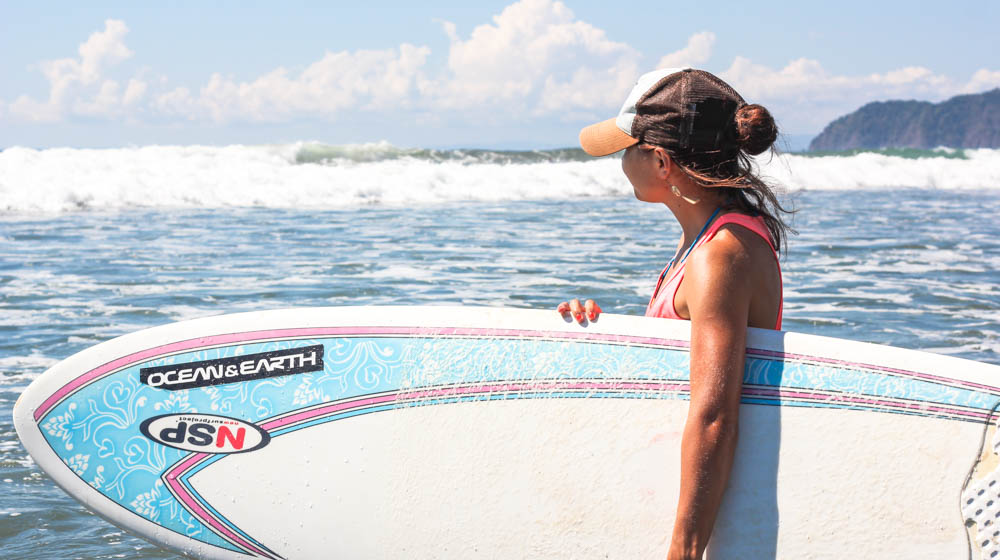 Getting there: There are couple of buses that run through both Uvita and Jaco during the day, thus allowing you to get from one to the other. We have used this website for bus schedules in Costa Rica: http://www.thebusschedule.com/cr/index.php
There are two things to keep in mind:
1) Find out from locals where exactly the bus stop is
2) Come to the bus stop in advance, the buses are just running through Uvita, so do not necessarily come on schedule or stop
Hostel: We have stayed at the hostel called "Casajungla" costing 35$ per night per double room. Breakfast is not included, but you have access to kitchen with all appliances needed to cook (including basic material such as oil, salt, spices, etc.) and you can have tea/coffee for free all day long.
Getting around: The best way to get around is your two feet! You can obviously get a taxi as well, which we never used because we borrowed bicycles from the hostel (these are for free).
What to see:
Playa Jaco

. The main Jaco beach stretching 4 km long offering good surfing possibilities for both beginners and experienced surfers.

Playa Herradura

. Located 4 km away from Jaco, more secluded beach. Local (red) buses to Herradura run every hour from Jaco and cost less than a dollar. The ride will take about 15 minutes.

Playa Hermosa

is one of the best surf spots for experienced surfers and is located only 5 km away from Jaco. It is known for most consistent surf breaks in the world. It is also very easy to get to taking a local bus of red color from Jaco.

Manuel Antonio National Park

, situated 1 hour drive south of Jaco. For more information about the park see: http://www.manuelantoniocostarica.com/cr/manuelantoniopark.html
Getting there: To get to Monteverde from Jaco, you need to take a bus to Puntarenas and change to Monteverde from there. We have used this website for bus schedules in Costa Rica: http://www.thebusschedule.com/cr/index.php
Hostel: We have stayed at the hostel called "Cabinas El Pueblo" costing 40$ per night per double room for 2 nights. Breakfast is included.
Our third night we spent at hotel "El Tucan" costing 30$ per double room, less comfortable room, but breakfast is also included.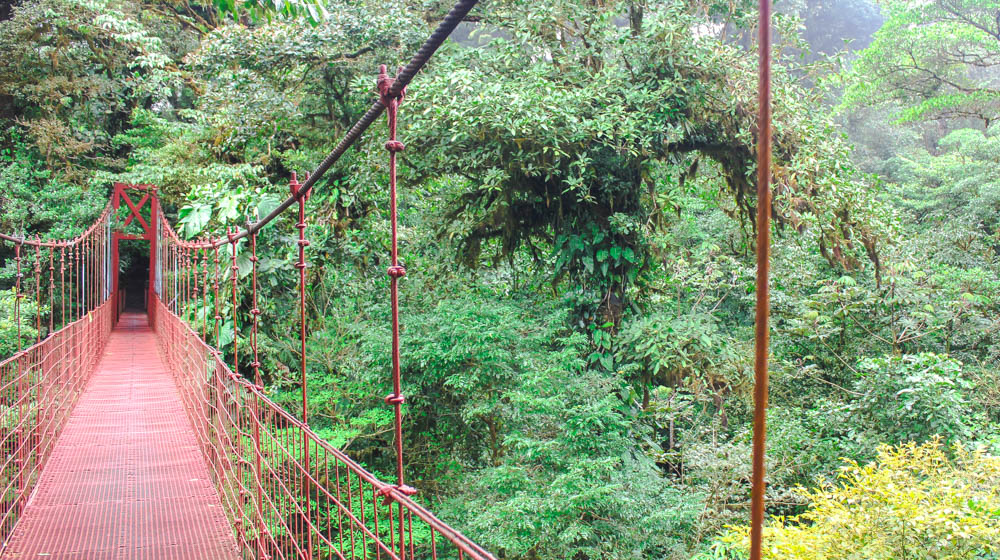 What to see:
Monteverde Reserve, boasting to be one of seven wonders of Costa Rica. Entrance 18$
Canopy Tour. There are plenty of options, all costing 45$ per person
Coffee/Chocolate tour. 32$ per person at Don Juan
Ecotrail Santuario. Watch the wild animals of Costa Rica – 12$ per person
Hanging Bridges. Take the tour to rainforests of Santa Elena and walk the bridges – 40$ per person
You can easily get to the airport by taking the taxi all the way or by taking a bus. But we have cheated and took a taxi to a bus station for 4$ and bus to airport from there (2$).
An unpleasant surprise is waiting for you at the airport: you have to pay a departure tax of 30$. Therefore, make sure to have some cash leftover before you depart home.