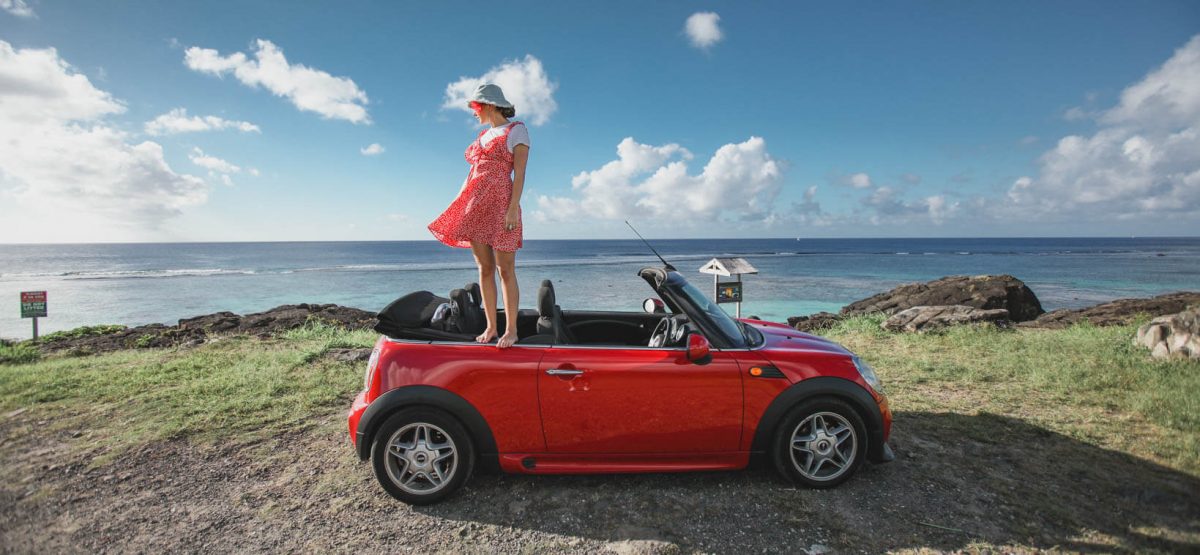 This post may contain affiliate links. I receive a small commission at no cost to you when you make a purchase using my link.
When planning a trip to New Zealand, I really wanted to squeeze in a short Rarotonga holiday or any stay at one of the exotic islands in the South Pacific, since many destinations are only easily accessible through New Zealand or Australia.
There is a handful of choices with similarly priced flights from Auckland: Fiji, Vanuatu, New Caledonia, Tonga, and the Cook Islands among others.
My choice fell toward the Cook Islands ?? and I am so happy it did.
Why you should hop on a Rarotonga holiday?
Why would you take time out of your New Zealand vacation or Australia road trip to visit the Cook Islands? Or even choose the Cook Islands vacation among the list of other gorgeous options in Polynesia?
First of all, the Cook Islands are incredibly beautiful and are somewhat yet unexplored as its more famous brothers such as Fiji swoops in all the visitors.
The major island Rarotonga boasts to have both fantastic beaches with colorful marine life as well as lush tropical forests in the heart of the island. On a Rarotonga holiday, you can easily combine a relaxing vacation with active days when you get bored. The neighboring island of Aitukua is even more beautiful, providing serene turquoise waters and not much else, for a perfect stress-free vacay.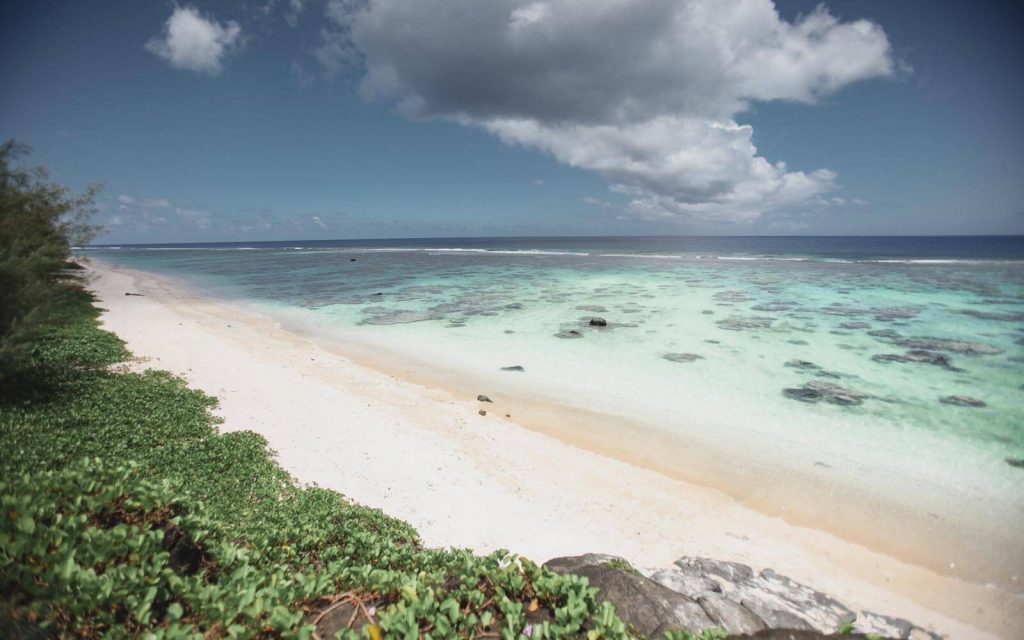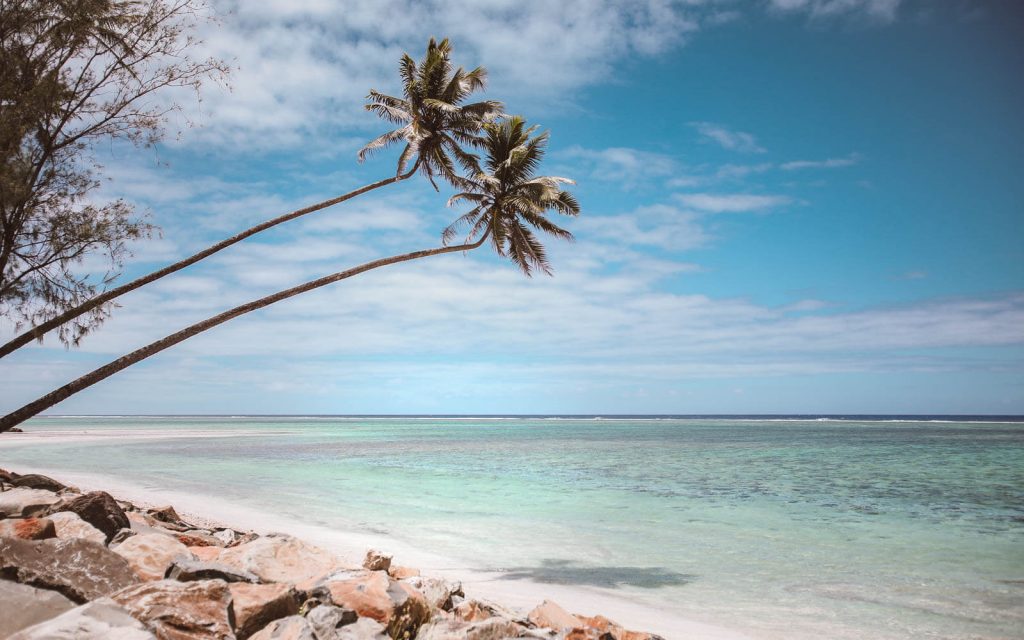 If you are interested in exploring authentic Māori Culture, there is no better place since here it is not history but daily life. The Cook Islanders managed to preserve many aspects of their cultural heritage and it feels very authentic even today. The welcoming people of the Cook Islands will only add on to your fantastic experience.
Cook Islands culture
I took great appreciation of the Cook Islands culture. Here are a few cultural and societal observations from my trip:
Kia Orana is a way of life here. "Kia what?" you might ask. Kia Orana means "may you live a long life" and is used as a "hello" but it is so much more than that. It is a way of life that you will get to be a part of for the duration of your Cook Islands trip. You will surely hear Kia Orana plenty during the day, so be prepared to respond with same words.
The island is incredibly well-kept and tidy. There is no trash lying around, the grass is moned all around Rarotonga.
Fresh island flowers are a part of the traditional look. I enjoyed seeing women (and men, sometimes) wearing headbands of fresh flowers everywhere around the island: on the reception, in the store, in the market. It is simply a part of everyday life. Not just something you put on for the tourists.
90% of islands' population is of native Cook Islands Māori descent, who share similar ancestral roots as New Zealand Māori and French Polynesians. They speak there own language as well as English.
All Cook Islanders are New Zealand citizens, even though the Cook Islands is a free state. There is no such thing as a Cook Islands passport.
Rarotonga is generously covered in churches. We counted at least 10 churches during a drive around the island and only 5 schools to counter them. It is said that when Christian missioners came on the island, they tried to ban all cultural singing and dancing. But Māori fun-loving culture was too strong to abandon that altogether. They managed to successfully merge religion with culture and stayed one of the most welcoming and fun nations.
Rarotonga is full of stray dogs, which are not technically stray but could be better described as free-spirited. Most of them have a leash, but they still choose to abandon their homes in search of adventure on the resort by the beach.
People are incredibly welcoming and happy ?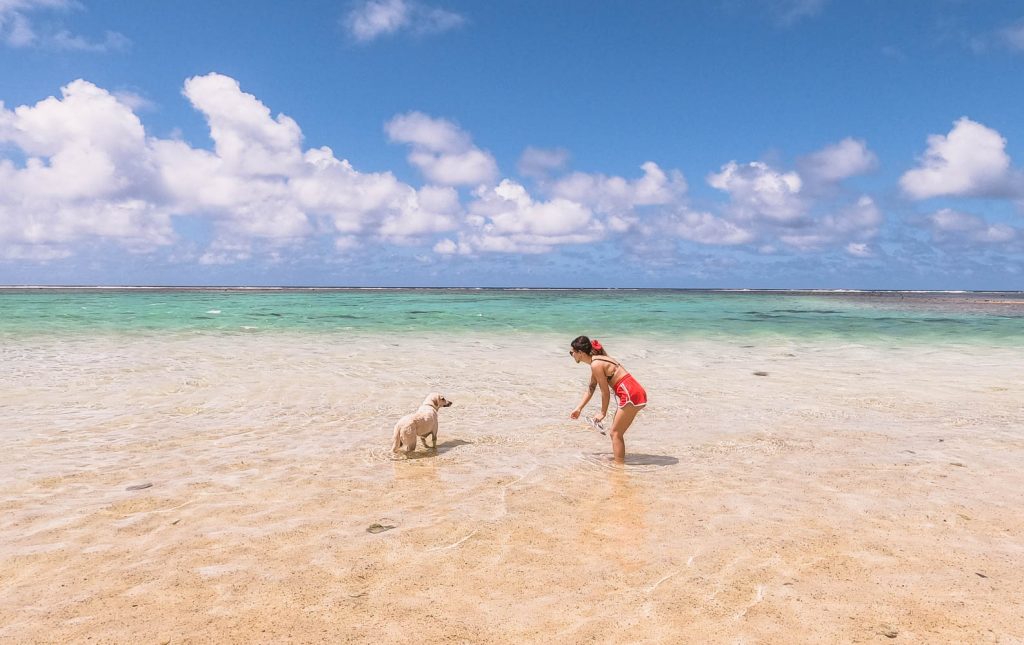 How to get to Cook Islands?
The best way to get to Cook Islands is by direct flight from Auckland, Sydney or Los Angeles.
From Auckland: Air New Zealand has a direct flight to Rarotonga every day, while Jetstar planes fly to Rarotonga every other day and Virgin 3 times a week. It took us 4 hours to fly from Auckland to Rarotonga airport.
From Sydney: Air New Zealand has a direct daily flight to Rarotonga.
From Los Angeles: you can fly to Cook Islands direct with Air New Zealand.
The best engine for a perfect flight option search is Skyscanner:
How to get around the island?
The island of Rarotonga has a nearly perfect round shape with only 32 km in radius. This means that it is quite easy to see all of it in a day!
There are a few options to get around Rarotonga.
From the airport
From Rarotonga airport, you can hire a taxi for $20 to take you anywhere on the island. The taxis are always waiting all lined up with every flight arrival. Once you land, you will be greeted with music in the airport (yes, they actually hire a musician to play at every flight arrival!)
Rent a car in Rarotonga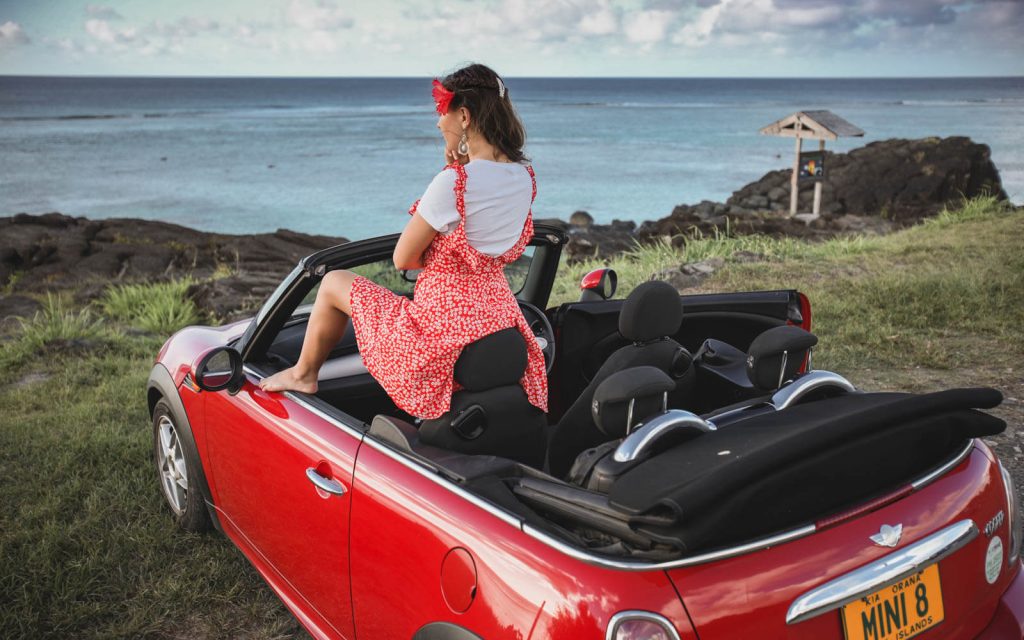 Self-driving is a fantastic way to see the island if you want to go on an independent exploration journey. There are plenty of Rarotonga car hire options on the island. We rented from Polynesian who seem to have the largest network around the island.
The prices start from 40$ a day for the economy class car. And you can rent a cool convertible Mini Cooper for 70$ for fresh air and fantastic shots.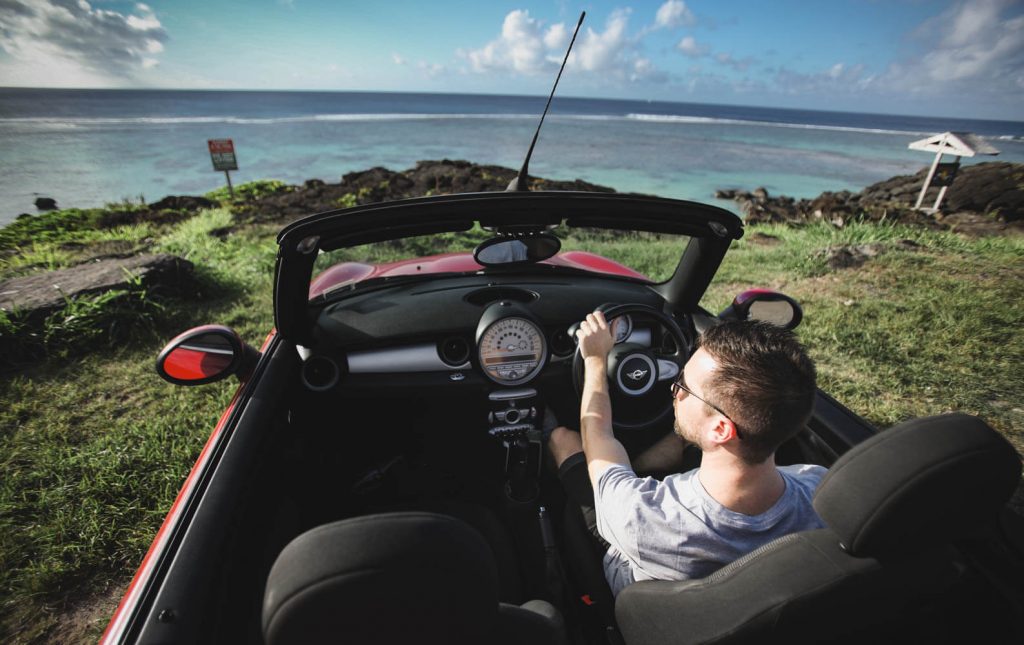 The car rentals on Rarotonga usually only allow you to book for a minimum of 3 days. However, we managed to get one for 2 days, since we went for a more expensive option and asked them nicely :).
Hire a scooter in Rarotonga
Typically, you can hire a scooter in Rarotonga in the same outlets where you rent a car. Scooter hire will cost 25$ a day. Please note, that you need a type A driver's license for that. They will absolutely not give you a scouter if you only have a license type B. If you do not have a motorbike license, you can always opt for an electric bicycle for $12 a day.
Just as when driving around Australia, remember to bring your International Driver License Card if you are driving with an overseas license.
Travel by bus
There are two public buses that run on the island: a clockwise bus and the anti-clockwise bus (these are their actual route names:)).
Each of them runs once an hour in opposite directions. The bus fare is 5$ per ride or 8$ return.
Awesome things to do in Rarotonga
Obviously, the main reason people go on a Rarotonga holiday is to either celebrate a wedding, enjoy a honeymoon, or unplug and get away from the routine. This is a perfect spot for that since the Internet is not something you can easily access on the Cook Islands, therefore, you are forced to leave your worries behind. Once you get tired from lying on the beach and mentally disconnecting from your home life, you can dig into plenty of exciting outdoor Rarotonga activities.
1. Go Snorkeling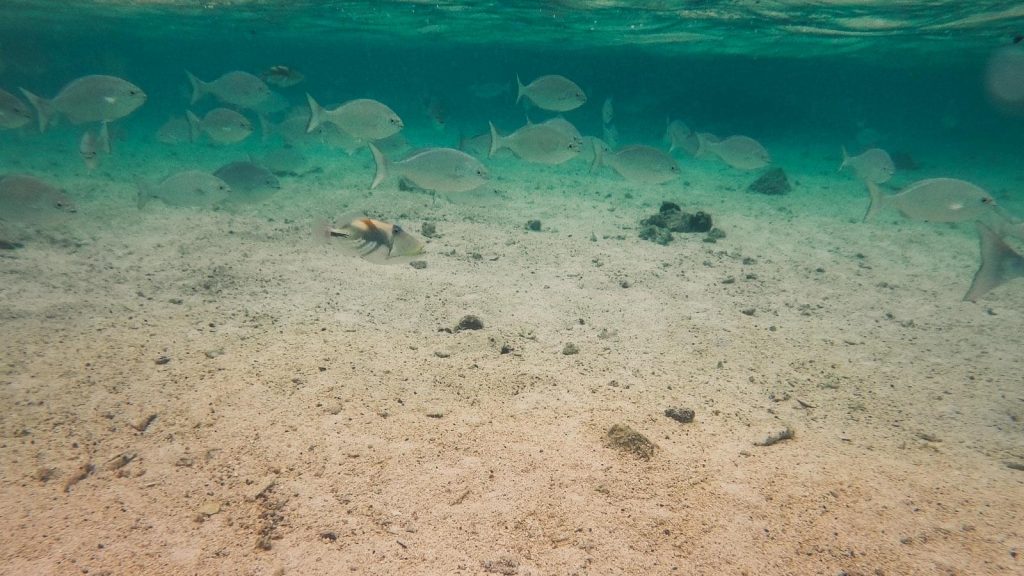 Snorkeling is a must even for those who are not great at swimming. The waters are clear and mostly shallow with exotic fish that can be spotted right by the shore. Most resorts lend snorkeling gear for free, so just ask your resort and off you go!
You don't have to go very far to meet face-to-face with water inhabitants. A lot of fish hides in and around corals that are found along the coastline of the island.
Alternatively, you can join a snorkeling tour with either Captain Tama's or Koka Lagoon Cruises. Both tours start at the Muri beach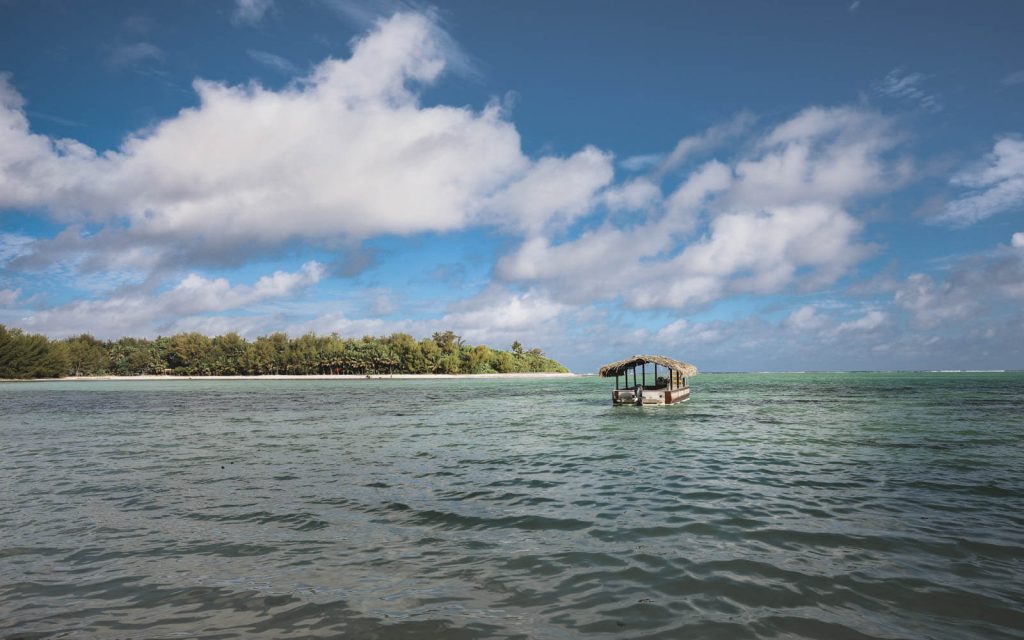 They take you to the nearby islands from the Muri beach on glass-bottom boats so you can see all the action beneath. Supposedly, here you can even spot turtles among other marine beauties. Both options are priced at $79 NZD and +$10 NZD if you need a hotel transfer.
2. Go Kayaking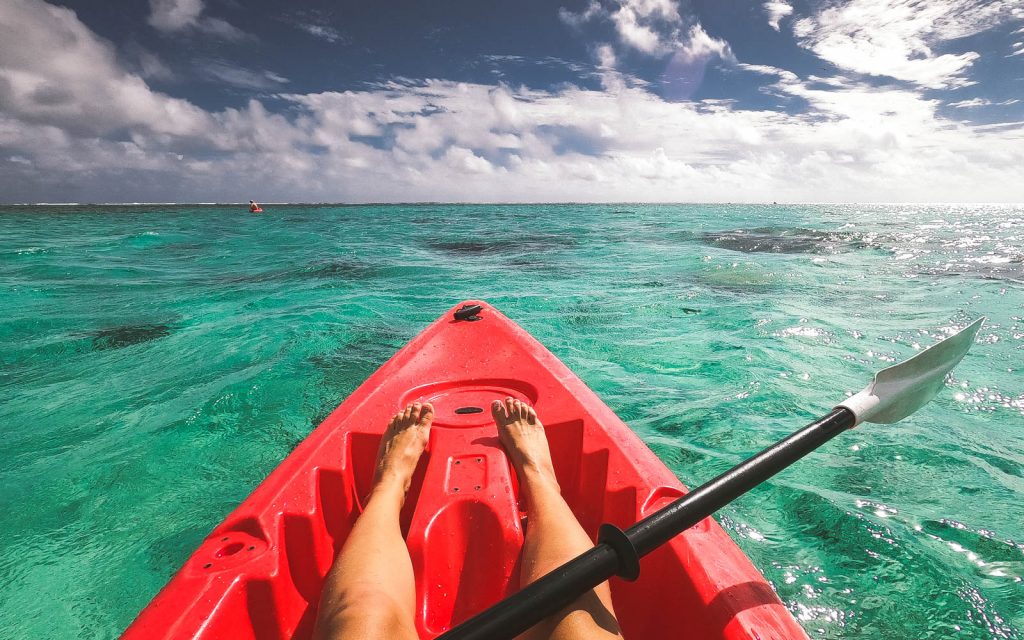 Our resort (just like many others) offered free kayaks for all guests. Island kayaking is a perfect activity for a breezy day with not too much sunshine. The blue water lagoon of the island is surrounded by the reef. The water is mostly shallow all the way until you reach the dark blue sea with big waves, which is where I would recommend stopping.
What I enjoyed the most about the experience, is a magical view towards the islands once you kayak far enough.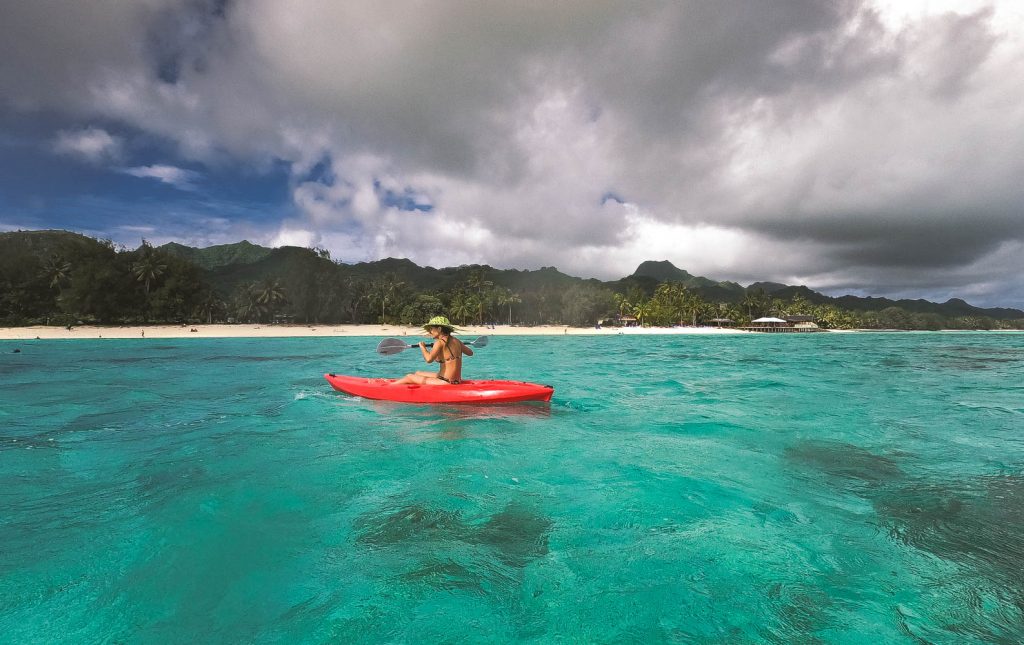 3. Learn more about Māori culture on foody cultural tours
There are a few cultural shows running throughout the week which will give you an exclusive insight into the life of Māori people. You will be treated to food prepared in a special underground oven followed by a singing and dancing show to the sound of island drumbeats.
Expect to pay anywhere from $55 to $100 NZD for a show depending on which one you select.
Be wary of timings and book in advance! The shows are only available a few days a week and we missed some because of the late booking.
4. Go hiking
Though Rarotonga is mainly a beach destination, it boasts a beautiful rainforest in the center of the island. There are a few walking trails you can take to reach the center of the islands and the Needle (Te Rua Manga), a famous pointy peak distinctly towering among green hills.
If you don't fancy too much hiking in the bush full of bloodthirsty mosquitoes, you can take an easy walk to the Wigmore's Waterfall accessible from the south-west part of the island. Driving all the way through the end of the road will leave you with just a 5-minute walk to the waterfall.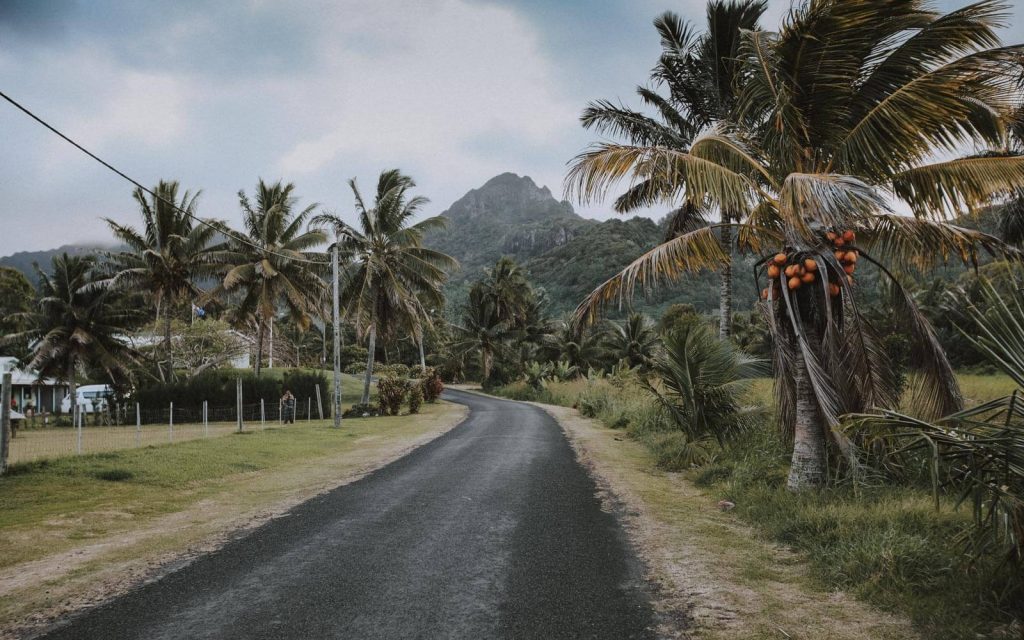 5. Take an Aitutaki day trip
Aitutaki is the second most populated island (with just about two thousand people), but it is most famous for its bright turquoise water and white sand beaches, everything screaming "a luxury resort". It is often referred to as the most beautiful Cook island and can easily compete with the Maldives or Fiji.
If you want a piece of the tranquil paradise, hop on a flight to Aitutaki. The planes leave daily from Rarotonga airport and it will take you only 45 min. to do the trip. Many people choose to do this as a day trip from Rarotonga. Air Rarotonga offers a return fare for adults for $493 NZD.
6. Go on a cycling tour around the island
Rarotonga Island is perfect for exploration on two wheels. The island is round and almost flat, so hopping on a bicycle tour would be a great way to explore the entire island in a day.
Beware that there are no sidewalks or bicycle lanes, so you have to really be careful and keep to your left the whole time.
7. Soak in the water
Isn't this why you went on a Rarotonga holiday in the first place? To soak your butt off in warm see-through water.
Where to stay in Cook Islands?
For the duration of our Rarotonga holiday, we stayed at Rarotongan Beach Resort in the south-western part of the island. I could not be more happy with a choice, for me, it was the best place to stay in Rarotonga, given the value for the price paid.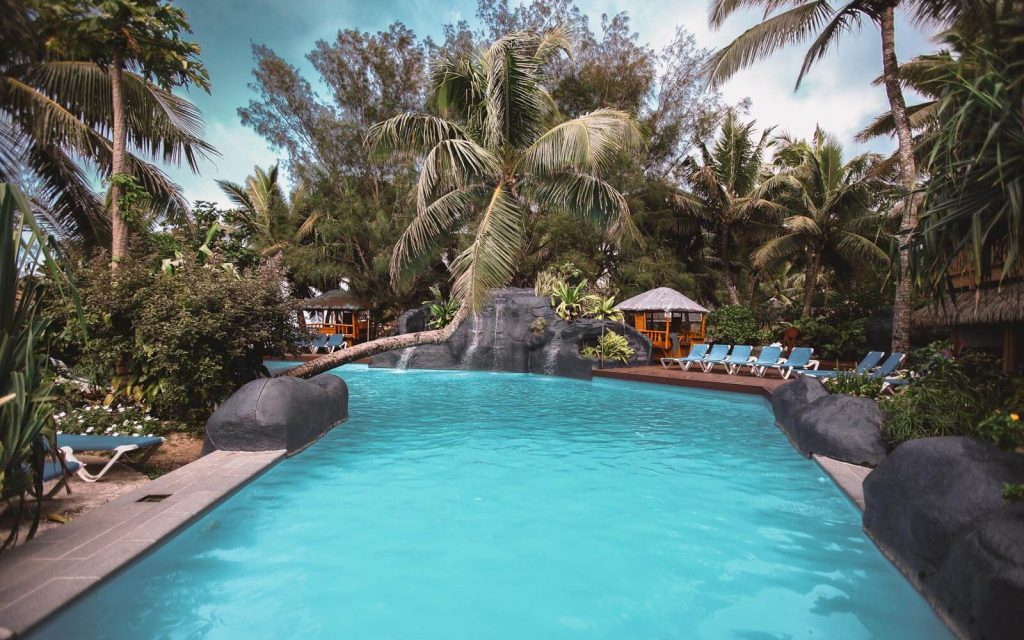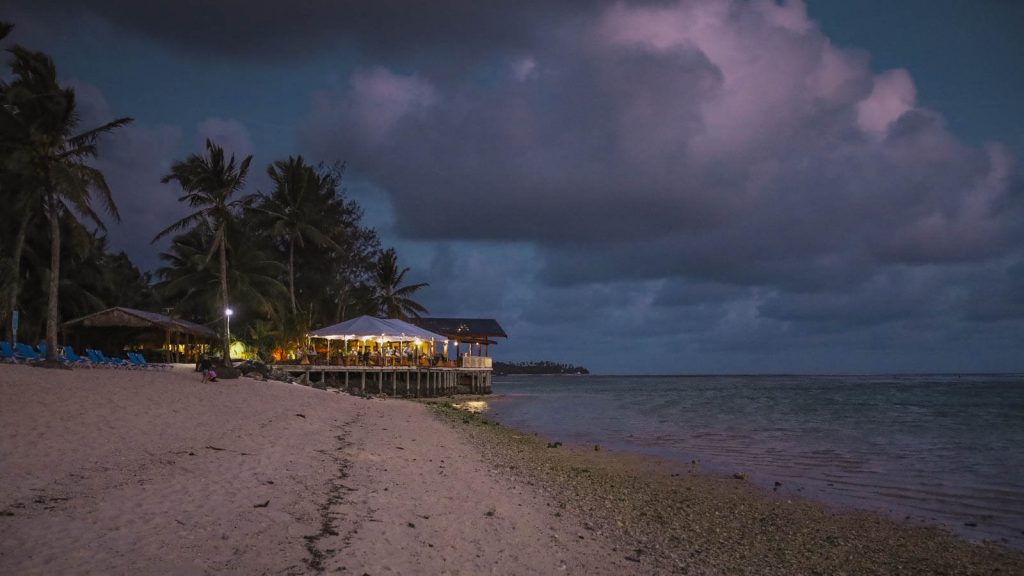 Back door straight to the beach

Seaside suite
The rooms were somewhat outdated but still decent. The old furniture was easily compensated by the fact that your back door was leading straight to the beach (in some cases – to the garden).
However, what earned my full appreciation is the resort's huge territory, which was very well kept and offered a lot of space so that guests wouldn't feel like they are on top of each other.
Rarotonga beach resort is situated on one of the best Rarotonga beaches – the Aroa beach, giving you direct access to many water activities. The resort offers kayaks and snorkeling gear for free for all the guests to enjoy. So much so, that you might be tempted to just stay within the resort for your entire stay! (which you shouldn't do, go on and explore the island!).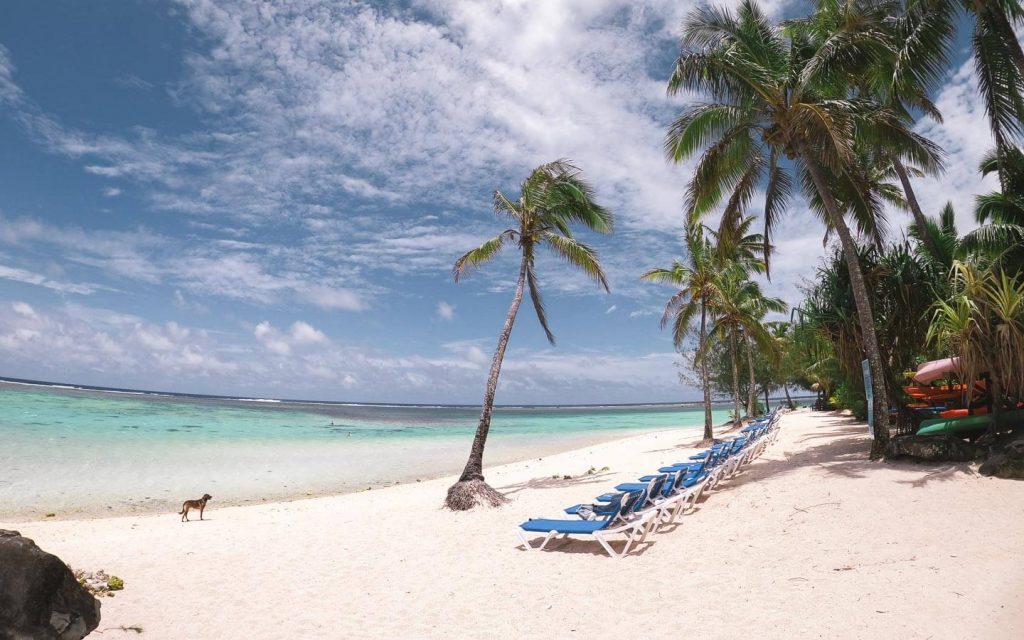 You have access to the free swimming pool, snorkeling gear, kayaks, pool games, chess. On top of that, the amazing resort crew runs many complimentary activities daily, such as ukulele and drum lessons, crab hunting, hat weaving, pedaling board lessons, etc.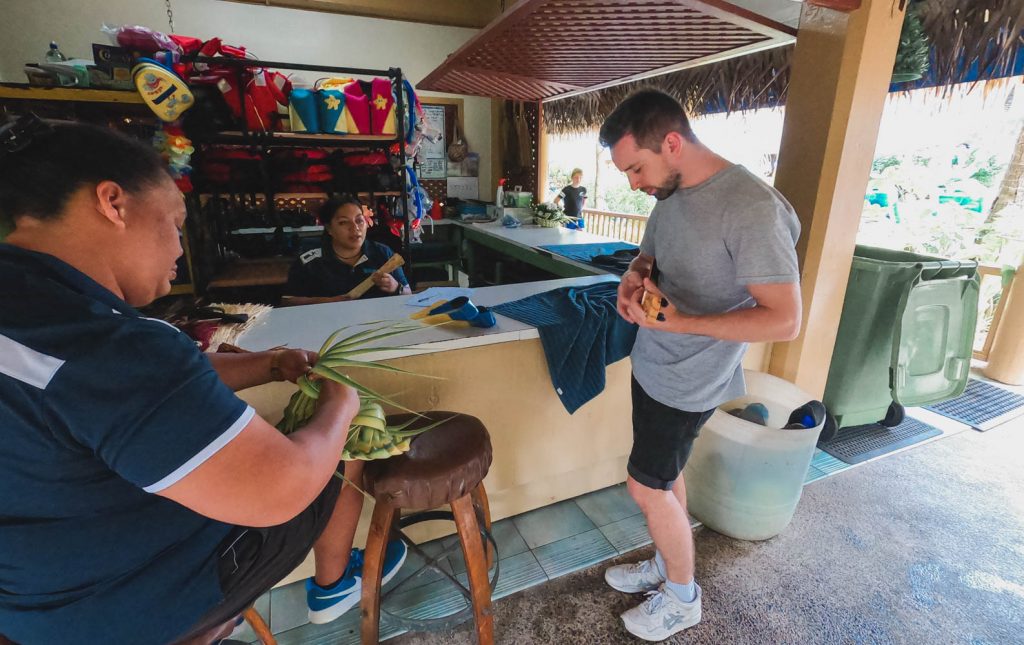 There are plenty of other great Rarotonga resorts on the island, which you can find on booking.com or Airbnb. One of the best areas to stay besides Aroa is near Muri lagoon.
How expensive is Rarotonga holiday?
I often hear that Copenhagen is expensive to visit, but I was surprised to see that Cook Islands is not cheaper!
Expect to pay around $50 per dinner per person in a restaurant
Around 25$ for breakfast in a cafe
Beer costs 7-8$ in a bar, 3-4$ in a supermarket
Resort stay 200-300$ a night for a double room
Brie cheese in a supermarket 7$
Bottle of water $3
What to pack for Cook Islands?
Sunscreen, sunscreen, sunscreen! I will keep repeating that because I burned my nose on the first day of being here. The sun in this part of the world is particularly brutal and given that you will spend most of the time outdoors or swimming in the water, reapplication of sunscreen several times a day is crucial.
If you are planning on going trekking or hiking, make sure to pack a mosquito repellant. During a 5-minute walk to the waterfalls, I came back with at least 8-10 mosquito bites. Sometimes, the repellant is even handy for a dinner night out.
Remember to bring Australian/New Zealand power adapters
---
That is all you need to know for your perfect Rarotonga holiday in Cook Islands. Everything else will come easily once you are there. Enjoy!
Like It? Pin It!