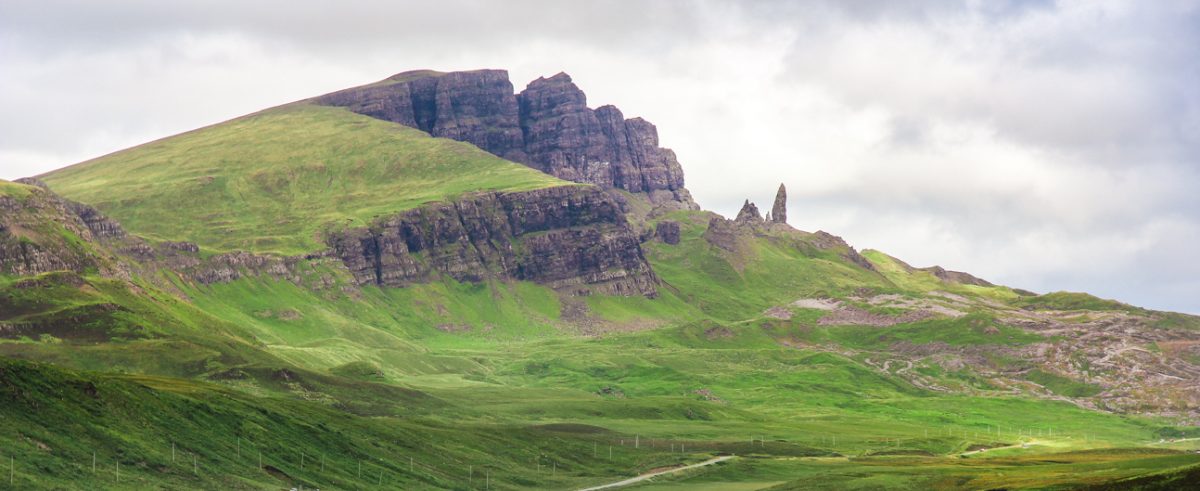 This post may contain affiliate links. I receive a small commission at no cost to you when you make a purchase using my link.
You have to go through seven circles of hell before you reach the paradise. Turns out that's how it works. You don't need to spend months in a monastery in Nepal to reach the enlightenment. Four days cycling around the Isle of Skye in Scottish Highlands will be enough to find out that shelter and warm tea is the highest blessing on this planet.
We started our travel in Scotland from a cultural hub of Edinburgh, which opened up the preview to the beauty that awaits us when we get to Isle of Skye. Even though the hitchhiking trip through all of Scotland was fun in itself, I couldn't wait until we get to the island and start exploring the Scottish highlands on our own.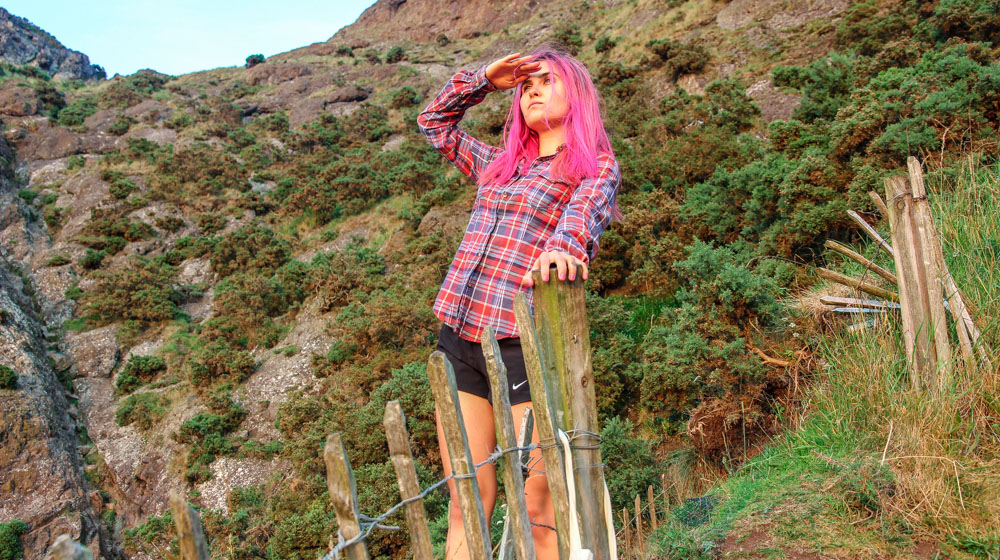 Since the United Kingdom is an expensive place, we decided to go wild camping in Scotland, which is not allowed in all countries but is here.
The Isle of Skye is not that big if you're on a car. But if you're not, then it can be a whole world, especially since bus coverage is not great. Our choice of transportation was a bicycle. If you chose that as well, keep in mind that this is not for those weak in heart. Cycling is the main reason why our exploration of Skye turned into a game of getting through seven circles of hell.
OBS: This post is not intended to scare you or to discourage from traveling to Skye. I will tell you up front that it is well worth it, nature didn't spare any of its best features for this place! This post is here to prepare you for what you're facing if you decide to do it the hard way.
Where it all started?

Everything started pretty great, we had two successful pick ups on our hitchhiking mission and we got to Portree before it got dark. Whenever I looked, even the streets of this tiny town already seemed worth the trouble we went through to get here.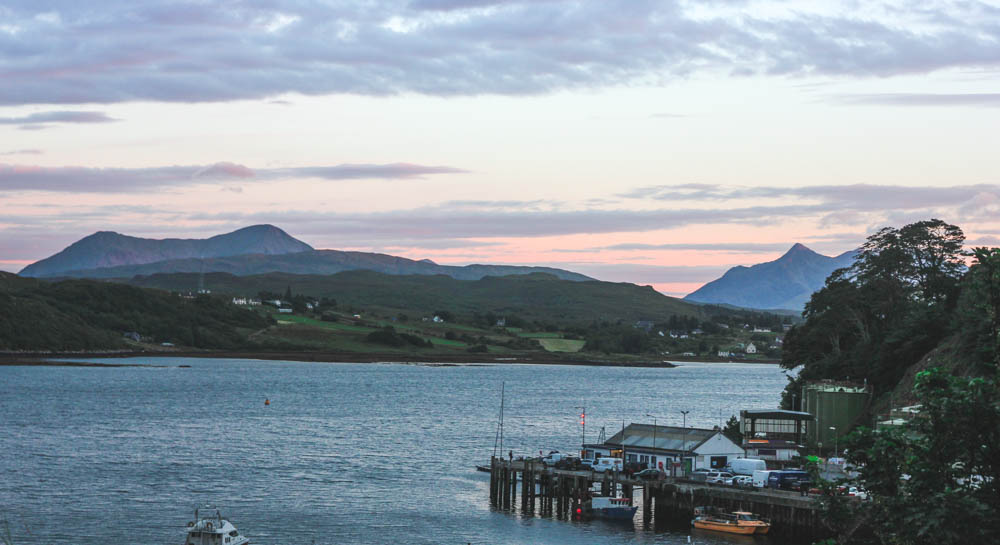 The first thing we did is found a campsite to settle for the night. As I mentioned in my guide to Isle of Skye, we stayed in Torvaig campsite. It was very basic, with toilets and showers, but, unfortunately, no place to get hot water for your morning coffee, which made me beg for it from the neighboring tents. Well, at least I made some friends on my stay there.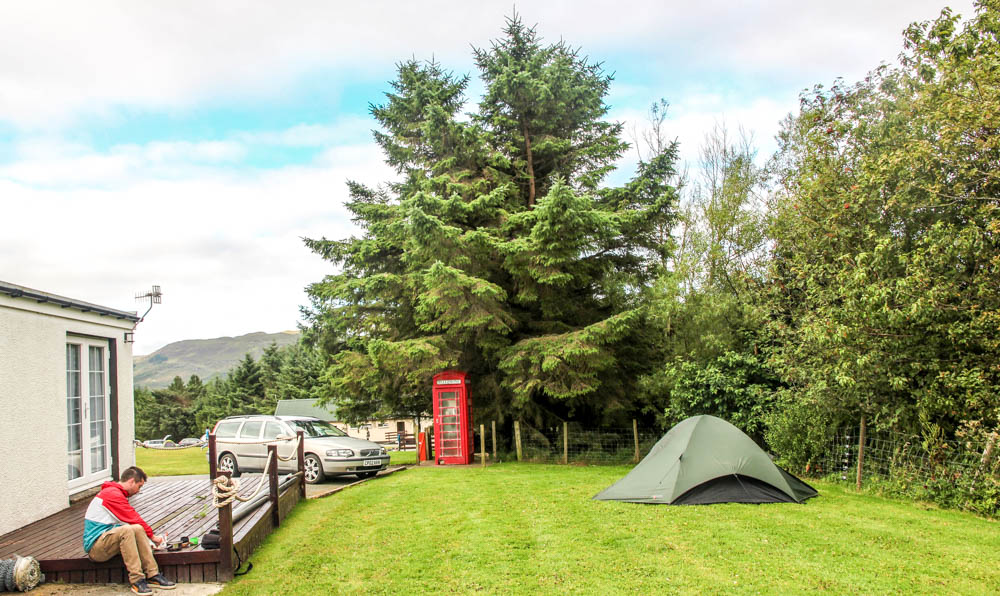 Doing it the Hard Way
The weather was great, the sky looked promising, so we went to the only Skye bicycle rental shop with full confidence of circling the tip of Skye, around 100 miles within 3 days (crazy!). Here is our initial route that we planned to complete with full enthusiasm.
Of course, I never miss a chance to pet a cute doggy while our bikes were getting ready.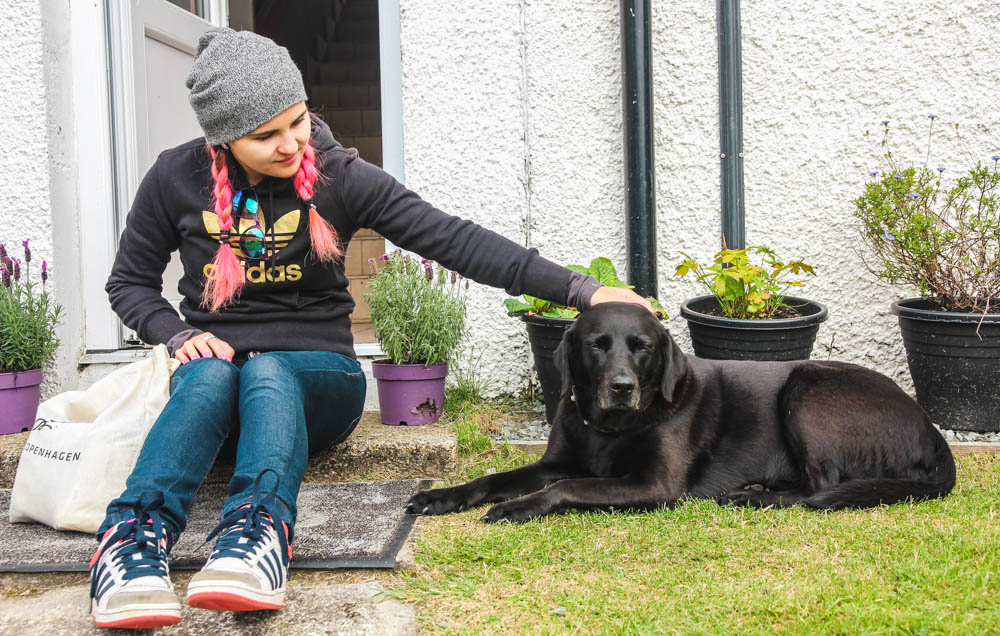 And off we went, leaving Portree behind and facing nothing but picturesque views in front of us (literally). This is my happy and enthusiastic face in the beginning of our trip. It's going to be fantastic!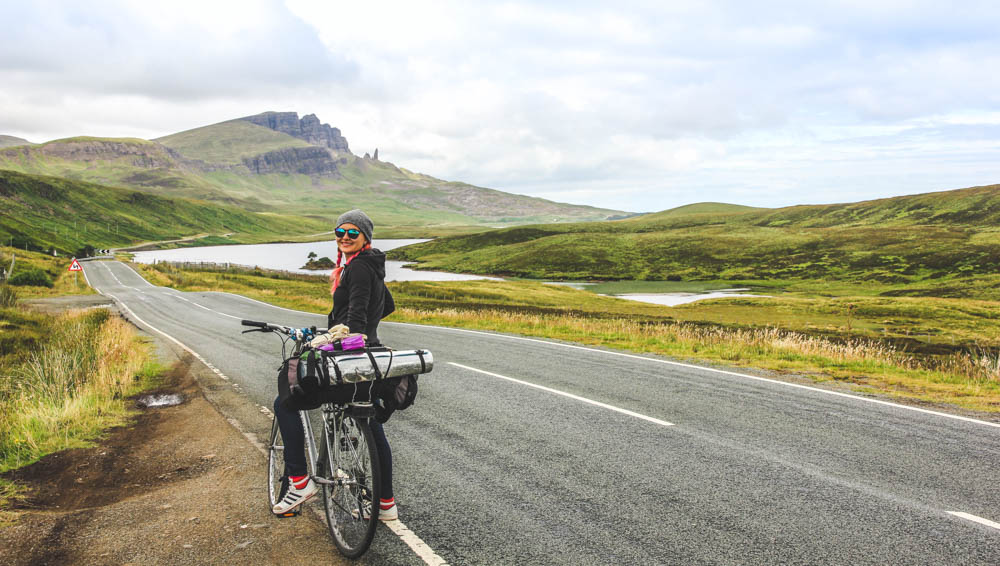 It's time for me to name the first circle of hell – baggage. When you travel wild, you need to have your survival kit with you all the time and when your mode of transport is a bicycle, the only way to go is to carry it on. At first, it didn't seem like a big deal, after all, it's not like you are carrying it on your shoulders, but when you have to bike up and down the hills all the time on a rather narrow road, you start noticing the discomfort.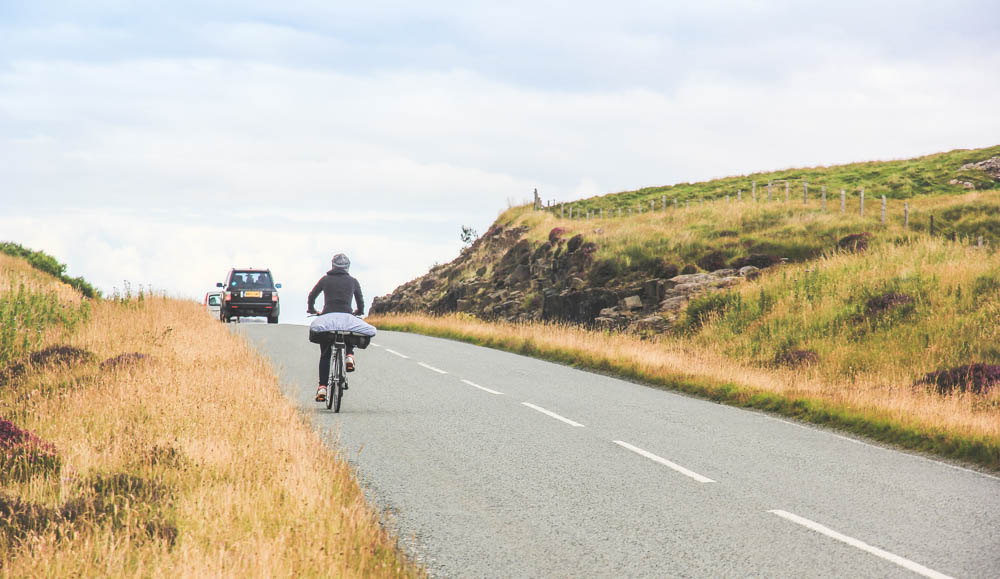 Old Man of Storr
Our first stop was the Old Man of Storr, a gorgeous rock formation and the face of Skye. This is where we felt the bag pressure to the fullest.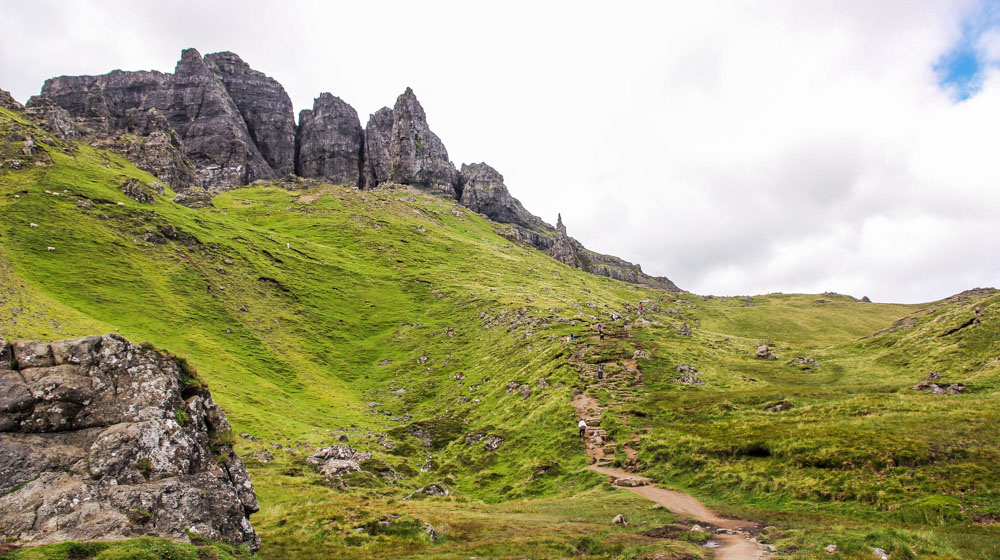 Quite an uphill walk was in front of us and we had to decide what to do with our precious bags. Taking them with would slow us down dramatically and we wanted to cover as much road as possible during the first day. For some time we were quite lost. Everyone else we met on the road traveled by cars. Lucky them!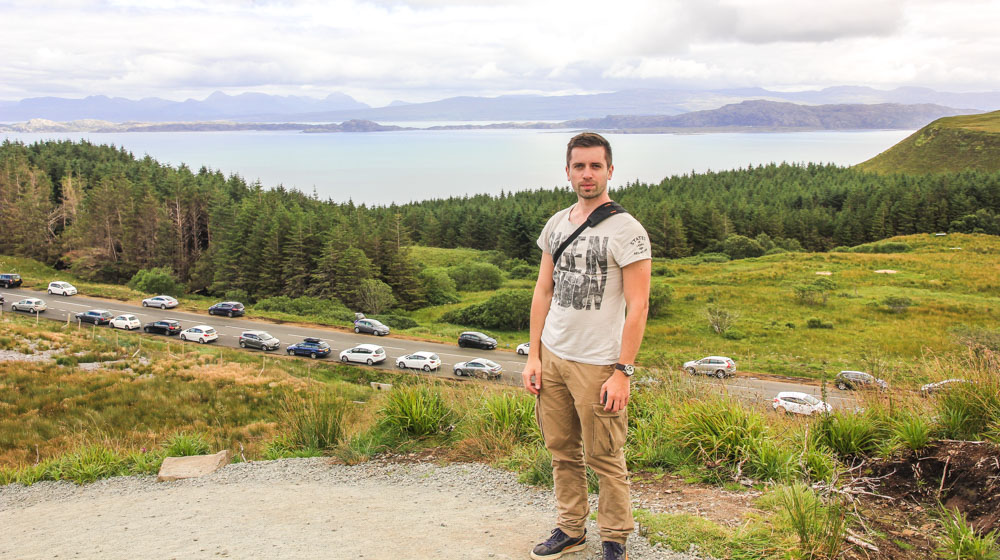 Ha, anybody could do it by car, where's the challenge in that? Anyways, after careful consideration and walking around the bushes we decided to risk and leave our bags right there, in the bushes. We left a kind note begging for whoever finds it not to take the bags. The walk uphill was much more pleasant with free shoulders. It was well worth it, the views were fascinating. You could see both the ocean and the mainland from the top.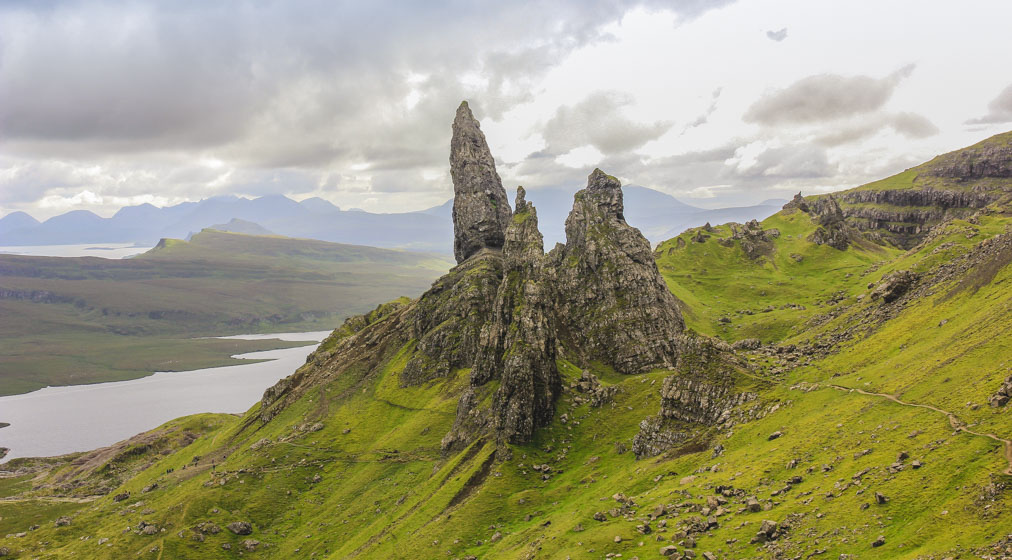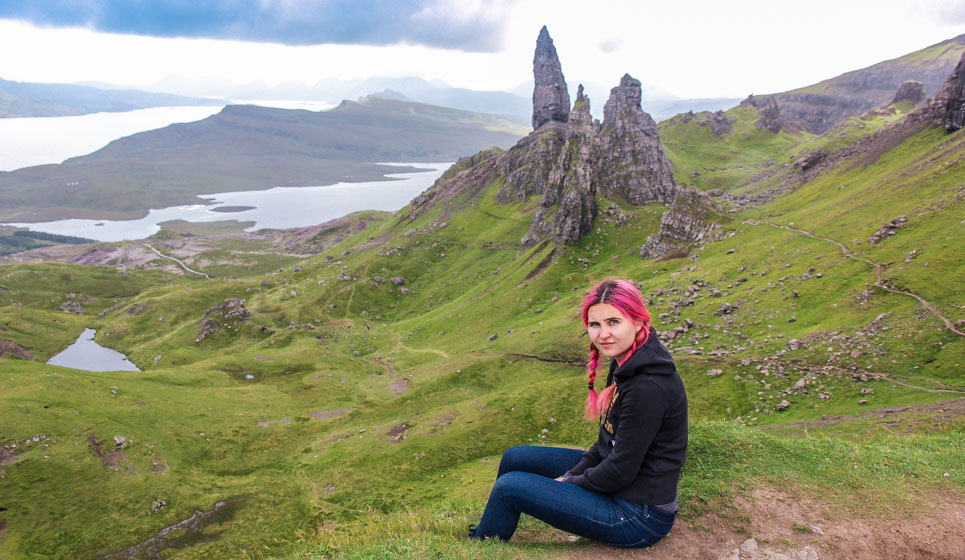 By the way, sheep don't seem to have a problem at all with the heights, they might be good alpinists by nature!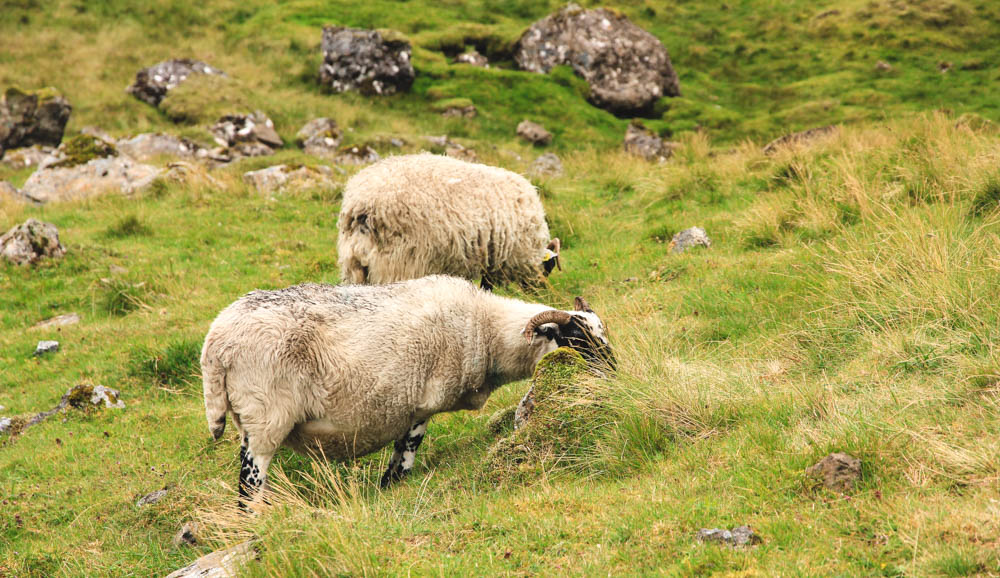 Luckily for us, when we came down, our bags were safe and sound exactly where we left them.
Kilt Rock
Our second stop was Kilt Rock. We were less enthusiastic about this one since we saw how much traveling is still ahead of us. But we took time to stop and take pictures anyways.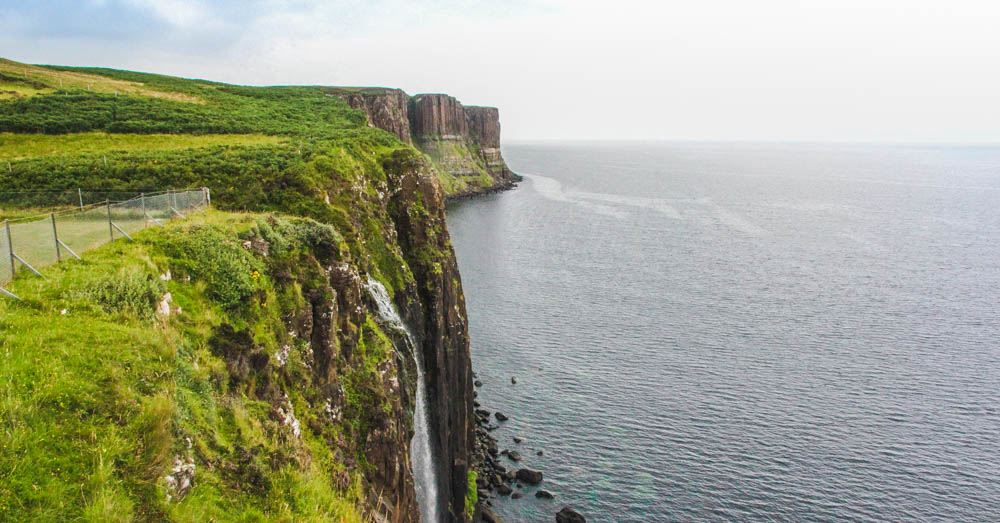 After couple more miles of biking up and down the hills we came face to face with the second circle of hell.
Quiraing
This piece of beauty demanded that we get on top of the hill to see it and to be able to continue our trip. Seems like nothing, since we've been biking uphill all the way now, but… if only you saw how difficult it was for cars to get up that thing!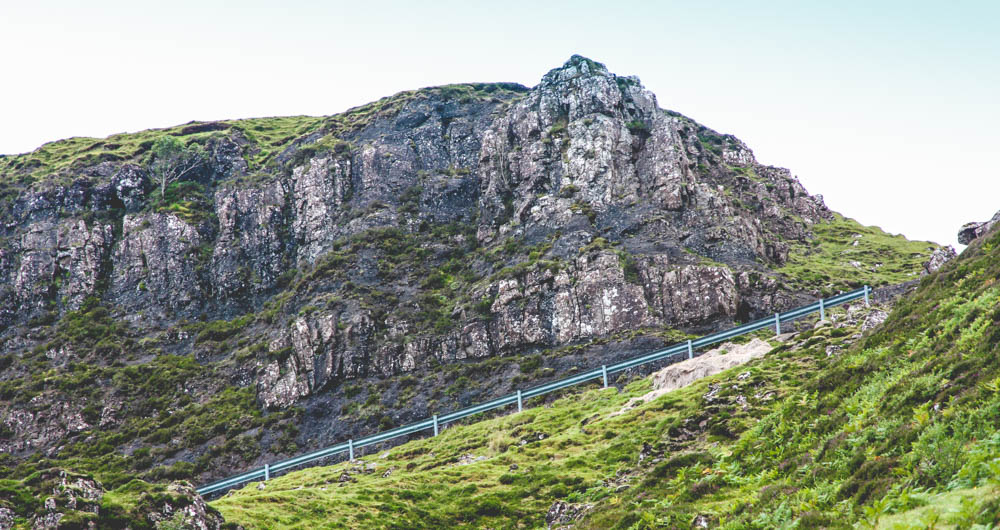 Forty five degree elevation, at least that's what it looked like from where I was standing. I wasn't at all happy about cycling up that hill, but believe me, walking wasn't much easier either. All of the sudden bags became even heavier.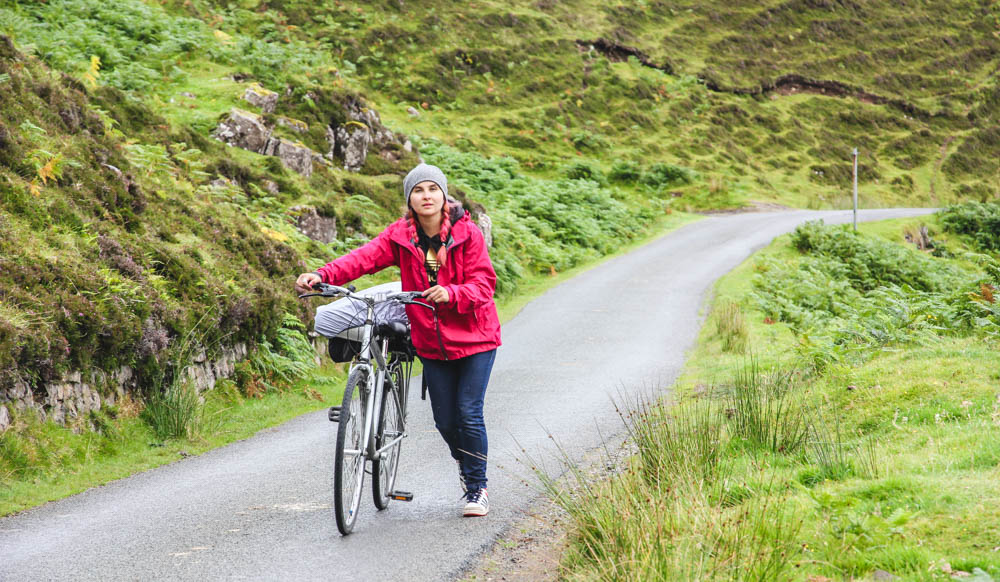 But once we got there, it felt like a little victory. Not so much because of the view, which by the way was majestic, but because of liters of sweat that came out of my body on the way here.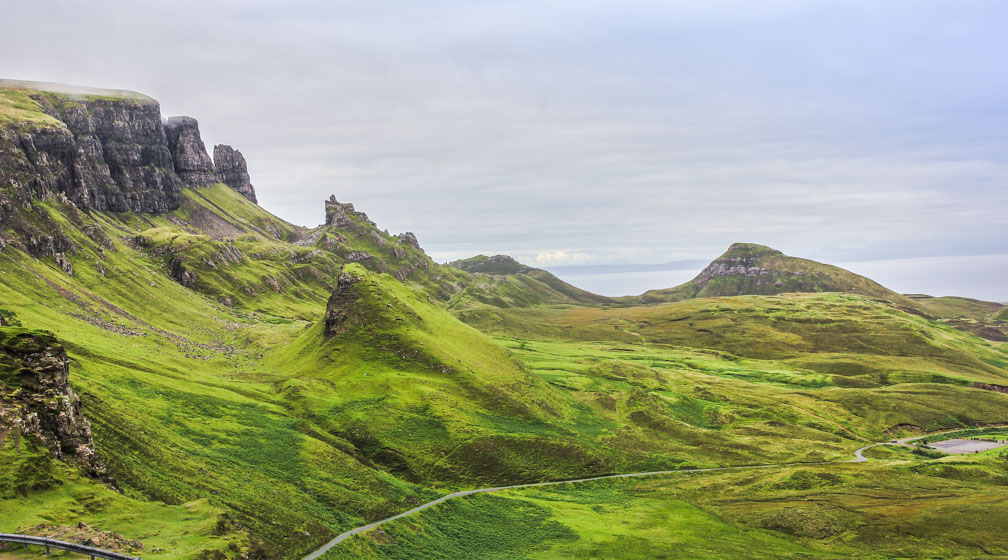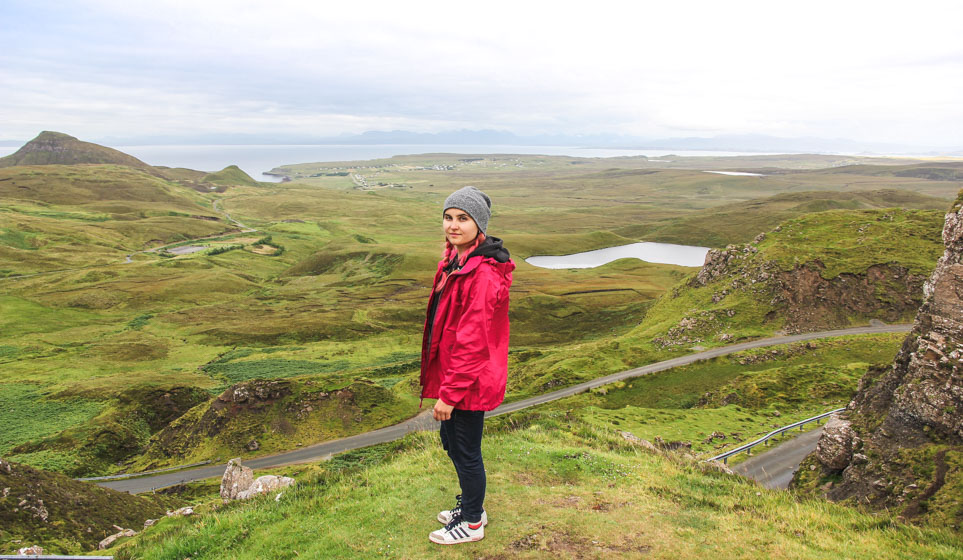 Once we got on top of that hill everything seemed so easy. Rest of the way was either plain or downhill and it was the most enjoyable piece of road in the entire trip. The weather on Skye was fantastic and we witnessed the gorgeous sunset above the Atlantic ocean.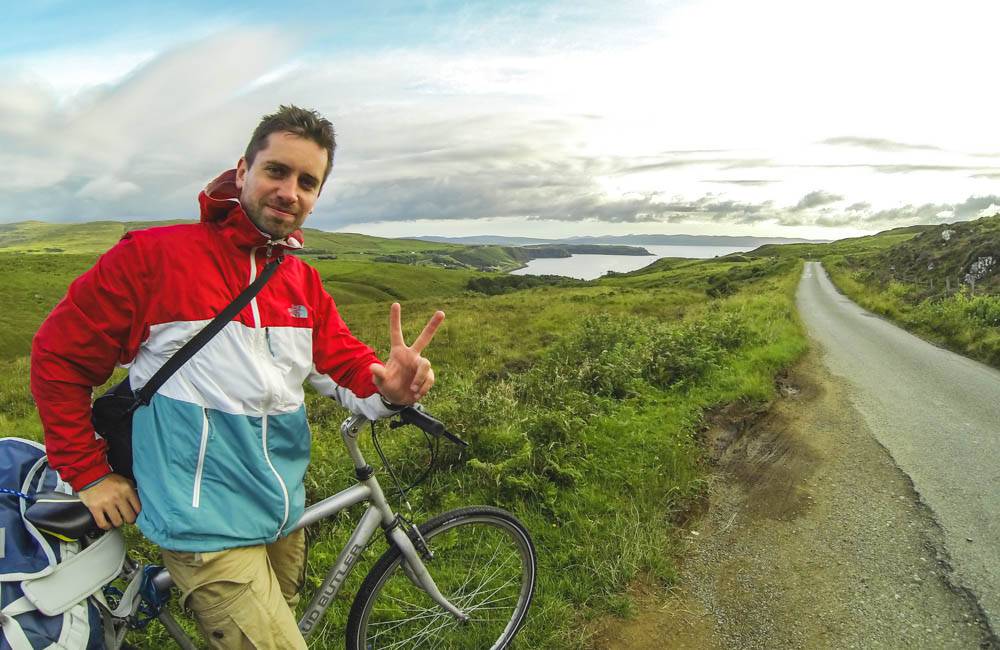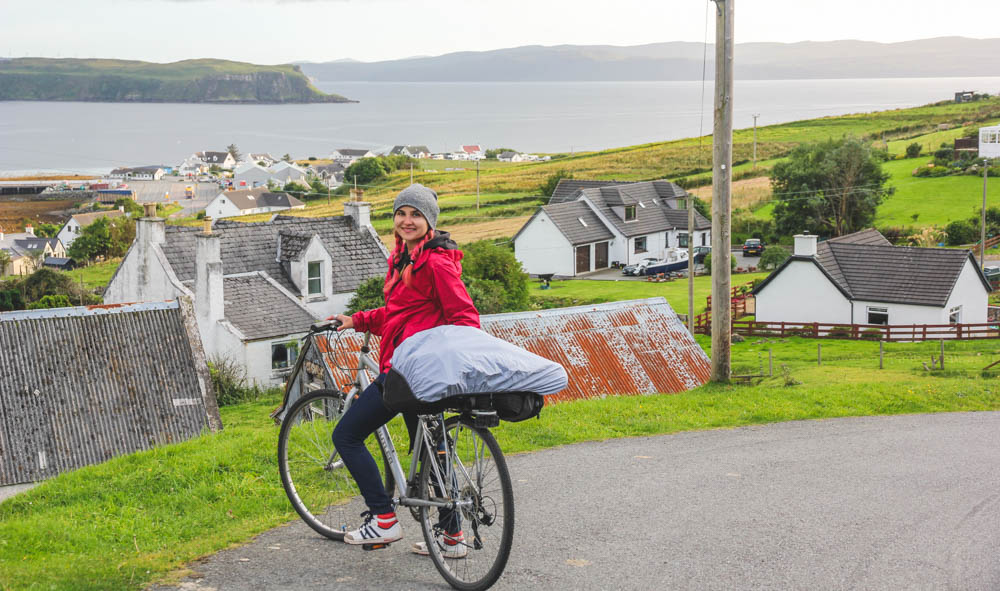 Overnight in the Wild
It was getting dark and so it was time for us to settle for the night. We traveled all the way down to Uig to find a cozy spot. The only place where there was no fence, and therefore, no permission needed, was on the bank of the bay.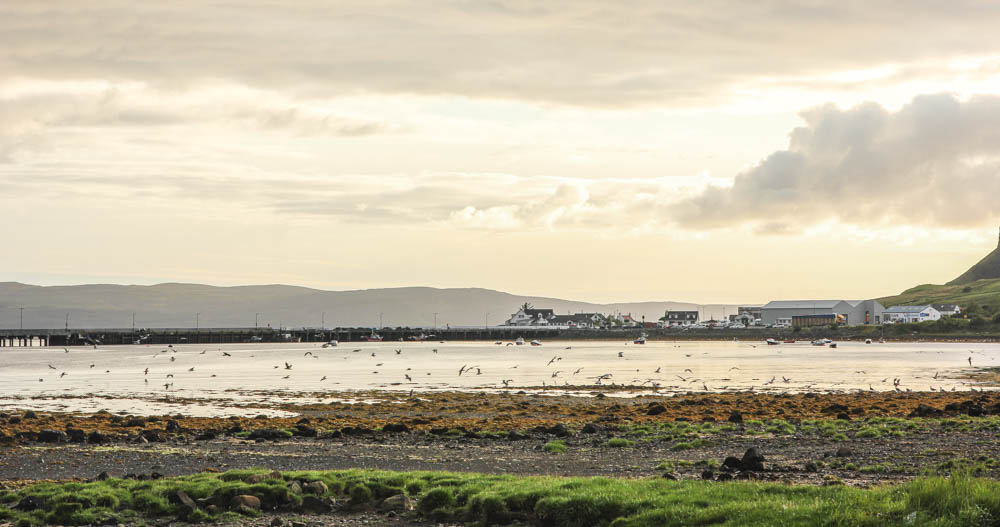 We were happy to finally find a place to stay. It looked gorgeous, right by the water with the view over sunset on one side and fast stream with fresh water on the other side.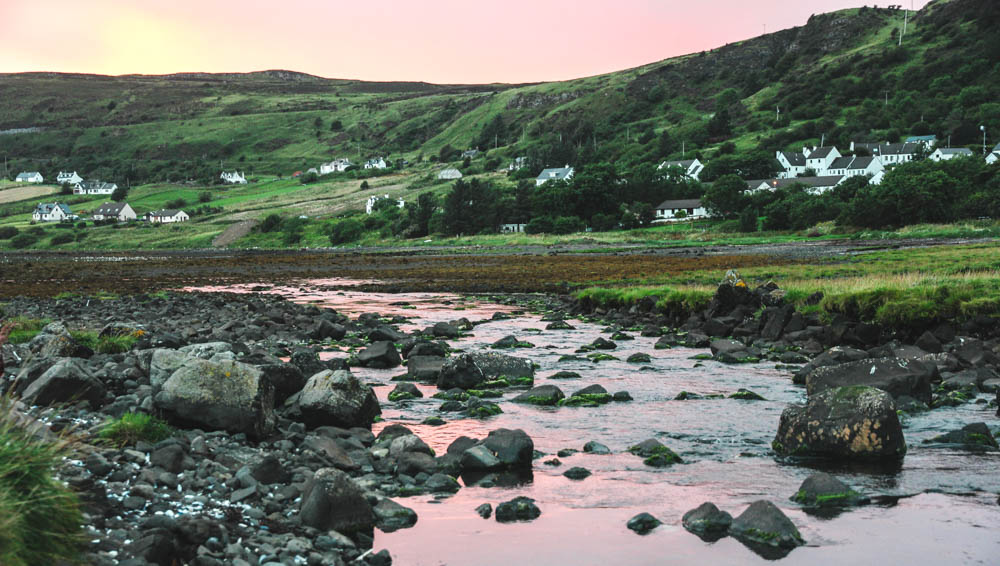 But here's a pickle, the gas that we bought didn't fit the primus that we've got and so we stayed without warm tea and soup which we planned to have. And let me tell you, there are not a lot of shops around to just go and buy food!
But this didn't seem like enough for one day. When we started unpacking and setting up our tent the third circle of hell began. No, it wasn't the tent itself, setting it up is easy, especially if you are two people. But those damn midges! We were warned about them by lovely people who gave us a ride on the way from Edinburgh. But I didn't even imagine it's going to be that bad! These insects have no mercy! They fly into your face, in your ear, in your eyes even. And they bite! If there was anything in the world I wanted in that moment, it was to get into that tent as fast as possible. Forget about soup and tea.
Only when the tent was up, I finally felt safe and relaxed.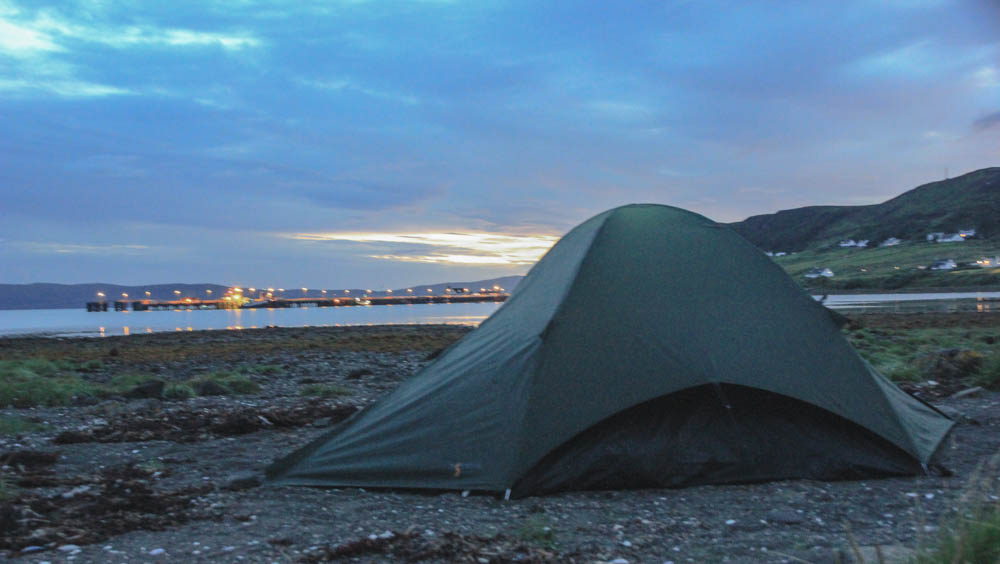 Bedtime
Regardless of the fact that it was cold, sleep took over pretty fast due to the fact that we were very tired after a day of heavy cycling of over 22 miles. What happened next is something extraordinary, bordering with science fiction.
I woke up in the middle of a night because of the loud sound of machinery. It sounded as if a huge plane was about to crash somewhere near us. I recall that earlier that day when we climbed the Old Man of Storr we saw military planes flying over islands east of Skye. At that moment I thought that there might be a military base on one of these Northern islands since no one lives here. Here's the evidence.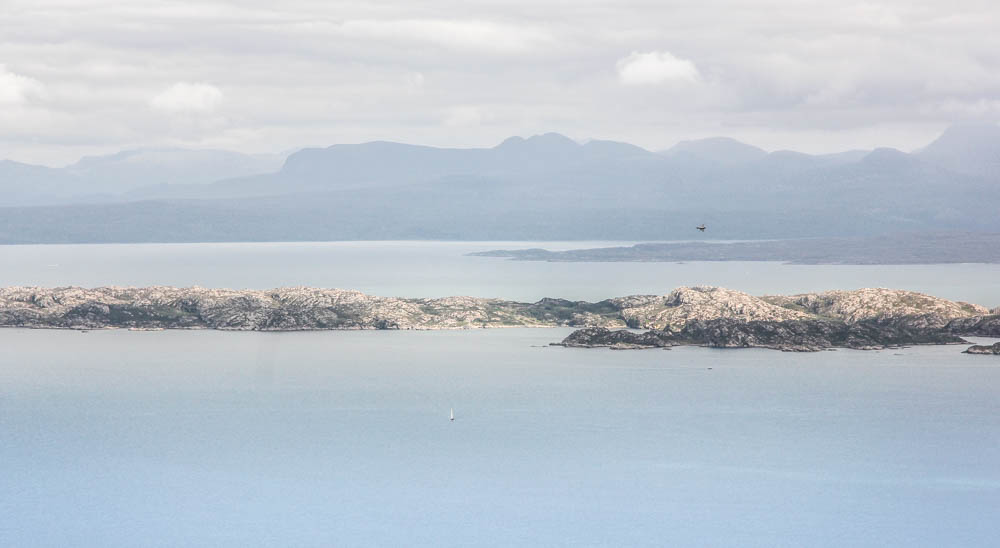 But one thing is seeing those planes in the clear light of the day, hearing them flying over your head in the middle of the night is another story. This was our fourth circle of hell. It sounded as if they are flying right above our tent, so loud it was. It was so scary I thought the war has started or something. And we were just there, in the middle of the open field in a tent. Thankfully, the noise stopped shortly, but it took us a while to get calm and go back to sleep now.
Day Two
The next morning we woke up because of the terrible sound of heavy rain. Well, nothing surprising here. If you're going to Scotland, be ready for some rain. So, we decided to stay in a tent a little bit longer and wait until rain calms down a little bit.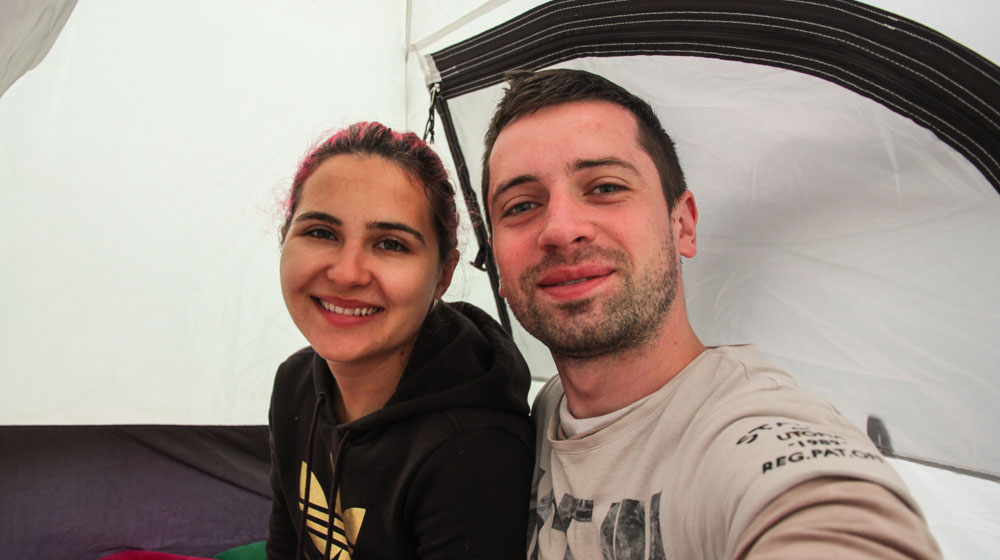 An hour passed, two hours passed, rain wasn't so heavy anymore, but it didn't plan on stopping at all. Being pressed with time, we decided to start packing up regardless of the weather. After all, we have only two days left to cycle 3/4 of the route left!
It wasn't pleasant to pack in the rain when the tent is soaking wet and you know the whole day of biking is ahead of you. But we were calm, cause we counted on the rain to stop at some point.
And we couldn't be more wrong. Rain didn't stop. Ever! And it became our fifth circle of hell.
Challenges of Cycling in the Rain
Little by little, mile after mile, everything was becoming unpleasant. You couldn't see the nice landscape anymore behind the gray coat of drizzle. Cycling became harder and more dangerous since rain constantly poured straight into my eyes and often there was only one lane for transport to get through. I was just hoping that whoever is driving behind me will be careful.
If we were anywhere else, we could have just found a place to wait it out, but after biking for miles we saw only occasional B&B's along the road, all with 'No vacancies' signs on. The whole world felt like a big wilderness, which was our sixth curse. Big, massive, vast wilderness makes you wonder if anyone ever found you if something would have happened. We found shelter only on tiny bus stops which obviously haven't been used for ages since they were mainly occupied by spiders now, who took it for home.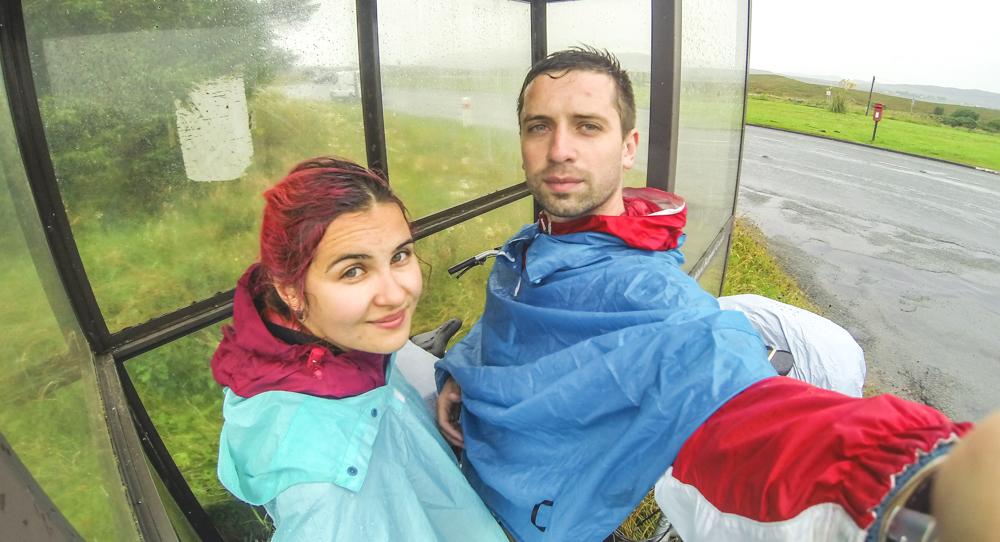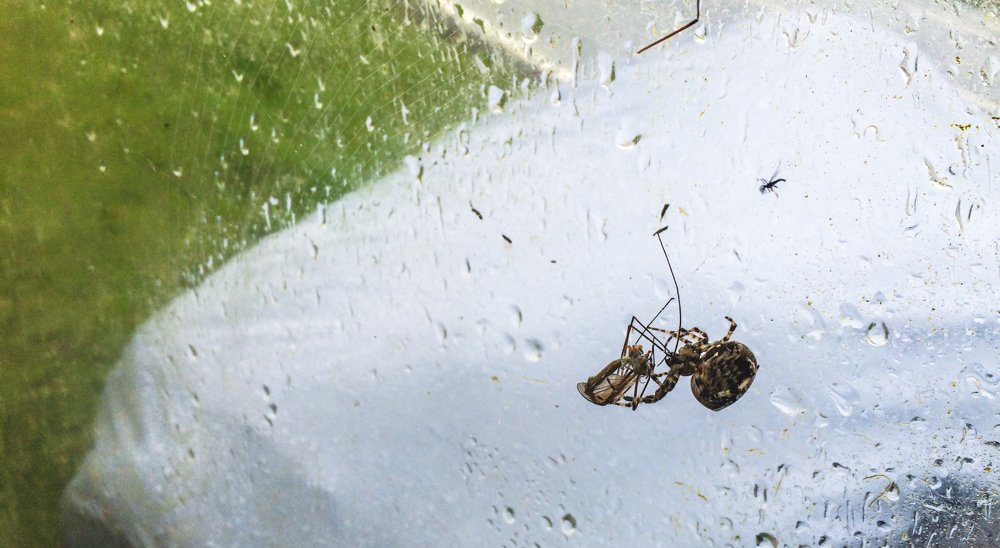 Little by little, water made its way to every inch of my body: my shoes were soaking wet, my pants stuck to my legs, the water was dropping from my wet face. We didn't make any pictures on that day.
Choices
During our next rest stop at the abandoned bus station, we looked into each other's eyes and understood that this is not fun anymore. Was it worth suffering through all this just to finish the circle and say 'we did it'? I simply couldn't even imagine the time when it's going to get dark and we'll have to dig out our wet tent and get in there in our wet clothing with no place to get dry. All of the sudden, finishing all the miles for the day didn't seem comforting.
So, we decided to skip the Dunevegan castle and cut straight back to Portree as soon as possible. So, instead of making two loops as we planned, our journey would look like this.
The printed map I had in my pocket (with half colors already washed off) showed that if we keep left, we'll get to Portree. But here's the thing, we didn't know where exactly we were. And in this moment of total despair, GPS failed to show us where we are. I could see it as nothing else but the seven's circle of hell, where we had to find our way back following our gut and sticking to the road signs, as people did in old days.
This is Happiness!
I remember the relief I felt once I saw 'Welcome to Portree' sign. We were back at our base, it felt like coming back home. We stopped by the first supermarket to get something to eat for the first time in a day. I remember standing in the supermarket entrance right under the fan which blows hot air and eating an apple shivering from the cold.
As soon as we got into Portree we went to this little place called Caledonian Cafe, which became one of my favorites. I wanted nothing more than to get warm. I have never realized that happiness can be found in something trivial and simple as a bowl of hot soup and a cup of warm tea. How little do people need once they've been through seven circles of hell!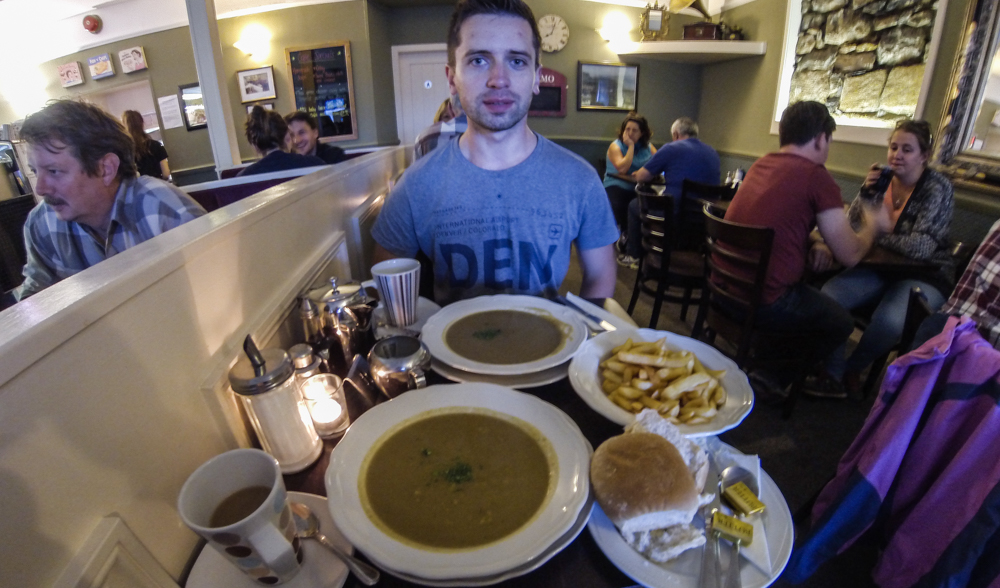 We were lucky to get the one and only room available at the Youth hostel in Portree. Once I took a warm shower and changed into dry clothes, the world seemed completely different. I started enjoying Scotland again!
With dry pants on and the new spirit, we were off to the streets of Portree to experience the Isle of Skye lifestyle.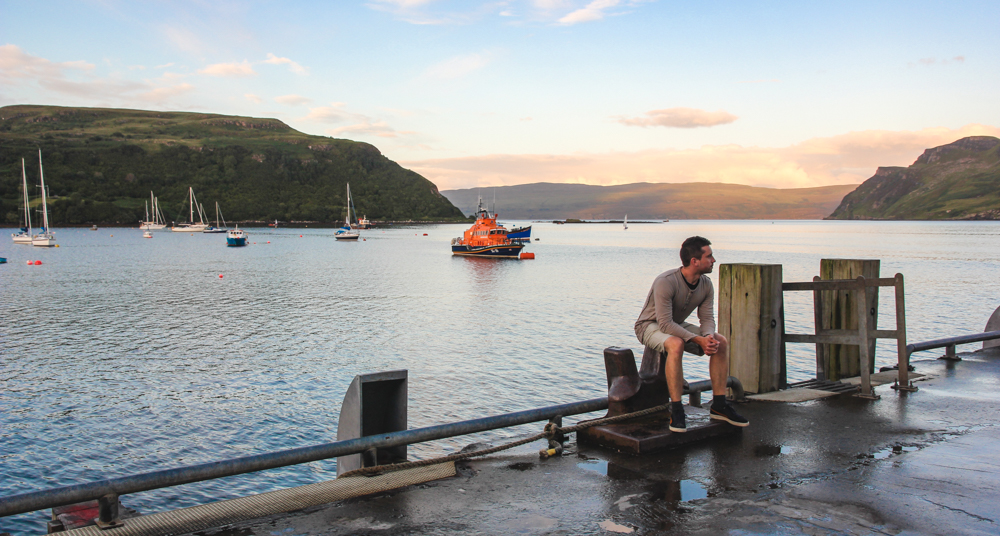 After all, WE MADE IT! We still managed to cycle 40+ miles in challenging conditions.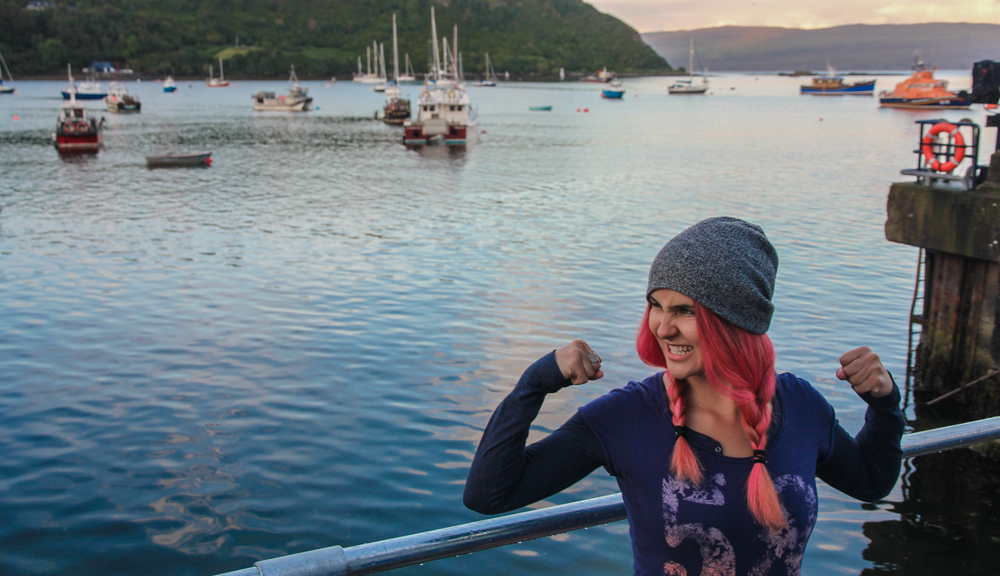 Obviously, I am exaggerating calling the difficulties on our way the circles of hell. But the moral of this story is that sometimes you have to go through something really tough to understand the value of something that's really small right in from of you, like warm tea and shelter.
The additional moral, of course, is that beauty of Scottish highlands makes you do crazy things. But I am absolutely happy we went through this cause it made such a good learning story at the end of the day.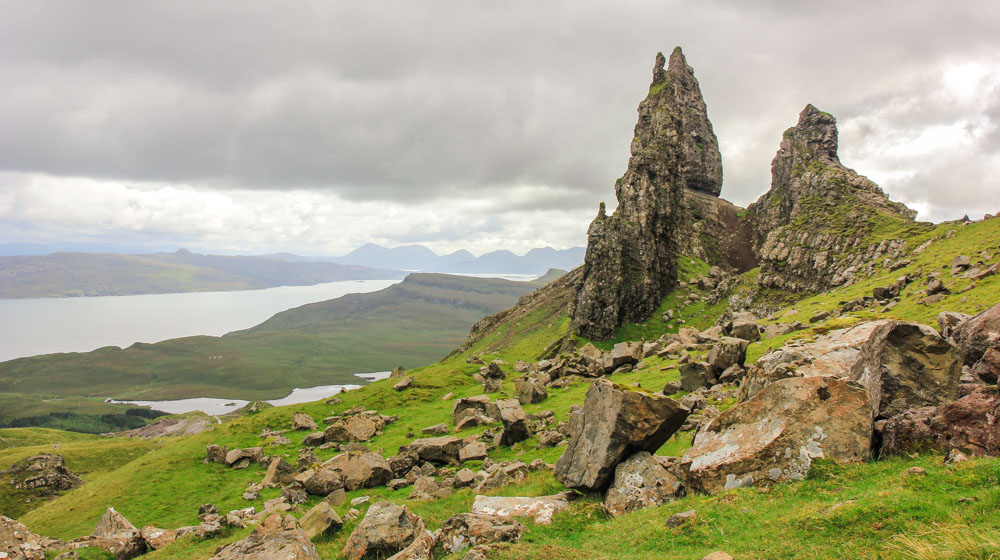 Live the story through with us by checking out the video of our cycling trip in Scottish highlands. Everything exactly as it was.
Like It? Pin It!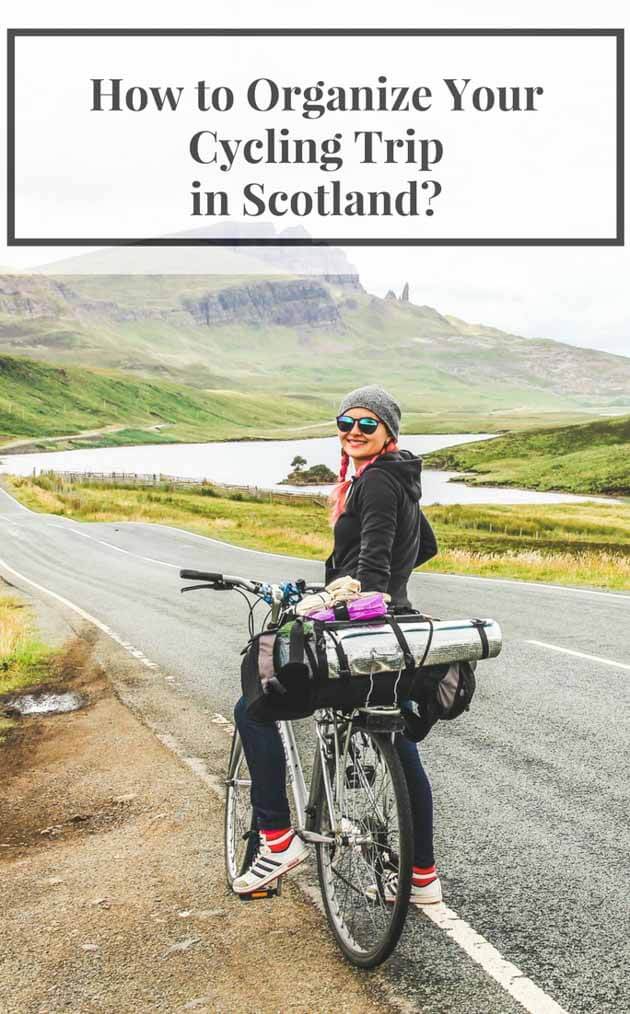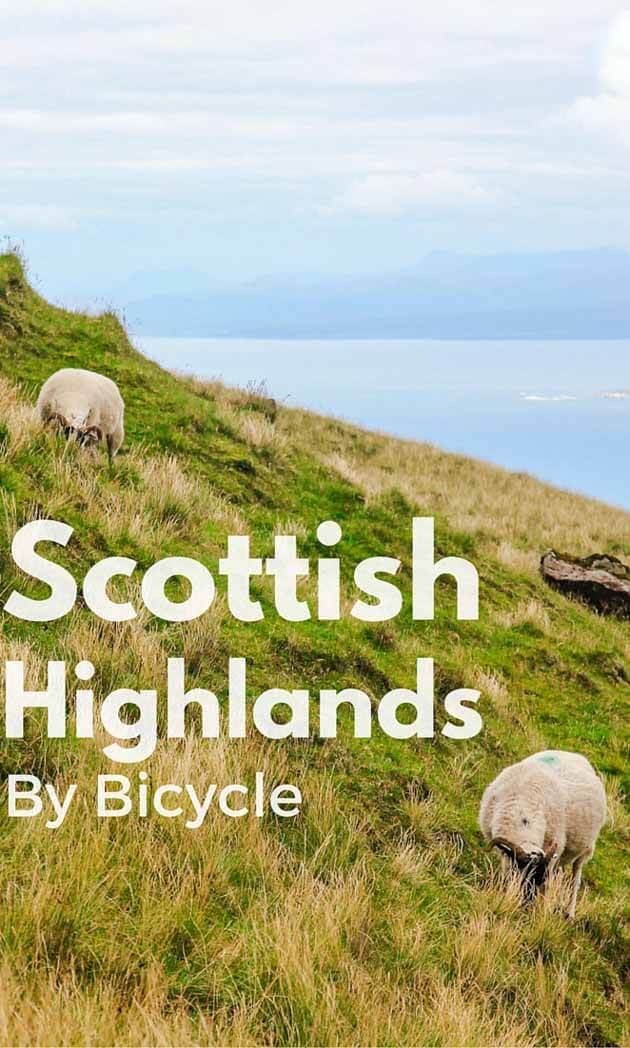 Did you have any similar stories of nearly giving up? Share them in comments below!