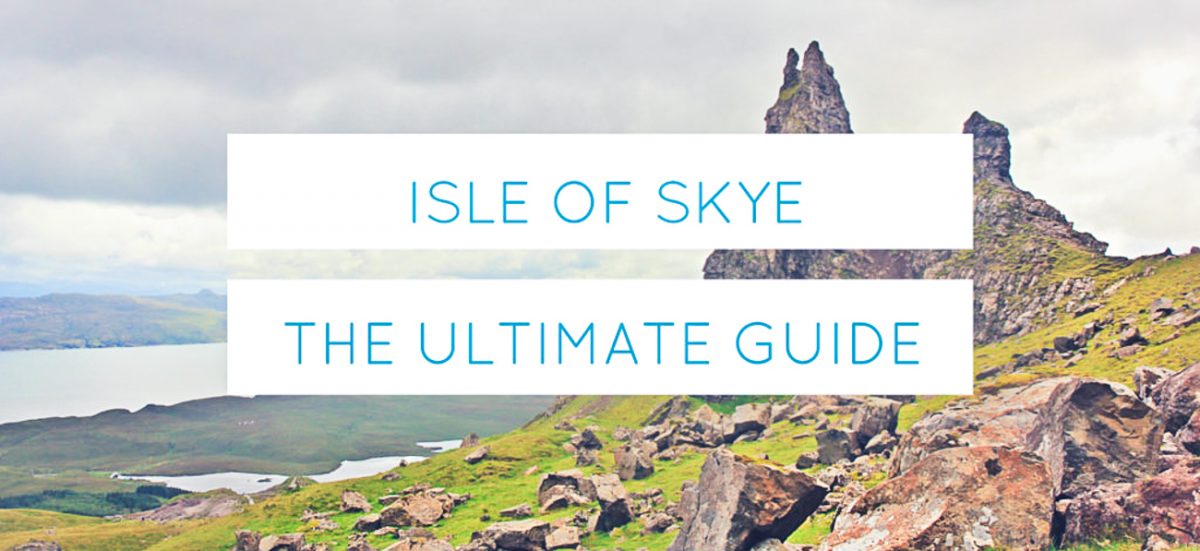 This post may contain affiliate links. I receive a small commission at no cost to you when you make a purchase using my link.
For those of you who dreamt of a trip to Scottish highlands, the name 'Isle of Skye' won't be new. It is considered to be one of the most beautiful islands in Scotland. This guide will help you plan your trip and list down the things to see in Skye.
Where to start?
There are two main ways to get to Skye, either by road or by ferry. Therefore, your point of entry will be either through Broadford or Armadale, respectively. I've been through both, entering through land and leaving via ferry. My method of getting to Skye was hitch-hiking all the way from Edinburgh and we were lucky to get a lift to the town of Portree in the middle of the island. However, if you are not a big fan of ad hoc travel, I suggest you book a tour using a Get Your Guide, which has a list of competitive tour offers for any location you need.
At first, we planned to start our three-day exploration of Isle of Skye in Broadford, but to be honest, we were very happy that we started in Portree. Why? First of all, the driver who gave us a lift said that Broadford isn't really nice comparing to rest of the island, and we believe him since he is local and secondly because Broadford is still way too far from things you would want to see. So my advice – start your exploration of Skye in Portree, if possible. If you'd like to know more about our planned 3-day experience biking in Scottish Highlands, read my article: 7 CIRCLES OF HELL IN SCOTTISH HIGHLANDS
How to get around?
The bus connections on the island are not that great and they definitely won't be able to take you to all the places worth seeing. Therefore, the two options I would suggest is either renting a car or a bicycle (if you are ready for some sweaty days).
In the town of Portree there a couple of car rental shops and only one bicycle shop called Island Cycles. The rates are £17.50 per day with subsequent days offering a lower price.
Read here about our cycling in Skye experience.
What to see?
Below is a map with all attractions in the Isle of Skye. As you can see, there are plenty. If you have a car, three days would be enough to drive through the island and see everything, but if you don't, you're in a need of more careful planning. Red dots on the map mark the attractions I personally recommend seeing if you don't have enough time to see it all.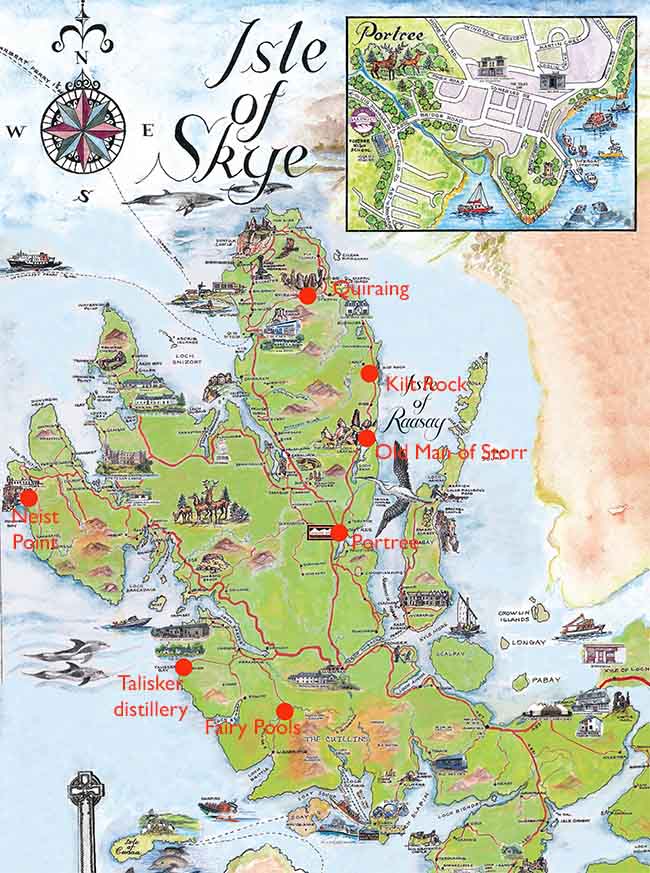 1. Old Man of Storr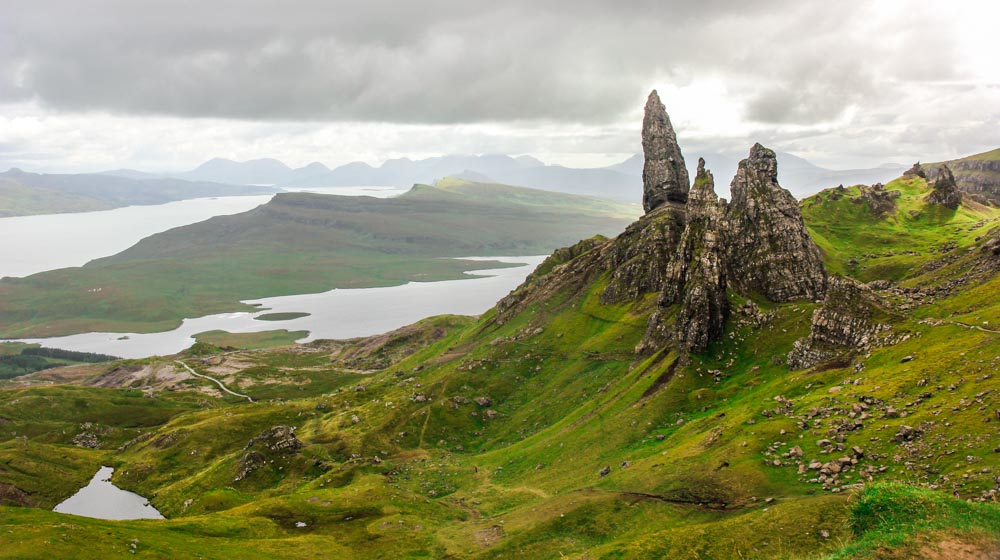 One of the most spectacular things to see on Skye is Old Man of Storr, which is a giant rock standing on a hill. There is a possibility to hike the top. It will take you around 30 to 45 minutes to get to Old Man of Storr. The view from the top is spectacular. You will be able to see the sea and the neighboring islands, not mentioning the cute sheep you'll meet on your way.
2. Quiraing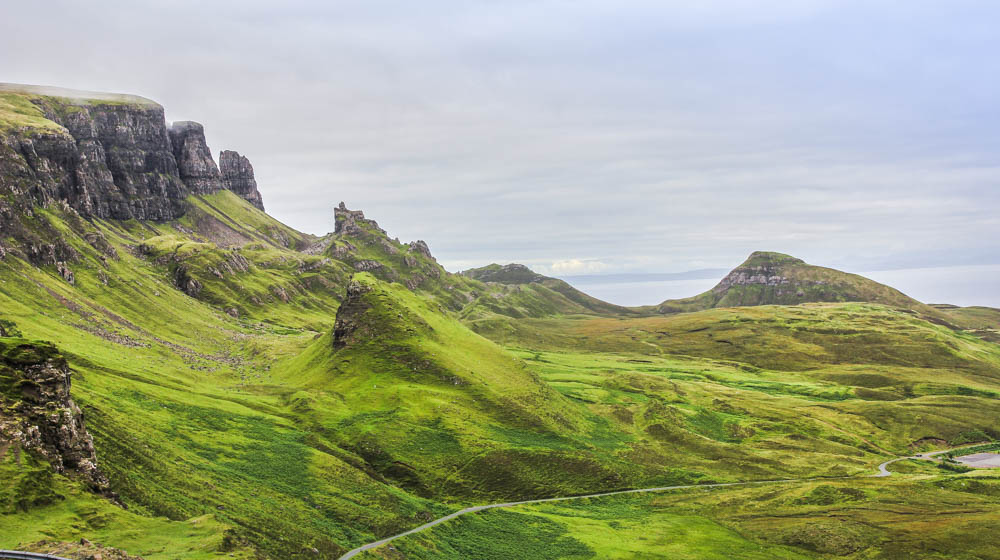 Quiraing is a beautiful hill formation on the very north of Isle of Skye. Again, it is elevated quite high, which makes it difficult to get to on a bicycle. But it doesn't require a hike in order to be able to enjoy its majestic beauty, as it is reachable by road. 
3. Neist Point
Neist Point is a gorgeous viewpoint at the most western part of Isle of Skye with a Light House built on it. Looks pretty dramatic, doesn't it?
4. Kilt Rock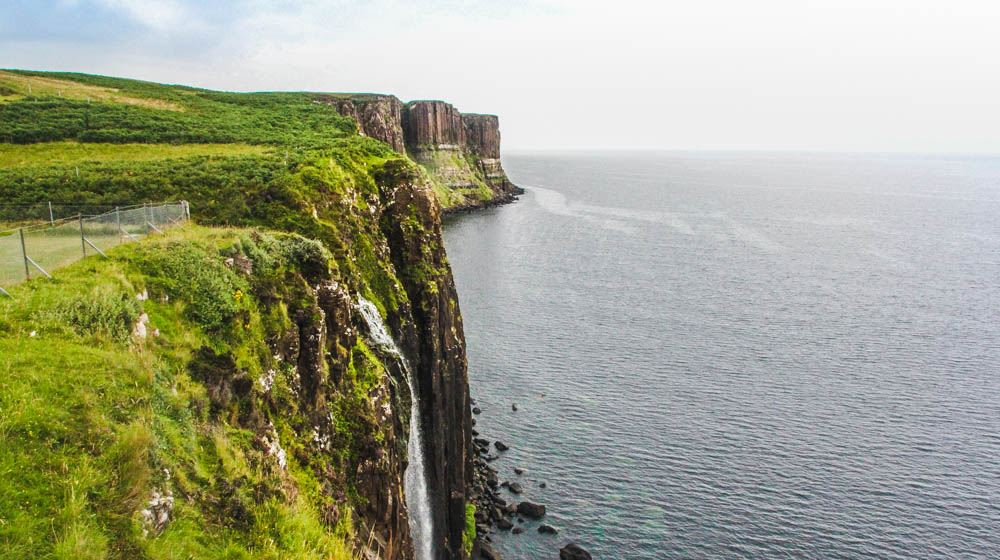 Kilt Rock is basically a part of a cliff with a strangely shaped edge. You can stop here for a nice view over the Mealt Waterfall right in front of the rock itself. It is possible to hike to Kilt Rock but it is not a place that will keep you for a long time since the view of the waterfall is only available from the parking lot side. Otherwise, it can be an effortless stopover on the way up north to see Quiraing.
5. Portree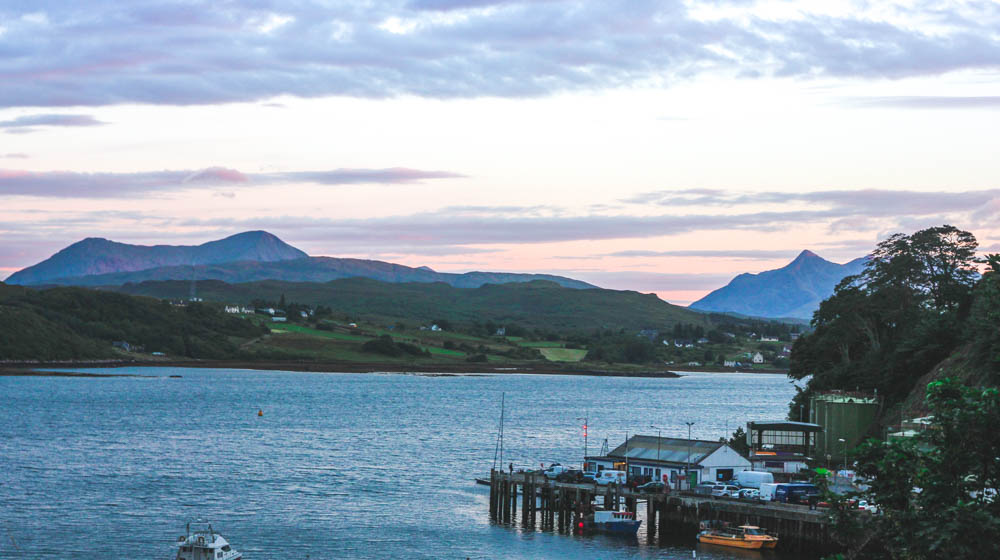 Portree is the largest town on Skye being also a cultural and culinary hub. There are not so many restaurants in Portree overall, but the few that they have serve the best seafood in the whole of Scotland.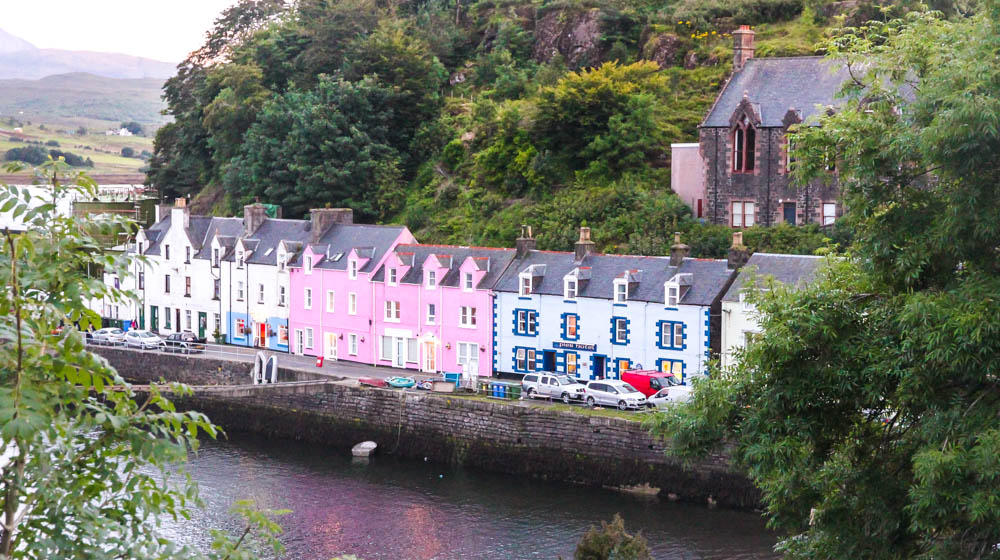 6. Talisker Distillery
Talisker distillery is the only place on the Isle of Skye where Scottish whiskey is made. Be careful going there, as you will get some whiskey samples together with your entrance ticket :). No tourist leaves the building without a purchased bottle of scotch. So, better take a bus to visit this one, it is only 30 minutes ride away from Portree.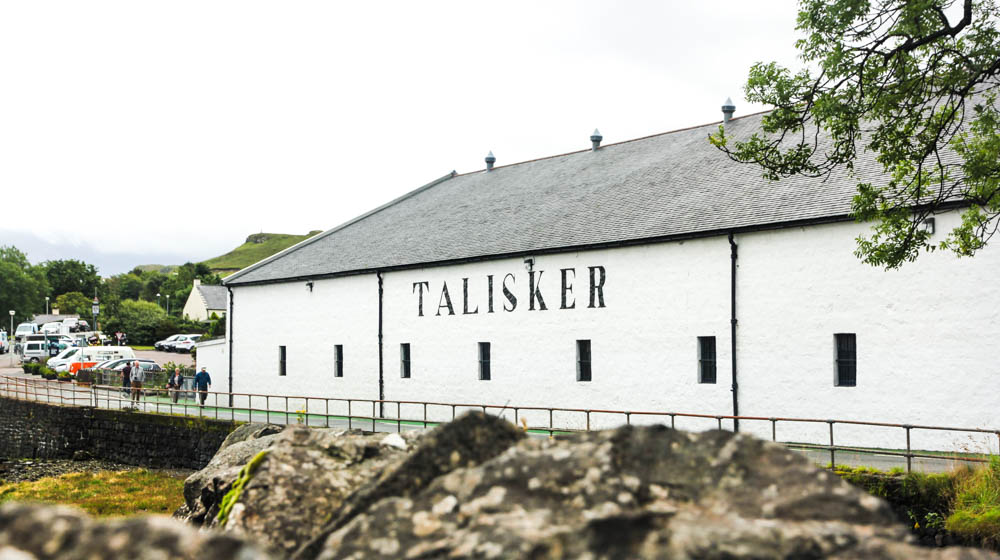 This trip is good not only for the distillery itself but the nice views you get in here as well!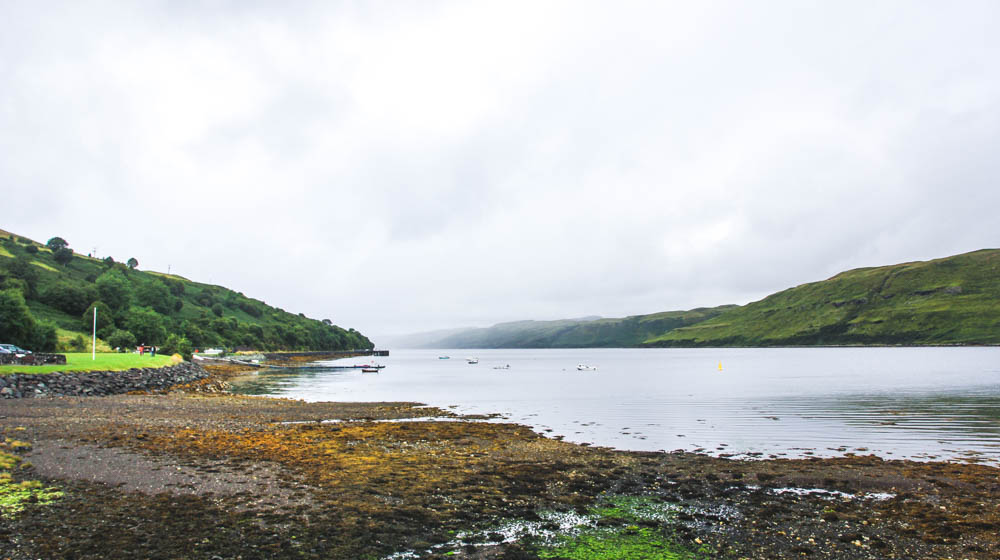 7. Fairy Pools
Fairy pools are small waterfalls on the south-west of the Isle of Skye with crystal clear water and possibility of wild swimming for the brave souls who are ready to jump off the rock into a pool of cold water. Again, haven't had a chance to get there, but would definitely want to see it.
Where to eat?
There are a couple of great eateries in Portree, which offer not only good local food but the cozy atmosphere as well. Since there are not so many places to eat in Portree, during high season you will find queues outside of the restaurants. Therefore, it might be a good idea to reserve a table beforehand.
Here are a couple of places to eat in Skye, which I have personally tried and loved.
1. The Lower Deck. The no.1 Quality Sea Food Restaurant, at least it says so on their signboard. Great fish is served in here.
2. The Caledonian Cafe. This place is super cozy and has one of the most amazing puree soups I've ever had (could be because we rushed there straight after being poured over by rain).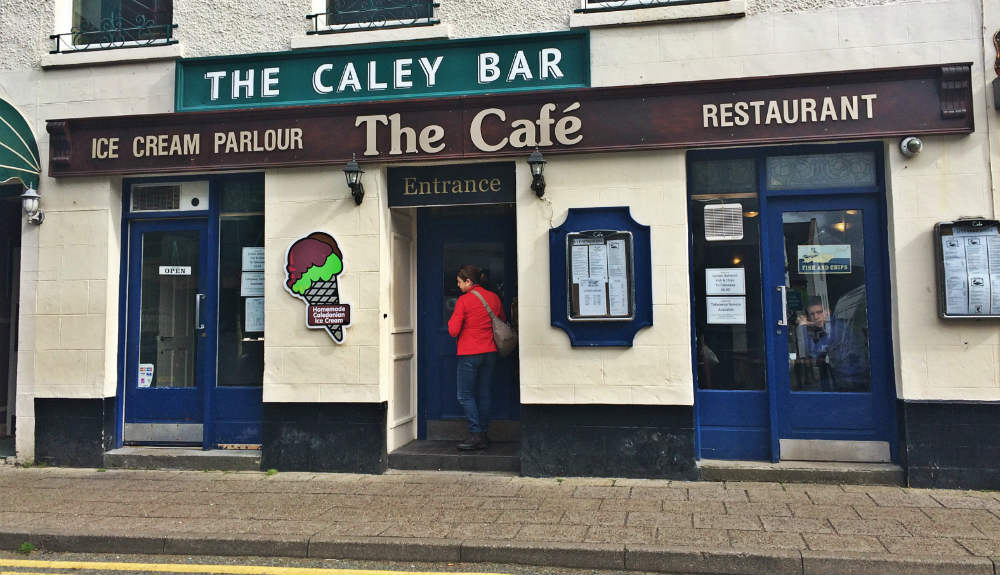 3. The Granary Coffee Shop. Beautiful interior in the old British stylebuilding. It was a pleasure to have a cup of coffee in this place.

Isle of Skye weather
The best time to visit Isle of Skye ranges from March to September. The time to catch the sunny weather and warm days is between June and September. But don't be too optimistic about the sun, the annual weather averages for summer are 9-13C. If you want to avoid the rain, it might be best to come between March and July. We have visited in end of August and the chance to get rain was 50/50.
Skye accommodation
There are plenty of B&B's all over the Isle of Skye. However, most of them are full during the touristy season of July-August, so you might find it hard to get something on the spot. It is safer to book in advance.
In Portree, we stayed in the Youth Hostel in the city center. It has all the facilities needed: laundry room, kitchen, internet and so on.
The great thing about Scotland is that it is open for wild camping. So, if you bring a tent you'll be able to save some cash on staying in the hotel and in the same time, enjoy the beauty and wilderness of the island. There is a campsite called Torvaig, which is situated just a little bit outside of Portree. It charges 7£ per person per night and has bathroom and laundry facilities.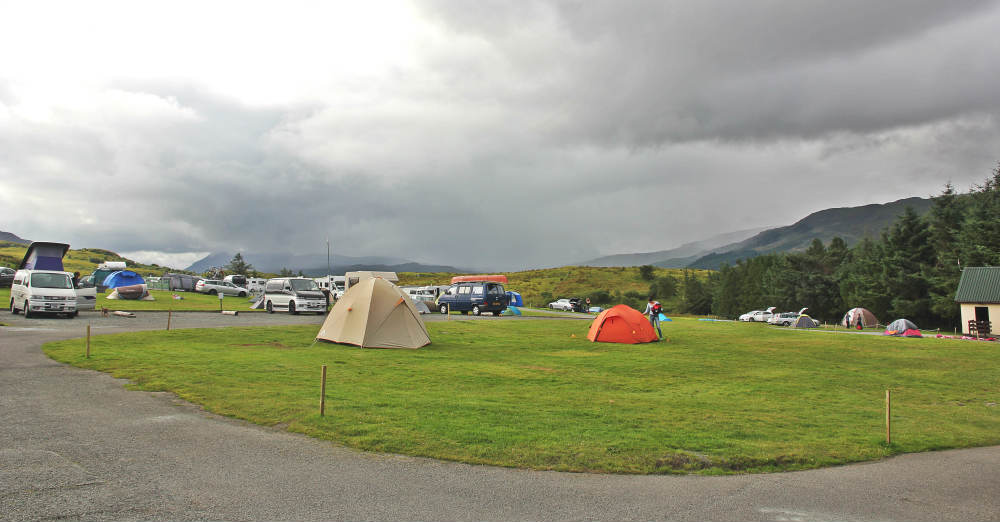 Just remember, for the best availability, book well in advance. Skye is rather limited on accommodation it can offer, especially during high season.

Budget
As you might have guessed, Scotland is not a cheap travel destination. However, a great thing about it is that many experiences are for free, like nature activities, national parks, and museums. On the other side, you are facing expensive stay and transport costs.
Spending 3 full days in Scotland we spent an average of 120£ per person, which makes it 40£ per day for everything. Here is a more specific breakdown of costs per person per day:
Stay costs*: 14£
Transportation**: 13£
Eating out: 8£
Food: 5£
* one of the 3 nights we spent in a tent, therefore, for free
** we moved around by buses and rented bicycles
FRIENDLY ADVICE
Regardless of when you are going to visit the Isle of Skye, pack a waterproof jacket
If you decide to go around the island on a bicycle, I recommend starting from Portree and going up North via the East coast. The road will be easier this way, with more downhills rather than uphills
Leaving the town (whichever you start with), be sure to make your grocery shopping in there and pack snacks with you, as you won't see a lot of shops on your way (we only met one in Staffin up North)
Even though you can wild camp anywhere on the Isle of Skye, keep in mind that temperature drops during nighttime, therefore, I don't recommend staying on hilltops overnight
Most of B&B's and hostels might be booked during high season of July-August, therefore, book your stay early
Traveling to Scotland? You might also like my post on ONE WEEK SCOTLAND ITINERARY.
LIKE IT? PIN IT!
When are you planning to go to the Isle of Skye? What do you wish to visit? Let me know! Comment on the article and share your experiences.