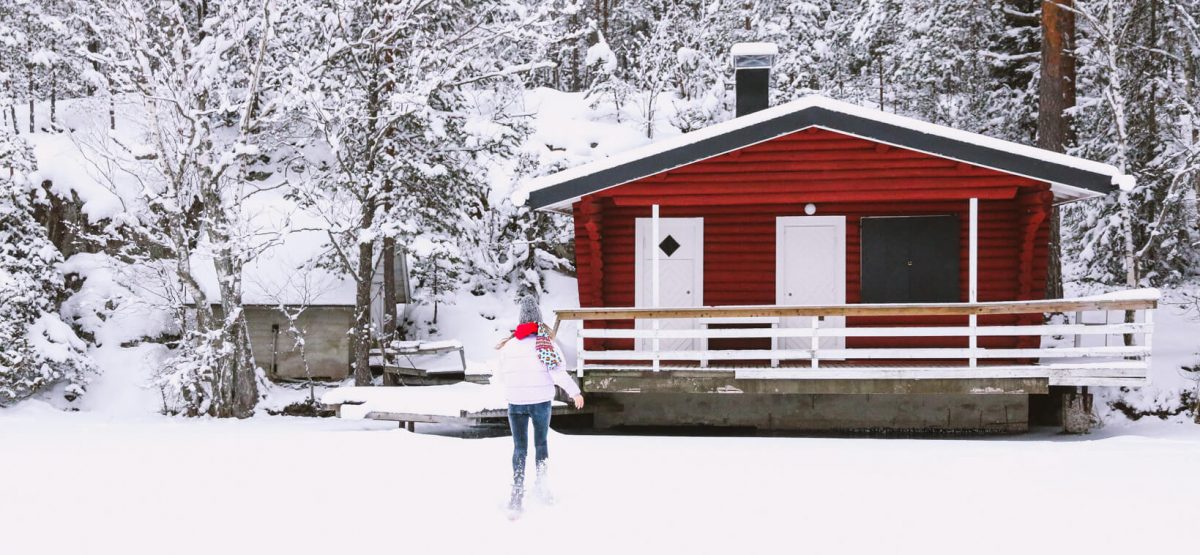 This post may contain affiliate links. I receive a small commission at no cost to you when you make a purchase using my link.
It is no secret that Helsinki is worth visiting on it's own as there are many cool places to visit in Helsinki. But after one or two days you might feel like you've already been through all things to see in Helsinki and it's time to start look for some adventure elsewhere. Or maybe you already live in the city and are just looking for those amazing day trips from Helsinki to quench the thirst for some adventure. Whatever it is, together with other travel bloggers we came up with a list of amazing Helsinki day tours that will make you see Finland in a different light.
Let's go!
1. Go winter fishing in Nuuksio National Park, Espoo
How about starting with something that is super close by, like Nuuksio National Park in Espoo? It is less than an hour drive away from the city and is an easy start for Helsinki day trips list that we'll cover.
In the summertime, it is a great place to come for a swim in the lake, mushroom picking, hiking, or rafting. While in winter, when all the lakes get covered with a thick ice cap, Nuuksio presents a completely different set of adventures. It is a perfect place to go snowshoeing through the forest enjoying beautiful surrounding covered in snow.
If you want to have a less active experience, try ice fishing! Of course, you need a whole set of tools for that, including something to drill the holes with, a fishing rod and the bait. This is the experience for the patient ones, as I couldn't force myself to sit next to the fishing hole for more than 5 minutes. There is plenty of fish in the lakes if you believe the locals.
After getting cold from sitting by the fishing hole, you can hide in a typical Finnish ice fishing shelter called 'kota'. Here comes the pleasant part of the adventure. Did you ever notice that after being active in the nature any food tastes just great? In a typical Finnish kota, you can even fry your own pancakes on the open fire that is nicely placed in the middle of the tent. Little by little you unfreeze and after feeding the hunger, feel like taking a nap.
2. Hiking along the nature trail in Kurjenrahka National Park
Situated between one of the must-visit cities in Finland, Turku, and the Finnish Archipelago you can find Kurjenrahka National Park, a perfect location to connect with nature on one of the Helsinki day trips for adventure seekers. You can go on a lovely hike around the lake with a range of different hiking routes to choose from for different duration and abilities. I took the 6km walk which takes you on a whole loop around the lake and will take you a few hours to complete. Halfway along the lake, you can find a fire pit hut at Takaniitunvuori Hill that is open for the general public to use and keep warm during a break. Be sure to start a fire and grill some sausages and have a cozy coffee in this wonderful winter wonderland setting. The hike is open all year round and you can take a public bus from Turku to reach the lake. Be sure to take extra care during the winter season as the route can be full of ice and cause the path to become slippery. Apart from that, have fun and wrap up warm!
3. Husky Safari in Lempaala
Want to try that bucket list dog sledding in Finland experience but cannot afford to travel all the way up North to Lapland? No problem! Did you know you could actually do husky safari as one of the Helsinki tours?
Just a short train ride away from Tampere, you can have the real husky sledding experience with one of the adventure companies. Though the snow is not guaranteed every winter, you still have good chances to have your winter adventure. Gegwen Getaways kennel is situated here and they will take you for a ride in the nearby forest or lake with their awesome dogs. Besides the ride itself, which will not take that long, you'll get to experience the true Finnish shelter with a fireplace for grilling sausages and drinking tea. Take this chance to find out more about the northern dogs, their life, and well-being.
4. Go ice swimming in Ruissalo
Two and a half hours from Helsinki on the outskirts of Turku lies Ruissalo Island. Once a hunting retreat for royalty, Ruissalo is now a year-round paradise for nature lovers. It is home to one of the largest oak forests in Finland, a botanical garden, and an unofficial nude beach. While the summertime crowd visits the island to hike, bike, and swim the day away, the wintertime crowd comes to sauna and ice swim at Saaronniemi.
Here, Finns and visitors alike can test their stamina against mother nature as they jump into water that is -3° C wearing only a bathing suit (and maybe a hat). While it might sound crazy, there is a method to the madness of ice swimming in Finland. After plunging into the freezing ice water, swimmers warm up in a hot sauna before repeating the process all over again. This produces an incredibly invigorating feeling in the body that is great not only for mental health but physical health as well.
Ice swimming is a time-honored tradition in Finland. Learn more about it, and how to sauna like a true Finn over at Her Heartland Soul.
5. Winter sports and foodie heaven in Lahti
If you're looking for a day trip from Helsinki that is not too far away and if you're a foodie and would like a side of adventure, Lahti is the place for you!
Think frozen lakes in winter, organic food with lots of options for walks, snow-shoe walks and ice-fishing for the ones who'd like to take it slow and snowmobiling, Kite skiing for the ones who'd like an adrenaline rush!
Lahti is the place to be if you're a winter sports enthusiast. It has the highest ski jumps in Sothern Finland and has hosted the Nordic championships many times. A unique feature is the swimming pool at the base of the ski jump tower that's open to everybody in summer. If you'd prefer not to take a dip, you can head to the top of the tower to enjoy panoramic views of Lahti.
In winter, before the herds of reindeer move North, there are also options to enjoy husky and reindeer sled rides.
For nature enthusiasts, the Päijänne National Park is a treasure trove of wildlife and vegetation. Lahti also has many museums you can head off to, and you can always be sure you'll be fed with some of the best produce in the whole of Finland!
Ravintola Roux, MeaManna, Lehmonkarki are some of the must-try restaurants!
There's fishing, canoeing, nature trails, swimming, skiing, ice-fishing, horse riding and downhill skiing to name a few other activities you could do, making it one of the best spots to head off for a day trip, just about an hour away from Helsinki!


6. Visit the reindeer farm in Ahtari
A visit to a Finland reindeer farm is an absolute must do as one of the day trips from Helsinki. They are scattered all around Finland but the one I went to was Valkeisen Loma in Ahtari. The owners met us on our arrival and showed us around the farm before introducing us to the reindeer. The buildings were beautiful and built in the traditional Finnish way.
The farm is full of orphaned and adopted reindeer however that did not affect how friendly they were. From the moment we walked through the gates for our walk with the reindeer they followed us, nuzzled our sides or in my case stuck their heads in my bag to steal all the treats I had been given for them.
We walked around the forest with them before stopping off for tea, coffee and cinnamon buns around an open fire. While we were there the reindeer just wandered around us never phased by our presence. After tea the owner asked if I wanted a sleigh ride, the answer was obviously YES!. He set up the sleigh and I thought I was going to be taken for a nice afternoon ride around the property but that is not how a reindeer ride works. We took off so fast and then sled around a 900m track. It was so much fun, I think I laughed the entire time. I was so surprised by how quickly we moved, we even got some air at one point going over there bumps.
Visiting the reindeer farm was probably the highlight of my life to date. It was a bucket list experience that I got to tick off and I enjoyed just as much as I thought I would.
7. Hop over the sea to visit Tallin
Tallinn, Estonia is perfect for Helsinki day trips if you're looking to pop over to another country for part of the day. Sounds crazy, right? Regardless of how it sounds, Helsinki to Estonia day trip is possible by taking a ferry.
A mere two hours on a ferry from Helsinki to Estonia and you're there! Tallinn is the capital city of Estonia and has become known for being one of the gems of Europe as well as a digital capital. The city is as friendly as it is beautiful, and the culinary scene is rivaling some of the best food cities in Europe. There are so many things to see in Tallinn, so you may want to extend your day trip to a week trip, but if you do decide to just enjoy the medieval Old Town for the day or part of a day, you won't be disappointed. When it comes to the cost, Helsinki Tallinn ferry price starts at around $30 return and can be booked via multiple providers.
There is a renowned cafe and coffee culture in the city and a thriving craft beer scene. The views of the city are simply magical and you can score superb views from Kohtuotsa Viewing Platform or inside of the Old Town at St. Olav's Church, a building that was once the highest building in the world! There are currently three companies operating ferries, some of them up to six times a day, so getting to Tallinn is extremely easy, and very worth your time!
As you can see, there are many things to do in Helsinki in winter if you are open to possibility of exploring outside the city. Finland is full of adventure spots and many of them make for the awesome day trips from Helsinki for those itching to do more on their weekends.
Like It? Pin It!