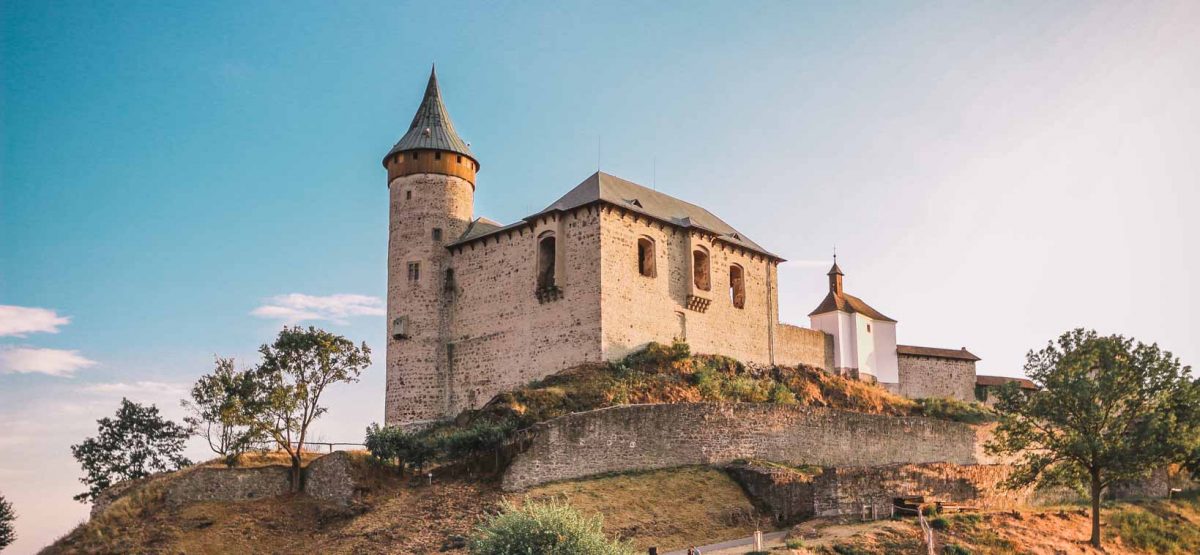 This post may contain affiliate links. I receive a small commission at no cost to you when you make a purchase using my link.
It is hard to imagine that one would make a trip to Czech Republic without visiting Prague, if it isn't the sole purpose of your visit. However, there are many more places to visit in Czech Republic other than Prague alone, be it the magical castles of Bohemia or exciting day trips from Prague for adventure seeking souls. I asked travel bloggers to share some of their favorite activities one could do as an away from Prague adventure.
1. Bohemian

Switzerland hike


If you're looking for a real adventure while in Czech Republic, I can't recommend enough signing up to a

Bohemian

Switzerland tour with

Northern Hikes

, which is one of the best day trips from Prague that you could take.

Depending on your fitness level, they have short, easy hikes to canyon lookouts with freshly brewed coffee, or longer, 18km long hikes involving a trek up to Europe's largest sandstone arch, through forests and ending with picturesque and truly magical boat rides. The views are spectacular wherever you go in the park and you can even visit Tisa, the filming location for the Chronicles of Narnia movie.
2. Se
č lake in East Bohemia
Seč
 is in Czech Republic's Pardubice region, which is in
East Bohemia
. It is easy to reach from Prague on a train and the journey takes just one hour. Moreover, the trains leave every other hour from Prague to Pardubice and the ticket is usually between 5 – 10 euros. From there, 
Seč
 is just 28 KMs away and this journey can be done on a car.
Seč
 is perfect for those who love nature and adventure. There is a massive lake here that's made by 
Seč
 dam. The lake is also called 
Seč
. There are a few adventure activities that can be done on Seč beach and lake. We did paddle boating on here and it was a lot of fun. There is a little island in the middle of the lake and it is easy to reach there by boat.
Apart from this, one can also camp right next to 
Seč
 beach. There is a campground there where I saw many tents and campervans.
3. Cesky Raj
Český ráj, translated as "Bohemian Paradise", is a stunning region just about 2 hours north of Prague. This region is known for its hiking, particularly to view the sandstone formations that are natural to this particular area. There are fairly mild hikes in the region, as well as some more strenuous options for more advanced hikers.
Český ráj is the perfect day trip from Prague for the adventure-seeker, as it allows you to hike through the Czech Republic's beautiful scenery. Along these hiking trails are hidden treasures, such as the Valdštejn Castle, a gothic cliff-top castle ruin (situated next to a pub for refreshment)! The easiest way to get to Cesky raj from Prague is by train- there is a direct České dráhy train from Prague's main train station to Turnov, where you can begin hiking.
4. Bike trip from Pardubice to Kuneticka hora castle
One of the things that will catch your eye once you visit Czech Republic is that everyone here loves cycling. And once you get out of Prague, you'll be seeing lots of people on their mountain bikes. Though Pardubice is an exciting city to visit on its own due to its famous horse stud farms and castles, there is a way to make Pardubice day trip from Prague even more adventurous.
Rent a bicycle and take the path from Pardubice castle to Kuneticka hora castle eyeing the vast fields that you'll be passing by. The area is quite plain, therefore, perfect for cycling even with a family. The path is about 7 km long and will make for a great adventure sightseeing day out in the Pardubice region in East Bohemia covering both fairy-tale castles at the same time.
5. A trip to Liberec
Only one hour away from Prague you will find Liberec – one of the most underrated cities in Czech Republic. There are so many reasons to visit Liberec: beautiful architecture, stunning old villas or great cafes but all the nature and adventure lovers will find the city a perfect Prague day trip.
There are over 40 hiking trails around Liberec, both short and long distance, so you will find something for yourself for sure. You can also take the cable car up to the Jested mountain where, besides the futuristic hotel and a great view of the area, you will find a bike park offering three freeride trails. Another option is to rent a push scooter and speed down the mountain, with the adrenaline buzzing in your veins. In the winter time, Liberec makes a perfect base for skiing, both downhill, and cross-country.
6. Hradec Kralove wake park
Visiting the Cable wake park in Hradec Kralove can be an excellent day trip from Prague for thrill seekers. Cable wakeboarding is a sport that combines your skills for balancing and strength. It's a mix of few sports like surfing, water skiing, and snowboarding. So if you know either of those, there's a good chance you might not fall flat on your face in the water, even in your very first wake-boarding attempt.
Hradec Kralove is a short 2-hour drive from Prague at a distance of approx 115 km. So, driving down or renting a cab won't really break the bank.
Cost – 300 CZK (Approx $13.5) for one hour and 600 CZK for a full day
Opening Hours – Mon-Fri 12:00 – 18:00 / Sat 10:00 – 20:00 / Sun 10:00 – 19:00
For more info visit
CableWakePark.cz
Like It? Pin It!