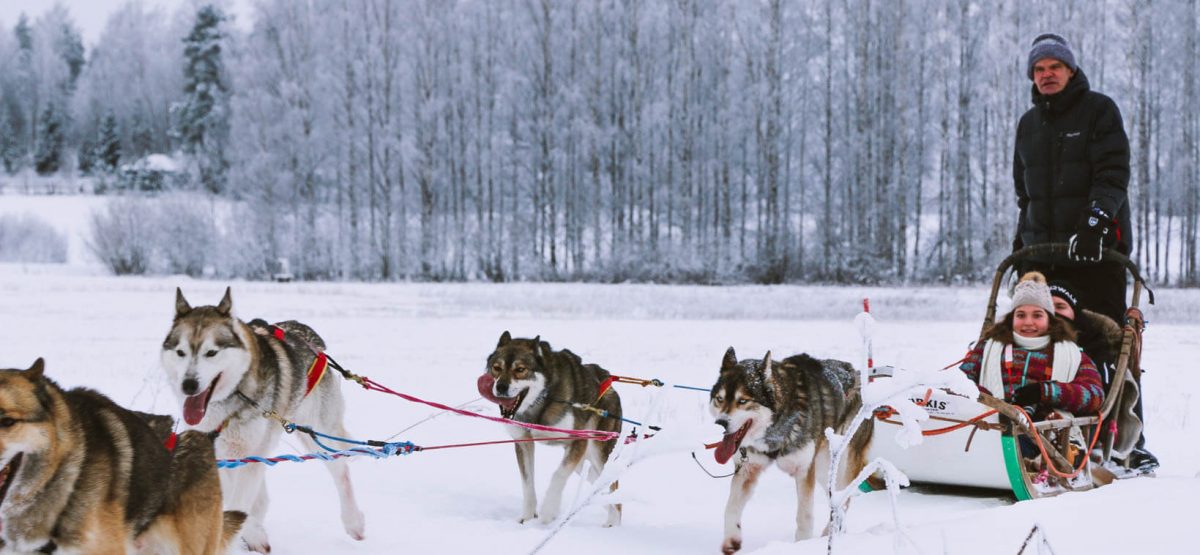 This post may contain affiliate links. I receive a small commission at no cost to you when you make a purchase using my link.
Anyone else here has husky safari on their bucket list? Hands up! ? What could be a better way to spend a cold winter day than cuddling with cute huskies in the snow? At least, dog sledding looks like a lot of fun until you actually get in a kennel where the dogs live and see it all for yourself. I am not going to beat around the bush and say upfront that husky safari is a lot of fun but it also raises many questions.
Where to go dog sledding near Helsinki?
When we think of husky sledding, we tend to imagine Lapland or somewhere far up north beyond the arctic circle. But not so many people are willing to go that far, especially if they can go someplace warm instead.
I was the same. But when I heard you can do dog sledding in Finland just 2 hours away from Helsinki, I could not believe my luck! This means that you can easily do a husky safari as a day trip from Helsinki.
The company we went with is called Gegwen Getaways and it is based out of a small town of Lempäälä just a short train ride from Tampere.
About Gegwen Getaways
This is one of those places that started as a hobby and grew into a full-scale business.
In 1989, Erik, the owner of Gegwen Huskies, decided to get a dog. He started with just two huskies as he thought it would be nice to go out skiing, sledding, and do outdoorsy activities. I mean, what else would you do during long winter days in Finland? But because Erik is really tall, two dogs were not enough to do activities together. Two quickly turned into four and the number of sled dogs Erik owned kept on growing from there on.
Now, almost 30 years later, Erik owns 15 dogs. In the summertime, when there is no snow in Lempäälä, Erik and the dogs travel up north to Lapland to do more hikes and rides where there is still snow.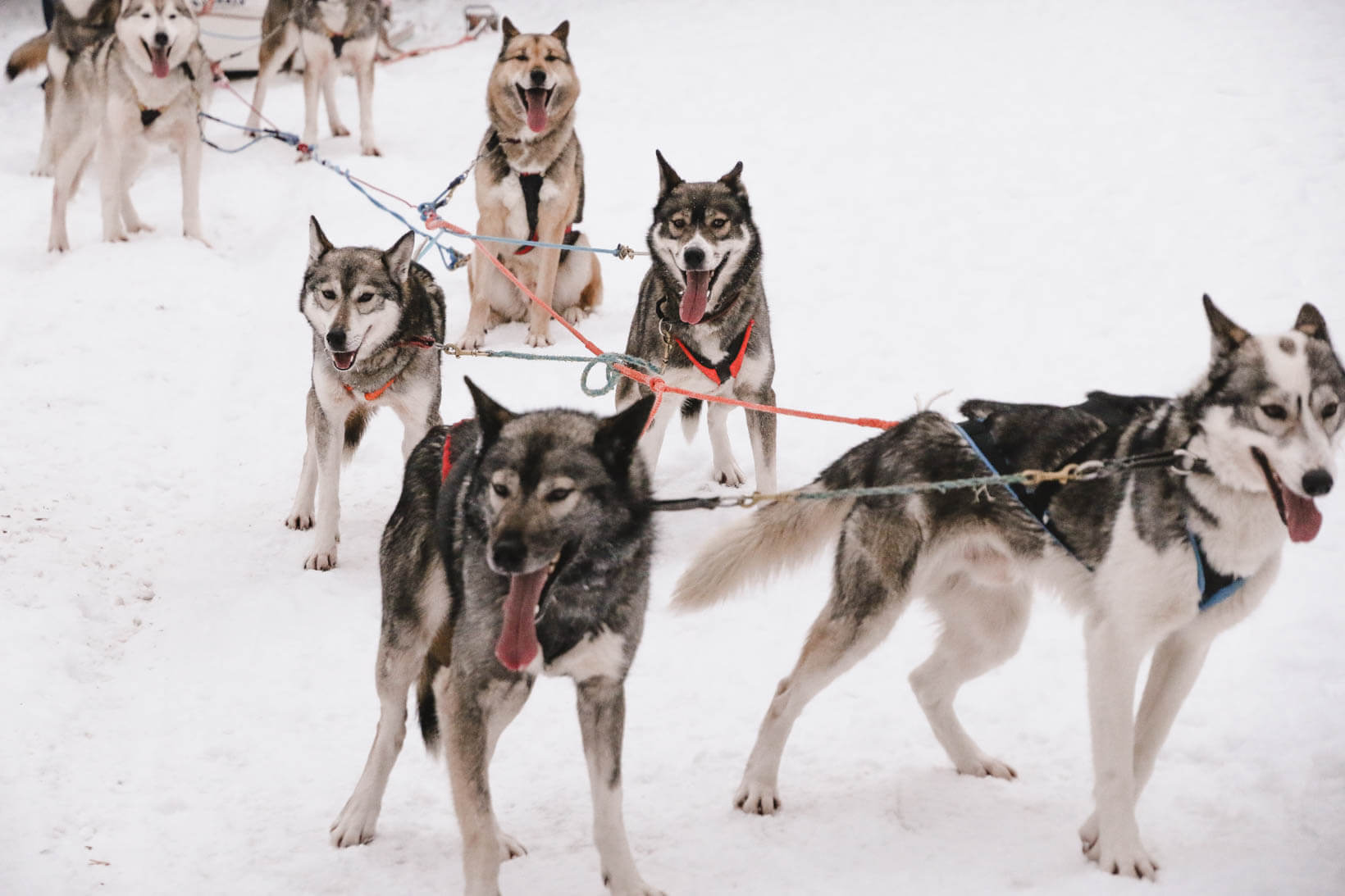 How to get there?
The best way to get to Gegwen Getaway husky safari base is to take the train to Lempäälä station from Tampere and then jump into the taxi (8 km) from there, as there are no buses running directly. Altogether it will take you half an hour to get there from Tampere. If you are traveling from Helsinki, the whole trip might take around 3 hours.
What to expect from husky safari?
Even though the dogs are madly active and cannot wait to be taken out for a run, they are still just dogs (not horses), so after the first loop when their crazy energy is released, the ride will be smooth and steady. Which I personally thought was great for taking pictures, as it gave me enough time to switch between my phone and camera. There even might be occasional bathroom stops (when one of the dogs really wants to pee) so don't be scared of a sudden break.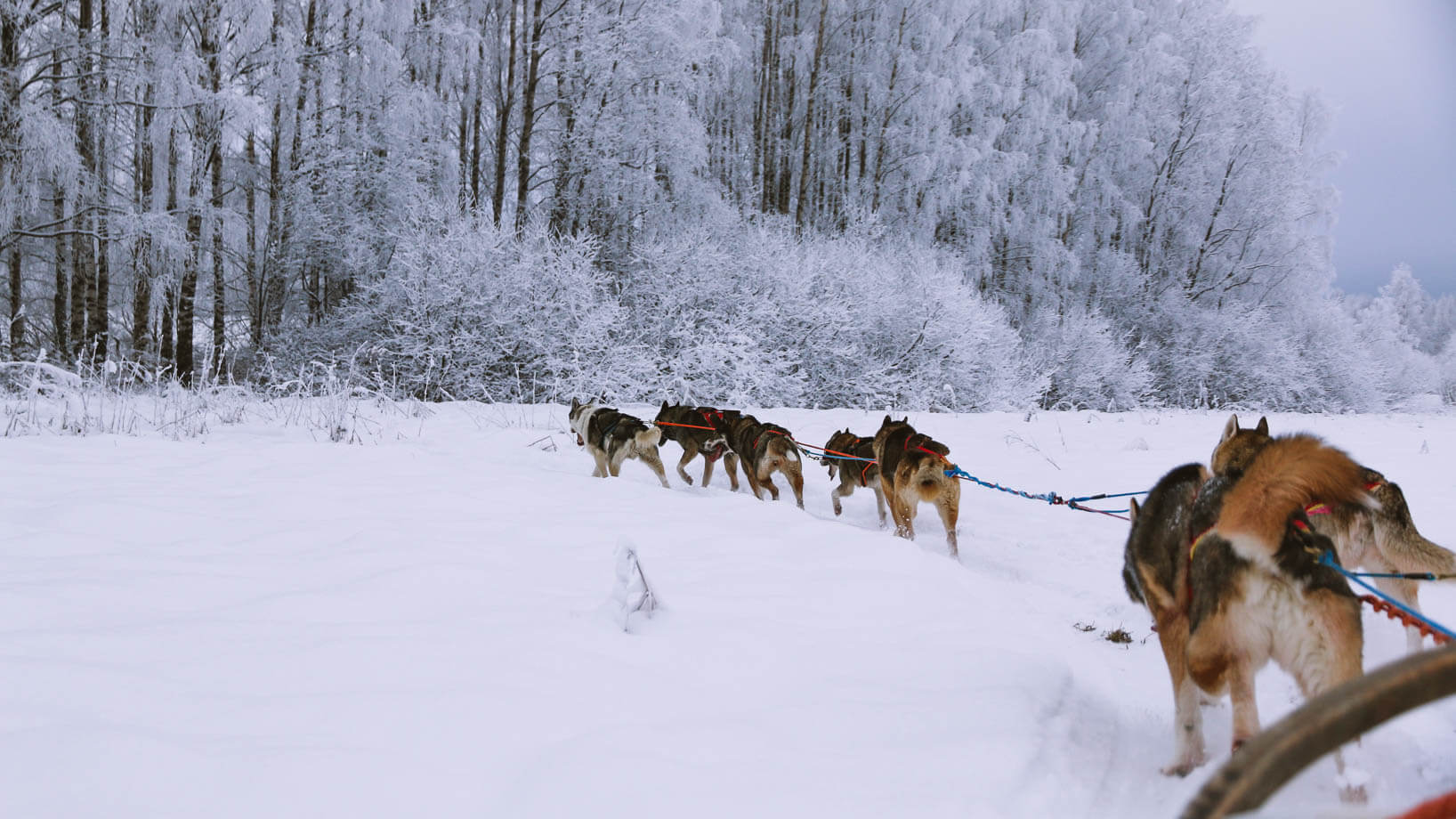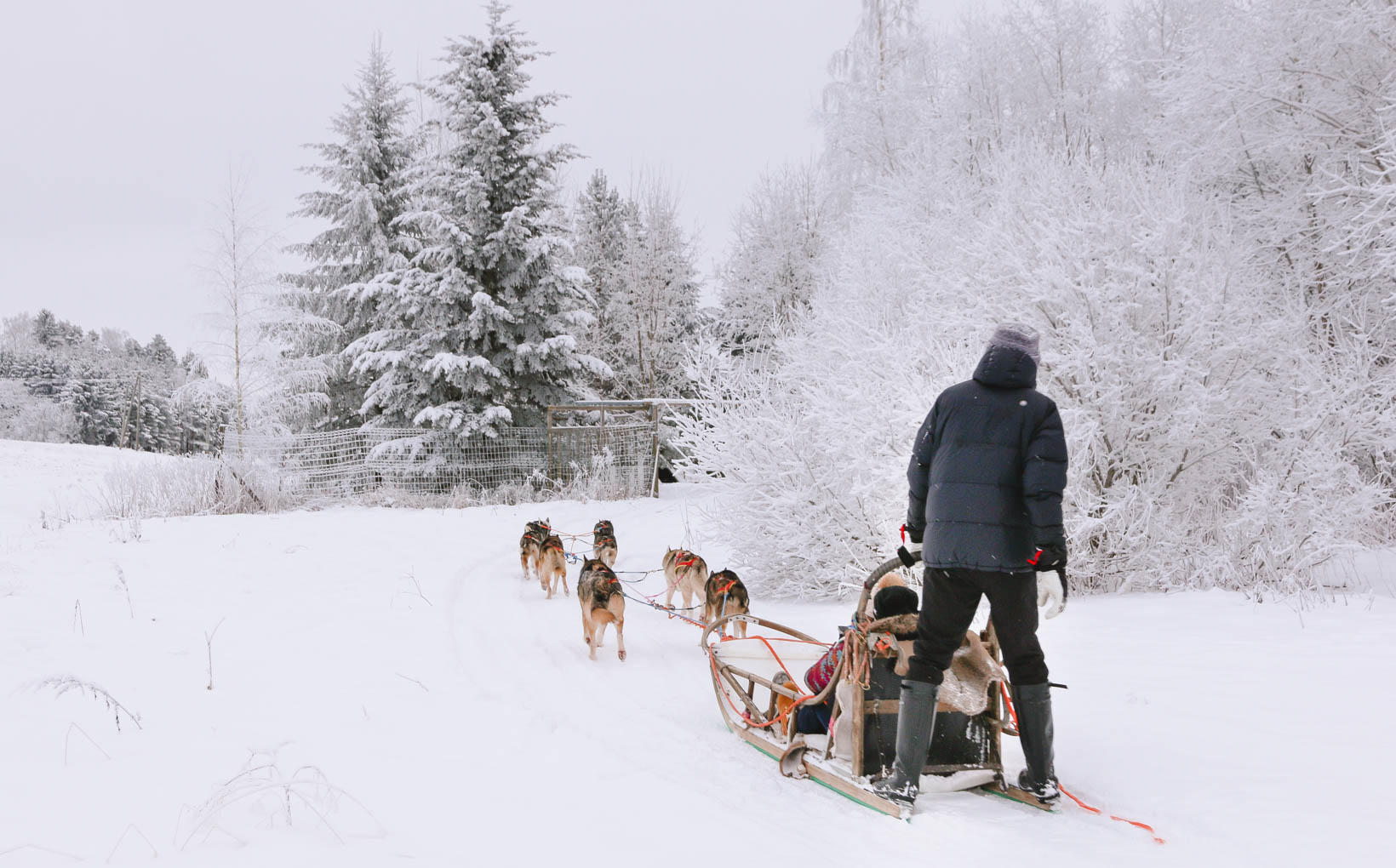 The full husky sledding experience
The entire experience consists of more than just husky rides. If you are coming as a group, the ride itself will stretch for 1 km long and might take up to 5-10 minutes. The sled can take 3 adults at a time, one of them being the owner, which leaves two spots in the sled for visitors. You do a scenic ride in the neighboring forest, lake or field, going through a few bumps on the road which make you jump in your seat (I thought it was awesome!).
But dogs need their breaks. While waiting for others to take their turn, you get the chance to experience a real Finnish style camping in a tall teepee called "kota". Here, the fire is usually placed in the middle for making tea, coffee, grilling sausages or even making pancakes. Benches are covered with fluffy leather throws creating a cozy feel. You suddenly forget where you are and can stay out here regardless of the cold. Two hours is usually enough for the entire experience, including taking pictures with dogs, which we did plenty! Some of them are more photogenic or cuddly than others, but all of them definitely enjoyed running. When you come as a group, the price is 30EUR per person.
Doing husky sledding independently
If you are not a part of the group, but just wish to come for the husky sledding, your ride will be longer (2km), up to 15 minutes. This experience will include a visit to the kennel and getting together with dogs. Unfortunately, if you are coming as a couple or solo, you won't be able to do the camping experience, as it would take a lot of effort to put out a camp for a small number of people. The price is 35EUR per person.
The Gegwen Getaways place is getting booked up quite fast so if you want to come for a husky safari I suggest you make a reservation up front.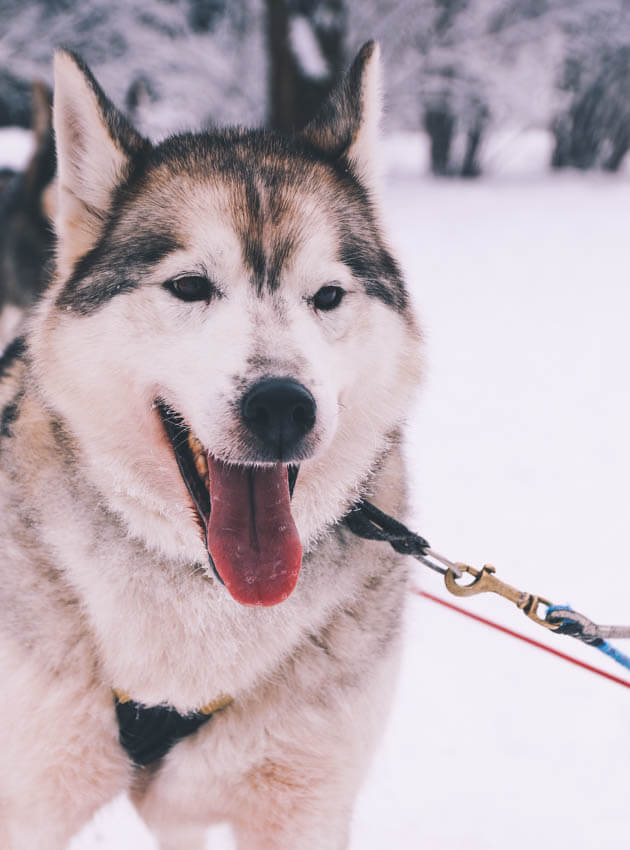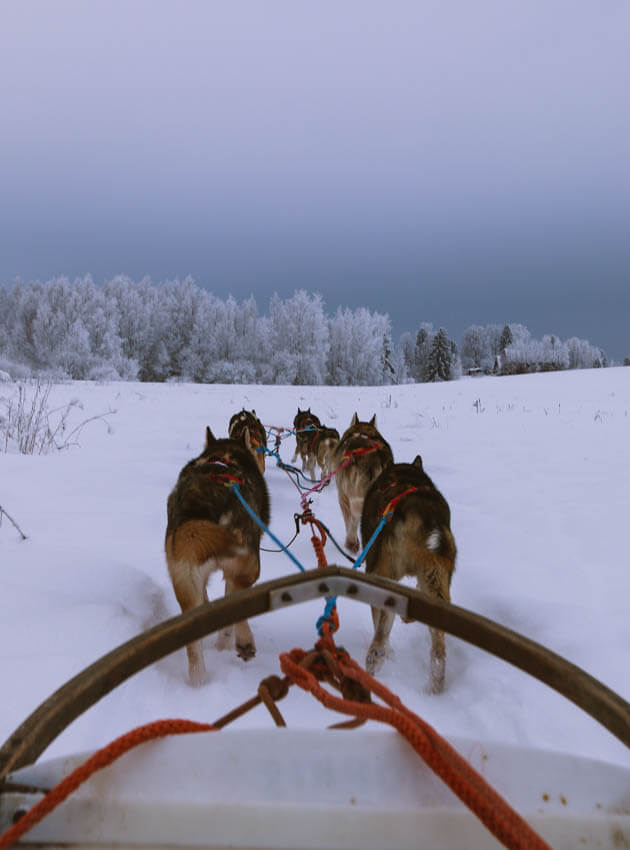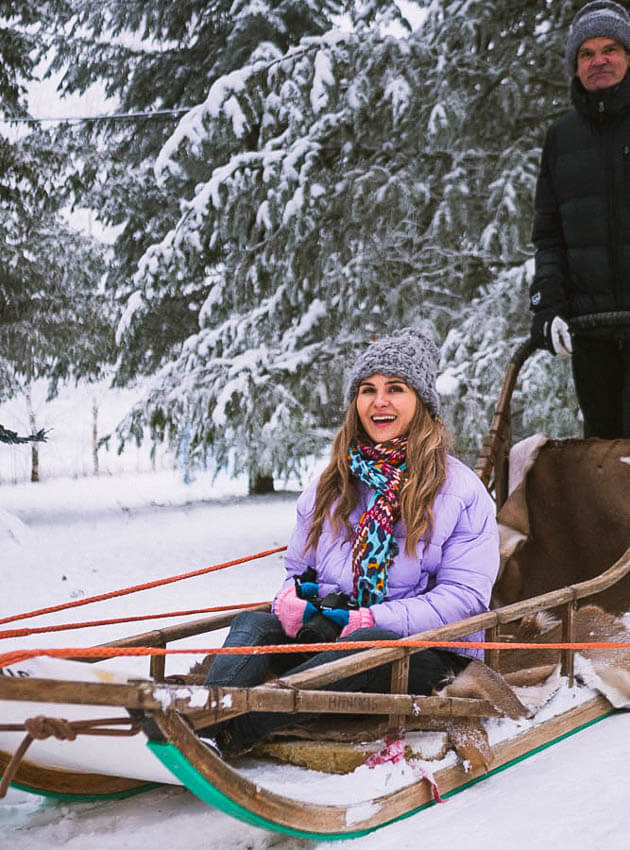 The ethical side of dog sledding: should you do it?
Honestly, when we first came in through the gate and saw the dogs chained up to the trees waiting for their ride time, I felt bad. I had mixed emotions about the ride! And mostly because I could not understand why the dogs are being so loud. Did they want to run so badly? Or did they try to break free? I guess it could be both, because they need to break free in order to run. But until Erik (the owner) told us more about the dogs, I was in doubt.
What huskies are like?
So, the thing is, huskies are meant for this kind of weather conditions (cold and snow) and can run up to 100km a day (wow!). In fact, they would be unhealthy, if they don't get to run. So, regardless of sledding or not, they have to take their walks daily.
But very quickly, once you see the first ride heading out the gate, you realize that these dogs are not just working dogs, they are happy dogs! They could not wait to start pulling the sled and go on their routine run up to the lake.
At the same time, you can witness what the relationship is like between the dogs and the owner. Is he abusive to them? Does he scream? Does he give the dogs enough breaks? Well, Erik was going out the camping tent to check on the dogs every 5 minutes, to see if they need more time to rest in between rides.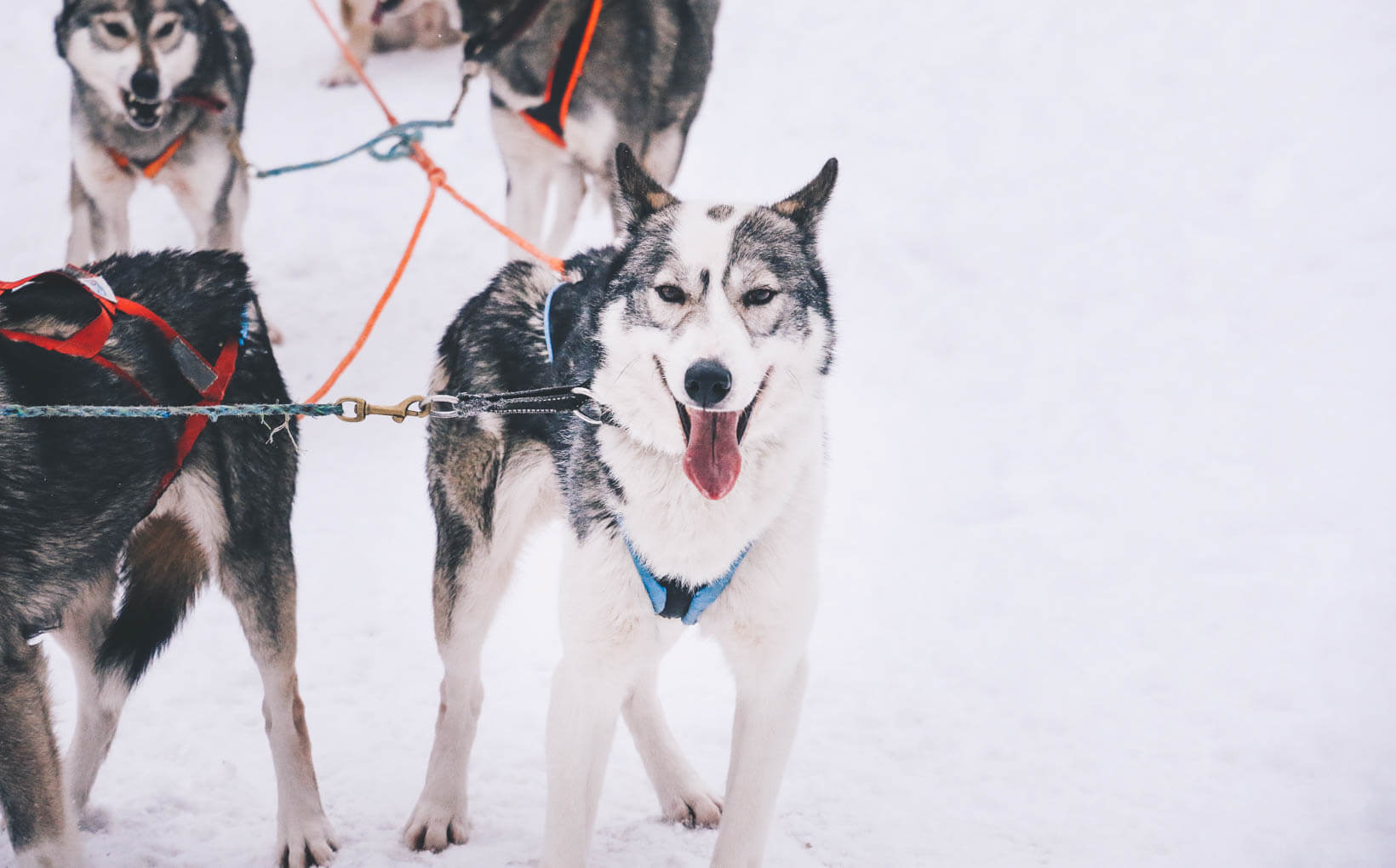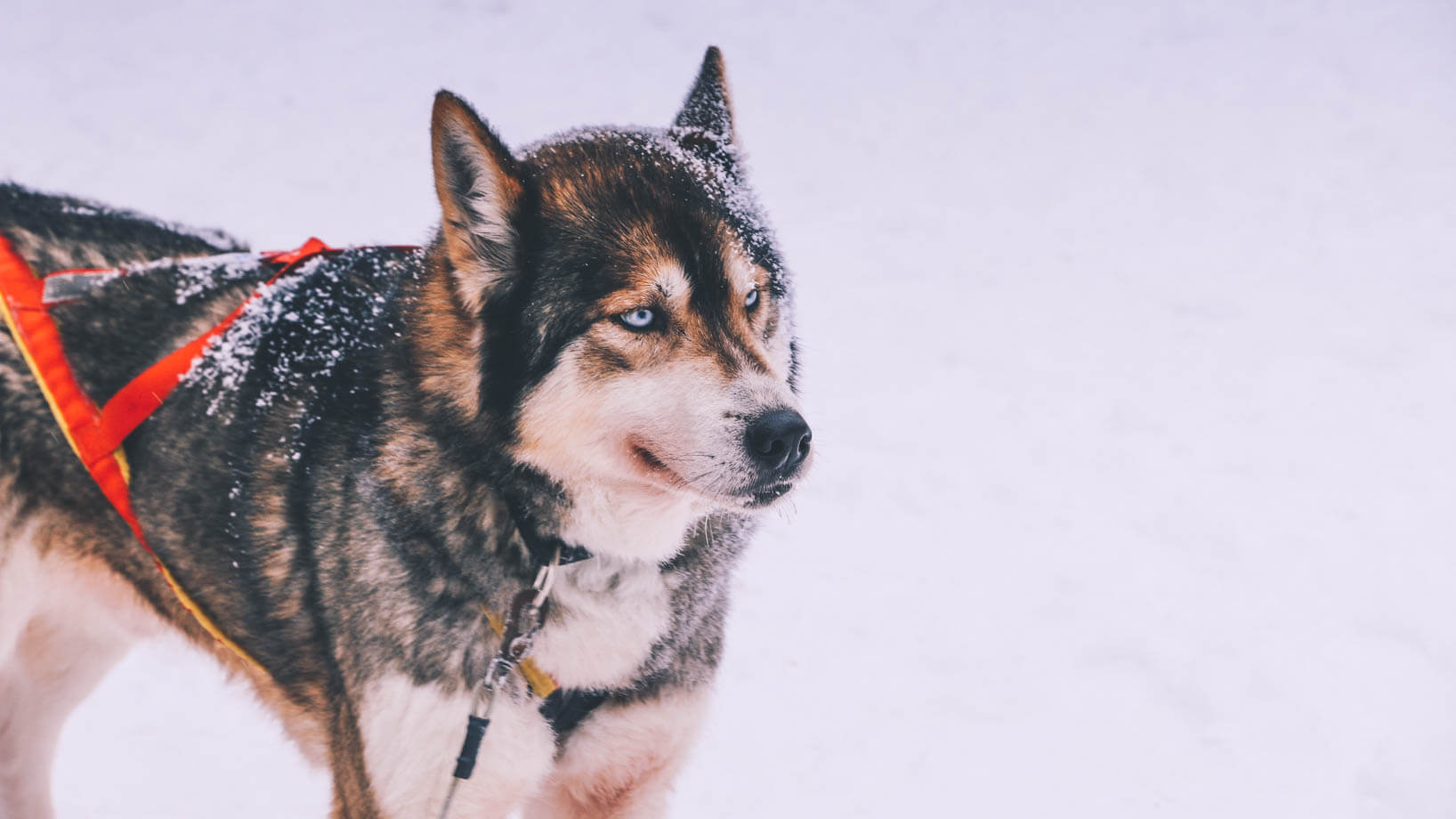 The importance of asking questions
Us, being the curious crowd, also bombarded Erik with questions regarding dogs' everyday life. Not all dogs in Gegwen Huskies are working dogs. For instance, puppies, retired old dogs, and recent mothers have their time off from work. But still, they are a part of the family and are not being given away (or worse – put down, which I cannot even imagine!). Erik doesn't take groups more than 20 people at a time, not to put too much on the dogs.
By the time we were leaving, I was less skeptical about this entire business and knew that at least in this place, dogs are well taken care of. More than that, they are a part of a family. Of course, there is still a very thin line between ethical experience and pure business, therefore, we have to keep asking questions every time we visit.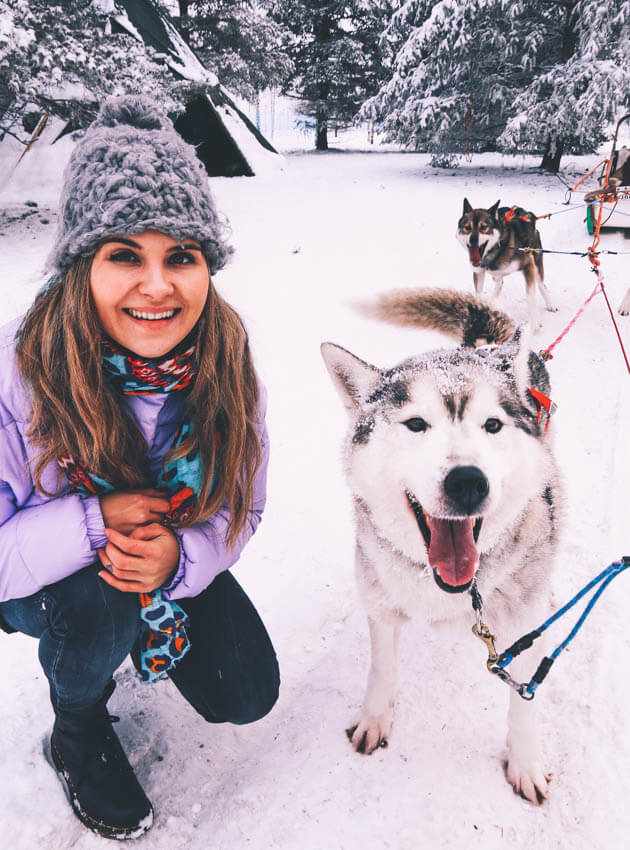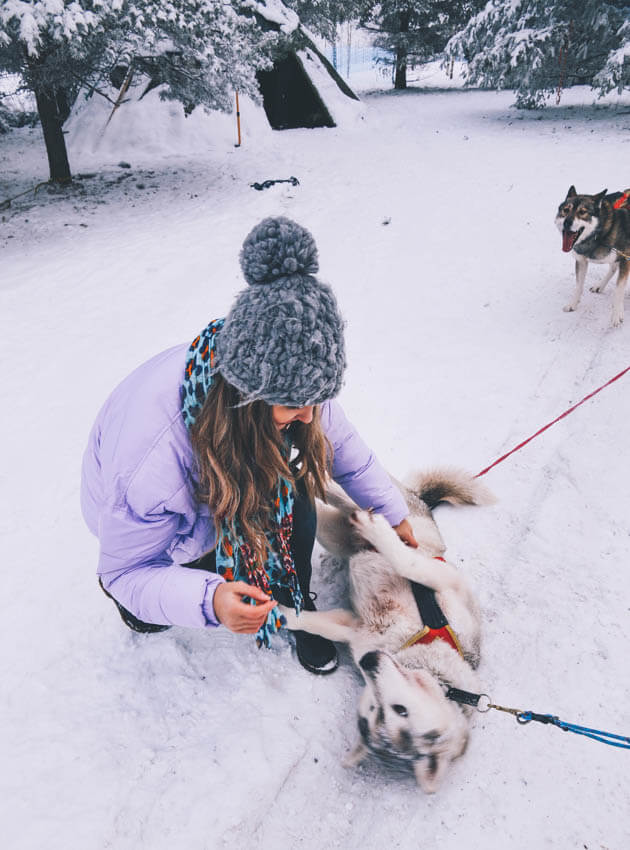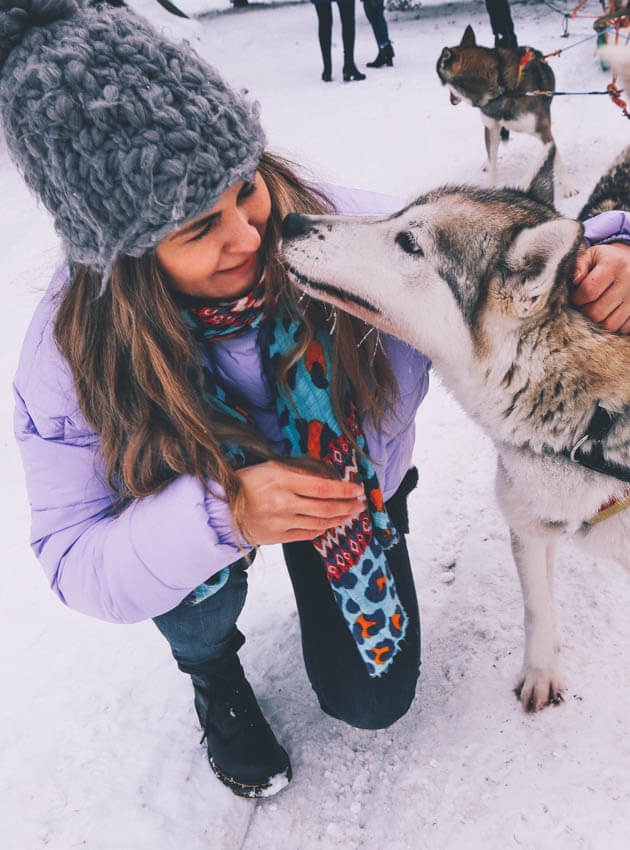 Staying Overnight in Lempäälä?
If you love it so much in the area (which is well understood, it is lovely here!), I suggest you check out this lovely boutique hotel we have discovered on our trip: Vaihmalan Hovi. Ran as a family-owned business, Vaihmalan Hovi is not just a hotel, but also a boutique, restaurant, wedding hall, and ice-cream shop. Fantastic place to visit both in wintertime and in summer. And if you are there, be sure to try their signature white tea.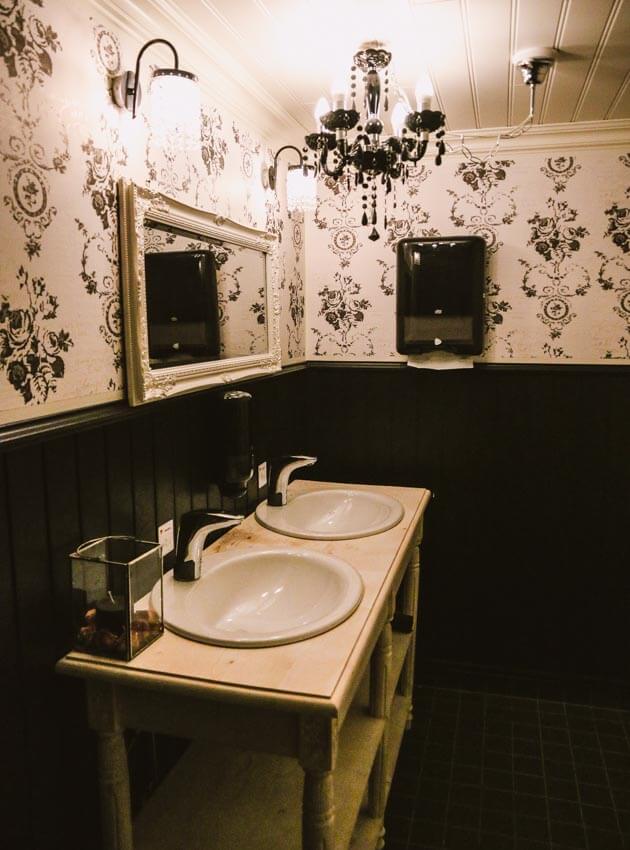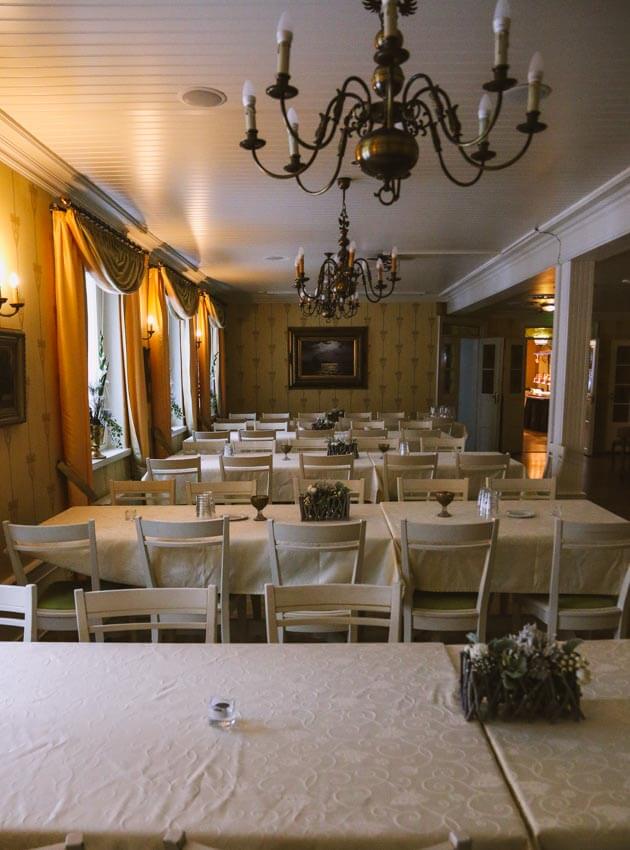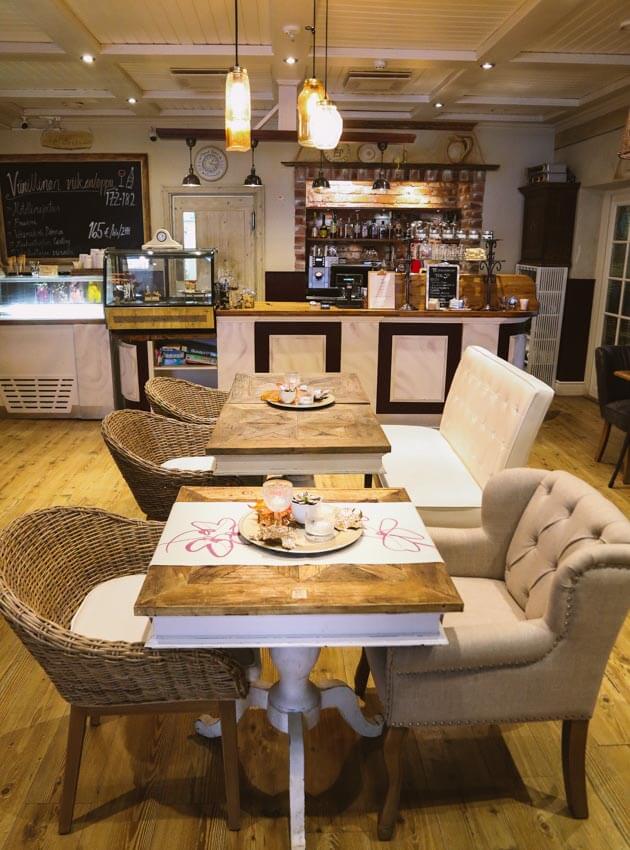 Is husky safari something you'd love to try? Share your comments in the section below!
Like It? Pin It!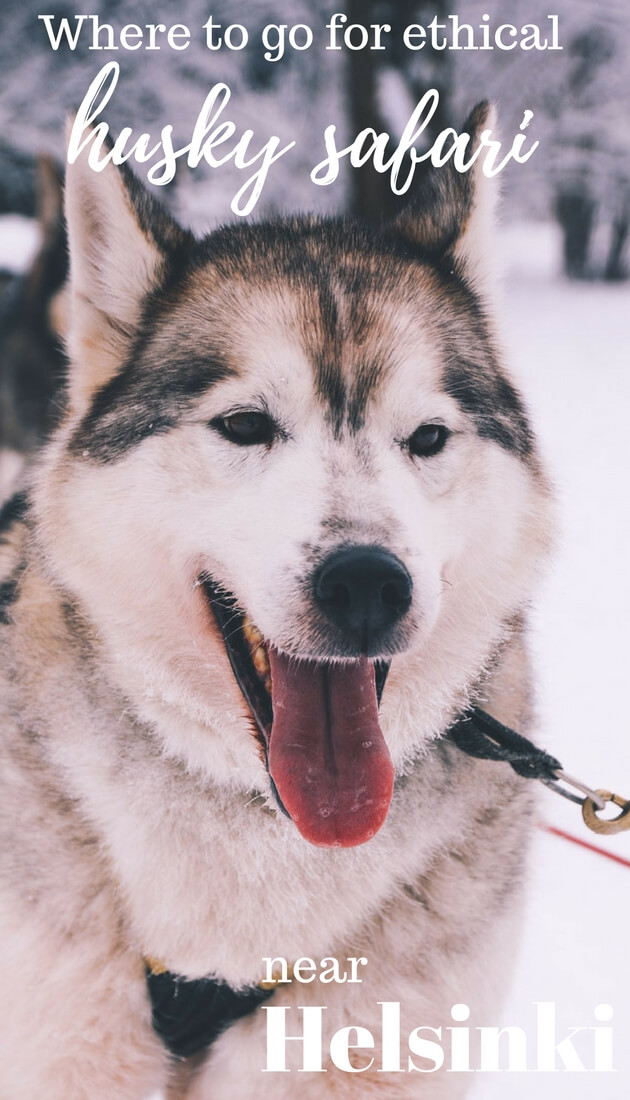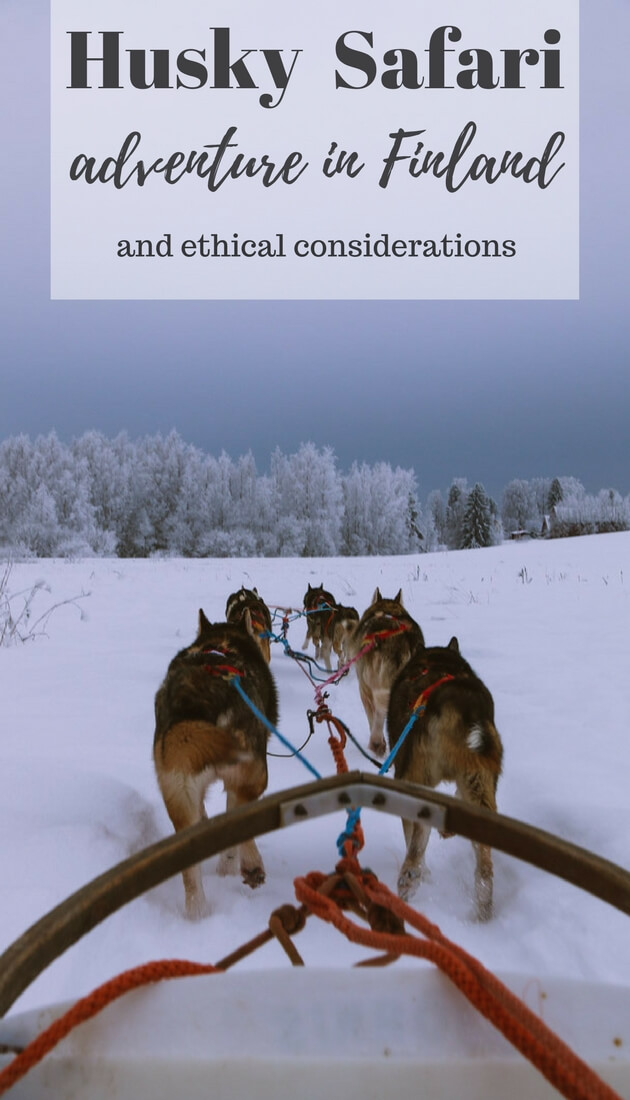 Disclaimer: I visited Tampere, Finland in collaboration with Visit Tampere. All ideas and opinions are my own.