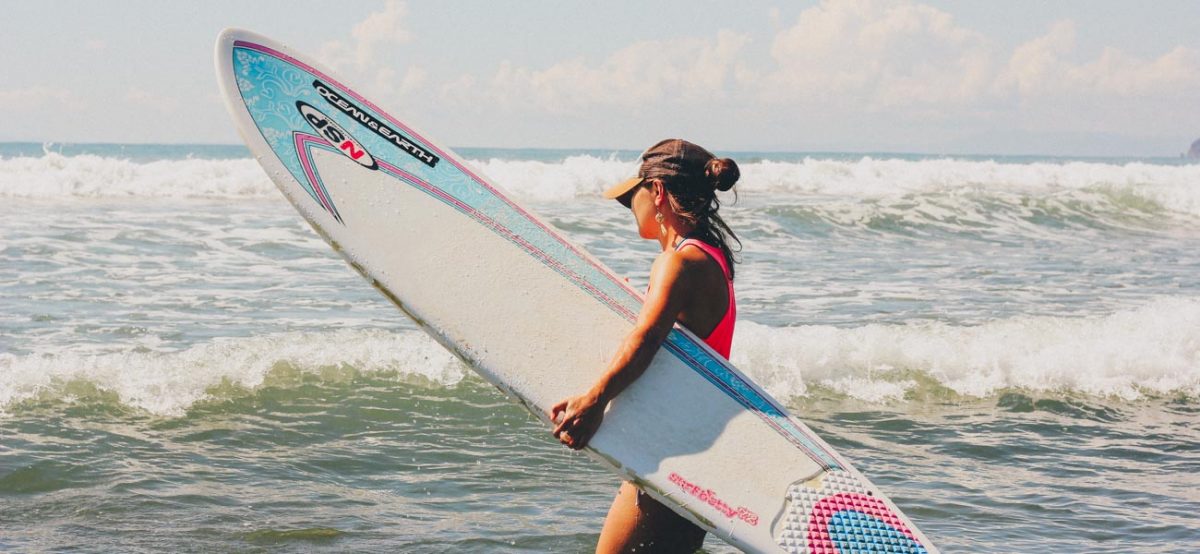 This post may contain affiliate links. I receive a small commission at no cost to you when you make a purchase using my link.
Jaco, quoted to be the most visited coastal destination in Costa Rica, certainly feels touristy. You can find anything you want or need in here: plenty of souvenir shops, tattoo salons, surf shops, cafes, restaurants and all of this for touristy prices as well. I think, this was the most expensive stop in all of Panama-Costa Rica travel route we took. 
The main thing that brings people to Jaco is the 4 km long beach strip perfect for surfing especially for beginners. There are also beaches close by, like Playa Hermosa and Playa Herradura which are attracting more experienced surfers.
How We Got There
Prepare yourselves that buses in Costa Rica do not necessarily run on schedule. We needed to get to Jaco, which we could do by taking a bus to San Jose, running through Uvita. The schedule online said the bus will arrive at 13.00, the schedule on the tourist station said it will be here at 13.15 and the actual bus showed up at 13.40. So, the strategy is, you go to the station earliest possible and hope to get your bus if you are lucky, it will be there. The bus ride will not take too long.
Where To Stay
The hostel where we stayed, called Casajungla, is a little bit hard to find behind the vegetation of Costa Rica. Everyone seems to arrive at the neighboring hostel with huge logo of Kangaroo and ask for directions. Well, Casajungla is located couple of meters from it in direction away from the city.
Casajungla is a house of a sweet Costa Rican family where the first floor was made into hostel and rooms being rented out to travelers like us. My first thought – man, they do have a good taste! Our room was specious and colorful.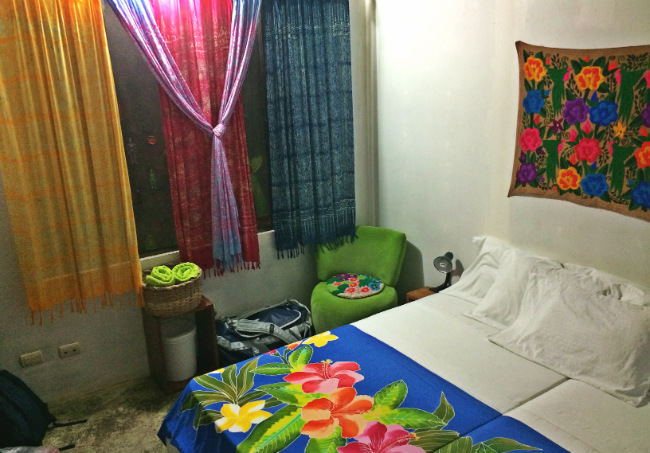 There are three big bathrooms on one floor, if not more, I don't think I tried all of them..ha-ha. But there were not so many people to need all of them. I was definitely surprised with hostel's fresh Costa Rican look. But kitchen was simply an implementation of my childhood dream, I mean, swinging while having dinner, isn't it the best thing ever?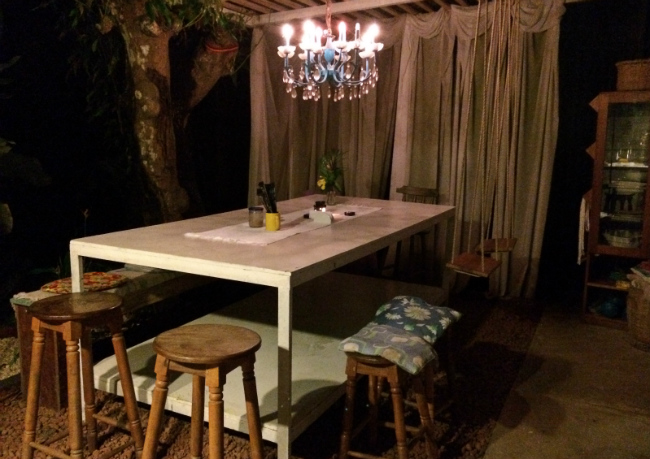 The owners,  who live upstairs with their son, keep everything very tidy. Everyday I saw them cleaning the kitchen, rooms and bathroom thoroughly, even if it appeared already clean to me.
When it comes to what they offer, there is plenty as well. The most important thing is that you can borrow surfboards from them for 10$ a day. Sounds expensive, but the price at the beach or in the city is the same, so we used to rent from the owners. Besides, the hostel is situated couple meters away from the beach, so it was no problem carrying them. One time we have borrowed surf boards, but waves were not good at all, so they didn't even take money from us.
What to do in Jaco? My day:
1) Morning run at the beach
Staying in a tropical country you get used to waking up with the sun, around 6AM. There is nothing better than greeting its arrival with a run along the sea coast in the beginning of a beautiful day while everyone is still sleeping.
2) Breakfast
Full breakfast including fruit, coffee, smoothie and omelet with rice was offered for 7.5$ at the hostel. But we really liked making our own breakfast, since kitchen was so nice to be in and we did not have to bother anyone at 6 in the morning.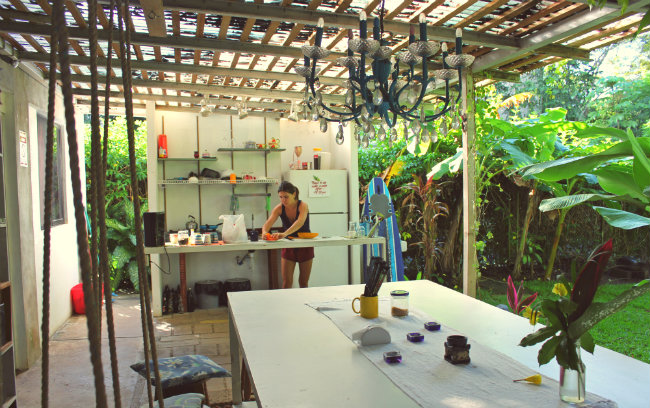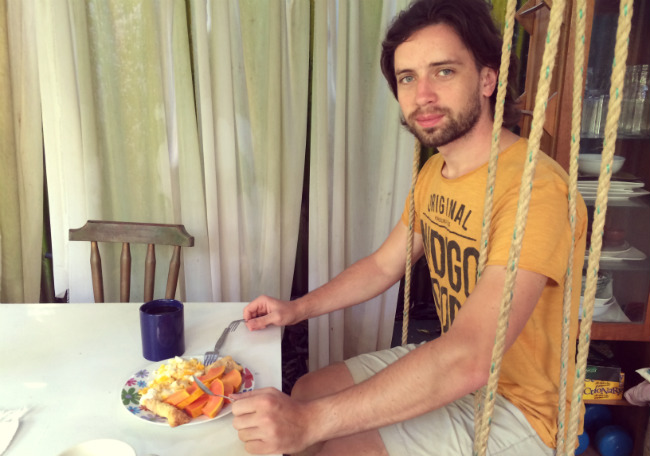 My favorite food in Costa Rica was fresh fruit like papaya and oranges from the market. Look nothing like what they sell in European supermarkets.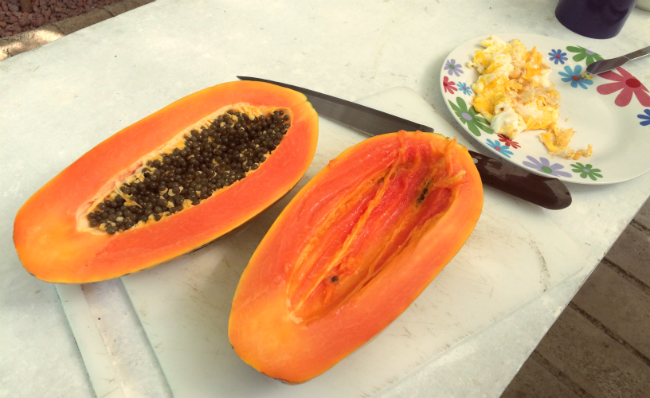 The fruit you get here are often dirty, crooked, straight from the trees, and they have the best taste ever, the real one. Never have I been so repelled by seeing imported apples in the store as I was in Costa Rica, all shiny like wax, each apple size of a fist with a label on it, so artificial. The real fruit are all unique and have faults, just like humans.
3) Surf!
Had your breakfast? Good, you'll need the energy, its time to surf. During our stay in Jaco, which was in December, the surf waves were the best in the morning and noon.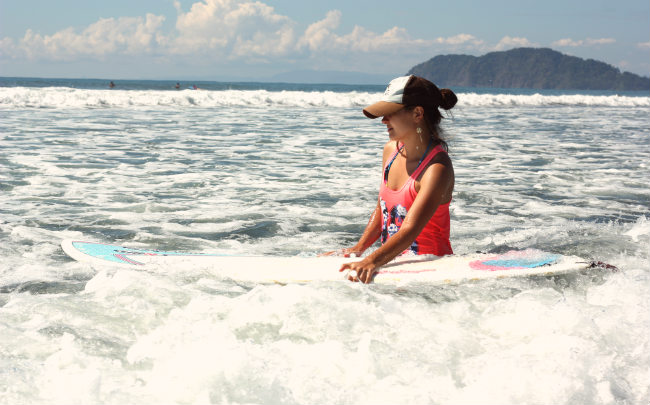 For the beginners the waves are just perfect, not too strong and not too high. But as a first timer I have to admit that surfing is a challenge. I did not expect it to be so hard, especially the part when you have to get  across the ocean pedaling in order to find the perfect surf spot where you sit and wait for the wave to come.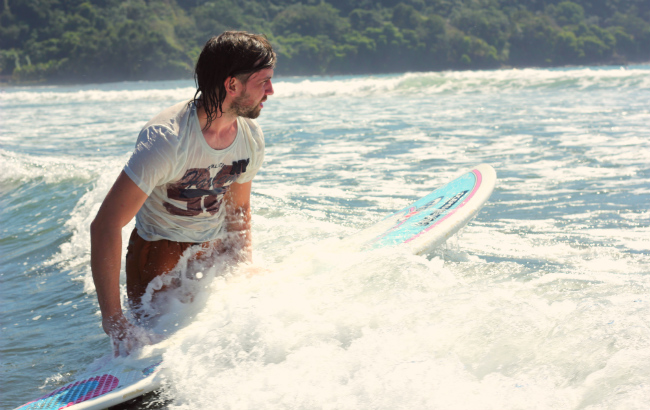 It does require a lot of muscle strength and so, the whole next day my arms were so sore I had trouble moving them up and down, I didn't have much strength to surf really.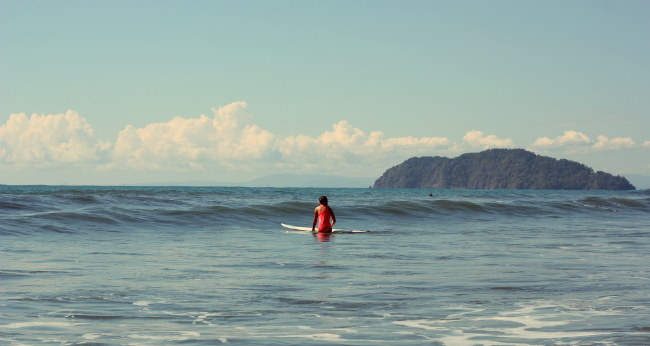 But that's just me, not being used to training my arm muscles, others, on the other hand, have been coming back for more every morning!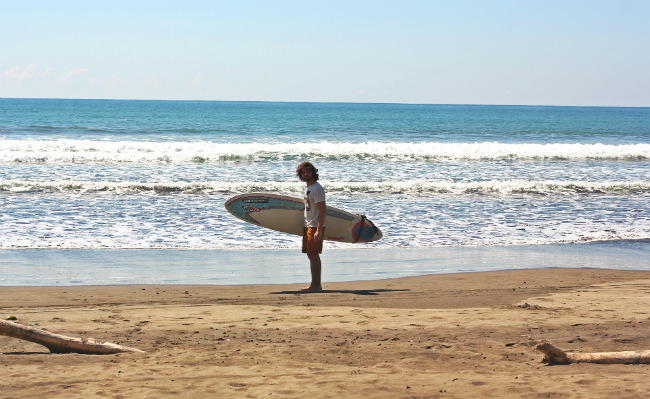 All in all, surfing is a lot of fun. You are in water, you are tanning and trying something new.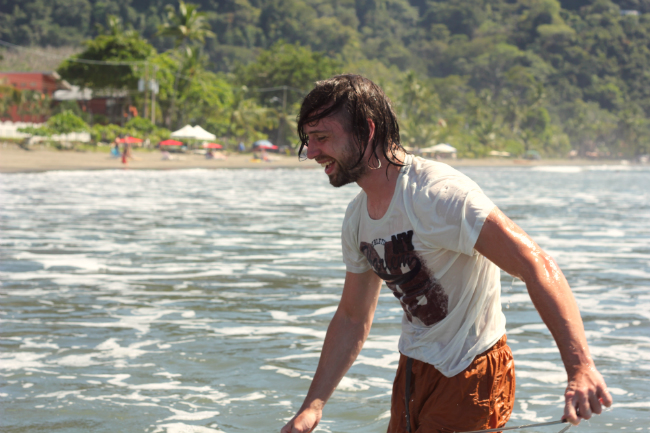 4) Explore the City
After surfing takes away all the energy the lazy 'walking around the city' part begins. The pleasant bonus of staying at Casajungla is the availability of bicycles which one can borrow for free! We used them every day for going into the city  – 10 minutes bicycling and you are there, among countless shops and restaurants.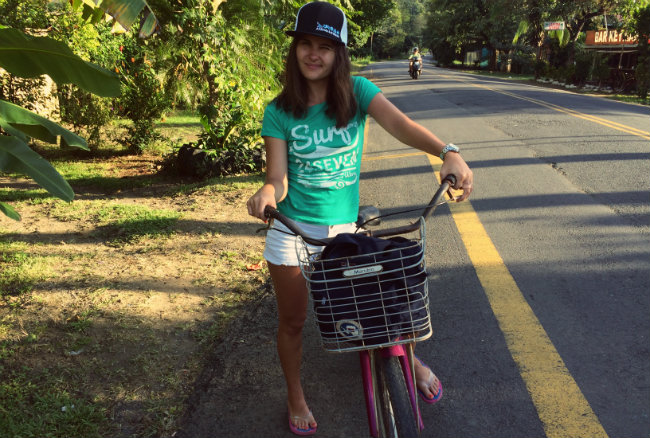 They have as many as four, so you can take your companion with as well.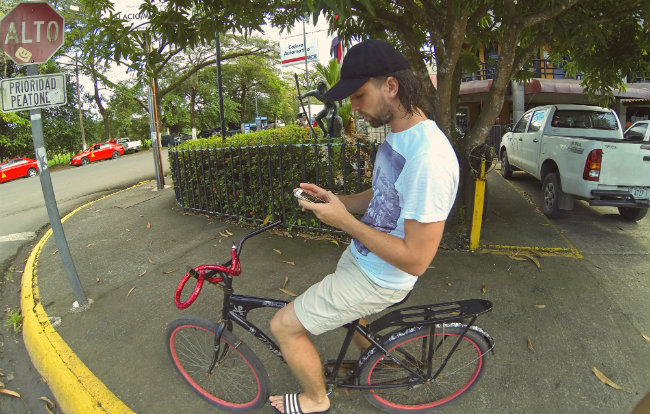 Perfect timing for exploring the city is around 3 – 6 PM before the sun goes down and while shops are still open. We bought most of our souvenirs in Jaco, simply because the variety is so big. Do not be afraid to bargain, you can get a better price on certain things.
Besides shopping, we found some great places to eat. What I like a lot about Costa Rica is the great variety of small businesses, like cafes and coffee shops that thrive on the tourism, but they are so personal, so local and cozy.  One of the good places to eat that we have stumbled upon was called Namaste, offering very tasty Indian food and refreshing smoothies.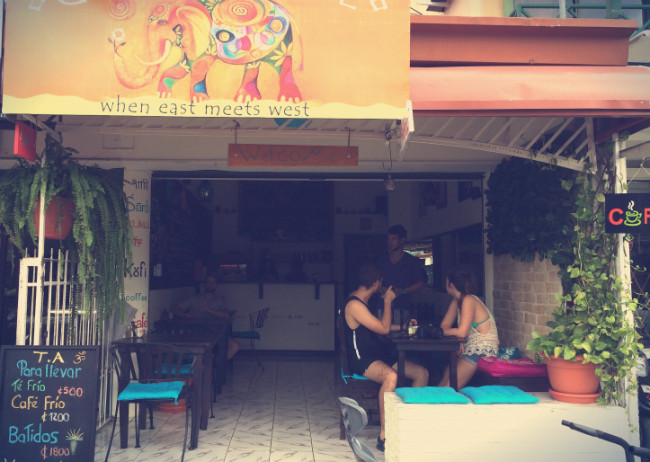 I have noticed that smoothie trend is very strong in Costa Rica. You can find fresh fruit bars almost everywhere and it is very justifiable, as they offer drinks made from fresh local fruit for 3$ in a tropical heat. I loved having them every day. Plus, it is healthy.
Sometimes just walking around you may stumble across amazing beauty, so watch out!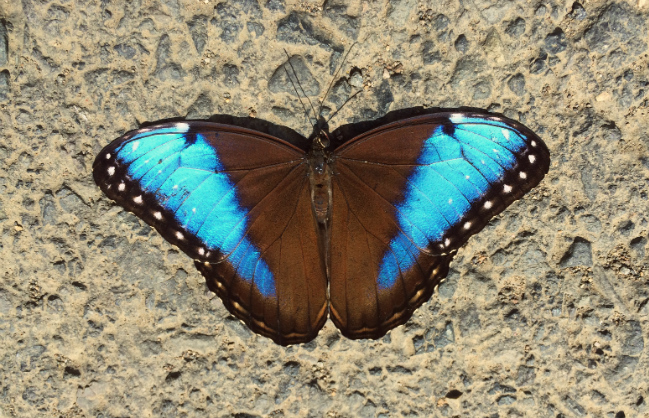 5) Evening at the Beach
The most beautiful part of the day is when sun is going down and it creates the most picturesque view over the ocean. You have around half an hour before 6 PM to take your best pictures in Costa Rica without a need for any additional filters.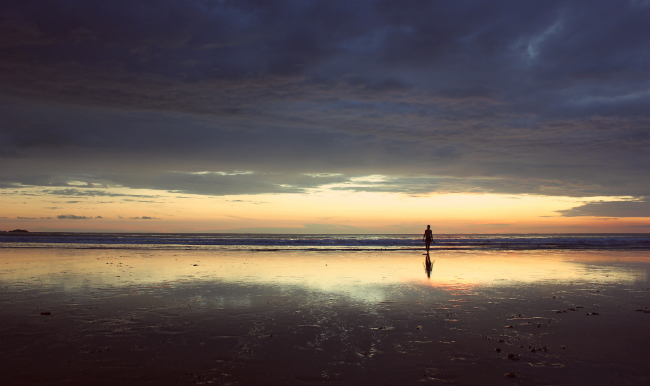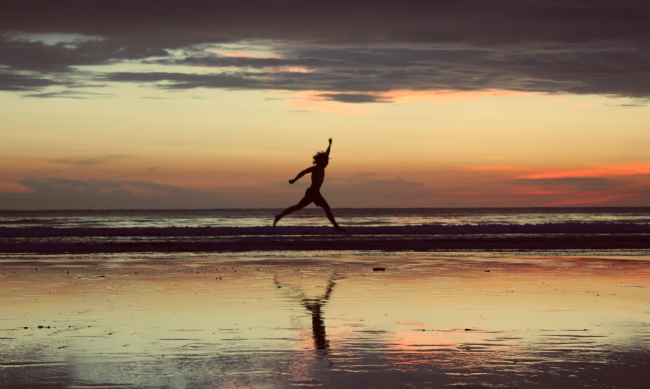 After what it is perfect timing to sit in a bar and enjoy some local beer or play scrubble.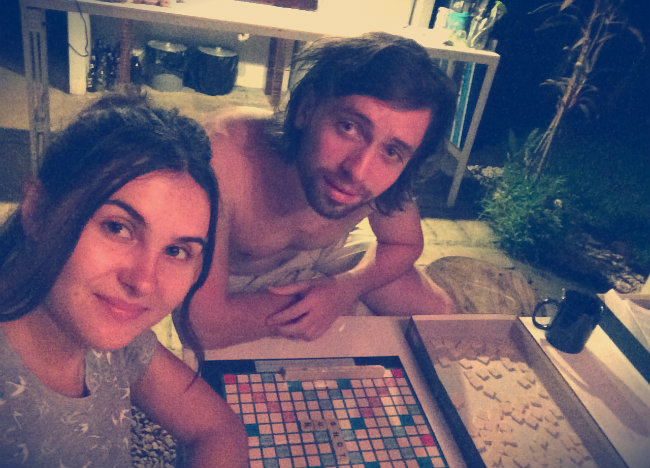 Wrap Up
We stayed a total of 4 days in Jaco and it was well worth it. The city is full of things to do and places to go. Needless to say that all of the time you would probably spend at the beach anyways, tanning or learning to surf. Jaco is a busy touristy place, but yet it doesn't seem crowded. This is also a place of many beautiful people who come here from all over the world to show their perfect 6-packed bodies, while surfing the ocean.
People living here are very relaxed and friendly, this is a place where stress never gets you.  I mean, why would you be stressed living next to a beautiful beach where you can always surf your troubles away?
We are going to miss you, Jaco.