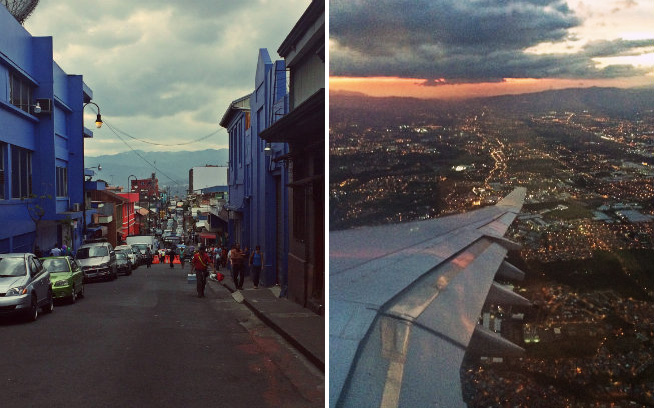 This post may contain affiliate links. I receive a small commission at no cost to you when you make a purchase using my link.
My post on San Jose is going to be a short one even though we have spent 2 nights there. Frankly speaking, San Jose seemed to be the most depressing place in Costa Rica, the only place where people are too busy to smile and enjoy themselves. But we managed to get adventures even in San Jose.
We didn't find anything particularly interesting to do except for walking around the busy streets and trying out some local foods, but how much can you really eat a day? Plus, eating out in Costa Rica is much more expensive than I imagined. For example, a nice meal with drinks would cost you around 20$. However, we did discover some fun local bars where people still appreciate heavy music, which is already out of style everywhere else.
San Jose Adventures
We did get into very funny adventure though. On our second day in San Jose we decided to go do some shopping in local mall to bring something back home. So, we got on the bus that was going that direction. With no clear idea where to get off and no Spanish language skills we were just looking out the windows assured that we will see the mall and simply get off there. We kept going further and further but no mall until the point where the bus stopped and everyone got off. The final stop.
We get off in the middle of a place that I can only describe as a 'ghetto' with small houses that look like garages rather than something where people would live. All the crowd from the bus disappears very fast and the only thing left is this gang of young guys sitting on a car looking super cool and dangerous. I was getting chills by only looking at them so we rush back into the bus trying to get to the city via same route, but the driver explains that he cannot take passengers and points to the gang saying 'taxi'. It sure was no taxi, but we got the idea. We could so easily be just robbed in there, having our cameras and wallets on us, but instead the guys agree to act as a 'taxi' and drop us off at the mall for some cash. We got away from what was my scariest experience in entire Costa Rican trip for only 2$.
One of the boys gave us a ride and going through a middle of busy San Jose I felt like being in some sort of gangsta movie. The car looked like it is going to fall apart any second now.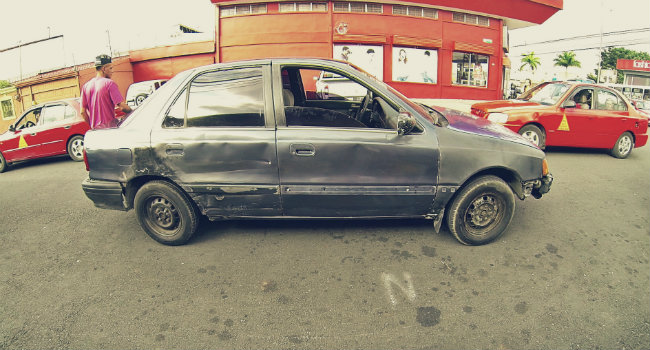 And the driver looked like he is rapping for a living. I guess it was also a good day for him, made some money with little effort.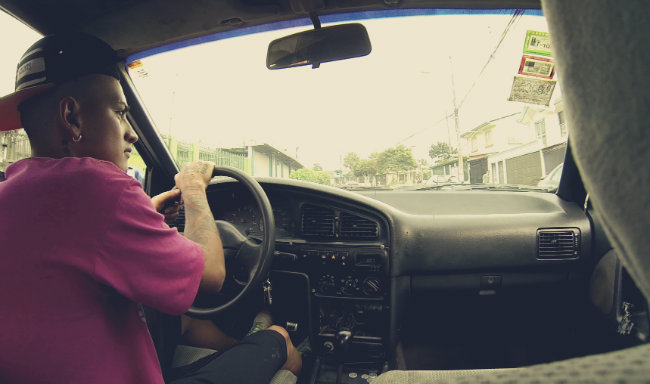 The only moral I can take out of this story is that everything is not as scary as it seems and that people in Costa Rica are amazing.
Hostel
Our hostel in San Jose was not impressive either, the place is called La Room and it charged 30$ per night per double room. The decor was supposed to be some sort of stylish DYI but it looked awful in reality. We stayed there during Christmas holidays, when people want to rest and celebrate, so I hope that it was the reason why service was not good. Breakfast was bad, room was bad, internet was bad, even bathroom was too far away from the room. Therefore, we tried to spend as little time inside as possible.
Getting to the Airport
There is a way to get to the airport by city bus, but it is a bit far from the center, so we took a taxi to the bus stop (4$) and bus to airport from there (2$). The ride was smooth and easy. In the moment when you get to the airport and begin to feel sad that you are leaving Costa Rica you get one more unpleasant surprise – you have to pay a departure tax! 'What on earth is that?' you would ask and I wouldn't know what to answer. Apparently, everyone who is leaving Costa Rica by plane has to pay a tax of 30$+card fees (if you don't have cash), just so that you could leave, otherwise, they won't let you on the plane. So, in case you are one of those travelers who like to spend every penny buying souvenirs home, you would be in trouble.
Therefore, be prepared and set some cash aside in the very beginning of your trip.
Wrap Up
Spending two days in San Jose added some bitter to the sweetness of Costa Rican experience for me. There was not much to do, besides walking around and getting into cafes and bars to see where locals spend their days. And it actually made me feel bad for the people living in the capital, most of whom rarely have the time to go and spend it on beautiful beaches of their own charming country.
Unless you are interested in experiencing the real city life, I would recommend to limiting time in San Jose in your travel route to bare necessity of getting through the country.