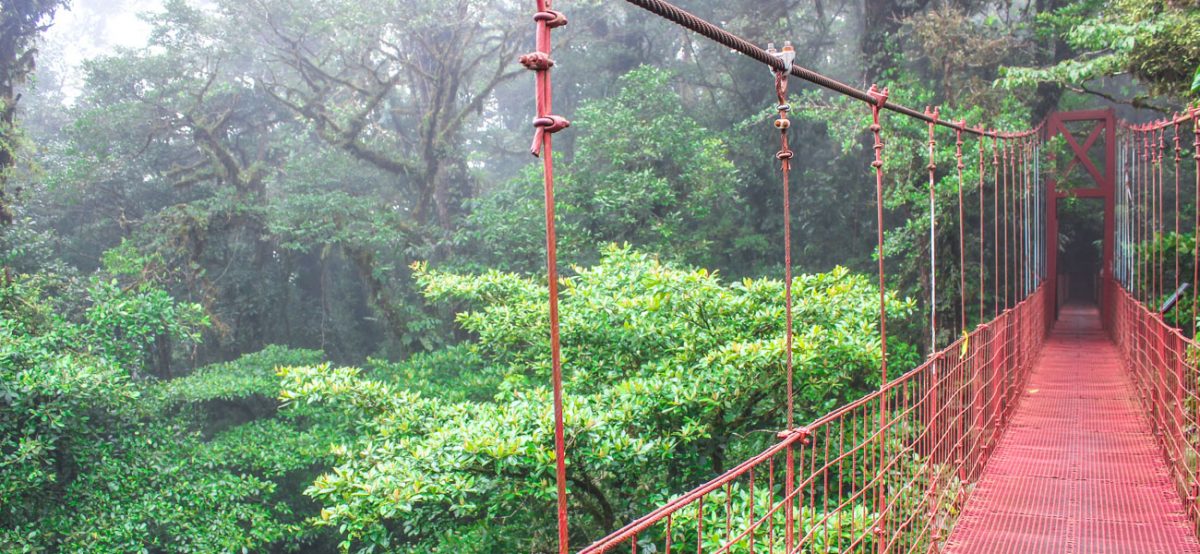 This post may contain affiliate links. I receive a small commission at no cost to you when you make a purchase using my link.
Monteverde Costa Rica was our last adventurous stop before heading out to San Jose and flying back home after a 20 day trip in Central America. Now it was the time for some adventurous things to do in Monteverde cloud forest reserve.
Due to the fact that Monteverde is elevated roughly 1,4km above the sea level, it is a little bit cooler than anywhere else in Costa Rica we have been to, which feels nice after being in constant heat for so many days. Monteverde boasts to be one of the seven wonders of Costa Rica due to having a Monteverde Cloud Forest Reserve which attracts a lot of visitors from all over the world. It is one of the most visited places in Costa Rica and you can tell by seeing just how many people visit the Monteverde cloud forest reserve every day.
How to Get to Monteverde?
Well, there is no easy way to get to Monteverde from Jaco (where we traveled from). The only way is to get to Puntarenas first and then change the bus from there, as the scheduler says.
Our journey to Monteverde rainforest was supposed to start at 6 AM. Our dear hosts from hostel Casajungla explained to us that bus is going to run through our street in Jaco, so we are supposed to simply catch it on it's way. Easy-peasy. We got there 5 minutes to 6AM and were standing there waiting.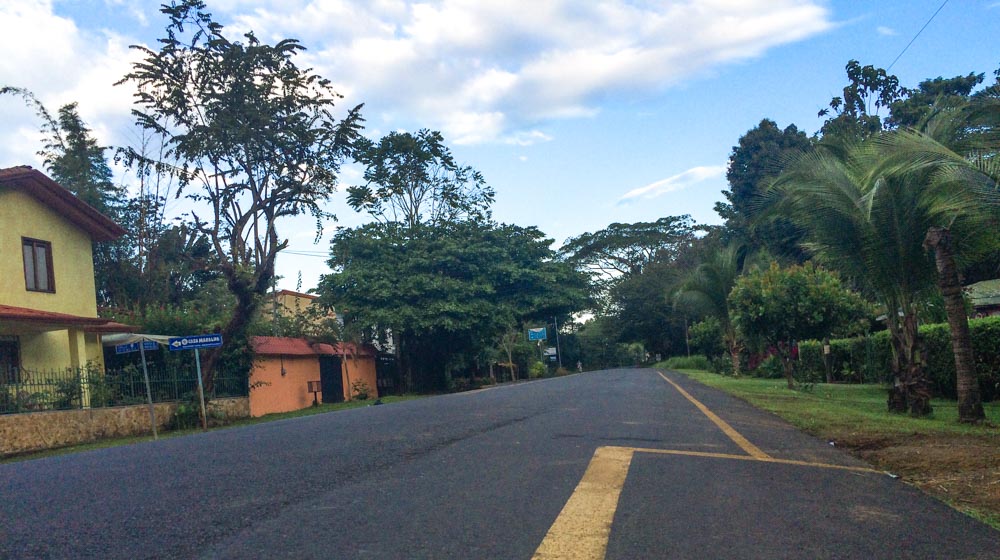 When it was already 6:30 we realized that bus probably have already ran through our street earlier. Now, this was a problem. Fortunately, there was another bus running to Puntarenas at 9AM, so we just had to chill around waiting for the bus for 2 more hours. Which was fine, but here's a pickle, when we finally got to Puntarenas at 10:30 AM, the bus that was supposed to take us to Monteverde was already gone. And the next one was not going to come until 4 hours later.
We have been contemplating whether we should wait around and take the later bus. But after the bitter experience of losing time on the border between Panama and Costa Rica  we decided to save time and just take the taxi to Monteverde.
The bumpy upwards ride took us around an hour and cost us 50$. But we got directly to our hostel in Santa Elena, Costa Rica without any problems.
Where To Stay in Santa Elena?

We stayed at B&B Cabinas El Pueblo for 2 nights, which is situated right behind the only supermarket in Santa Elena. The rooms in the hostel are nice and specious with a private bathroom. Breakfast consisting of either pancakes or cereal and is included in the price.
Initially, we planned to stay in Monteverde for 2 nights, but after arrival we realized that more time was needed to do everything we want, so we decided to stay for one more night. Our hostel could not accommodate us, but it was not an issue, there are so many hostels around that we have easily found a new affordable accommodation within walking distance. Our second hostel was called El Tucan, which was cheaper and not at all worse.

Things to do in Monteverde
1. See Santa Elena
This small town has literally three streets that form a triangle with all touristy shops, restaurants and hotels being situated inside of it. Obviously there are other roads where locals live but the heart of the town is where tourists stay. Since the town is elevated high, the most amazing views are opening from here, both featuring the rain forest and stretching all the way down to the ocean.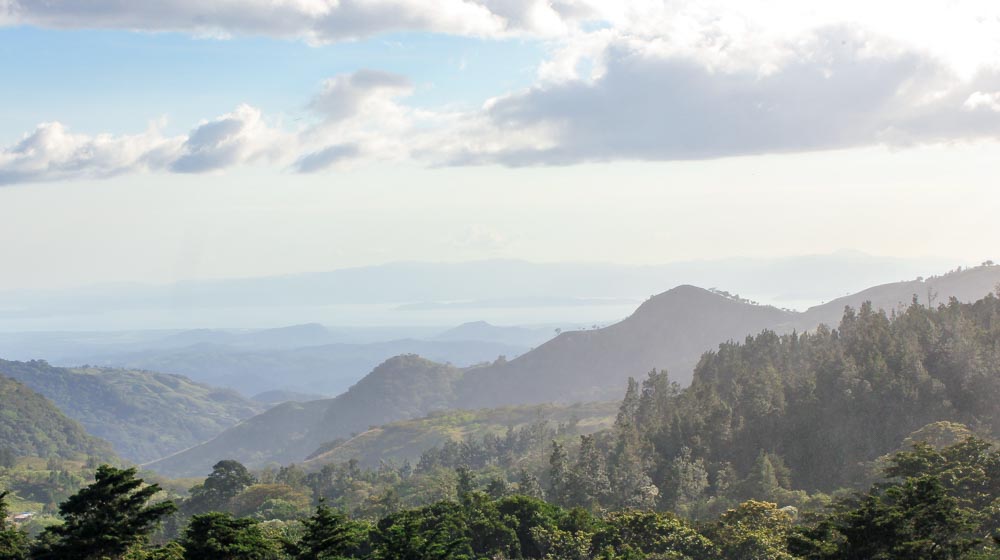 Since the air is always moist in the Monteverde rain forest, this is the place where rainbows never disappear.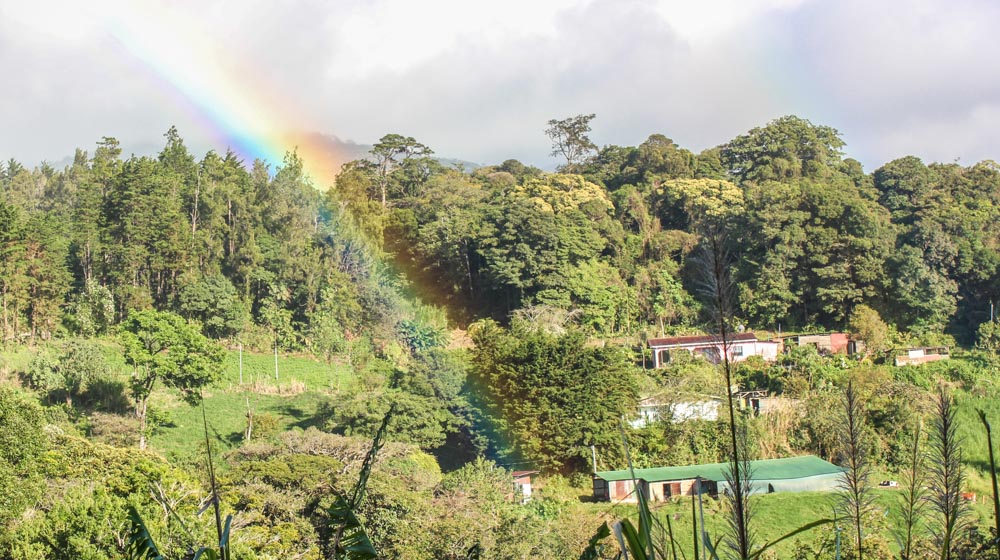 There are plenty of cafes and restaurants in Monteverde where you can try local food. Typical lunch in Costa Rica consists of rice with black beans, meat and vegetables. Also, smoothies are a popular choice.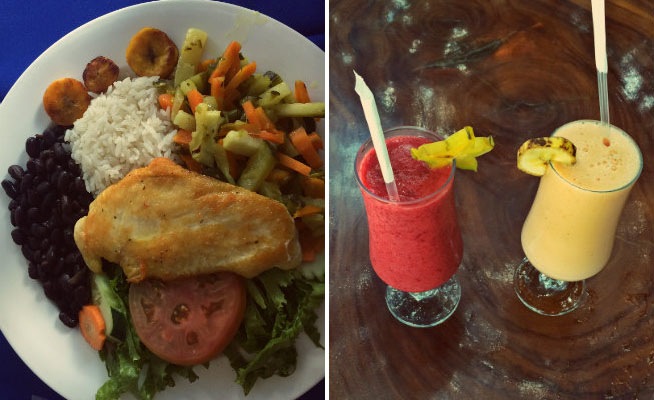 We have also spent some of our time simply walking the streets of the town in search of places where nice views open from. There is a lot to see if you just take the time to walk around the hostel neighborhood.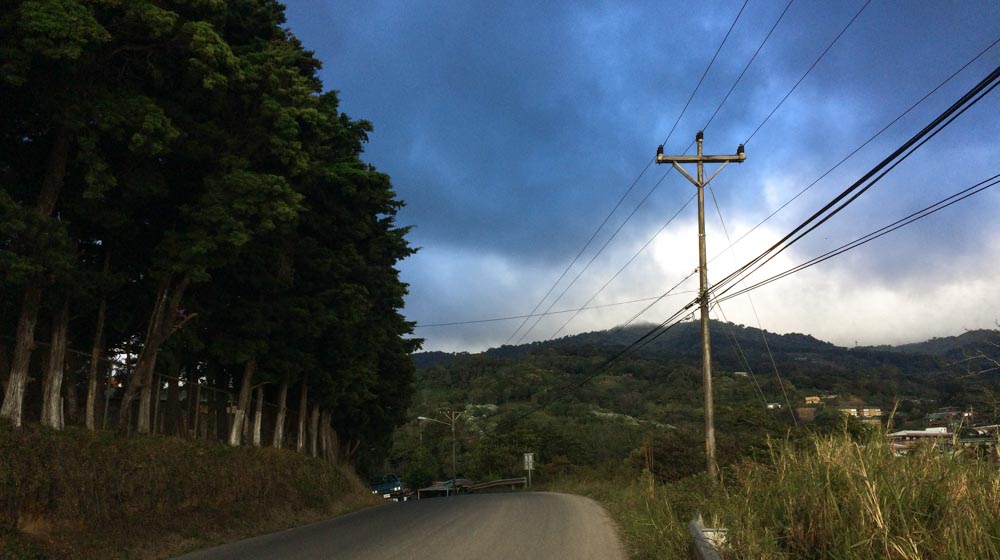 Views over Santa Elena at night are pretty amazing as well, with view over the distant ocean.
2. Go on a coffee tour
I have decided to go on one more coffee tour because this one included the chocolate tour as well and I do love-love-love chocolate and have an interest in how it is all done from a consumer point of view.
I have taken a tour at Don Juan coffee farm and I have to say that I was very pleased with the experience. It was all-inclusive, starting from the part when they pick you up from the hostel and ending up with coffee tasting.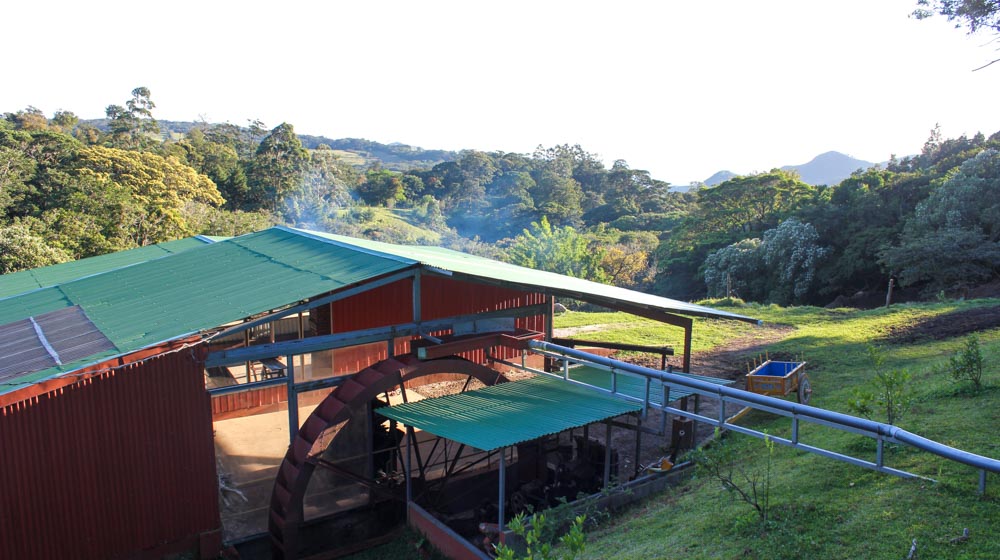 Comparing to what I have seen in Panama, this one is a real farm with vast territory and serious equipment. The tour had four main parts to it:
Coffee part.
The tour started with an already familiar story about coffee farming which I have heard in Panama. However, it was still nice to see how things are managed on the different farm, since Costa Rica has a bigger share of coffee production industry.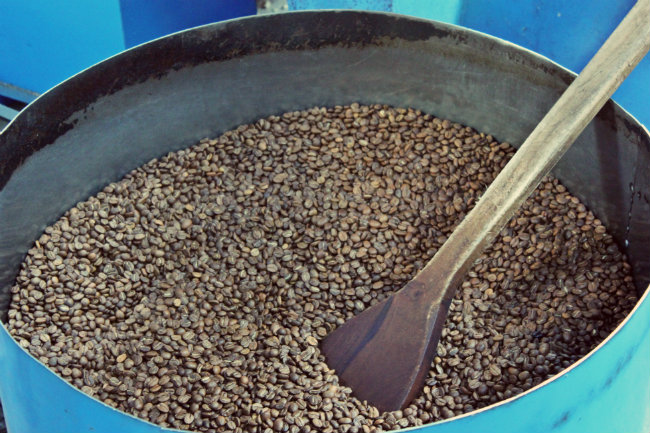 2. Chocolate part.
They do not grow cocoa fruit on the coffee farm in Costa Rica, unfortunately, but they do import them and so you get the possibility to see how the cocoa beans are transformed into chocolate. You get to try it as well, and I have to say that just like nuts, cocoa bean makes you really full with only one bite.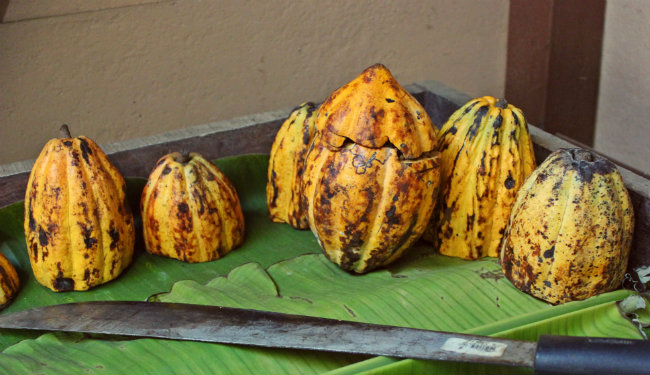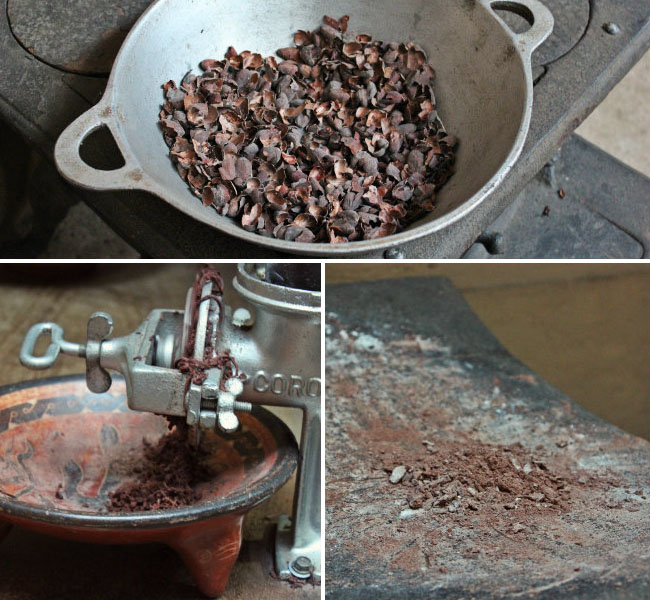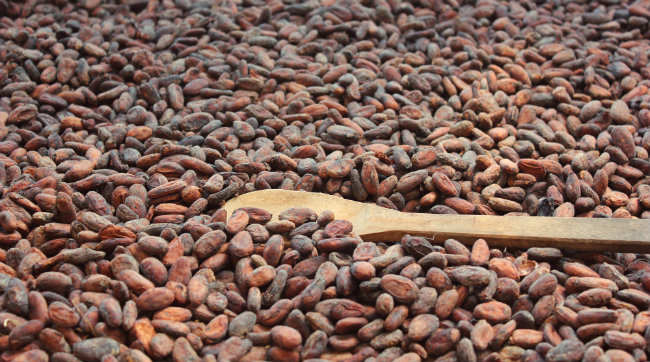 Sugar cane caramel part
We also got a chance to see sugar cane growing, as well as taste it and see how caramel is made from the sugar cane.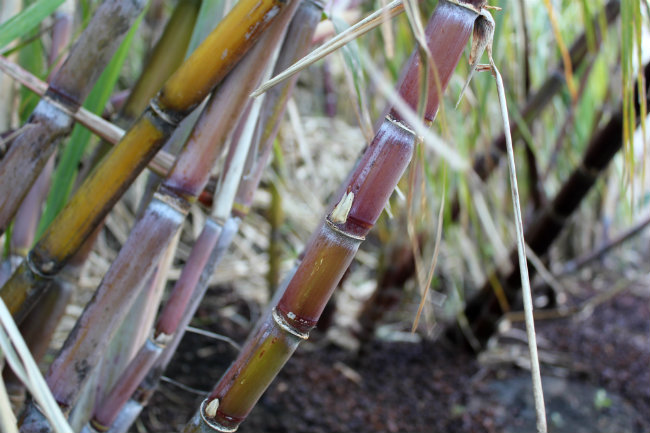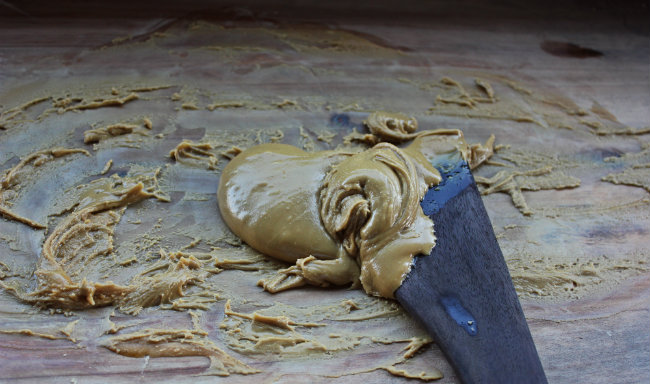 4. Tasting part
The bonus part that happens at the end of the tour is of course the coffee tasting. At Don Juan they also give you a little homemade snack of local vegetables. You can also buy some of their coffee as a souvenir.
 3. Visit Monteverde Cloud Forest Reserve
How to get to Monteverde rain forest?
To get to Monteverde cloud forest reserve from Santa Elena, you need to take a twenty-minute ride on a local bus. The bus stop is situated near the only pharmacy store in one of the triangle streets. The ride costs 1$ one way. But to enter the reserve you have to part with 18$.
Before you get in, staff provides you with a map and gives advice on possible hiking routes based on what you would like to see and how much time are you willing to spend in the forest. I had three hours before the next to last bus leaves back to Santa Elena, therefore, I took the route that would bring me to hanging bridge, some nice observatory spots and back. The last thing you do before you get in is sign up in the visitor's book, just in case you get lost so they know who to search for. I was impressed by how many people from all over the world visit this reserve. And man, did it show!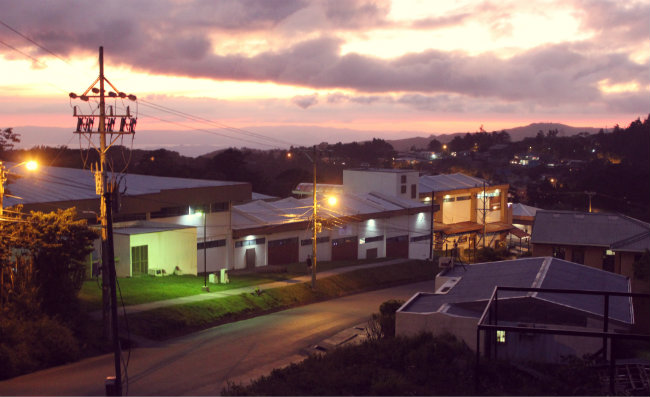 The Monteverde rain forest walk
The minute I walked in it already felt crowded. There were many tourist groups walking close-by. Guides telling the stories and taking pictures, groups of tourists sharing their impressions in full voice, no wonder I have not seen one bird or animal the entire time I spent in the reserve!
I think this place might have been precious couple of years ago when someone discovered it and decided to turn into a reserve. But now, with this amount of visitors, animals have learned that it is better to stay away from the hiking trails, so to say.
Regardless of this, you still have the gorgeous view of the forest.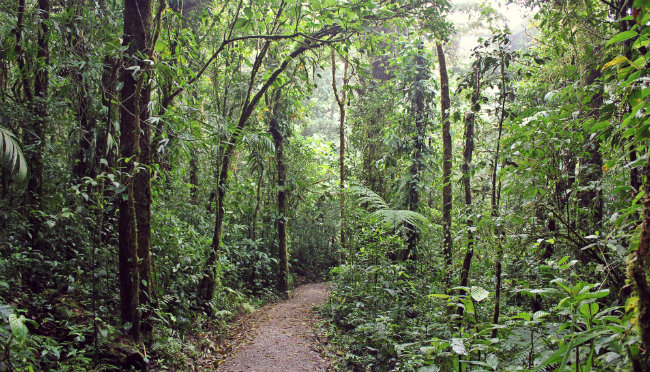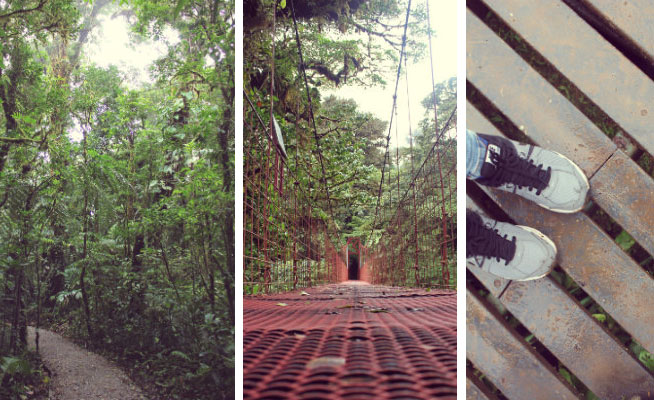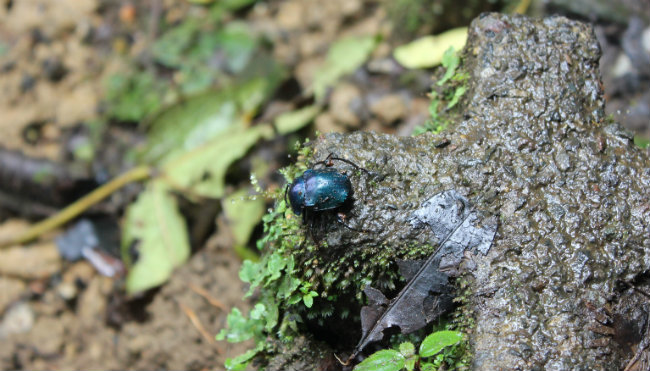 There is a hanging bridge that you can see and walk free of charge, so to speak, since you have already paid for the entrance to the reserve. There are also special tours you could take to visit other hanging bridges around Santa Elena. But this one was beautiful enough for me.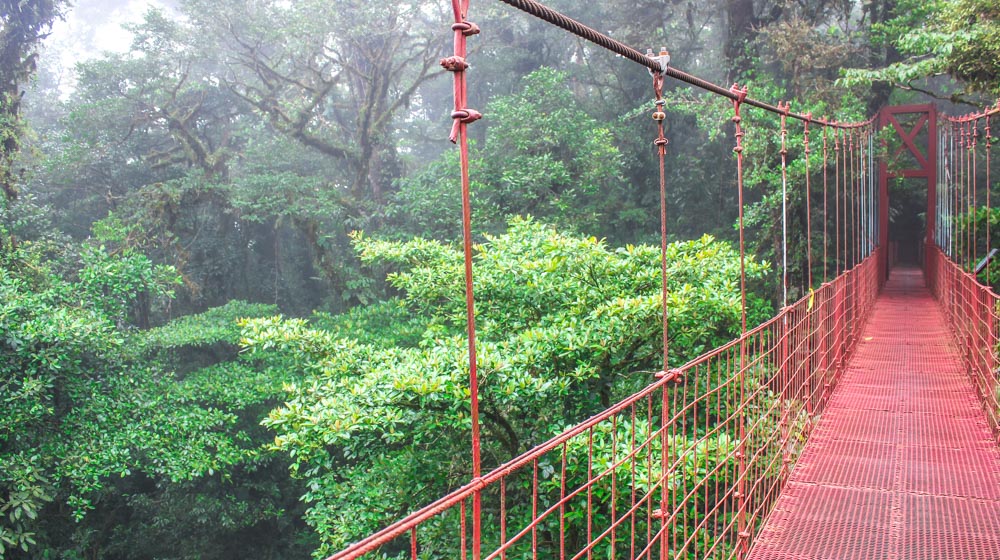 But the best part of the Monteverde Cloud Forest Reserve experience I had was, funny enough, after I left the reserve itself. Right outside the protected territory I met this little coatis, who was busy enough not to care about some tourists walking around.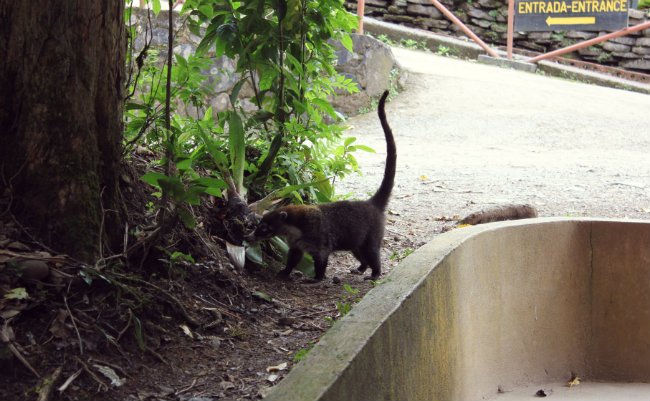 Awesome place to spot hummingbirds by the Monteverde Cloud Forest Reverse
Since I left the reserve a little bit earlier than planned, I had some time to kill before the bus comes. So, I took a walk outside the reserve and stumbled across a Hummingbird Cafe. At first I thought that this is just another touristy name, but when I came closer I realized why it is called like that. The place literally buzzed with hummingbirds. They were so loud it was impossible not to follow the noise and was I glad with what I have discovered!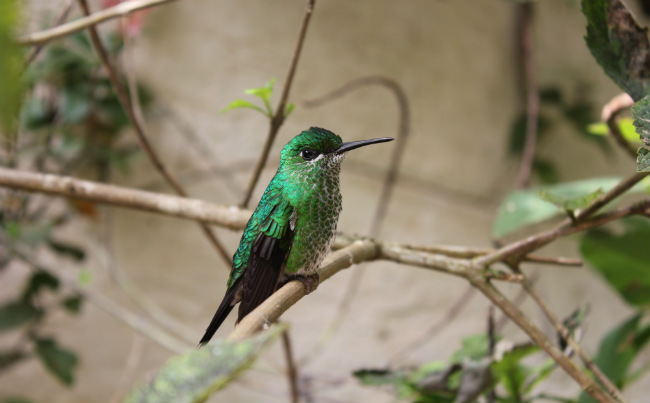 Smart shop owners placed water plates for the birds and they came flying here from everywhere. You could just sit on the bench and watch birds of all sizes and colors come here to have some water instead of trying to look for them in the deep forest.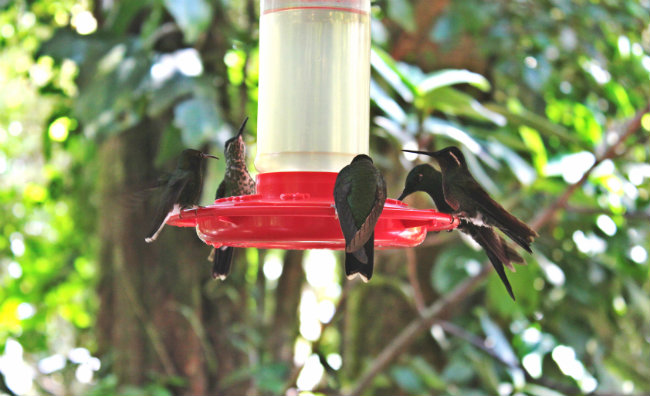 4. Zipline
Canopy tour is the most popular tour in Monteverde, there are many tour operators offering this experience and they try to convince you one way or the other that their canopy is better than their competitors'. They say their canopy is either the longest, the highest, or has the biggest number of zip lines and so on and so forth.
They all cost the same – 45$ per person, so we had to chose based on other qualities. We went with the longest canopy in Latin America (at least they say so) – 100% Aventura.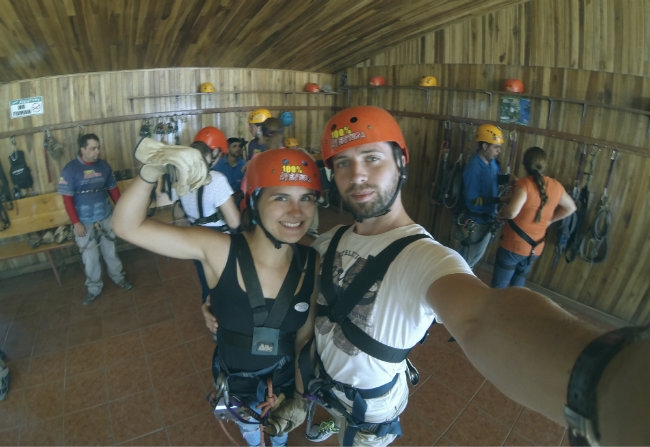 I have to say right away – it does feel long, almost too long, especially if you are flying thousand meters above the rain-forests with nothing to hold on to.
But there is nothing to worry about, the instructors are very good and they will spend time preparing you for the tour and explaining what you have to do and how. You get to do couple of small trial ones before they let you do the real one.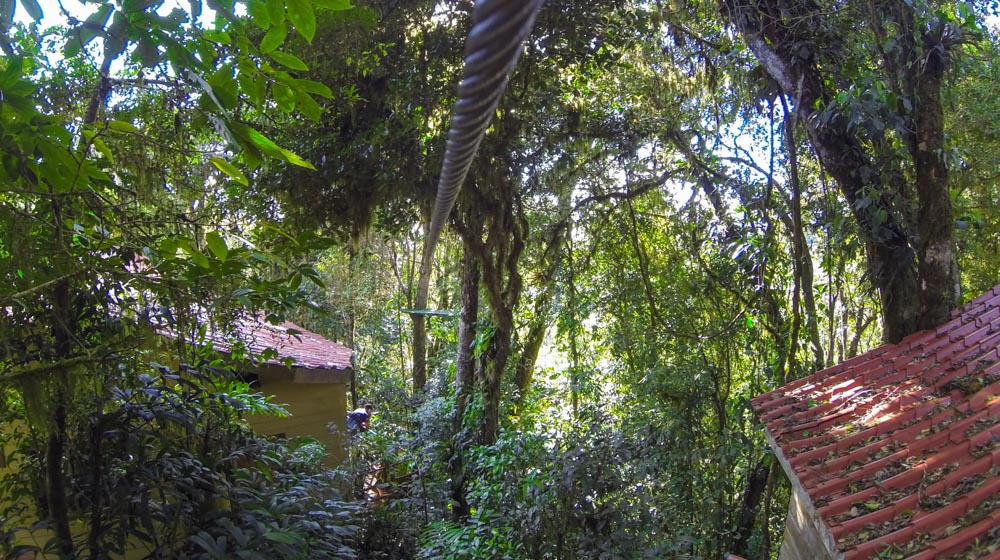 Even if you get stuck hanging in the middle, as it happened to me, they will come and drag you out of there. If you are not scared enough by flying thousand-something meters above the vasts of Costa Rica forests, there is a great finale allowing you to end the tour with bungee jump.
5. Explore surroundings
Since I have not spotted any animals at the Monteverde Cloud Forest Reserve, I was keen to keep looking until I see white-faced monkeys that are supposed to be everywhere in Costa Rica. After being tired of all the tours that are offered in the hostels in the triangle of Santa Elena, we have decided to make a tour of our own. Walking about 2 km away from the town we have stumbled across this privately-owned land Santuario Ecologico, which was made into an ecological trail.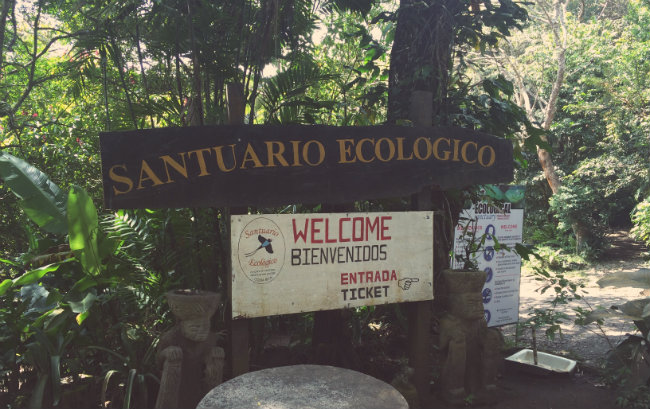 There were no crowds of tourists here and it wasn't named the best place to visit in Monteverde, but we decided to give it a try. After paying 12$ per entrance we took the map from the girl at the reception and went walking in the park.
At first we saw only agoutis, which look like red head guinea pigs.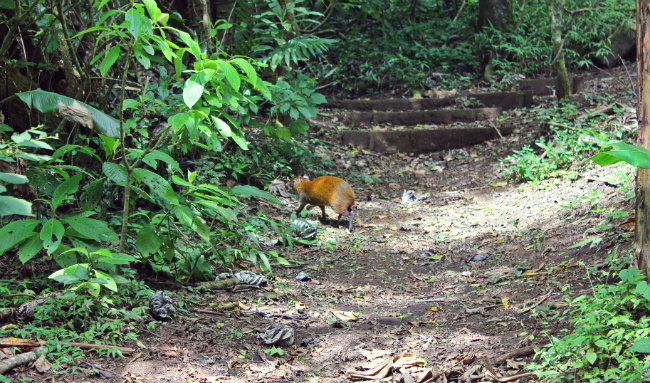 But then walking a little bit deeper, where the banana palm trees grow we started hearing squeaky noises and here they were, the whole family of white-face monkeys in the middle of some kind of argument chasing each other from treetop to treetop.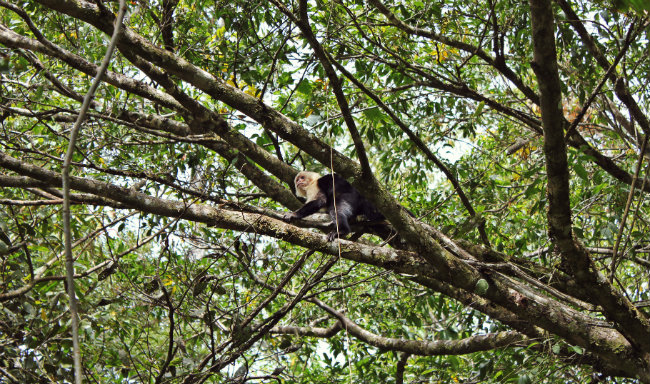 I immediately noticed my body tense and stop, I didn't want them to spot us, because it felt rude to interrupt their personal affairs. One of most memorable moments was seeing one of the monkeys keeping the mouth shut for another, I guess in order not to intervene into the argument, but it immediately reminded me of hear no evil, say no evil, see no evil monkeys.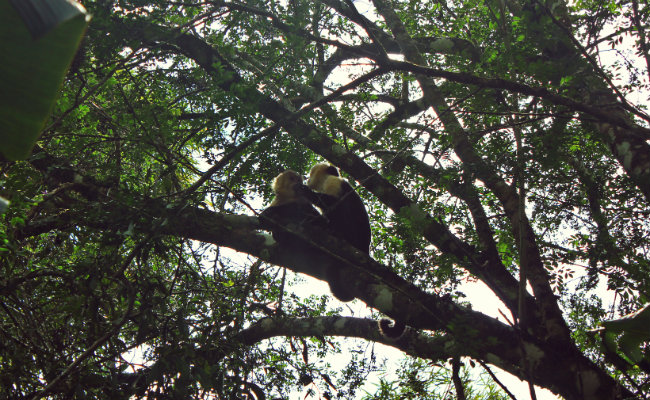 But even when they saw us, they didn't seem to care, they live their own amazing life.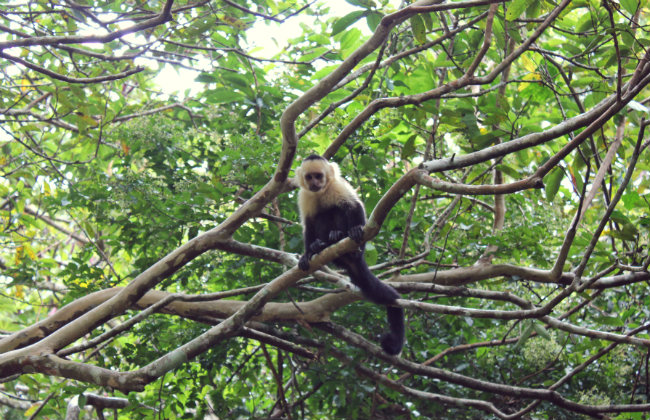 We also got to see some other animals. Like these two cutest sleeping owls.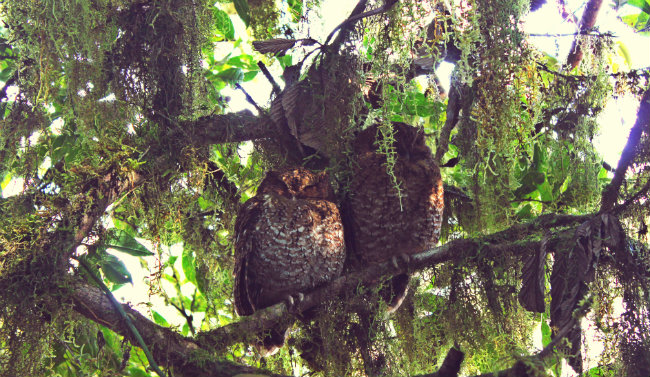 This trail was an amazing experience which gave me the satisfaction of completing all the things I wanted to see in Monteverde Costa Rica.
Wrap Up
Staying in Santa Elena for 4 days we almost started feeling like home. The town is so small and cozy that you can study it in a day, but yet there are so many things to do around it! We have experienced plenty of things to do in Monteverde, but I am sure we still missed to see more.
The trip around Costa Rica certainly wouldn't feel complete without visiting Monteverde, its rain-forests, waterfalls, coffee farms and incredible local animals.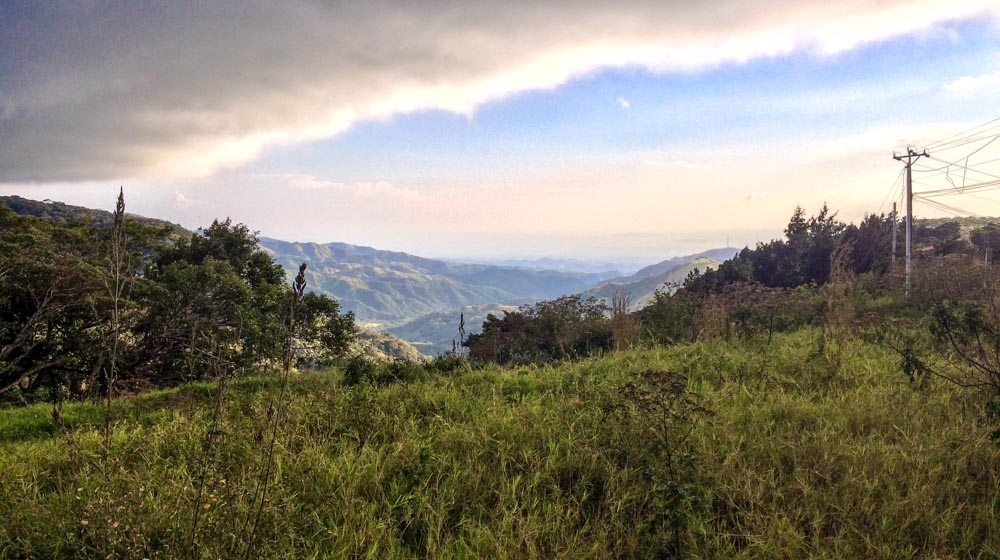 Like It? Pin It!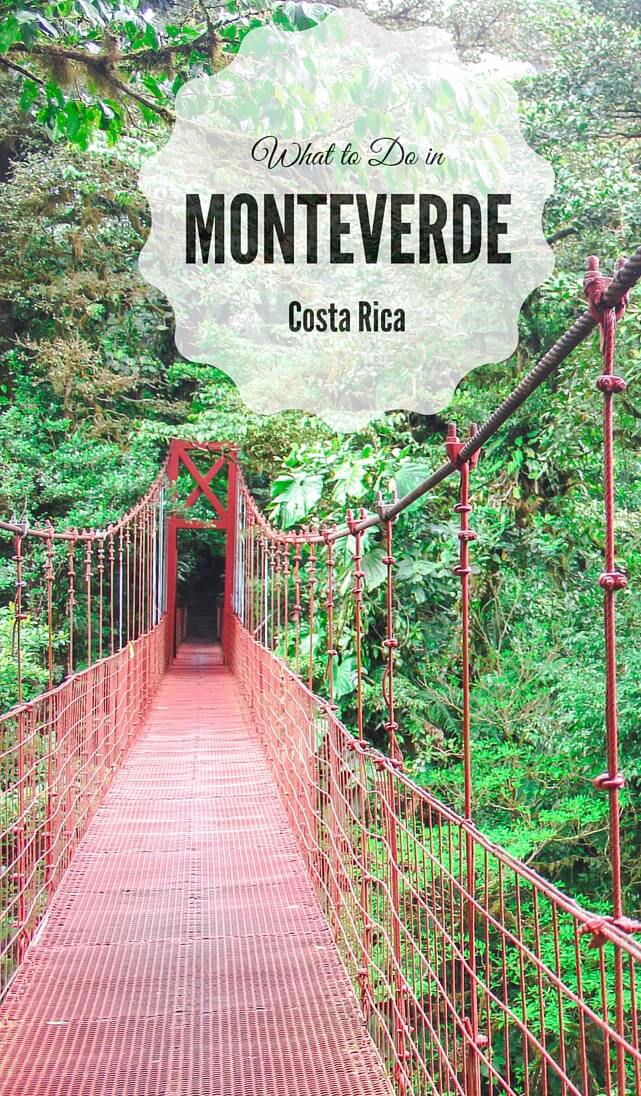 ---
Are you planning a visit to Costa Rica? Would you prefer the rain forest or the beach? Share in the comment section below!