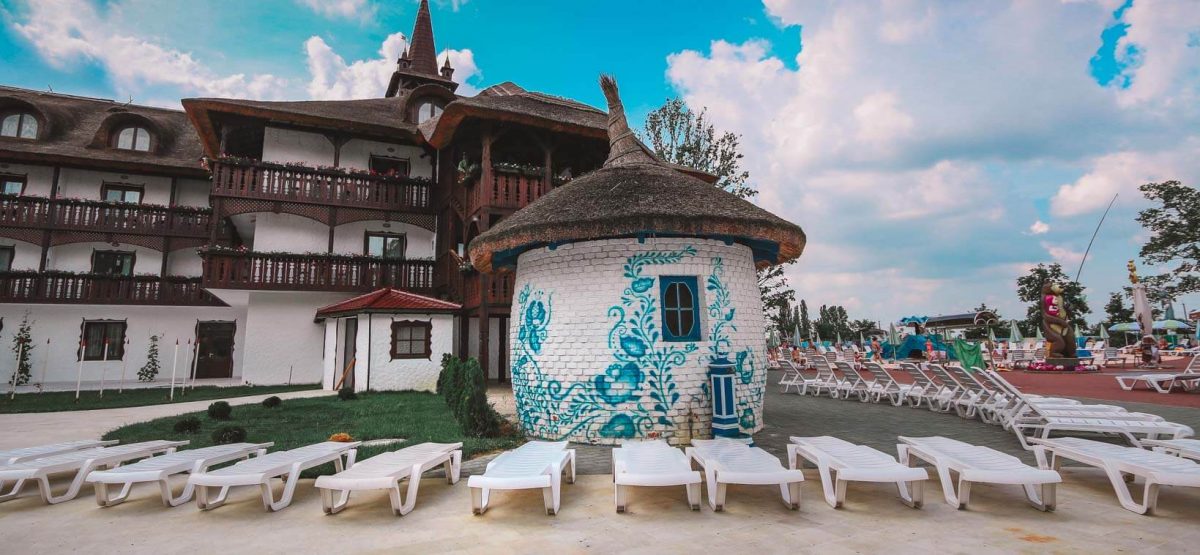 This post may contain affiliate links. I receive a small commission at no cost to you when you make a purchase using my link.
Once you find yourself in the mystical mountains of Ukraine – Carpathians – there is nothing like treating yourself with some relaxing procedures after the long tiring road or hiking in the Carpathian mountains. Right here, in Zakarpattya, right next to the border with Hungary lies one of the best Ukraine spa complexes – Kosino Thermal Water Resort.
After kilometers of driving through the typical Carpathian villages, Kosino will be a pleasant surprise. You'll immerse into a modern, well-built and elegantly styled resort which has something to offer for any kind of traveler, be it a young couple, a family with kids or an upbeat group of friends.
I have visited Kosino with a group of Danish travelers, majority of whom have never been to Ukraine before. No doubt, each and every one of them fell in love with Kosino from the first sight and it was hard to get them out of the pools even when our time was coming to a close. What can I say? Three hours doesn't seem like enough for a aqua day of fun, given that there is also a restaurant and a pool bar serving alcohol.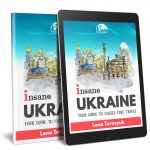 Visiting Ukraine? Want to know more about Kosino and other things to do in Carpathians? Get a copy of my travel guide "Insane Ukraine" with local tips and tricks.
What is Kosino?
Kosino is not your regular Ukraine spa place, it is built on the underground thermal water source which enriches most of the pools of the complex. They are said to have healing properties and many Ukrainians and Hungarians come here to mix pleasure with medical treatment.
At the entrance you'll get a bracelet with 500 UAH credit limit for all your purchases inside, including restaurant, drinks at the H2O poolbar and entrance into the sauna zone.
Once inside, you can leave all your belongings in the changing room. Lockers are not free to use and cost additional 50 UAH per one. Remember to bring your own towels, as they are rented at a charge here as well.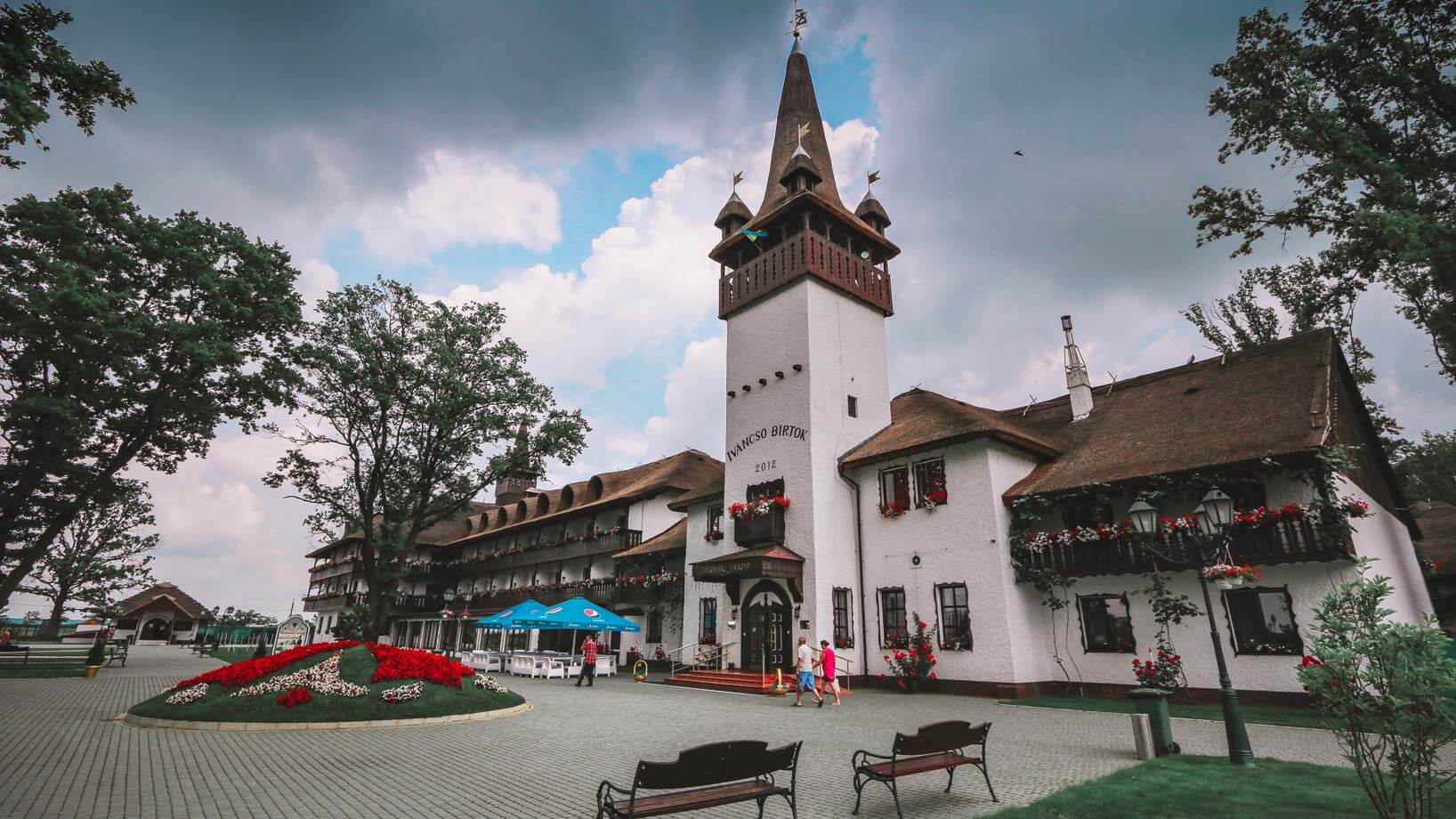 What's in the Kosino complex facilities?
Kosino prides itself to have 8 unique outdoor pools and 7 royal saunas. Altogether, these water activities can easily keep you busy for an entire day.
8 Kosino pools to try
1. Twin pools
The unfiltered mineral water in these pools reaches 40°C. It is extremely warm in a hot summer day but when you think of its healing properties you start enjoying it so much better.
2. Emerald pool
You can access this pool straight from the main building by sliding under the wall. It is a big pool with thermal water equipped with underwater chairs, massagers and hydro showers for the lovers of healing thermal treatments.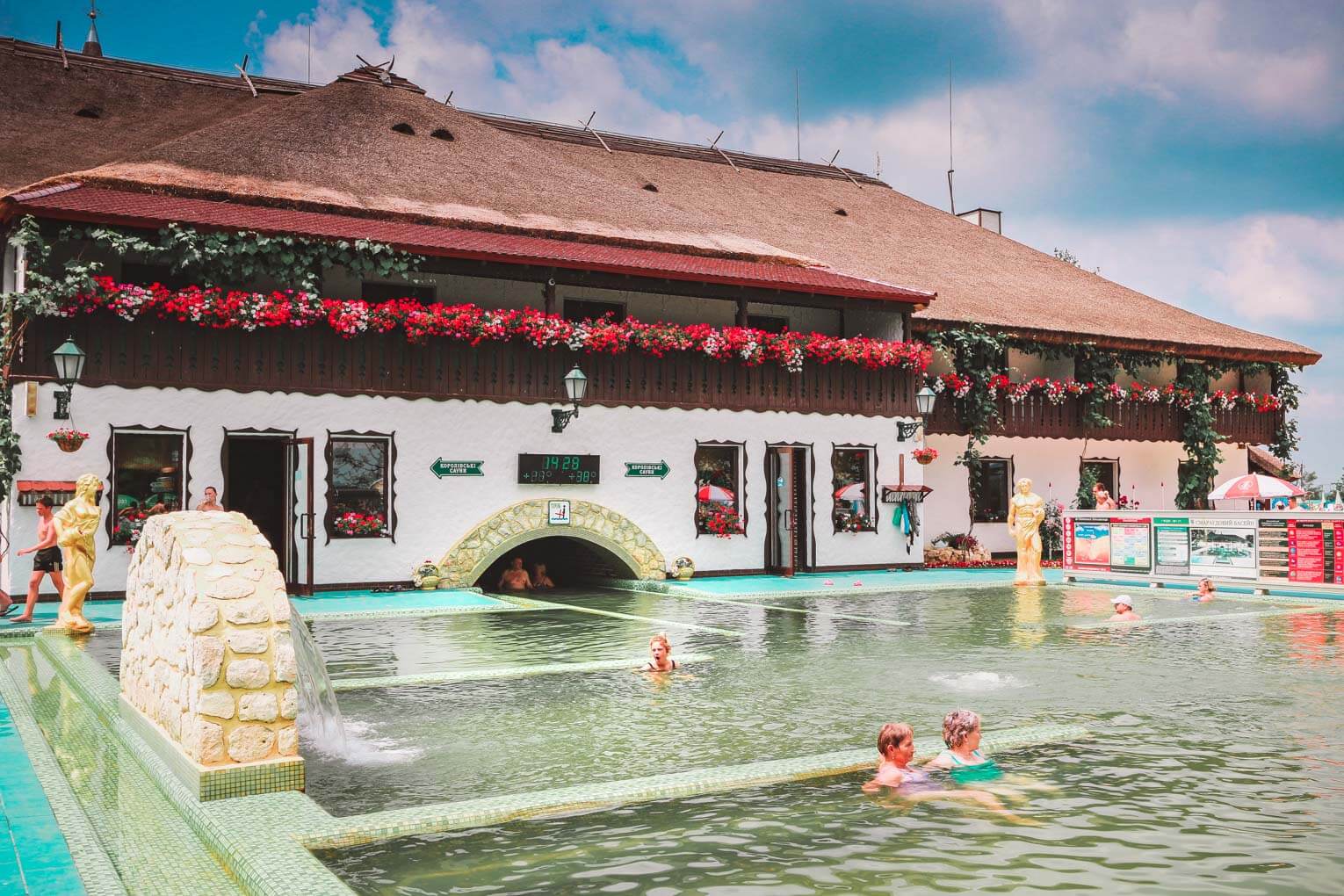 3. H2O pool
This enormous pool with fresh water in the shape of a molecule is meant for relaxation after all the thermal treatments. Made in a Mexican style, this is the only pool with an aqua bar serving both alcoholic and non-alcoholic drinks which you can pay for with your bracelet.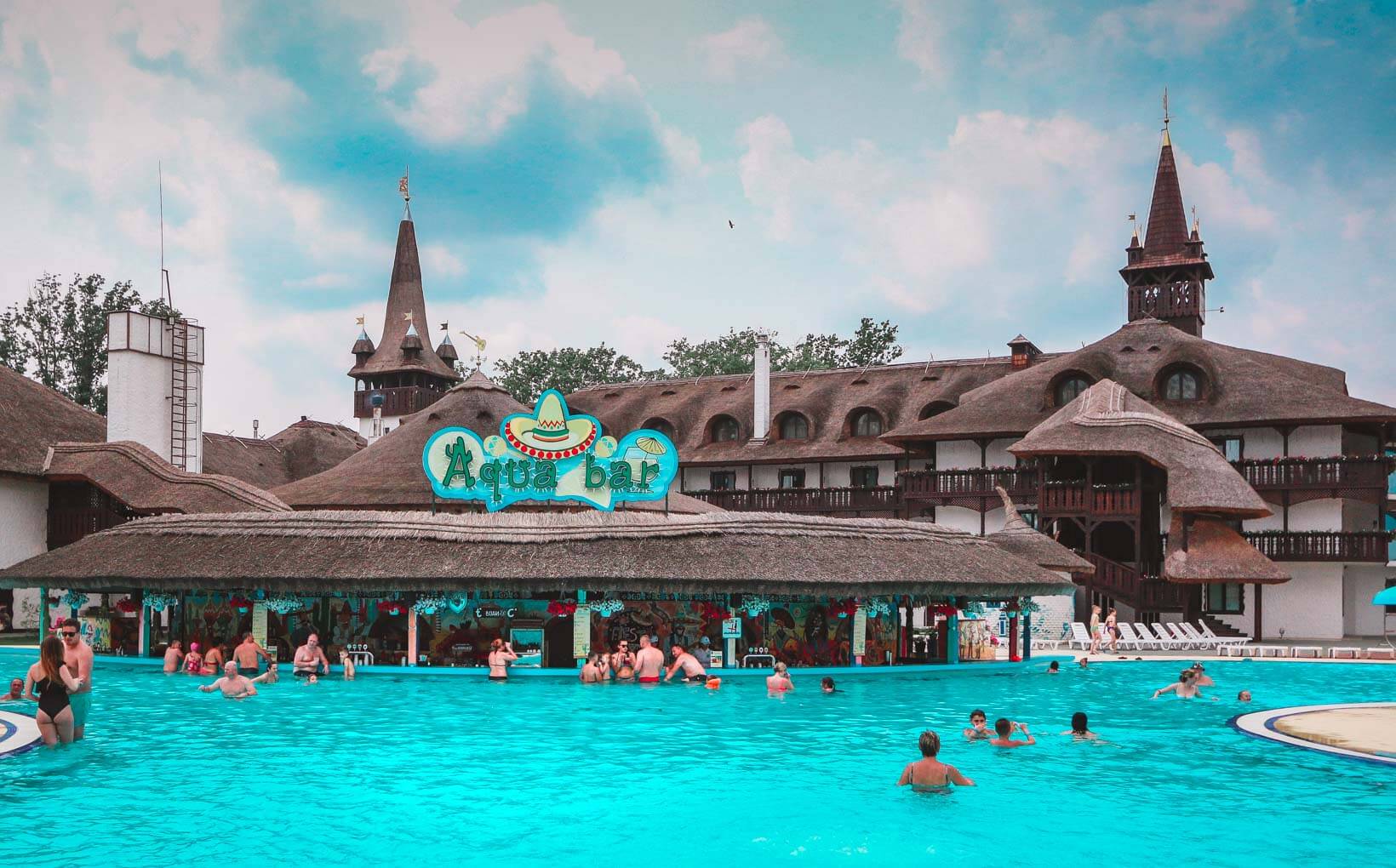 4. Golden pool of health "Kosino"
Golden pool "Kosino" is the biggest mineral pool in the complex. It is surrounded by four Jacuzzi fountains filled with different aroma waters to represent typical Carpathian beverages – wine, coffee, beer and palinka. In the middle hangs the most important tap representing thermal waters. Here you can also try the hydro-massage zone and two water streams, which will drag and push you through the flow of water. What an extremely fun way to get a health treatment!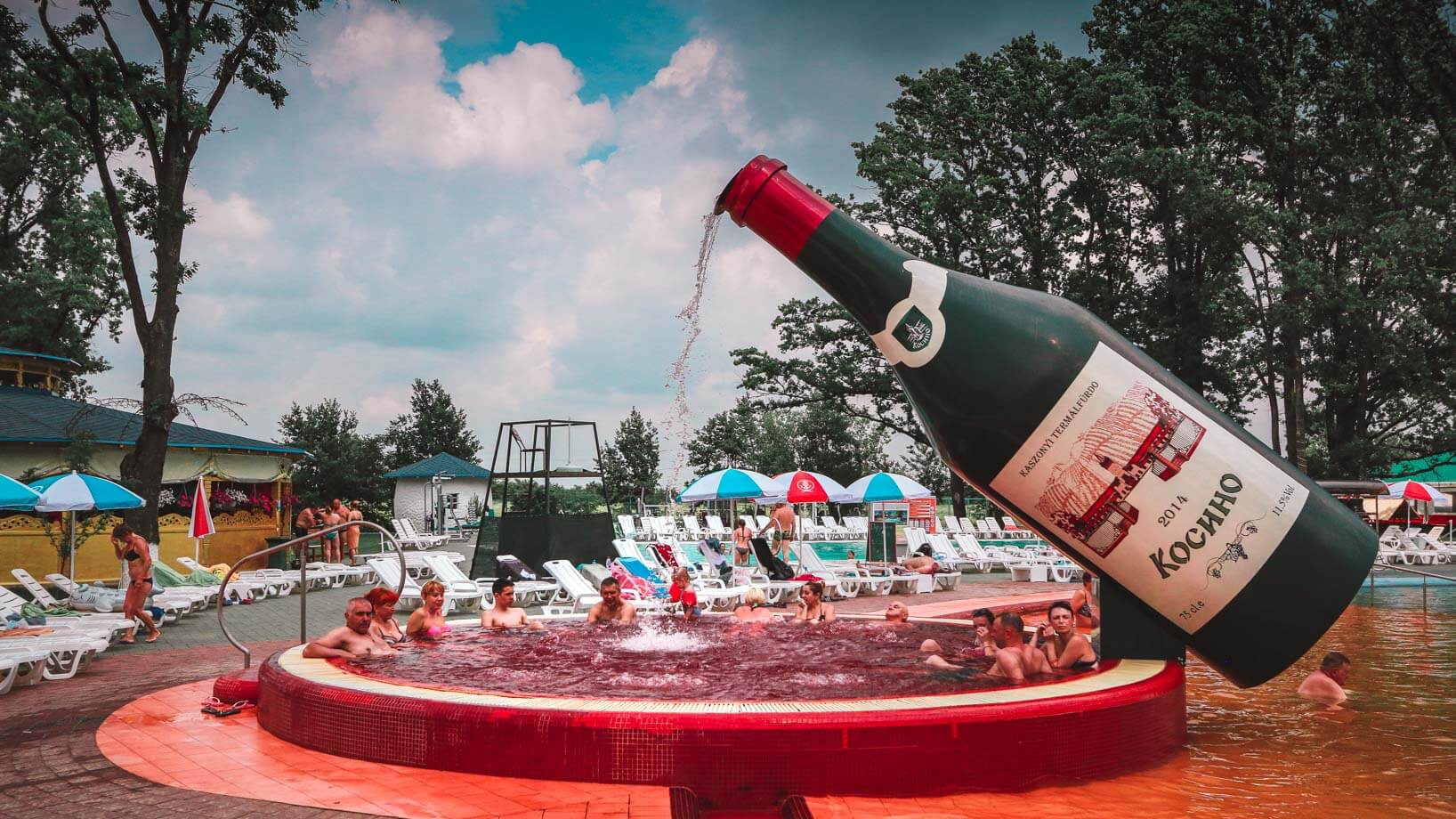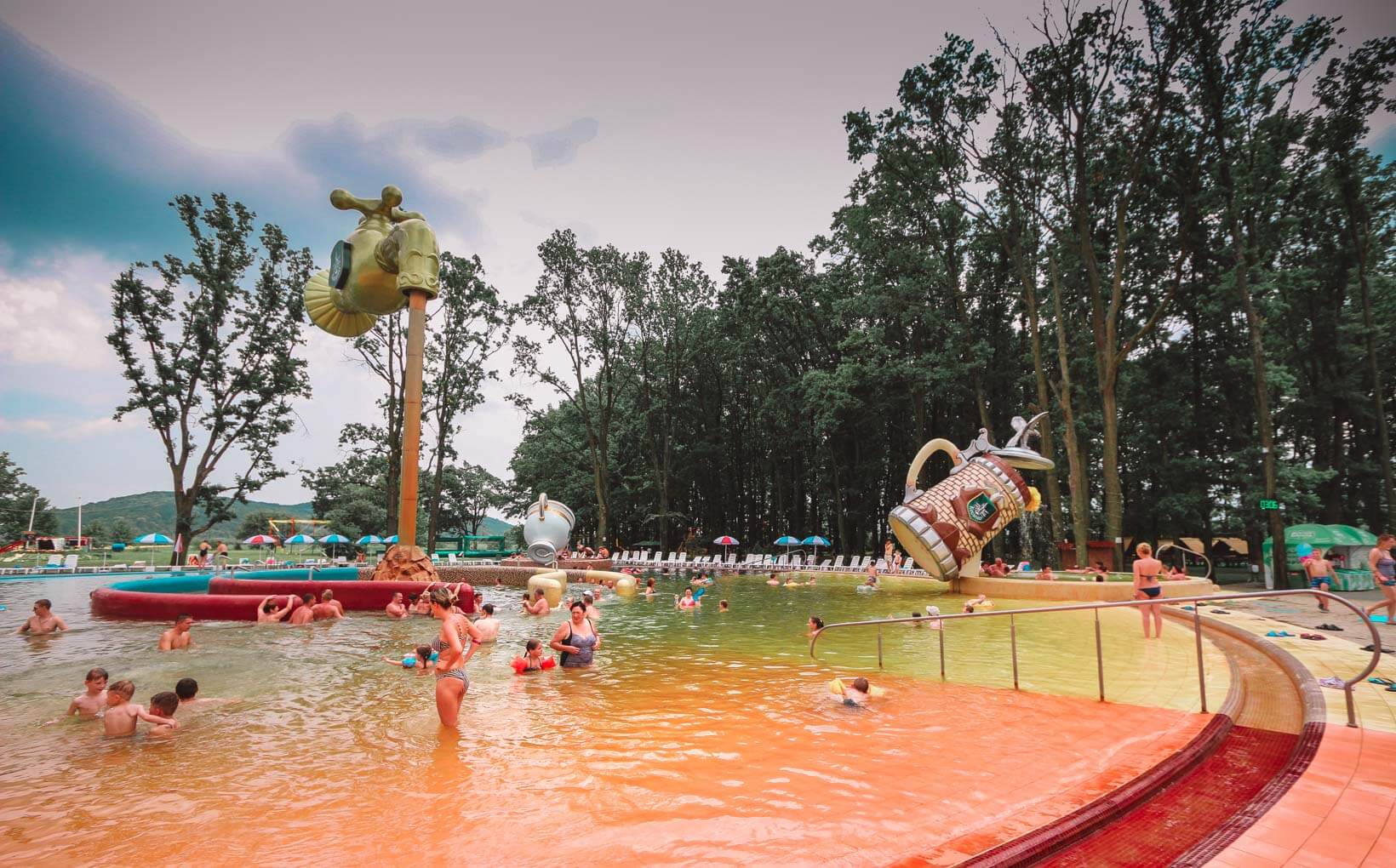 5. Swimming pool
Swimming pool is a classical pool with lanes with refreshing water to cool off after the thermal spa treatments.
6. Ying Yang pool
Ying Yang is another unique notion that Kosino came up with. These identical two pools with cold and warm waters help in treating of skin and vascular conditions. It is recommended to stay in one pool for 20 minutes before moving on to the opposite one.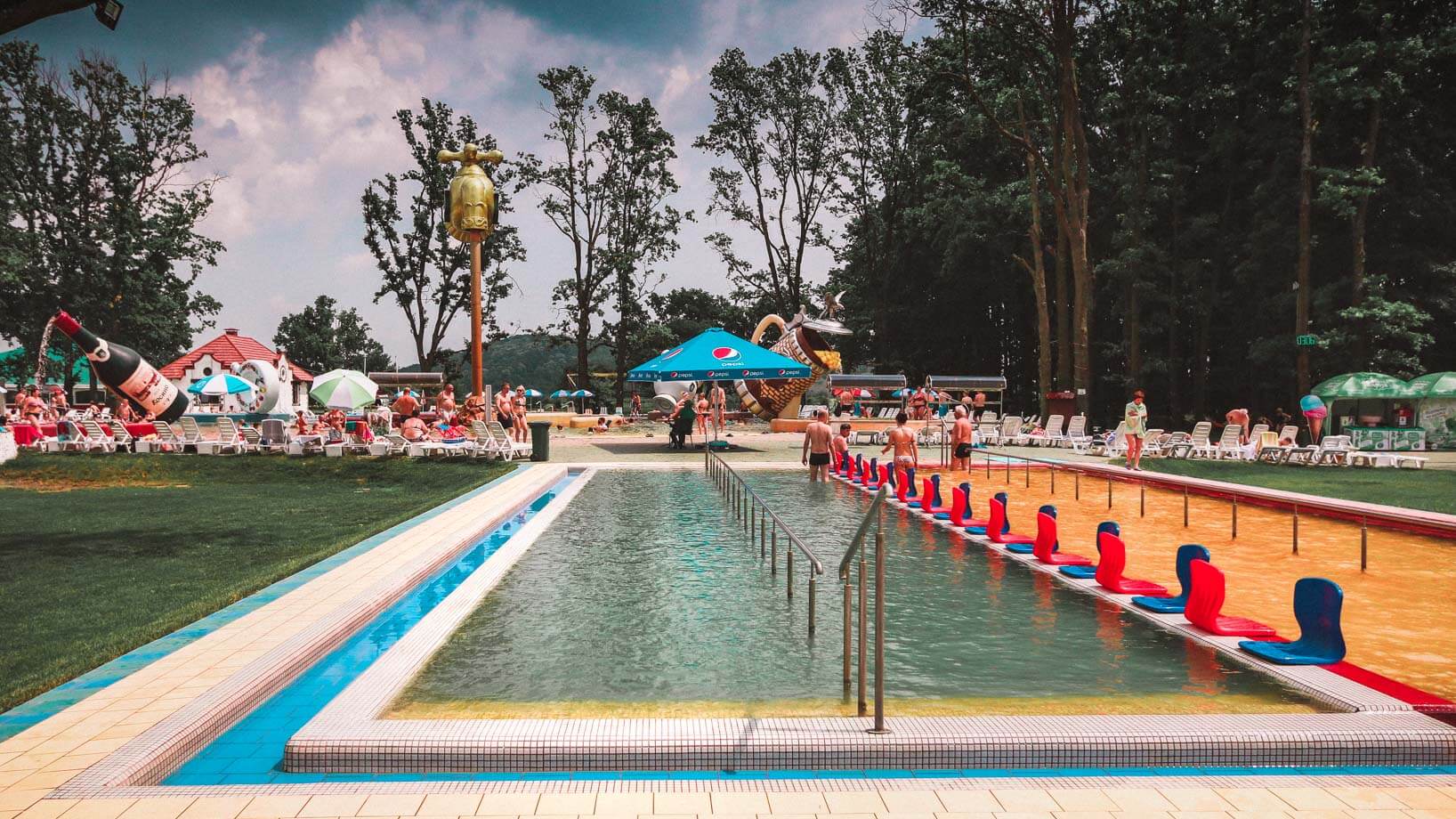 7. Kids pool
Kosino wouldn't be complete without having a special place for the very little ones. Kids pool is filled with thermal water and a series of small aqua playgrounds to make it more fun.
8. 17 steps of health
This pool is inviting you to walk through the series of super cold and super warm waters one by one in order to activate blood circulation and strengthen the immune system. The bottom of the pool is laid out with small stones to massage your feet. The walk might seems somewhat unpleasant but it is fun to try.
7 royal saunas of Kosino
Another unique feature of Kosino is its 7 royal saunas for any body type and sauna lover.
Here, you'll find an oil based eucalyptus sauna, classical Roman sauna, super moist and steamy hammam, traditional dry Hungarian sauna, herbal sauna, "fox hole" sauna with relaxing forest sounds and amazing decor of a real cave, and even an ice-box, where you can chill after trying all the saunas.
No matter what your sauna tastes are, Kosino has got you covered!
Where to eat in Kosino?
Surely, spending time in the water will make you hungry sooner or later. But it's not a problem at all, you can have a snack or lunch without leaving the premises. The bracelet that you get at the reception allows you to pay for services on credit.
Right in between the pools is "Csarda", a traditional Hungarian restaurant where you'll find a great selection of food to pick from. You'll pay based on the weight of your meal at the checkout. The prices will be a modest surprise, as they don't exceed the average in the region.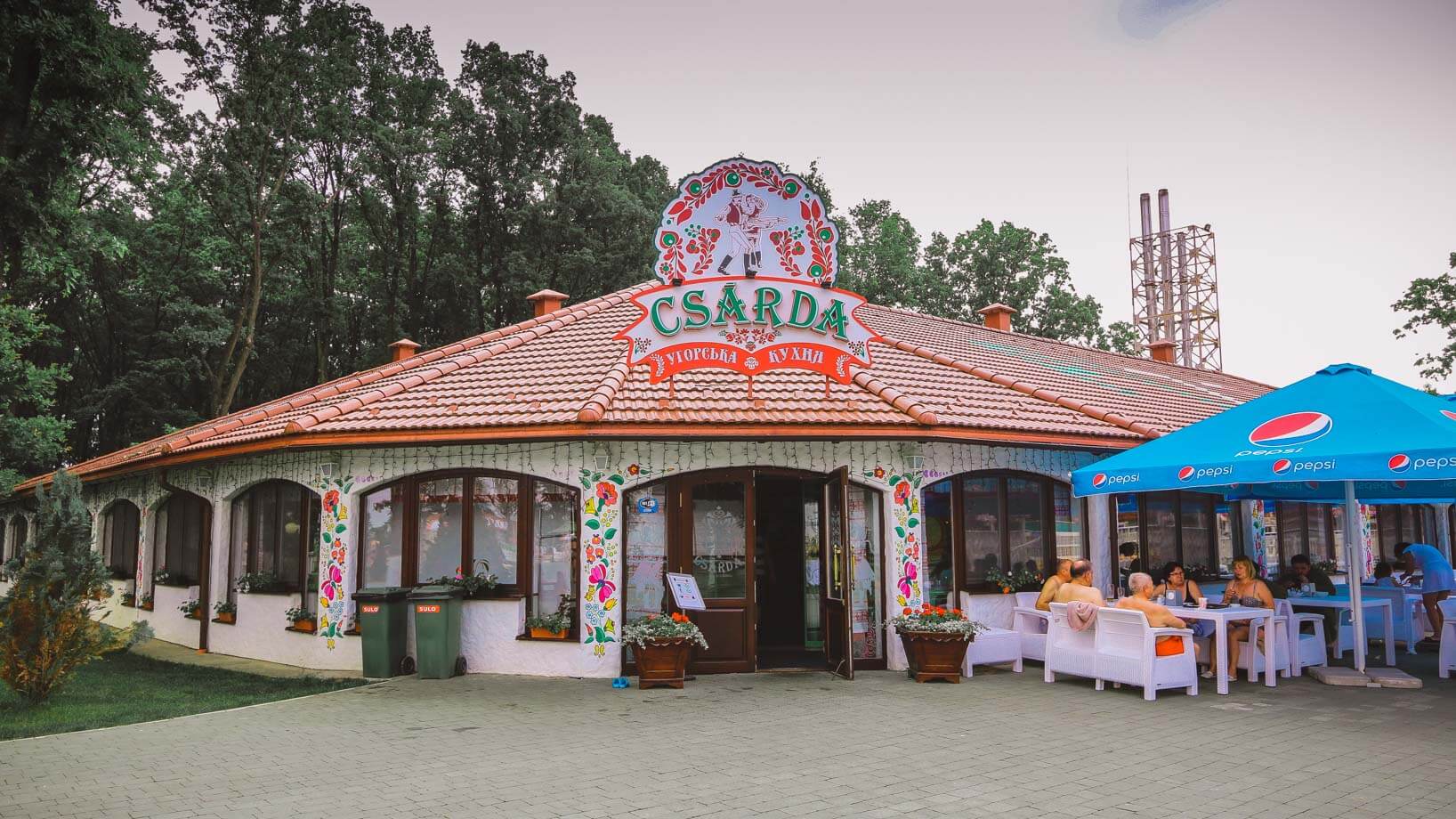 Apart from the Csarda, there are also options to get food outside of the pool area: there is a lobby bar where you can get a drink or a hookah bar, which is a specific place for smoking.
Where to stay in Kosino?
If you wish to avoid the complicated option of getting to and from Kosino, there is a great option to stay at the complex hotel Iváncsó Birtok. You'll get a luxury room with free access to all the saunas and pools all day long. On top of that, you get full-board meals for the entire day included.
The cost is not on a budget side, the room prices start at $190 per night, but taken the convenience you get in return makes it worth it.
Kosino Prices
Now, let's talk about what actually matters – prices and opening time.
Kosino offers 3-hour passes for the price of 400 UAH ($15), which includes access to the pools and 30 minutes in the saunas area. If you overstay your time, every extra 30 minutes will cost 60UAH ($2,30). For the price of 250UAH ($10) you can add unlimited access to sauna area. However, I found that 30 minutes is enough to try all saunas, unless you are a real fan.
Kosino also offers a full-day access, which you can easily find yourself wanting because the pools are extremely fun and throwing in a lunch and a poolbar can easily stretch your stay. The price for full-day pass is 850 UAH ($32).
850 UAH – full-day pass
400 UAH – 3-hour pass
250 UAH – unlimited sauna access
60 UAH – 30-minute overstay fee
The complex is open between 9 AM – 10 PM.
How to get to Kosino?
Kosino is situated 35 km away from Mukachevo, which equals about 40 minutes of driving. The best way to get there is to get a taxi.
If you are coming from Uzhgorod, you can take a train Kiev – Solotvyno at Uzhgorod and get off at Kosini station in Zapson village. From there it is only 8 km drive to Kosino Thermal Waters, which can be reached by a taxi.
---
Have you ever visited Ukraine? It you plan to come, would you go for Ukraine Spa or something on the rough adventurous side? Share your thoughts in the comments below!
Like It? Pin It!