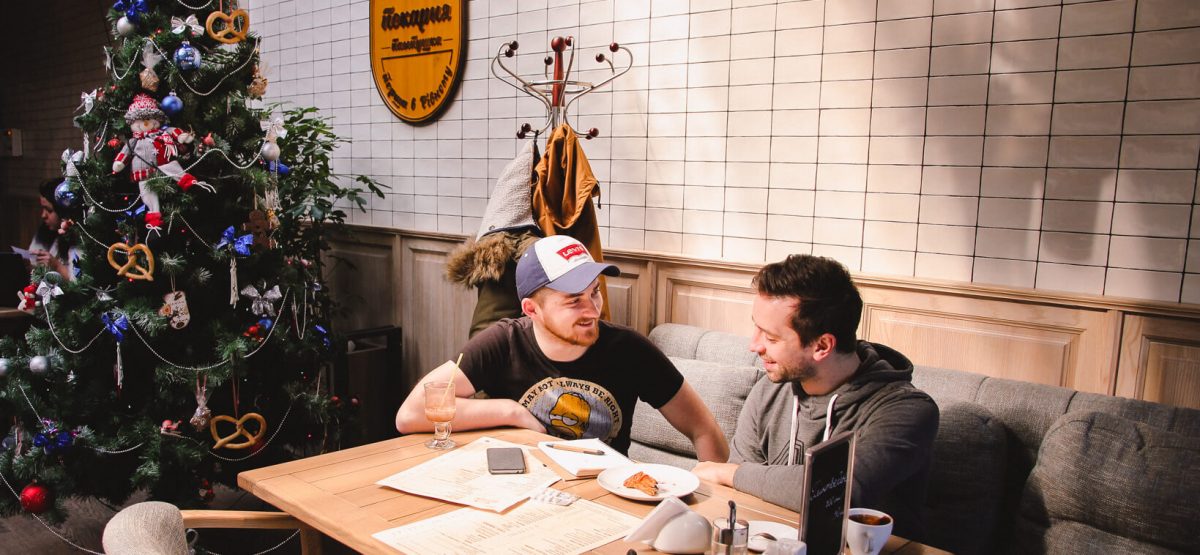 This post may contain affiliate links. I receive a small commission at no cost to you when you make a purchase using my link.
I have originally written this post in 2016 and within two years already so many things have changed. Rivne is constantly developing, especially when it comes to the cafe and restaurant scene and that is why it is one of my favorite places in Ukraine to work remotely. You can find many places to eat in Rivne that have good wifi, pleasant interior, and incredibly affordable prices. Here is the edited list of my favorite places to work and eat in Rivne with some trendy new cafes included! The establishments are listed in no particular order.
What can I say, I love this place! Even though the food and service could be better, it is still my number one spot to sit down and do some work in an incredibly cozy atmosphere.
The bakery/cafe has one of the most charming interior decors in the city. Plus, the toxic smell of fresh bakery is very alluring as well. They have real croissants and danish pastry! Sorry to stress this so much, but in Ukraine bakers sometimes think that making the dough in form of a croissant is already enough to be called that. In Pekarnya #1, they know what they are doing.
Why I love this place? This is exactly where you can come with your laptop and sit working for hours (at least that's what I did!), just because it is so comfy, warm and cozy.
Address: V. Chornovola, 60
2. Father Gastropub
Besides having a unique atmosphere and live music nights, the main selling point is, of course, beer. Gastropub Father makes their own beer with brewing facilities displayed for visitors to see. At the moment, they brew four kinds of beers which you can have absolutely fresh:
Father Amber Ale
Father Premium Lager
Father Ginger Ale
Father Wheat
You might have to reserve a table in advance for the evening meal, as it can be booked. Also, I have to stress that it is not a good idea to bring kids to this establishment in the evenings as it brews and serves alcohol.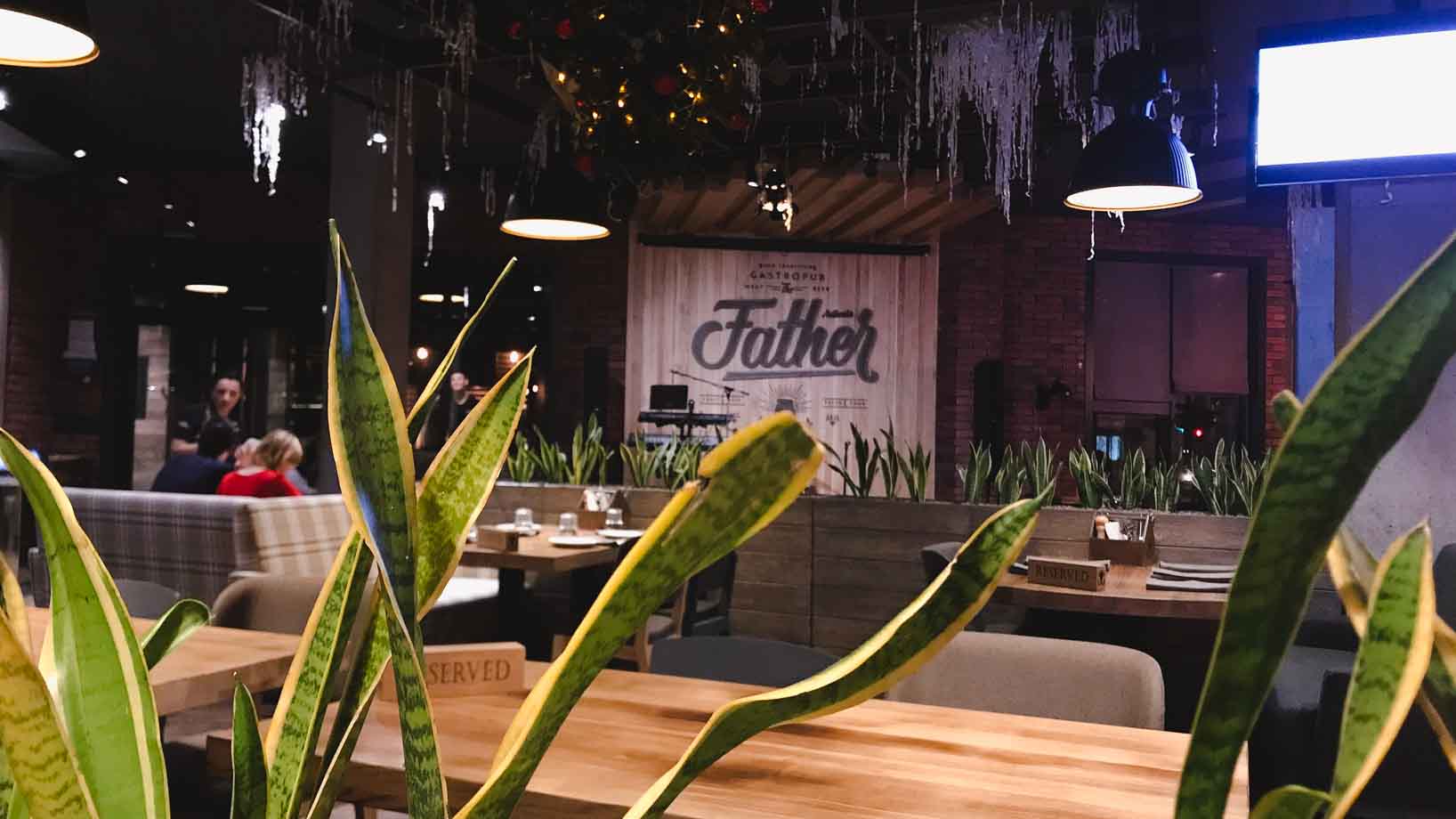 Why I love this place? It is a great place to go for a Friday night out. Here you can order salads, soup and all kinds of fried and greasy meat paired with freshly brewed local beers.
Address: Stepana Bandery, 24a
3. Gusto gastro salon
A new delight has opened instead of my former favorite sushi place and it did not disappoint! Striving for the first-class service, Gusto gastro salon will let you slip into a luxury atmosphere in this spacious yet pleasant place for an affordable price. They still offer sushi here with a splash of creativity and interesting presentation of their dishes.
Why I love this place? It is one of the few tastefully made high scale places in the city where you can take out a date or a business partner.
Address: Pr. Myru, 10, Rivne
4. Home
Yes, this is exactly the right name for this place, since as soon as you enter you feel like home. It's one of those time cafes where you can have as many refills of coffee, tea or cocoa as you want, and pay for time spent playing board games with your friends. The concept is quite new to Rivne, that's why this place is almost always full! They are hosting many discussion and music events as well.
Why I love this place? Come on, board games and limitless cocoa, what could be better?
Address: Soborna, 106
5. Keks i misto (Кекс і місто)
Daring and extravagant, this place did a great job of presenting itself as a meeting point for fashionable women. Taking its name from Sex and the City (Sex i Misto) and changing it to Cake and the City (Keks i misto) just did the trick. The insta bloggers of Rivne took over this cafe with its green interior and posh waiters.
The only thing left to do it to work on the menu and stop charging for milk in your coffee (come on, this is too much!) and it might just become my favorite spot in town. But for now, it is good enough place to meet up with girlfriends (there are hardly any guys for some reason) and have a great time.
Why I loved this place?  Amazingly refreshing interior and cute dessert menu.
Address: V. Chornovola, 60, Rivne
6. Dvir Grill&Bar
DVIR is a modern grill bar in the heart of the city with stylish wood and exposed brick design. It's a perfect place to cozy up inside during harsh winter times, sipping on the mulled wine. At the same time, it is a fun lounge space in the summertime when the grill is moved outside luring you in with the smell of freshly grilled meat.
Why I love this place? Didn't I already mention the wood-and-brick design? It's one of my favorites.
Address: Simona Petlyury st, 3
7. Coffee Room (Кавова кімната)
There can never be too many coffee places, right? At least I need to have my coffee minimum once a day. And if you have a place like "Coffee Room", you'll be having your coffee even more often. Just look through the pictures to see how cute this place is! Tiny and cozy with 'grandma' style decoration that makes you want to stay here forever. And did I mention that tea here is amazing? Just try one of those mint tea's and you'll see.
Why I love this place? The interior is beyond charming and due to the limited number of seats, it feels like an exclusive place.
Address: Slovatskogo st, 4/6
8. Melin (Мелін)
A former kid's cafe jumped to the next level transforming its interior into one of the coziest in town with tall velvet chairs and delicious cake and macaroon selection. It gets even better in the summertime, when the outdoor fountain starts working, allowing people to escape the summer heat by enjoying their meal right next to the splashing water.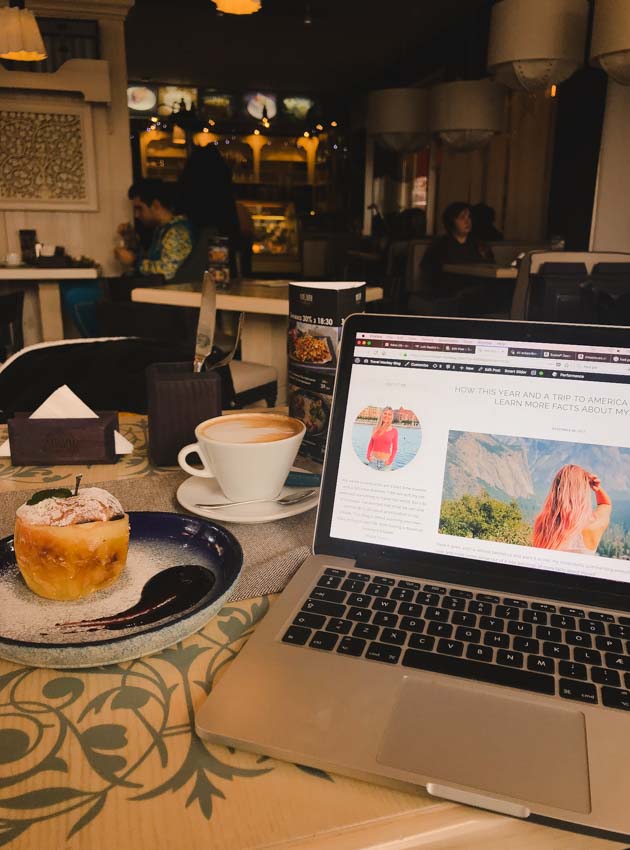 Why I love it? Amazing bakery and nice atmosphere, that's what brings people here regardless of prices.
Address: Peresopnytska, 10, Rivne
9. Manhattan SkyBar
One of the most upscale places to eat in Rivne, Manhattan Restaurant and Skybar loves its guests to be neatly dressed and well behaved. Situated on a 10th floor of the Manhattan Center, it opens up incredibly amazing views over Rivne and its main street Soborna, which you can see stretching all the way to the Pokrovsky Cathedral. It is worth coming here just for the views themselves, but since you're already here why not try their extravagant dishes? Manhattan Skybar hosts great parties, concerts, and other musical events. But be prepared to pay more than you would in other places in Rivne.
Why I loved it? Great view over Rivne, even if you come here just for coffee and salad.
Address: Soborna, 112, 10th floor
10. Kampot
Situated right next to DVIR, Kampot is a mix of a pizza and coffee place with a touch of the Soviet era feel. Those nostalgic for USSR will definitely find their favorite dishes on the menu and will be able to eat and drink from the table sets that grandmothers used back in the day. Prices will positively surprise you as well.
Why I love it? It is quite basic, but with an absolutely charming feel of grandma's home.
Address: Simona Petlyury st, 3. Rivne
11. Chaplin Cafe
Another charming and absolutely cozy coffee place (I just realized I post too many cake and coffee places, but I loooooove them so much!). Warm atmosphere, smiling staff, and very interesting selection of teas, Chaplin Cafe seems to have everything under control from the start of their operations.
Why I love it? The combination of black brick walls and dim lights is all that's needed for a warm conversation.
Address: Kyivska, 10

If you know of any cool places to eat in Rivne, please write about them in comments below! I will be sure to visit on my next trip!
Like It? Pin It!
---
By the way, no one sponsored this post, I have wholeheartedly shared my favorite places in my lovely hometown Rivne. Enjoy and share!