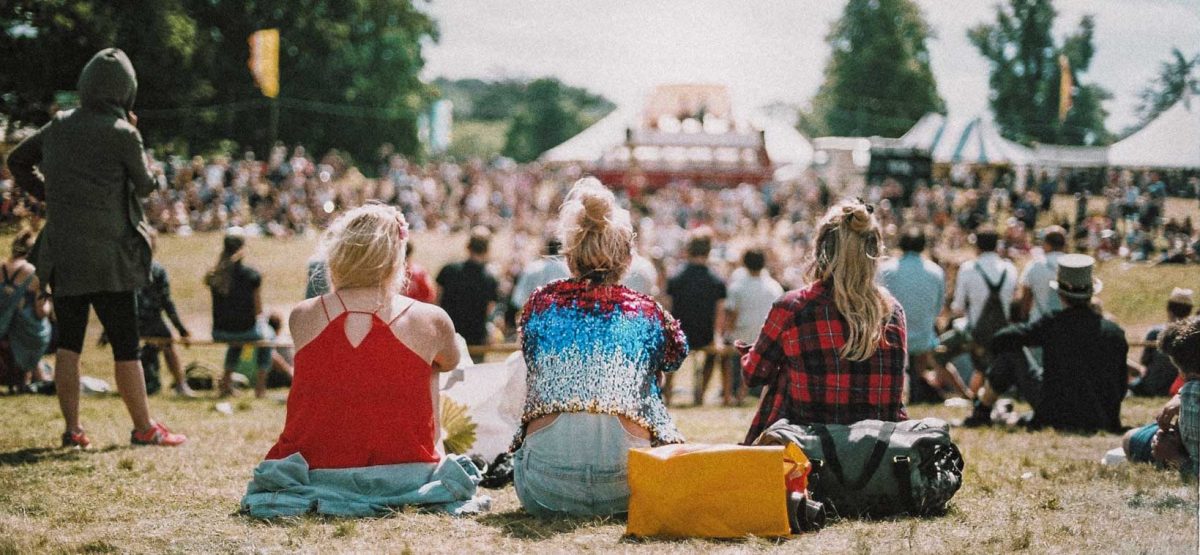 This post may contain affiliate links. I receive a small commission at no cost to you when you make a purchase using my link.
Music festivals are those special treats that make summers even better. The thousands of music enthusiasts get together to sweat against each other's bodies while watching tens of their favorite artists perform one after the other. The bigger the festival, the harder it is to get the ticket on time and find a good spot from where you can glance at your idol. Of course, there are those well-known music festivals that attract the biggest names to come and play. However, there are equally many less famous music festivals in Europe that have a unique vibe and will provide you with experiences no worse than the big ones.
Together with other bloggers and music lovers we put together a list of the best less famous music festivals in Europe that you definitely have to check out.
Here we go!
1. Reeperbahn Festival, Germany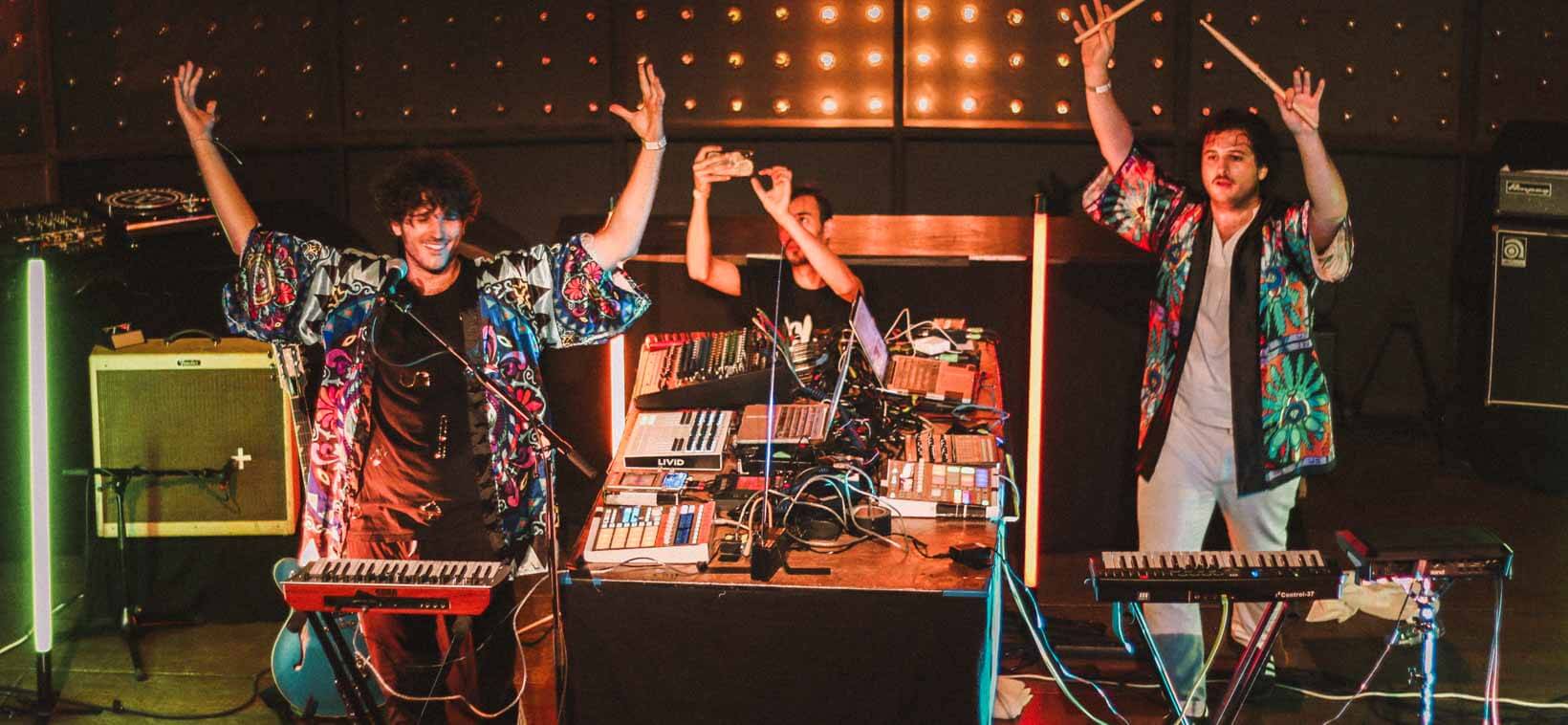 City: Hamburg
When?: Mid-September
Price: €100 for 4-day ticket
Reeperbahn festival Hamburg is a true gem not just for those in love with music but also for people wanting to discover Hamburg city. The biggest club festival in Europe, Reeperbahn is taking place throughout the city next to the infamous Reeperbahn street (aka the red light district). It will take you to some of the newest and coolest venues Hamburg has to offer (and believe me, being a music capital of Germany it has many!).
Among my favorite ones is Prinzenbar with a big chandelier hanging from an old ceiling and Mojo, which looks like an abandoned underground station turned into a nightclub, that surprises visitors with a DJ playing in the bathrooms. The festival serves as a great avenue for new and exciting vibrant artists to get discovered. A lot of famous names such as Ed Sheehan and Rag'n'Bone Man started here. But thanks to a huge selection of names to see and venue to visit, in one day you can hear everything from hip-hop and pop to classical music and rock'n'roll. Reeperbahn is a great place to discover the next big thing in the music industry.
2. Atlas Weekend, Ukraine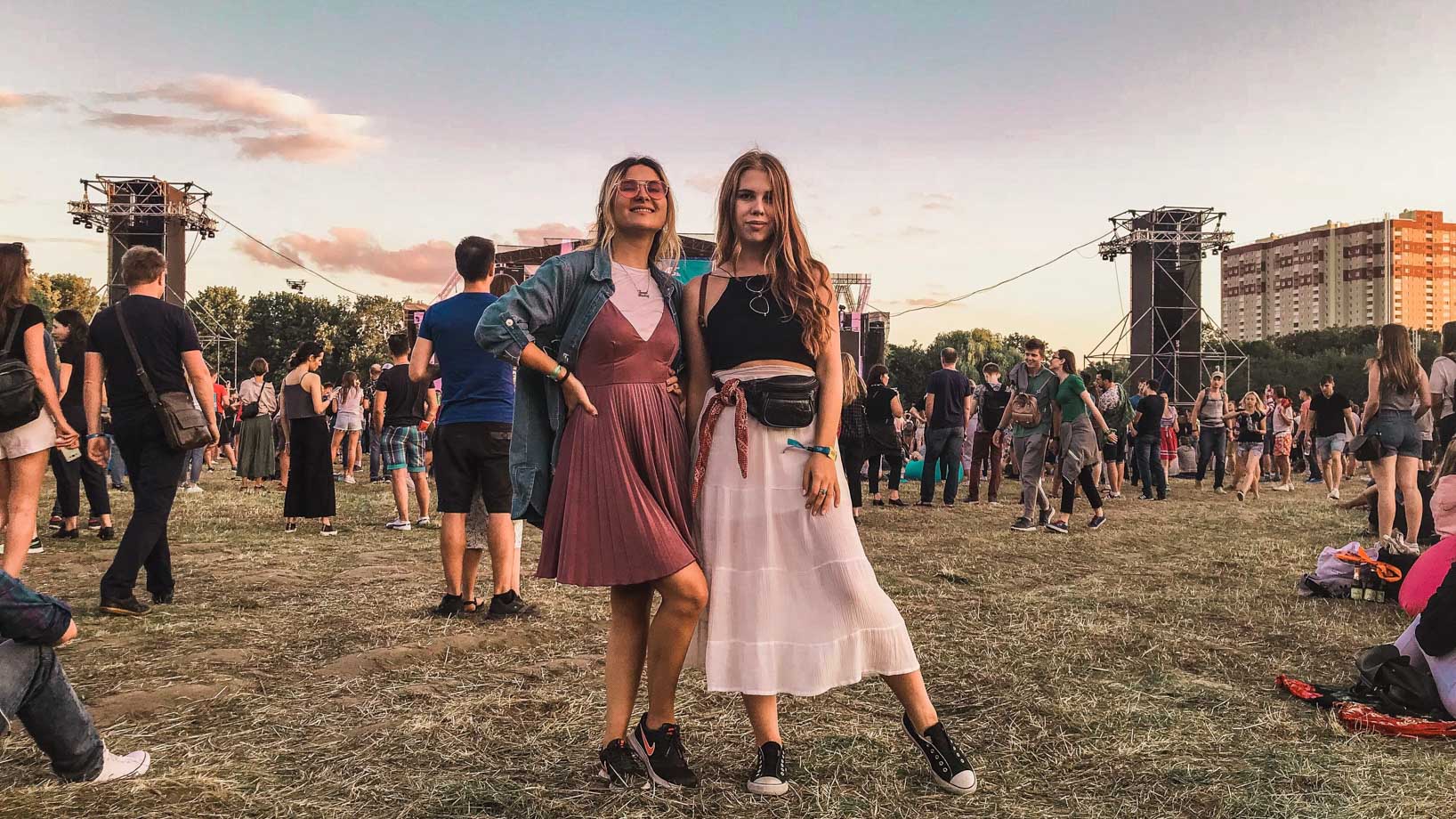 City: Kyiv
When? Beginning of July
Price: €60 for all days ticket (6 days)
Atlas weekend
is a newbie in the list of Ukrainian festivals. Starting off as an extension of a nightclub activity involving only local bands in 2015, it quickly turned into one of the biggest festivals in Ukraine. Now, international stars such as Placebo, The Chemical Brothers and Nothing But Thieves come to play here. The territory of the festival is huge allowing you to jump around at least 4 main stages as well as rest in the chill-out area and eat some delicious local food.
3. Tinderbox, Denmark
City: Odense
When? The last weekend of June
Price: €190 for all days
In 2015 the music-festival Tinderbox is on of the
best music fests in Denmark
. Itfirst saw the day of light and every year since it has only grown larger. The festival takes place in Odense, the third largest city in Denmark, and has a bit of mixed programme. You will find Robbie Williams as well as Depeche Mode and Rammstein on the programme. Besides that, there is an extra scene, Magicbox, where some of the most popular and trending electronic music artists are featured. About 30.000 tickets are released every year.
4. Colors of Ostrava, Czech Republic
City:Ostrava
When? Middle of July
Price: From €90 to €130 depending on how early you buy
Colors of Ostrava is the largest multi-genre music festival in Central Europe. It's visited every year by people from all over Europe. The festival takes place every year in July and lasts for 4 days. There are numerous Czech bands playing and several international ones too. Usually at least one well-known star is invited. In 2019 it should be The Cure.
What's one of the most unique things about Colors is the venue. It takes place at a former metallurgical site called Dolní Oblast Vítkovice.
5. Malmöfestivalen, Sweden
City: Malmo
When? Beginning of August
Price: Free
This festival takes place in the third largest city in Sweden, Malmo. Every year it brings in visitors from all over Sweden, Denmark, and the rest of Europe.
Malmofestivalen
is one of the largest summer music festivals in Europe, showcasing arts, food, and crafts in Sweden and one of the best city festivals in Northern Europe spanning over 7 days. What is super special about this festival is the accessibility for people of all ages and backgrounds. The performances are free for everyone and the biggest artists from the region play to thousands of people in front of the
rådhuset
(city hall) in central Malmö. There's a specific area for food stands around Gustav Adolfs Torg as well as smaller stages set up throughout central Malmö with performances in music, theater, dance, opera, and workshops for kids to adults. Held every year around the beginning of August it is worth the trip to Malmö during the festival as the city comes alive with energy.
Text by Alaine from Travel With Alaine
.
6. Cambridge Folk Festival, UK
City: Cambridge
When? Beginning of August
Price: Start at £180
After growing up in Cambridge and being huge festie lovers we didn't realize we had a world-famous festival sitting on our doorstep until last year. The
Cambridge Folk Festival
is one of the premier festivals of its kind and folk lovers come from far and wide each year to attend the 3-day event. Not only does it showcase the best names in folk music, but you can also expect a huge variety of sounds ranging from world music to blues and Irish rebel music. Set in a leafy woodland just outside of Cambridge city center, the festival has been running since 1965 and takes place at the beginning of August each year. Music aside, there is a beautiful community atmosphere and you're quick to make friends and meet people. On top of all of this, it's also won plenty of environmental awards for its sustainable practices – icing on the cake!
7. Alfa Future People festival, Russia
City: Nizhny Novgorod
When? July
Price: €60 for full 3 days
One of the lesser known, but very impressive festivals in Europe is the EDM (Electronic Dance Music) festival called Alfa Future People. Alfa Future People is held in a small village near Nizhny Novgorod, Russia every July (don't be scared away, it's just 3 hours away from Moscow by a train / it also has a big airport, so you can easily fly there). I attended the festival in 2016: this was the third and probably the best year of the festival in terms of headliners – all the headliners from Tomorrowland were there. Moreover, four out of the top five DJs in the world (according to the DJ Mag) were part of Alfa Future People in 2016. However, in 2017 and 2018 the line-up was quite impressive as well, but the tickets are quite affordable (around 60 euros for all the 3 days of the festival). Alfa Future People is not just a simple EDM festival – it has a lot to offer its visitors – a lot of workshops on Artificial intelligence, the exhibition of the newest robots and even the sports "activities of the future".
8. Open Air St. Gallen, Switzerland
City: St. Gallen
When? June
Price: 1-day passes 102 CHF, full 4-day passes 232 CHF
OpenAir St. Gallen is a lively outdoor music festival that takes place in the Swiss city of St. Gallen. This multi-day festival is jam-packed with talented acts from all across the globe, often featuring big acts like Justice, Milky Chance and, Lorde. Its eclectic blend of music ranges from indie rock to pop, so there's guaranteed music to suit all tastes. The festival is one of the first to kick-off the
summer season in Switzerland
, usually taking place in the month of June. Tickets are put on sale from as early as January so persons can plan their festival experience a long time ahead. Festival-goers also have the choice to camp out at the festival if they really want to get into the real festival vibe.
9. Melt! Festival, Germany

City: Ferropolis
When? End of July
Price:  Start at €119
The Melt! Festival is a music festival in Germany that started in 1999. Every year it takes place in the "city of iron" Ferropolis, which is an open-air museum of huge old industrial machines in the town Gräfenhainichen, which is in the Eastern part of Germany, close to the city Dessau. It is a very unique area as some of those machines are 30 meters high and are illuminated with special light shows when the festival takes place.
Today, Melt! combines electro-tunes with rock music and this makes it a very special festival in Germany. Since 2008 the Melt! takes place in the period of three days and attracts around 20,000 people. Headliners up until today included Portishead, Robyn, Hurts, and Boys Noize among others. Most people arrive here by train and get all their groceries for the festival at a small supermarket in the town. Within the past years, this evolved as some kind of tradition: who comes to Melt! goes grocery shopping here.
10. Ascona Jazz Festival, Switzerland
City: Ascona
When? End of June
Price: 20 CHF
The Ascona Jazz Festival takes place every year during summer in the lovely town of Ascona – and there are several reasons to visit it in my opinion. Firstly, Ascona itself is just worth a visit, as it is a charming town next to lake Maggiore, especially its lake promenade, where the Jazz Festival takes places. Additionally, the Jazz Festival is approved as a New Orleans Jazz experience, actually the only one outside of New Orleans in the whole world.
Enjoying a summer evening at Ascona's lake promenade, eating some original New Orleans food and enjoying concerts in the different tents around the area was simply an incredible experience that I can recommend to everybody that likes this kind of music.
11.Graspop festival, Belgium
City: Dessel
When? June
Price: €99 per day, €210 for full 3-day ticket
Graspop is one of the best metal festivals in music. For those seeking an alternative music experience, this music festival in a rural hamlet in Belgium features the best of metal and rock. If you're a metal fan, this festival provides one of the best chances to hear classic metal bands as well as upcoming European groups who often perform their newest work (2018 Graspop featured Ozzy!).   Tickets sell out early for this festival that usually takes place each June.
12. Untold Festival, Romania
City: Cluj
When? 4 days in August
Price: €50 for one day ticket, around €150/€300 for a VIP one
Untold Festival is the largest electronic music festival in Romania which takes places each year. It has made the wonderful city of Cluj famous, as each year it is held there. Since its first edition in 2015, it has hosted artists such as Armin van Buuren, David Guetta, Avicii, Parov Stellar, Scooter, Prodigy, Bonobo, Afrojack, and the list goes on.
13.Benicassim festival, Spain
City: Benicassim
When? Mid-July
Price: €110 for 4-day festival tickets
Looking for Isle of Wight festival meets low prices and guaranteed sunshine? Then Benicassim Festival (also known as FIB) is the one. Located in between Barcelona and Valencia, Benicassim is a small, Spanish coastal town that completely comes to life in mid-July.
The Festival Internacional de Benicàssim (FIB) itself is a relatively small festival, when compared to some of the UK's, but features some of the biggest artists in the music industry. Last year, headliners included The Killers, Liam Gallagher, Pet Shop Boys, and Travis Scott.
With camping for up to 7 days and music between 6 PM – 6 AM Thursday to Sunday, this festival is unlike any other.
14. EXIT festival, Serbia
City: Novi Sad
When? Beginning of July
Price: Prices start at €40
The EXIT Festival takes place every year in Novi Sad, Serbia. What makes this music festival unique is the location. Perched atop a hill alongside the Danube River is an ancient 17th-century fortress, called Petrovaradin, where the stages for the festival get set up. This venue adds to the appeal and glamour of the event since it's not often one can say they have partied in a fortress! The seemingly endless options of music throughout the fortress makes it perfect for spending the entire night trying out the various genres.
EXIT Festival is held in early July over a four day period with the crowds arriving around 10 PM each night and enjoying the festivities until sunrise. Some diehard fans of the festival will attend all 4 days, but there's plenty to enjoy even if you go for one of the nights.
15. Bardentreffen Festival, Germany
City: Nuremberg
When? Last weekend of July
Price: Free
For over 40 years, the city of Nuremberg has been hosting the so-called "Bardentreffen" (engl. Meeting Of The Bards). For three days, music from all over the world fills the narrow lanes, squares and pedestrian zones of Nuremberg's medieval Old Town. Various open-air stages offer a diverse musical program with both national and international artists. Besides the official acts, hundreds of buskers and bands perform their own songs all over the city center. This entertaining, multi-cultural event usually draws over 200,000 (mostly local) visitors to Nuremberg. It is a real highlight among the
events in Southern Germany
and should not to be missed when traveling around the area in summer. By the way, this festival is completely FREE!
16. O Son Do Camino, Spain
City: Santiago de Compostela
When? End of June
Price: starting from €50
As part of the promotional activities of the Xacobeo (holy year, in which Galicia – a beautiful region in the north of Spain – receives many more pilgrims from the Camino de Santiago than usual), the '
O Son do Camiño
' music festival was forged in 2018. The first edition, which hosted 25,000 people, was a complete success. Recognized artists, swift queues, affordable passes, and a great customer service, made people love this initiative and the second edition is already on the works. It will take place at the end of June 2019 in Santiago de Compostela, Spain.
With this amazing list of summer music festivals, do you also feel like your summer season is already busy? I bet, I would like to visit each and every one of these best festivals in Europe that are not yet too famous, meaning more accessible.
Like It? Pin It!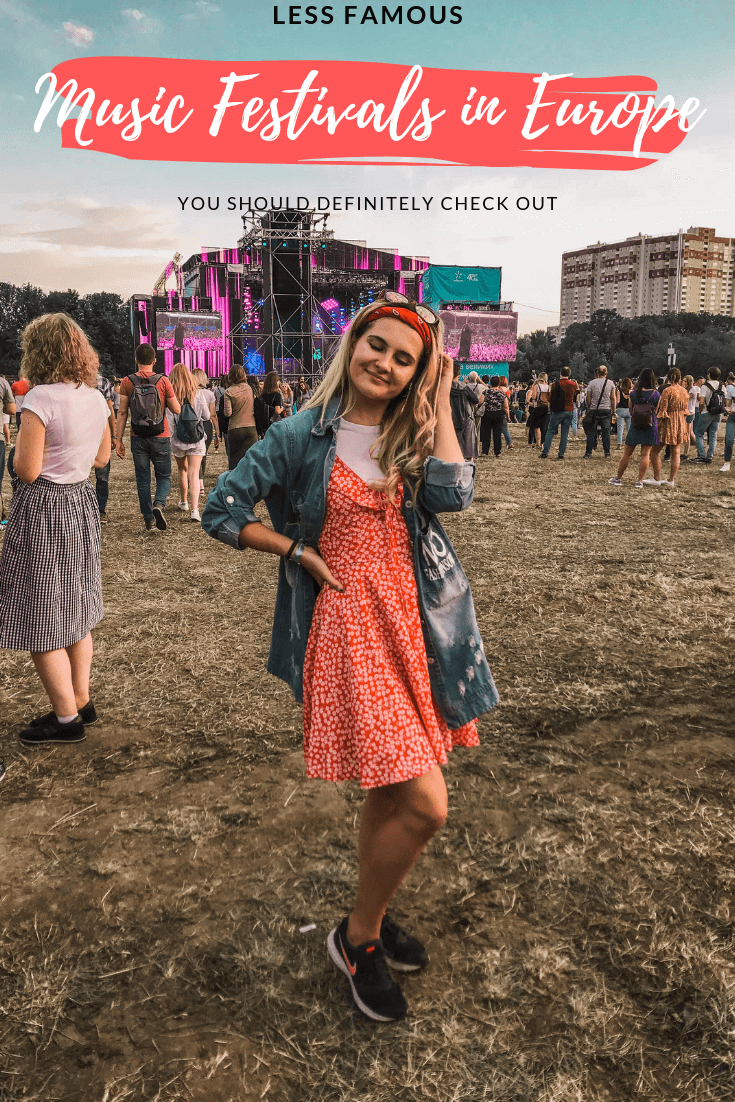 What's your favorite festival? Or the one that you dream of visiting? Share your thoughts in the comment section below.