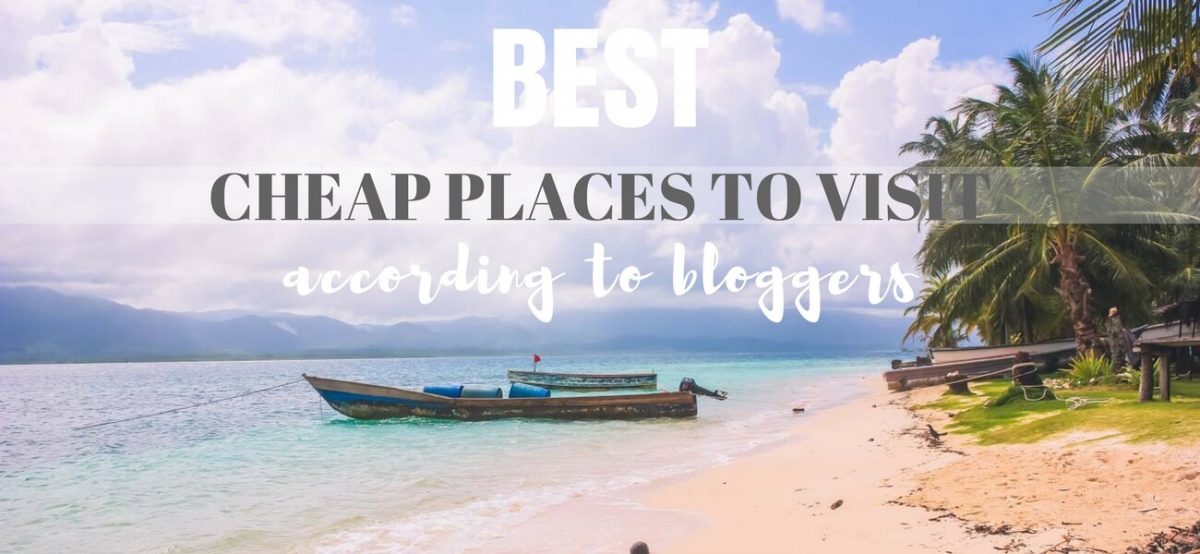 This post may contain affiliate links. I receive a small commission at no cost to you when you make a purchase using my link.
Whether you are traveling on a gap year or just trying to keep up that travel with a full-time job lifestyle, it is always nice to cut your travel spending. These days it is becoming increasingly easy to find cheap flights using the search engines like momondo or skyscanner that would select the best flight options for you. But how about the cheap holiday destinations in the world options?

Well, here is the list of best cheap places to visit for under $40 per day hand-picked by the travel bloggers.
1. Budapest, Hungary
If you're traveling to Europe and on a budget make sure to head to Budapest! We fell in love with Budapest on our first visit. There are tons of cheap or free things to do in Budapest. The city has great and affordable public transport and if you're sightseeing all day I suggest getting an unlimited day pass for the subway, buses, and tram. For starters, a 1/2 liter of beer can be found for only 1 Euro and a huge meal for under 5 Euros. Budapest has a great vibe to it and I felt super safe in the city, Budapest is easily my favorite city in Europe. Stay at the Casa de la Musica Hostel in a 10 person dorm for only $6 a night. You could easily have an epic time in Budapest for under $25 a day.
2. Bocas Del Toro, Panama
Even though we were rained out of most of the activities that we planned to do while in Bocas del Toro, I would still highly recommend it to any budget traveler who's looking for some fun in the sun – especially in the dry season! Boats to different islands in the archipelago run about $3 per person, and you can easily get a filling meal for around $5. If you're looking to splurge a little bit, lots of different companies run day trips to several harder to get to beaches for $25-30 a person, though definitely make sure to do some research on different companies beforehand, as some of them are not very ethical.
Most importantly, Bocas is an absolutely beautiful little part of Panama, and it is rife with opportunities for adventure. The beaches are beautiful, the water is crystal clear, and the people are as friendly as can be. A definite must see! Approximate daily budget $30-35. You can stay in Bambuda Lodge for around $18 per night.


3. Koh Rong, Cambodia
Koh Rong is a little island paradise just off the coast of southern Cambodia, that is known for its beautiful uncrowded white beaches and stunning phosphorous plankton display at night. The main beach has enough going on to keep you busy, but if you want to disconnect completely, there are resorts that can only be reached by boat on the other side of the island. Even if you stay on the main beach, book a boat day trip to see all that the island has to offer.
This island has it all— beautiful resorts, some of the best food in the country, fun and exciting nightlife and enough activities to keep you busy all day. The best part is that this island paradise is extremely affordable! Once you get on the island it's easy to keep your costs under $30 a day, especially if you are traveling with someone else. You can stay at Coconut Beach Bungalows for under $15 per night.
4. Prizren, Kosovo
Kosovo is a fantastic destination for budget travelers and Prizren is one of Kosovo's gems. This historic city has a lot to offer in terms of culture, architecture, historic mosques, and lively nightlife. You can easily get by on 20-25 euros per day, all inclusive, as many of the sites are free and you can cut your food budget in half if you're not into sit-down restaurants.
Although alcohol is available, most people enjoy modern cafes (often with Albanian music) with a coffee at night. The Šar mountains are only 30 minutes away and you can take an inexpensive minibus (3 euros) during the week (9-5) up to Prevalla to hike in the mountains. Prizren feels like somewhere in Western Europe although the prices are so reasonable that I often didn't believe them. English is widely spoken as well as German. Kosovo uses the euro as their de facto currency.
Daily budget:
Hostel bed (Driza's House): 13 euros per night.
Breakfast: Pastries and coffee (1 euro).
Cheap lunch: 2 euros (Kebab, veggies, and bread).
Dinner at nicer local restaurant: 4.50 euros.
Cafe (coffee): 1.50 per drink

5. Sarajevo, Bosnia
Last year I visited Sarajevo in Bosnia and I was surprised by how budget friendly the city was. With Airbnb we had a whole apartment to ourselves for only 20 euro per night.  Sarajevo is a small city and it is easy to walk around in. Most sights are concentrated around the old town, so the need to use taxis or public transport is limited. At last it is very cheap to eat out, especially for European standards. I did not spend more than 40 euro per day including accommodation, food and entrance fees for museums.
Sarajevo is one of my favorite cities in Europe, because of its interesting history. Despite its grueling past it remains a multicultural city and could not be more peaceful now.  There is enough to see and do to keep you busy for two days and you will find yourself coming back to the charming old town again and again for the hip cafes and excellent restaurants with delicious Bosnian food.
6. Granada, Nicaragua
Nicaragua is the ultimate budget-friendly dream for backpackers. With places to eat, drink the local Toña, learn Spanish and visit Lake Nicaragua all for under $40 a day.
Regardless of what your budget is there is a price range to suit all in Granada, many activities can accommodate smaller budgets and group discounts are almost always offered. Eating and drinking is great value – sample to local rum and beer to save on cost, enjoy the streets of Granada and take yourself on your own personalized walking tour. Activities are endless in Granada and around Lake Nicaragua, take the Las Isletas sunset boat ride or head to Laguna de Apoyo.
The night in a hostel (for example Hostal Cultural Casa del Poeta) will cost you under $10 and a private room for two with bathroom will cost between $15-$20 perfect for the combined budget. Eating and activities are generally well priced. Meals can range from anywhere from $3-$7 dollars.
7. Cairo, Egypt
Cairo remains a great and affordable travel destination despite recent civil unrest, being a huge city rich in culture and history. It makes a great budget destination with hostels in Cairo starting at around €4 (example – The Australian Hostel) in a dorm room and €10 for a double. There are so many different areas to explore, from bustling markets to fancy river-side restaurants.
There is no shortage of activities to do in Cairo and almost all of them cost €5-10 or less. The Pyramids are an easy day trip. The Egyptian Museum is a must see, with rooms packed with ancient artifacts including the treasures of Tutankhamun's tomb. Food ranges from local restaurants to more Western-style places in expat areas but on average costs about €3-5 for a meal. Cairo can easily be enjoyed for around €30 a day including an activity.
8. Cluj-Napoca, Romania
Cluj-Napoca, colloquially known as Cluj, is the capital of Transylvania and one of the most visited cities in Romania. Served by an airport – which gets flights from all over Europe, train station, and well connected to the road network, Cluj is a great addition to your itinerary when visiting Romania.
Start to explore the city by getting to know its historical center. St. Michael's Church stands at the center of Union Square. From here, go to Museum Square and mingle with the locals. Or you can walk in the opposite direction, towards Potaissa Street, which still has some remains of the old city walls.
If you fancy a day in nature, explore the Botanical Garden. And if you want to indulge in a day trip, go to the superb Turda Salt Mine, located just 50km from the city. Daily budget is around 30€.
Hostel Bed: from $15 per night (example – Zen Hostel by Pura Vida)
Food: from $8 for a soup & salad at a vegetarian restaurant

9. Sucre, Bolivia
Sucre is a really pretty city, a UNESCO heritage site full of white-washed buildings. It's a perfect place to walk around, see museums, and get a stunning view from the hills overlooking the city. In Bolivia, the Spanish is very slow and clear, so it's an ideal place to stop for a few weeks on your South American adventure and learn a new language. If empenadas and saltenas are your idea of a perfect afternoon snack, then Bolivia is the place for you!
The people are friendly, and it's close to many other cities to travel to on weekends or to continue your trip through Bolivia to Peru or Chile. It's an overnight bus from La Paz, a 30-miute flight to wine region (Tarija), and only a 3-hour bus ride from Potosi (which once supplied 70% of the world's silver). Sucre is also home to the world's largest collection of dinosaur footprints and has tons of amazing festivals throughout the year filled with dancing, music, and traditional costumes.
Daily budget is around $40, including accommodation (single room starting at $17 at Casa Al Tronco, museum entrance, Spanish class, 3 meals, and bus to another city.

10. Taipei, Taiwan
Taipei, Taiwan should top the list of any budget traveler. You can live and travel comfortably in this metropolis for a reasonable price. Restaurant meals are super affordable; you can eat a large breakfast with fresh soy milk for less than $3, and dine out for lunch and dinner at select cafes for only $4 – 5. However, lots of visitors will prefer to graze on a multitude of cheap local delicacies at a night market. It's kind of like munching on tapas as you walk around stands selling fruit, meat dishes, fried foods, drinks and desserts.
Additionally, getting around the city is very cheap. The metro system is clean and well connected, and a ticket for an hour ride across town with a transfer only costs about $2. Metro card fees are even cheaper, and bus rides are the cheapest. Taxis are also reasonable, and most importantly, the Taiwanese are very honest. You won't have to worry about being ripped off simply because you are foreigner.
A comfortable daily budget in Taipei, including accommodation (example – NiHao Taipei Hostel), 3 cooked meals and 2 metro trips would be $40 per day.

11. Coron islands, Philippines
Coron is part of the Calamianes group of islands in the Philippines with numerous wildlife and marine attractions, including a safari and snorkeling/diving sites as well as old Japanese shipwrecks. It also has exotic islands and lagoons for vacationers, not to mention Asia's cleanest lake. It's one of my favorite places in the country because of its sheer beauty and approach to sustainable tourism.
As part of the southeast Asia, it is relatively cheap in Coron. Budget travelers can spend as little as $35 a day for group tours with fresh seafood lunch and accommodation (example – Kalachuchi Hostel). For those in a group, boats can also be chartered privately for $30-40 dollars a day.

12. Hanoi, Vietnam
Hanoi, the capital of Vietnam, can feel a bit overwhelming for first-time visitors. There's an endless stream of motorbikes, a loud orchestra of different sounding honks and all kinds of street vendors trying their very best to sell you their products. When you look past all that though, you'll see a city with character, history, and delicious food. All on a budget.
We explored and experienced Hanoi for about $28 per day, including everything from accommodation (example – 3* Golden Charm hotel from $9) to a laundry session and even a relatively expensive $25 street food tour. Entrance fees for historical buildings range from $1 to $2 per person, and you can find a delicious meal for as little as a dollar. Stay hydrated with the fresh juices they sell on the streets for 50 cents a piece or grab a beer at Hanoi beer street for 25 cents.
Hanoi is a great destination for travelers on a budget. It's a busy city with some clingy street vendors overpricing tourists for their goods, but apart from that you'll be charmed and well-fed for little money.

13. Bucharest, Romania
It is my city of choice because it has a lot of cheap flight connections (a lot of low cost companies fly here) making it easy for you to get here from everywhere in Europe. Moreover, you can find incredible and affordable accommodation (example Pura Vida Sky Bar&Hostel for $11) in the city center and it is the perfect city for partying without breaking the bank!
Transportation is also very cheap comparable with other places in Europe (bus ticket: 0.3 EUR, 1 km by taxi: 0.3 EUR, 2 trips by metro: 1 EUR)
What can you do here? Try out the hipster bars that have filled the city, do a pub crawl in the city old center, take a walk in Herastrau Park and stop by at one of the fancy terraces, get some culture at one of the many museums (National Art Museum, History Museum, Romanian Peasant Museum and other).
Approximate daily budget: 40 EUR

14. Cusco, Peru
Cusco is an incredible place to visit! Not only is it the gateway to Machu Picchu and the Sacred Valley, but it's also the center of Peru! Cusco's Plaza de Armas or City Square is surrounded by a Chocolate Museum, the Iglesia de la Compañía de Jesús church, and llamas patrolling the street! It's also just a 20-minute walk from Sacsayhuaman, one of the Incan ruins that Peru is famous for. You can take a walking tour of the city and stop by a museum for cheap.
The one thing to watch for is that the altitude there is really high and often makes people uncomfortable for a little bit. After a day or two, you get used to it. If you plan on walking more than usual, it's best to add in a day to adjust so you don't make yourself sick. Peruvian tradition states that coca helps with altitude; you can buy coca candy or drink coca tea. Approximate daily budget: $25, with hostel bed at around $9 per night (example – Chaska Kawarina).

Need More Budget Tips?
Traveling between different countries on your best cheap places to visit quest, you'll need an efficient way to get connected and stay online. There are many options out there. If you are traveling Europe, you might be happy to know that roaming fees have been dropped here since June 2017 (hallelujah to that!). However, if you are hopping between other countries that are slow to progress and do not want to abolish their crazy roaming fees, you might want to find another solution. A mobile hot spot such as Skyroam would be a good option to use, especially if you want to connect many devices and pay per time used instead of data usage. Besides, you can get 10% Skyroam discount using the special promo code: TRAVELMONKEY
Need more budget travel guidance? You might want to look at the article by HotelsCombined on Guess How Many Hotel Nights You Can Score With $50
For more inspiration on cool hidden destinations, read my post about UNDERRATED PLACES TO VISIT.
Like It? Pin It!
---
What is you favorite cheap place to visit? Share your thoughts below!
Consider Getting: