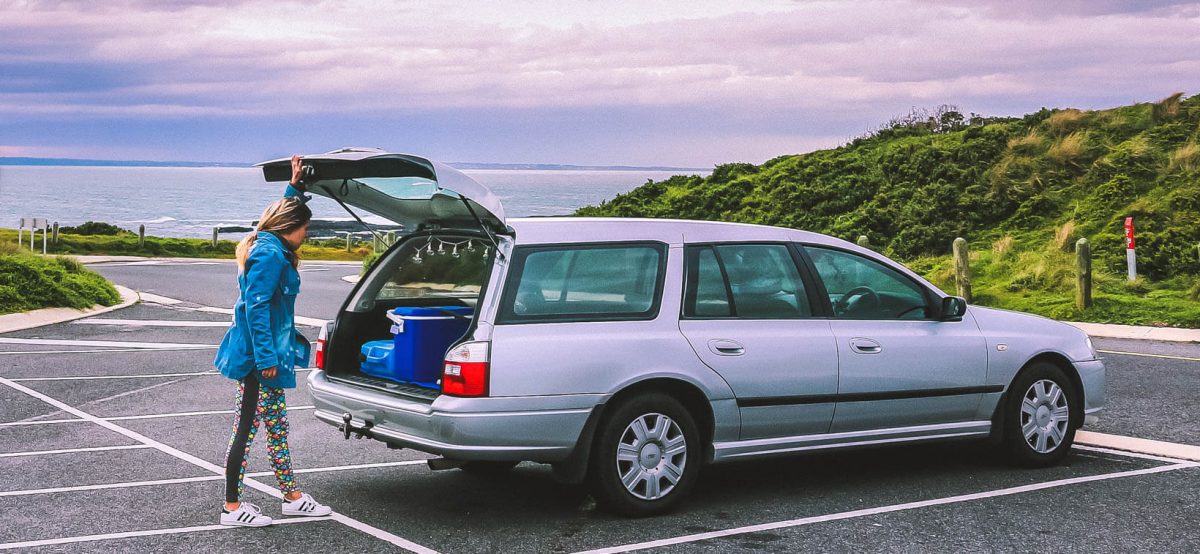 This post may contain affiliate links. I receive a small commission at no cost to you when you make a purchase using my link.
Thanks to us being meticulous in our planning and keeping track of costs during our 1 month in Australia, I was able to produce a complete detailed report about how much does it actually cost to be travelling around Australia for a month by car!
Every time we left a shop or made a purchase in a supermarket, we took a note of the costs. If it wasn't for google sheets and a travel notebook, we'd never know the true cost of our trip around Australia.??‍♀️
Let me start by introducing you a little bit about what happened and where we went.
Thanks to my flexible work-life balance I was able to negotiate a whole month off from work to travel to a beautiful continent of Australia. And all of that started because I stumbled upon a really good flight to Australia deal. So, how much does a trip to Australia cost?
I booked a return trip to Australia from Stockholm for two for $1,000. If you ever stalked the flights to as far as Australia, this is usually the price for one ticket, not two. So, I think it was a good deal! Don't believe me? Check for yourself!
We have started preparing for our trip 9 months in advance. First, we opened a travel savings account and started putting money away because I knew travelling around Australia for a month is going to be one expensive trip!
So, how much does it really cost to be travelling Australia in a car for a month?
This is my first ever cost report and though, I've never fully disclosed how much we spend on travel, I think this is a valuable piece of information that every traveler wants to know when planning a road trip around Australia.
| Section | AUD | USD |
| --- | --- | --- |
| Tours | 1,175 | 917 |
| Car rental | 987 | 770 |
| Accommodation | 694 | 541 |
| Gas | 685 | 534 |
| Food | 510 | 398 |
| Eating Out | 503 | 392 |
| Campsites | 257 | 200 |
| Transport | 194 | 151 |
| Phone | 70 | 55 |
| Total | 5,075 | 3,959 |
So, in total, one month of travelling around Australia in a car cost us about $4,000 more or less. It is important to note, that few of the hotel stays (in the cities) were sponsored, however, it wouldn't change the final number too much. Too much? Too little? What do you think?
In order to make more sense of these numbers, here I am presenting you with the actual breakdown of all costs excluding flights to Australia. The costs are for two people for the one-month road trip in Australia.
1. Tours
If you want to travel Australia on a budget, you have to sacrifice some tours tours, which are really pricey! We spent a total of $917 (1,175 AUD) on tours alone. The most expensive tour was a 2 day 1 night trip to Fraser Island. It included food, stay in the hotel, transportation, and guide on the island. We went on a tour with Cool Dingo. It was a lot of fun and I don't regret it.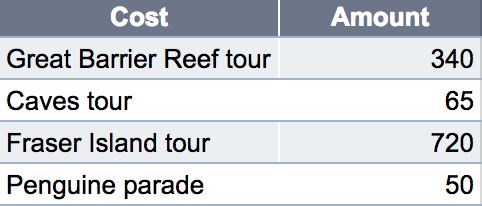 We also wanted to go to Whitehaven beach, which would cost roughly the same. The Great Barrier Reef tour could be cheaper. We were told that this boat was better and it went further away to the outer reef, therefore, the price was higher. Honestly, I would rather stay closer to the land and cut the trip length in half. It took around 1,5 hours to sail to the outer Great Barrier reef and a lot of people got sick on the way. It was not a pleasant experience at all.
2. Australia car rental
The second biggest expense was the car hire Australia. It cost us $770 (or 987 AUD). Which is completely justifiable since our station wagon has been with us for 30 days! We saved so much on hotel stays thanks to this car. In fact, we could have even paid less if we didn't opt for the most expensive insurance coverage.It is important to note that we have received a discount on a car price, however, we still paid in full for insurance. If we would take a basic insurance and pay full car hire price, it ended up being the same.We hired with Travellers Autobarn.  They sometimes have awesome discounts when they need certain cars to be driven from one part of the country to another. It could go as low as 10 AUD per day!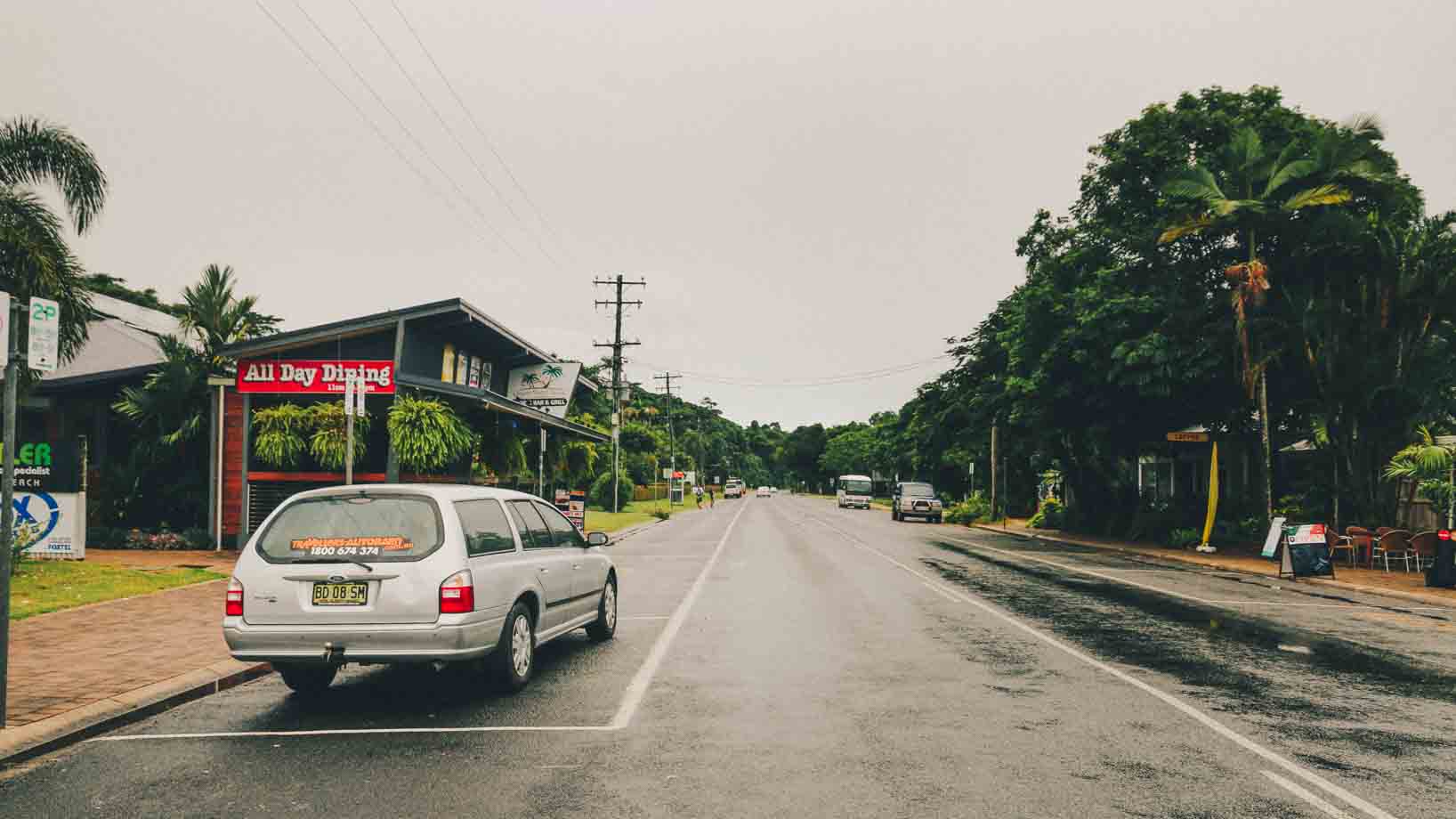 3. Hostels
Staying overnight in Australia is an expensive luxury. Even with sleeping in a car at least half of the week, we managed to spend $541 (694 AUD) on hostel/hotel stays (taken into consideration that some of my stays were sponsored). Even some of the simplest places will cost you about 50AUD a night on average. When it comes to booking a hotel room or a cabin, you are looking at prices starting from 100AUD per night. For booking we used Booking.com
4. Gas
Here's another cost that you have to consider when you think about driving around Australia – gas costs. During our month of travelling around Australia and driving about 5,000km (roughly 3,100 miles) in total, we have spent $534 (685 AUD) on fuel.
5. Food
When it comes to food, we spent nearly $400 (510 AUD) stocking up in local supermarkets. Prices in Australia were not very different from those in Denmark, but then, Denmark is considered to be quite expensive.
I found that such foods as chicken and seafood were quite affordable in Australia, with 1 kg of chicken drumsticks costing under 5 AUD and a fresh seafood mix with pieces of salmon, squid, and scallops would cost 10AUD per kilo. I thought that was a good deal! When it comes to vegetables, here the situation is a little bit tougher. Tomatoes, especially, were really expensive in 2017 (because of unfavorable weather conditions according to the local news) and they could cost as much as 10 AUD per kilo. Some stores won't even have them, it was so bad.
As for us, we mainly bought chicken and seafood, rice noodles, greens, apples and dry snacks to have in the car for the long road drive.
6. Eating out
Up next in the expense chain is the 'eating out' part, which added up to $400 (or 500AUD). I deliberately took it out of food costs, because eating out is at least twice as expensive as cooking your own food. We did go out to eat quite a few times. According to my numbers based on 18 cases of eating out, the average breakfast or brunch for two will cost 30 AUD.
Though you could have saved much more money by not eating out, for me, that would be missing out on local experiences. The cafe culture in cities like Melbourne and Sydney is too great to miss out. Besides, as a blogger, I needed going to cafes for WiFi and stable table where I could write.
7. Campsites
We spent around $200 (or 257 AUD) on staying at campsites. It could be clumped together with total accommodation costs, but this is to show that camping was so much cheaper. On average, staying at a campsite with toilet and showers costs around 20 AUD per car per night. Some campsites in Australia might also have kitchenettes outside.
There are also a plenty of free camping options, but these would be places you don't want to stay. We had to sleep in a parking lot one-two times because we simply couldn't find a place to stop and it was getting dark. But these places usually do not have facilities needed for a stay. Now that I think of it, we always managed to find a public toilet with toilet paper in Australia within a walking distance. This is a beauty of Australia I guess. ?
8. Transportation
The transportation cost includes the getting around Australia where we couldn't take our car with us. For example, ferry to Magnetic Island or a train ticket from the Sydney airport. We also included parking costs in here. Totally, it cost us $150 (or 200 AUD).
9. Phone data
As soon as we landed, we bought ourselves Australia mobile cards to be able to get internet data. Since it was for the entire month, the rates were looking attractive. In total, we spent $55 (or 70 AUD) for two Optus cards with data enough to last us almost for a month (thanks to Instagram, I probably spent the entire package within 3 weeks), but look at all the pretty pictures I took and got to share!
How to save money travelling around Australia by car?
Actually, my husband and I are pretty good savers. We can easily pass on a luxury hotel or an expensive meal and rather stay in hostels and travel longer. It's not that we're broke, it's just we'd rather skip a dinner at an expensive restaurant and put money aside for another trip. I guess it could be a Ukrainian thing. When you grow up around people that are trying to save on everything, unless they are children of oligarch, it comes naturally. But don't worry, there are actually ways to travelling Australia on a budget! Here are a few tips on how to save when travelling Australia on a budget:
Buy your food in the supermarket and cook yourself. It is also very easy because all hostels have kitchen facilities, also Australia has plenty of open barbecue spaces with ovens installed, so all you need is just food and some oil.
Sleep in a car or a hostel as much as you can. We really only stayed in hotels when we needed a proper shower and relaxation after being in a car for too long.
Stay at the hostel but sleep in your own car. The reason we needed the hostels/hotels is because they had showers and kitchens! As for the sleep itself, I didn't mind sleeping off in the car. Many hostels have a parking lot in their garden where you can sleep in your own car, which costs much cheaper than staying in the room and still gives you access to all hostel facilities.
Pick up a job to not pay for your hostel. I've seen a lot of people doing that. Hostels are rather happy to offer you free stays and meals if you, for example, agree to clean the kitchen in the evenings or clean up the common room, etc. Just ask at the reception when you arrive.
Avoid toll roads. One of the things we got to know when we were about to rent the car in Australia, is that all toll road costs are going to be deducted from your card after your trip. You won't necessarily see where the toll road starts because they often don't have a checkpoint, but just photograph your car info and send it to the owner. We just put an 'avoid toll roads' option on the google maps to avoid extra costs.


---
Do you think you could go travelling around Australia cheaper? Is the cost worth the trip? What do you think? Share your thoughts in comment section below!
Like It? Pin It!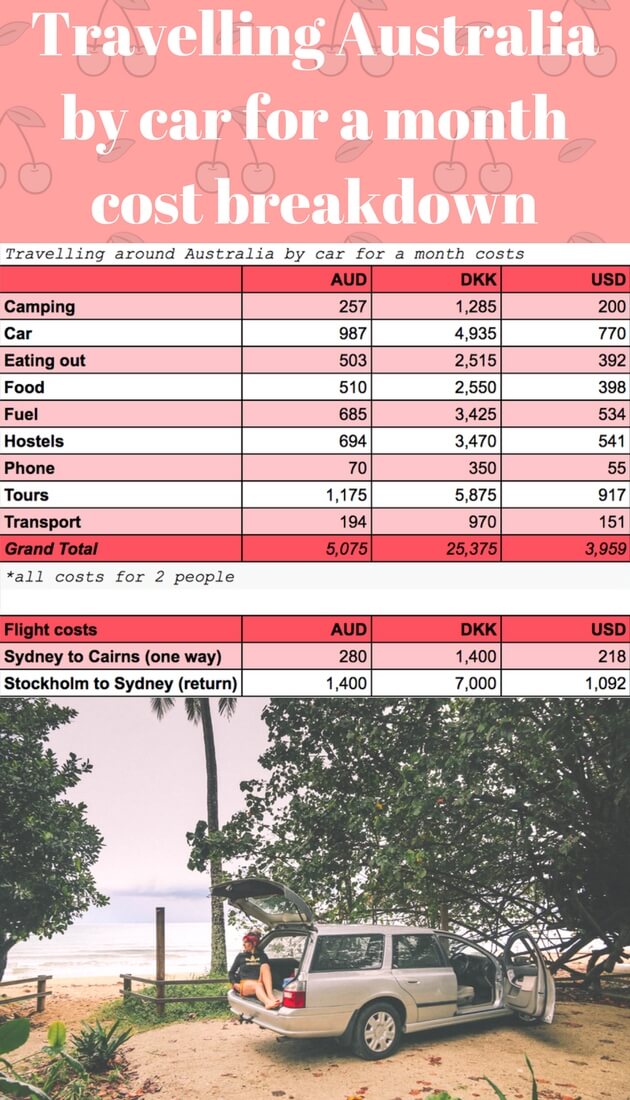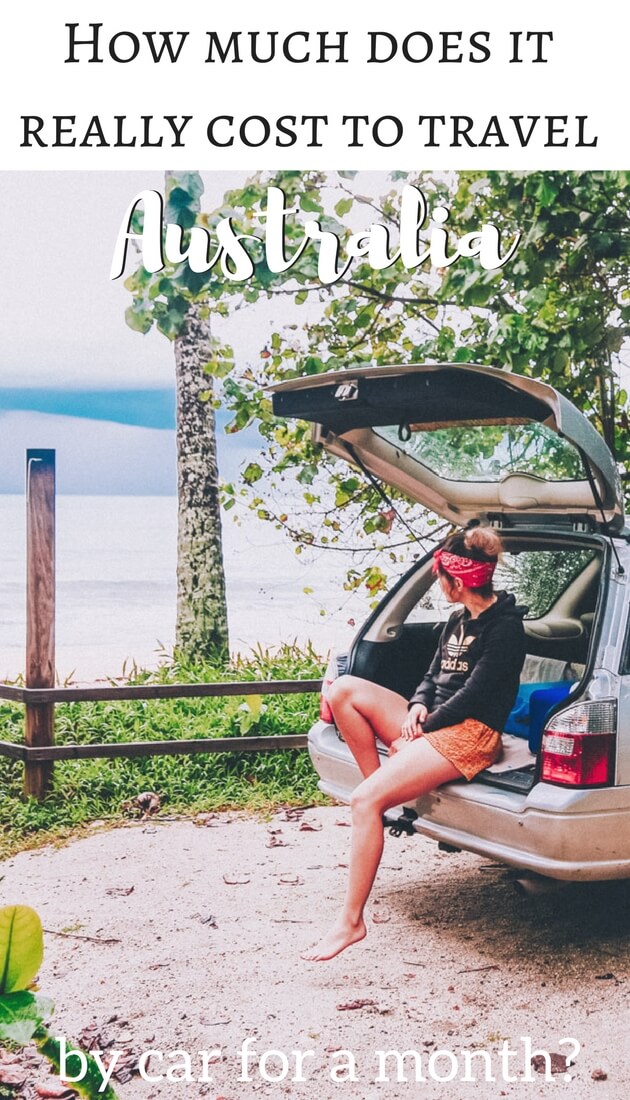 Disclosure: Some of the links in the post are affiliate links that help keeping this blog alive. Clicking them will let you buy products I used on the road and I will earn a small commission from that with no extra cost to you.