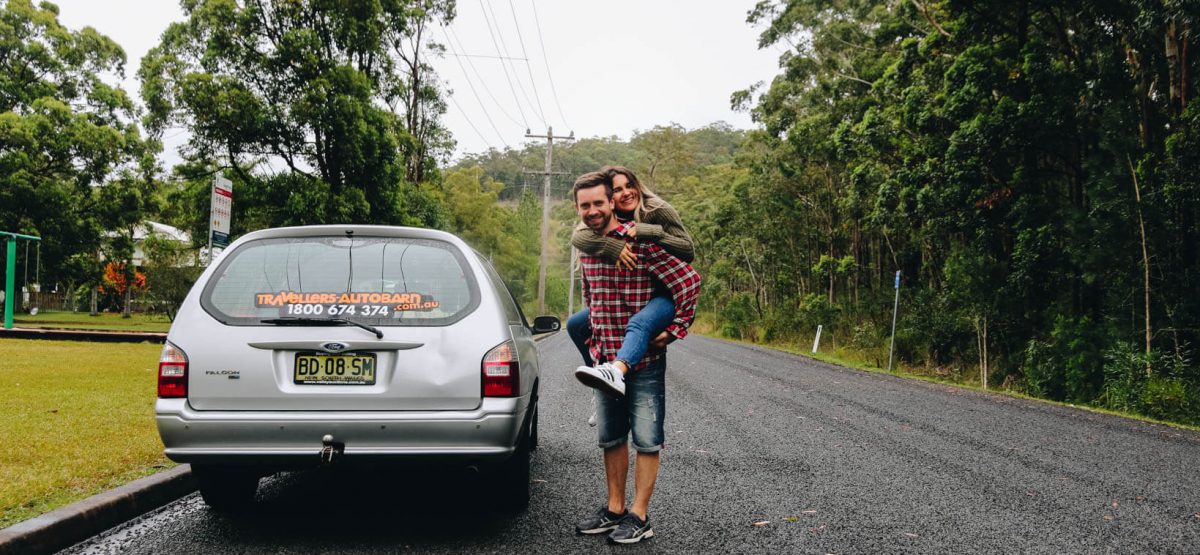 This post may contain affiliate links. I receive a small commission at no cost to you when you make a purchase using my link.
Are you comfortable in your seat? Do you have a cup of tea and a snack ready? Sit tight, because it will be a long post about everything you need to know for an East Coast Australia road trip.
Let me start by saying that we did this trip in May 2017 and spent a month doing an ultimate Australian road trip from Cairns to Melbourne. It is a popular East Coast road trip itinerary and it is perfect if you are visiting Australia for the first time.
Let's get down to basics.
When is the best time to visit Australia?
This is a tough question since it's basically asking about when is the best time to visit an entire continent. Australia is HUGE! I cannot stress it hard enough. Australian government defines eight major climate zones in the country, so I would say it depends on where you are going.
Queensland itself has a few climate zones, but it is generally warm all year round, with peaks of heat during summertime. While Southern territories, including New South Wales, where Sydney is located have warm summers and cooler winters.
One more important factor to point out, since Australia is in the Southern hemisphere, winters here are starting in June and last through August, while summers are December through February. A bit confusing, right? But great for escaping winter in the Northern hemisphere.
Spring and Autumn are lovely times to visit with an average pleasant temperature throughout the coast, while summers might be too hot, with temperatures rising up to +35C and a probability of bushfires along the coast arises. Winters might be a bit cool (still, not cold).
Our road trip in Australia started at the end of April and lasted until the 1st of June. The reason we went during this time is because the ticket prices were the best flying from Europe. You'll find that tickets to Australia peak at summertime (December – January), also due to the holiday season, and go down closer to wintertime (May-beginning of June, end of July – end of September). Check your flight prices here.

Australia East Coast Road Trip Itinerary – Where to start?
That's another complicated question we faced when we started planning road trip around Australia. Where to start? Cairns, Melbourne, Sydney, Adelaide? And where to finish?
But don't stress about it too much, it will depend on where you're landing and where you are departing from. So, the first thing to do is: buy the ticket and use it as a guideline to decide your starting and finishing point.
If the ticket price doesn't impact your route options, you can look at it from two sides:
1. Weather
If you are coming in autumn, I'd suggest you start South (Melbourne or Sydney) and move up North. This way you'll still get pleasant warm weather in the Southern states and will get to Queensland just in time for the heat to go down. And vice versa, if you are arriving in spring, start with Queensland, where it is still not too hot and move down to spend summer in the cooler states.
2. Car hire cost
Depending on your car hire option (which I will describe below), you'll be able to decide which route is better and cheaper. You'll find that some rentals offer great one-way car hire deals, just because they need cars to be returned back to their location. You can look at as much as 50% reduction in price if you drive from Cairns to Melbourne rather than vice versa. This was what we've done, it was cheaper for us to hire a car on the route Cairns to Melbourne so that's what we did.
What to see?
When we booked our trip, we wanted to see it all, Uluru, Darwin, Adelaide, etc. But when we actually started planning road trip around Australia day by day, it almost looked crazy to pack everything we wanted to see into 4 weeks, especially since we were driving, not flying. So, taken that you also have a month and want to focus on East Coast Australia road trip, I'd suggest you stop to see below:
Great barrier Reef in Cairns, Queensland. You'll most likely end up in Cairns anyways, so I suggest you book one of the tour boats to take you snorkeling or diving on the great barrier reef. To be honest, we weren't that impressed with the snorkel, maybe because the weather wasn't suitable. In fact, I've seen better underwater life snorkeling off the coast in Malaysia. This might be due to the bleaching of corals which causes threat to the entire ecosystem.

Mission beach or Bingil Bay, Queensland. I liked this place because it is a great spot to enjoy pristine Australian nature in solitude.
Magnetic Island is another great place for wildlife experience mixed with sunny days by the swimming pool.
Whitehaven beach. Unfortunately, we didn't get to visit the beach because of a cyclon which caused a lot of damage. But Whitehaven beach in Whitsundays is known for the purest silica white sand in the world and crystal clear turquoise water.
Cape Hillsborough could be one of my favorite places for wildlife in Australia. This is where you can easily spot kangaroos and maybe even spot whales passing by from the lookout points.
Fraser Island is another must-do since it is the biggest sand island in the world and it has a great aboriginal culture to explore.
Byron Bay. You cannot skip the classic surfer town. Although too commercial for my taste, this is a great example of a chilled beach town where all you do it surf, drink, and tan by the beach. It is also the most Eastern point of Australia, so you should definitely take a hike to the Cape Byron Lighthouse.
The Blue Mountains in New South Wales. At some point, you will be driving through Sydney, and the Blue Mountains are right next to the city. It is one of the most scenic mountain views I have ever seen, so I highly recommending spending a day hiking there.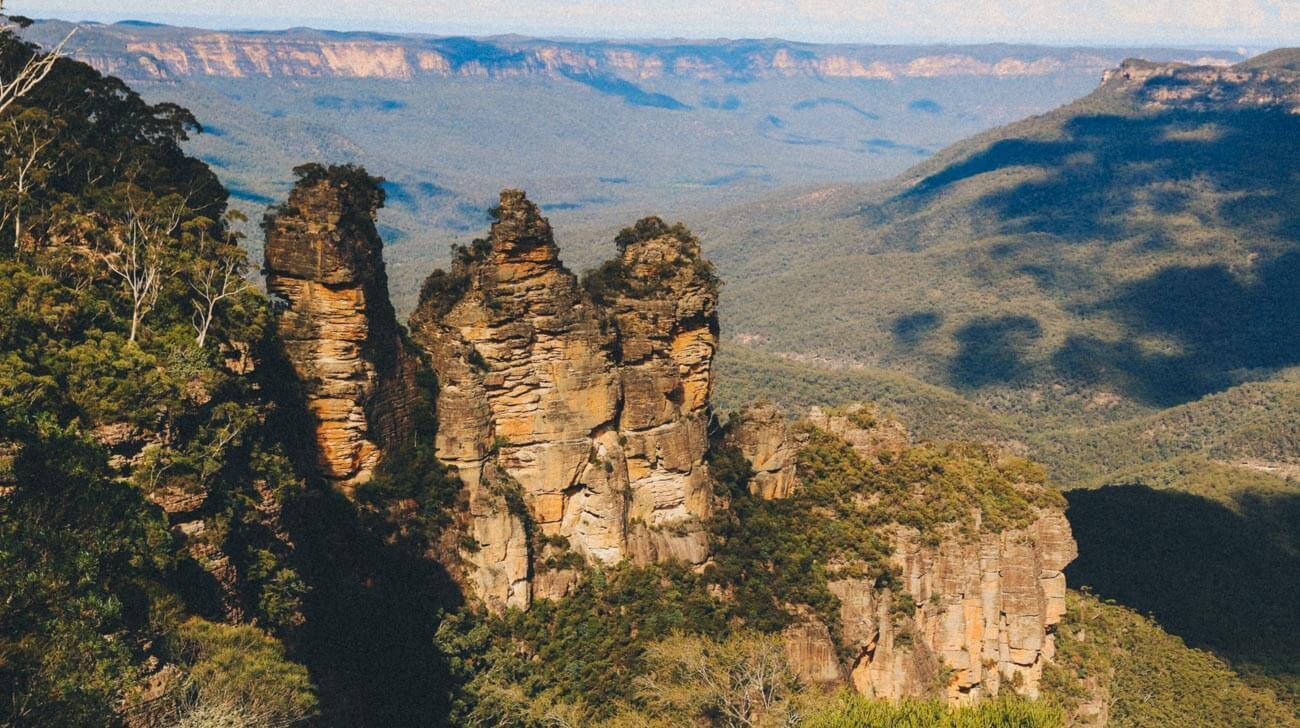 Three Sisters of the the Blue Mountains, NSW
Phillip Island is the island in Victoria where tourists go to see the penguins daily coming out of the sea in the afternoon and maybe even spot some seals. Worth driving to.
Great Ocean Road. This scenic drive should be on everyone's East Coast Australia road trip must-do list.

Since your itinerary starting points might be different, you can visit these places in a different order. One thing you have to be mindful of is that some of these places will require you to leave your car behind while you are doing the tour (this is true of Fraser Island, Magnetic Island and Whitehaven beach). Check the rules of your rental to be sure.
How Much Time Do I Need for an East Coast Australia Road Trip?
Again, Australia is huge, it is an entire continent after all! When you think of its size, imagine the size of the United States. It will take a long time to cover the entire coast.
We did our East Cost Australia road trip in exactly one month or 31 days, excluding three days we spent in Sydney and two days in Melbourne without a car. In total, we covered 5,000+ km of distance. And I still feel like we rushed through a lot of places. We barely stayed in any place for more than two nights, and spent a lot of time on the road, driving.
Everyone we met on the road was taking about 3 to 6 months to do their trip! And even though most of them were students or people on working holiday visa, after the first week of driving, we started saying that we are in Australia ONLY for a month, even though I thought that getting a whole month off from work to travel was a great deal.
So, I would advise you to plan for no less than one month if you do Melbourne – Cairns or three weeks if you do Sydney – Cairns. If you are working remotely or simply have the luxury of more time, then I suggest you take six weeks to cover the East Coast in a relaxed manner.
Car Rental Australia
Now, do you have the tickets already? Time for the next big step in planning your road trip around Australia: finding a car.

To buy or to rent?
Let's get one question out of the way right away: should you buy a car for a road trip in Australia or should you just rent one?
While having your own car is great because you don't have to follow the rental rules and can be more flexible, you have to realize that buying and selling would take time. If you only have one month for a road trip (like us), I wouldn't suggest you buying. But if you have, let's say, three months or more – you can go for it!

How to buy a car in Australia?
With buying a car in Australia comes a matter of finding a car to buy, registration and, subsequently, selling the car when you have to leave.
How to rent a Car in Australia?
When it comes to finding a car for hire in Australia, the choices are plenty! This is because backpacker road trips are so popular here that competition has really pushed the prices down.
Here are some of the most popular car hire companies that we saw on the roads of Australia:
There are websites that offer car rental prices starting from $1 per day for the one-way car relocations. This means that you will be less flexible with time and location where you can go, but it is a great money saver if you are on a budget.

Where did we hire our station wagon?
In our case, we went with the Travellers Autobarn and were pretty happy with their service. They are one of the budget options and they have awesome discounts for special routes, which basically let us rent a station wagon for 10$ a day +insurance!
The station wagon is a great option for two people. The back seats unfold, so you can sleep at the back. It also turned out to be the perfect size for people of 165-175 cm tall 🙂 And a bonus is that you can actually sit up in the car without hitting your head, which was great during evenings when it is already dark and there is nothing to do.
Why I loved it? I think that campervan would have been too big for us, as we don't have extensive driving experience, so it was perfect for first-timers. With the station wagon, we were still quite agile and didn't have to pay the campervan prices at the campsites.

What can you expect to come with a station wagon in Australia?
Our car came with a set of dishes, including plates, cutlery, cups, pots, etc. They also gave us a portable gas stove with two gas bottles (we had to buy extra), two chairs, a table, an esky (a small cooler) and a tent.
⚠ Attention, no sheets, pillows, covers, mattresses or sleeping bags were included! We got the yoga mats and bought our own plaids to keep ourselves warmer and softer. We also brought our own sleeping bags, without which it would be too cold to sleep in a car during autumn period. Some nights were really cold in May in New South Wales, so we had to sleep fully dressed as well.

Things to keep in mind when renting a car in Australia
First of all, find the company you want to rent from. Carefully read the reviews! Some companies, though offering great prices, might not leave you very happy. Think of it this way: this car is going to be your home for the entire trip. You want to make sure it is comfortable for the number of people you are, it has amenities you need, like cutlery, dishes, portable stove and maybe even chairs, bed, sheets, etc. Think of that when you make your choice. Do you want to buy all that stuff or will it be easier if it is already there?
Decide on a car type. Do you want a campervan, a station wagon, or a caravan? It will depend on how many people you are. I would say don't get a station wagon if you are more than two.
Transmission. Do you want the automatic transmission or are you comfortable with a manual? It was an important one for us since it was our first time not only driving on a left side of the road but driving a rented car in general. So we really wanted to get a car with automatic transmission to make driving easier. Usually, campervans have a manual transmission, so make sure you are paying attention to this detail before renting.
Choose suitable insurance. The costs you see on the rental car price rarely include full insurance coverage, so you have to read more into what types of extra insurance they provide. Usually, the rental company would have a basic one, which requires you to leave your credit card info and you'll be deducted up to $2500 if any damage is found, then the middle one which covers just wheels and windscreen for additional daily payment and offers a lower deduction rate, and the premium one which covers everything and you don't have to leave your credit card details. Since we were the nervous newbies to the road trip business, we opted for the full coverage and paid extra. We never had any incident on the road, though.
Read your insurance rules carefully. Important to note that if you breach the contract, your insurance might be waived completely. For example, our rental company said we cannot drive during the night, cannot drive on gravel roads, and cannot take our car to certain islands (like a Kangaroo Island), so if we were caught in trouble visiting those places, the insurance would not cover us.
Check the car condition. Take photos of the car when you rent it and use the time to carefully evaluate its state. They'll give you a paper to mark all scratches and dents in the car and I suggest you do that and list everything. You'll go through the same procedure at the end of the route and check if no new marks appeared. Though they never really checked us at the end (we even forgot to leave the esky back in the car), I think they might deduct money from your card if they find issues later on.
❗ If you are driving with an overseas license, you might need to obtain International license papers to accompany your driver's license. It depends on which states you are planning to visit since some of them have different requirements. Check which states require to have an International driver's license. But don't worry, the papers are not hard to get. In Denmark, it took me a visit to a local library and $4 to get an international license paper.
Staying Overnight in Your Car
The whole point of renting a campervan or a station wagon is to be able to sleep in your car in Australia. Before our trip, I heard about this amazing app called WikiCamps that lists all the campsites around Australia with users' reviews and pictures. This is by far the best app I have ever purchased! It saved us so many nights when we were late to get to the next city. The app basically lists all the places where you can stop over for the night, whether it is a proper campsite ground or just a parking spot with a toilet. It will also mention whether it is a paid or free one, whether it has a bathroom, shower or a charging site.

Can I sleep in the car in Australia?
Yes, in most of the states, it is allowed to stay overnight in your vehicle. Most of the time, you'll be stating in the campsite, but if you need to stay off the campsite, as long as the owners of the land don't mind, it is okay.

Safety on the Road
First of all, you have to realize that you are driving in a new country so you have to be careful at all times.
General rules for safety on the road:
Avoid driving at night. Though it might seem like a great way to cut in some distance, it can be dangerous. Animals are becoming active at night and there is a chance you can hit someone. We almost hit a kangaroo that was casually jumping across the motorway. And if a dead kangaroo doesn't bother you, think about this: if you see it crossing, you'll have to hit the break or tilt, which might cause a car behind you to hit you and cause an accident. Lose-lose for you and the kangaroo.
Rest when you get tired. A lot of signs in Australia (especially in Victoria) will tell you exactly that.
Beware of other tourists. Remember, that many people you'll share the road with are tourists as well and they might not have a clue about some of the local traffic rules or be experienced drivers in Australia. So just be extra cautious when you see another campervan.
Read up local traffic rules. Brush up your knowledge of the local traffic rules and take a look at how Australia is different.
What you need to pack
I won't go into too much detail here, but will mention the most important items that you need to pack for a trip to Australia.
Money. Have some Australia cash, not all places (especially campsites) accept cards
Make sure to take a universal power adapter to fit the Australian sockets
Get a guidebook with a road trip itinerary or a map for those cases when the internet is not working or the reception is bad. We have used Lonely Planet Australia's Best Trips guidebook to help us with the itinerary
Download Google maps on your phone
Get the packing cubes. I cannot be happy enough that we took them, it helped us to keep stuff organized even though our car was really packed. We kept our clothes in order and even used them as pillows
It is good to have some tea or coffee with you, always
Make sure to pack sleeping bags if you are traveling in the off-season, it might get chilly at nights
Get the head lights. It gets dark very early, around 6 PM, especially in Queensland, so you might want to have something to help you get around when you spot in that god forbidden place on your East Coast road trip
Buy a sunscreen. The Australian sun is pretty strong, you will notice it right away. Sunscreen is essential for any type of skin.
How much does it cost to do a road trip in Australia for a month?
Let me tell you this, Aussiland is not a cheap country to visit, but there are ways to save. In total, we spent around $5,000 for both of us doing the East Coast Australia road trip for a month. That is not bad at all, considering what an average living cost in Australian could be, including rental costs and food.
Mobile Phone and Internet
We are those people who need our internet connection all the time! And not just because we were using GPS quite extensively, but also because we needed to look up places to stay overnight, places to eat and well, hello, blog!
As soon as we landed, we got ourselves Australia phone cards to have cellular reception and mobile internet. We went with Optus, among other choices, because they have good coverage, and they are cheap! ($30 per month). Here is a list of Australian mobile providers for you to choose from. We just picked our up at the nearest 7eleven.
Once our phone Internet ran out (it was based on usage), we used Skyroam to stay online. However, the reception was not that great. Basically, it has the reception the same places where your phone does. The advantage is that you can also use it as a hotspot, charger, and you do pay based on a day of unlimited use.
The wifi in Australia generally is really bad, so don't blame it on the tool or the mobile carrier. It is just bad.

Wrap Up
Heading out for your East Coast Australia road trip might seem overwhelming at first, but once you break it down into small bits of things to take care of, the rest falls into place by itself. After all, you have to leave some room for the unexpected adventure.
---
Anything else? Tell me what else you'd like to know about when preparing for your East Coast Australia road trip and I will include it in the article.
Like It? Pin It!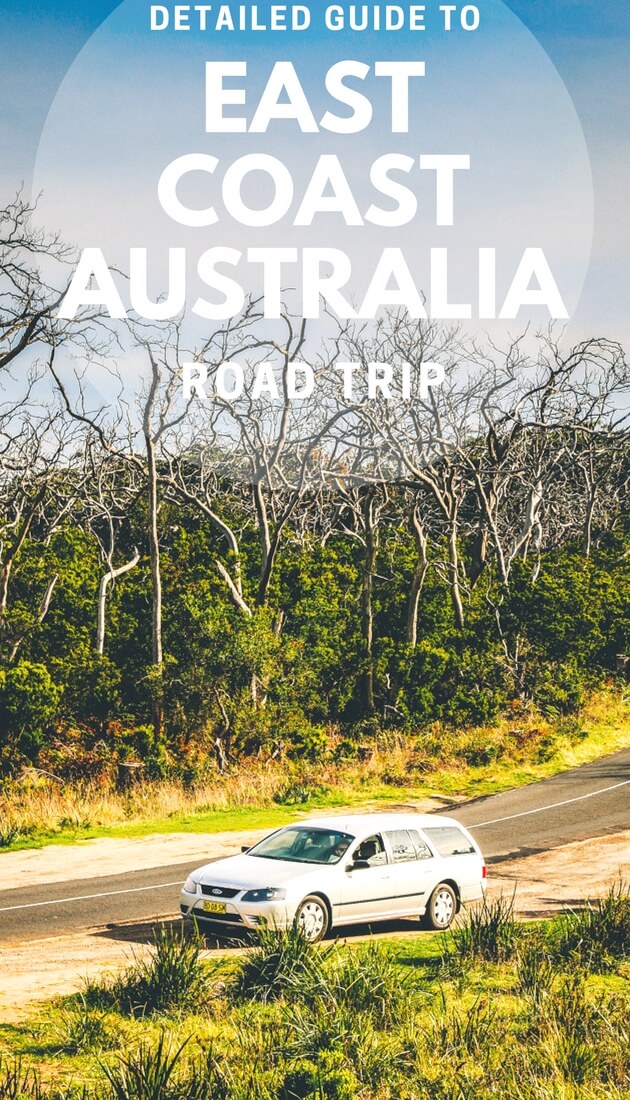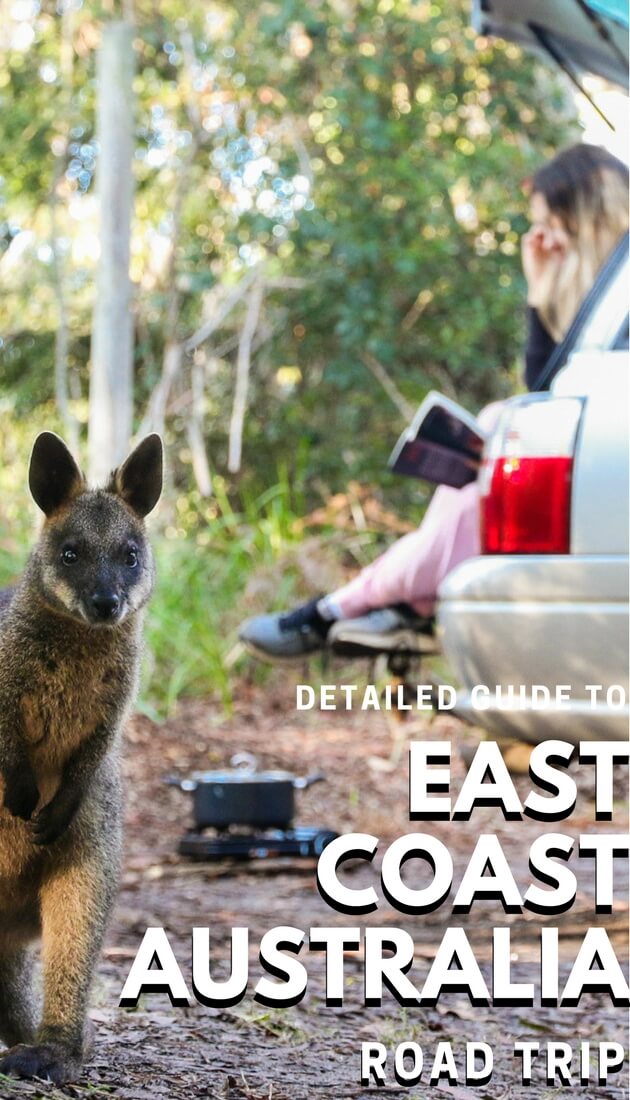 Disclosure: Some of the links in this post might be affiliate links.