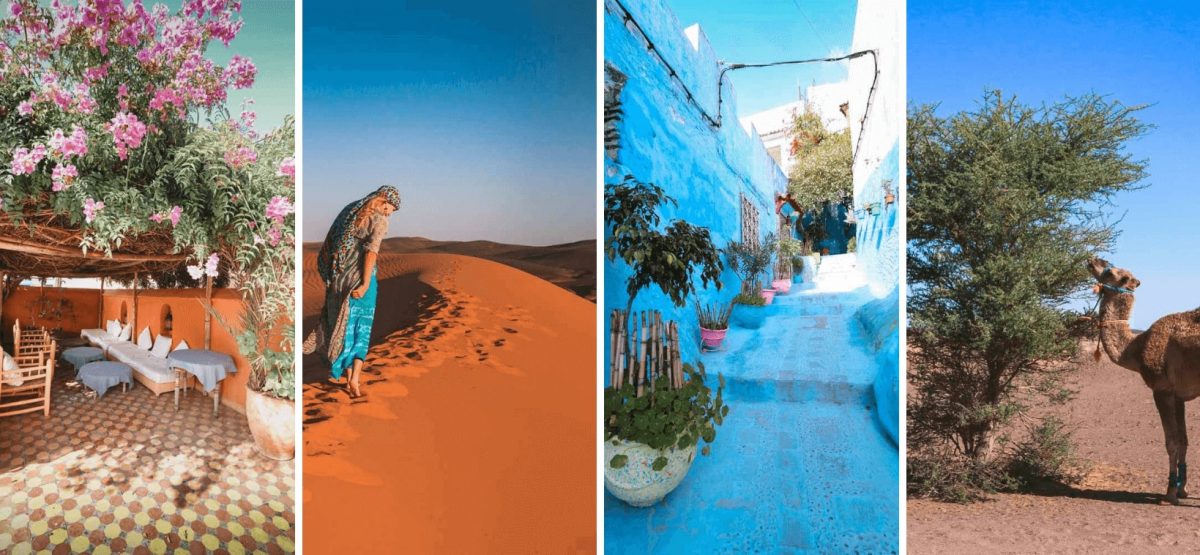 This post may contain affiliate links. I receive a small commission at no cost to you when you make a purchase using my link.
Morocco is one of the countries that have it all: seaside, mountains, deserts, ski resorts, culture, amazing food, and vibrant cities. This one week in Morocco itinerary guide might not be complete enough to show you everything the country has to offer, but it is enough time to hit the best places to visit in Morocco.
I spent 7 days in Morocco attending a TIS travel conference in Marrakech at the end of last year. Visiting Morocco in November, however, is a good time, it will not be too hot but it would also require some warm clothes as nights get cooler, especially if you plan to sign up for the Sahara tours and Atlas mountain trekking.
So, here is our preliminary one week in Morocco itinerary:
Marrakech 1 day
Merzouga desert 3 days
Fes 2 days
Chefchaeouen 1 day
Tangier 1 day
One week in Morocco itinerary on a map:
Day 1: Arrive in Marrakech
Marrakesh is probably one of the prettiest Moroccan cities, which is why it received the honor to be the most touristy one. I certainly fell in love instantly, the taxi drive from the airport to my riad already felt like a city tour: passing through tasteful pastel pink buildings perfectly match with lush greenery.
In the day, though, Marrakech is different – vibrant, lively, chaotic, yet still magical.
Top things to do in Marrakech
Wake up early to visit Jardin de Majorelle
Most of the people who have holidays in Marrakesh choose to visit Jardin de Majorelle and they are right to do so because this botanical garden is a true museum of art. Be ready, though, to face the crowds of people who will make your visit less enjoyable. Of course, if you want to avoid all that, I suggest you visit Jardin de Majorelle as soon as it opens at 8 AM. The entrance to Jardin de Majorelle price is 70dhs.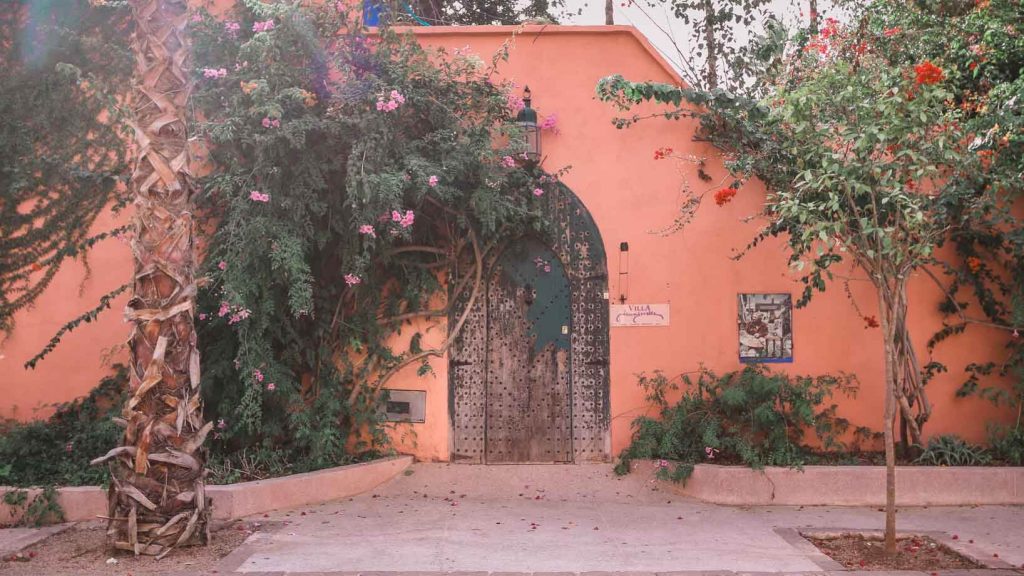 Explore Marrakech markets
Go to the market to eye some precious souvenirs. If you have tried Moroccan food already, you will notice that spices are quite important here. Of course, you will easily locate some if you go shopping T a local Marrakech market. Don't know where to start? Why don't you start at one of the most popular squares – Jemaa El Fna.
Moroccan spa experience
Marrakech is full of places offering a luxurious Moroccan spa experience for tourists, such as Hammam De La Rose or other spa centers that include transfer from your riad. If you choose a touristic one, it might be more expensive but that way you will be sure to get a clean place that is well looked after. If you want to save money, you can always go to the public hammam to get the authentic experience.
Go Marrakech riads hunting
Go hunting for the most beautiful riads. By now, everyone has already seen the instafamous Riad BE Marrakesh with its dreamy turquoise pool. However, this is far from the only riad that will make you wow in appreciation. Nearly every riad, though might look unnoticeable from the outside, hides luxury quarters. They are not easy to find, but you are most likely be allowed in at least to take a look.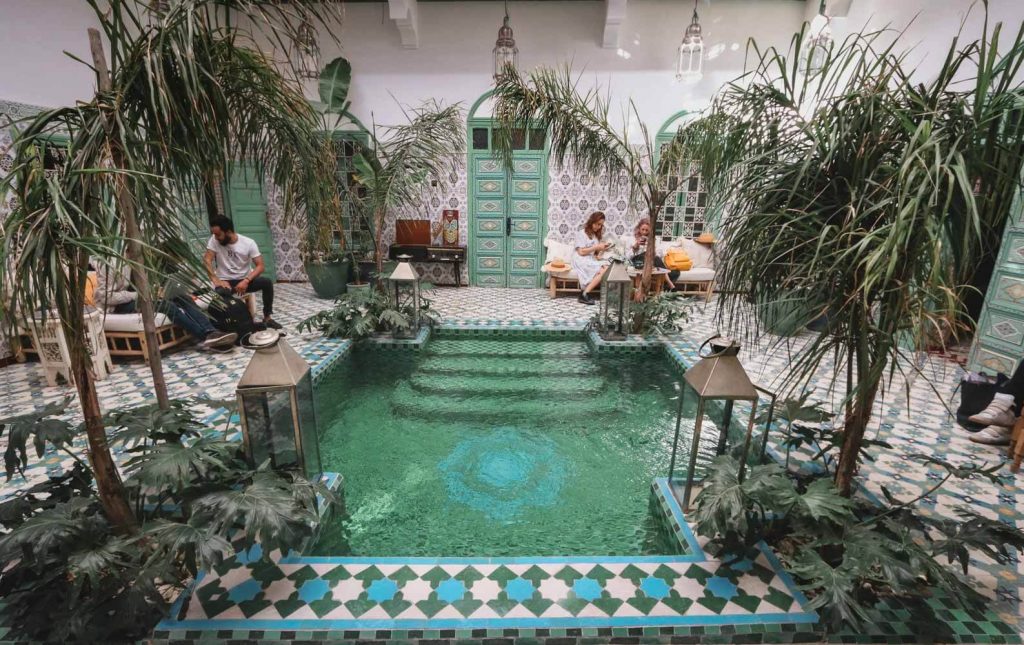 Here are some of the most beautiful riads in Marrakech suggestions:
There are many tours from Marrakech one could take thanks to its perfect location. Among your Marrakech trips options you have Ouzoud Falls Day Trip From Marrakech or a true Morocco desert camp experience depending on your time availability.

Day 2-4: Take a Marrakech Sahara tour (3 days)
Though a journey from Marrakech to Sahara desert is not easy, Sahara desert tour will be a rewarding experience, trust me. Maybe because this was my first time in the desert or maybe because of this desert in particular, but I didn't want to leave. I was at peace there. At peace with my mind, my soul and body. Free to walk the sand barefoot, free to see the sun go up and down, free to just be in the moment.
On top of that, spirituality you get a deep insight into the life of nomadic tribes and the strong respect to these communities once you try to experience it yourself.
There are plenty of Sahara desert tours from Marrakech catering to any budget or interest staying in Bedouin camps or staying in luxury tents equipped with air-conditioning.
Day 2. Driving from Marrakesh to Merzouga
The first day is a big hardship. Some 15 hours of driving in a minivan await you, with stops, of course. But still, during the first day of your trip from Marrakech to Merzouga, you will hate the fact that you agreed to it and even paid money to be on the tour!
Besides seeing Morocco through the window of the minivan, you'll get the chance to make a stopover in a pleasant Ouarzazate town serving as a gateway to Sahara desert.
Ouarzazate translates from the Berber language as a quiet city. You can hear almost nothing during the night time. But that is not all that there is to Ouarzazate. The city elegantly combines the pastel reds of its building rocks with bright blues of the never cloudy sky to make a beautiful pallet of colors.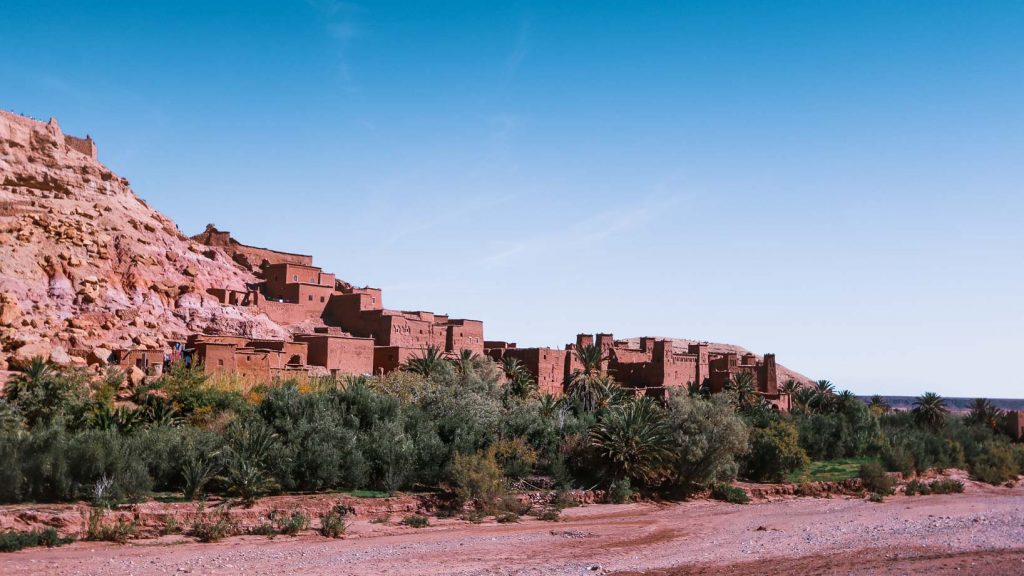 It is, therefore, no wonder that the area contains two film-making studios. A lot of movies are filmed in Morocco as it has the desert, mountains, and the sea in one place. This location is often used to represent other Arab countries. For example, Prison Break final season, which was meant to show Yemen but was actually filmed in Morocco.
Nonetheless, the road will eventually end and you will be kindly asked to leave the car and switch to 4×4 to start the journey on sand. This will take another 30 minutes or so. By midnight, you should be able to make it to the camp and enjoy a traditional Moroccan dinner under the stars in the biggest desert in the world. Isn't that just magical?
---
You might enjoy this read: 3 Lessons Learned From Solo Travel in Morocco As a Girl
---
Day 3. A full day in Sahara desert
Now, this is why you were sitting 15 hours in a badly ventilated minivan! You wake up, get out of your tent and it greets you – the vastness of sand dunes.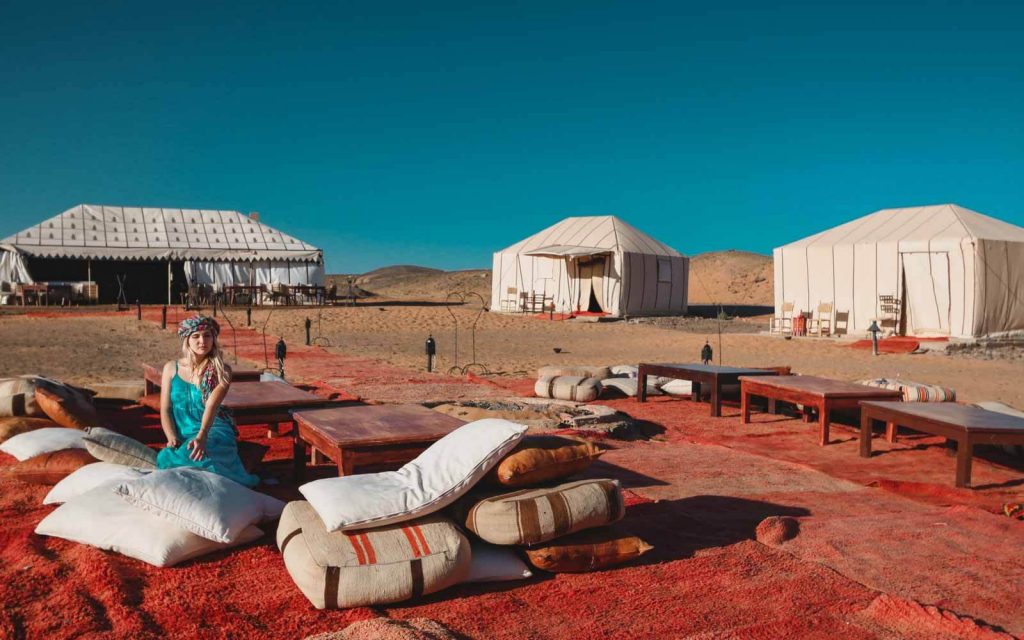 Early in the morning dunes have pastel pink color reflecting the gentle sunrise grow, during the day, they are orange and brown, while closer to the sunset, dunes take on the golden glow.
The day will depend on the Morocco tour package you chose, but if you go with Merzouga luxury tours, you'll get a slow morning with luxury breakfast, then a 4×4 dune drive to the middle of the desert where you'll be able to see evidence that the desert once used to be an ocean.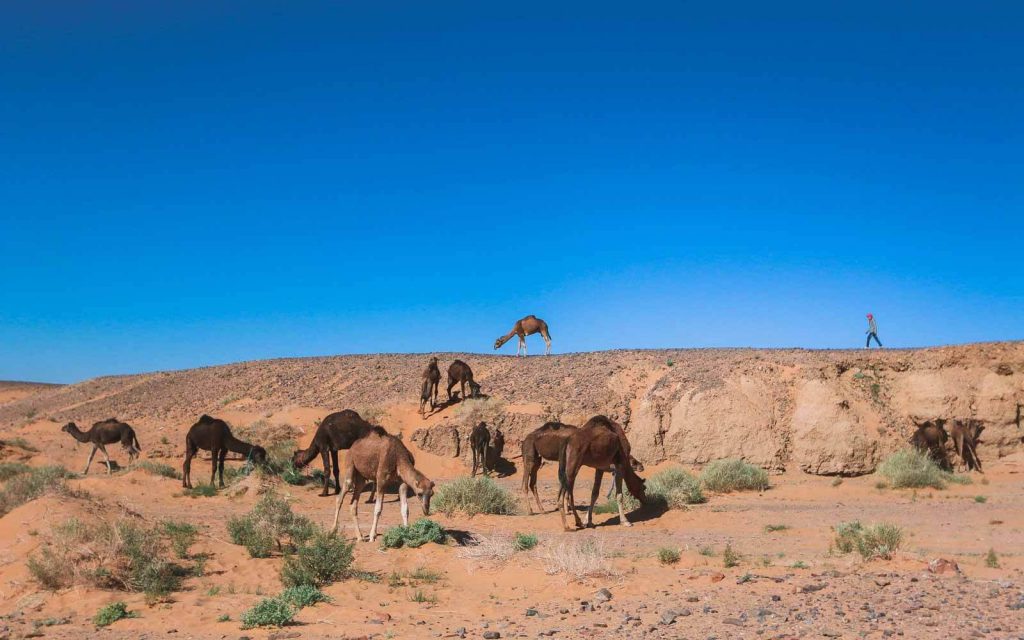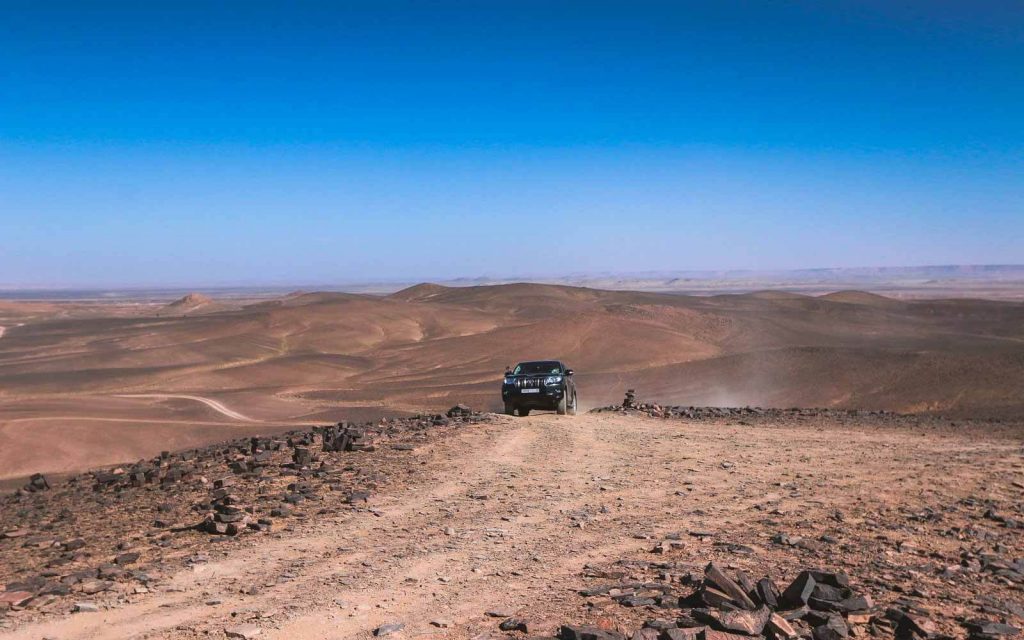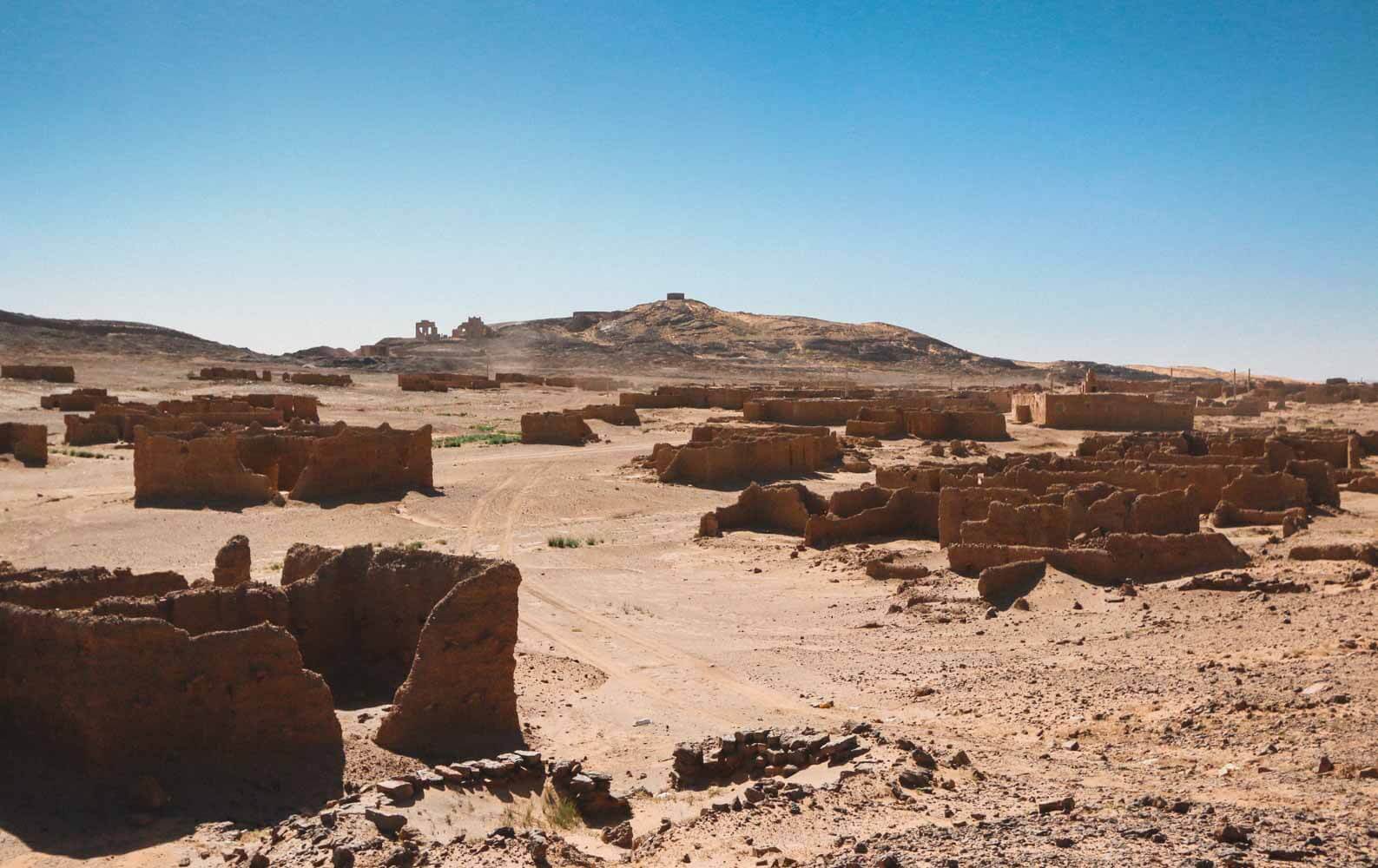 Ask your guide to visit real nomadic tribes and see the way they live. If lucky, they'll treat to you to some delicious Moroccan herbal tea and share the practicalities of their tough nomadic life.
We were able to find out that families tend to stay in the Atlas mountains during summer to escape the heat and come back to the desert in autumn and winter times to avoid the mountain snow. Families travel with the help of camels who carry their humble belongings. Though not compulsory, monetary help to these families that let you in their personal space and life is appreciated. Their life is not easy.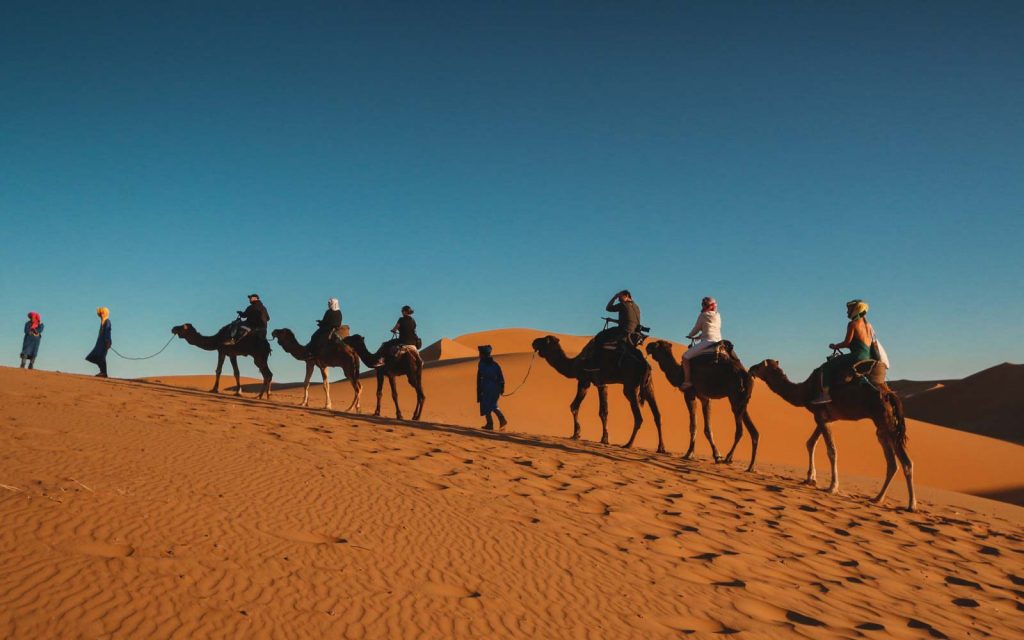 The evening will end with Morocco camel trekking during the sunset. And if you still have the energy to see the best of what Sahara desert has to offer – stay awake to glance at the countless stars.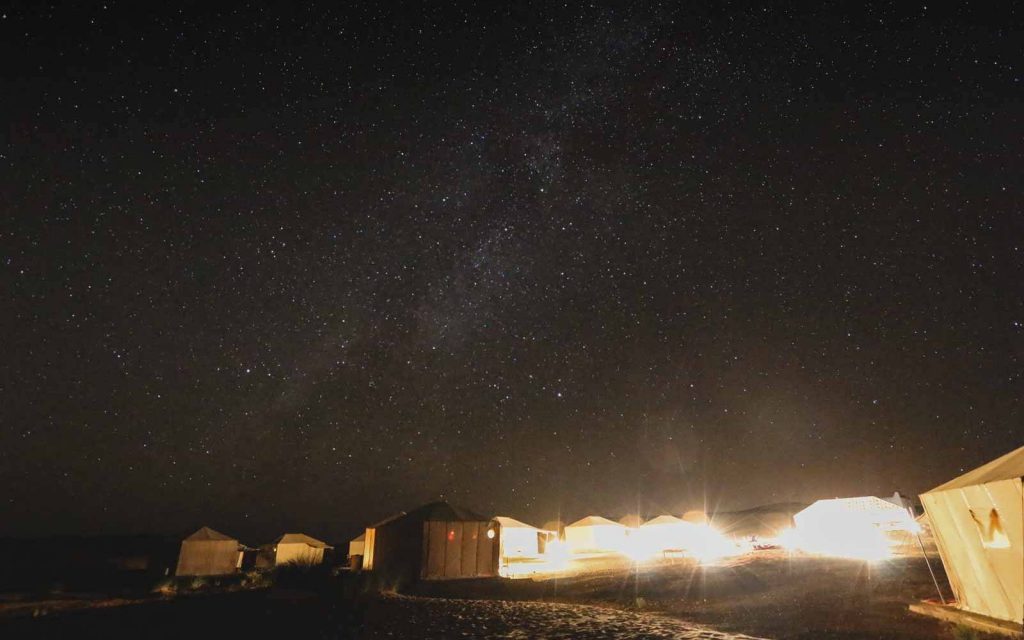 Day 4. Last day in the desert, departure
Your last day in Merzouga desert camp might be short, as departure awaits you. Therefore, I recommend waking up early, appreciating the sunrise and your last breakfast by the sand dunes.
Since the desert tour stars in Marrakesh, they usually transport people back to the same location. But I had plans to go to Fes and driving another 15 hours just to catch a train to Fes from there would not be ideal, to say the least. But thankfully, we were in Morocco, where there are always ways to find another solution. I asked my tour guide if there was a possibility to go to Fes directly from Merzouga desert. He didn't let me down and found a car that would be transporting a group of tourists from Merzouga to Fes. I jumped in the car, paid the driver my share and off we went, directly to Fes. Which actually took only 9 hours.
On the way to Fes through the Atlas mountains, there are a lot of beautiful things to see just through the car window. But not only. We stopped over in Azrou to see some wild Morocco monkeys!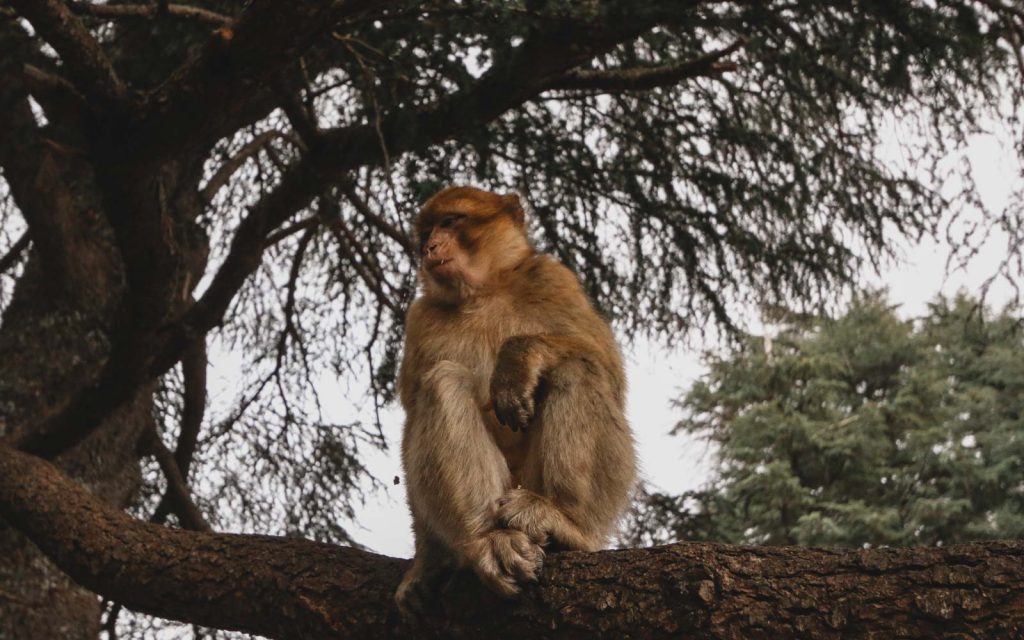 The whole situation around these monkeys is highly controversial and though I appreciated that they were wild, tourists still give them all sorts of crap to eat. Bananas, well probably okay, but I saw someone giving them crackers, chips and even a can of soda! Monkeys here, therefore, are really used to people, can easily approach you to get the bag of cashew nuts out of your hands. The area around them is fully trashed as well.
You will arrive in Fes by evening to check in to your hotel.
Day 5: Fes.
Fes is considered to be a university city. Locals say that the first university in the world was opened in Fes – University of Al-Karaouine. The city is very similar to Marrakech, with a huge medina. But somehow it is a bit more authentic and little less pushy. Though, there are still plenty of tourists!
Things to do in Fes:
Get lost in Fes medina
Fes medina was founded in the 1st century AD and is believed to be one of the biggest car-free urban areas worldwide. Countless souks, markets, and narrow labyrinths are waiting to be explored. Fes is also home to some of the most beautiful accommodation riads, in case you are looking for cultural places to stay.
Blue Gates
The Blue Gates, or the actual name Bab Bou Jeloud, are the gates is the main entrance into Fes medina. They are worth a stop of appreciation on your way into the old town of Fes. The outside of the gates is ornamented in blue mosaic, hence the name, however, the inner gate is actually green.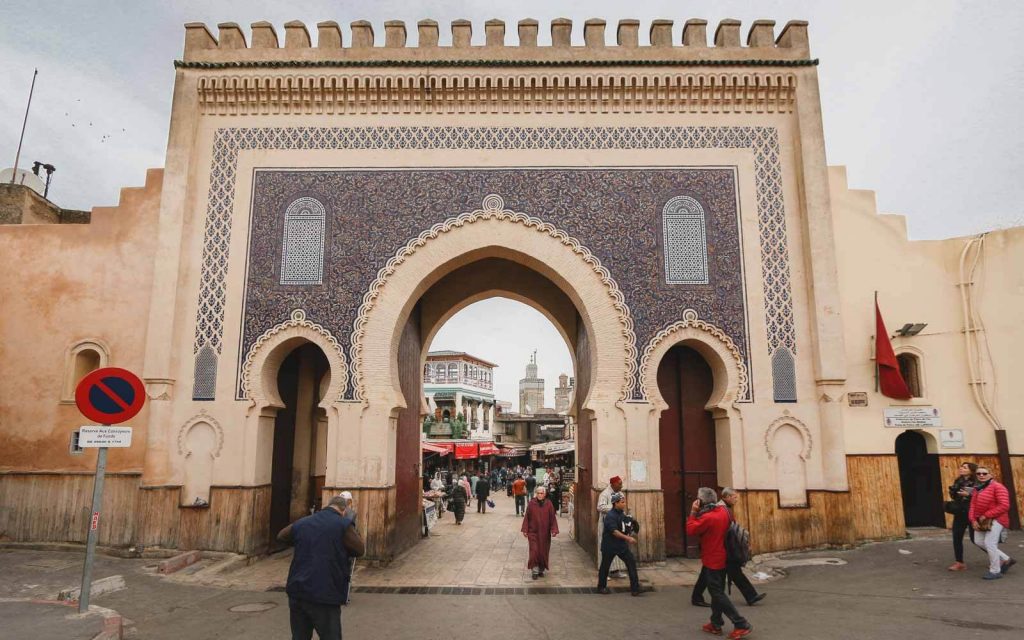 Visit the infamous Fes tanneries
Fes tanneries are among the most popular things to see in Fes. This is the place where leather is being colored and you can witness the entire process. Though this site is free, you will have to face some obstacles getting there.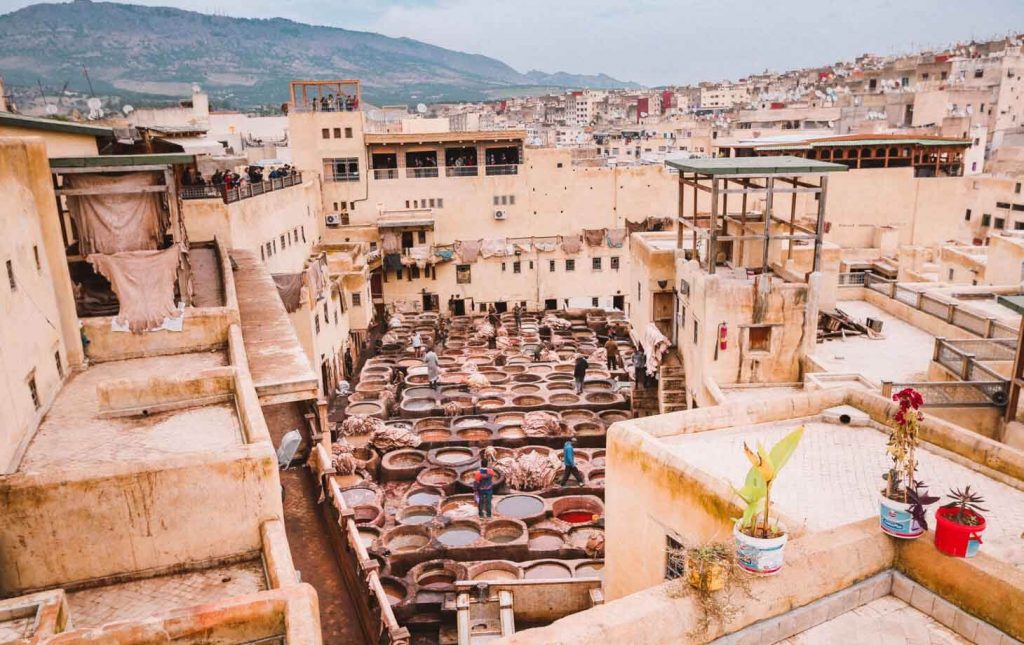 1) People will try to get money from you for visiting the tanneries. But you don't have to pay, all you need to do is just go through one of the souks to the terrace. Usually, the shop owners will allow it, all they want for you is to peek at some items at their shop.
2) The smell near the tanneries is truly horrible. This is due to the fact that coloration happens with the help of bird poo (you read that correctly). Therefore, you will not be feeling like staying there for too long.
See the Royal Palace
The royal palace in Fes is situated somewhat outside of the Fes medina, but it is still possible to take a walk there to enjoy the magnificent golden gate of Fes Royal Palace.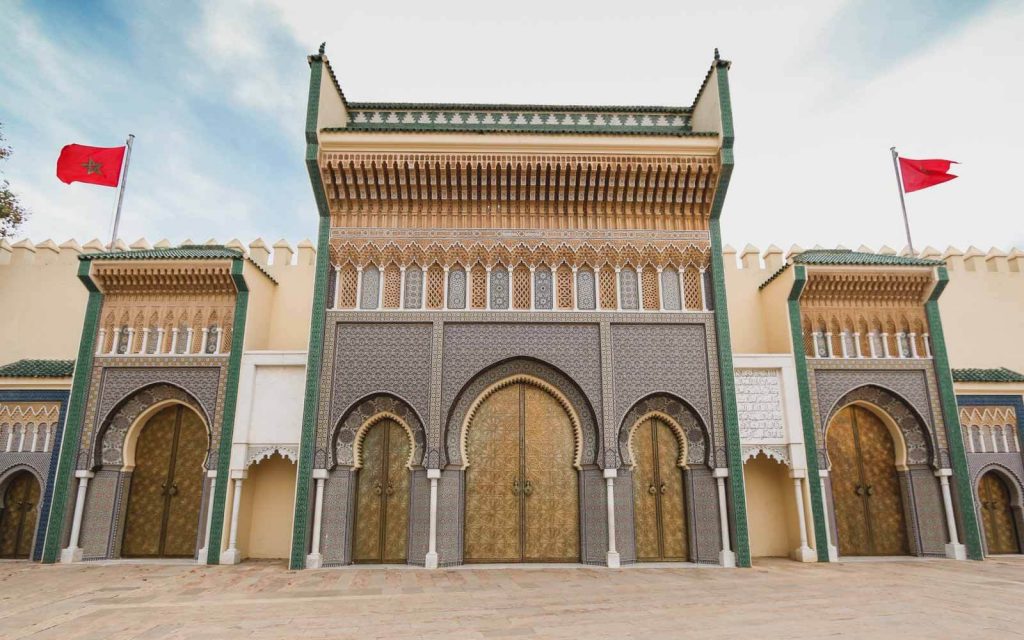 Visit Madrasa Bou Inania
Bou Inania madrassa is an educational building as well as a mosque. The area open for all visitors (including non-muslim) is quite small but the entrance is not expensive, and it is good enough to get a chance to appreciate Moroccan architecture.
Take a look at Fes from the best view in town
The best lookout spot in Fes is called Merinit lookout. And it is best visited at sunset when the city lights slowly start to sparkle and shepherds are just about to get the sheep home. Enjoy the view of this gorgeous city.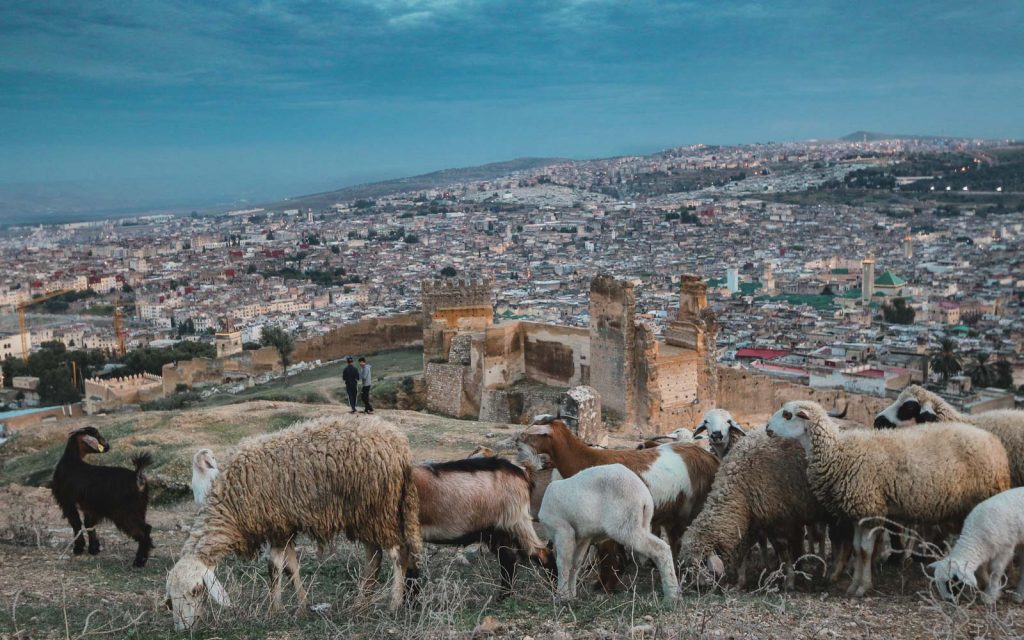 Day 6: Head to Chefchaouen
Chefchaouen is no doubt one of the must-visits to put on your Morocco itinerary.
A trip from Fes to Chefchaouen takes about 4 hours on a bus for a price of 75dhs. If you are really desperate (as was I), you can do a return trip in one day, but it is very tiresome. If you have time, I suggest you stay overnight.
Chefchaouen if like no other city in Morocco or anywhere in the world. It is truly all blue, da ba dee, da ba daa. Because it is less touristy, it is much calmer, nobody will try to forcefully sell you something you don't want.
There is not much to do apart from strolling around endlessly blue streets in the pursuit of the best Moroccan souvenir.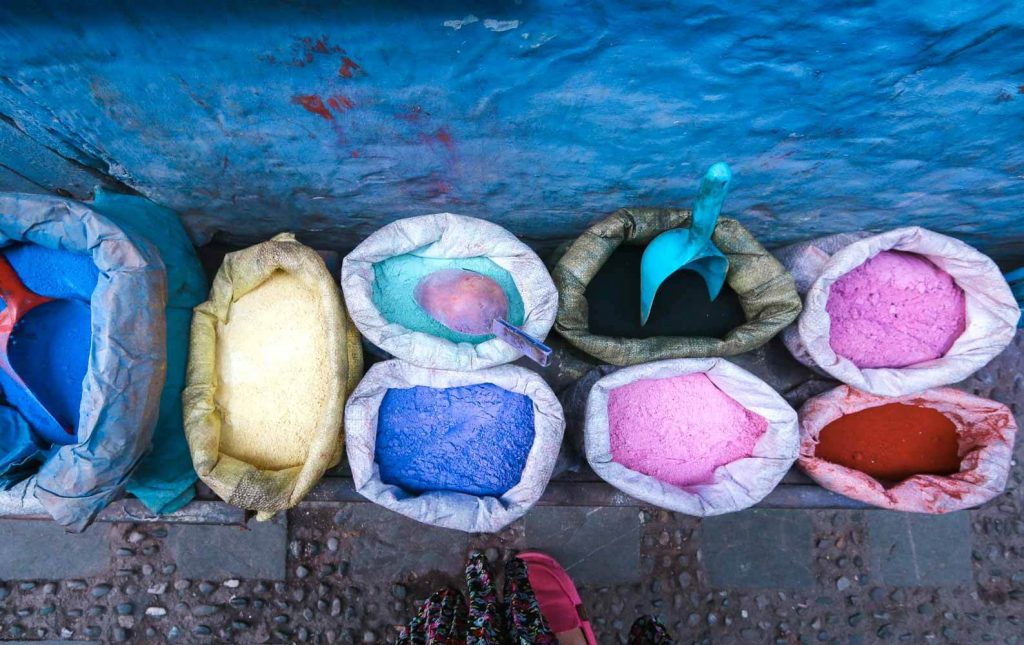 Once you get tired of all the shopping, I suggest you go up the Spanish Mosque to watch the sun setting down and lighting up the city with its tender rays.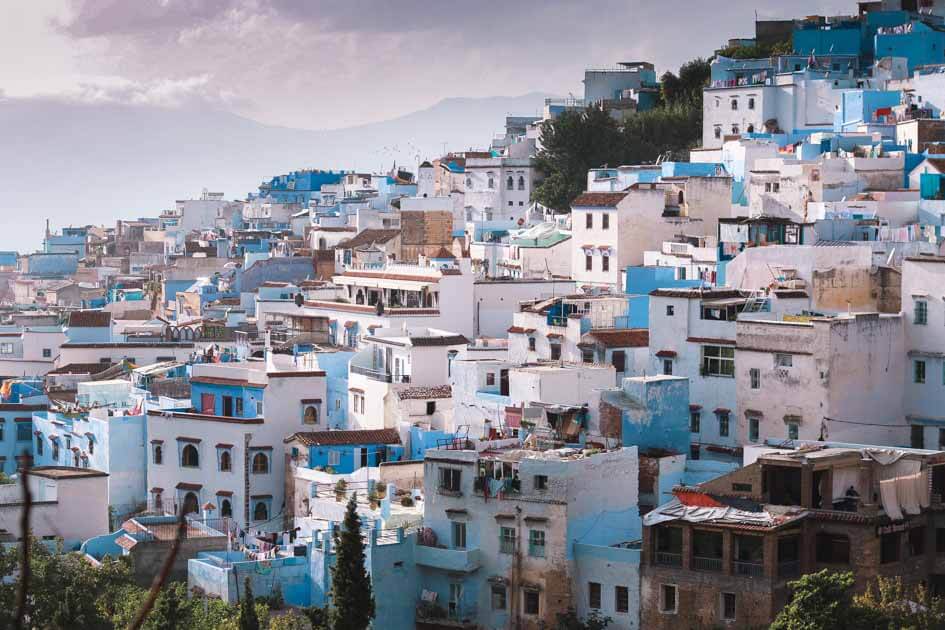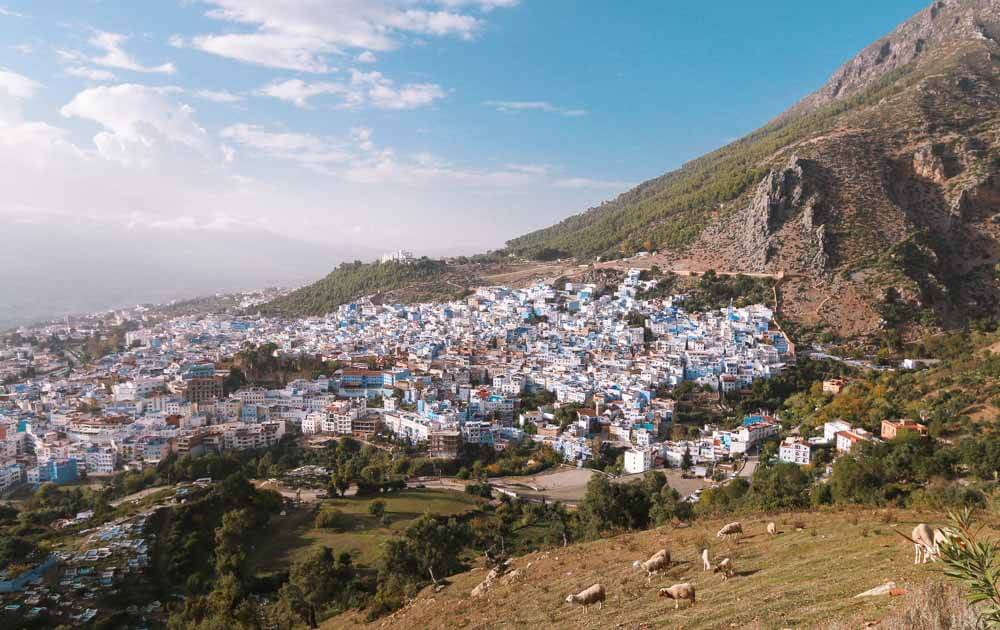 Day 7: Wake up in Chefchaouen and head to Tangier, the last stop
I never actually got to Tangier, though I really wanted to. But I was simply running out of time. My flight was back from Marrakesh, so I spent the last day in a train from Fes to Marrakesh. But if you have the option to fly out from Tangier it will be a perfect last stop.
Tangier is an important port city on Gibraltar, just a short ferry away from Europe.
Things to do in Tangier:
Hit the beach, after all, this is why people come to Tangier!
Climb the Kasbah to see if you would be able to spot Spain across the ocean
Stroll through Tangier medina, which is smaller than that of Fes or Marrakech
Like It? Pin It!