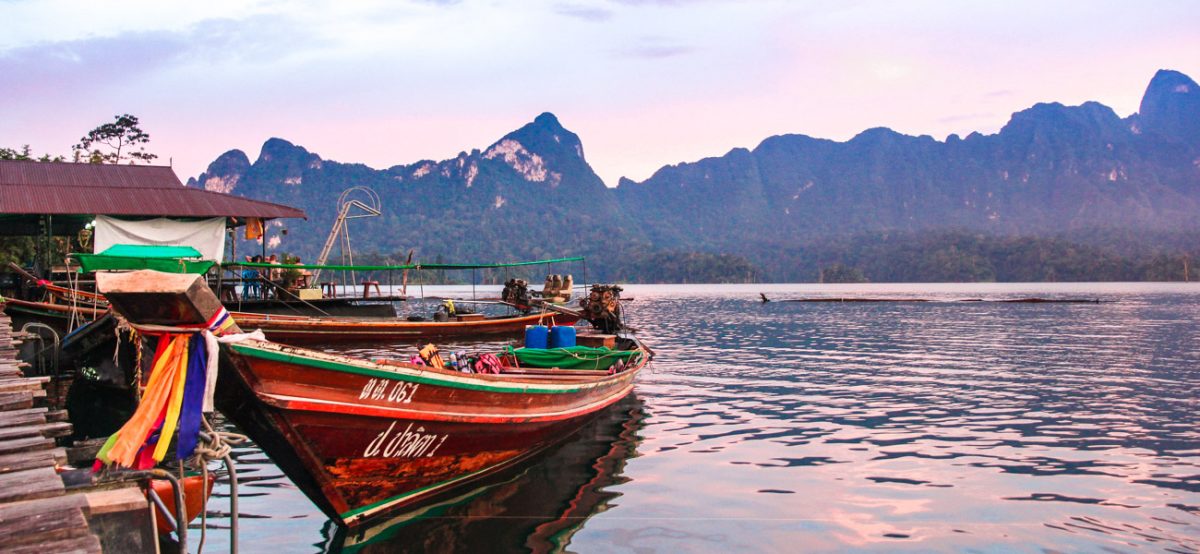 This post may contain affiliate links. I receive a small commission at no cost to you when you make a purchase using my link.
Thailand wasn't the destination that got me all excited, simply because it is one of the most visited 'exotic' areas where each and every 'traveler' goes to or buys a one-way ticket to in order to start their 'I'm officially a full-time traveler' story.
But it happened so that I got an opportunity to travel to Thailand, and by that I mean I found a cheap ticket covering Malaysia – Thailand using Momondo search engine.
Desperate to find a beautiful place not overloaded with tourists, I paid attention to a big gorgeous lake in the middle of Southern Thailand called Cheow Lan. Surely, people coming to Thailand won't go for the lake if they have beaches everywhere, right?
This area caught my eye simply because it looked absolutely unreal, like something where people creating Avatar movie would take inspiration from.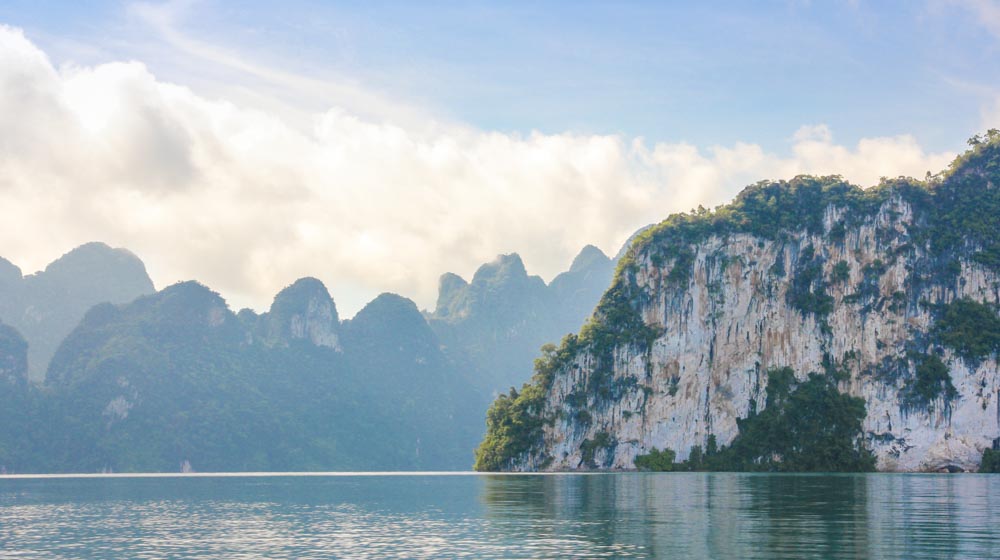 This lake turned out to NOT be a natural marvel, but a pretty much artificial lake created as an outcome of dam construction for the purpose of power generation within the borders of Khao Sok National Park. The evidence of this area being a forest in the past is seen even now, with the sceneries of the remaining trees sticking out of the water.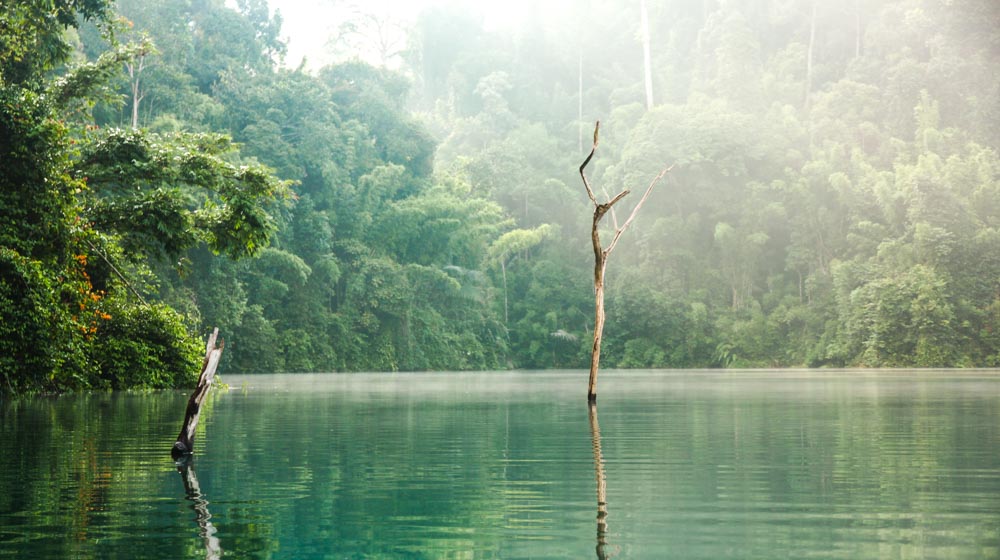 How to get to Khao Sok National Park?
Our way to Thailand was coming through the travel path of Malaysia and Singapore. From there we flew into Surat Thani airport, where we took a 3-hour bus that brought us to the village nearby the national park. The driver dropped us off at our reserved stay at Monkey Mansion Bungalows. Situated in the midst of forest area itself, the bungalows were a great place to chill in hot Thai weather.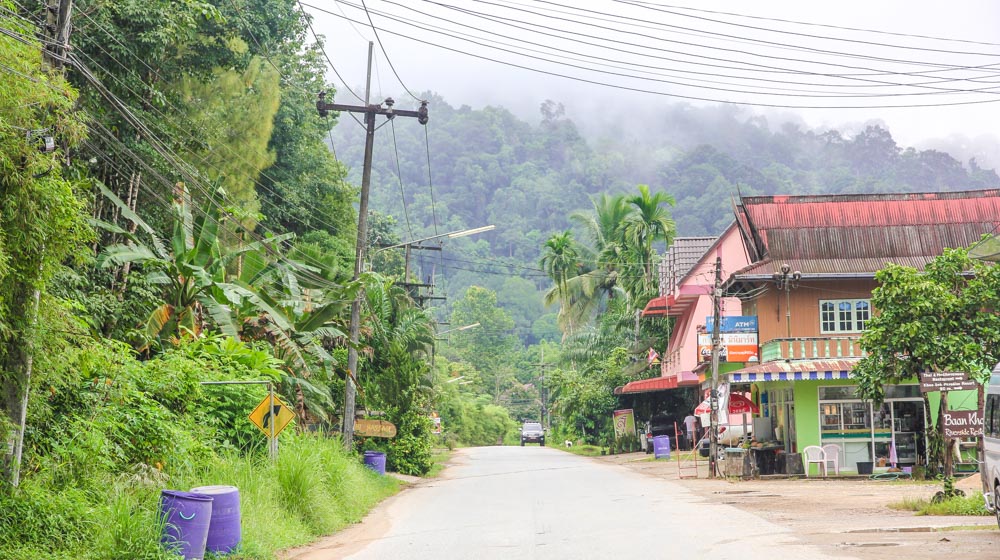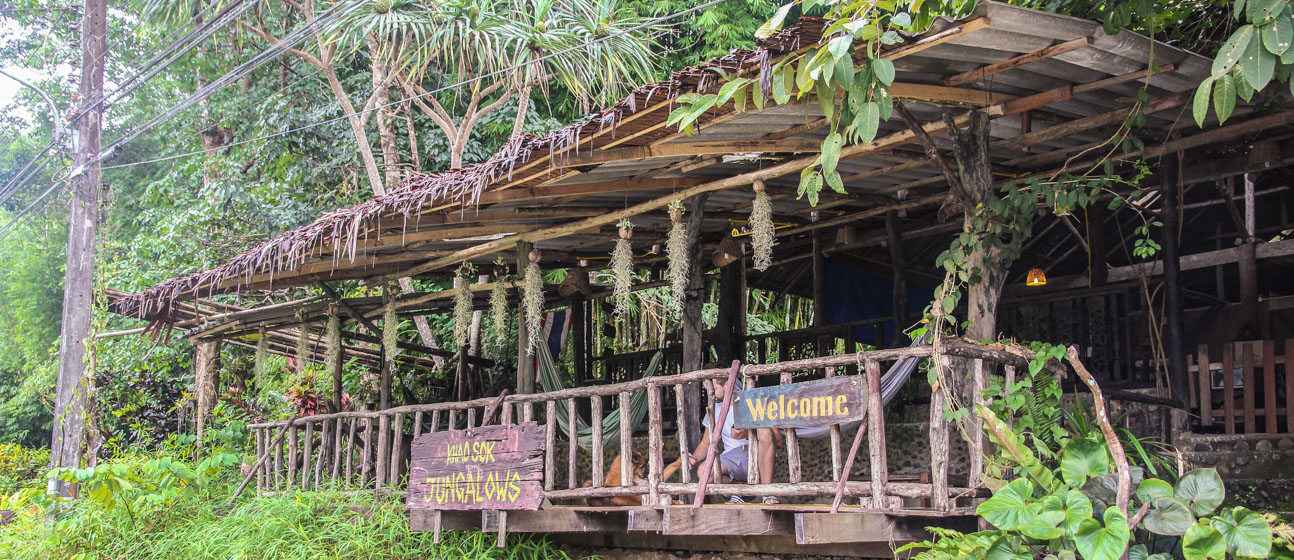 For the small price of only 11$ a night you get a two-person bungalow and a massive front yard equipped with hammocks, canteen and super sweet hosts willing to get you anything you need. I could stay here already, but it wasn't the plan.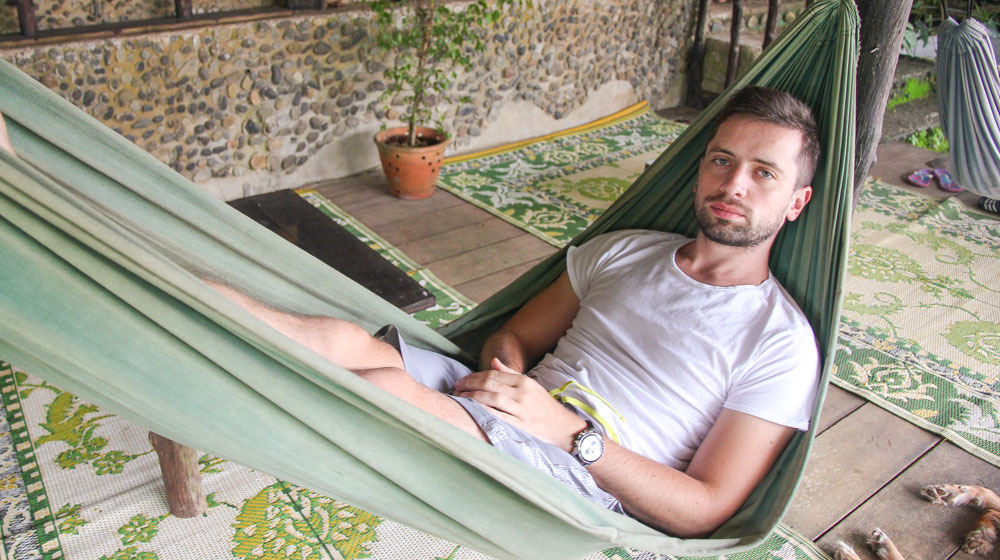 The plan was to enjoy the Khao Sok national park by staying right in its heart – the Cheow Lan lake. Therefore, we abandoned our cheap and absolutely lovely Monkey Mansion Bungalows and booked an expensive (by Thai standards) 2 days 1 night Khao Sok national park tour.
For the price of 65$ pp, the tour included transportation to and from the national park, overnight stay at floating bungalow, food, and some tours. You have the possibility to book the stay at Smiley Bungalows by yourself for only 1000 Bht per night (including meals), but then you have to arrange the transportation by yourself, which adds up to be more expensive anyways, so we just went with a tour.
Khao Sok Floating Bungalows
I dreamed of staying in one of those floating bungalows forever and this was a perfect opportunity to do it.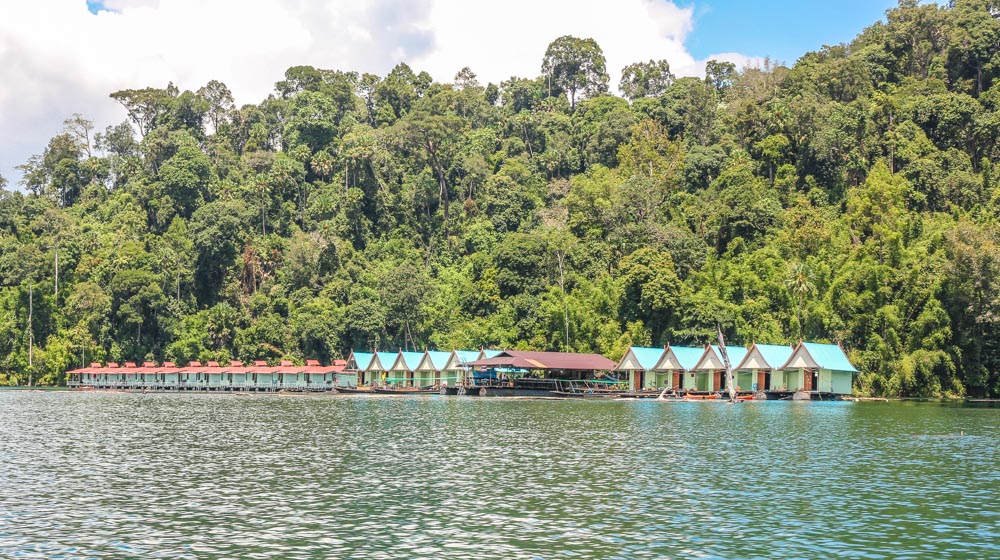 Of course, when you are booking a tour, they will make sure you are not getting bored by simply sitting in your floating bungalow, which I didn't mind at all, so they will pack your day with activities.
What's included?
Transportation to and from bungalows. The transportation by typical Thai long tail boat is already worth the trip itself. Wouldn't you pay money to simply take a cruise in between these majestic rocks? 
You also get 3 authentic Thai meals a day, enjoying them in the open fresh air.
An experienced guide will take you for morning and evening boat safari across the lake in an attempt to see local animals. Though we haven't seen any, the rides were fantastic!Misty morning weather…
You have a possibility to take a questionable cave tour, where you have to be prepared to swim through rivers and find your way in the dark cave, which could be filled with snakes or spiders or what not, you still won't see them in the dark. Take your courage with you for this one. We were much happier once we got out of the cave…alive!
Mountain trekking tour on the way back where you can see snakes and spiders in the cave on the top.
To be honest, I passed on this tour after a rather interesting experience in the wet cave, so, together with other 5 people we stayed waiting in a floating station in the middle of the lake, which was fascinating in itself.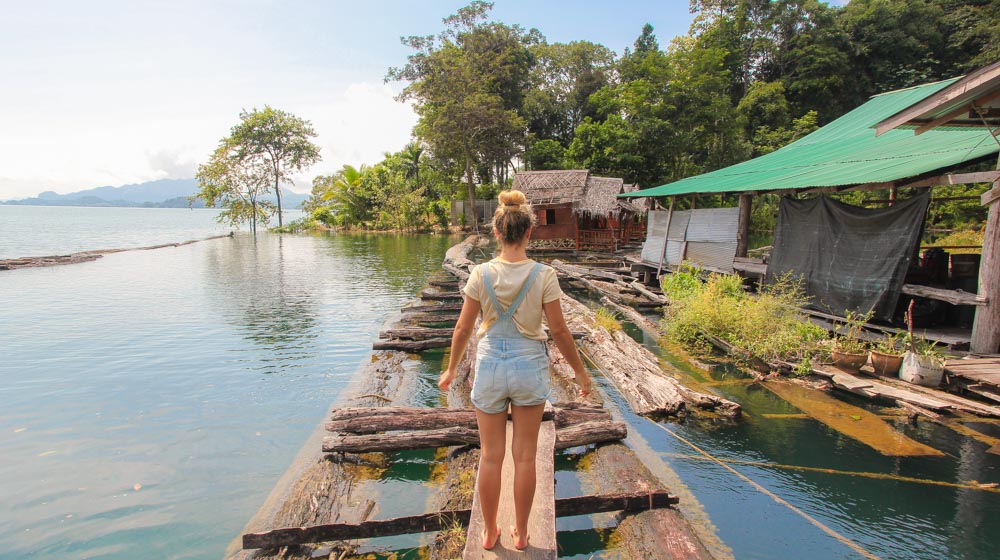 We had long tail boats all to ourselves.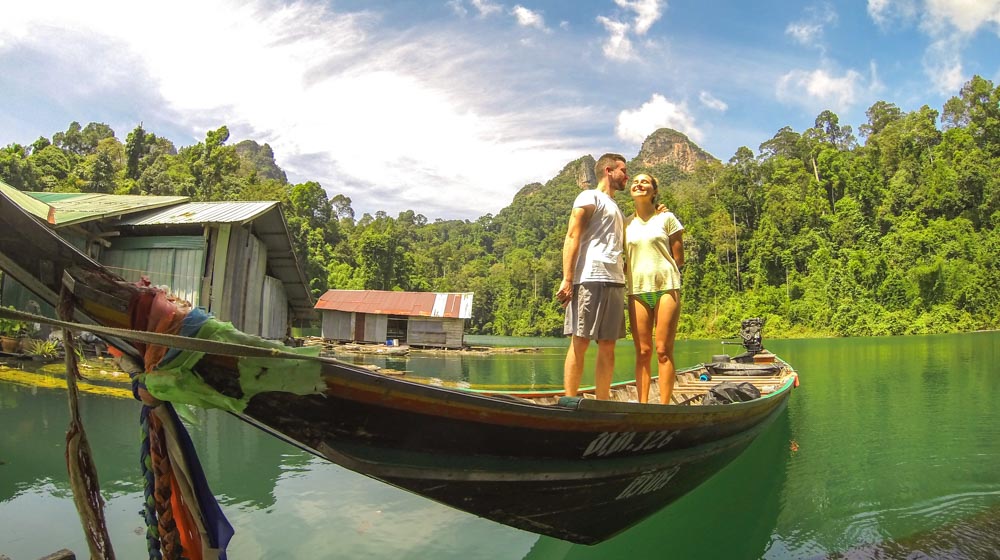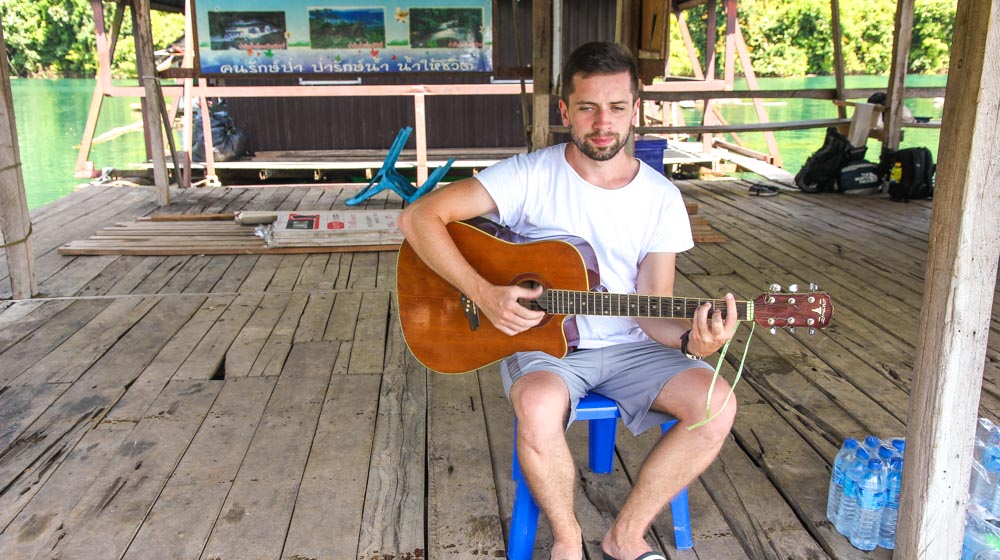 I spent a lot of my time simply being by the water with a book in my hands.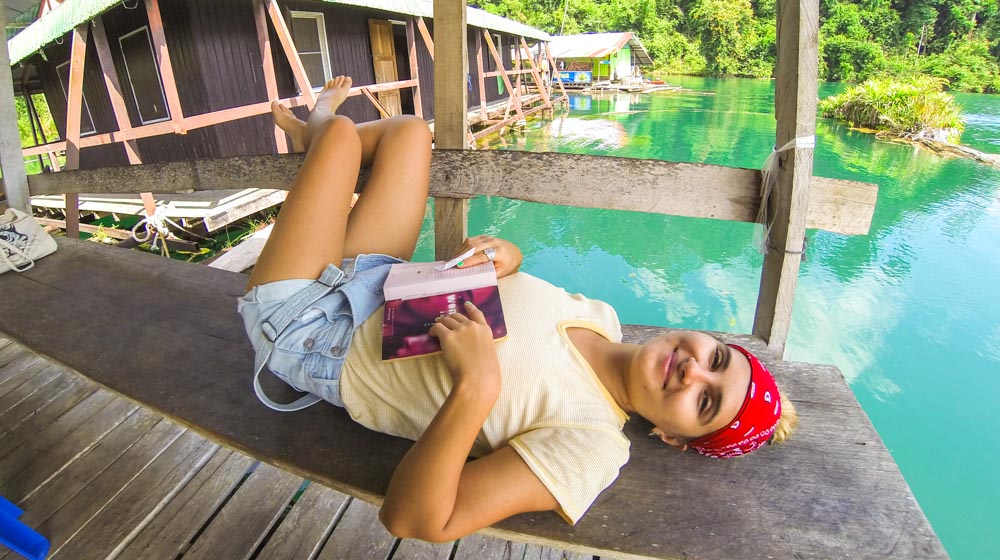 We discovered that people actually lived here, in one of these houses.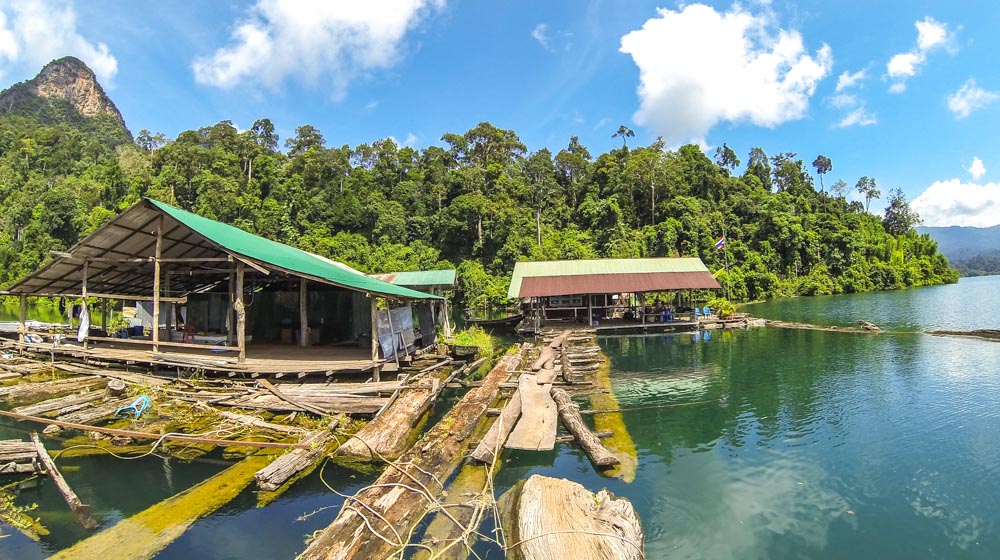 And this little Thai boy who lived here went to school by taking a boat.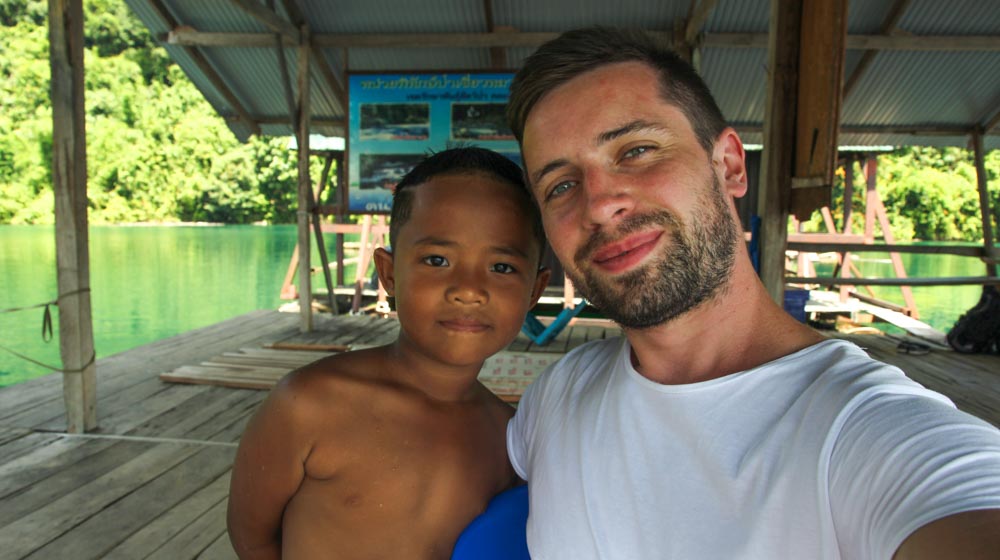 Fascinating, how different life is for kids that grow up here.
Why Khao Sok is better than any other place in Thailand?
For one, there is absolutely no-one and no-thing, for that matter, because you are pretty much stuck in the middle of a big lake on a floating little house.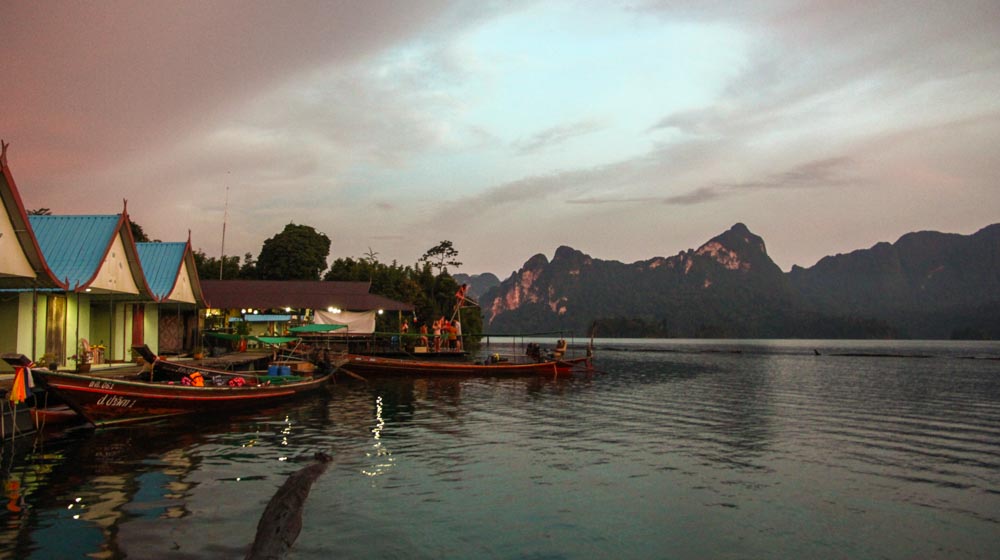 Second, it is absolutely stunning! It's amazing to come out of your room and see the calm morning water or velvet sunset in front of you.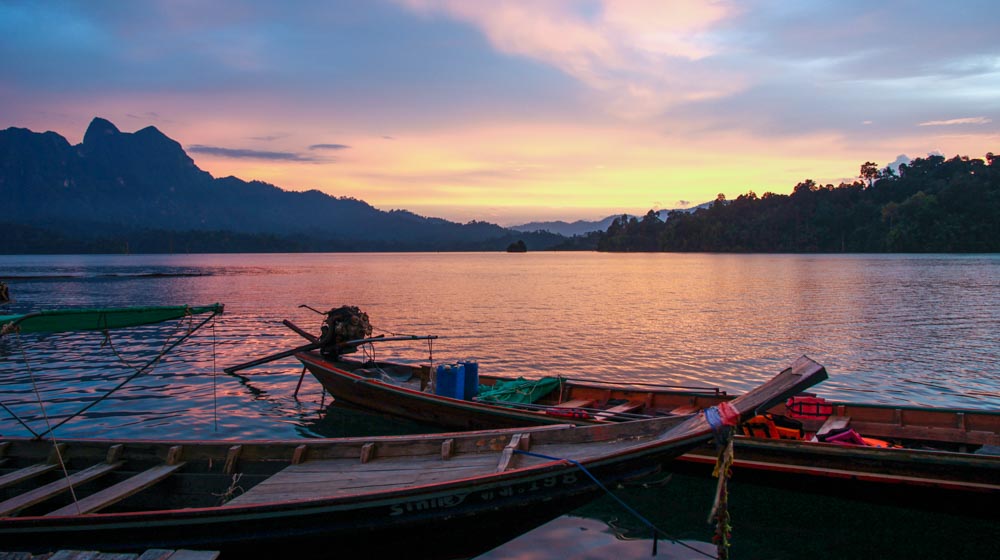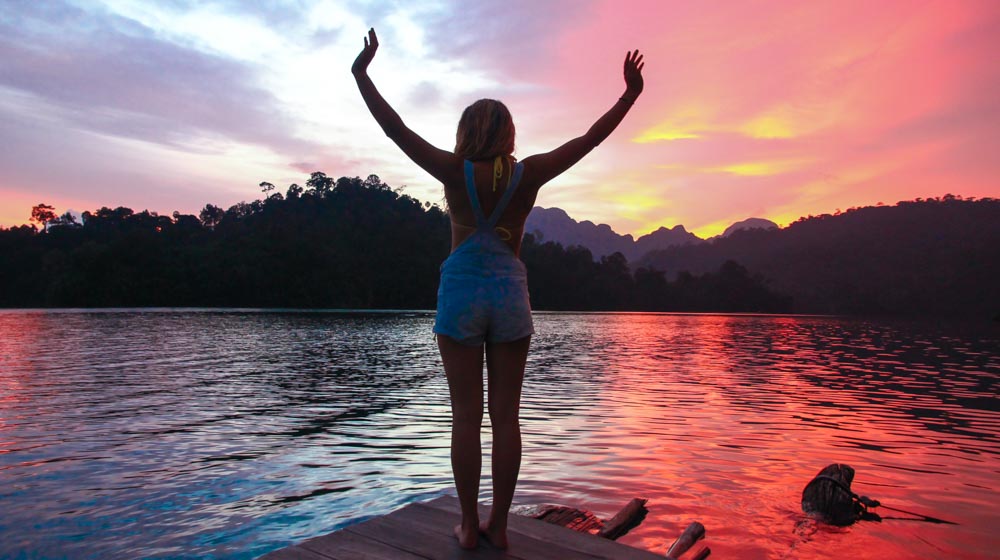 Third, the water temperature is perfect for swimming, it is not salty and it serves as a very refreshing escape from the Thai tropical sun. It's like having a possibility to jump into the ocean after steaming hot sauna.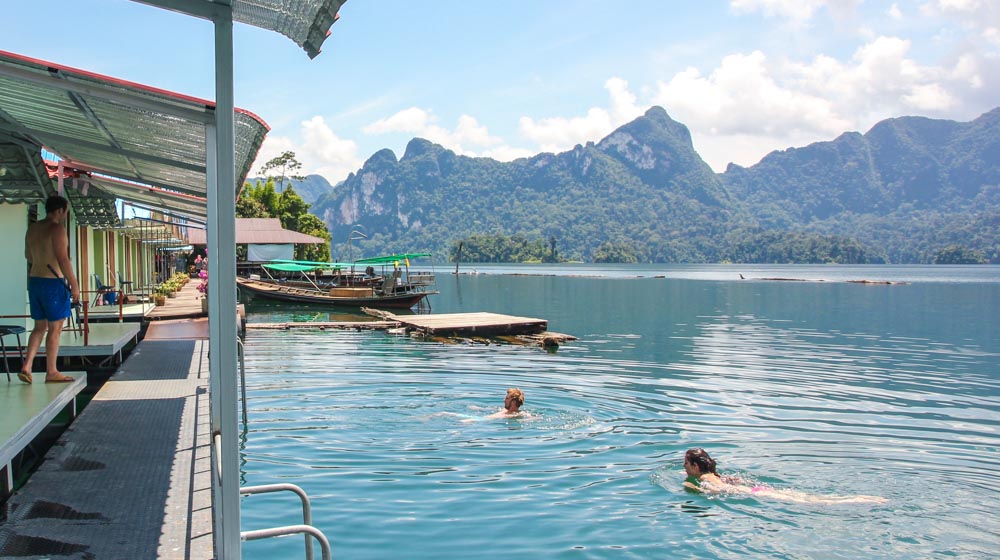 Wrap Up
Stay at Khao Sok national park is a great escape from the crowded touristy beaches of Thailand, which is the trademark of 'exotic' Asia. It was secluded enough to rest from the busyness of the world, but also inclusive enough to still have fun interactions with people who were literally in the same boat as you.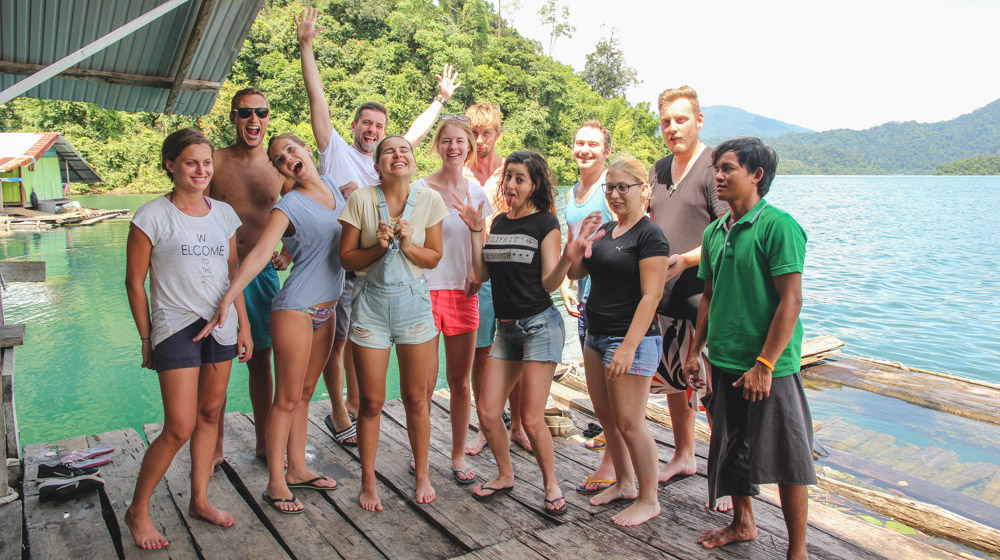 Further reading: Where to Visit Elephants in Thailand?
Like It? Pin It!


What would be your preferred vacation: crowded beaches or remote forests? Share your thoughts in comments below.