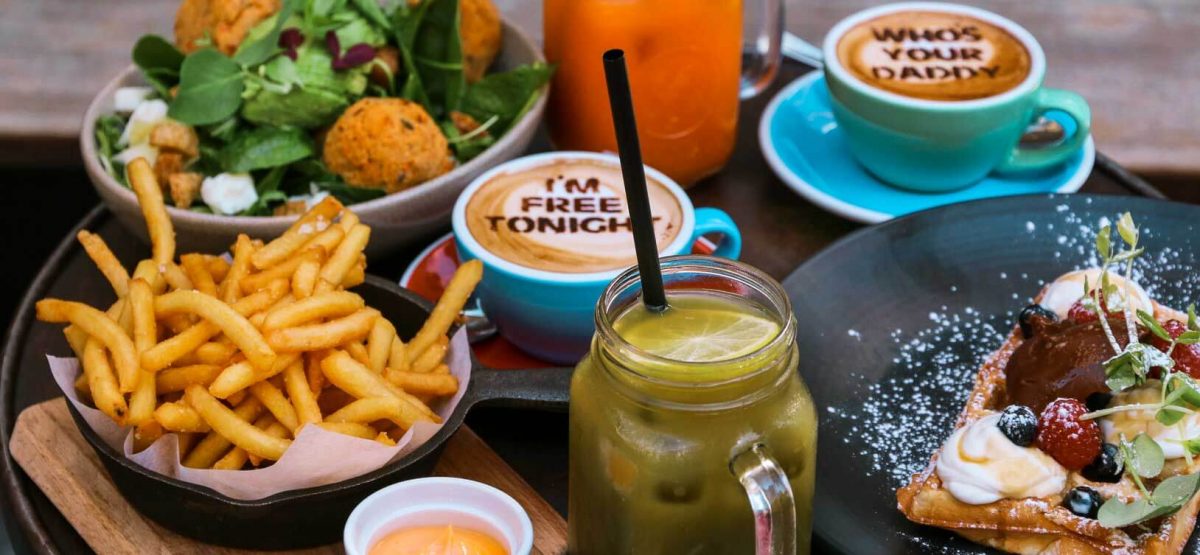 This post may contain affiliate links. I receive a small commission at no cost to you when you make a purchase using my link.
Copenhagen is nothing if not a brunch-friendly city. My tradition to go out for morning food on Sundays forced me to uncover some amazing spots for having the best brunch Copenhagen has to offer. Most of the brunch places in Copenhagen are photo-friendly too. Let's get our hands on some of the best places for brunch in Copenhagen!
Copenhagen brunch map
Here is the map of the best cafes in Copenhagen for brunch for your trip. You can open it with your Google account and it will be saved under "Your Places", which is very handy once you are on the spot!
Where to brunch København K (old town)?
Union Kitchen
Union kitchen is one of the most hipster Copenhagen brunch spots. Their signature coffees are served with printed memes or catchy phrases to kick-start your day with a funny joke. Once you are here on a sunny day, grab a seat outside, otherwise, there is plenty of room inside too.
Must try: salmon balls, brunch plate, and signature coffee
Average brunch plate price: 175DKK (25$)
Address: Store Strandstræde 21, 1255 København K
Far's Dreng
Far's Dreng or the "Daddy's Boy," as the name states, is a homely Copenhagen cafe with the best selection of brunch food imaginable. As mentioned on their website, don't be surprised by flowers sprinkled on the food, as it attracts the chicks 😉
Must try: Danish smørrebrød in modern style
Average brunch plate price: 110DKK (16$)
Address: Rosengården 12, 1174 København K and Ny Adelgade 7, 1104 København K
Royal Pancake
Royal Pancake is a cute and cozy little crêperie made with love. It is centrally located right next to Nørreport station and offers a long menu of crêpes from original and sweet to salty and savory.
And if pancakes are not enough for you, there is more you can find on a menu, such as traditional brunch platters and tasty roasts on sourdough bread.
Must try: a tall stack of fat American pancakes
Average brunch plate price: 140DKK (20$) or 37DKK for a crêpe
Address: Fiolstræde 27, København K
Paludan Bogcafe
Paludan book cafe is not visited for its brunches per se, but for its unique selling point, being the oldest book cafe in Copenhagen. Of course, they also serve brunch as well as other meals throughout the day. Popular among students, here you can have your delicious meal surrounded by old history books and maybe even read something?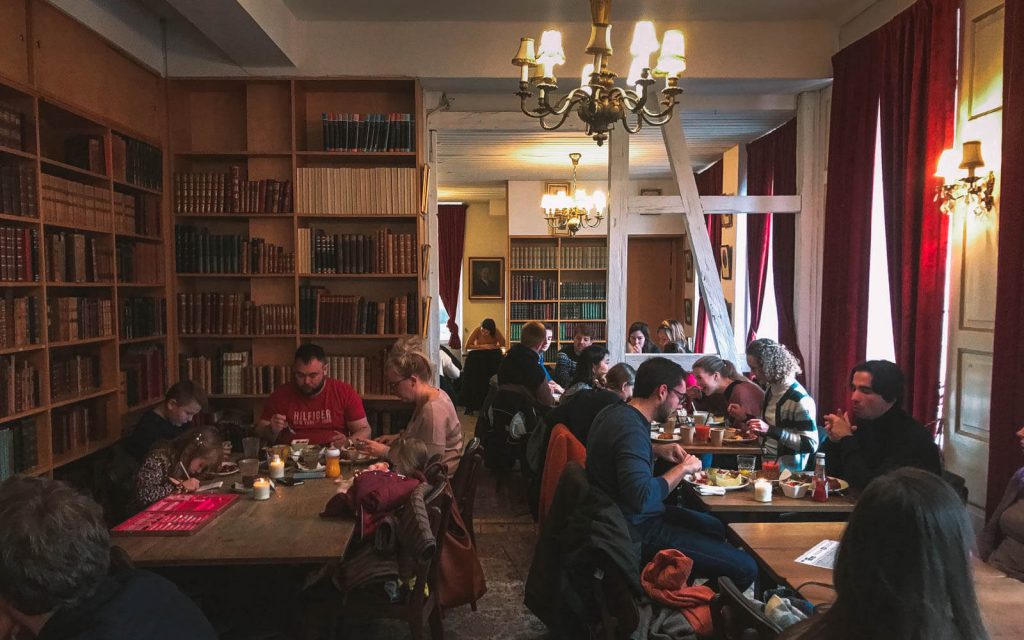 Must try: Salad chevre chaud, brunch plate
Average brunch plate price: 109DKK (16$)
Address: Fiolstræde 10, 1171 København K
Where to brunch Christianshavn?
Organic Boho
This cute tiny brunch Christianshavn cafe prides itself to be 100% organic and plant-based, making it one of the best vegan cafes in Copenhagen. Organic Boho serves probably the most colorful food you would be able to find anywhere in the city. Order their Rainbow Brunch and see for yourself!
Must try: Rainbow brunch, rainbow latte
Average brunch plate price: 179DKK (26$)
Address: Prinsessegade 23, 1422 Christianshavn
Where to brunch Nørrebro?
Ravnsborg
Comparing to others, Ravnsborg is a spacious place for brunch in Copenhagen. So there is a good chance you'll get a seat even if you show up without a reservation on a busy weekend.
Here, you'll get a sense as if you are dining at a bar rather than a sleepy breakfast cafe: dark wooden tables, metallic chairs, and an actual bar with a barman, everything that says rustic loft style. Which is fair enough, since it is called a kitchen bar for a reason and they are not doing only brunches, but serve dinners and cocktails in the later hours.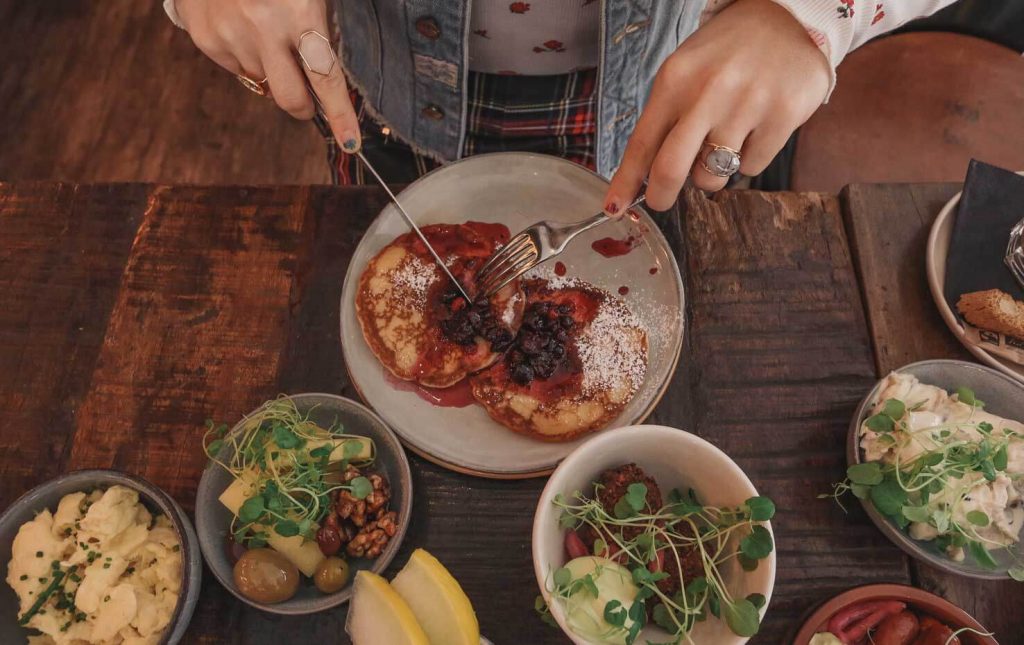 Ravnsborg offers an amazing selection of plates to choose from. The portions on single plates are not big, but when ordering a few you'll get full pretty quickly. There are many options to choose from for any diet: light fruit salad and yogurt with chia seeds, eggs, and avocado plates, a Danish cheese platter with nuts and honey, pastries and pancakes for the sweet tooth or sausages and bacon for the meat lover.
Must try: brunch platters
Average brunch plate price: 139DKK ($20) for 7 plates
Address: Ravnsborggade 1, 2200 København
You might enjoy reading: One Day in Copenhagen – Your Walking Itinerary
Sidecar
Sidecar offers a special weekend brunch served fresh from chef to table. Come here for a chilled rustic atmosphere in the middle of a multicultural neighborhood. Stay a bit longer after brunch and taste amazing Taiwanese sharable foods that go in smoothly with cocktails.
Must try: Sidecar brunch plate
Average brunch plate price: 155DKK (23$)
Address: Skyttegade 5, 2200 København N
Social
Cafe Social is conveniently located right next to the most beautiful area of Copenhagen – Copenhagen lakes. Their generous portions made with mostly organic food will definitely leave you satisfied. Stopover for a big green salad or a classic brunch plate.
Must try: quinoa porridge, salmon salad
Average brunch plate price: 129DKK (19$)
Address: Peblinge Dossering 4, 2200 København N
Where to brunch Frederiksberg?
Mad og Kaffe
Mad og Kaffe is probably one of the most famous Copenhagen brunch spots, which gradually developed into a chain, therefore, it might be crowded at times so it might be a good idea to reserve a table.
The concept is based on getting a set of plates (3, 5 or 7) to construct a full meal according to your liking and stomach size. Plates have Nordic classics, such as smoked salmon, soft cheese, avocado, and scrambled eggs.
Must try: smoked salmon and butter croissant
Average price per brunch: 135DKK (20$)
Address: Sønder Blvd. 68, 1720 København V, Tyrolsgade 6, or 2300 København S or Godthåbsvej 45, Frederiksberg
Cafe OHA
Cafe OHA is eye candy for green-lovers. Not only will you get a healthy selection of morning and lunch food, but will rest amidst some big plants. The interior is spacious as it is modern, ending up as a pleasant place to spend your first half of the day.
Must try: Supper Brekky brunch plate and a poke bowl
Average price per brunch: 139DKK (20$)
Address: Finsensvej 29, 2000 Frederiksberg
Where to brunch Amagerbro?
Natur Tørst
The name "Natur tørst" which stands for "nature-thirsty" gives you a good hint towards their food concept. If not, then their motto "Drink nature, experience health" might definitely do it. Their menu is constructed of superfoods rich in vitamins and antioxidants (at least so they say!).
You can build your own superfood bowl out of ingredients such as quinoa, spinach, edamame beans, chicken, tofu, avocado, etc. Or order a nature-bright brunch plate that will be meant for your eyes (or Instagram) as well as your stomach.
Must try: superfoods juice and brunch plate
Average brunch price: 128DKK (19$)
Address: Amagerbrogade 138, 2300 København S
Kongedybet
Kongedybet cafe hidden in small streets of Amager might not be a very popular Copenhagen brunch spot, but is truly one of my favorite places to go (maybe because I live nearby :D).
It has a pleasant interior and offers a selection of brunch plates. You create your own brunch with a combination of 4, 5 or 6 items from the categories of food, such as cheeses, vegetables, dairy, fruit, meat, eggs, fish, and dessert.
Must try: make-your-own brunch plates
Average brunch price: 149DKK (22$) for 6 plates
Address: Kongedybet 28, 2300 København S
Where to brunch Vesterbro?
Grød
Grød is a special brunch place in Copenhagen as their main specialty is porridge! But don't dismiss it yet, this might be the best porridge you will ever have, as it usually comes with crunchy almonds, caramel sauce, and fruit. If allergic, you can pick your own ingredients!
Must try: Oat porridge
Average brunch price: 55DKK (8$)
Address: Stand A8 17 Linnésgade København K or 50 Jægersborggade København N or Vesterbrogade 105 København V
Where to brunch Østerbro?
Baryl
Baryl cafe is great at creating food that you can swallow with your eyes alone! Their colorful Blogger Plate will definitely end up on your camera right before it ends up in your tummy.
But do not miss the possibility to try one of the colorful drinks too. My favorite is green and foamy matcha-latte.
Must try: Blogger plate, stuffed papaya
Average brunch plate price: 119DKK (17$)
Address: Århusgade 78, 2100 København Ø
Where to brunch København NV?
Bista Breakfast and Crepes
Out in the outskirts of Copenhagen and just a show walk away from a must-see Grundtvigs Kirke and Copenhagen cherry-blossom spot Bispebjerg cemetery is a small creperie called Bista. Apart from their main specialty – various crepes with sweet or sour filling, you can also go for a plate-based brunch option with a selection of eggs, raw salmon, avocado plates and more.
Must try: Salmon crepe
Average brunch plate price: 120DKK (18$)
Address: Smedetoften 25, 2400 København NV
Like It? Pin It!