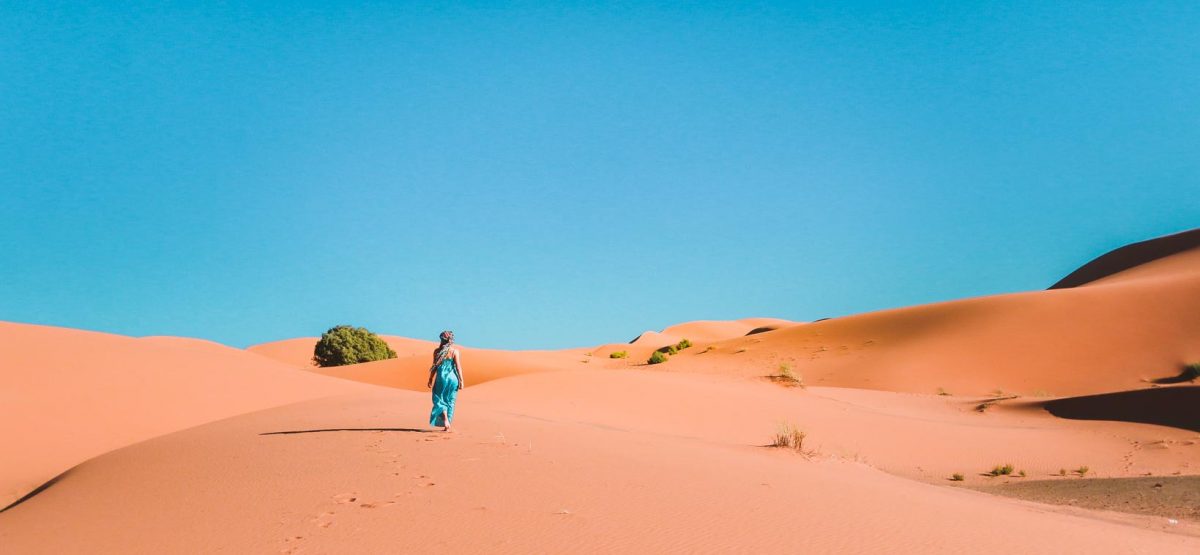 This post may contain affiliate links. I receive a small commission at no cost to you when you make a purchase using my link.
Finally, I made it to Morocco, a country that has been on my bucket list for the entire year. Like all things 'visa' in my life, getting my documents sorted to travel to Morocco was a lot of drama. For most people, visa is not required but since I am traveling with a Ukrainian passport, I am pretty much bound by a lot of rules. Applied back in March, I received my final visa in September: just some 6 months of waiting and forgetting all about it, until I really needed to go to visit the TRABLIN travel conference in Marrakesh. And that's when my solo travel in Morocco finally took off.
There is an endless amount of guides for solo female travel in Morocco telling you everything from how to dress to where to travel and how. My story is based on personal lessons learned and it might be full of subjectivity but that's where the actual experiences come from.
A lot of girls travel to Morocco solo every year. True that, as it is one of the most dazzling, vibrant and beautiful countries I have ever visited. It is truly worth taking a trip to. So let's dive into somewhere sarcastic and at times dead serious life lessons and takeaways from my time traveling alone in Morocco.
Is Morocco safe for women traveling alone?
There are many answers to this question, and while most girls say it is completely safe, I'll be honest with you – I'd feel more at ease traveling with a male companion. Sounds so anti-feminist, right? Regardless of your political views, reality stays the same. Nobody hurt me in Morocco, nor was I in real danger, however, at times it sure as hell felt as if I was! Whether anything bad would end up happening to me or not, we'll never know, because nothing did, but a lot of times during my trip I felt rather uneasy from the fact that I travel all by myself without the knowledge or either Arabic or French.
Disclaimer: This post is based on my personal opinions and might not represent all of Morocco.
Lesson 1. Moroccan Medinas
How can Morocco be so beautiful and so hectic at the same time!? With the first views of Marrakesh from the taxi window that drove me from the airport, I loved it. The city is so full of tidy and perfectly cut greenery that combines so well with pastel dark pink, the shades of all buildings in Marrakesh.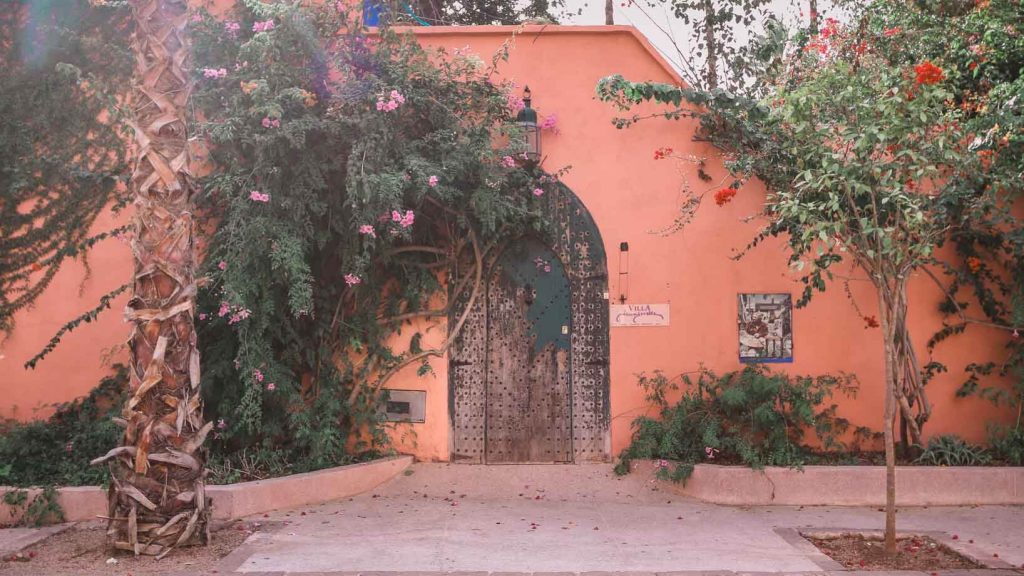 It was my first time in Africa and it was excitingly unfamiliar. After seeing the same old town city styles of Europe, Morocco made travel exciting again. The new language, new social rules, and new food.
Medinas are the whole new experience of being in the city. Just so that you understand what I am talking about, imagine the old day cities surrounded by tall city walls that guard the inhabitants from all sorts of dangers and uninvited guests. Well, the medina is what's inside the city walls, with an additional factor of very narrow streets where cars can't drive because they simply won't fit.
So, the taxi driver took me from the airport to the city gate closest to my hotel. This is where he dropped me off, leaving me and my noisy wheel suitcase with another 10-15 minutes walk to my riad.
It was midnight and I had no idea where I was going. This was the worst time to be arriving at Marrakesh. Streets are empty apart from some groups of men randomly hanging out by the closed doors of the shopping street.
Let me stress this: GPS sucks in Marrakesh and Fes medinas! It is confused and constantly slips from the correct path. So, whoever refers to medina as 'a maze' truly knows what they are talking about.
You need to know exactly where you are going. Otherwise, the dozens of men hanging around will try to "show you" where to go. Making a lot of noise with my wheeled suitcase, I obviously drew a lot of attention. During these 15 minutes I've heard everything from "where you from?" and "hello beautiful" to "let me show you where to go" and "fuck you, bitch!"
Entire life runs in front of your eyes as you anticipate that someone will finally corner you and either take away your valuables (in the the best case scenario) or rape and kill you in the more pessimistic one.
Lesson 1 takeaway:
The best strategy to avoid unwanted attention is to pretend you know where you are going, don't make eye contact. Look straight ahead or down.
Avoid arriving after dark at all costs! Plan ahead and make sure your ticket lands you well in time. It is better to fight off shopping attacks of the merchants than midnight proposals of the strange men.
If the stars ain't right and you end up arriving at night, call your hotel or riad and ask to pick you up at a gate. They will not say no.
After living through this little near death experience, Marrakesh in general gives positive vibes and acts like candy for your eyes.
Lesson 2. Moroccan Guides
The tale of Fes tanneries
Let me tell you the tale of Fes tanneries. More specifically, about how me and two other girls I met through travel attempted to see the famous Chouara tannery of Fes, which is listed in many places as a must-see.
Officially, the tanneries are just the working sights for people who give color to leather, so it is not meant for sightseeing but since the process is interesting, it attracts crowds, of course. Therefore, there is no official entrance or a guard that will let you in. You can see tanneries from the balconies or rooftops of a nearby building which you can generally access through souks.
When we arrived (and you'll know when you're there because it smells terrible), we went straight down the stairs to the working sight. Noticing our mistake, we quickly spotted the stairs leading up to the viewing terrace and tried to go up to not be in the way for workers. But "NOT SO FAST" caught up with us.
The moment we tried to get up the stairs for the best views, we were approached by two men who angrily started demanding money (50 dirhams each). First, I was confused, as I was sure the tanneries were free to see. Taking advantage of the confusion, men claimed they were guards at the sight shoving their documents into my face while cornering us. I was so repulsed by this behavior, not because I didn't have the money, but because they were so aggressive (I swear, I could see spit coming out of their mouths as they screamed). I didn't even want to talk to them, let alone give them anything. They gave us no possibility to consult or think, and I quickly decided that they will have nothing from me.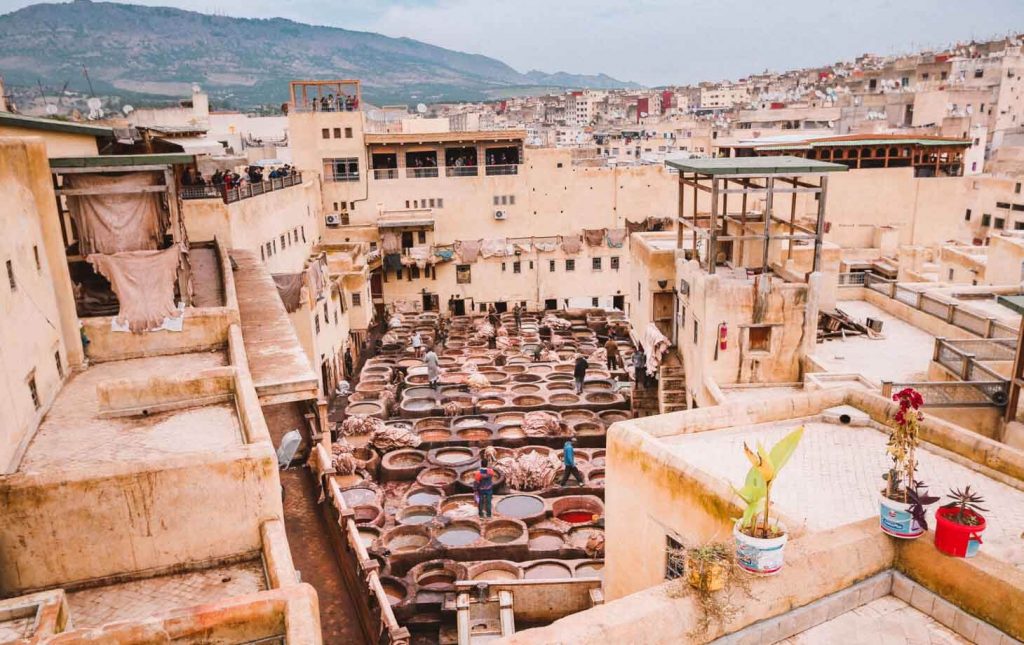 I was determined to not encourage this type of behavior, especially using intimidation to get money out of confused tourists. As I turned my back to find the way out, the demanded price suddenly dropped to 20, but I wasn't going to negotiate with an attitude like that. Which turned out for the best, since on our way out, we saw another entrance to the tanneries through the souvenir shop, which gladly let us in for free simply asking to browse through their items. We thanked them politely and left without being forced to buy anything.
The blue city guide
On the other hand, during my short day trip to Chefchaouen, I had no one to travel with, so I ended up traveling solo in Morocco for real. Strolling through the endless blue city was fun, but there was no one to take the pictures with, so I went with the thing I never thought I'd do – I decided to pay for a local 'guide'.
I saw this young guy who was taking pictures for Chinese girls and they seemed pretty happy, so I agreed to his solicitation to show me the best spots of Chefchaouen for a tip. Within the next hour or so, he walked me through all the most picturesque spots in town, offering to take shots of me with my camera. At first, I was afraid he'll just run off with it, but he seemed decent and much more interested in the cash tip than my Canon. There is no way I would have discovered all of those beautiful hidden spots by myself on my very limited day trip, so I ended up very happy with the deal. I paid my guide 50 dirhams (roughly $5) and left satisfied with my collection of blue city pics.
Lesson 2 takeaway:
Do not encourage the racketeering tactics of angry people who spoil the reputation for everyone and just walk away from them.
If you need a guide, get the one who is doing it property. In Morocco, only licensed guides are allowed to walk around with tourists, so feel free to ask for their identification card to make sure you have a legit person who is trained to be professional guide for foreigners.
Lesson 3. Fashion Choices
I'll be straight with you and say that there is no 'law' on how to dress in Morocco and you might be fine wearing shorts and a crop top, however, there is a catch. Would you want to do that?
My guess would be no.
Preparing for my trip, I made a Morocco packing list consisting of long summery dresses, linen pants and all other light things you want to wear when you are in Africa.
Regardless of how modest you dress, the attention you get on the street from being a tourist is overwhelming, to say the least. You get solicited by shop owners, tour guides, children, and just random people who pass by. Most of this has nothing to do with how you are dressed but with you visibly being a tourist. Even if you are that kind of girl who likes attention, Moroccan medina style is way too much. Therefore, wanted or not, after a week in Morocco, I ended up covering myself from top to bottom to be as less noticeable as it is possible. And yes, a wore a headscarf too, to cover my blonde dyed hair. It actually worked to some extent and I could walk the streets in much more peace.
Lesson 3 takeaway:
Moroccans are not policing or judging you by the way you are dressed.
You might end up want to dressing modestly anyway in order to escape the unwanted attention and solicitation on the streets.
So, those were my 3 lessons learned from solo travel in Morocco. Of course, it is not an absolute truth and others might have a different experience traveling alone in Morocco. In either case, I hope you found it helpful in preparation for your trip.
Like It? Pin It!