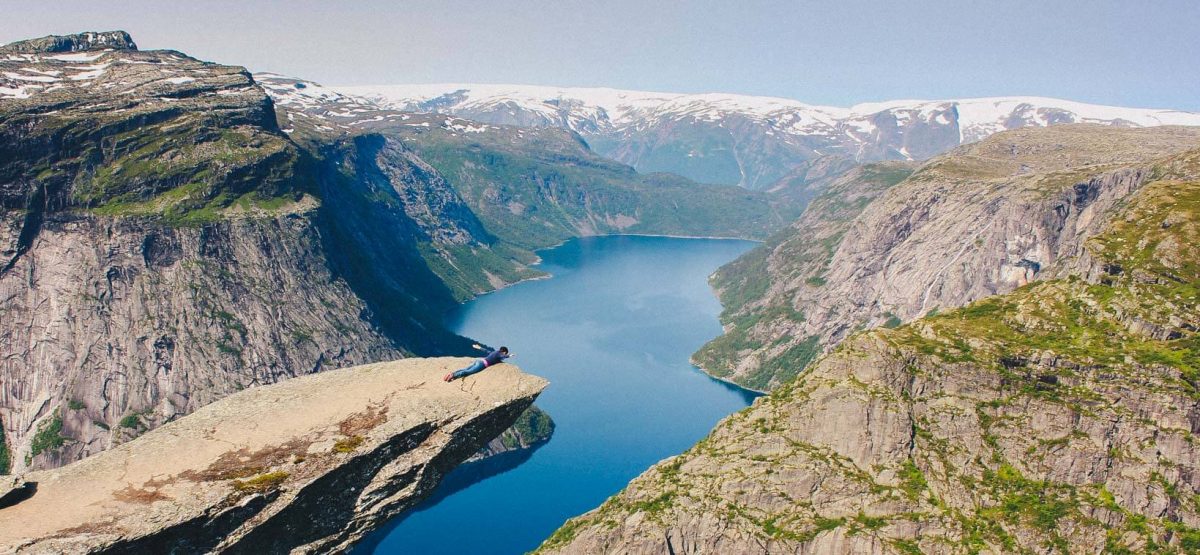 This post may contain affiliate links. I receive a small commission at no cost to you when you make a purchase using my link.
If you have any interest in hikes or Norway, chances are you have already heard about Trolltunga hike. With sudden increase of visitors due to its picturesque view of rock formation sticking out between the fjords, Trolltunga hike became the most popular one in Norway. Around 80,000 people do this hike yearly.
In this article, you will find a Trolltunga hike guide with everything you need to know before, during and after you start the Trolltunga trail.
Trolltunga literally translates to as a Tongue of Troll sticking out between the fjords. You will understand the allegory as soon as you see it for yourself. It does remind a tongue.
Note from the author:  We have done this hike in July 2013 before the influx of tourists
You can check out the video from our trip here:
How to get to Trolltunga from Bergen?
If you are anywhere in Europe, it is very likely that you can get an affordable ticket to travel to Norway for a weekend using Momondo or Skyscanner.
Scandinavia, in general, has a really good transportation system, so regardless of how far in the mountains you are going there is probably a way to get there using public transport.
We have started our journey landing in a Bergen airport, which is the closest airport to the fjord.
To go from Bergen to Trolltunga, you have to pass the small town of Odda, a small town squeezed in between those famous fjords, making it a good base camp. There are buses that run from Bergen to Odda. The bus trip, including ferries and highway, takes about 4-5 hours with the most stunning out of the window views.
To find out the bus schedule, use the Skyss app, which is a regional travel planner showing you the best route and time to get from A to B.
In addition, in Norway, as well as in rest of Scandinavia, pretty much everyone can speak English, therefore, you won't be lost. People will gladly help you in case you need to find your direction.

Best time to attempt Trolltunga trail
Summer is the best time to attempt Trolltunga hike because the air temperature is the highest and the days are long (don't expect too much, it will probably barely reach +20C degrees). The weather conditions in the region are known to be changing very fast from sun to rain, so you have to be prepared for that.
The Trolltunga trail opens for hikers from the middle of June until the middle of September. Some advanced ski hikers can do guided hikes starting from March.
When it comes to the time of the day, you have to start hiking 10 AM at the latest if you want to make it back the same day. In the autumn, it is better to start the Trolltunga hike at 8 in the morning since it gets darker earlier.

What to pack for Trolltunga hike
Lightweight tent. If you are planning on camping, choose a lightweight tent, especially if you want to stay overnight at the top (which I highly recommend)
Lightweight sleeping bags. In Norway, it will still be cold to sleep outside even during the warmest months of July-August, so make sure to have warm but light sleeping bags with you
Waterproof jacket. No matter when you are attempting the Trolltunga trail, waterproof jacket is a must-have. It rains at least once every there days in Bergen area.
Bring many layers of clothing, so that you could put on and take off some of them depending on the weather. Conditions change rather frequently and unexpectedly.
Don't forget the sunscreen. Even though it might not feel warm, the sun in the mountains is as strong as the sun at the beach. My husband got his face sun-burnt, so I wish we thought of taking a sunscreen.
Bring primus with you to heat up your food. Having that fresh cup of coffee on top of the mountain is an amazing experience. You can buy gas in Norway so that you don't have to bring it on the plane.
A big backpack that will fit all of your camping gear and is comfortable to take on a long hike.
Bring enough food. The trail is around 10 – 12 hours long and there is no place to purchase any food on the way, so make sure you come prepared.
Trolltunga is one of the most scenic hikes in Norway, so you definitely want to have a camera with you.
Comfortable shoes are a must. I was wearing sports sneakers and they proved to be fine in the dry weather. However, it gets muddy and slippery once it rains, so you might want to have proper hiking boots for those conditions.
Trolltunga camping possibilities
Though in Norway you are allowed to camp anywhere as long as you don't do that on private property, we still went to the campsite in Odda, as it supplies you with a shower and a bathroom, which was very much needed after a long trip. We stayed at Odda Camping site, which is a good base, since you still have access to the city.
What strikes me the most about Norway is the level of trust people have between each other. There is no fence around the campsite, so any exhausted traveler could enter without special arrangements and just pay in the morning. We arrived at the campsite very late and left early in the morning when reception was closed. But then, how do they control that everyone pays? That's the point – they don't! There is a little note on the reception window asking you to drop the money in a small box. I mean, how could you leave without paying now? Norwegians are killing you with kindness.
On the other hand, if you do not want to rush the Trolltunga hike and stay overnight at the top of the mountain, that is allowed as well and many people do that. The only downside to that is that you have to do the hike carrying the tent with you, which is not the most comfortable solution. However, we have done that and it was manageable. Besides, you get the exclusivity of Trolltunga in the early morning, when no hikers got there yet.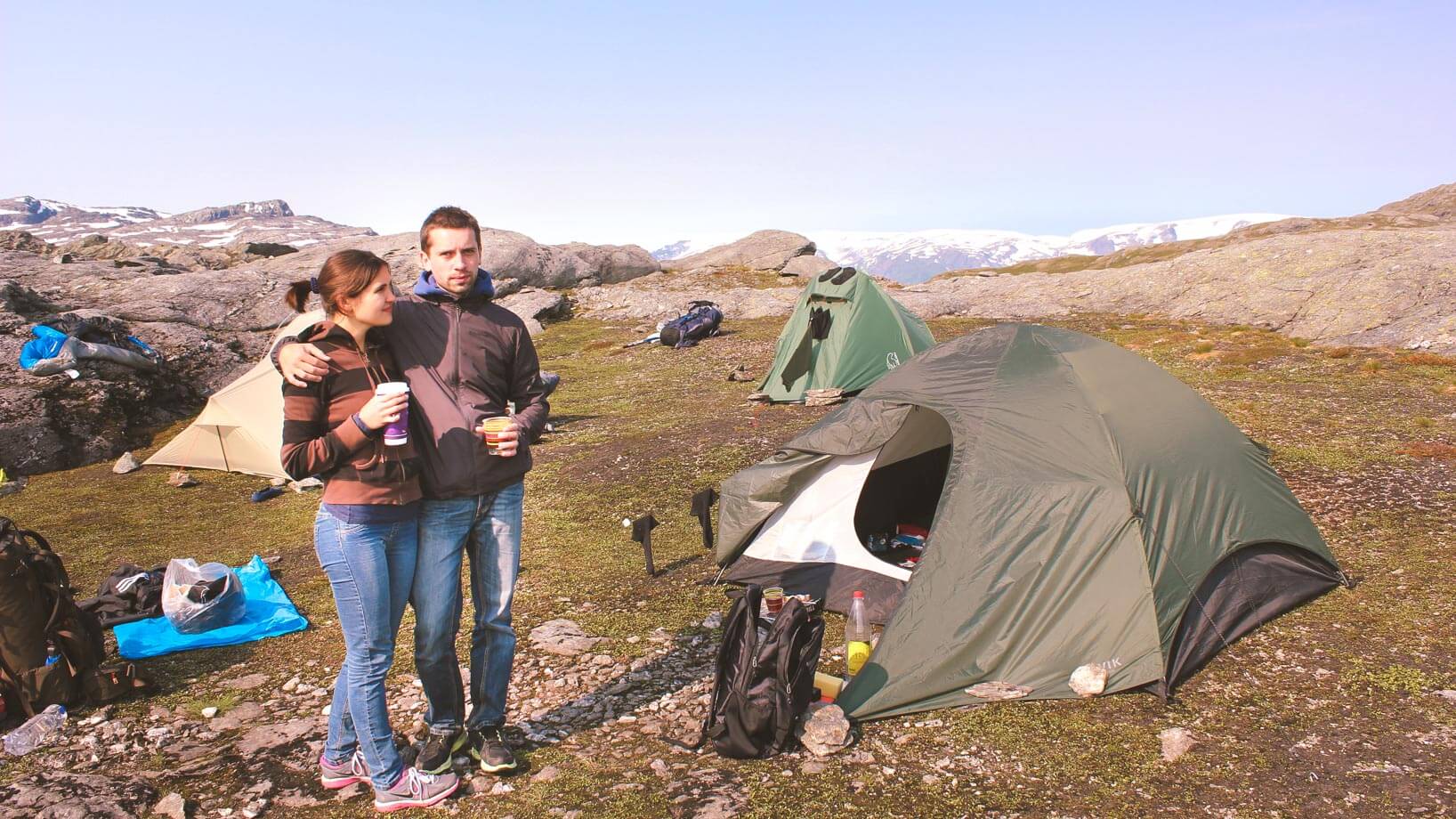 If you are not a fan of camping, you can try searching some hotel options on Booking.com.

Base camp in Odda
Odda is a small town squeezed in between mountains with a population of around 7,000 people. Even the places where people live seem to be dominated by nature, little houses are built around the majestic mountains as if with permission of nature to intervene. The town is too small to have many entertaining things to do, but it is so beautiful that you can just spend all of your time walking around and being mesmerized by the scenery.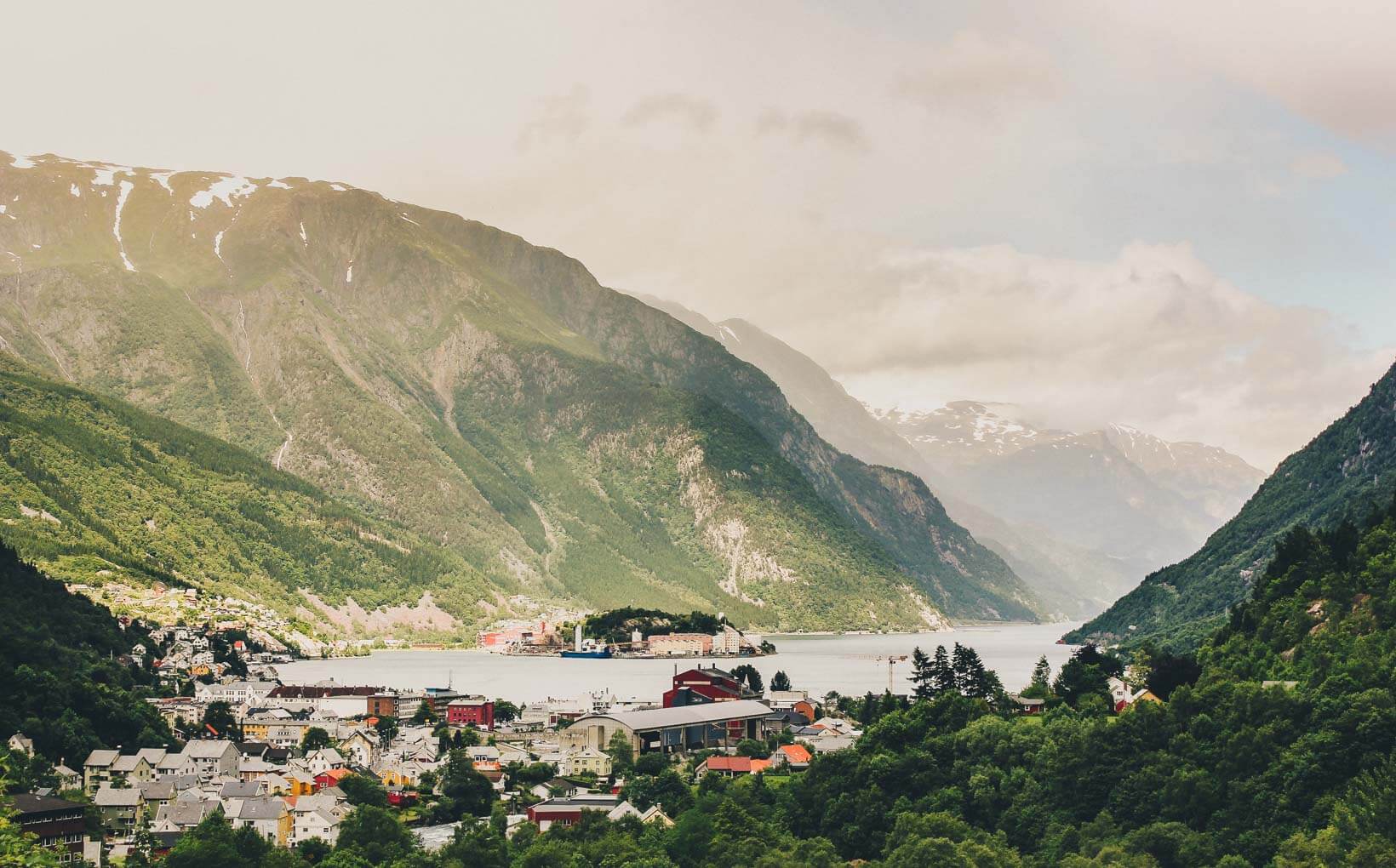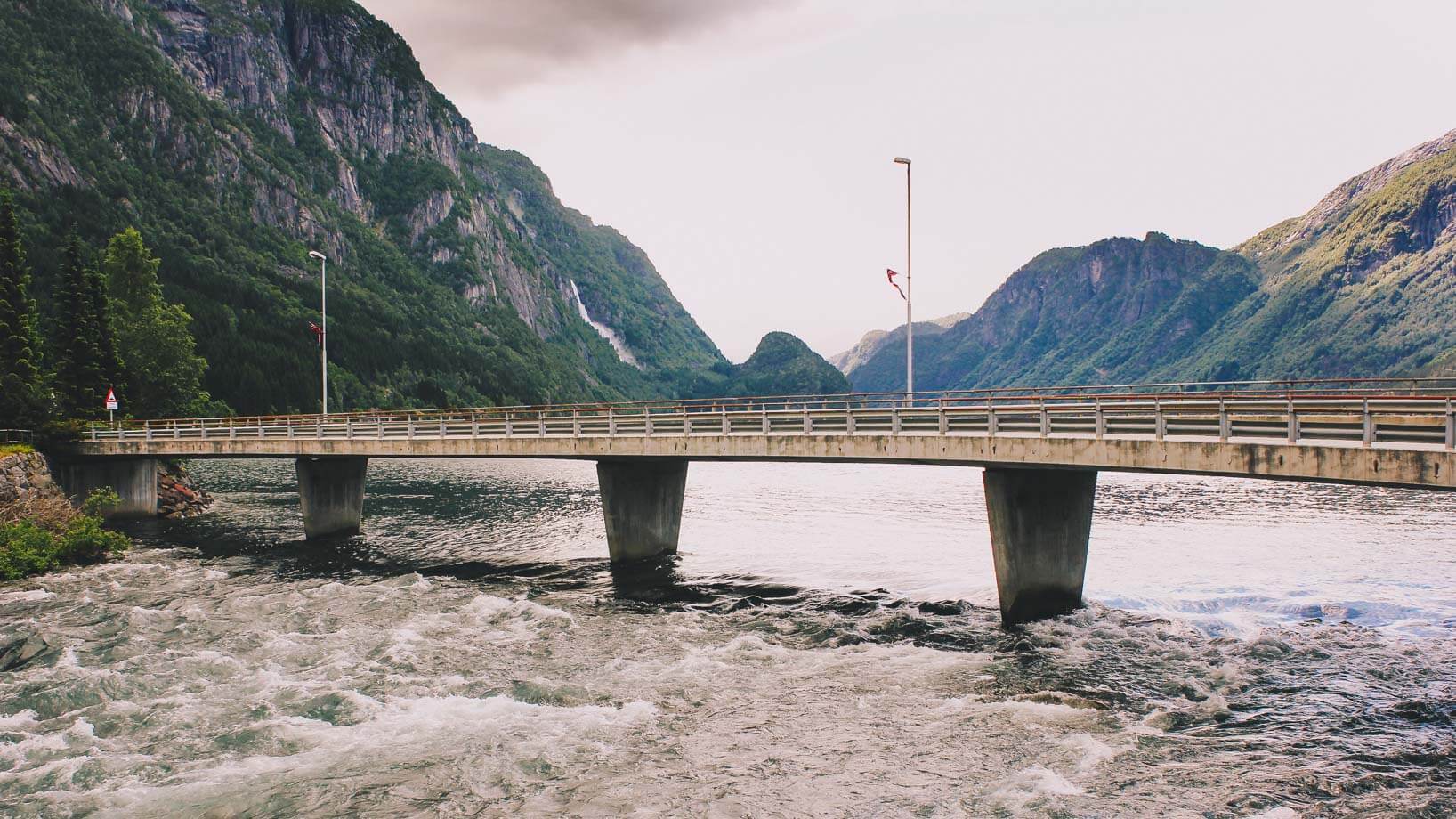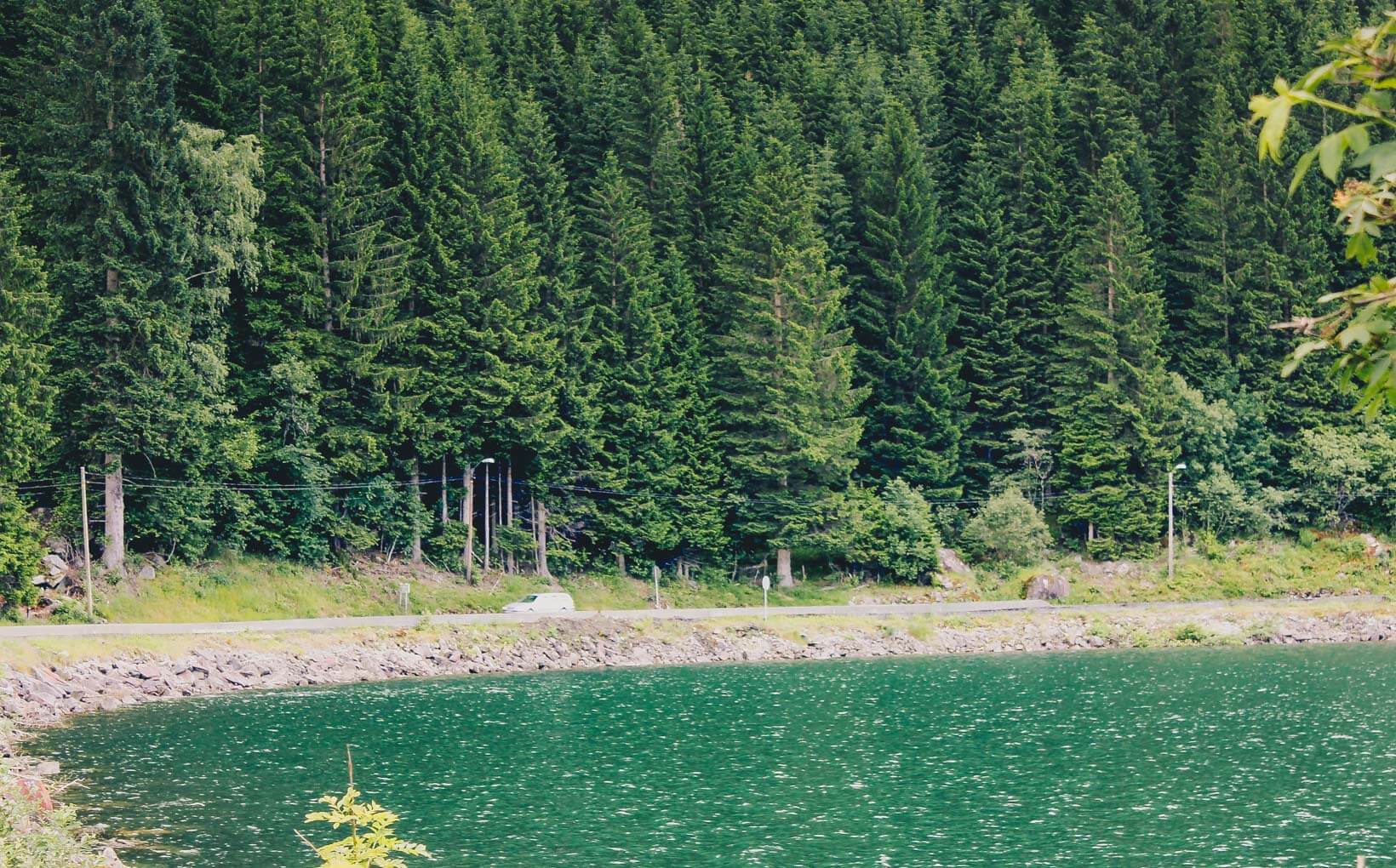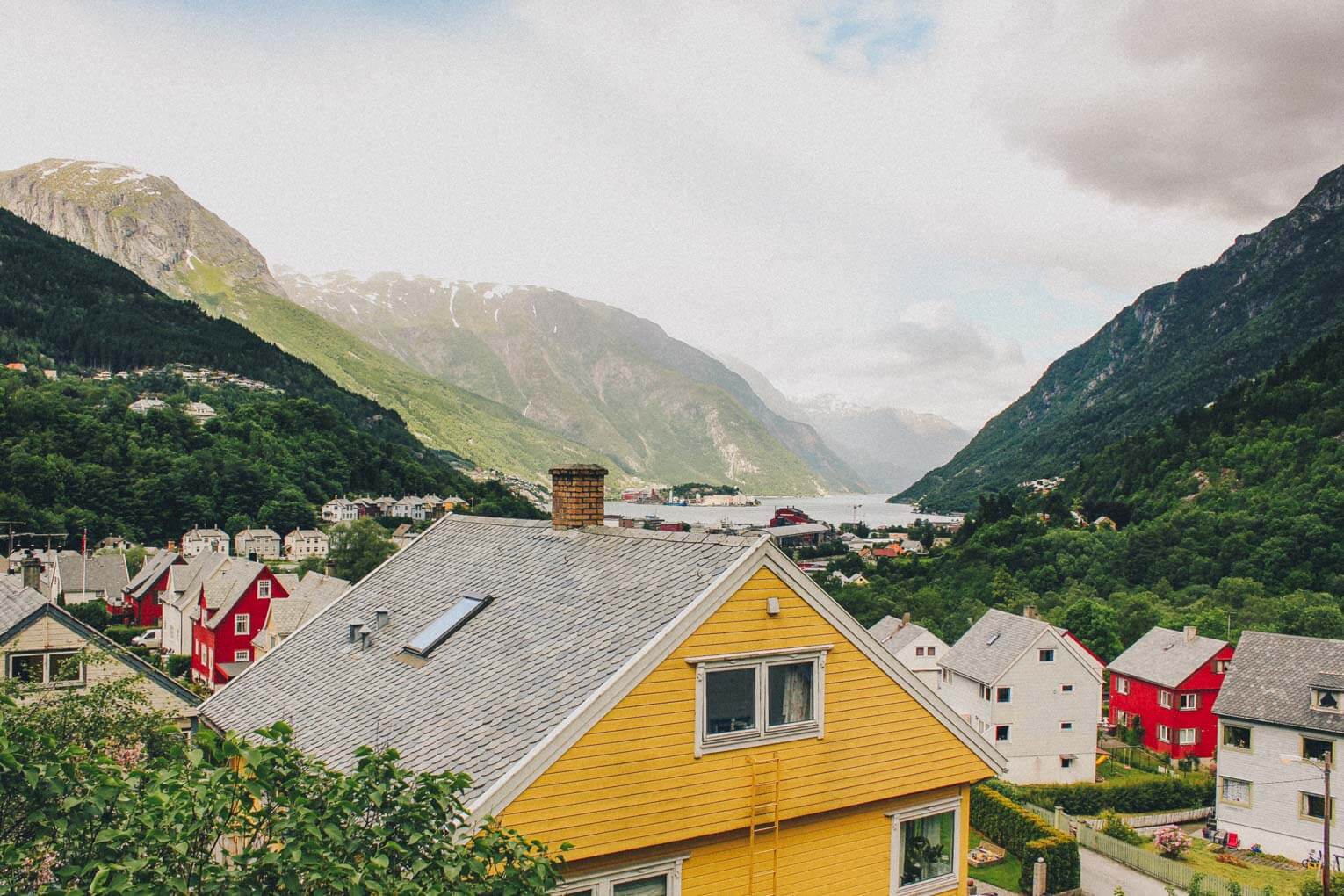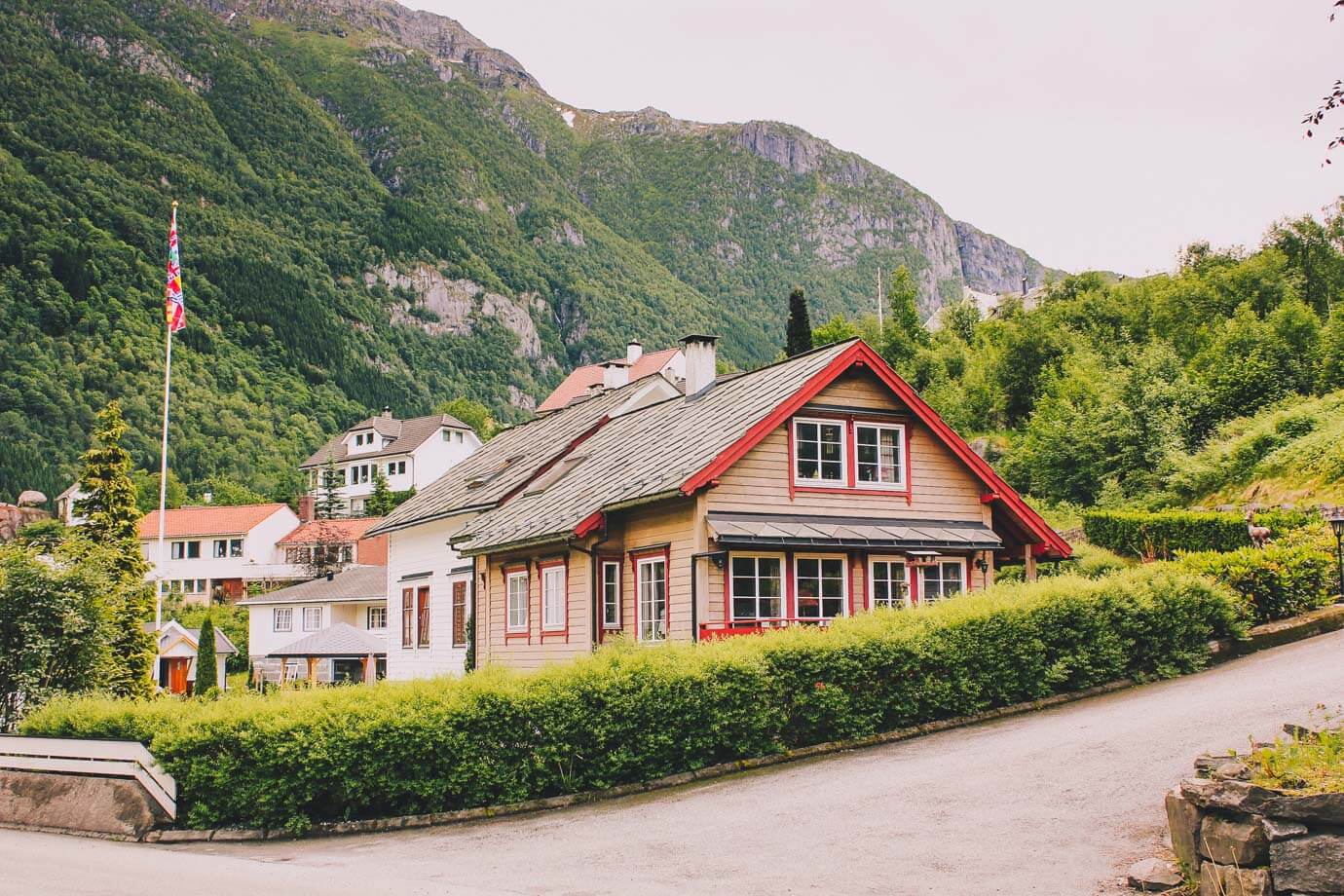 After we have been tired of walking up and down (it is quite hilly), we spent some time simply sitting by the water, having coffee and feeding seagulls.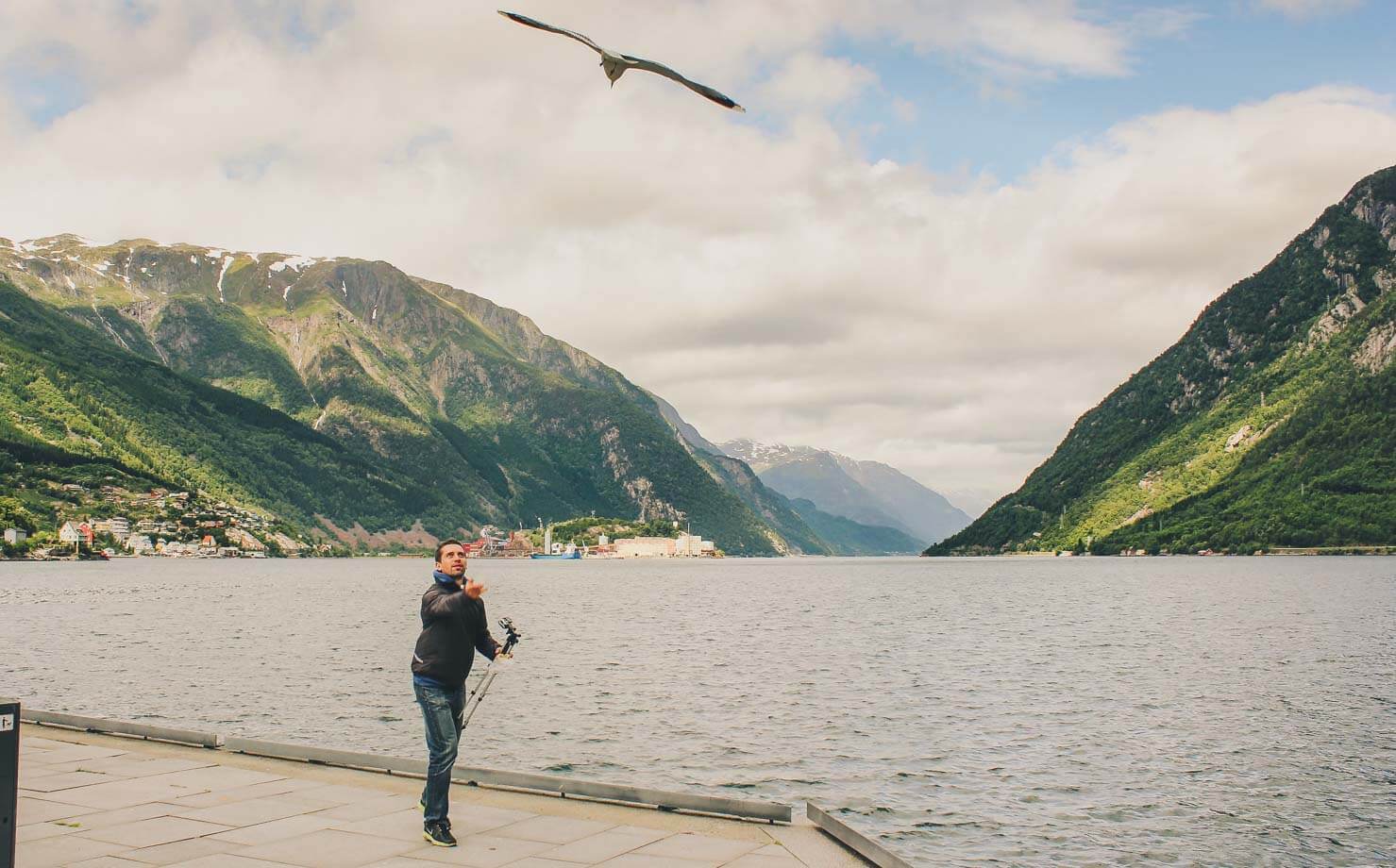 Trolltunga hike
Trolltunga trail difficulty level
Officially, Trolltunga trail is market as a challenging trail. It is 14 km long and required you to be durable and physically fit, though it doesn't involve any difficult rock climbing, it does require you to last for a long time.
Taken that there was a death on the trail in 2015 where a tourist fell off the edge of the cliff, it is recommended to be very cautious, especially when you want to take that dramatic selfie on the edge of the tongue.

Where does Trolltunga trail start?
The beginning of Trolltunga trail is situated about 7 km away from Odda itself. You can get there by taking a local bus, which is going to cost you around 30 NOK (~4$). At the foothills of the mountain, there is a big parking lot for people with cars.
At the stop we were greeted by a friendly guy from the souvenir shop, who is more than willing to give you tips regarding the Trolltunga trail.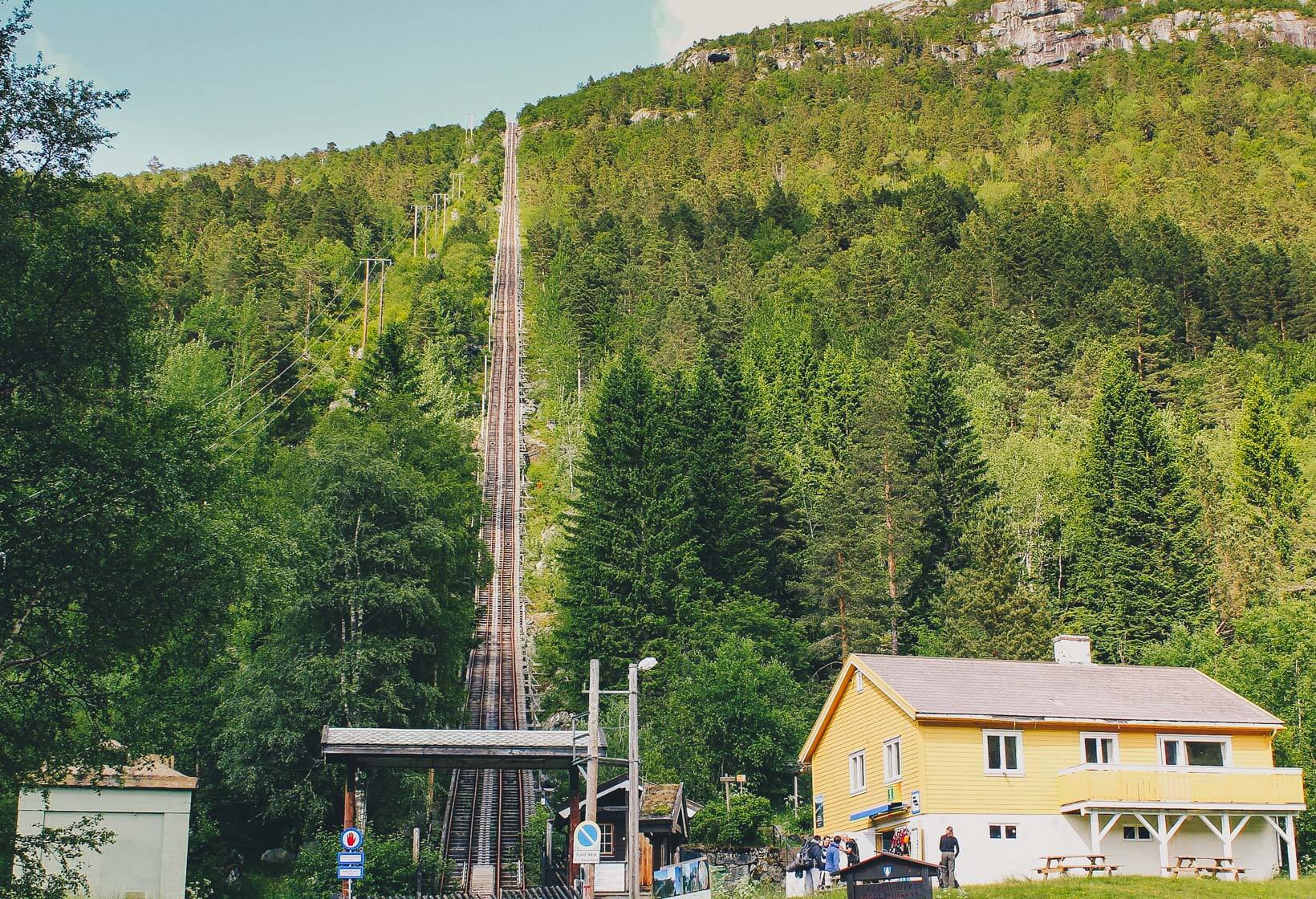 The trail starts at the foothills of an old funicular, which doesn't run for a very long time now. The first part of the trail is a very steep 1.5 km up. There are two ways to get started :
You can go with the regular trail path which will take more time because it is not straight
You can take the steps of a security path left from the funicular. This choice looks more dangerous as there are no constructions that improve safety, so you end up walking tiny steps holding on to nothing but a slim wire spanned all the way up. But it will be faster and easier.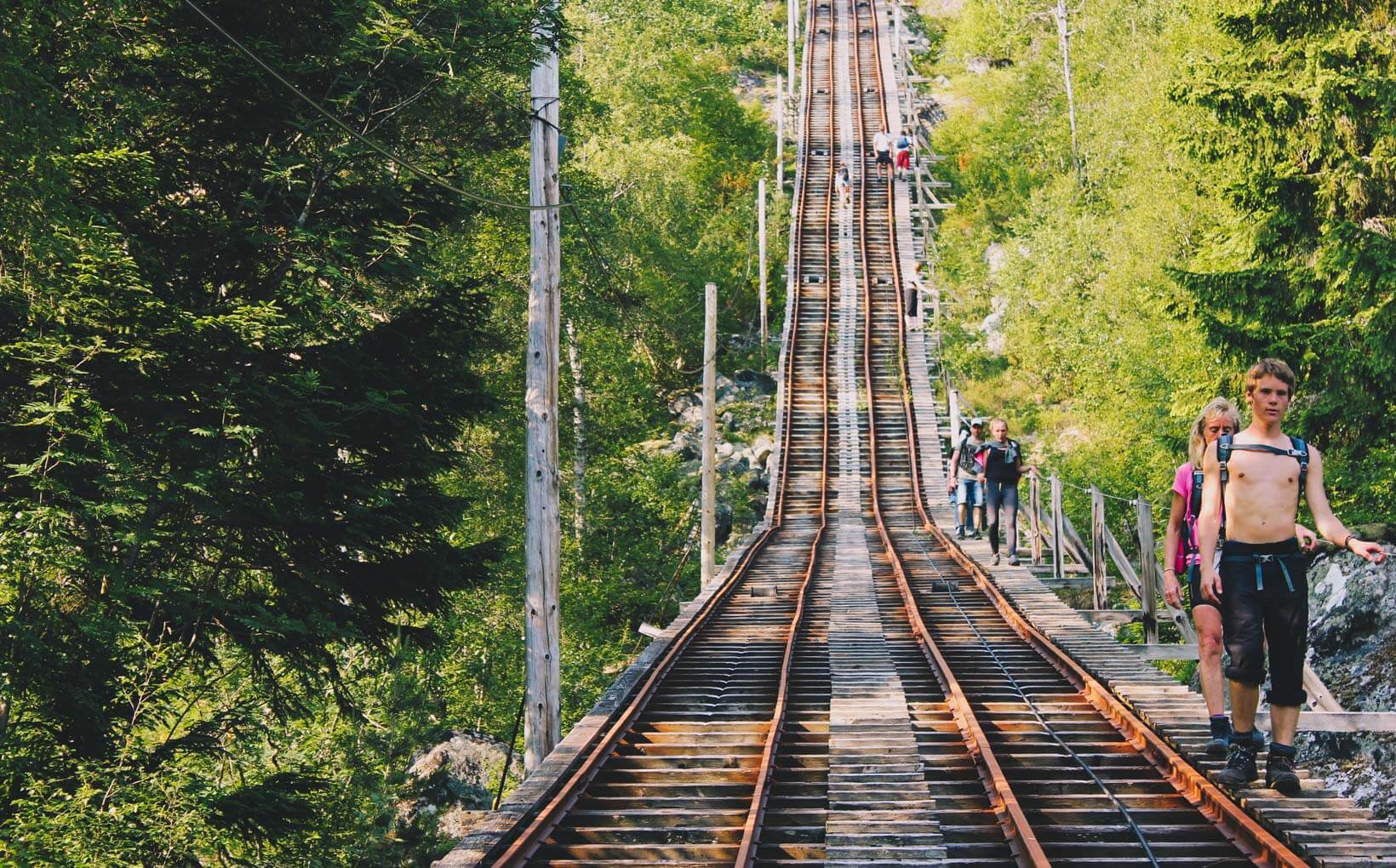 We have gone with the second option. But don't get me wrong, for people afraid of heights it is better not to turn around a lot. Even though the scenery opening up from that height is fantastic.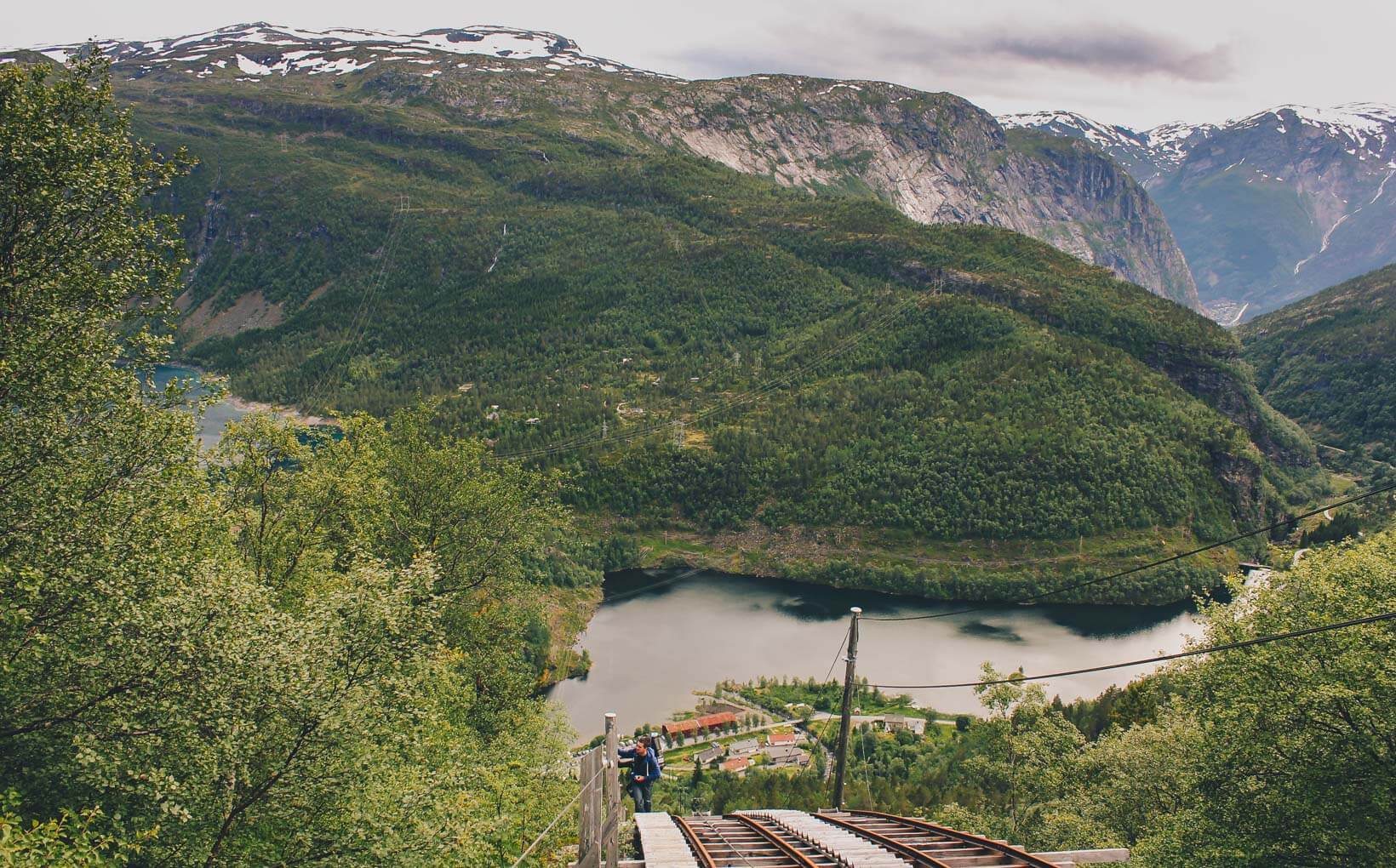 Stairs might cover only 1.5 km of 14km-long trail, but they sure take a lot of effort, being the most challenging part of the road. Once you are done with them, the rest of the way is much easier to walk as it is pretty plain.
There is a small rest stop where the former funicular landed, with an eco-friendly toilet on a cliff and some benches.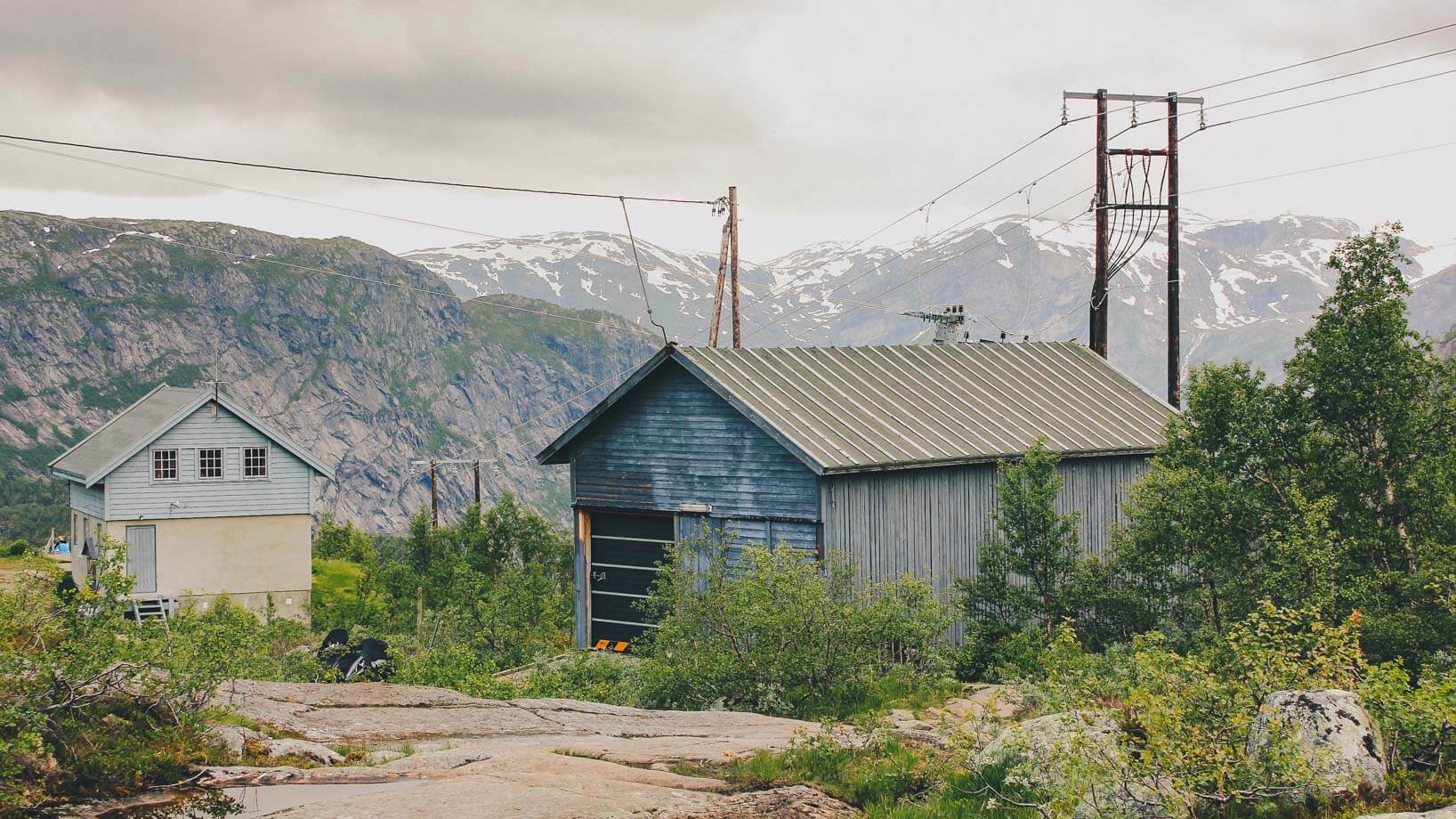 Trolltunga trail signs
When you get there you will see the direction sign, all of which pretty much point the same way. You need to follow the Trolltunga trail.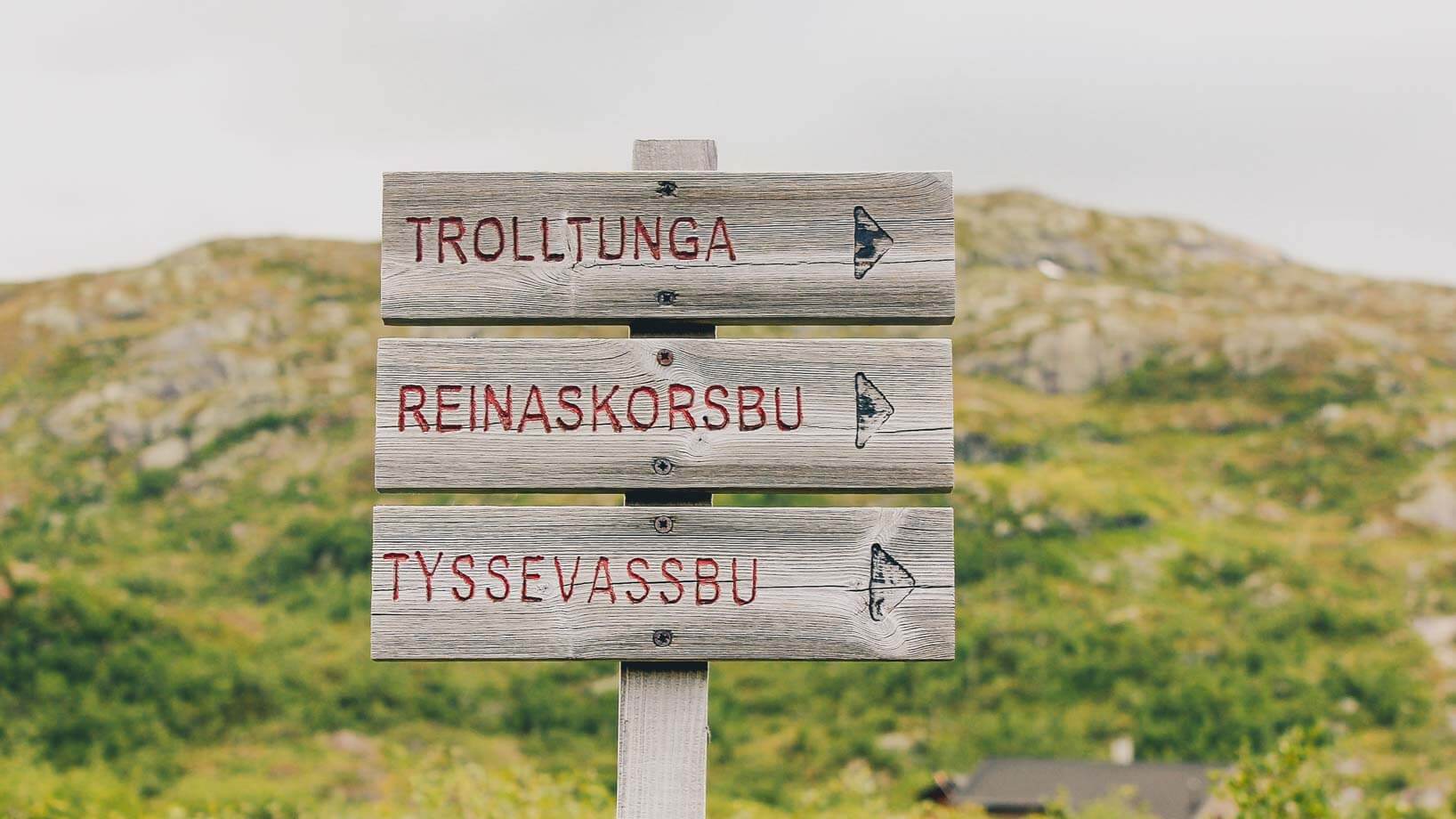 When you start the trail from this point on you are guided to Trolltunga by red "T" letters drawn on the rocks. There are no other hike guides or any safety sets on the trail, so everything is up to your own risk.  The trail is pretty straight-forward if you are attentive. Try not to lose sight of the T letters, they should appear around every 10 minutes of a walk.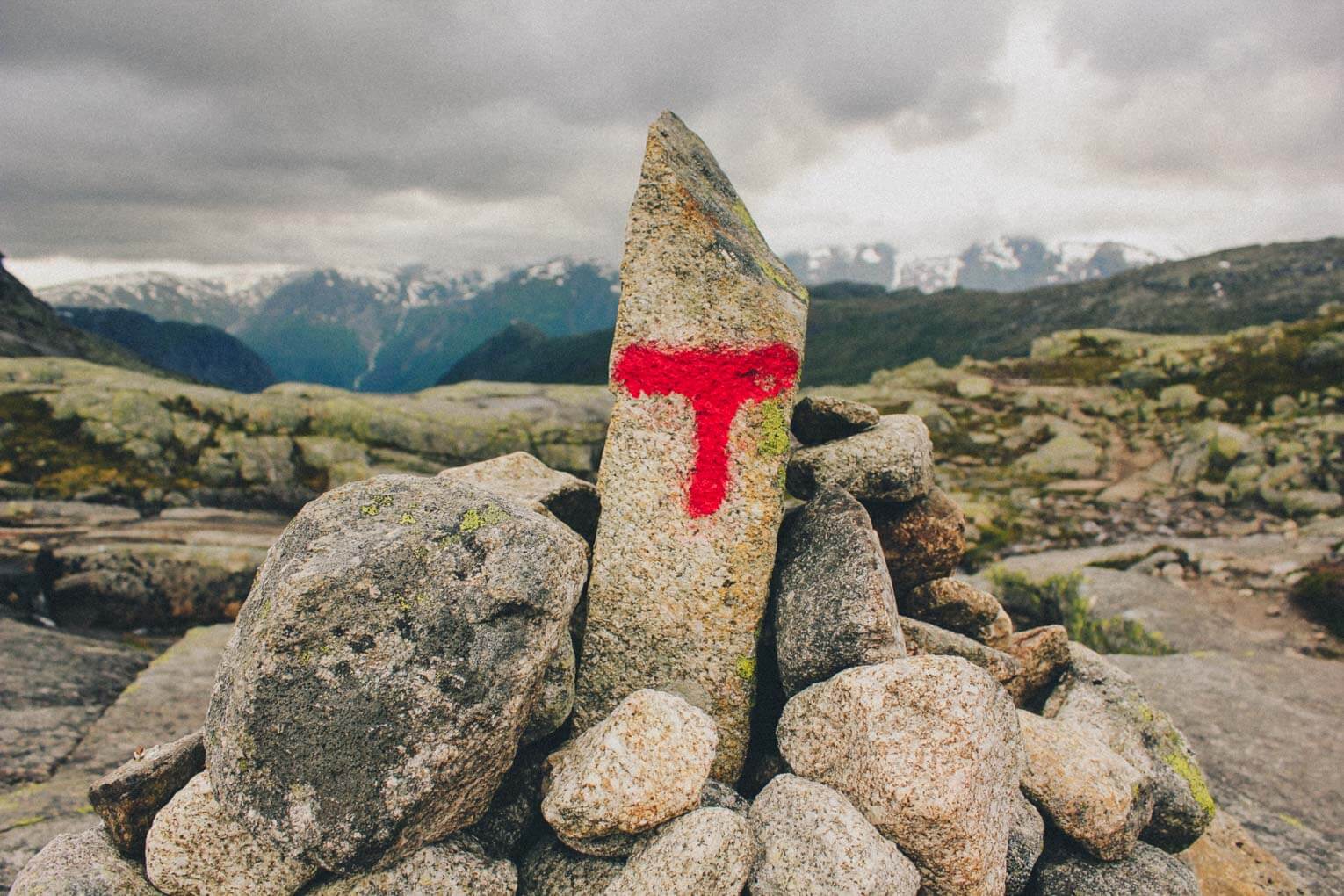 So, from this point, only 11 km left to walk. When we started we couldn't get enough of the amazing views that nature of Norway was opening in front of us.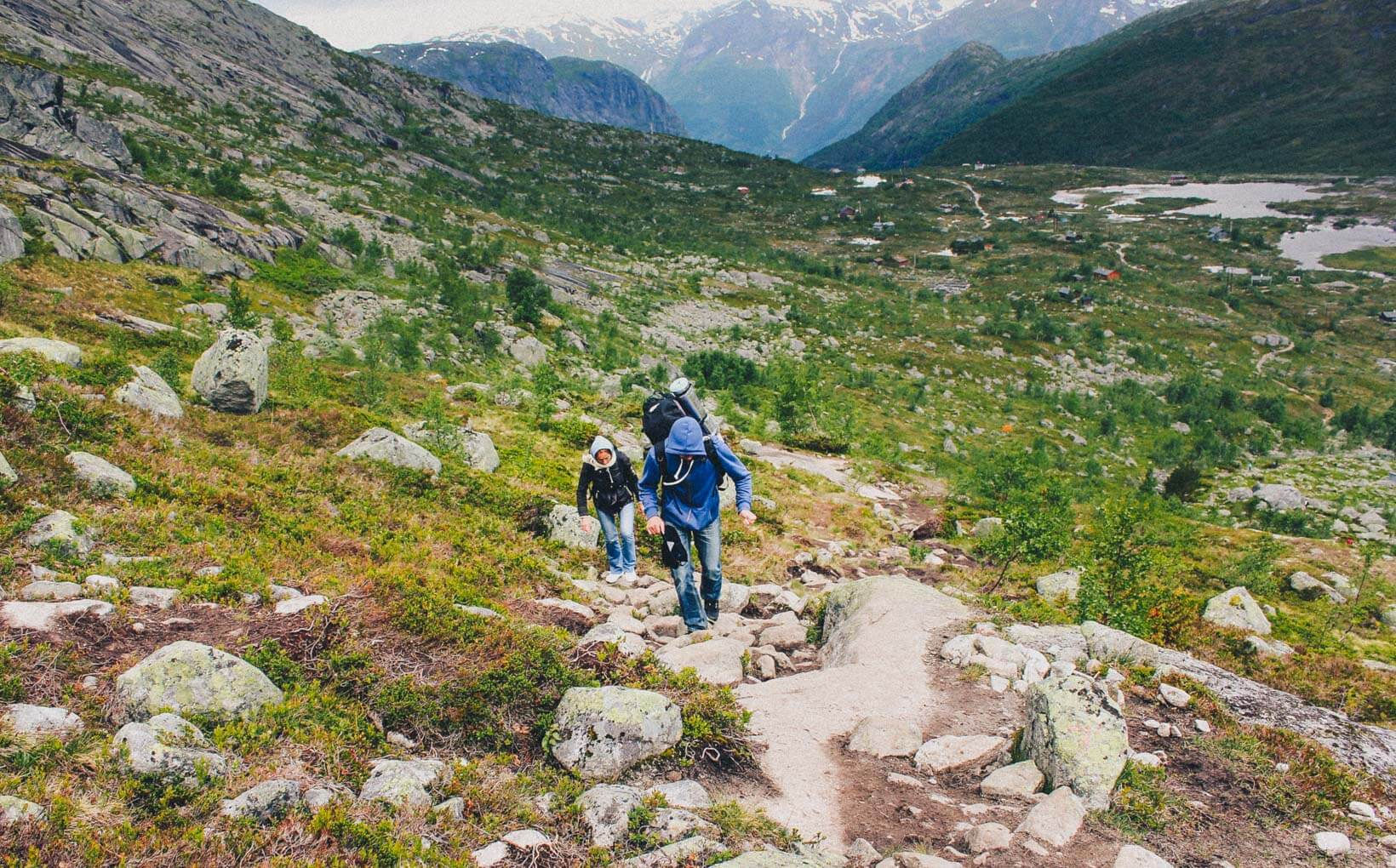 Even though it was a middle of July, it was still chilly in the mountains, especially since we started hiking in the afternoon and were approaching the coldest part of the day.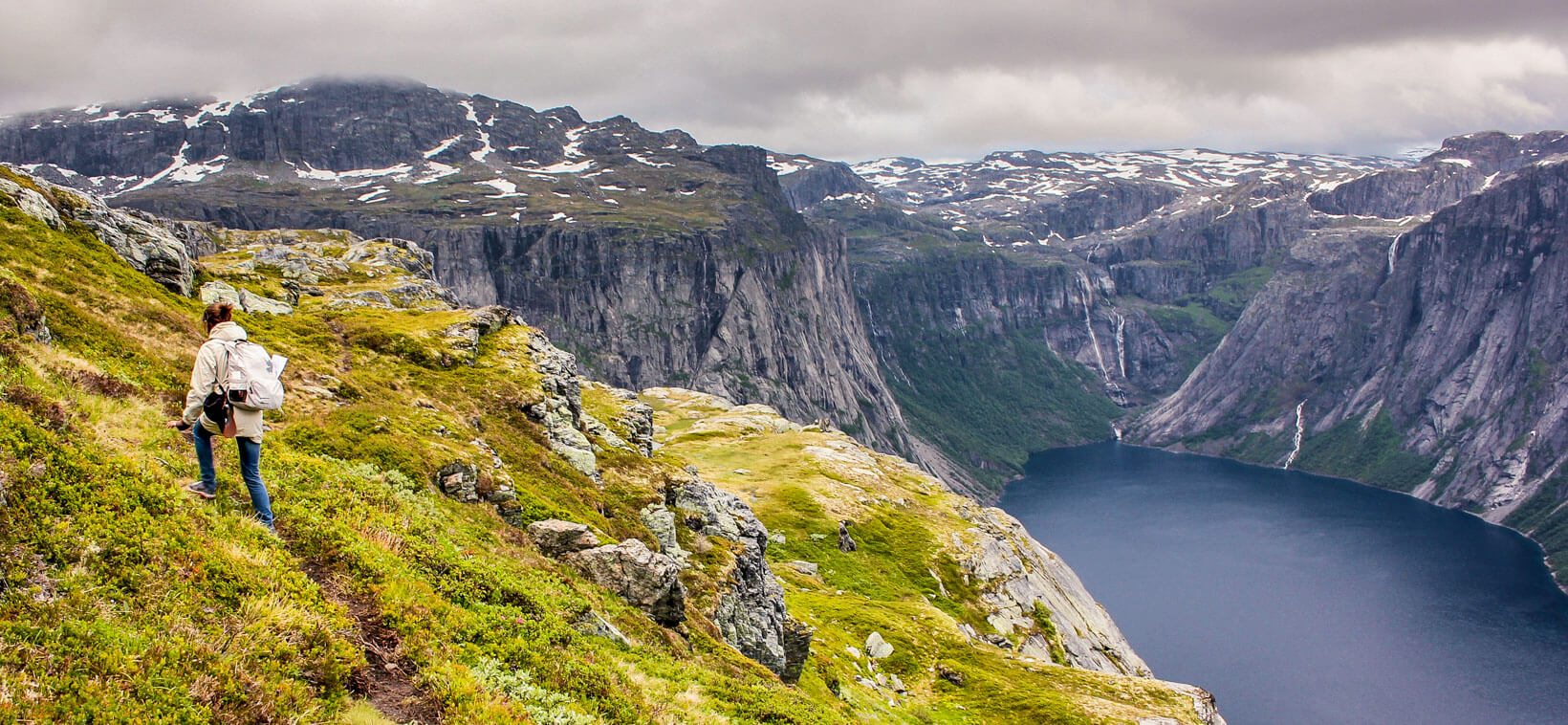 When you are getting tired of the cold and the trail, which seems to be endless, nature opens the most unbelievable views in front of you and then, you simply cannot stop from walking further, to keep discovering more of fjord's beauty.
How we got lost at Trolltunga trail and what to do when that happens

How we got lost at Trolltunga trail and what to do when that happens
At some point when it seemed that Trolltunga is just around the corner, we lost track of the signs and realized we were getting lost. In situations like this, you would usually think that if you just walk a little bit more you will end up back on track, which is a common mistake people make when they get lost.
❗️The right thing to do the second you realize you are off the trail is to go back immediately. Otherwise, you will just keep going in an unknown direction further away from where you should be.
Even though we had the tent and some food supplies with us, the thought of getting lost in the mountains at night did not seem appealing at all. Especially since all the tourists are probably already back down.
We started walking back to the point when we finally saw which now became our favorite "T" letters. What a relief. From now on we were not letting the trail signs out of our sight. Since we lost a lot of time, we were already approaching midnight but still haven't got to where we are supposed to be. Thankfully, being in the north in the middle of summer you have the luxury of so-called "white nights" where the sun doesn't entirely go down, and it stays light up until around 2 AM.
At the point when we were already exhausted and thought that we can walk no more, here it was, so much awaited Tongue of Troll in the dusk of night. It took us 6 hours to reach our final destination.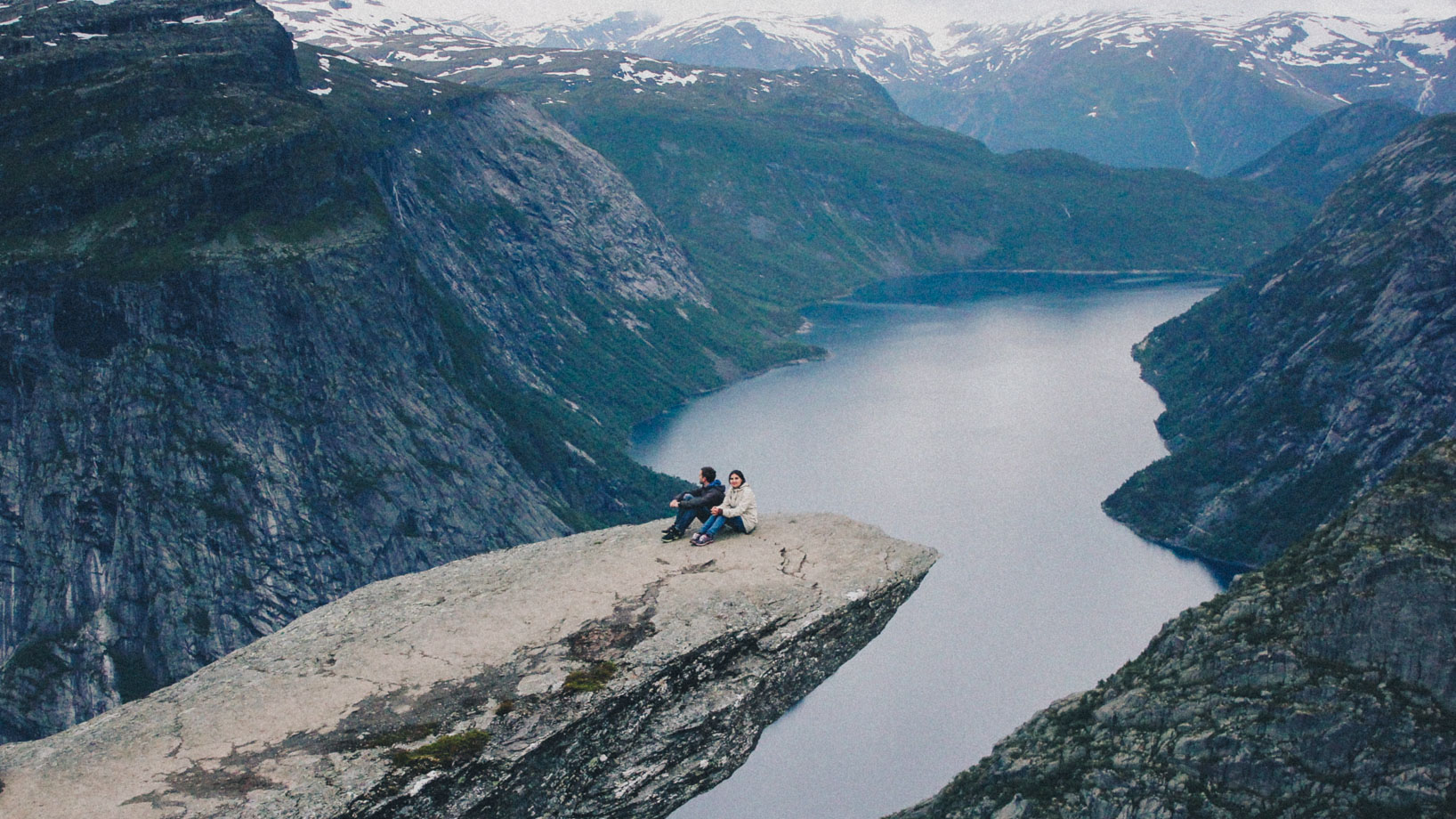 Camping in the mountains

There were couple more tents that night staying at the top and we joined them. The night was cold and we were freezing a little bit in our light summer sleeping bags. But to all people who wonder whether it is worth dragging a tent uphill for 6 hours to stay overnight, I will say – DEFINITELY WORTH IT!
I cannot remember a similar feeling like the one I had when I woke up fresh the next morning and unzipped my tent. Am I really at the top of the world? It sure felt like it!
Imagine being among a dozen others waking up at the edge of the world to unbelievably beautiful and pure nature around you. The air was fresh, the sun was up and the purest water straight from the mountains was right in front of you!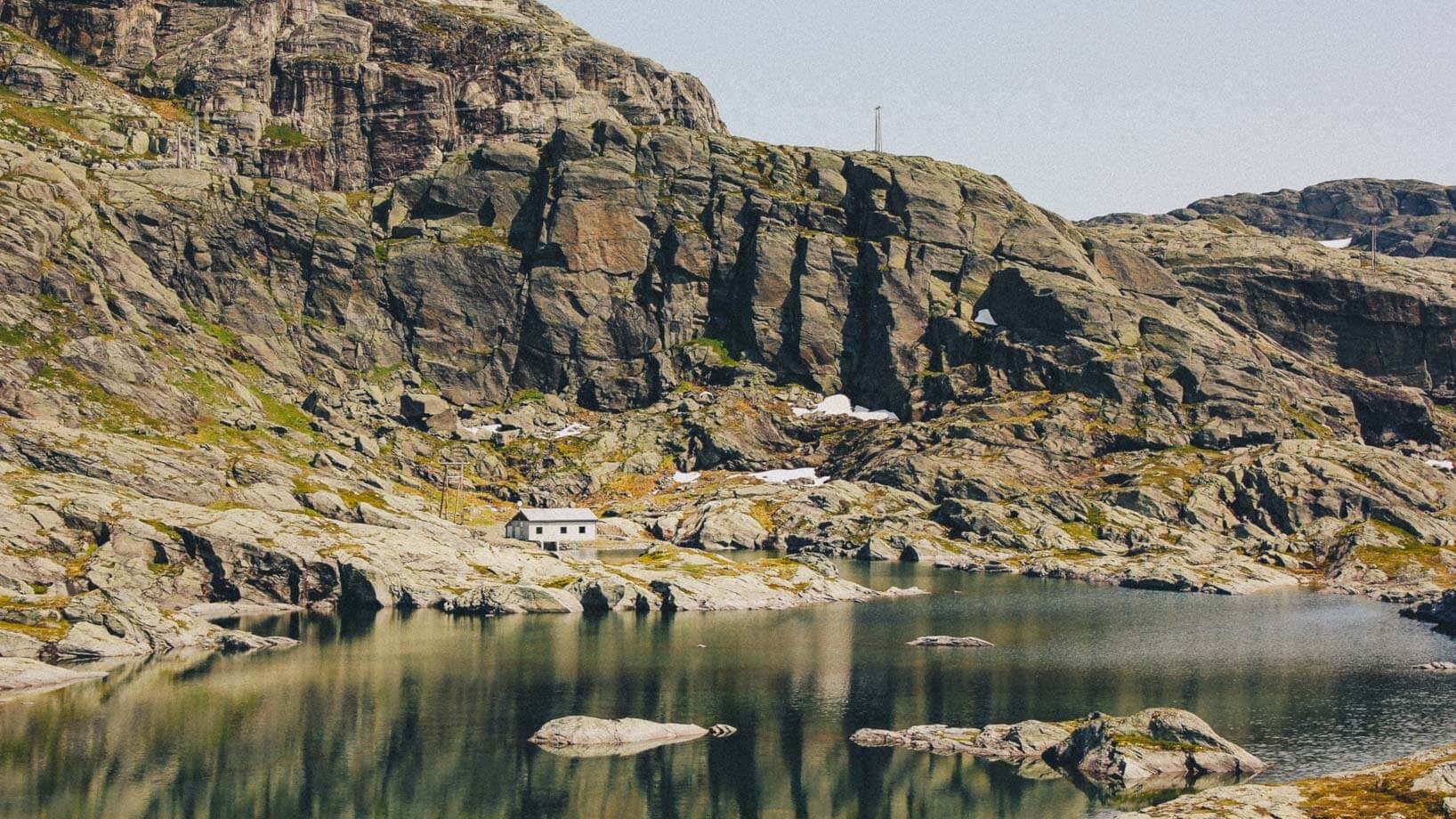 The only thing that could make this moment even better is coffee. Luckily one of the other campers had primus with him, so we all could have some hot water to make our coffee and then – it was pure perfection.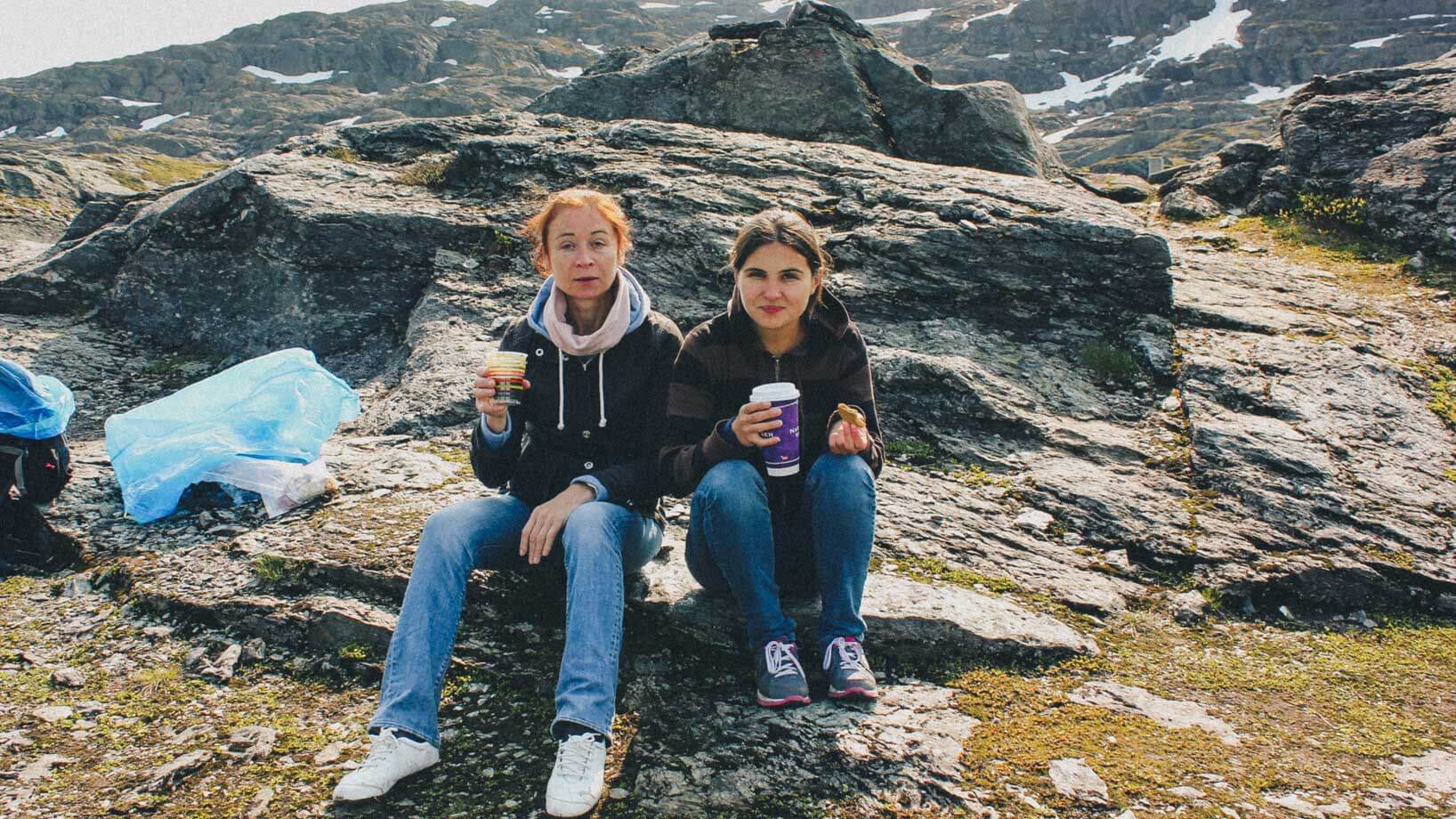 Another positive thing about staying overnight is that you wake up before any tourists have the time to climb the mountain, so you have Trolltunga cliff all to yourself to make as many pictures as you want without any disturbance.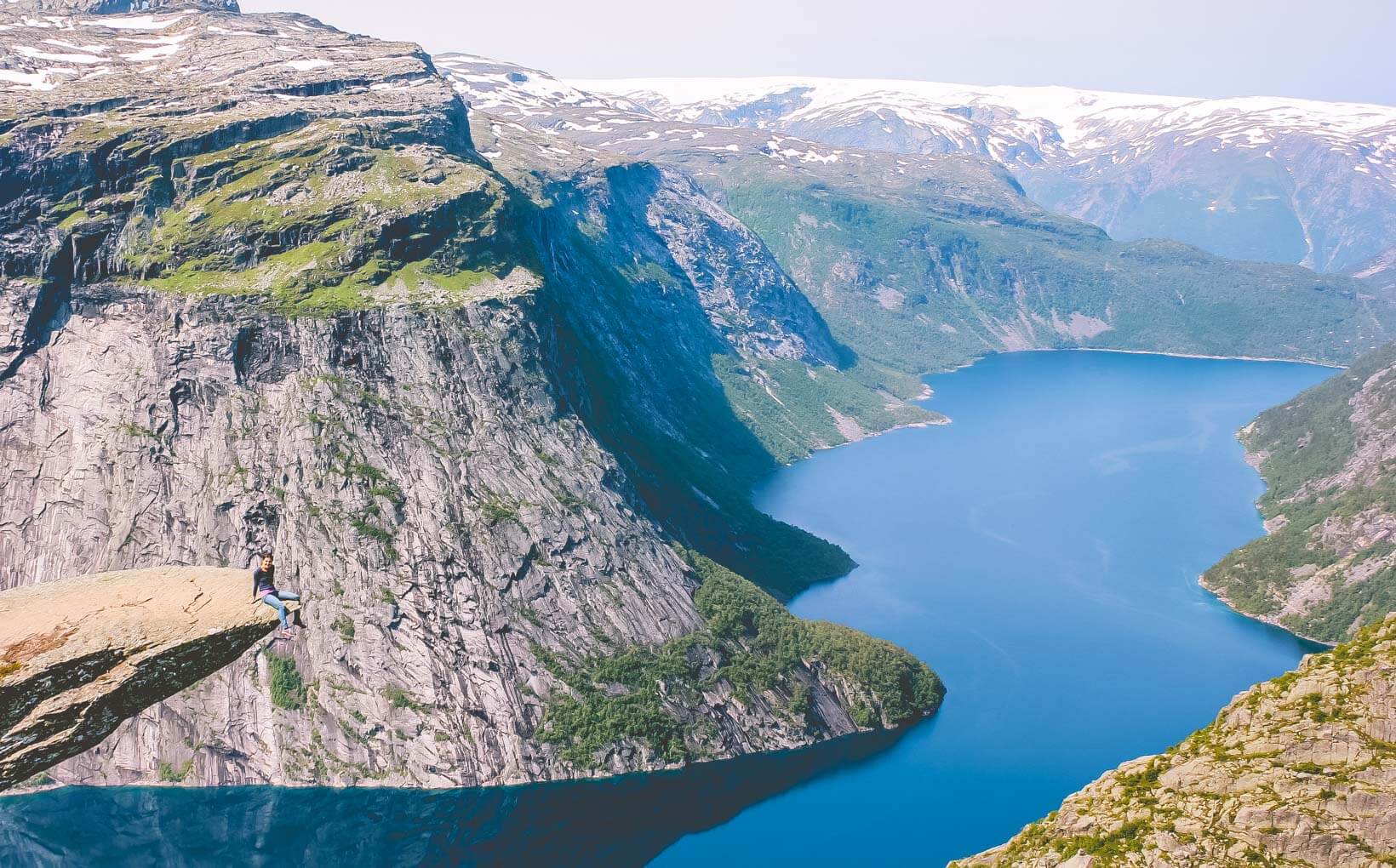 Getting down from Trolltunga
After finishing our photo-shoot and a quick grill-brunch we started packing for our way down. Norway in general and this hiking trail, in particular, is so clean that you would feel extremely guilty leaving even the nature-like products behind in the mountains. So we packed our trash and got ready to go.
Our way down was blessed with a cloudless sky and warm weather.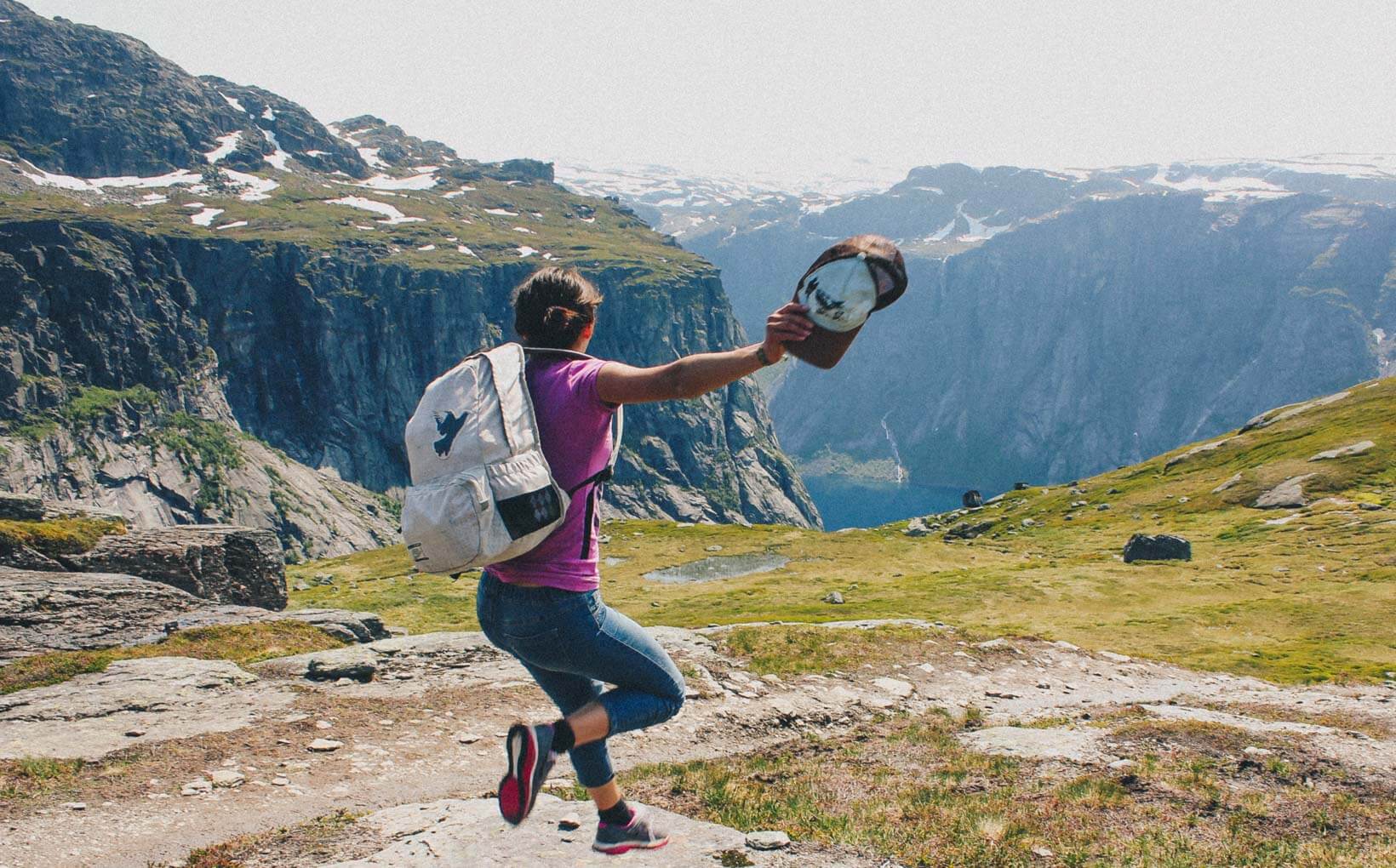 Since we are not in the hurry to beat the nightfall anymore, we could afford some longer rest stops.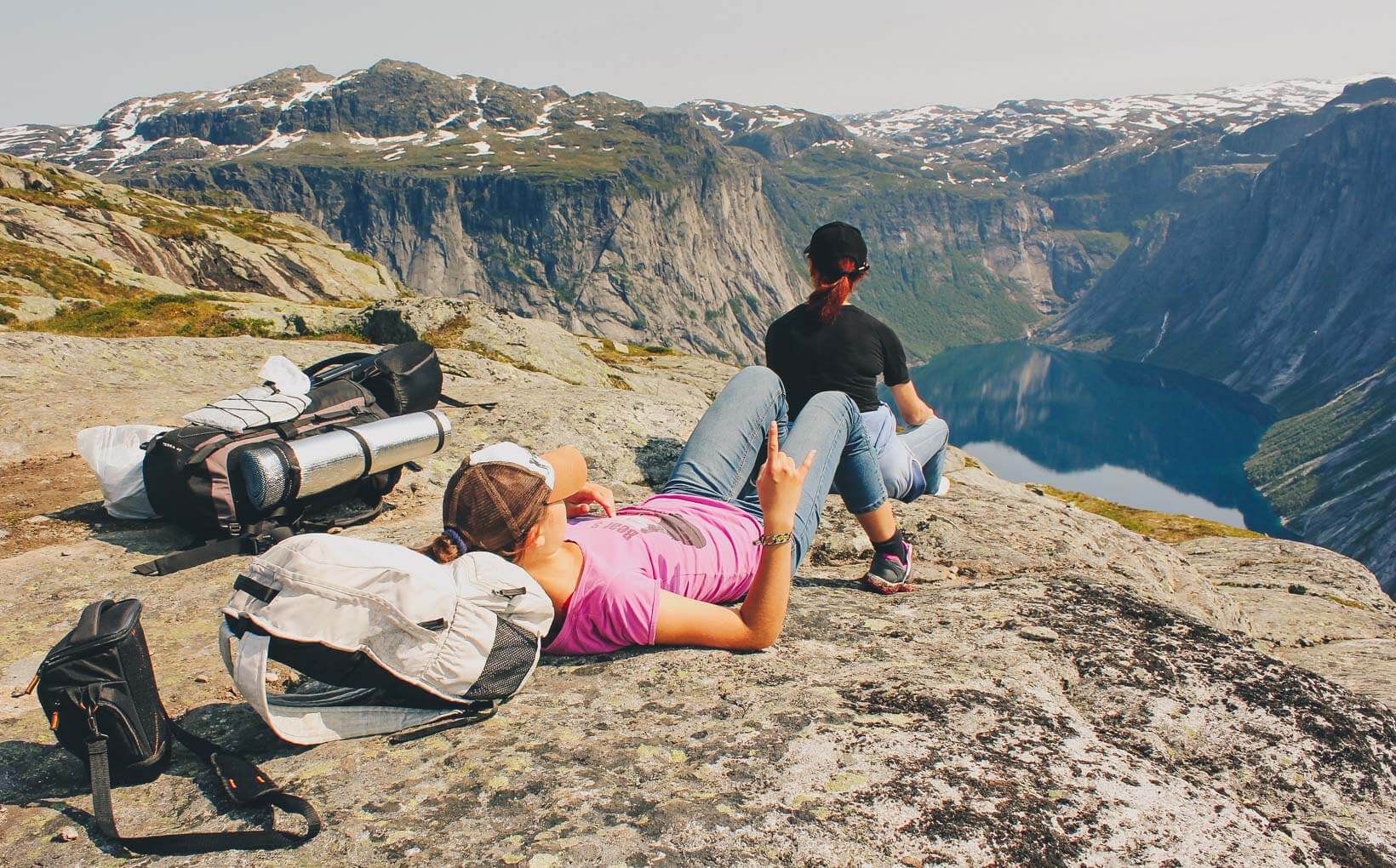 We decided to try the different path option on our way back and skipped the funicular which I truly regret . It was very difficult, you could only hold on to trees, bushes, or tree roots not to fall down altogether. Therefore, as soon as we could, we switched back to the funicular stairs and blissfully made our way down. Another 6 hours and three burnt faces later we have reached the bottom.
That time our Odda to Bergen bus didn't arrive and we almost missed our plane
We stayed one more night in Odda campsite and were ready to leave the next morning for Bergen to catch our flight. We have arrived well in advance to Odda bus station to catch the bus that had to take us through ferry and one more route point, which we have planned using the skyss.no app.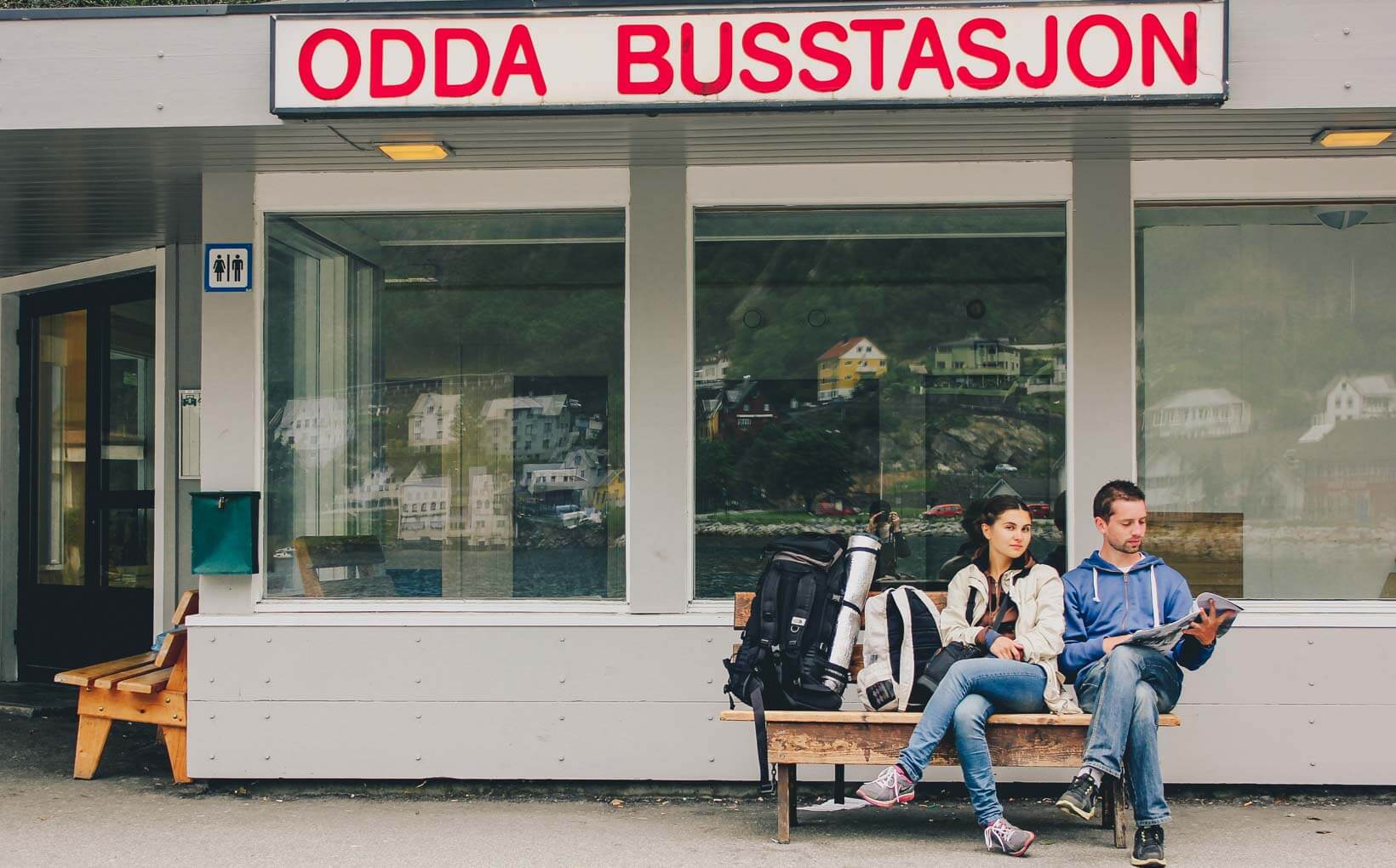 But the most unexpected happened – bus simply didn't show up! I have to say this was the least expected thing to happen in Norway. We gave it some time but after 20 minutes of waiting, we started to panic. Without the bus, we won't get the ferry on time and without that – our plane!
We went straight to the Tourist Information right across the bus stop to find out what can we do.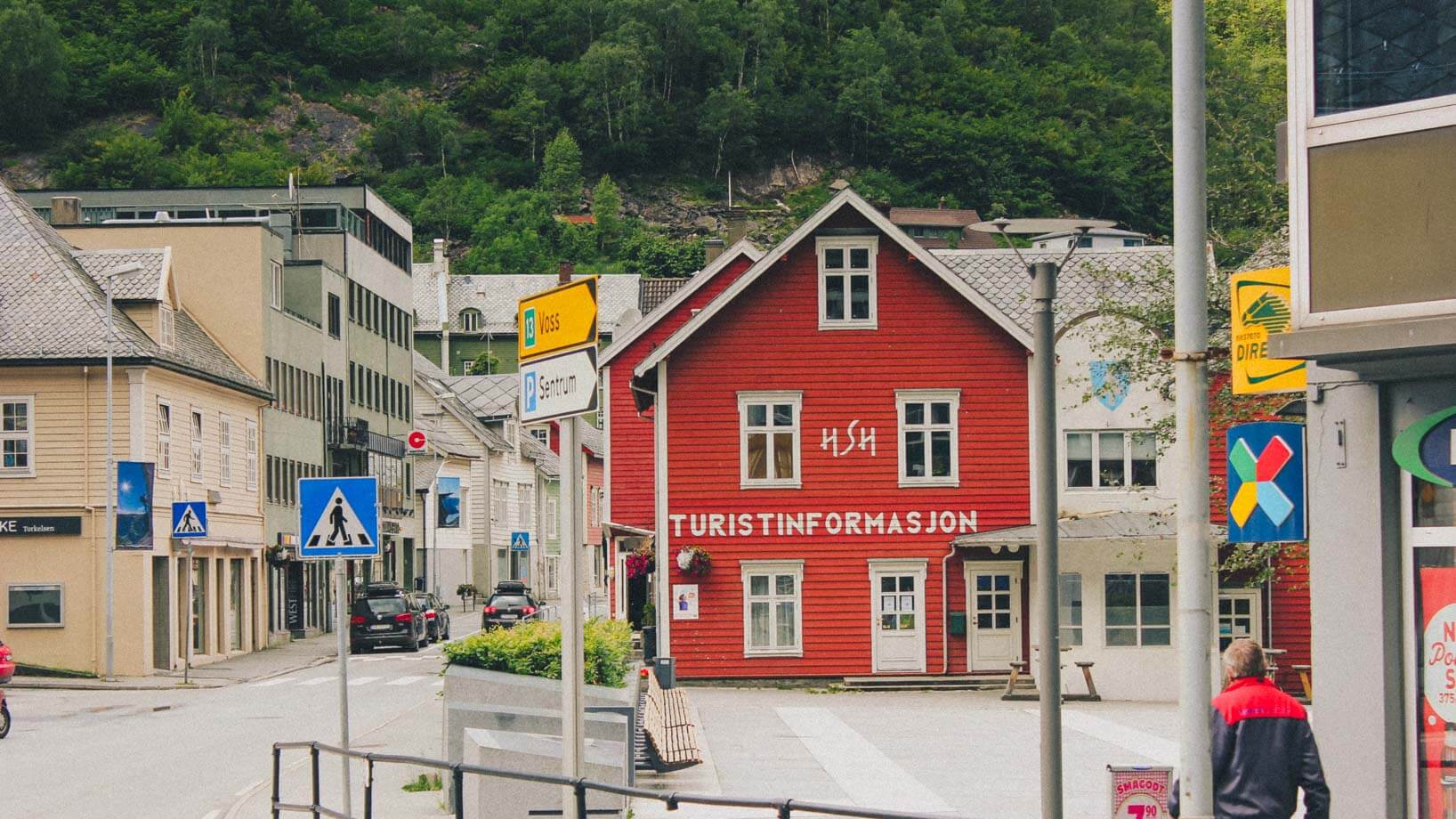 The girl at the counter explained that since it is Sunday there is nothing else that runs to Bergen. What a bummer, so now what do we do? The only thing we could do is take the taxi all the way to Bergen (350+ km), complain to the bus company whose bus didn't show up and hope they will cover the cost.
We shared the taxi with another girl who waited for a bus with us. Speeding in a new Mercedes through the picturesque views of Norwegian fjords would have been a breathtaking experience if only it wasn't for the meter that kept ticking money every second. It surely was the most expensive taxi ride of my life.
The next day I wrote a very convincing email to the bus company attaching all the receipts, schedule routes and everything I could. Mentally I was preparing myself for a long fight for what's right. But then, surprisingly for me, they have replied in a day requesting for my account information where they could return the money to. I was refunded hundred percent for all the taxi costs since apparently, it was the driver's fault. Amazing Norway!

Tips for hiking Trolltunga
Norway is expensive! I guess the advice would be not to take a taxi between the cities 🙂
Even though most of the things are automated in Norway and you can pay with credit card almost everywhere, there are still places where you do need cash, like on the buses, therefore, make sure you have at least small amount of Norwegian kroner on you.
Be prepared for rainy weather. Since the majority of Norway is the mountains, it is most likely it will be raining there, so make sure to have a rain jacket with you.
Use the route planner to get around: https://www.skyss.no
There is a cool travel site about Norway with lots of useful information: http://www.visitnorway.com
Wrap Up
Norwegian fjords are undoubtedly one of the most beautiful natural creations on this planet. Even after traveling to so many different places around the globe it still stays one of the most beautiful countries I have ever seen. The pictures cannot express to the full extent how mesmerizing nature is. I would return again and again to explore more of its beauty whenever I have the opportunity. Hopefully, this Trolltunga hike guide will be helpful in your planning of this trip.
Like It? Pin It!