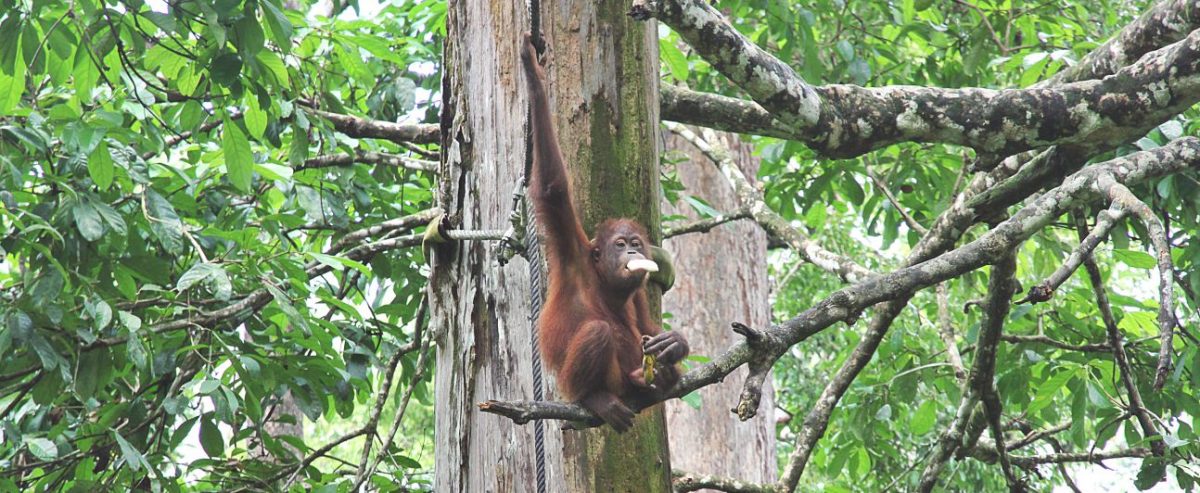 This post may contain affiliate links. I receive a small commission at no cost to you when you make a purchase using my link.
One of the reasons behind going to Malaysian Borneo instead of visiting Malaysian peninsula is to see the famous Borneo orangutans.
One of the best ways to see them is of course to spot them in the wild taking a safari down the Kinabatangan river (separate post on that to come). But if you are not planing to do that, the best chance to see Borneo orangutans is to visit one of the rehabilitation centers.
There are two of them in Borneo: Semenggoh Wildlife Center in Kuching, Sarawak and Sepilok Orangutan Rehabilitation Center in Sandakan, Sabah.
VISIT SEPILOK ORANGUTAN REHABILITATION CENTER
It costs 30 MYR to visit the center on the foreign passport
Best time to visit is in the morning between 9AM and 11AM, right in time to see the training and the morning feeding at 10AM. Center reopens to visitors again after lunchtime for afternoon feeding at 3PM
There is an awesome cafeteria which serves good food in case you need to feed yourself as well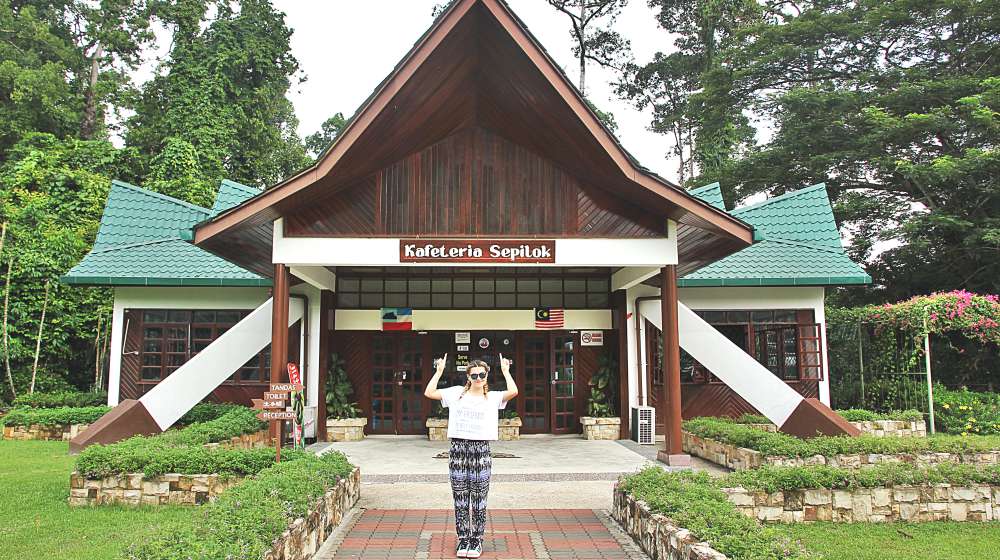 I got the chance to speak to one of the British volunteers working in the center to find out exactly what are they doing. So, what's the center for?
HOW DO ORANGUTANS END UP IN THE CENTER?
The apes that reside in the center end up here after being the victims of illegal pet trade, or after being kept as a pet, as well as becoming 'homeless' due to deforestation of the region.
REHABILITATION PROCESS
The rehabilitation is a long process and some apes stay at the center for years before they can live in the wild independently. One of the most important skills center helps them to develop is climbing, as most of its life orangutans spend swinging in between the trees. The ability to climb is the first step towards learning to feed independently. Even though visitors are allowed for educational (and probably financial) reasons, they are restricted to few walk lanes and interaction with orangutans is not permitted. So, it is not one of those places where you can pet the wild animals and take pictures with them.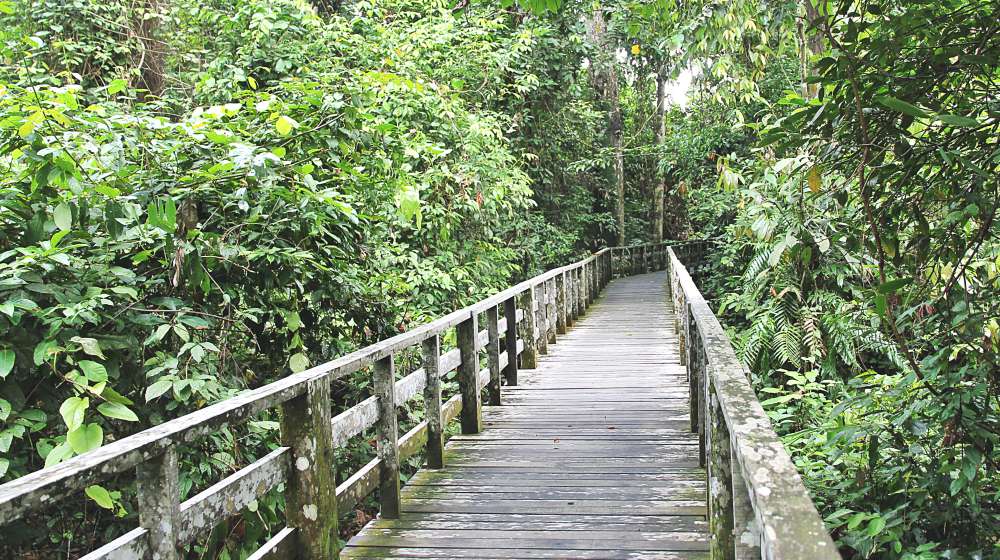 ORANGUTAN'S FREEDOM
One of the most amazing things I find about this center is that it covers a huge territory of an open jungle. Since there are no borders, apes are free to leave whenever they want. The volunteer I spoke to told me that some adult apes that have left years ago sometimes visit the center to get some food or just to hang out. On the other hand, younger orangutans chose to stay in the center but enjoy going out at nights, just like independent teenagers.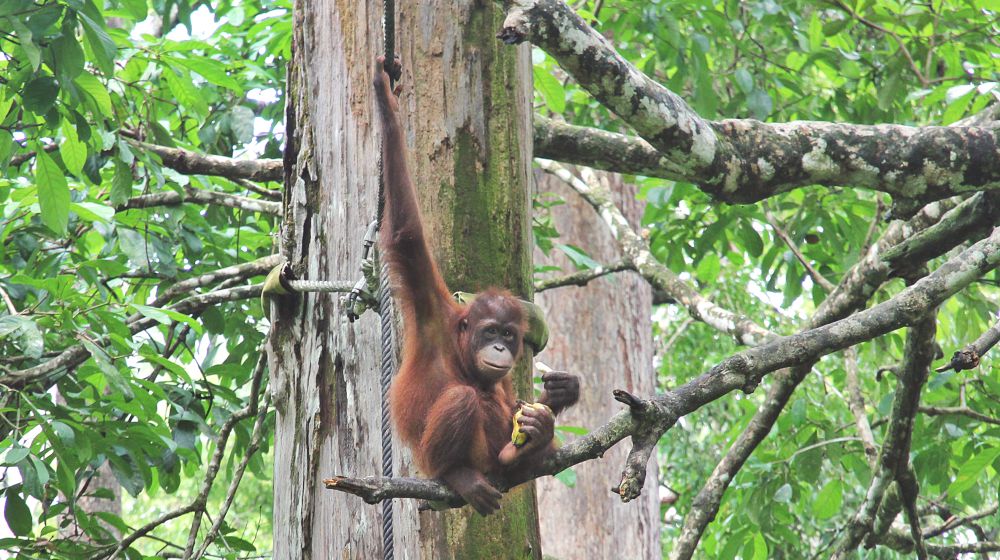 Personally I got the strong feeling of family warmth in this place, where each orangutan is an individual with its name, character and habits. They might be grumpy, lazy or happy and the great part is that staff of the center is able to recognize their mood and act accordingly. These cute inhabitants of the jungle are quite similar to us, after all.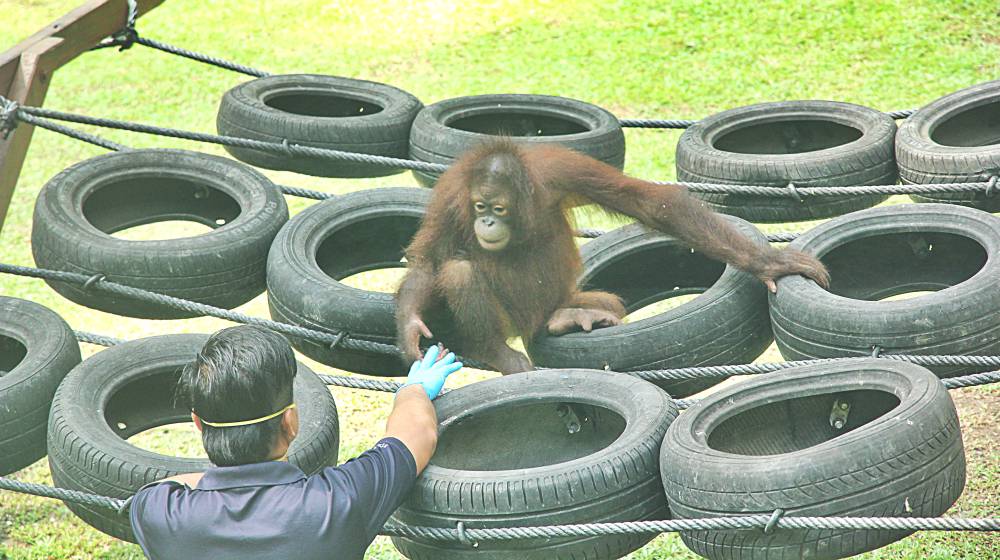 KEY ORANGUTAN FACTS
Name: name 'orangutan' translates literally as 'man of the forest' from Malay language
Population: there are around 45,000 orangutans left in Borneo. The population has decreased 50% in the span of last 60 years. Bornean orangutan is considered to be Endangered species, at the same time as Sumatran orangutan is Critically Endangered
Family ties: baby orangutan can stay with its mother for up to 6 years, which is quite a long time for apes
Life expectancy: orangutan can live up to 40 years
Diet: almost vegan 🙂 Mainly consists of vegetation. The apes of Borneo that I've seen like figs a lot.
Danger: the main danger to orangutan population in Borneo is deforestation mainly due to palm oil plantations, logging and illegal pet trade which often involves the killing of baby orangutan's mother
WRAP UP
Overall, I am very happy with the visit to Sepilok Orangutan Rehabilitation Center, not only because I had fun watching them eat and exercise, but also because it serves as education for everyone who visits it. People get more aware of the problem that these animals are facing due to human activity and therefore, there is a chance to do something about it.
Want to know more about how to help baby orangutans? Visit Sepilok Orangutan Rehabilitation center's website for more information.