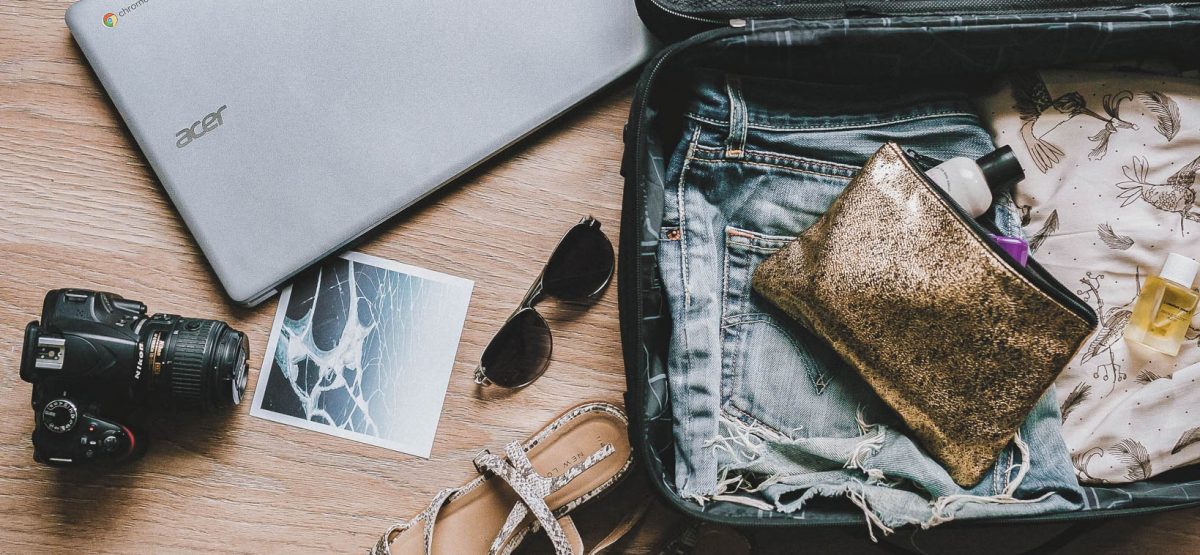 This post may contain affiliate links. I receive a small commission at no cost to you when you make a purchase using my link.
What's the number one rule of traveling? Don't be impetuous with the packing. Yes, you may want to just cram in as much as possible, with all the clothes, toiletries and beauty products for the ultimate insta-worthy album. But sometimes that'll just come to bite you back when you go overboard with the weight and capacity. Therefore, leave room for some long haul flight essentials that will help you to keep up with your beauty standard.
Sadly, sometimes we end up leaving important skincare products sitting daintily on our dressers, just to squeeze in that extra pair of jeans or other hygiene essentials. However, your skin care regimen is the last thing that you should have to relinquish when packing light. So, if you're wondering how you can have the best of both worlds, keep calm and read on the skincare routine travel guide below to help you plan your trip!
Travel-sized bottles
If you have a multi-step skin care routine consisting of various cleansers, serums, lotions and gels, then it's best to invest in travel-sized reusable bottles. These lightweight bottles have a capacity of 10-15 ml, which means that you can whittle down your bottles to the amount that you NEED, rather than carrying entire containers. Simply decant each product into your reusable bottles and voila! You need not miss a single step for your night-time regimen.
The carry-on trick
You may love traveling in airplanes, but your skin really doesn't – planes have low humidity and dry, recycled air, that can desiccate your skin and lead to a plethora of other problems. Unfortunately, due to airport regulations, you may only pack 3-ounce bottles containing liquids and gels in your carryon bag. So, how do you get around it? Simply toss your travel-friendly bottles into a leak-proof clear bag and you're good to go.
This way, you'll be TSA compliant and won't have to worry about transit spillage. If you travel less frequently and don't see the need to buy travel-sized kits, you can take an empty lip balm container or even a contact lens container and just fill it up with your gels and creams for the flight.
The absolute must-haves
Try as you might, you will never be able to fit in your entire skin care routine in your bag. Therefore, it's imperative to make a list of the must-haves and commit to those items only. Start with an exfoliating cleanser, which will provide dual action: the gentle cleansing that your skin requires, alongside dead skin cells removal.
Next, choose sheet masks as replacements for your serum jars (including the ones for your eyes). This will not only save you ample space but completely do away with the hassle of bringing all your bottles and jars back home. Another important product to have on hand is a tinted sunscreen. Be warned – the airplane windows don't block UV rays and an SPF is the last thing you should forget.
Having a tinted sunscreen will not only protect your skin and slow aging but also give your skin the fine finish of a foundation. Lastly, always carry a small lip balm, which will come in handy when you feel your lips or other areas of your skin cracking. Lip balms can also be used around the eyes if there's excessive dryness since the skin over these two parts of your face is similar.
Facial wipes
We cannot stress enough the importance of a small pack of facial wipes. Firstly, they're light and can easily be taken into your carry on. Secondly, they can be used as instant fresheners, not only for your face and neck, but other body parts as well (pro-tip: wipe your underarm area with a facial wipe on long-haul flights to prevent bad odor).
Lastly, facial wipes are a great substitute for makeup removers and micellar water. So, it's safe to say that you can kiss those giant micellar water bottles and makeup-removers goodbye for your vacations! Hello, clean and fresh skin!
Dual beauty weapons
Slay your vacation selfies with products that work as both, skin care and makeup. Replace your regular balm with a tinted lip balm for a moisturized and pouty smile! You can even dab a little on the apples of your cheeks for a rosy, radiant glow. Always keep a cleansing cream that works as a cleanser and makeup remover, while giving a moisture surge akin to that of a regular cream.
You can even go for other dual action products such as moisturizing tints with SPF, illuminating balms for the lips and eyes, and radiance age-rewind creams that work as primers under your makeup.
With these travel skin care routine tips, you'll not only save on a lot of bag space, but also be able to give your skin the love and treatment it truly deserves, whether it's a work trip, a weekend getaway, or a long-pending vacation.
Disclosure: this is a sponsored post.
---
Like It? Pin It!