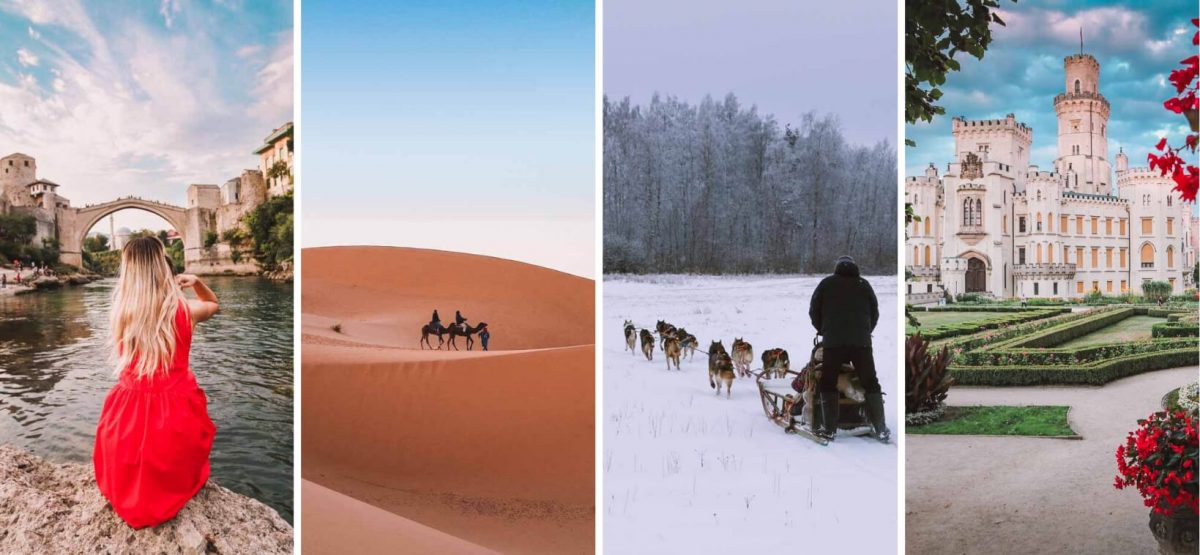 This post may contain affiliate links. I receive a small commission at no cost to you when you make a purchase using my link.
It is a magical time of the year exactly because this is when we all sit down, take out our pens and journals and start making lists for the year to come. Another good thing about it is that you can just reflect on what you already have. Take a moment and appreciate all the amazing experiences that life brought you the past 365 days.
Okay…moment passed, let's sprint over to planning the bucket list for the next year already! 😀
So, I've prepared some epic adventure bucket list ideas of places to visit for every month to show that it is possible to travel and have the best experiences at any time of the year.
January. Dog sledding in Finland
Though January seems like an odd month to go up north, it offers some of the best activities you can do in the cold countries. Finland is a perfect example of that. It truly turns into a magical place covered in a thick white cote, with a few colorful houses and pine peaks sticking out from under it. Not going far from the capital, Helsinki, you'll find a few places that provide an exciting dog sledding experience. You'll be sitting in a huge sleigh while a dozen very active huskies will be riding you through the forest. Though it is a dream coming true, it is very important to study the experience providers and find an ethical one that doesn't abuse the doggies. One that I tried and can recommend is Gegwen Getaways, who take good care of their dogs.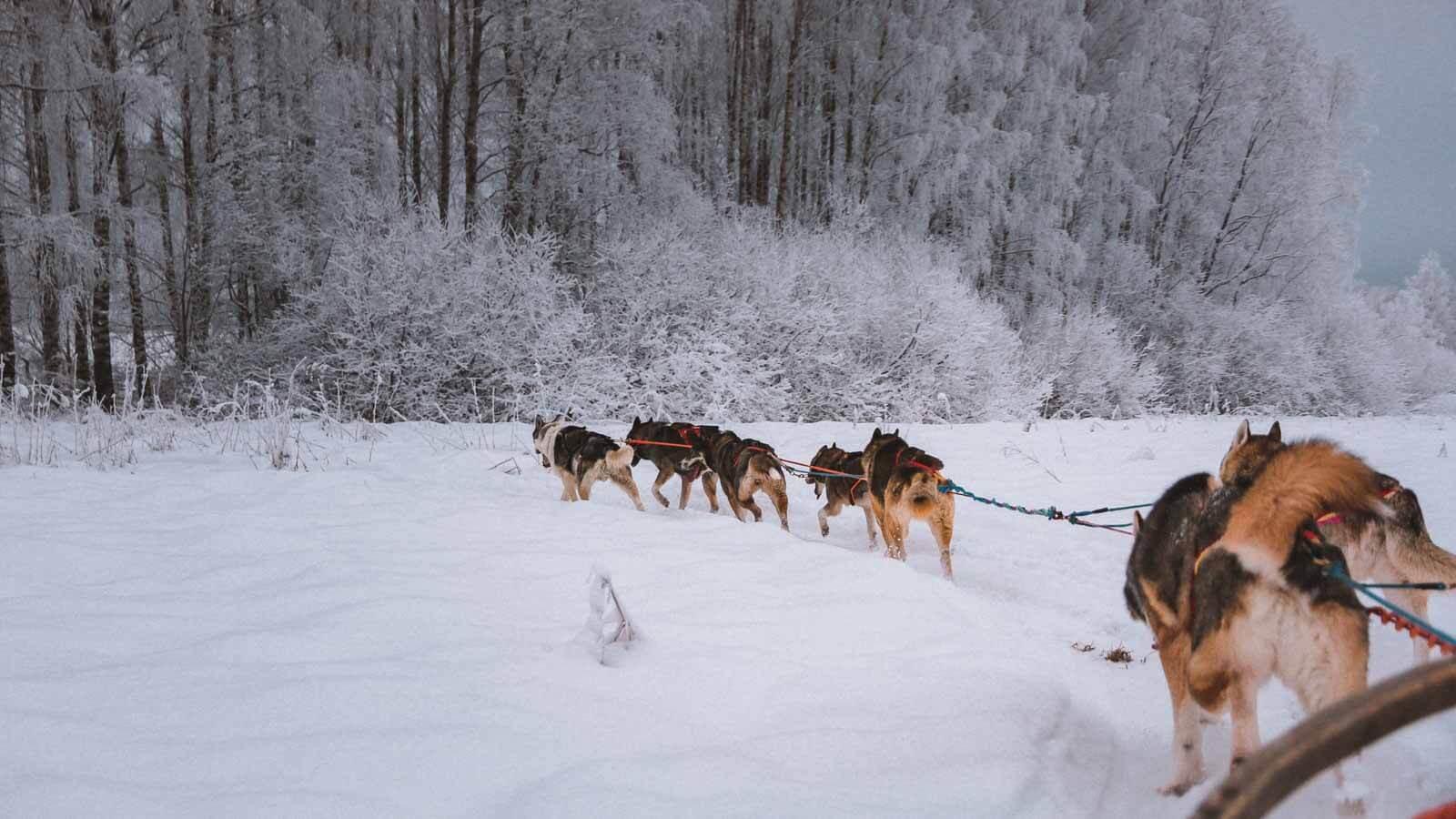 February. Get boiled in "chany" in Ukrainian Carpathians
February is a good time to dive into the unique winter experiences offered in the remote corner of Ukraine – the Carpathian mountains. After a long cold day skiing, it feels great to relax in the open-air boiling hot spa where you can literally see the steam coming out of you. "Chan" is a big metal bowl heated from underneath with wood. The water inside is fermented with essential oils and pieces of pine trees or other herbs to add the healing properties. The water temperature might seem too hot in the beginning, reaching up to 40-45°C, but as soon as you get used to the temperature, you'll easily dive into the divine relax-coma, the only way to get out of which would be to jump into a freezing cold lake. What a wonderful way to warm up during a cold winter and get a unique local experience!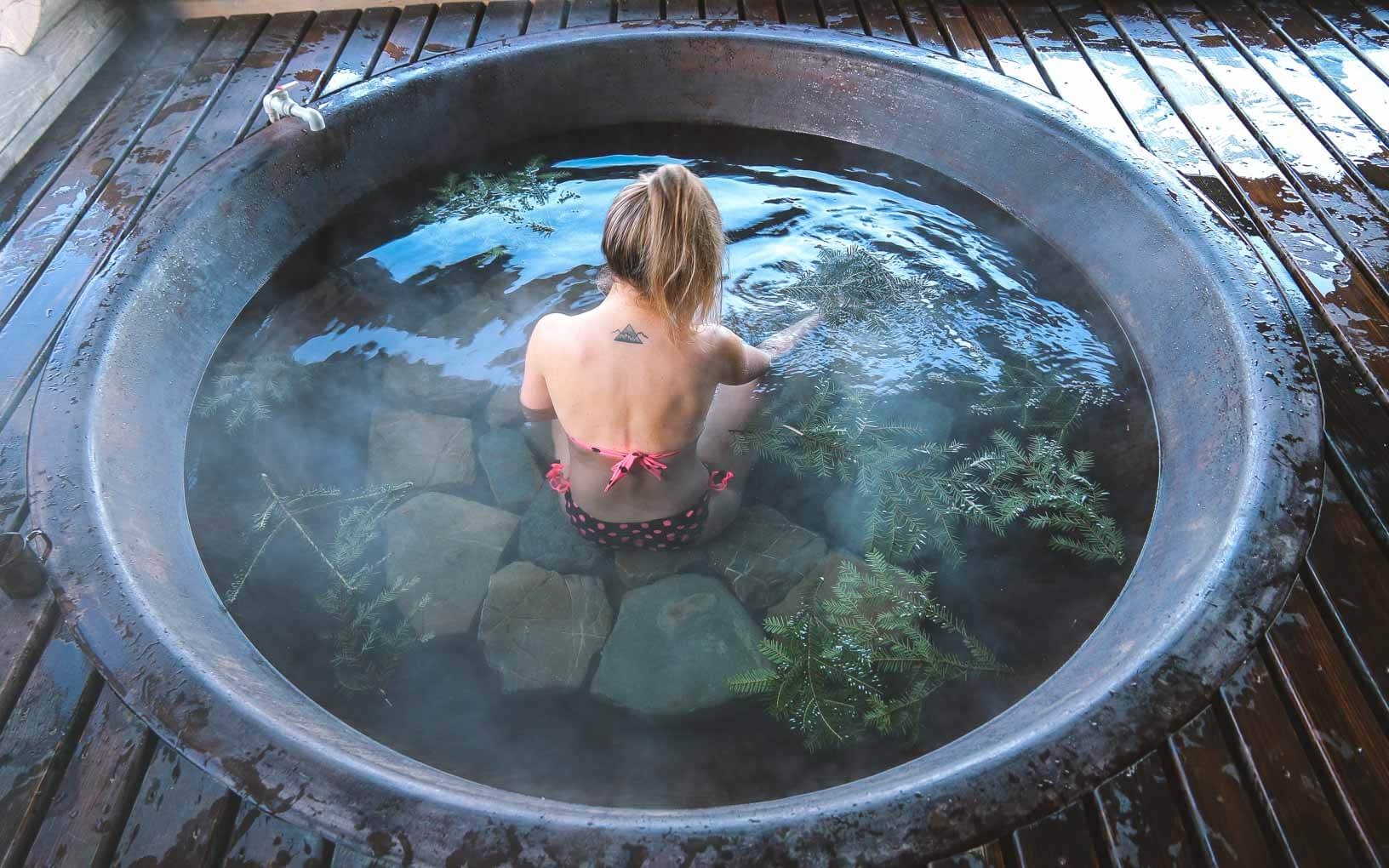 March. Camel ride in Morocco
Morocco is known around the world for its vibrant medinas where one might get lost or at least get out with lots of compulsive purchases. While it is true, the country has so many other sides that are not exactly what you expect. Some of the most magical experiences the country can offer is Morocco desert tours to Sahara. The solitude and quiet of the desert is absolutely overwhelming. The endless dunes, that change their color from dark brown to pink to golden yellow throughout the day have a mesmerizing effect provoking deep thoughts about eternal issues.
To make your stay in the desert even more pleasurable, you can rent out one of the luxury tents with Merzouga Luxury Desert Camp, who will guarantee that you have nothing to worry about during your stay in the desert apart from finding the best way to relax. A luxury tent including shower, spacious bed and even air conditioning, will make for the most comfortable stay even in the middle of the desert. But the best part about staying in the desert is being able to witness the gorgeous sunrise and sunset that will treat you with the most picturesque views you'll ever see. During the day, you can embark on a camel ride in the desert, while after the sun is down, you can stay up on the oriental carpets and gaze at the starts which are at your disposal in the clear skies of the Sahara.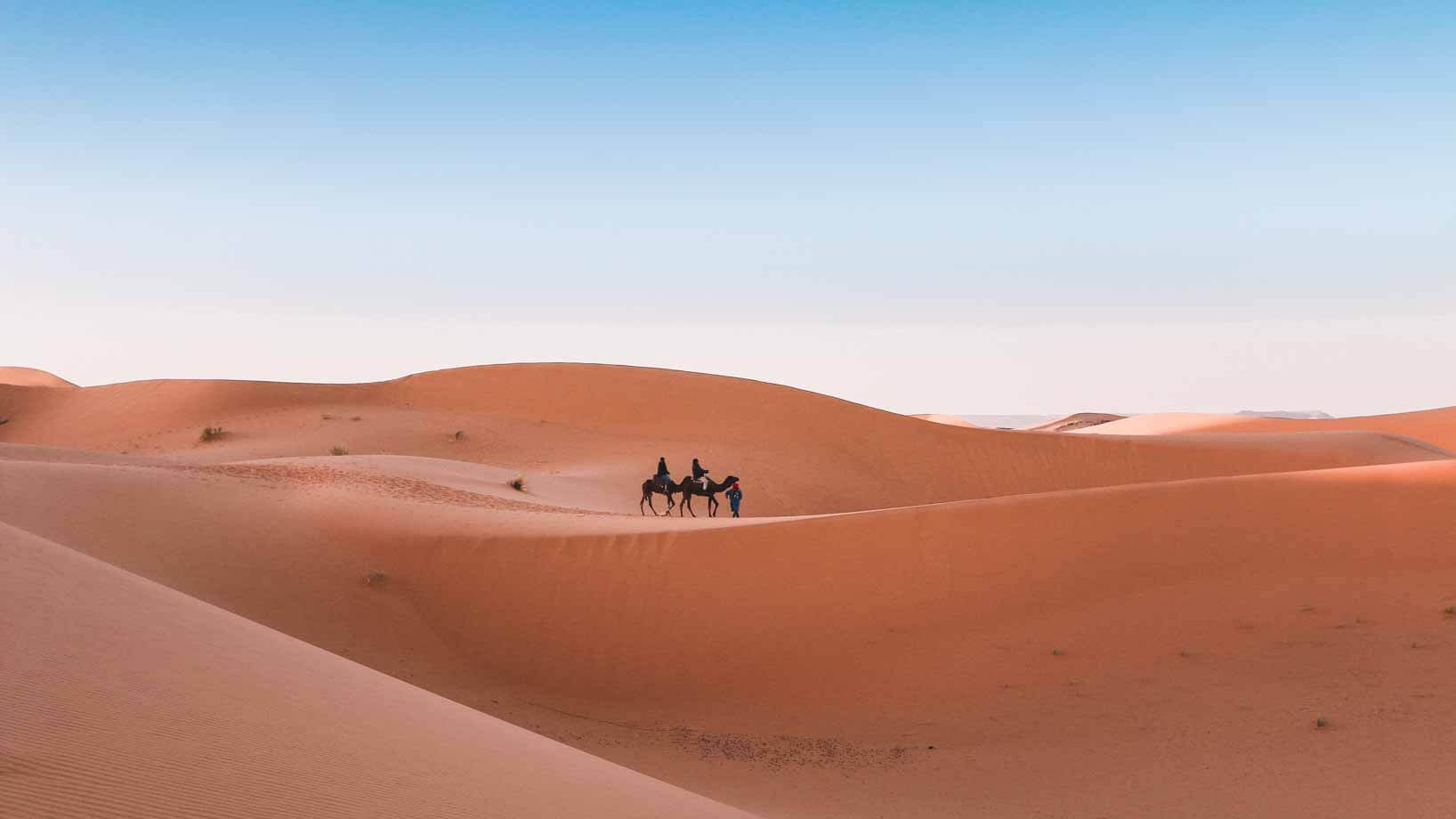 April. Smell the cherry blossoms in Copenhagen
Smell, snort, eat and obviously take a photo with! For some reason during the cherry blossom season, all the photographers that were hiding under the blanket during the cold winter resurface and gather in the same spot to photograph the most beautiful season in Denmark, April, the time when cherries bloom. There are several places to see cherry blossoms in Copenhagen, but only one of them – Bispebjerg cemetery is gathering serious hype crowds. Whether you want to follow the crowds or stay in your own wave, you still can find the park with cherry blossoms to your liking. It is certainly a beautiful experience.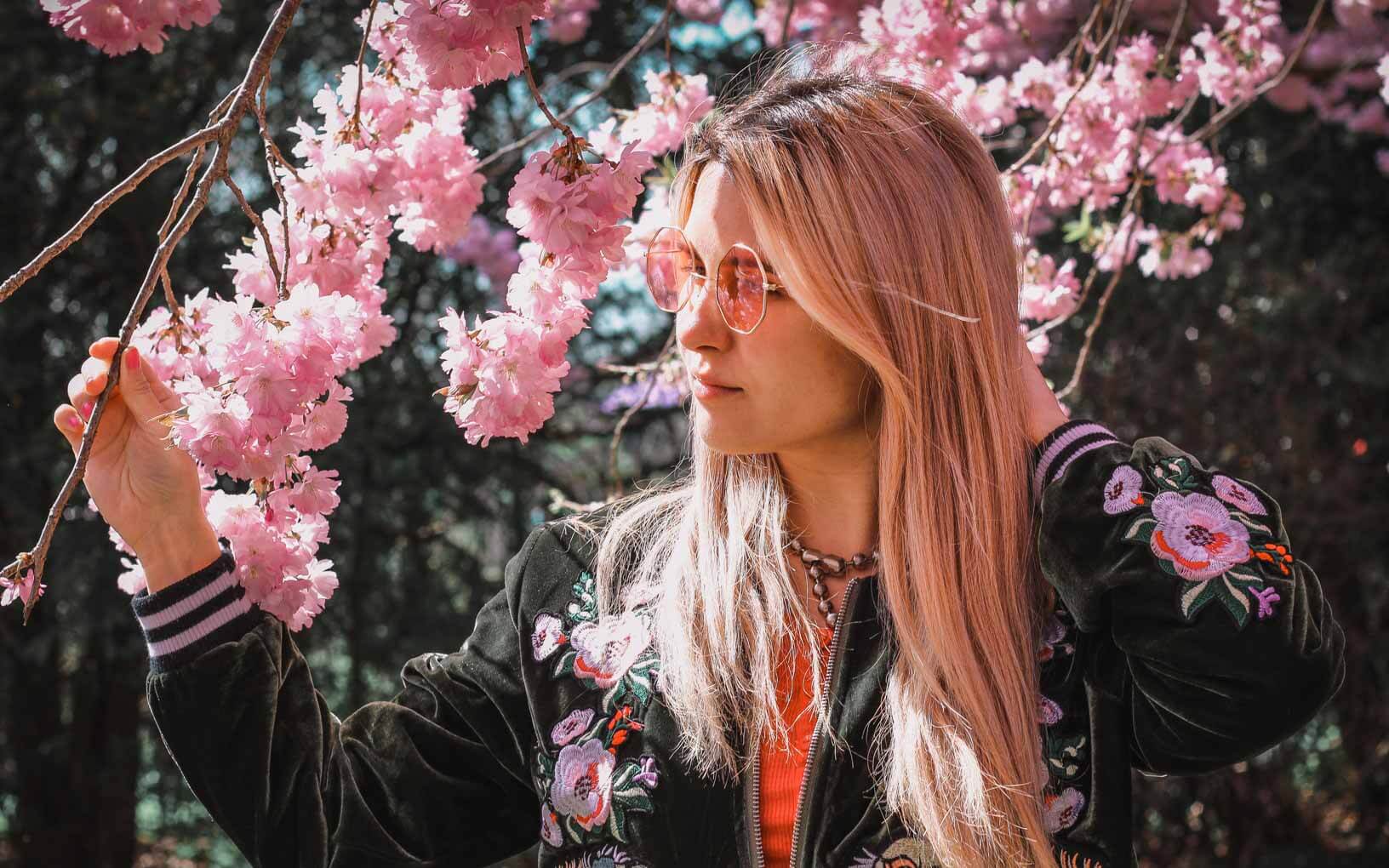 May. Take a cruise to Alaska
Alaska always intrigued me. I wondered what is there, at the edge of the world, where the conditions are rough and there are no crowds of tourists to spoil the nature, no horrible billboards to creep the sceneries and there is just untouched serenity in all its beauty? Taking a cruise tour to Alaska will be a fantastic chance to discover the pristine sights of the remote lands, ditch the overcrowded destinations and get amazed by the unspoiled beauty, where the raw nature, rugged ice terrains and wildlife come together.
While sitting in the warm cabins of the cruise liner, you'll have the possibility to catch the best views of the rough ice edges, and maybe even catch the glimpse of giant whales which can be seen here from May to September. Therefore, May is the best time to cruise Alaska. After all, you can always step down of the ship on the most remote corners and dive into adventure yourself: go ziplining or hiking the glaciers. Whatever you choose to do, observe from the cruise ship or go on the ground to do some exciting land tours, the trip to Alaska guarantees unique memories.
June. Castle hunting in Czech Republic
Czech Republic was a surprising discovery for me personally this year and since then I cannot shut up about the beautiful castles of Bohemia regions. Usually, the country has one or two really nice castles and that's already good enough, but Czech Republic has plenty and the great thing is that country is reasonably small that you have the opportunity to do a real castle hunt retreat. From fairy-tale romantic Hluboka castle to medieval one on Kuneticka hora, Czech castles will definitely make you gasp for air over and over again.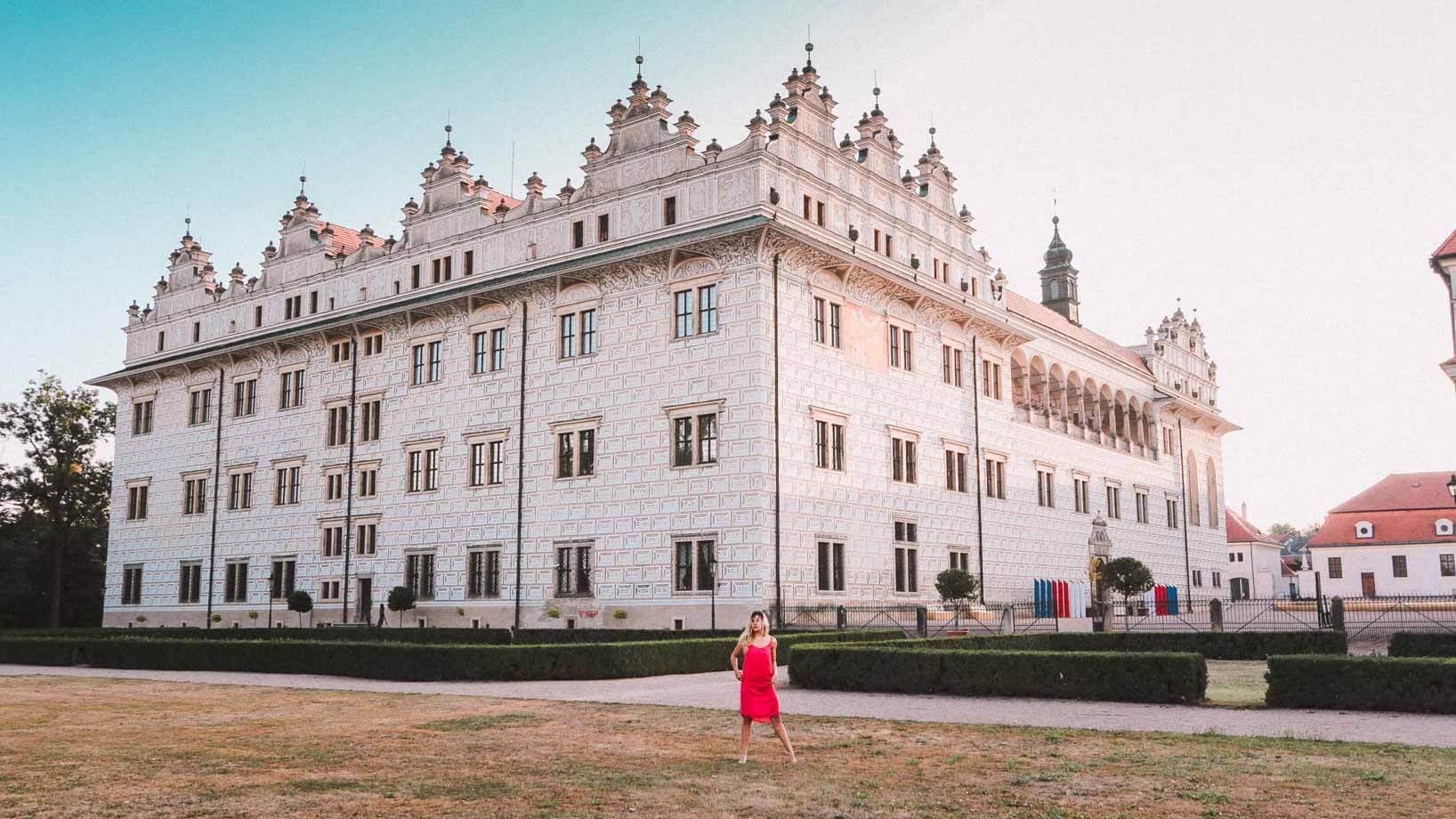 July. Climb the top of Trolltunga in Norway
July is the best time to go hiking in one of the most breathtaking areas on the planet – Norwegian fjords. It is always rainy in this region, but in summer, you have the best chances to have a clear sky and dry path to secure a good hike. One of the most photogenic hikes in Norway is the Trolltunga trail, a little East from Bergen. It's challenging, it's long and it's goddamn beautiful. One step after another you will discover not only new energy within yourself to finish this 14 km hike but the full majesty of Norwegian fjords. They are the purest form of nature that I have ever experienced strikingly gorgeous and unforgettable. Seeing a natural wonder of this magnitude makes you question a lot of things. Taking a road this long and beautiful will certainly make a lasting impact.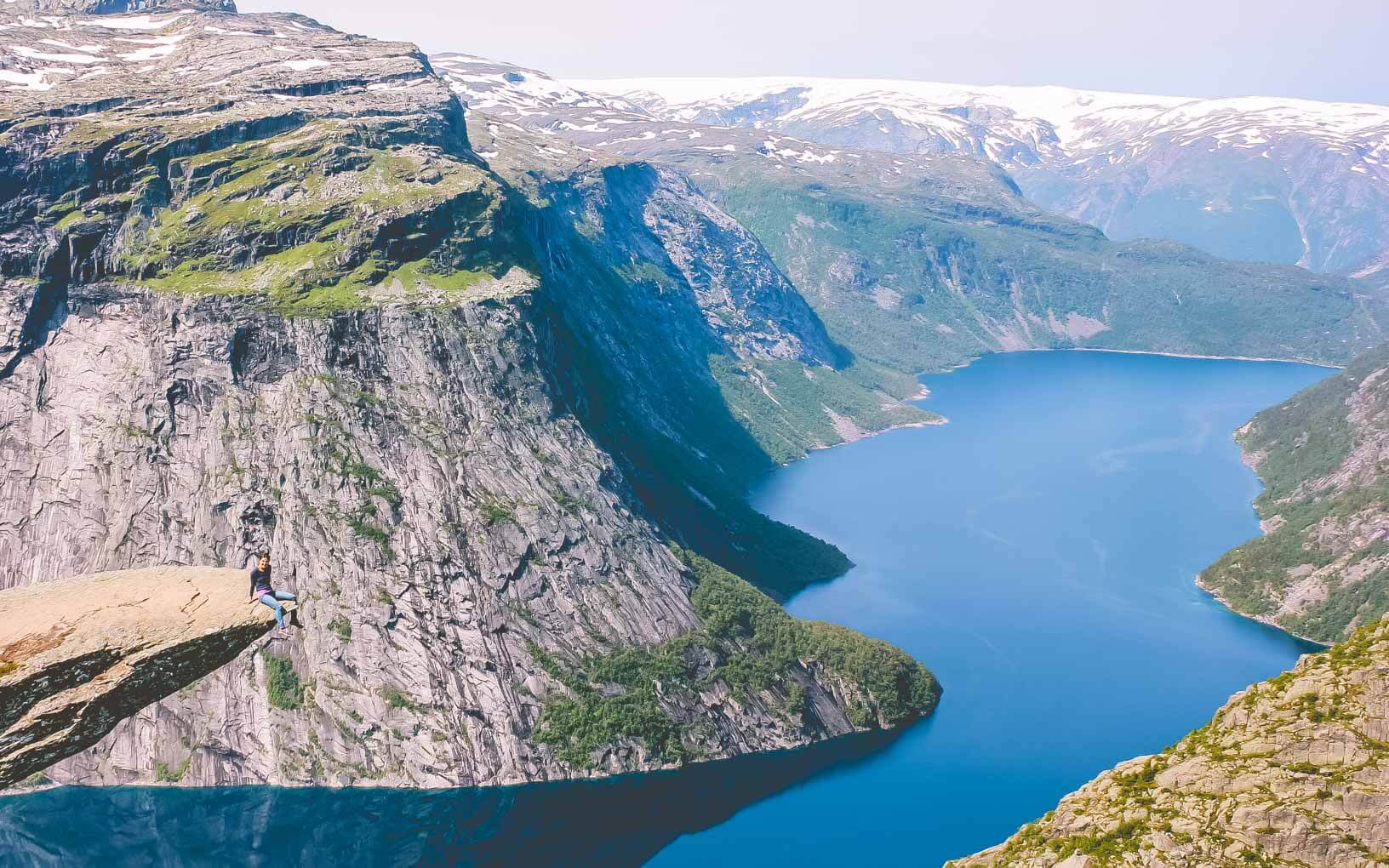 August. Witness the wildlife migration in Kenya
From July through September the biggest wildlife migration in Eastern Africa is taking place. If you're thinking of the best places to go in August, it is simple – Masai Mara National park in Kenya. It is a base for the most epic spectacle in the wildlife world, when the insane concentration of elephants, zebras, giraffes, etc., attract even more players to the game, such as lions, cheetahs, hyenas, and crocodiles who are waiting their time to feast on this massive parade. Witnessing wildlife in Kenya is something you simply cannot miss.
September. Kiss under Mostar bridge in Bosnia and Herzegovina
Bosnia and Herzegovina is one of those places that deserves far more attention than it gets. This country where west meets the east is truly enchanting. Especially a little town called Mostar that breathes history and culture. While the whole country of Bosnia and Herzegovina is covered with beautiful mountain terrain, it is Mostar that often brings people here. Walking the old stone roads it is difficult not to fall because the stones are so slippery from all the crowds that ever walked here. But walking along the river Neretva that flows under the Mostar bridge will gift you with some unique romantic moments.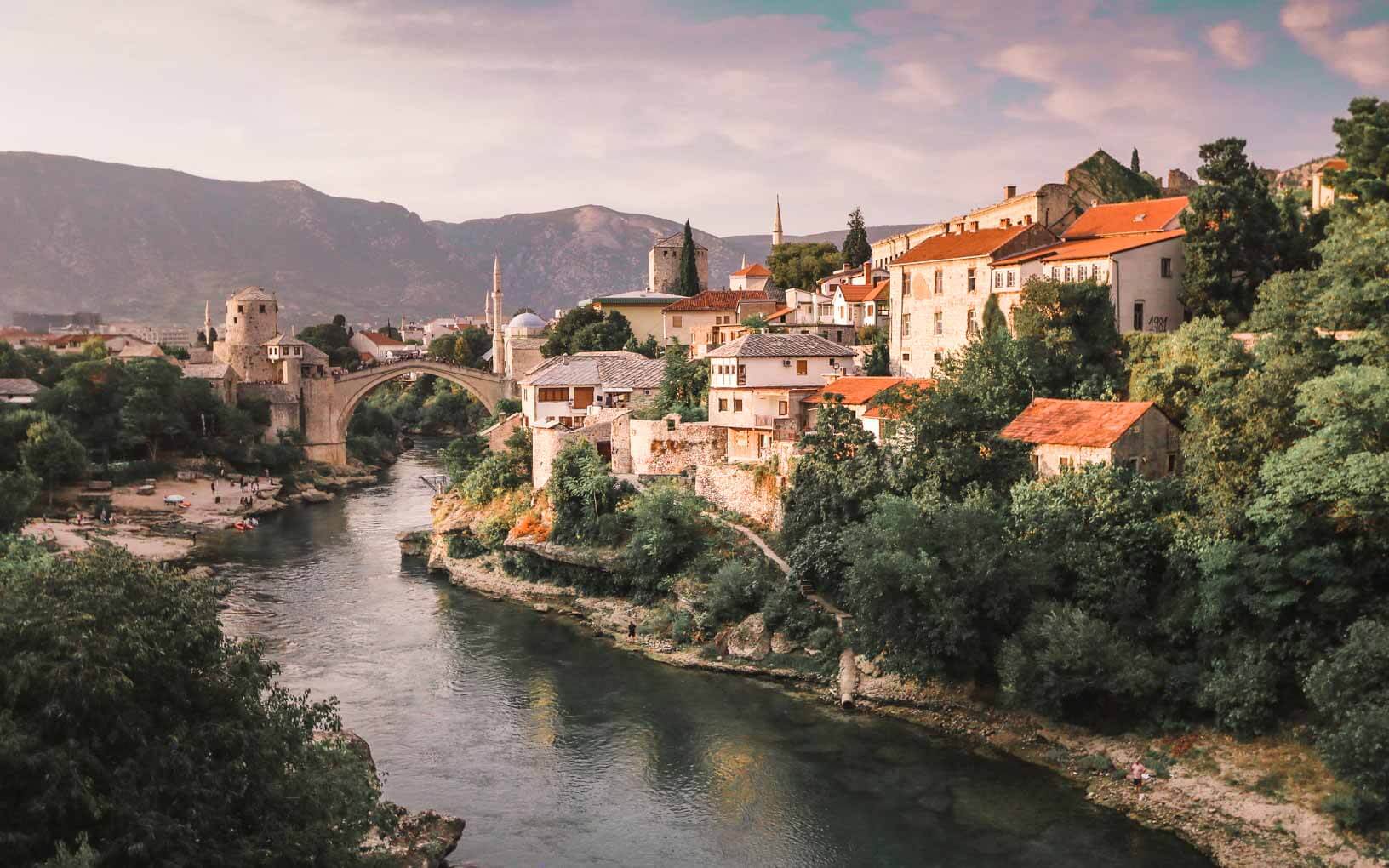 October. Discover wildlife during a river safari in Borneo, Malaysia
Kinabatangan river is the second longest river in Malaysia but this is not what it is most famous for. This river is the embodiment of wildlife in Borneo, an Amazon of Malaysia, if you will. It is home to some of the most fascinating and rare species, like pygmy elephants, Borneo orangutans, rhinoceros hornbill, and proboscis monkeys among many others. Jumping onto a Kinabatangan river cruise, you already have good chances to spot some of the best-known wildlife in Malaysia, as this region has the highest concentration of orangutans and proboscis monkeys . Given the situation with palm oil tree plantations and endangerment to the wildlife population in Borneo, visiting now might be some of the last chances to see these animals.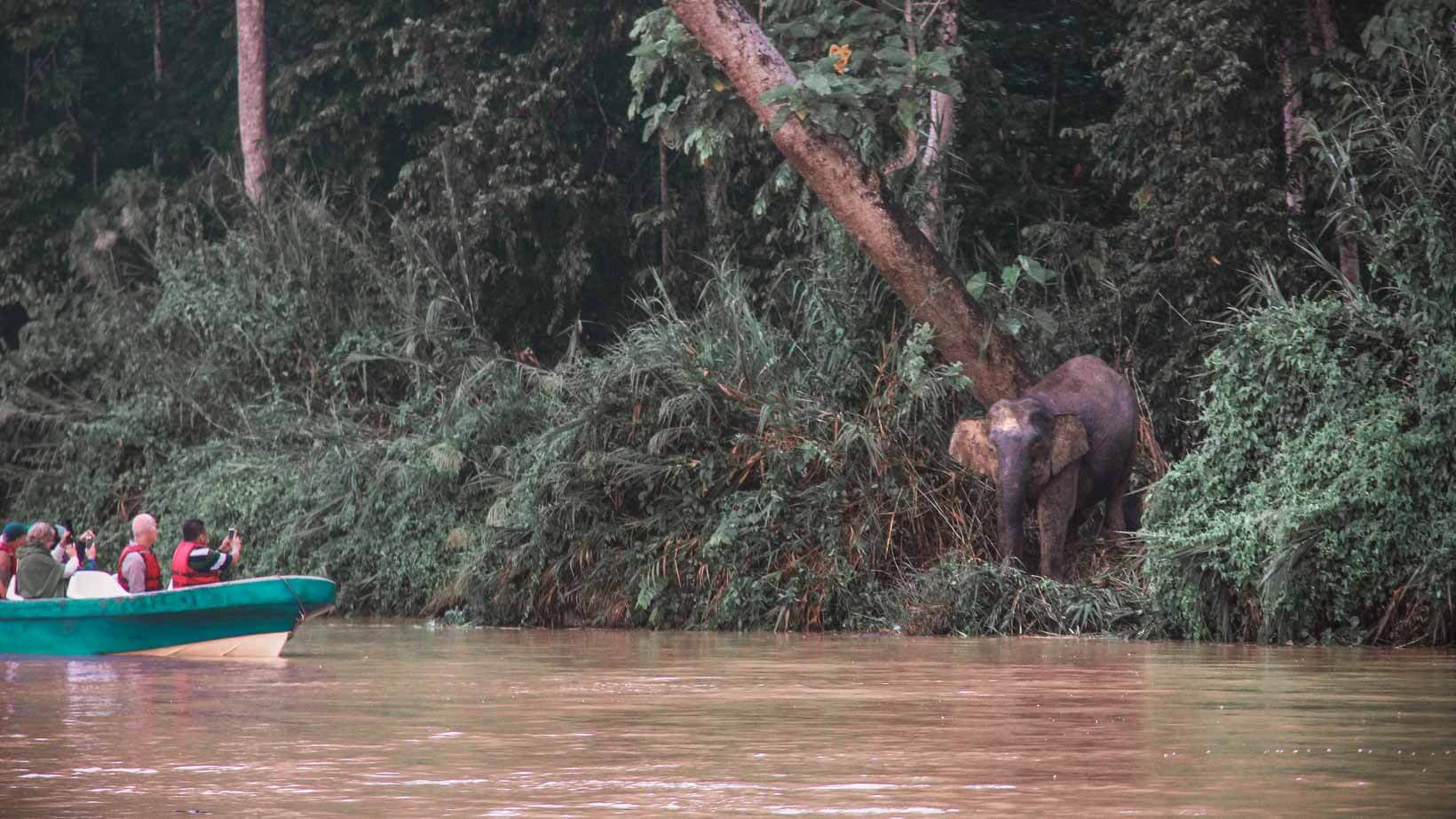 November. Go retro style in Cuba
There is something charming about the frozen in time Havana, which is authentic and extremely unique in this globalized world where everything is pretty much the same. For the car lovers, the trip to Cuba would be particularly exciting because of all the vintage American and Soviet cars that drive around the city. While some cars are kept shiny as if they are coming straight of the shop, others are raw and rusty, but either way, there is a possibility to get an exceptional experience of strolling through Cuba's capital in an old car making yourself feel like a character in the 50ies movie. I, for one, would love to dive into the romance of Cuban life.
December. Visit Christmas markets in Europe
Christmas markets in Europe is definitely one of the best places to visit in December. They lit up all over Europe and it is a magical time to dream, cozy up and spend time with your family and friends. But besides that, it is a great time to walk around ignoring the cold and do some shopping at charming Christmas markets. There are many places in Europe where you can experience that, but some of the greatest and coziest Christmas markets can be found in Germany, such as the Christmas market in Frankfurt. Here you can go ice-skating, drink some mulled wine, get pretzels and caramelized almonds and just be merry together with other market visitors.
---
Disclosure: This is a sponsored post.
Like It? Pin It!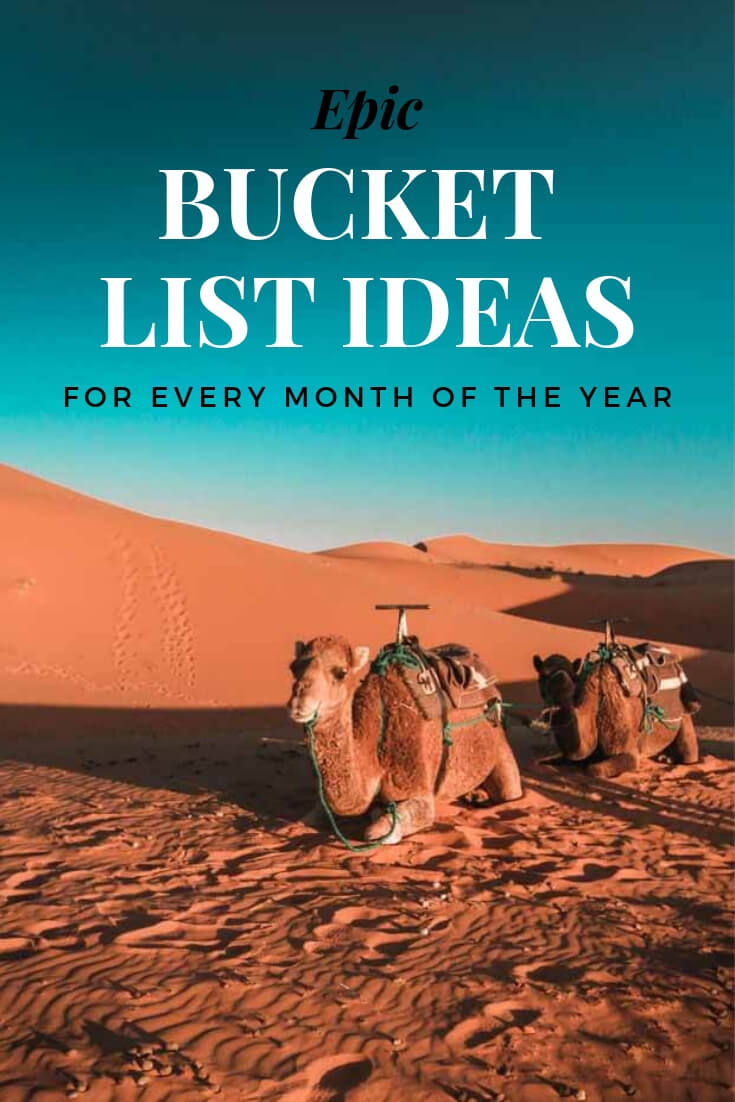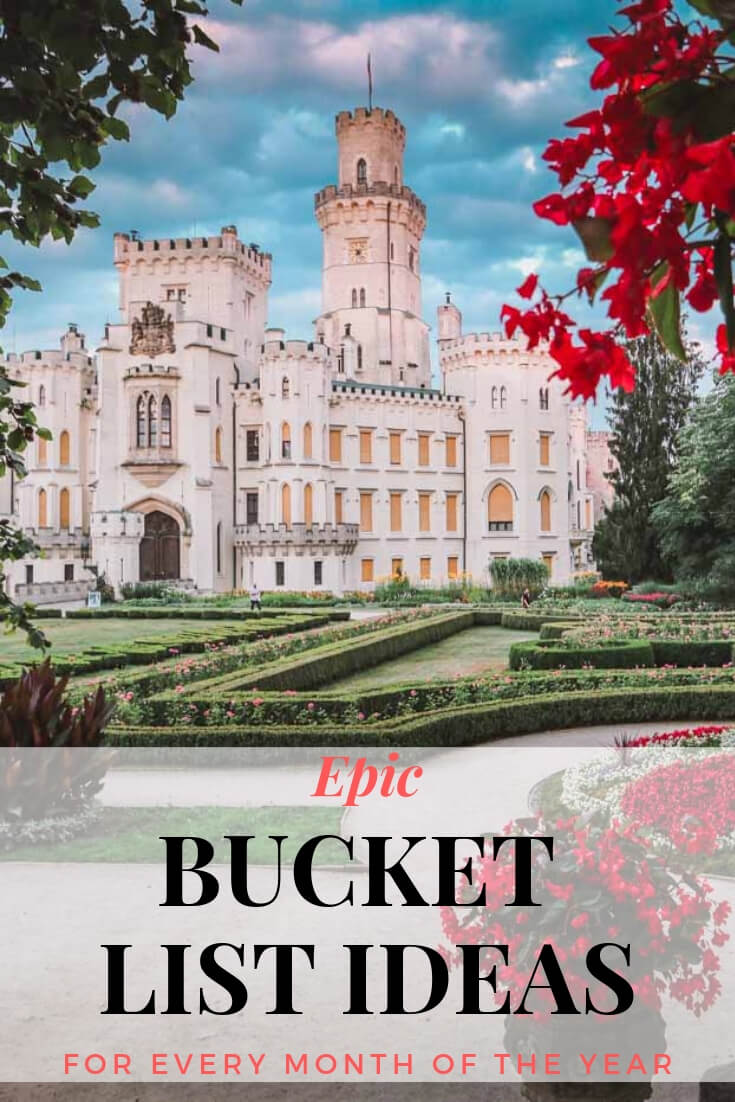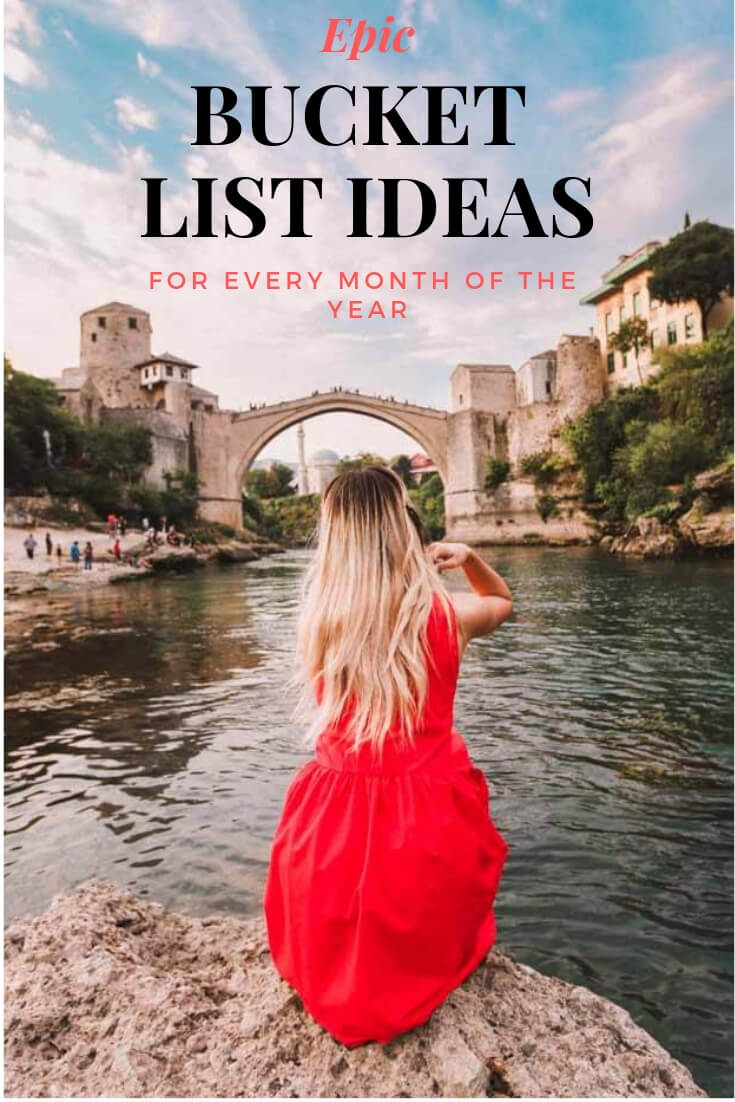 So, what do you say? Looks like the upcoming year is already full of bucket list travel adventures for any taste from January to December. Which idea is your favorite? Maybe there's one you already tried? Share your experience in the comment section below!