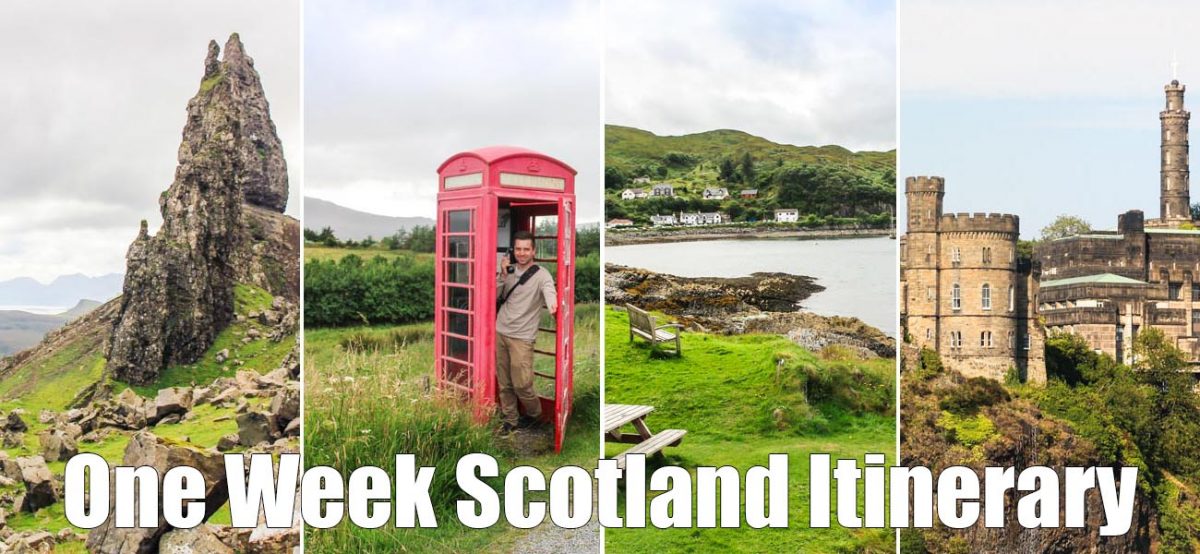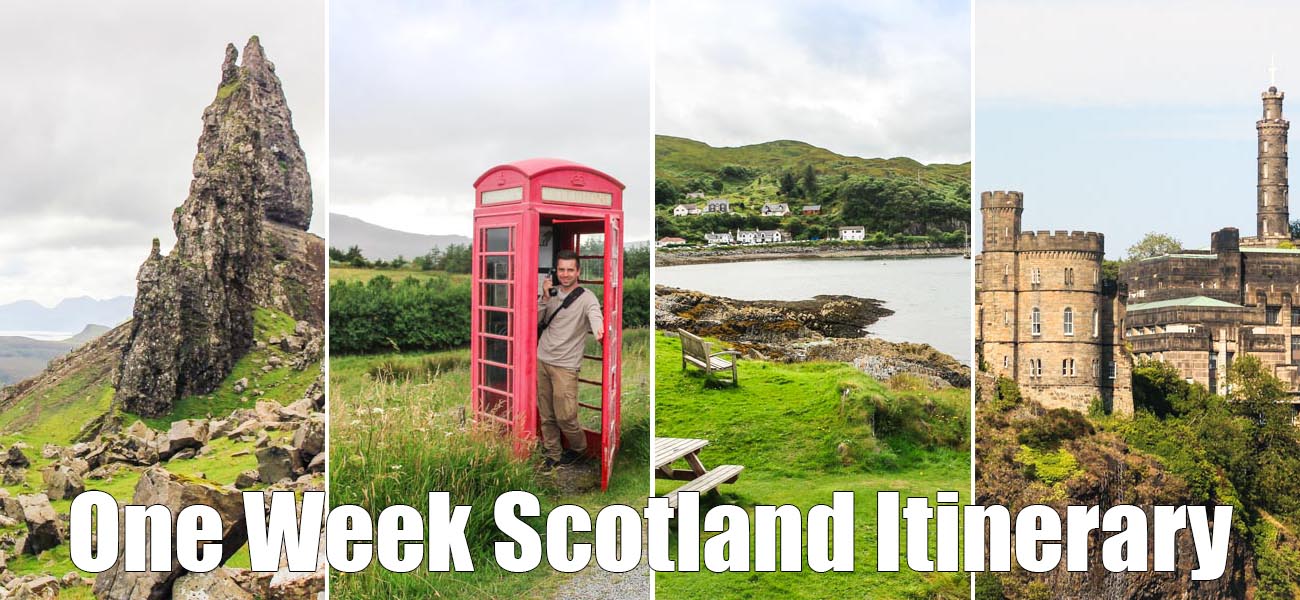 One week trip to Scotland was one of the most memorable travel experiences I have ever had. It left me not only with plenty of absolutely stunning images but with great stories of adventure. Scotland is not like any other place in Europe and it deserves exploration beyond the reach of big cities.
I am going to share with you a suggested one week Scotland itinerary. It starts in Edinburgh, goes to the Isle of Skye and back via Glasgow.

One Week Scotland Itinerary
Day 1. Edinburgh
Arrive in Edinburgh. Spend a day in a beating heart of Scotland. This stone made city will not leave you careless. Among the best things to do in Edinburgh: Arthur's Seat hike and of course – Scottish pubs and whiskey!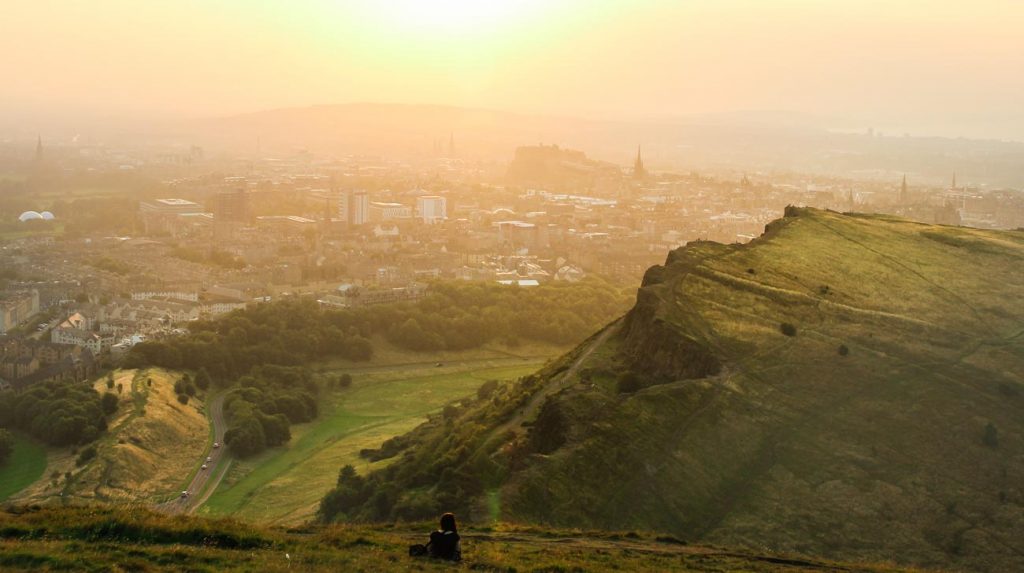 For more information, read my article: A DAY IN EDINBURGH: THINGS TO DO
Day 2. Edinburgh to Isle of Skye
Drive to Isle of Skye. You can do this in different ways. If you have a car, you can take the A9 towards Inverness and pass the Loch Ness on the way to get familiar with a famous monster. Another alternative (which we took as we didn't rent a car) is to hitchhike through to Isle of Skye. If you want to know more on how to do it right, read my post: HITCHHIKING IN SCOTLAND WORKS? Either way, it will most likely take you the entire day to do the trip, especially if you want to stop and see things on the way.
Day 3. Portree, Isle of Skye
Wake up in Portree, rent a bicycle or a car and go to explore the natural beauties of the Isle of Skye. The best way to do this is to make a loop going north seeing Old Man of Storr, Quiraing, Uig and coming back to Portree.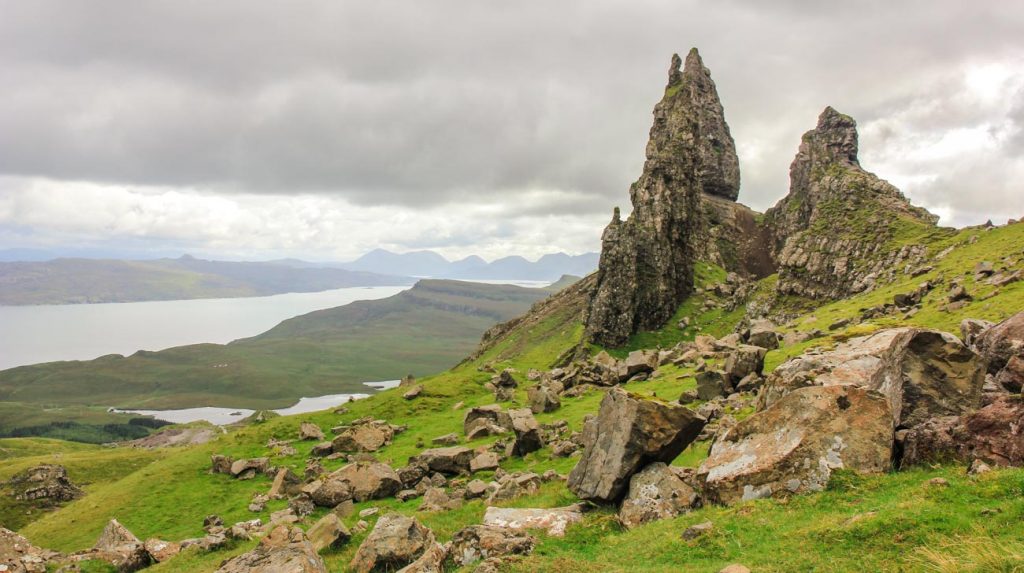 Day 4. Isle of Skye
From Portree, take a trip west to see the oldest inhabitable castle of Scotland – Dunvegan castle and further to the most western part of Isle of Skye to see the Neistpoint Lighthouse.



Day 5. Mallaig and Harry Potter Train
Take a bus to Armadale from which you can take a ferry to Mallaig. Here the link to ferry booking.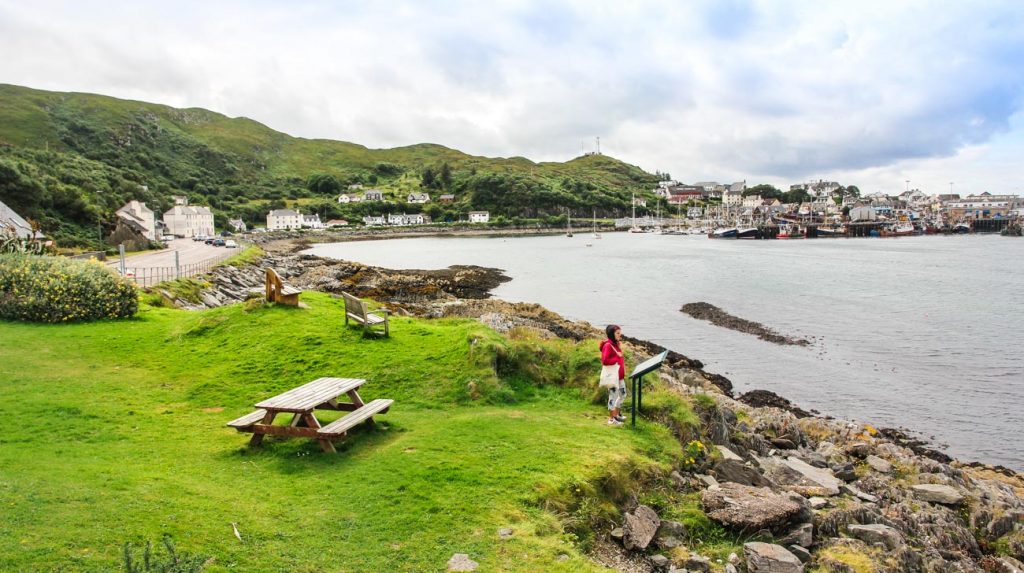 Mallaig is a small but very lovely town, so spend some time exploring it while you wait for your train. Take a ride to Fort William on a most famous train in Europe – a Jacobite steam train that carries all students of Harry Potter movie to Hogwarts.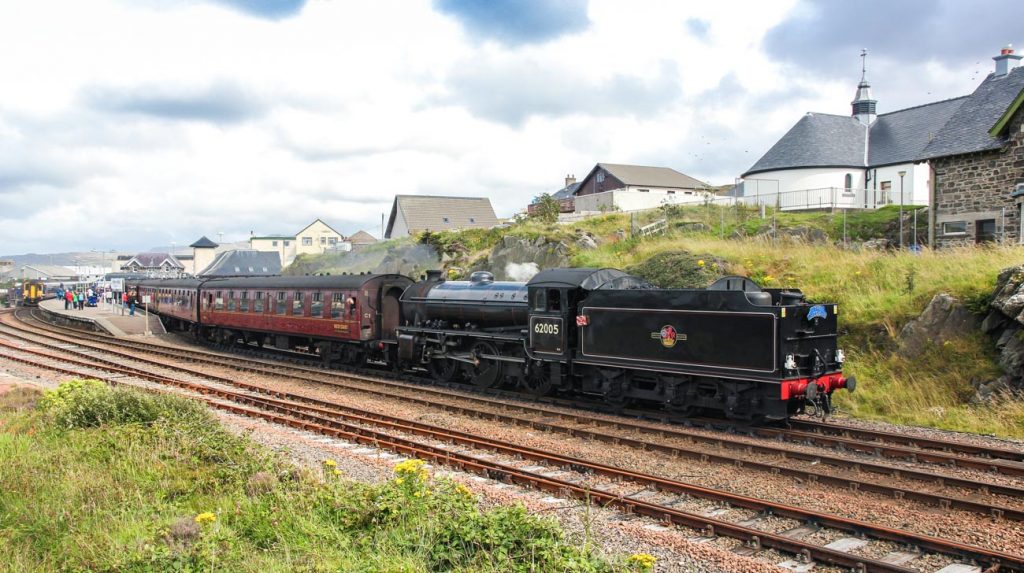 Day 6. Loch Lomond and Trossachs
Take a bus (or drive) from Fort William down to Loch Lomond and Trossachs to explore one of the biggest national parks in Scotland. If you have a tent, you may as well stay here overnight.
Day 7. Glasgow
Catch a ride to Glasgow (should take around 2 hours) and spend a day exploring city's numerous museums and galleries, or simply take a relaxing city walk enjoying a pie and a pint in a local brewery.
The Isle of Skye trip won't be complete if you don't interact with locals as they are, in my view, adding up enormously to the cultural experience. Try the famous chips and fish, haggies and of course at least some of the strong Scottish whiskey.
To make the travel easier, you might want to check out Get Your Guide website for tour bookings. It will give you a list of available tours with prices (there are plenty from Edinburgh!) and you can choose which one suits you best. Most of them cover the same itinerary as suggested by me.
For more information about things to do and places to stay in Isle of Skye, read my ULTIMATE GUIDE TO ISLE OF SKYE
Is you are planning on making Isle of Skye a bicycle trip, check out my article on what it's like: 7 CIRCLES OF HELL IN SCOTTISH HIGHLANDS
For the best places to stay in Scotland I recommend checking out Booking.com or AirBnb.
Like it? Pin it!
Tell me about your travel plans! When are you going and what are you going to see?
---
Consider Getting: