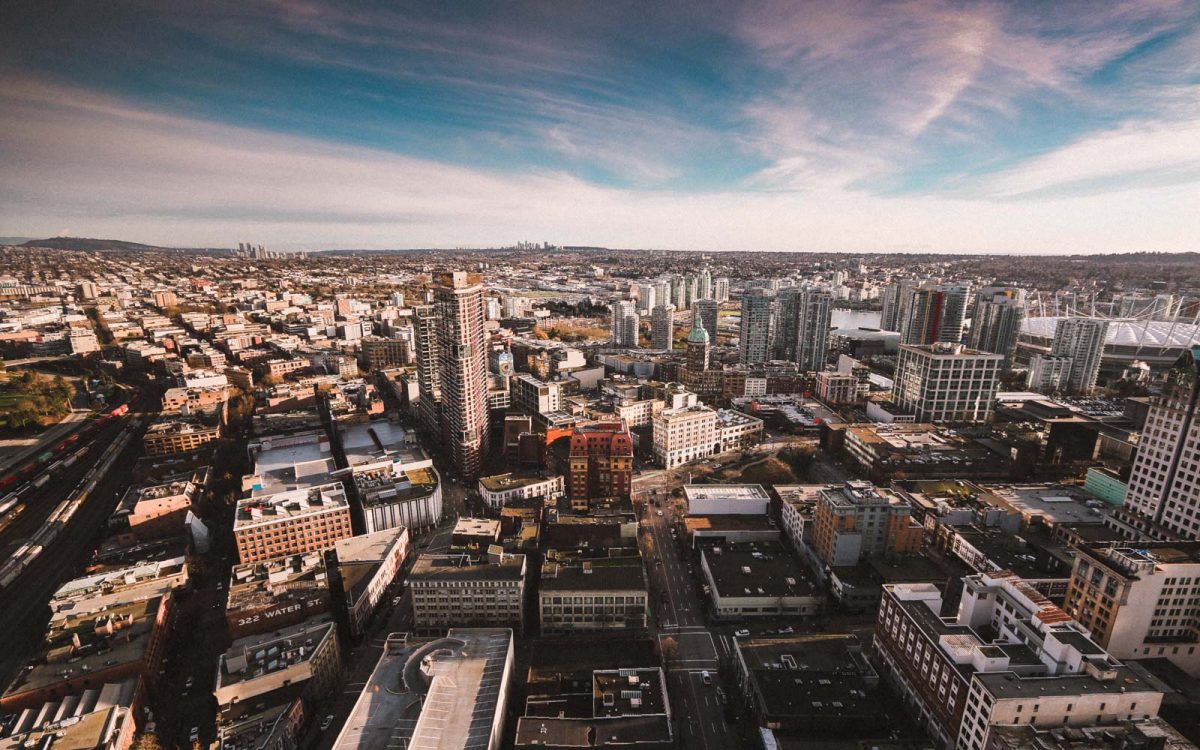 This post may contain affiliate links. I receive a small commission at no cost to you when you make a purchase using my link.
If there is one city in Canada perfect for people who are not that great at tolerating Nordic winters, that would be Vancouver. Despite Canada being known as a tough place to get by in winter, Vancouver offers a different scene with lash and green landscapes and mild weather even during the coldest months. And yes, there are still plenty of things to do in Vancouver in winter without risking to freeze off your toes.
Vancouver winter weather
Vancouver is a place in Canada everyone moves to if they want to get away from the freezing temperatures, as it is one of the mildest places in Canada in terms of temperature.
The coldest month is January, but even at this time the averages rarely go below zero with month's average sitting at 4 degrees Celsius. Winter is also the time to expect a lot of rain as a side effect of relatively warm temperatures.
So, as long as you have an umbrella with you, Vancouver could be one of the most pleasant places in Canada to visit in winter. Here are some of the most fun places to visit in Vancouver in winter.
1. Take a walk around Chinatown
Vancouver is one of the most "Asian" cities outside Asia, with 43% of its metropolitan residents having Asian roots of some sort and with the biggest Asian heritage in all of North America. Therefore, Vancouver Chinatown has a great significance as a historic national sight for the locals as well as a for the tourists.
You can easily stroll the areas of Chinatown on your own, mesmerized by the buzzing life. But if you really want to know what is going on in the most vivid part of Vancouver, I suggest you go on tour with Bob from A Wok Around China Town.
Tip from Travel Monkey: For a brighter experience of Chinatown and in order to leave with some understanding of this place, book a food tour A Wok Around China Town.
Not only is he a third-generation Chinese Canadian full of historical knowledge about the settlement of the Chinese in the region, but he's also got professional culinary training. Therefore, expect to receive the tips and tricks about culinary nuances while he takes you to the kitchen supplies store, street food stalls and the best of China town bakeries.
Bob's mission is to share the history and culinary elements of vibrant China town district with tourists through his tours of "A Wok Around China Town", which includes a garden pass, an entertaining and informative tour and, finally, a yummy dim sum lunch!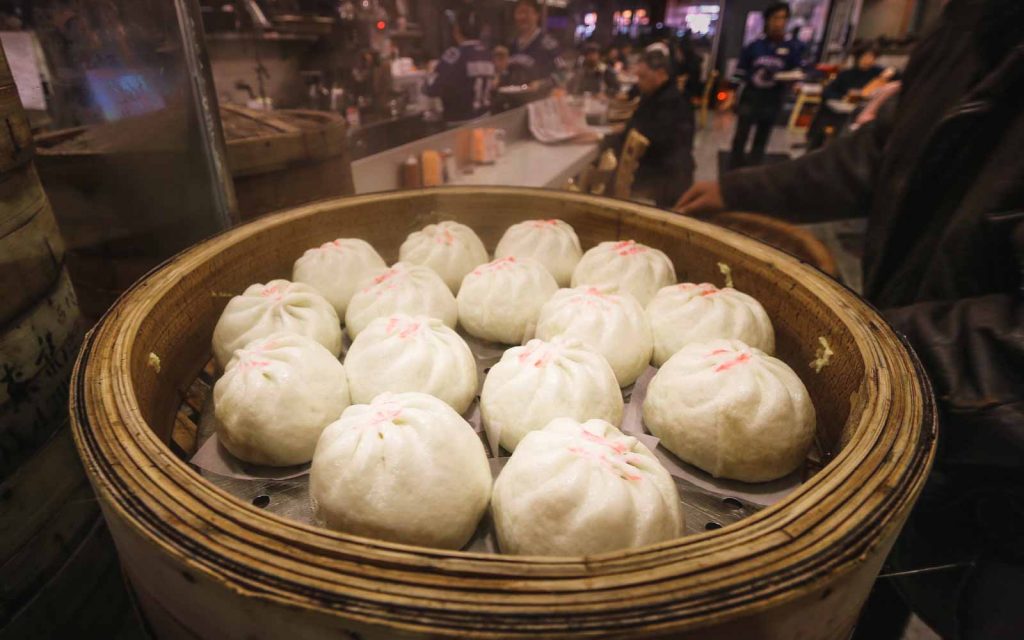 Visit the Dr. Sun Yat-Sen Classical Chinese Garden
You'll start your exploration with Dr. Sun Yat-Sen Classical Chinese Garden named after the first Provisional President of the Republic of China.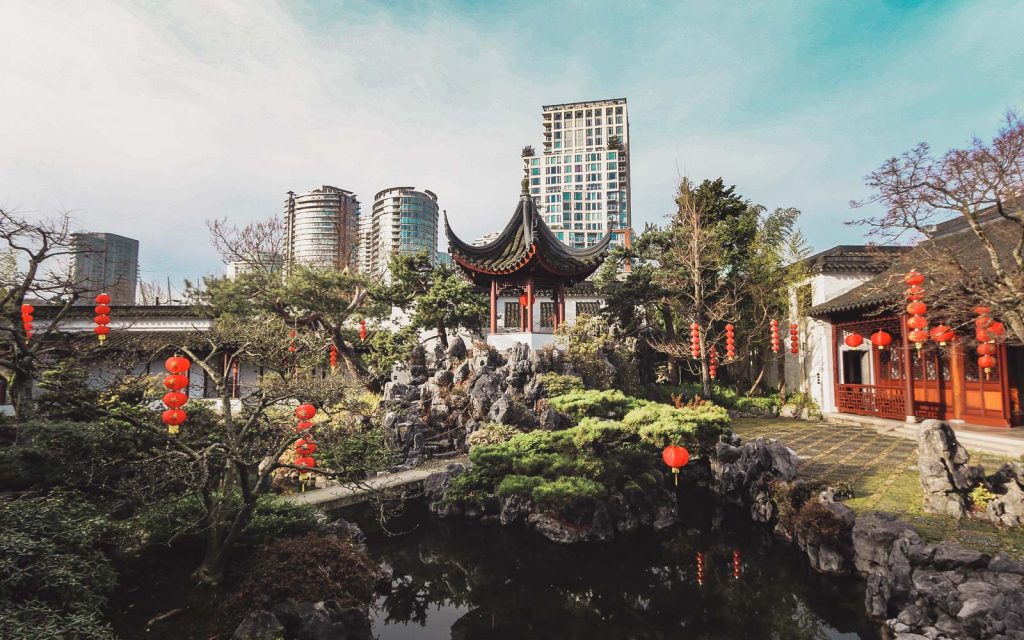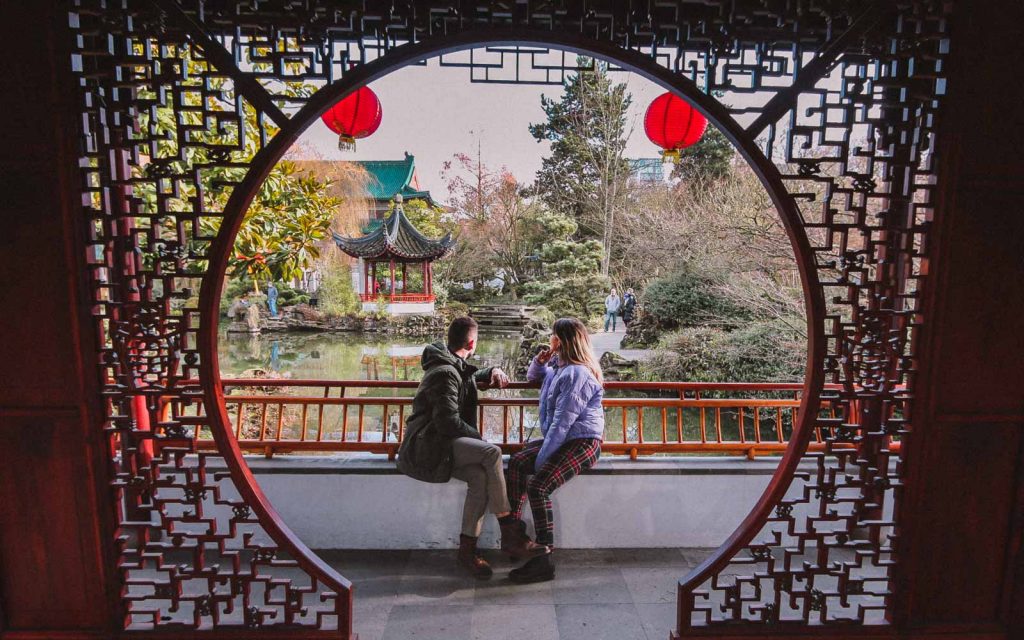 Garden is developed by the Chinese community to celebrate the 100th anniversary of Vancouver. Almost everything you see in the garden is symbolic. None of the elements ended up here by chance, but were carefully selected to represent 4 fundamental Chinese values that are represented in the garden:
Daoism – balance. Such as ying (feminine's, round lines) and yang (masculine, straight and square lines)
Confucianism – structure, routine and family
Symbolism – everything you see and its interpretation depends on perspective, climate, emotion and mood.
Tip from Travel Monkey: You can access majority of the garden for free and usually it is enough. The extra ticket will give you entrance to the historical heritage part. If you are coming here with Bob's tour, the ticket is included in the price.
Visit Chinese medicinal markets
Highly popular, these markets offer a wide selection of the strangest things you can think of, most likely dried out and most likely prescribed for a holistic treatment of some sort of condition. For example, here you can buy dried geckos, sea snakes, fish bellies or what not to make a magical healing soup. Regardless of the fact that it was strange for me to see such things being on sale, I was still tempted to buy a jasmine tea which helps to lower the cholesterol levels 😀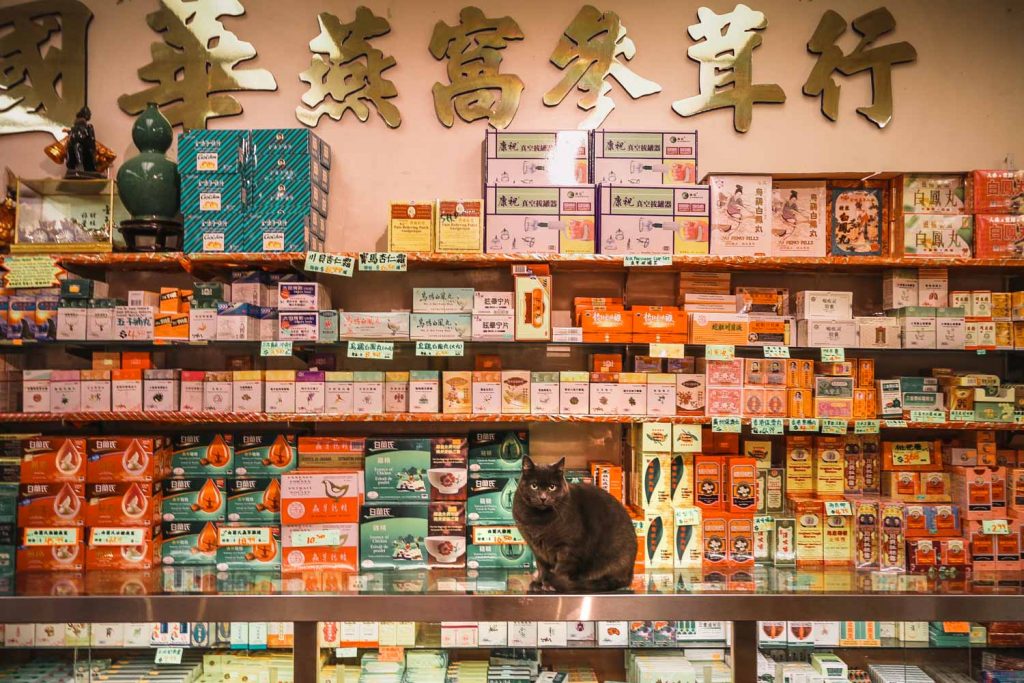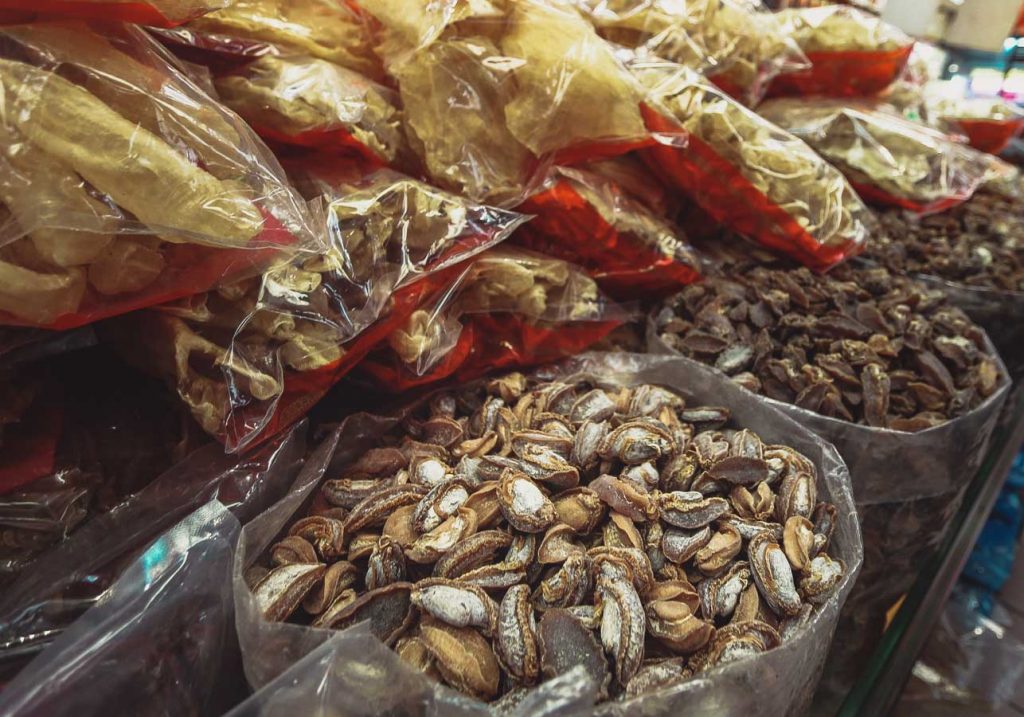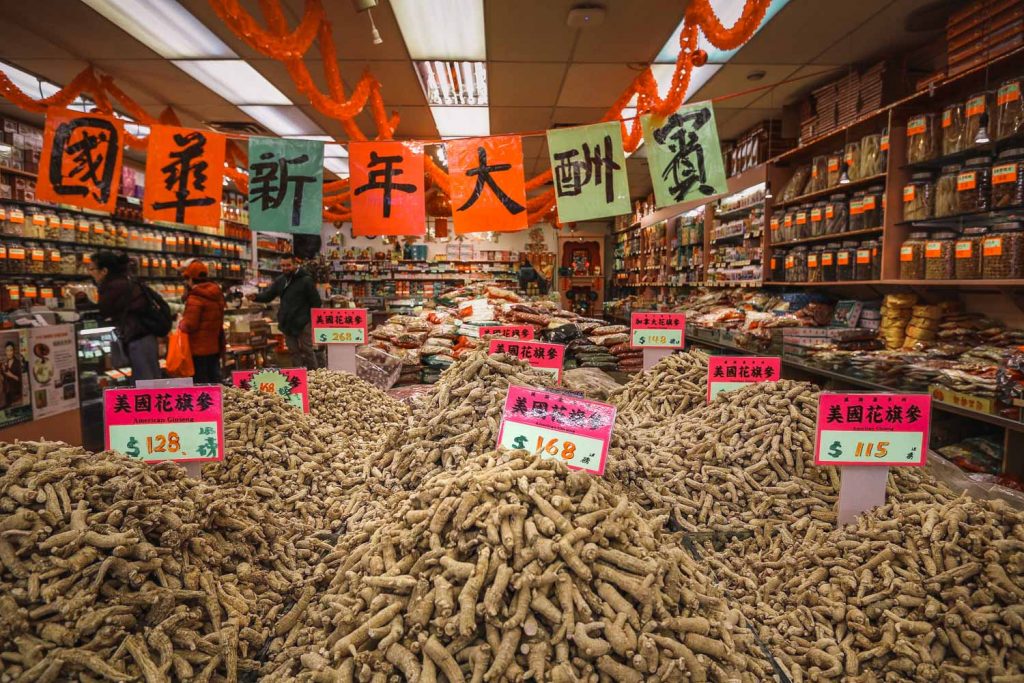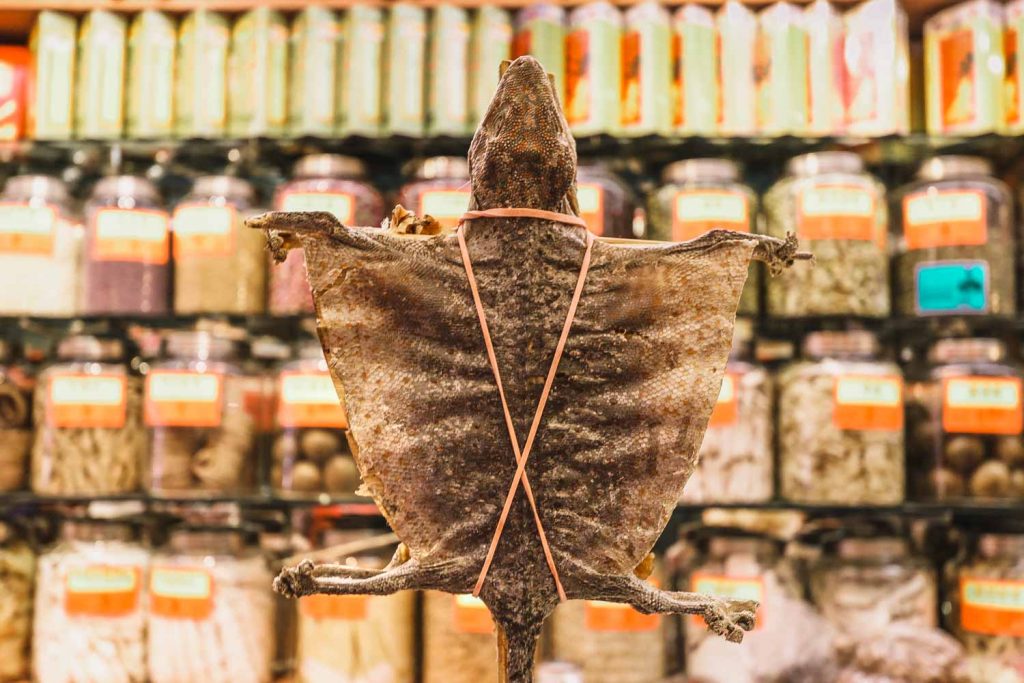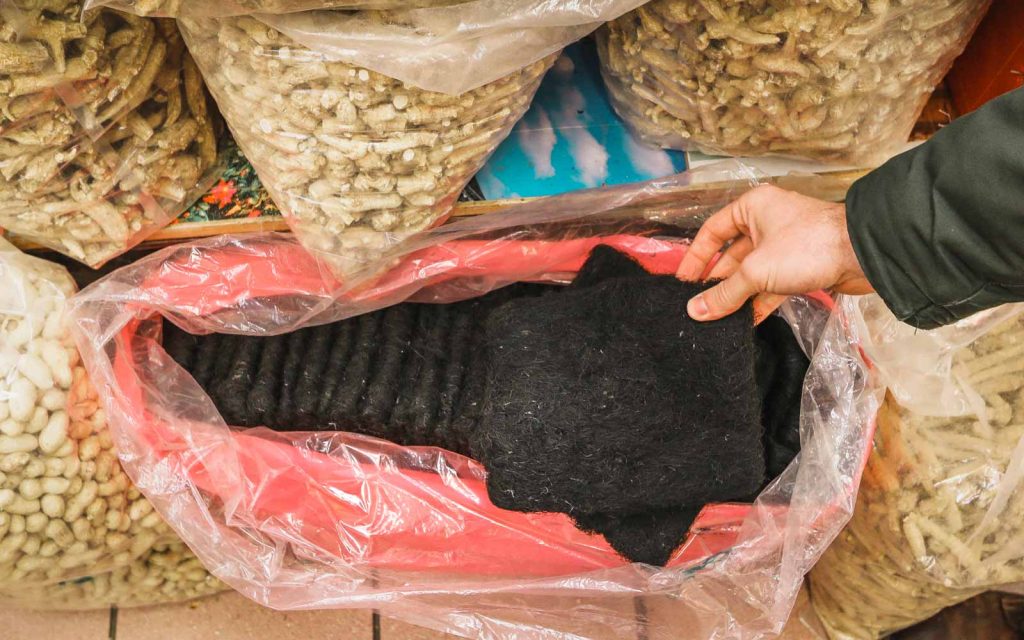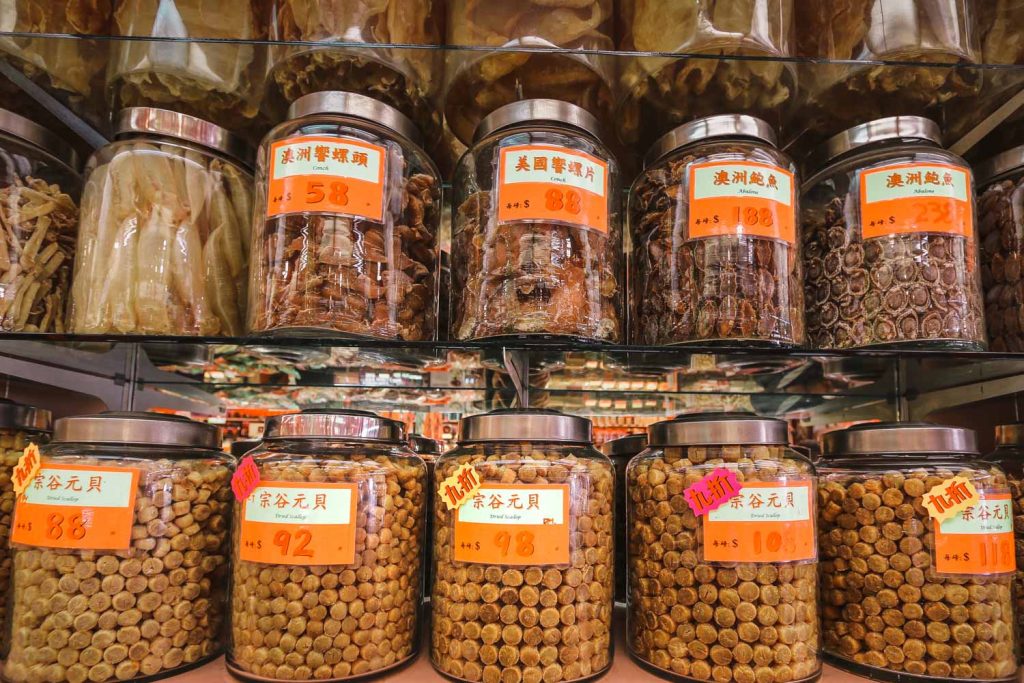 Sample delicious authentic Chinese food
Bob will take you to the best authentic Chinese shops to try the pastries, sweet and sour pork and, finally, the epic dim sum lunch. During lunch you'll get the chance to fill your stomach with delicious specialties but also learn about Chinese table etiquette.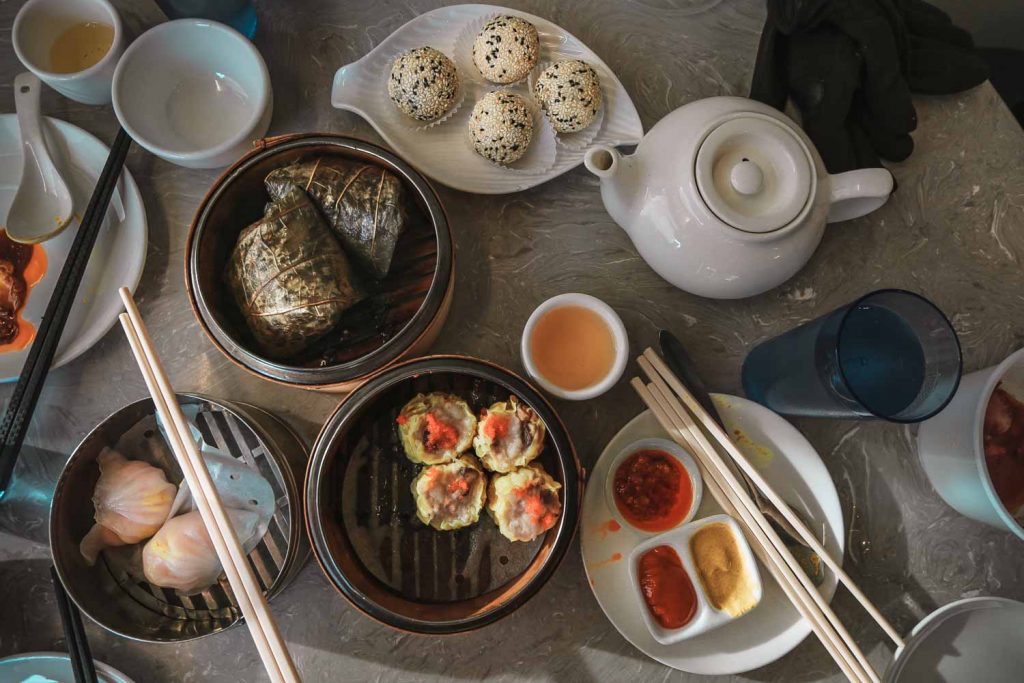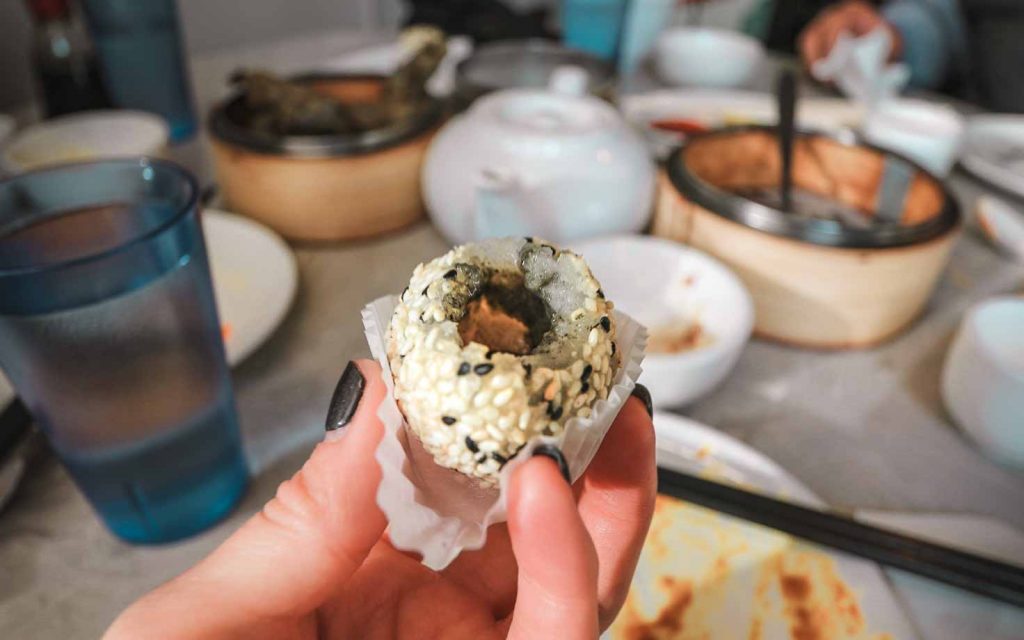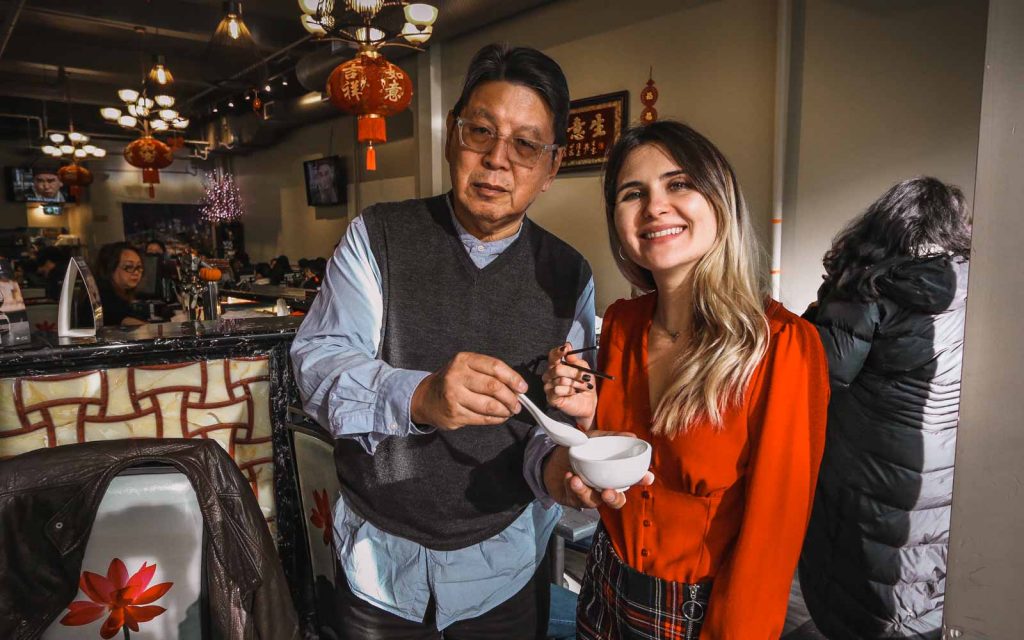 Try the Chinese tea ceremony
The last part of the tour is a stop at a local tea shop, where you'll be introduced to a Chinese tea ceremony, will get a cup of fine tea and a possibility to purchase some as well.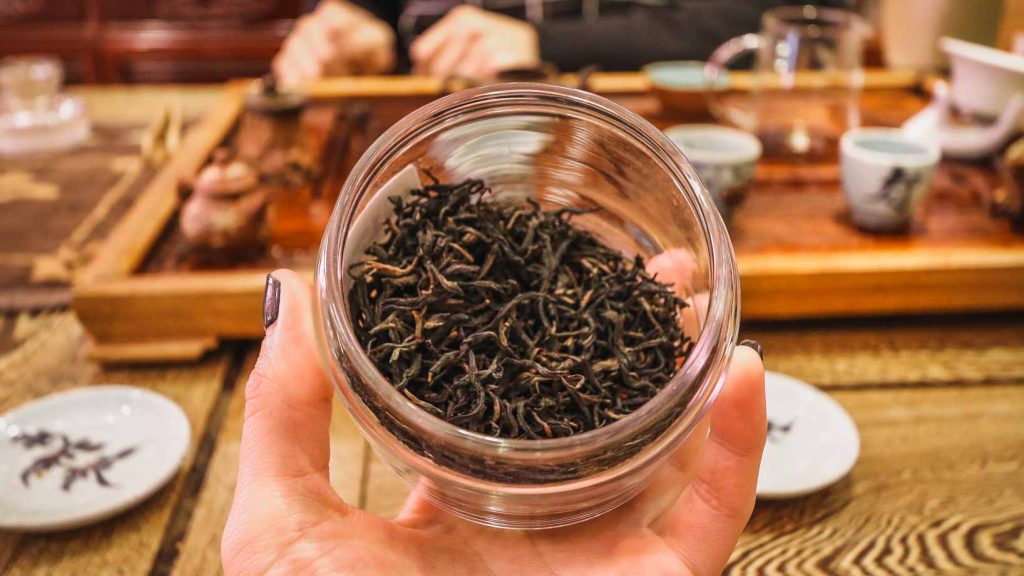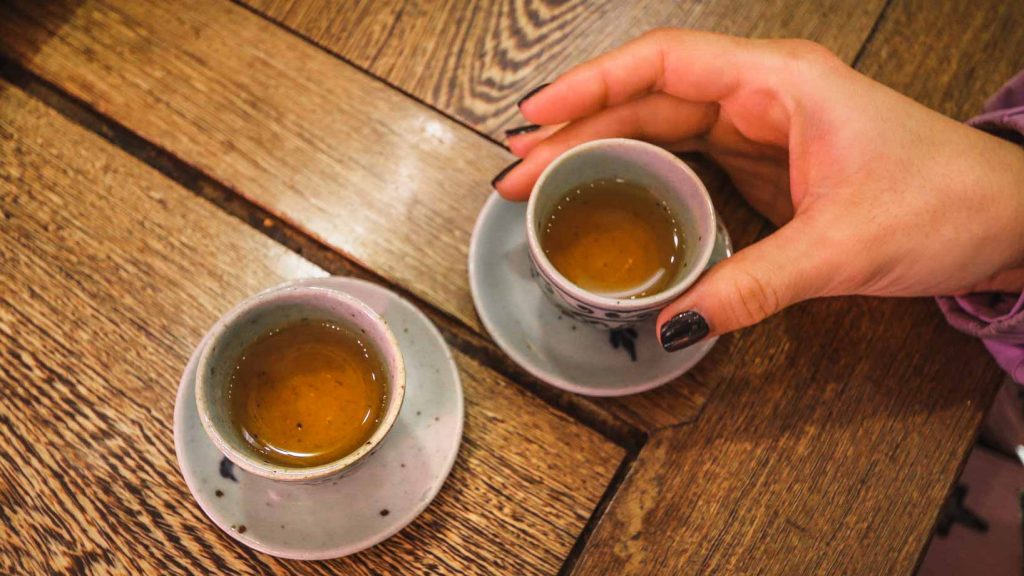 2. Cycle around Stanley park
The presence of gorgeously lash Stanley park right in the city might be one of the best things about Vancouver, where glass city gradually blends into a massive nature scene. The best way to explore Stanley park is to rent a bicycle and head for a Stanley park bike tour. There are cycling paths all the way.
The distance is 9 km and it will take you about an hour to close the loop. Remember to stop at the Hollow Tree to take a snap!
Travel Monkey Tip: If you are looking for a best Stanley park bike rental option, I suggest you stop by City Cycle Tours & Rentals. They have two locations downtown and a nice selection of bikes whether you can choose according to your preference: city bicycles or mountain bikes.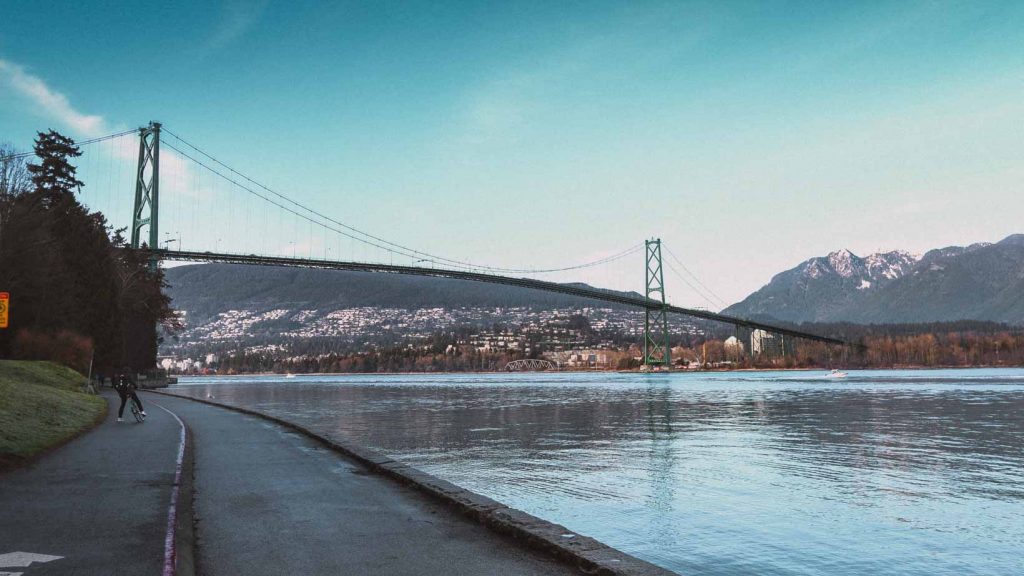 3. Visit the Capilano Suspension bridge park
You cannot visit Vancouver without seeing its major attraction – majestic nature that makes this city so special. Just Capilano suspension bridge is one of the most popular Vancouver sights and definitely is among the most picturesque ones!
It is not just the suspension bridge itself, which, believe me, will take your breath away, but the entire park of bridges!
It includes a long suspension bridge over the Capilano river, a cliff walk for those not afraid of heights and many smaller bridges connecting treetops high above the forest. Besides that, you can easily stop for a bite in one of the kiosks or sit down to dine in Cliff House Restaurant overlooking the canyon.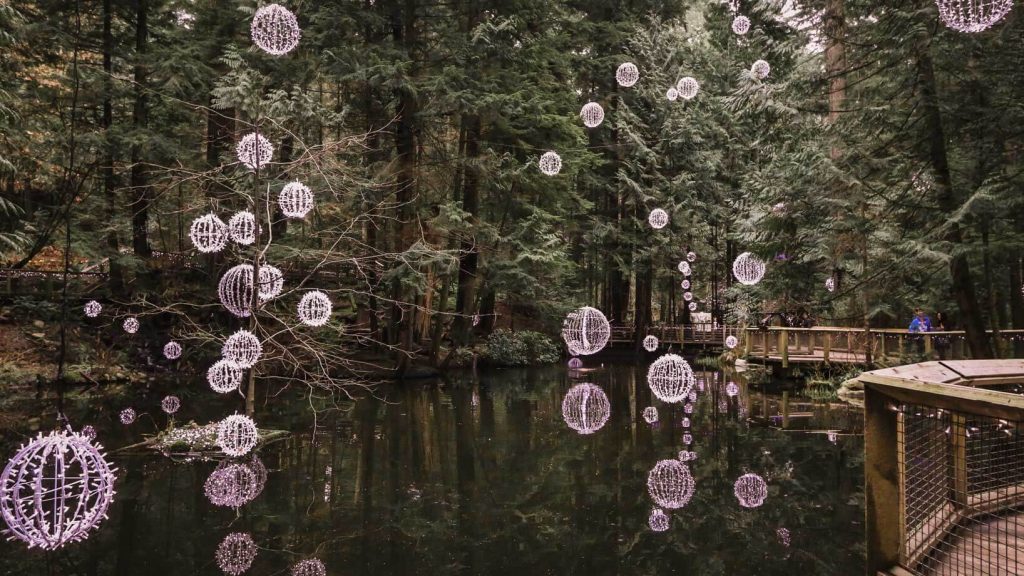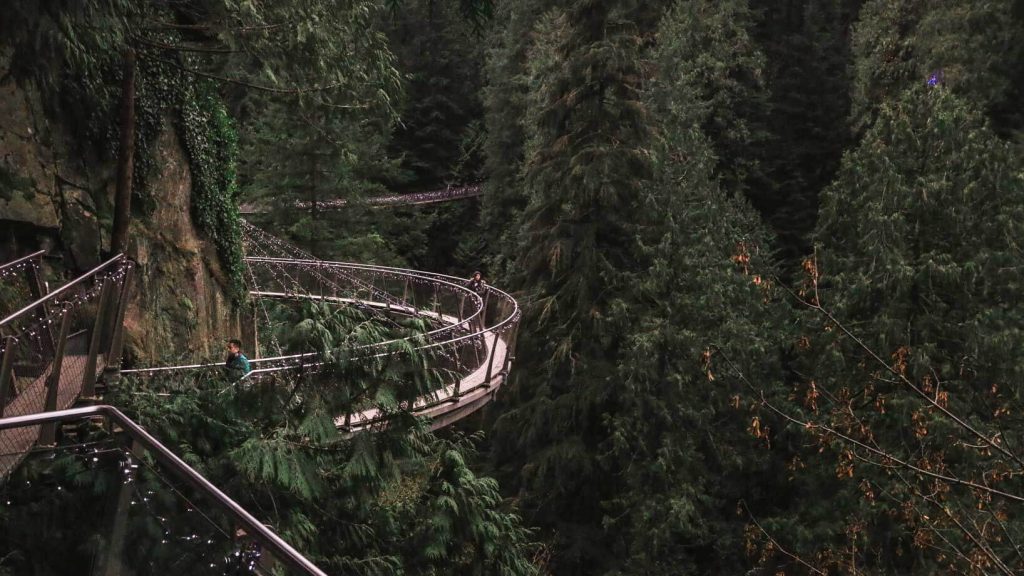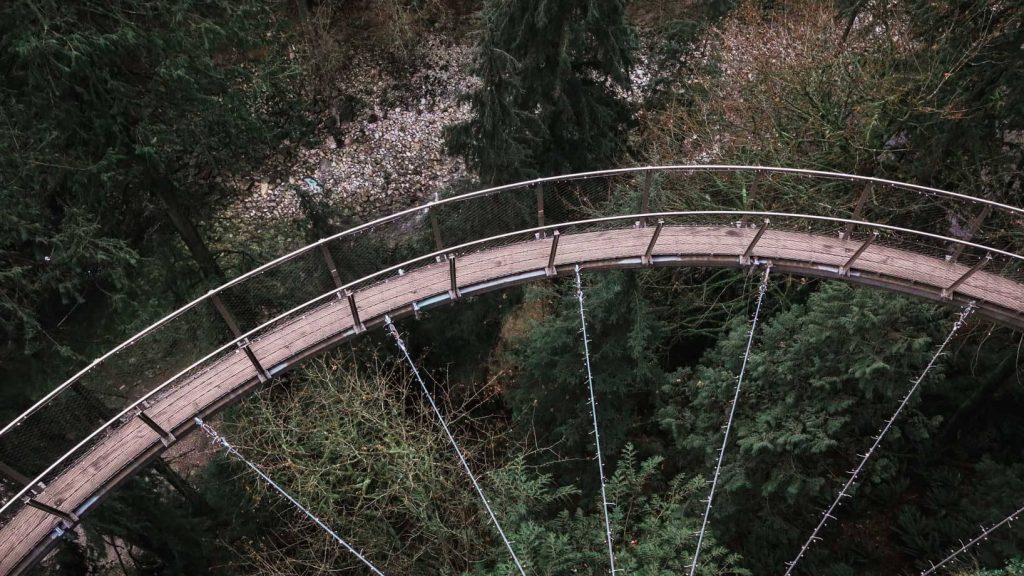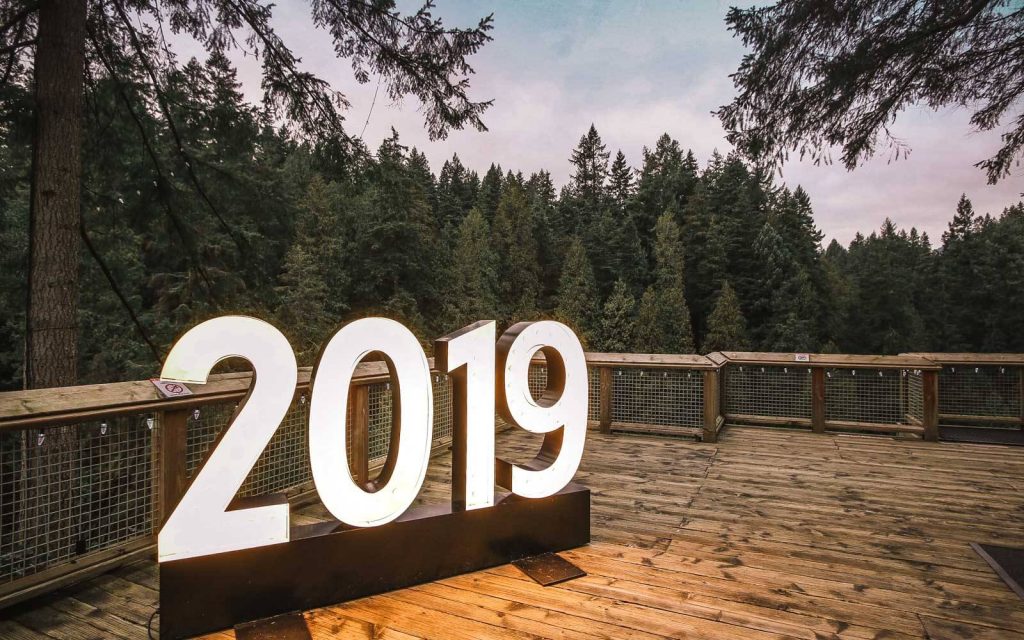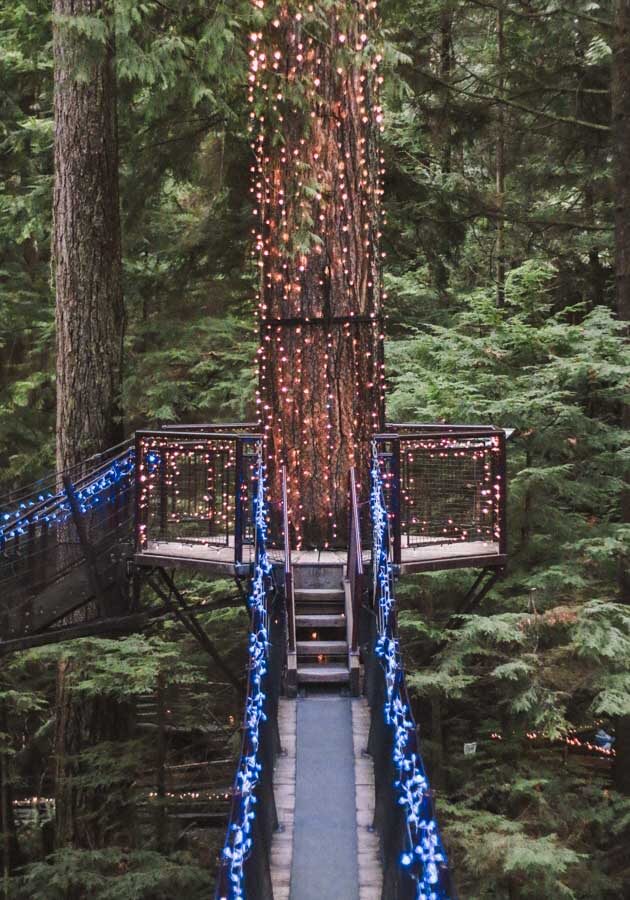 You'll have enough to easily spend a few hours wondering in this magical fairy tale.
A small thing I've noticed, the administration really loves the Christmas lights in here, they are everywhere, making it feel like a wedding ceremony is in progress 😀
Admission: the admission times varies depending on the season. In winter the opening times are
November 22 – January 26: between 11AM and 9PM
January 27 – March 14: between 9AM and 5 PM
Please check the times for other seasons on the website.
Rates: $46.95 for adult
4. Go shopping at Granville island
Granville island is a somewhat of a shopping district in Vancouver separated from downtown by the False Creek. Too overloaded with cars to be a relaxing destination, it is funky enough to peek your nose in and to see what's happening.
Get into one of the food stores to try famous Canadian seafood products or any of the other treats available in the food markets.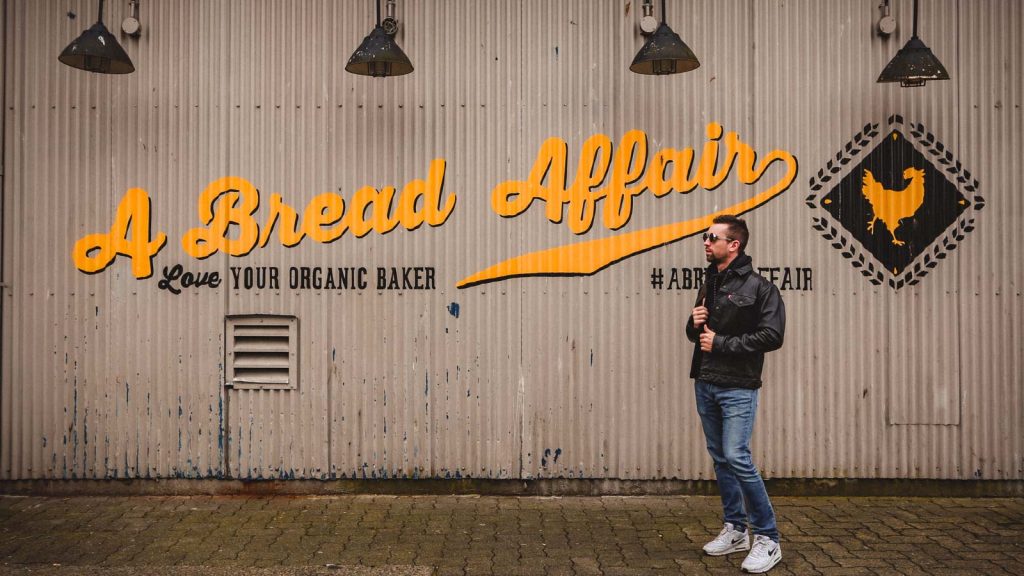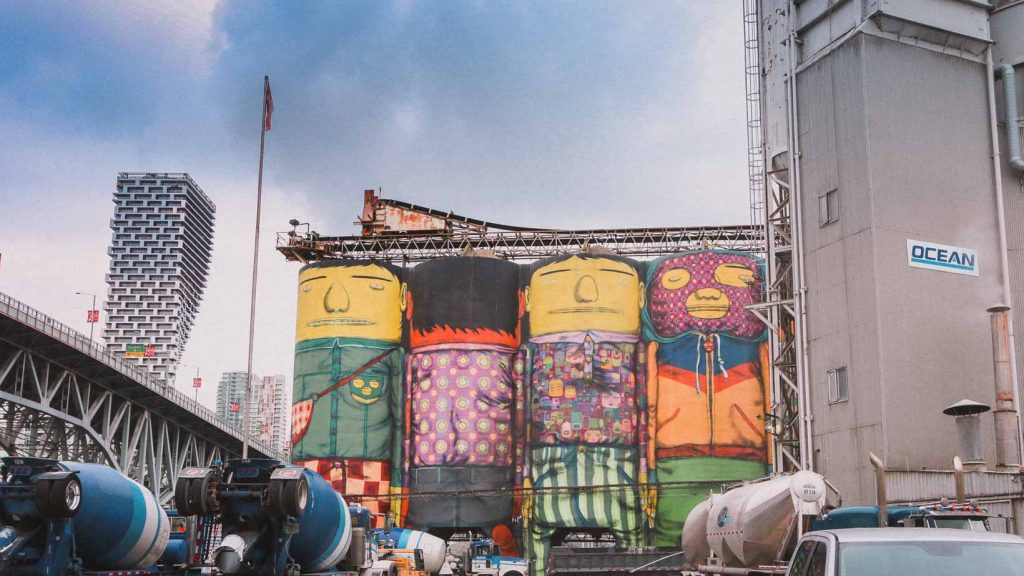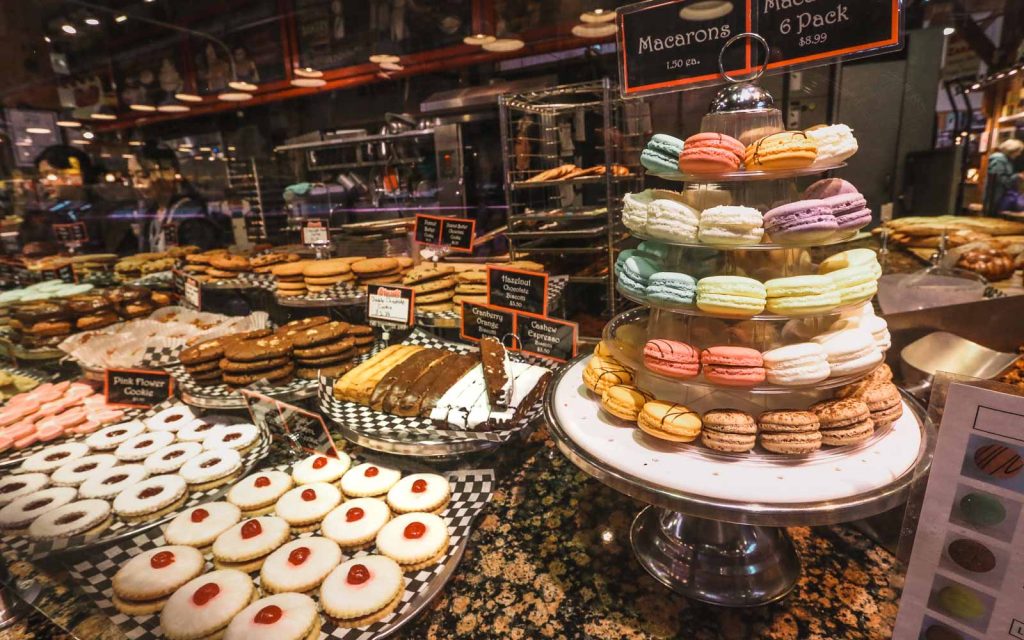 5. Enjoy the views from Vancouver Lookout
Vancouver lookout is a perfect winter attraction as it lets you see the city without having to freeze outside. Just stand in this cozy and warm tower to glance at the iconic Vancouver skyline, see the entire metropolitan area, the North Shore Mountains, the bay and Canada Place from the bird's eye view with 360 degree overview of the surroundings.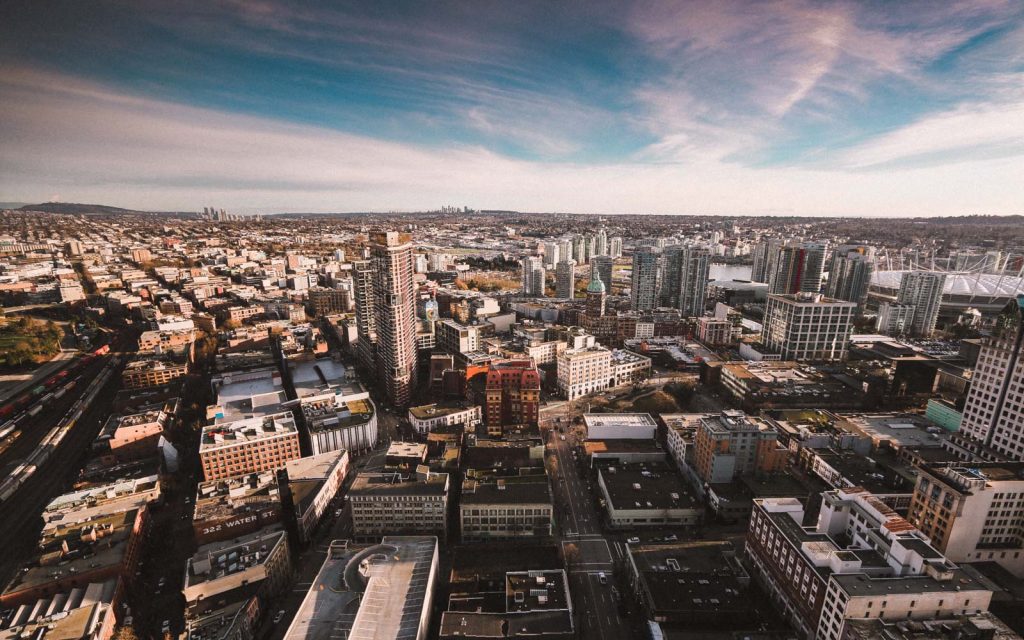 The experience starts when you take a glass elevator up to the observation deck, which already presents a nice view on the way you go up.
The helpful signs at every part of the tower will help you visualize the historical changes that the city went through, changing its landscape from low wooden buildings to tall glass skyscrapers which make the city almost unrecognizable compared to just a few years back in time.
Admission: 9AM to 9PM at winter time
Rates: $18.25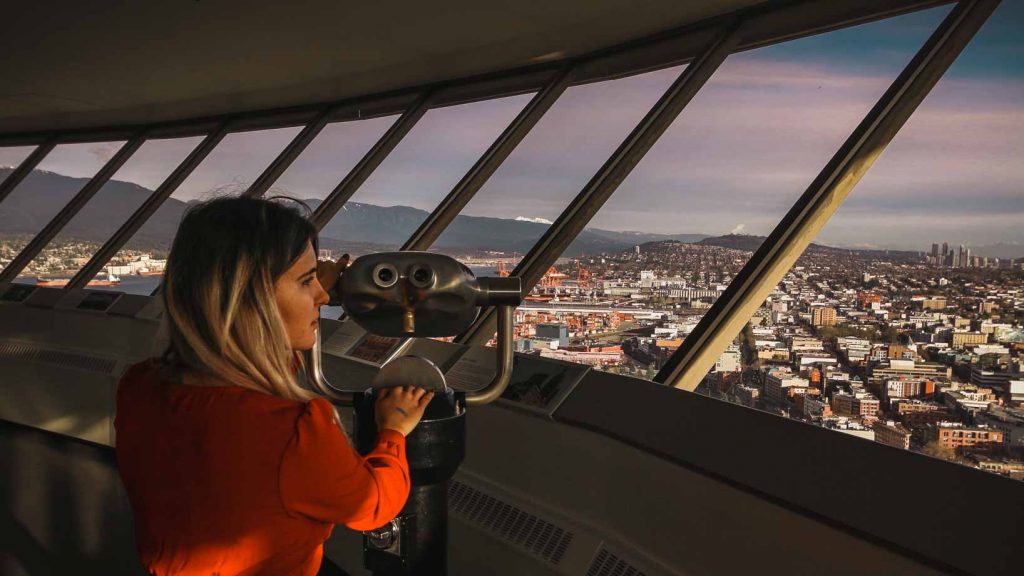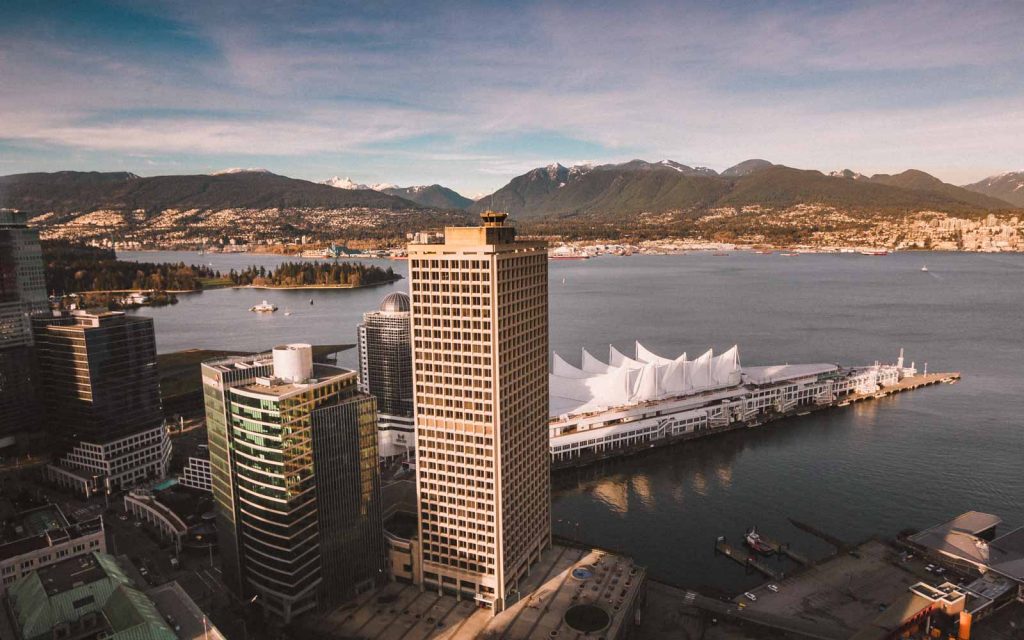 6. Walk around Davie village
One of my favorite areas in Vancouver is the Davie village. It could be because I stayed here or because of the vast variety of cuisines available, ranging between Mexican, Indian and Vietnamese, to Italian and Greek. I even managed to find a Ukrainian food shop on the streets of Davie village. You can try almost any cuisine of the world for a very affordable price.
On top of that, the quirky vibes, vibrant gay boutiques and bars are adding on to the general uniqueness of this area, not to mention the funky rainbow cross roads and sitting areas next to Jim Deva Plaza, which makes it worth coming here to explore.
7. Flyover Canada
Flyover Canada is somewhat of a lazy approach to exploring Vancouver, but it is a good start if you want to learn more about Canada in general. Also, it is one of the perfect Vancouver sights in the winter time or on a rainy day.
No, it is not a helicopter flight over the city, it is an indoor entertainment ride in front of a big screen with a movie. It is something that I can compare to a 5D experience on a much higher scale. The session lasts for just around 10 minutes.
Rates: $33 at the gate, $28.05 online
Admission: 9AM to 10PM
When coming to see Flyover Canada, make sure to take some time to walk around the Canada Place. The views are simply jaw-dropping and you can easily find yourself staring across the Vancouver Harbor at the North Vancouver for quite some time until you get cold enough to move on.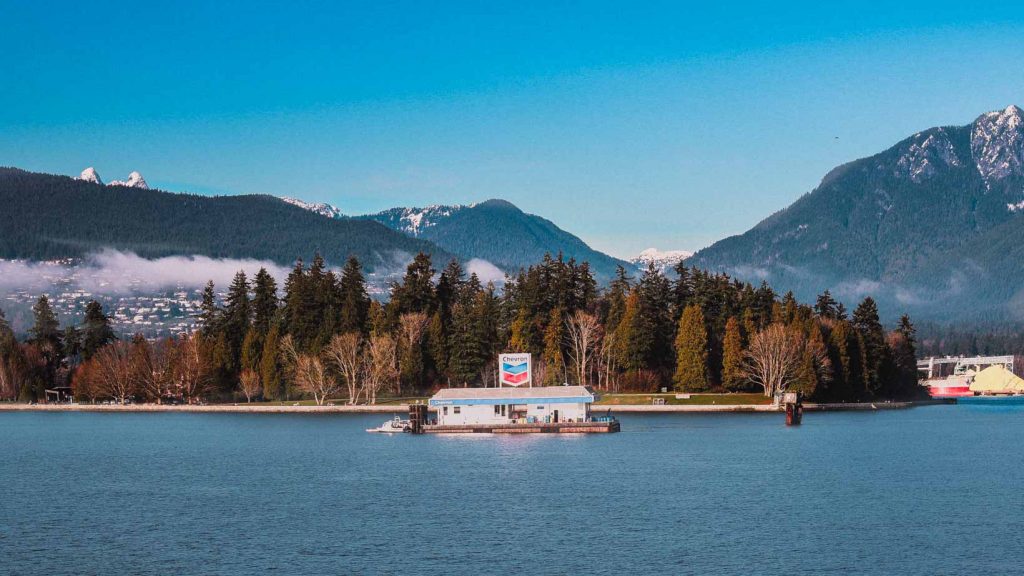 7. Go exploring Vancouver history in the Gastown
The Gastown neighborhood's most recognizable landmark is the steam clock built in 1977 as a part of Vancouver's heating system. Though it is not currently running with the use of steam, the name held on. The area is now a historic district named after a seaman Jack "Gassy" Deighton, who arrived from Yorkshire and opened the first saloon in the area.
Starting out as the original Vancouver downtown, Gastown is now a place to go in search for a chic lounge bar, fashionable boutiques, cute coffee shops or the old cobblestone roads.
8. Go on a hunt of the cutest houses at Mt. Pleasant
Winter in Vancouver doesn't necessarily mean minus temperatures. The mild climate of British Columbia west cost allows for pleasant city walks even in the middle of winter. During some of those walks I stumbled across a beautiful area full of old wooden heritage buildings.
I can only imagine how magical this neighborhood gets in spring when cherry blossoms are full on. Almost each and every house on this corner is the heritage building having that old look when color was still appreciated (not that we don't appreciate the modern glass buildings, :)).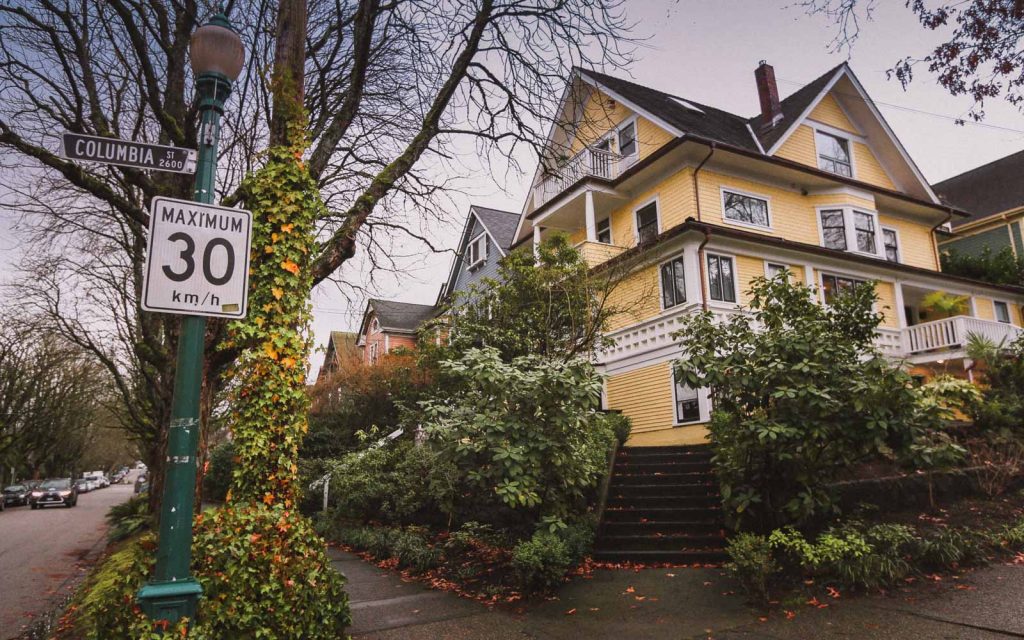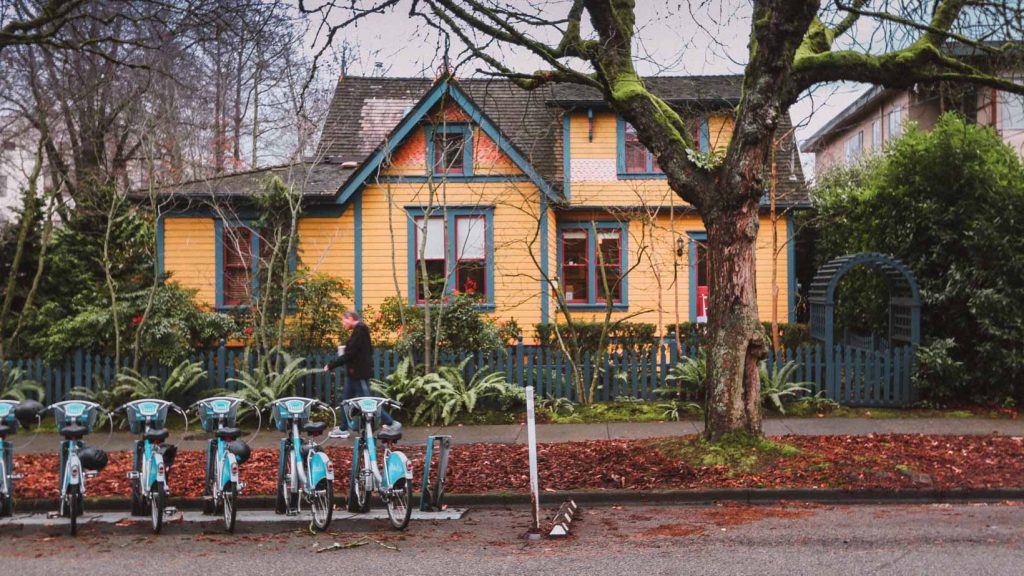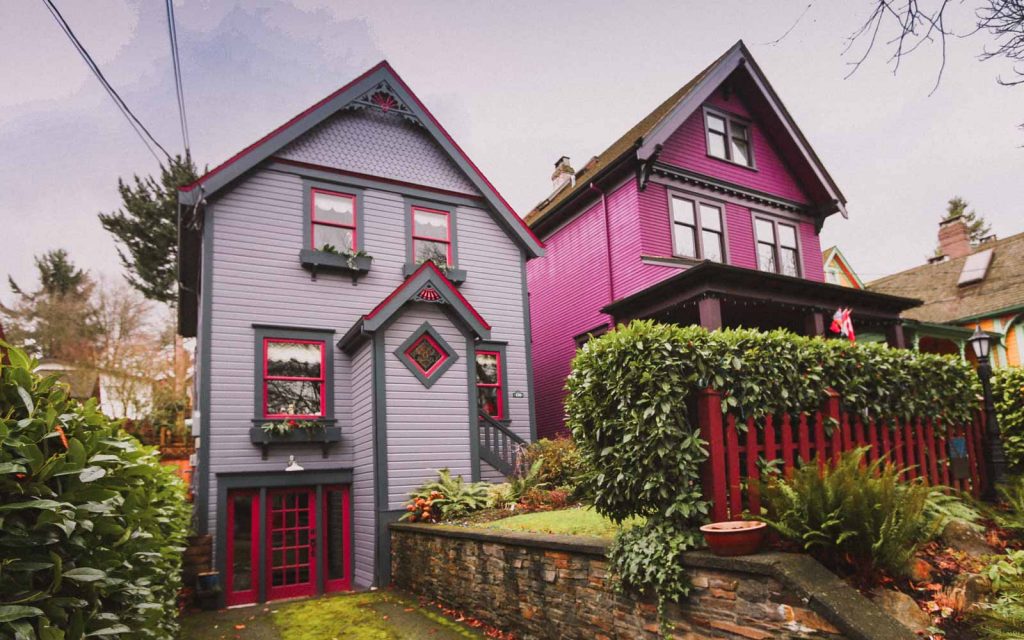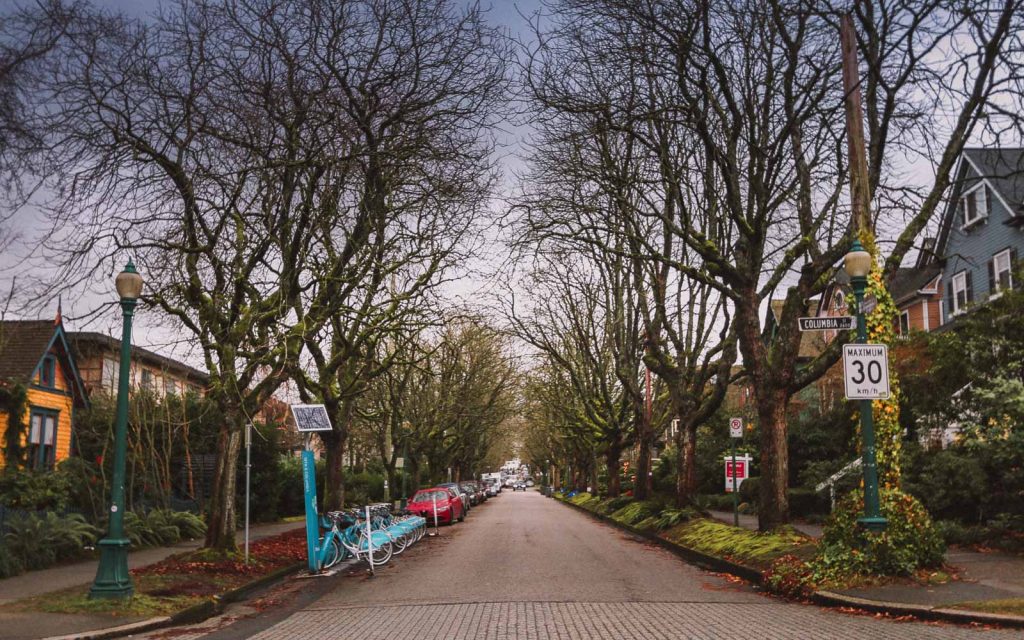 Looking for a place to stay in Vancouver?
9. Take a stroll around Vanier Park and Kitsilano beach
The crisp winter mornings in Vancouver make for a nice time to take a walk at Vanier Park. It will grant you with perfect views of Vancouver downtown area across the English Bay.
Here, you can also visit the Maritime Museum and a McMillan Space Center, which includes Planetarium and the Observatory.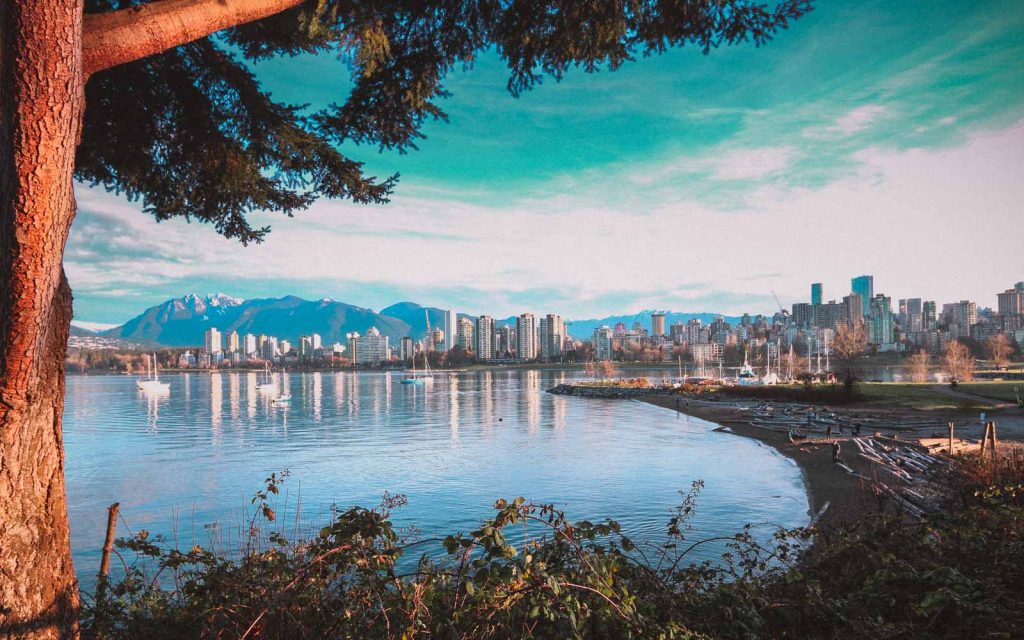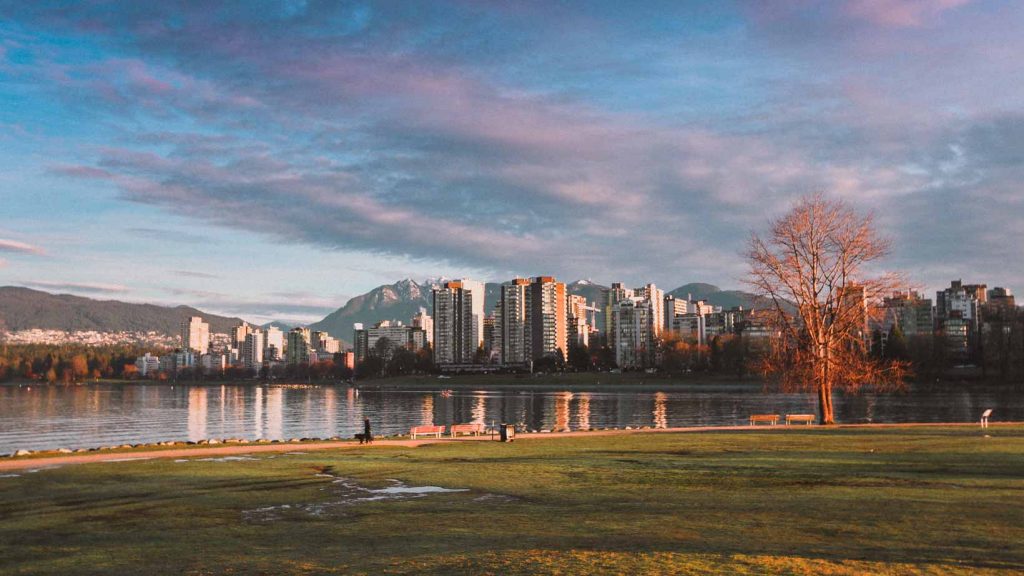 10. Discover Vancouver street art at Mount Pleasant
While there is enough Vancouver graffiti in downtown, the most impressive and fresh pieces are hiding on the streets of Mt. Pleasant neighborhood.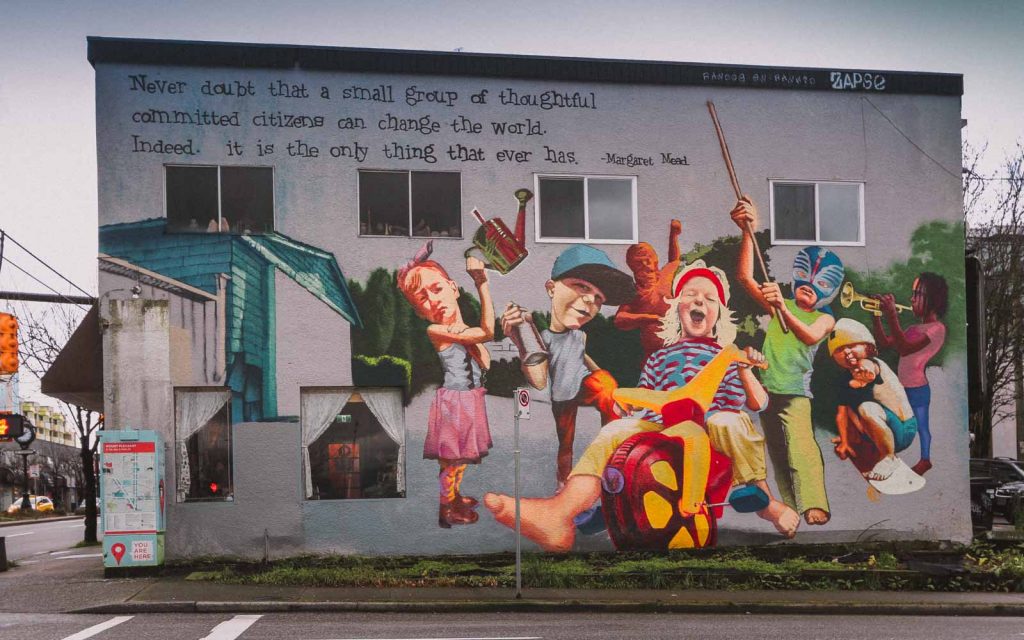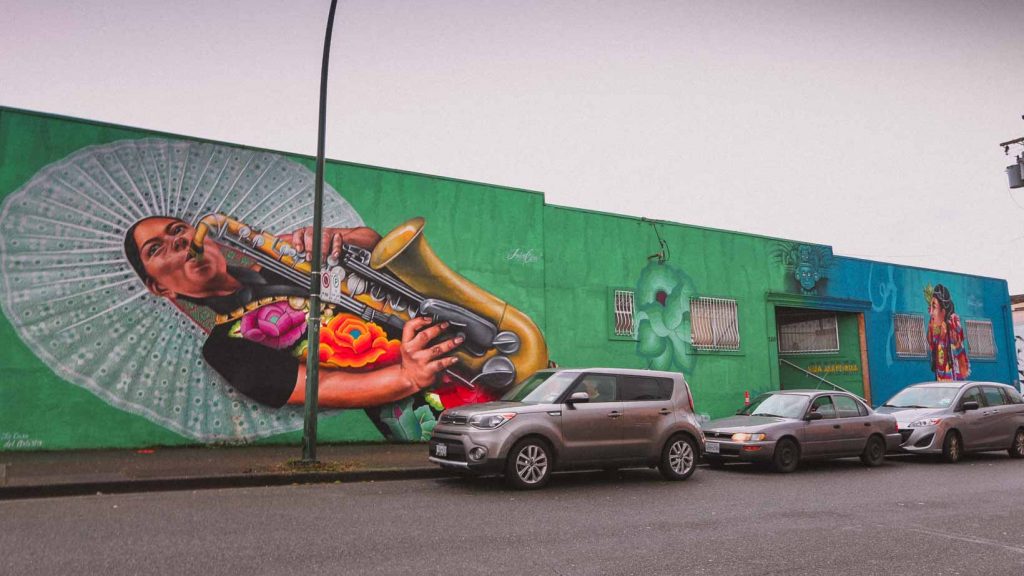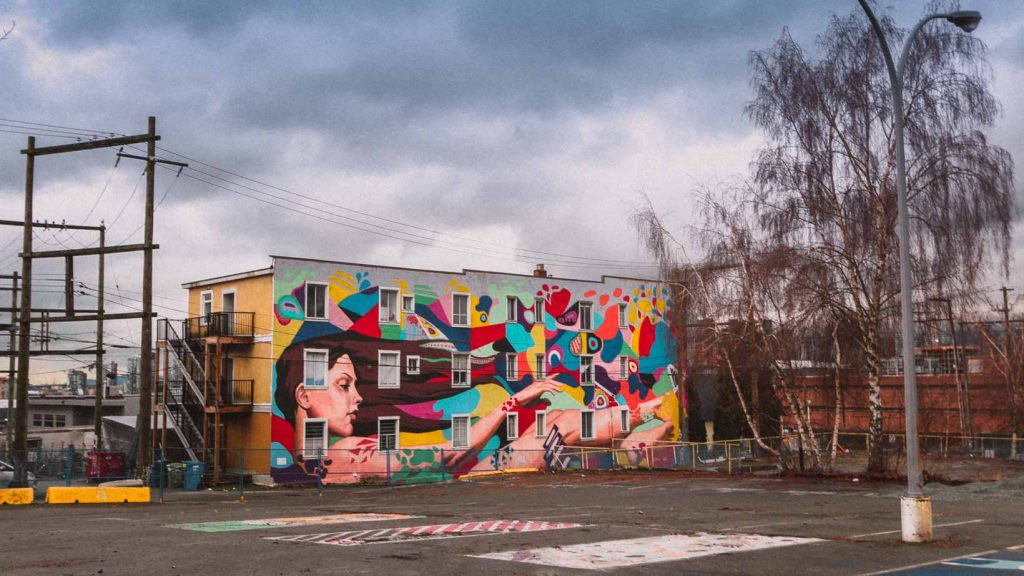 Whatever brings you to Vancouver in the middle of winter, I can only tell you this: if you fall in love with Vancouver during its worst month of the year, you can only imagine how incredible this city gets otherwise. And I totally did fall for it.
Disclosure: exploration of Vancouver sights was assisted by Tourism Vancouver.

Like It? Pin It!