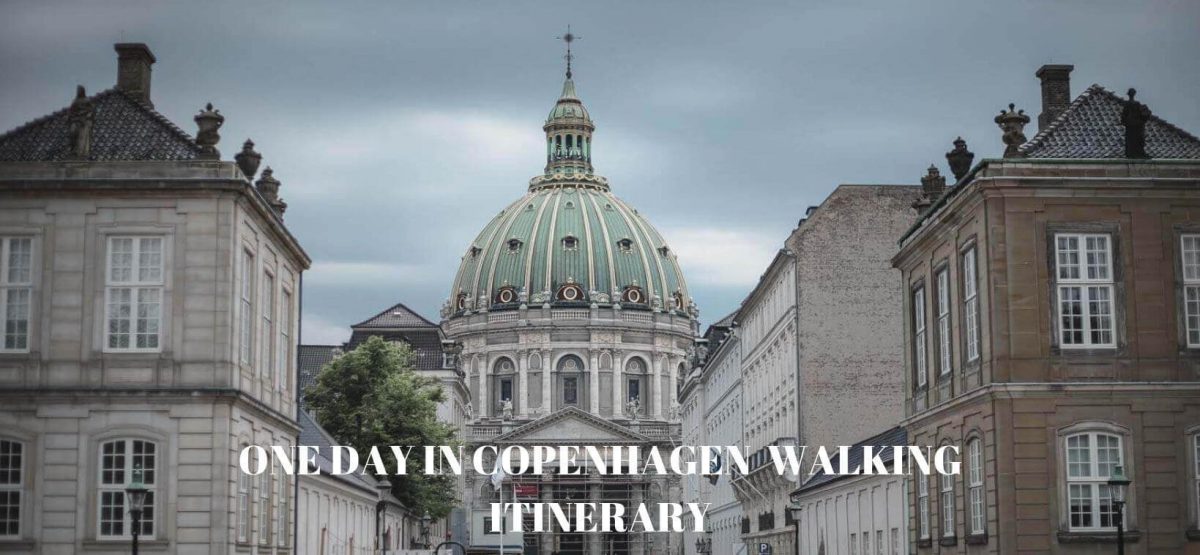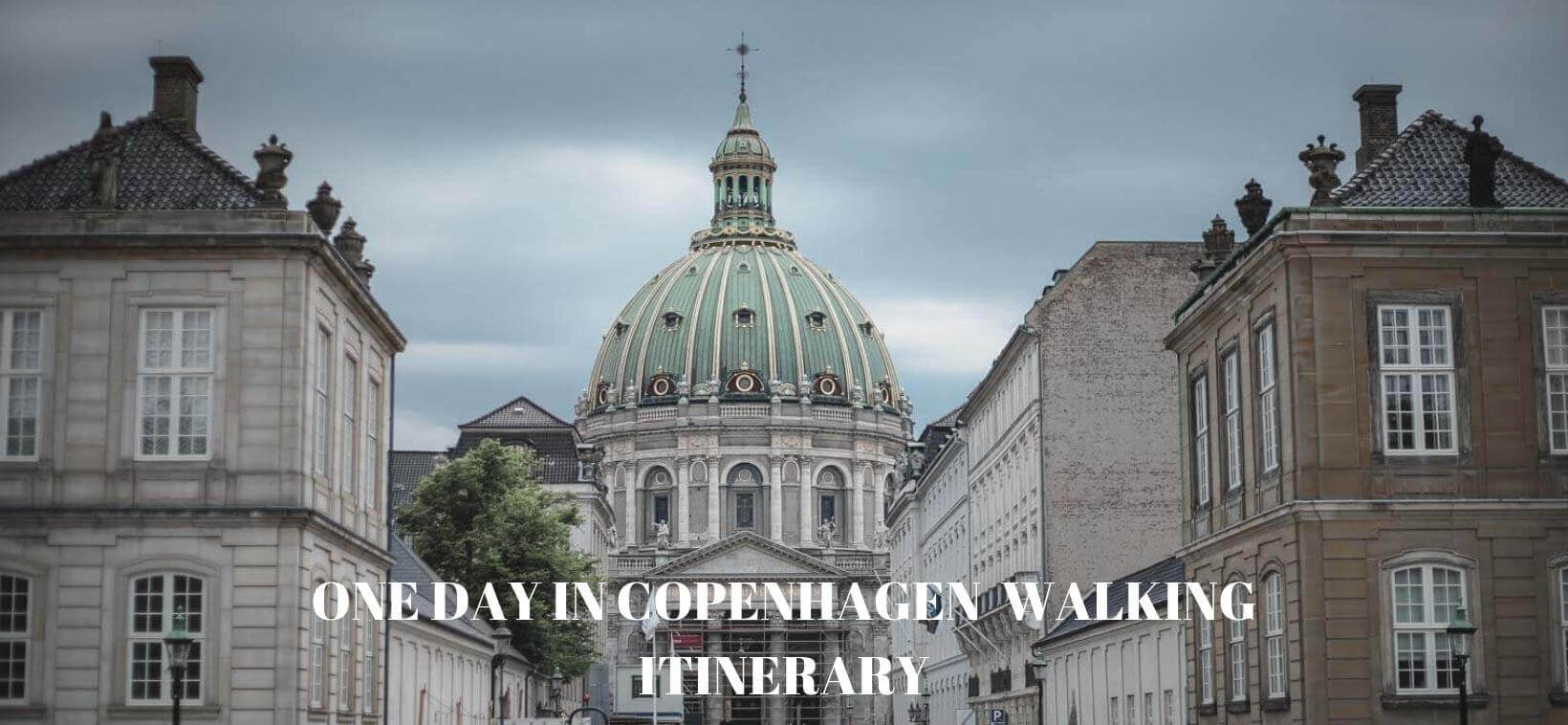 This post may contain affiliate links. I receive a small commission at no cost to you when you make a purchase using my link.
Copenhagen is a dream destination to many and an unavoidable layover destination to a few flying across Atlantic in between Europe and North America. As a person having a layover in Copenhagen or just one day in Copenhagen, you have a nice possibility to experience the city. The airport is located favorably so that you can easily hop on to a metro or train and be in the city center within 20 minutes.
Compare flight prices to Copenhagen
Following below, is a detailed guide (or a map, if you will) of things to see in Copenhagen in one day with an exact walking itinerary. You can take one long walk around the city and see all the best things to see in Copenhagen in one go. If you only have 24 hours in Copenhagen or having a long layover in Copenhagen, this guide will be helpful to get the most out of your time here.
As for me personally, I use this itinerary a lot when someone is coming to visit me and wants to see many things in a day without having to jump from one part of the city to another.
Save the map to use as your guidance for walking in the city.
You can start at any point of this map, as it goes in the loop anyways. It will provide you long enough list on what to see in Copenhagen in one day.
Christianshavn and around
Christianshavn is one of the nicest Copenhagen areas, where apartments cost quite a lot. You can start your journey by exiting the metro station Christianshavn. First, take a walk towards the church of Christ the Savior, which is visible from afar thanks to its golden spiraling top.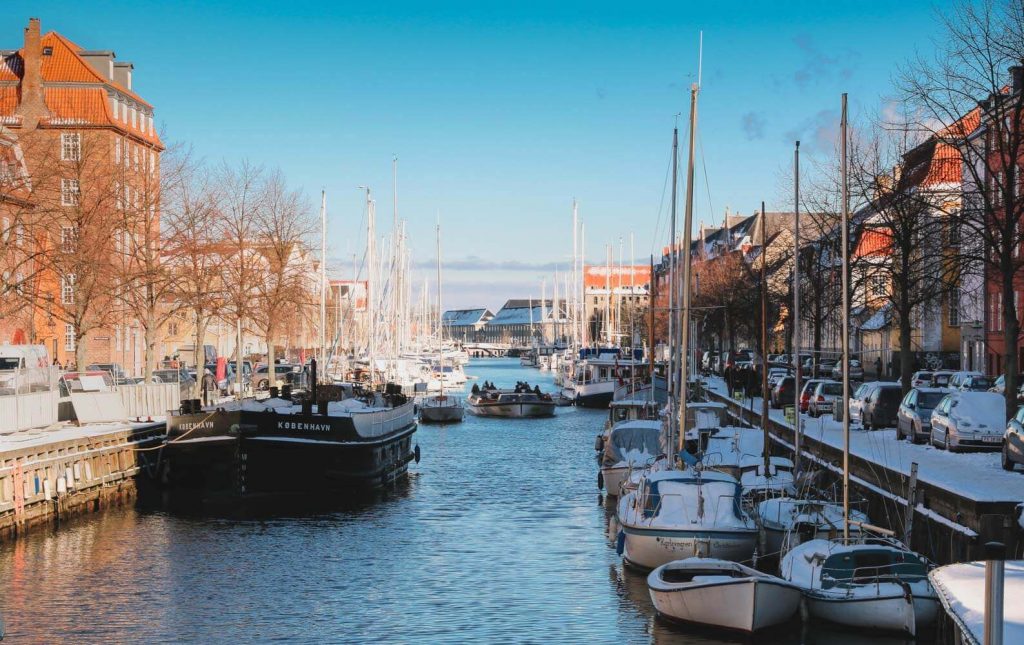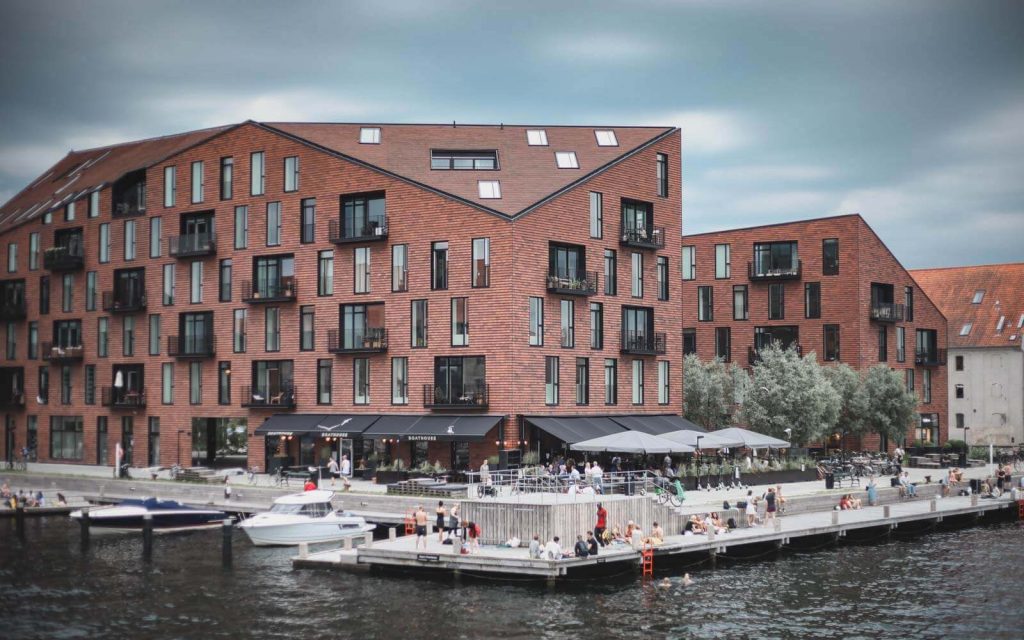 From there, all you need to do is cross the street and follow the graffiti on the wall to get into Christiania – the city within the city with its own governance and hippie culture.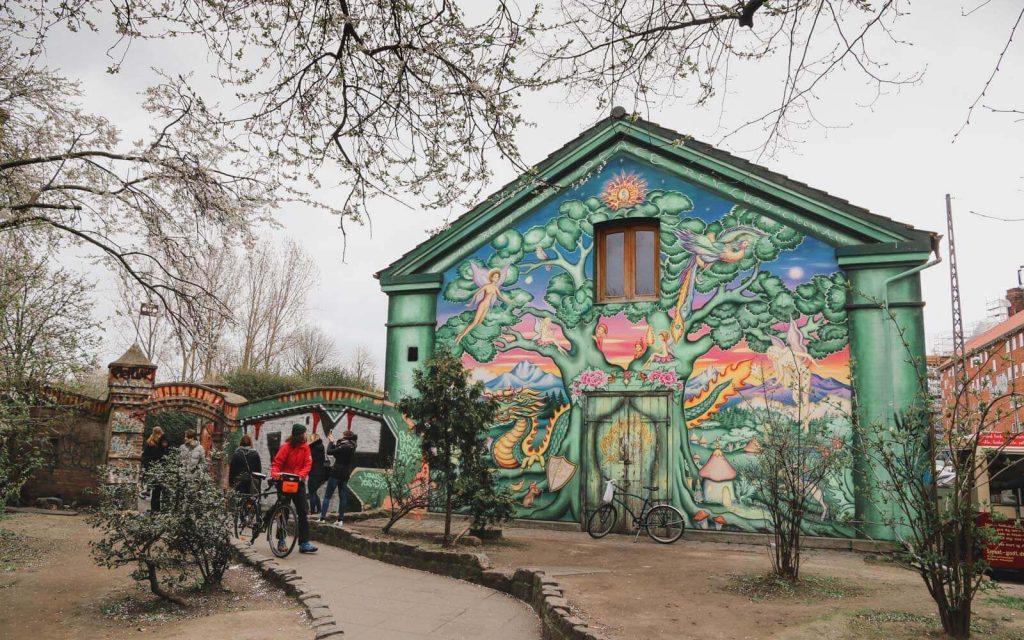 Bridge Street Food
After breezing in the smoke from hash joints in Christiania, move closer towards the canal and experience a new concept Bridge Street Food (Broens Gadekøkken). This is where you can sit down, chill and try some of the best street food in Copenhagen. Here are some top things to try:
porridge from Grød
awesome burgers from Gasoline Grill Burger
fresh poke bowls from California Kitchen
As everywhere in Denmark, prices range from expensive to very expensive :D.
---
You might want to read: When is the best time to visit Copenhagen?
---
Royal Copenhagen
Right across the newly-built bridge from Bridge Street Food are the world famous colorful houses of Nyhavn. Cross the walking bridge and see the real deal, a place that everyone booking a ticket to Copenhagen knows – old buildings of Nyhavn, a picture-perfect spot with so much history. Serving as an entertainment spot for traveling seamen, it is still a true fisherman's wharf (yet somewhat updated) with pubs, bodegas and places to eat.
The must-see of Copenhagen
Royal Palace and church
After you take a photo or two by the Nyhavn, continue your walk towards the queens palace Amalienborg. This is an iconic place, since it is one of the residencies of royal family.
Perfectly aligned with the palace you can see a mountainous Frederik's church, also known as a Marble church that deserves a visit. The area surrounding it has been under construction for a long time and it slowing getting ready to welcome visitors again.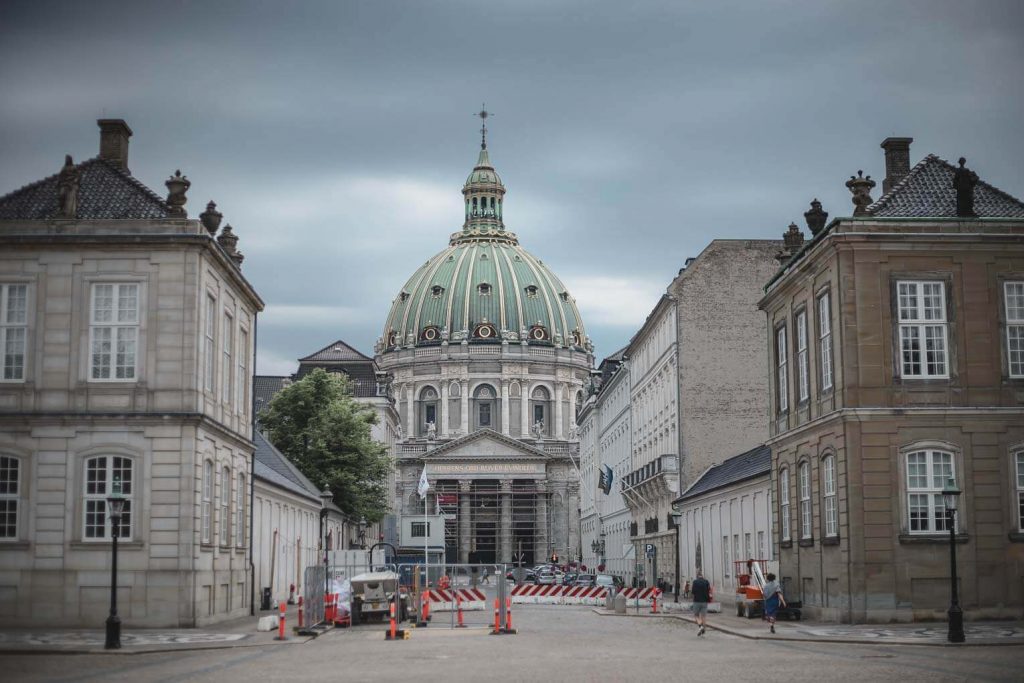 Esplanaden area
The following part will run along the charming esplanade. Continue walking east along the canal until you see a big building with what will seem to have blue windows. Though this is not a historic building, it is worth a stop, because this is the headquarters of one of the biggest companies in Denmark and the world – A.P. Moller-Maersk, a shipping and logistics company.
Right across from the headquarters is a breathtaking St. Alban's church that is better known as the English church. With its sharp Gothic style it is hard to miss. This area is exceptionally fascinating during the time when cherries blossom in Copenhagen in April.
The infamous Little Mermaid
Follow your way up North along the pleasant canal views to see one of the least captivating, but the most known sights of Copenhagen – The Little Mermaid. She is so much smaller than expected that it is easy to miss her altogether, however, you'll be able to spot her thanks to the crowd of tourists queuing for a selfie with her. It is a known fact that she is an embodiment of a fairy tale of the famous Danish author Hans Christian Andersen. Therefore, this makes her a symbolic figure of Denmark and popular among Copenhagen tourist attractions.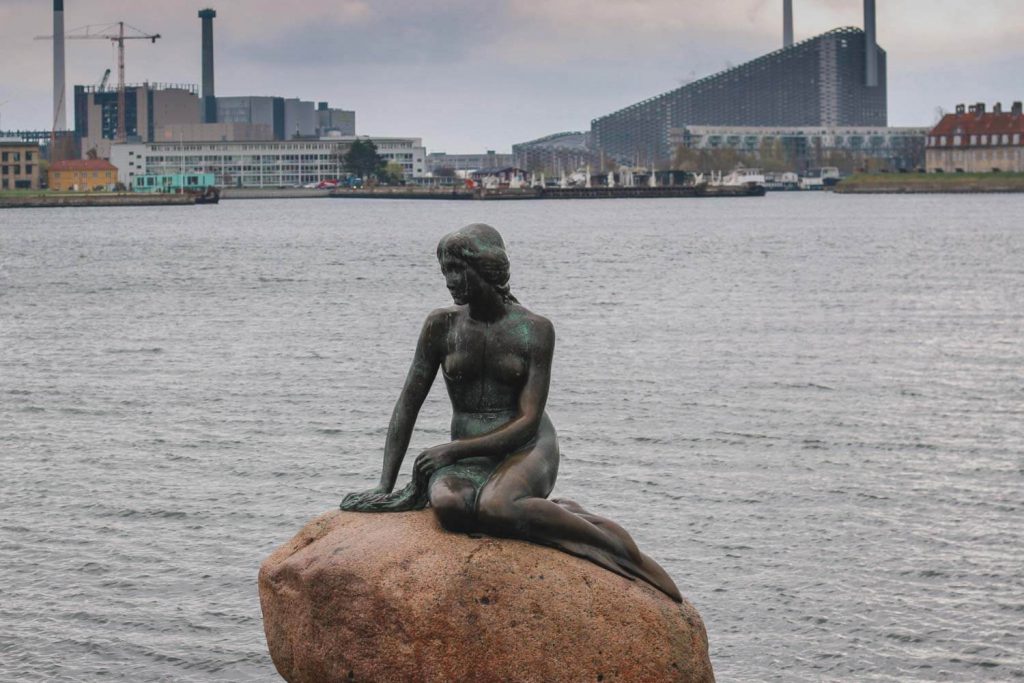 Military Copenhagen
Right around the corner is a Danish military fortress, the Kastellet, which is among the best-preserved ones in Europe. On the map, it is very distinguishable, as it has a clear pentagon shape. You can access it and see the interesting world inside, which has its own church, a windmill, not to mention amazing views from all five sides of the fortress.
On your way back to the city center, do not miss the row of distinct orange houses known as Nyboder. These cute houses used to be the barracks of the Royal Danish Army and later became the scene of the movie The Danish Girl. The paint of these houses, which were originally red, became a typical Copenhagen color. Therefore, this area lands on the list among places to visit in Copenhagen.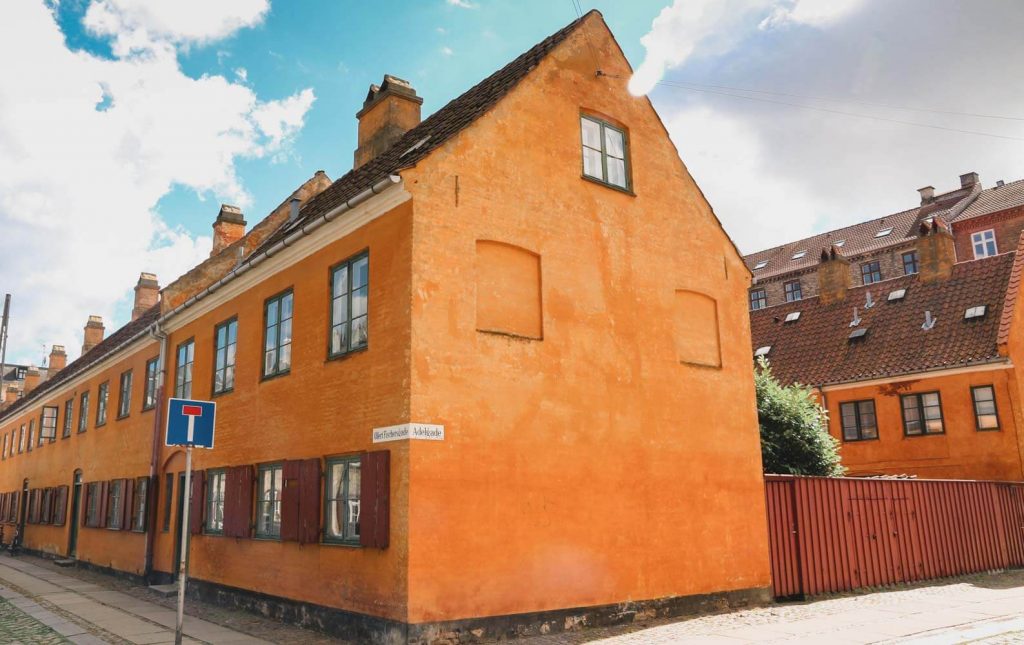 Copenhagen Gardens
On this part of our 24 hours in Copenhagen itinerary, we'll be exploring some spacious and green gardens. Taking your way through the Øster Voldgade back to the center of Copenhagen, you will stumble upon this beautiful big building called Statens Museum for Kunst (National Gallery). With exceptions to Monday, the gallery is open for visitors from 10am to 6pm hosting different art exhibitions. Note down that the adult entrance pass costs 120DKK. In case you don't have the time or the wish to get lost in the gallery, the outdoor park area is equally impressive.
Kongens Have
Next stop, one of the most beautiful gardens in Copenhagen, the Kongens Have or King's Garden. It is not only the oldest garden in the city but well beloved by the locals, who come here to lay on the grass on a nice sunny day. Here you can also find a small rose garden, the Royal military barracks and most importantly – Rosenborg Castle.
Rosenborg Castle

The rose garden
Botanical Gardens
One of the budget things to do in Copenhagen is visiting the Botanical Gardens. The outside area presents many possibilities to chill on the grass overlooking the beautiful glass greenhouse and explore some of the plants in the garden. However, the real magic is happening in the greenhouse itself, where you are allowed to visit free of charge. Remarkably, each of the rooms mimics the temperature and the humidity of the area that plants are from, making you experience anything from tropics to Danish chill walking from one room to the other.
Central Copenhagen: shopping and food
Are you hungry at this point? Great, since the next stop is another great spot for city sightseeing Copenhagen street food and all the best coffee places gathered in one location – Torvehallerne. Essentially, they are two glass buildings which could be described as covered markets where one can buy anything from fresh fish and Chinese goods to freshly made smørrebrød and flowers. This a great place to stop for a quick bite and observe the gastronomical habits of the Danes.
The Round Tower
From this point on, we are diving into the heart of the city called Indre By which is full of tiny walking windy streets, hidden basement shops, and stores. Before we jump there, there is one more historical building to spot which is called Rundetårn (the Round Tower). This project of Kind Christians IV, the author of many architectural marvels in Copenhagen, was constructed as an astronomical observatory. Now it is used as a tourist attraction offering an amazing view over the city from the top of 34.8 meters high. Admission fee is 35 DKK.
Longest shopping street in Europe
Now you are finally ready to do some serious shopping on the longest pedestrian shopping street in Europe – Strøget. It will be packed, but it is worth it. In here, you can find anything from high-end stores such as Luis Vuitton and Gucci to mid-range classics such as Zara, H&M, Topshop, and Urban Outfitter, not to mention greasy Chinese takeouts, Kebab shops and all-you-can-eat buffets.
The City Hall
By the time you get to the City Hall (Rådhus) you should be done with an entire shopping street. The City Hall square is among the Copenhagen highlights as a heart of the city, with golden tops, a mix of people from all walks of life and benches which are always occupied by someone enjoying themselves. If you are lucky, you can spot a performance on the square or even can get into the City Hall to see the place where people get married.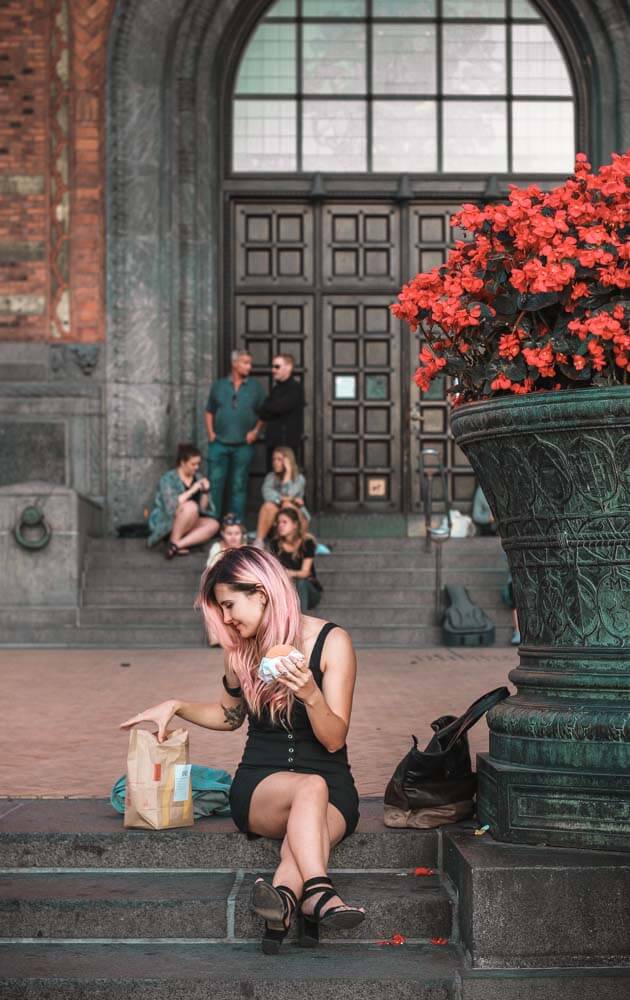 Thing you cannot skip – Tivoli amusement park
Just across the street from The City Hall is one of the most popular parks in Copenhagen – Tivoli amusement park. It is known for its themed decor, which changes every season, free concerts on summer Friday nights and remarkable fairy-tale setting. I would usually recommend setting aside at least half a day for a visit to Tivoli both because of the square footage of the place as well as the ticket price. Moreover, it costs 110 DKK for entrance alone excluding the rides.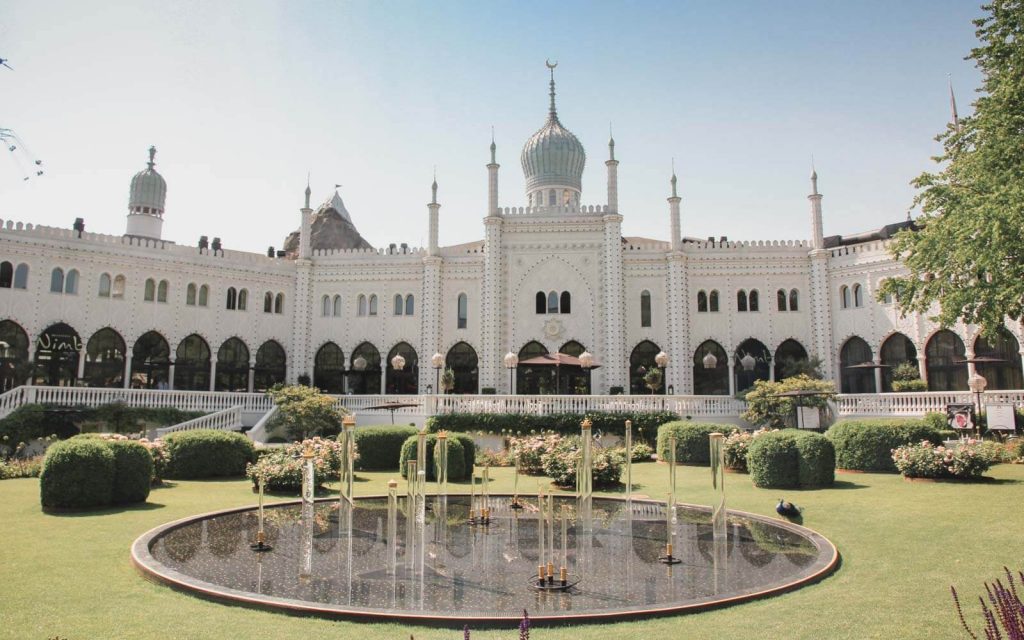 Tivoli is full of cute bakeries
---
Skip the line in Tivoli! Get your pass here.
---
Historic Copenhagen: museums, libraries and important buildings
If you leave Tivoli through the back door you'll immediately find yourself in the vicinity of another sigh, the Ny Carlsberg Glyptotek, the art museum full of Roman statues. If you are here on a Tuesday, you are in luck, it is an admission-free day and a visit to this museum falls turns up to be one of the free things to do in Copenhagen!
The National Museum
If you are not into sculptures, you can visit the biggest historical museum in Denmark, the Nationalmuseet. Besides a number of permanent exhibitions about Danish history and Vikings, they have fascinating pop-up scenes as well. You can join the number of tours, including free guided tours with local Danes and learn about the Danish way of life, including hygge and beer. The entrance fee is 95DKK.
View towards Christiansborg
---
Recommended reading: How to visit Copenhagen on a budget?
---
Danish Parliament
Christiansborg castle is visible from many locations with it's tall spiky towers. If you look closely, you'll spot the three crowns on the tip of the spike, which symbolizes the friendship between monarchies of Denmark, Sweden, and Norway. Christiansborg it is one of the most important buildings in the capital as a place where the Parliament and Supreme Court are located. Therefore, it is definitely a must of things to see in Copenhagen in one day.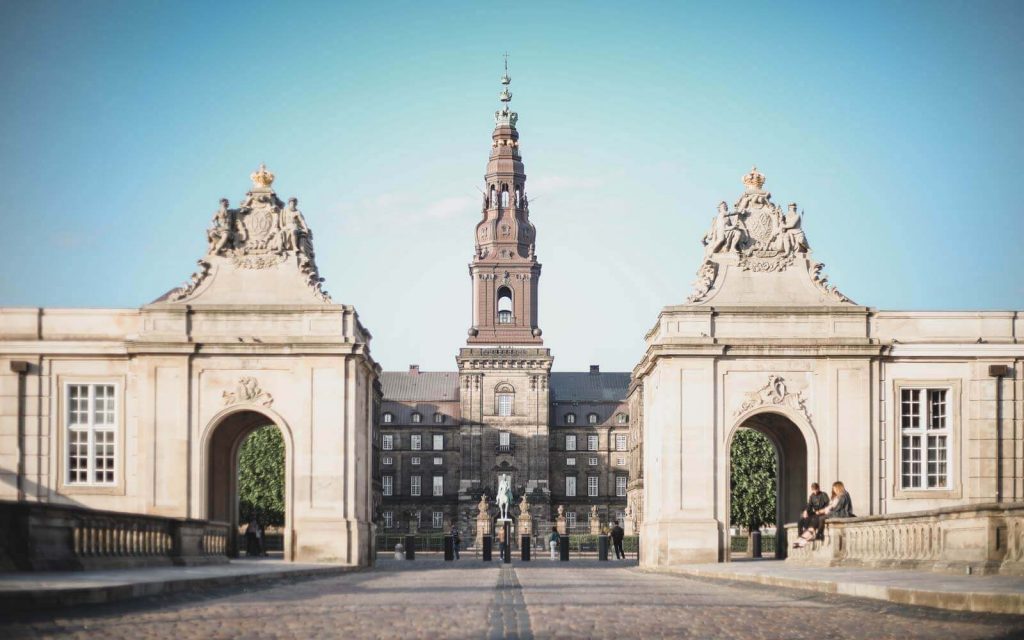 Right on the left-hand-side to Christiansborg is another interesting building that will catch your eye with its spiraling towers. To be precise, those are actually crocodiles with their tails intertwined. As such, Børsen used to be a stock exchange center and a trade and commerce center of Northern Europe now serving its purpose as an office for Danish Chamber of Commerce. Another beautiful building introduced by King Christian IV.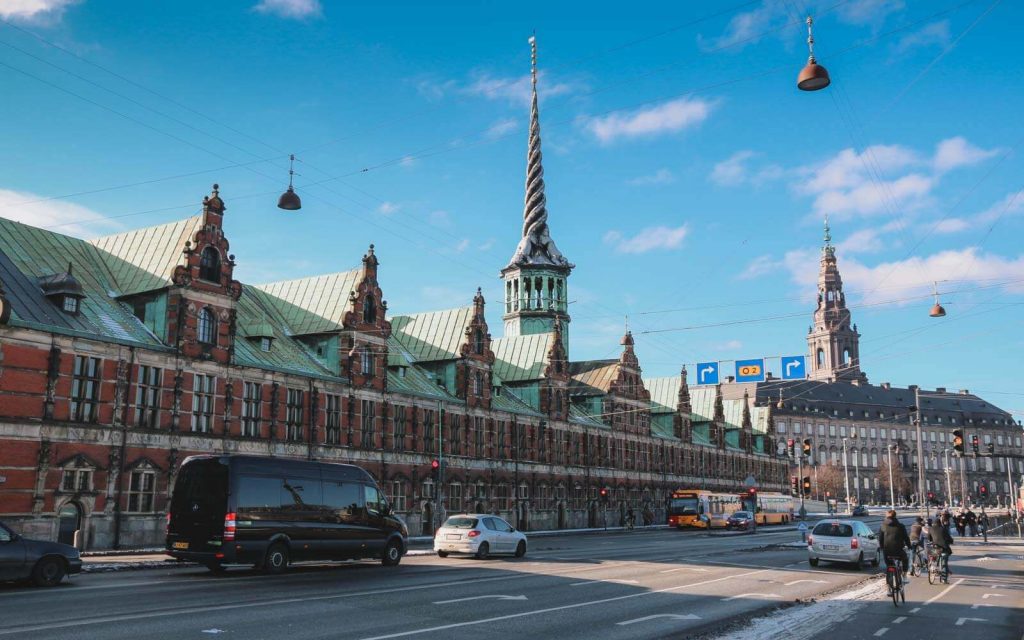 Last stop on our Copenhagen one day itinerary – Danish Royal Library
The last stop on this circular route for one day in Copenhagen on foot, is a Danish Royal Library known as a Black Diamond. The beauty of this place is that it combines both the old library and the new design by Danish architect Schmidt Hammer Lassen. Here you can see the old royal reading room with books so old they seem to fall apart in your hands. On the contrast – visit more of public facilities, including the Queen's music hall, photo exhibition hall, a bookshop, a cafe and plenty of study rooms where you can sit down and work using the library wifi.
The most important thing to do while visiting the Black Diamond, however, is to get up to the 6th floor observation deck to witness the beautiful symmetry of modern Danish architecture. It will take your breath away, for sure.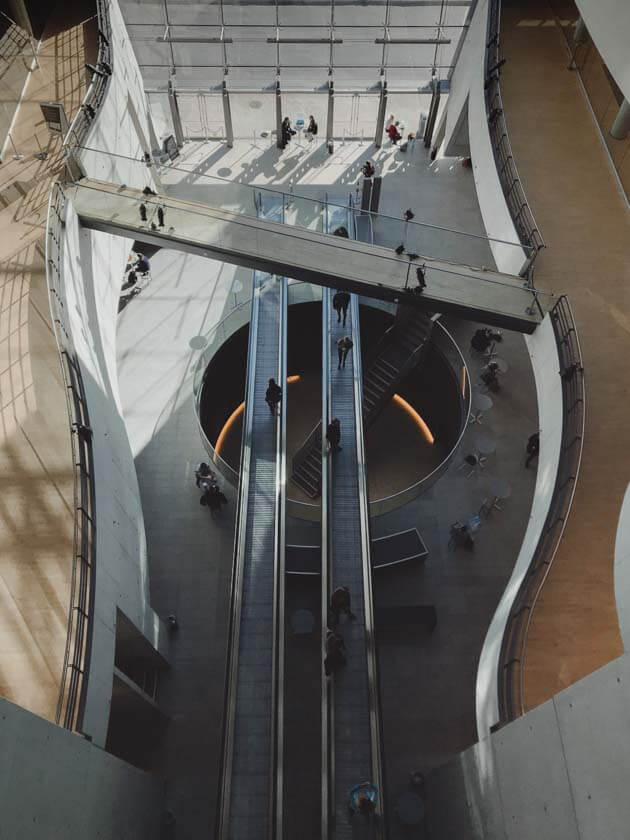 This one day in Copenhagen itinerary compiles no less than 25 major sights that you can explore on foot in Copenhagen in one day on a short visit or a layover. Be sure to bookmark this post to keep the map in a shortcut for a perfect visit.
Enjoy Copenhagen in a day and let me know how you like it!
Like It? Pin It!