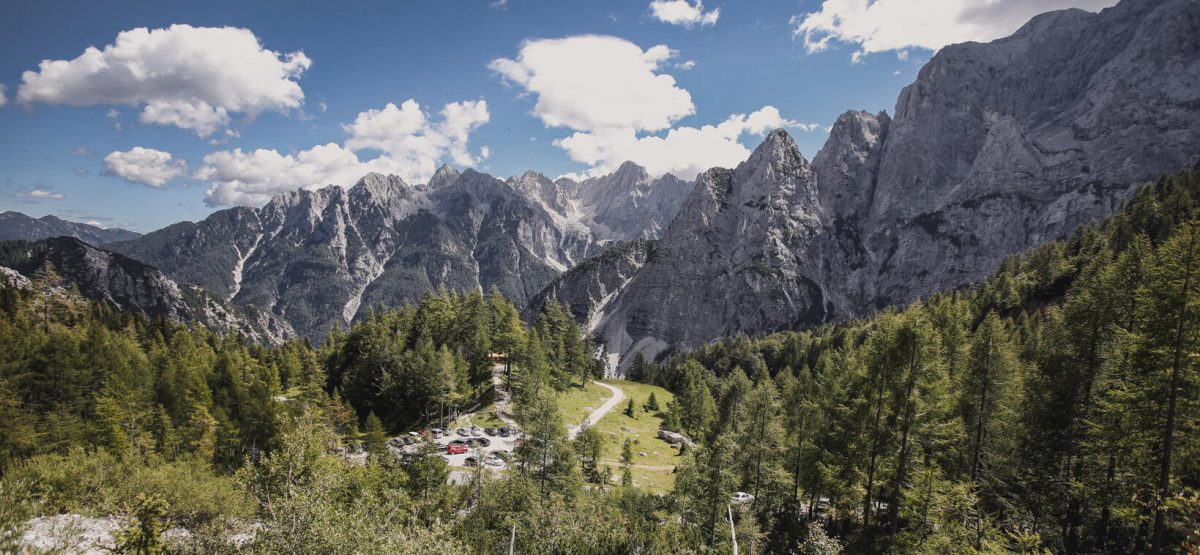 This post may contain affiliate links. I receive a small commission at no cost to you when you make a purchase using my link.
Slovenia is one of those underrated hidden gems in Europe. Having been to almost all European countries, I left Slovenia for last, not thinking much about it. Once I started planning my Slovenia itinerary, which initially only included a Lake Bled day trip, some doubts started to creep in. There seemed to be way more tourist attractions Slovenia has to offer besides Lake Bled. So I decided to spend a little bit more time there. Eventually, it ended up being one of my favorite countries in Europe and I cannot wait to visit Slovenia one more time.
There is no doubt that the stunning nature in Slovenia is its main selling point. However, being located in between Italy, Austria and Croatia leaves the country with tough competition. But where it lacks in notoriety it adds in accessibility and ease. Being a rather small country, Slovenia is a perfect place for travelers with limited time. This Slovenia itinerary will help you see many beautiful places in just 6 days in Slovenia.
6 days in Slovenia itinerary
Day 1: Arrival in Ljubljana airport, stay in Solcava
Day 2: Logar Valley, stay in Lake Bled
Day 3: Hike in Lake Bohinj area, stay in Lake Bled
Day 4: Vintgar George, Planica, Lake Jasna
Day 5: Drive through Triglav National Park to Soča Canyon
Day 6: Ljubljana, departure
Slovenia itinerary map
Travel Monkey Tip: to use this map on the road, click on the top right corner button and open it in your Google Maps. Once that is done, the map will be available on your Google Maps account under "Saved." Scroll all the way to the right to find "maps" and it will automatically appear ready for use in real-time.
Before starting off your road trip in Slovenia, make sure you stick to the best practice rules about do's and don'ts of traveling in Europe by car.
Day 1. Solčava
Arrive to Ljubjana airport and pick up your car rental. From there drive from Ljubljana airport straight to Logarska Dolina. The drive is easy and takes about 1,5 hours leading through a strain of small villages.
I stayed in Guest House and Museum Firšt in Solčava, a very cute little village in the Slovenian mountains. There is also a restaurant in the hotel, so you don't need to go far when you get hungry. Otherwise, you can drive to Solčava for more food options. The staff is really nice and attentive and they will welcome you with a drink.
On my first night, I decided to take the Solčava panoramic road for incredible sunset photos. Please note that you won't be able to do a full loop most likely because part of the road is private/closed. Set the GPS to lead you to Cerkev Sv. Duh and you'll get amazing panoramic views.
Where to Stay in Solcava?
Guest House and Museum Firšt for 70EUR a night
Day 2. Logar Valley & Lake Bled
The next morning, try to wake up early to go to Logarska Dolina. Make sure you have 7EUR to pay as a car fee for entrance to the park. Do not worry, it is totally worth it. The entrance road to the valley is already incredibly beautiful and you will want to start taking pictures right from the start.
Logar Valley offers a lot of hiking options. I did a hike to Koča na Jami. There are two ways to go there and it seems like I chose the hardest one which leads through a cave and a few steep stairs (if you can call them that). The harder one starts next to Eko hiša "Na razpotju"-penzion***.
For the easier path, which I took on the way back, go to Dom Planincev and start from there. The views on top though are incredible.
You can be done with hiking in the afternoon (I was ready to leave at 15 o'clock) and leave Logarska Dolina to move further west.
From Logar Valley to Lake Bled
The drive to Lake Bled took about 2 hours with stops for gas all thanks to speedy Slovenian highways. I was surprised to see that cars drive so fast on Slovenian highways, so for a moment, I thought there were no speed limits. But there are, the limit is 130 km/hour.
After checking in, if you still have time, energy and desire to explore a little bit of Lake Bled, I highly recommend taking a short hike to Mala Osojnica for some panoramic shots over the lake. I was exhausted from the hikes I already did in Logar Valley, so I just went halfway up and it was enough to get amazing views.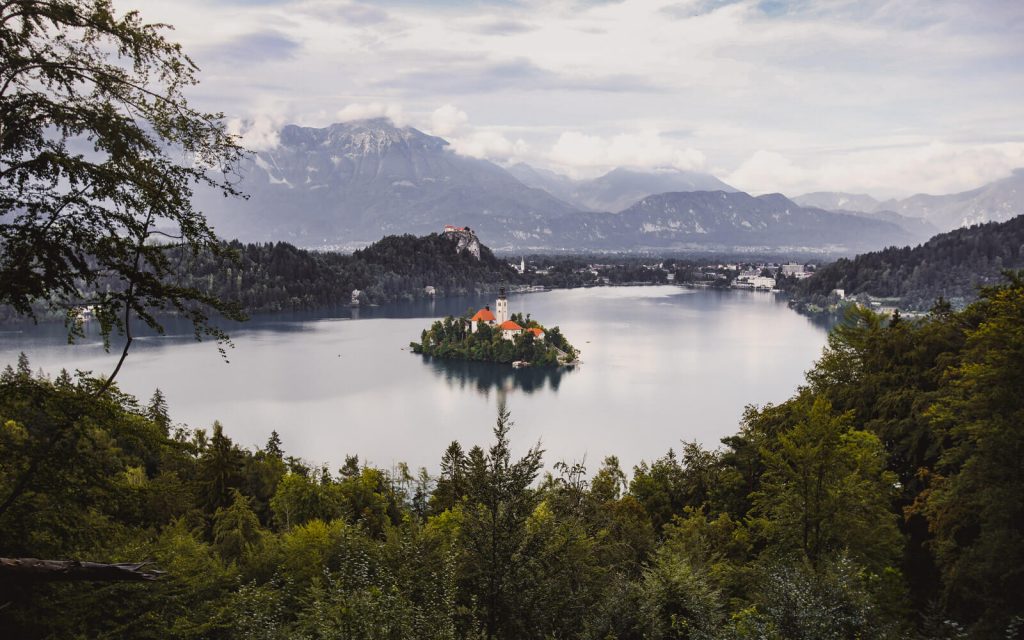 Where to Stay in Lake Bled?
Rooms Dolar, a simple but very clean and tidy accommodation starting from 28EUR per night. There are small treats everywhere, like candy and face masks ?
Day 3. Hike near Lake Bohinj, Lake Bled

If you're up for another hiking day, wake up early to start your hike in Triglav National Park next to Lake Bohinj. After a lot of research, I chose the one that I liked the best – hike to Koča na Planini pri Jezeru. The trail starts from Planina Blato, which is about 40 min drive from Bled. It was a much easier hike than the one I did in Logar Valley, as the trail goes both up and downhill and is more comparable to walk in the forest.
I cannot stress enough the importance of having proper shoes. I wore sneakers and it was easy to destroy them, partly because of incredibly muddy path and slippery track.
The hike will take about 40 minutes one way. And you will hear the end before you see it, all thanks to a decent number of cows wearing bells and echoing incredible bell music all throughout the valley. There is a small hut where you can have warm food to energize for your next part of hiking.
From Koča na Planini pri Jezeru the road splits into many more routes ranging in distance and difficulty. Since a lot of them were long and I didn't have that much time, I opted to continue to Planina Laz (another 50 minutes). From there, I headed back down to the base of Planina Blato, where I have parked the car.
The entire loop took me 3,5 hours. If you want to do the same loop, I strongly advice to start from the same direction that I did. Going down from Planina Laz was incredibly steep and I didn't envy the people who were going in the opposite direction.
Lake Bohinj
After the hike, you can take a short drive to Lake Bohinj, the largest lake in Slovenia. The area has some entertainment and water sports activities available for a great day by the lake. In my case, I preferred Lake Bled much more, so I went back to stay there one more night.
If you decide to spend another night in Lake Bled, make sure to visit the Church of the Assumption of Mary situated on an island in the middle of the lake. It is definitely one of Slovenia's top attractions. The only way to get there is by boat (or a swim, if you're brave enough to attempt it). You can rent a romantic rowboat for about 15EUR for 30 minutes from one of these hotels: Castle boathouse, Grand hotel Toplice, or Pension Pletna.
Otherwise, you can take a bigger Pletna boat, which is more like public transport taking visitors to the Bled island for 12EUR per person for a round trip.
For dinner, I would recommend the restaurant Sova. Their staff is incredibly attentive and food presentation is mouthwatering.
Day 4. Vintgar Gorge, Planica, Lake Jasna
Vintgar George
Vintgar Gorge is situated only 6-km away from Lake Bled. When setting up en route, make sure to type in 'Parking Vintgar' into your GPS, otherwise, you might end up driving to the wrong end of the gorge.
The entrance fee is 12EUR for adult and parking cost is 5EUR.
Beware that a walk through Vintgar Gorge only takes you one way. Don't be naive like me who turned around to go back and wasted so much time figuring out that you cannot go back the same way. Once you reach the end of the gorge, you can either take the bus back (which doesn't run too often) or return to the parking lot through a hike in the forest.
In total, the walk through gorge takes about 35 minutes, and the road back to the parking lot takes another 40. Thankfully, there is a small cafe on the way back where I stopped by to swallow my sorrow over a badly planned parking situation. 🙂
Planica and Lake Jasna
After a brisk walk in the Vintgar gorge, set your path towards a few more Slovenia sights to see – Planica and Lake Jasna.
On the drive there, you will be tempted to stop by Dovje and Gozd Martuljek to take pictures of insanely breathtaking Triglav mountain, so do that!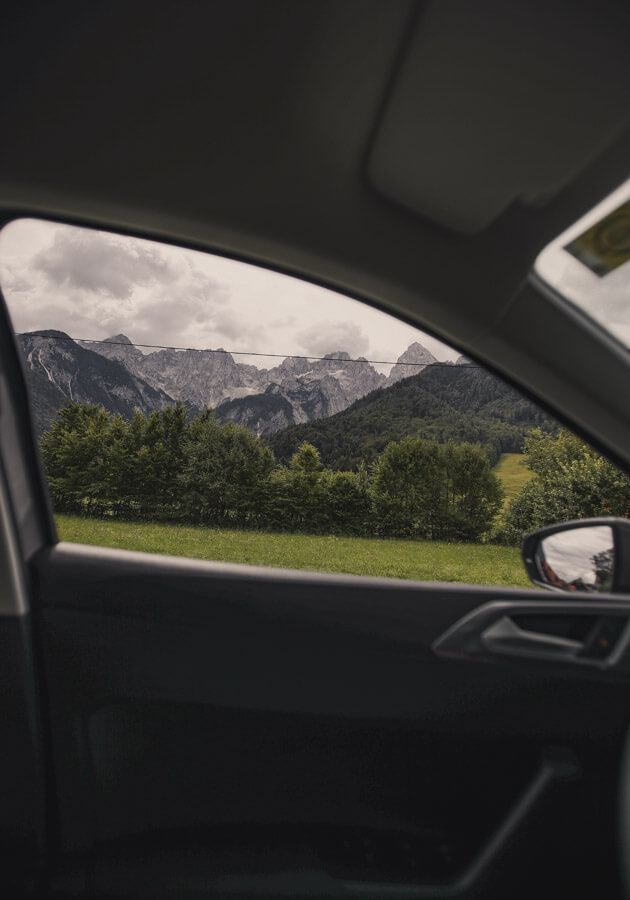 Planica is another beautiful Apline valley in Slovenia right up the border with Italy, known for sports activities, particularly skiing, therefore, it is way more exciting in winter. However, it is a nice place to visit in summer too, when people come here for cycling.
On your way, stop over at Zelenci Nature Reserve, featuring a swampy emerald green lake surrounded by interesting flora. The walk from the parking lot to the lake takes 10 minutes and the entrance is free of charge.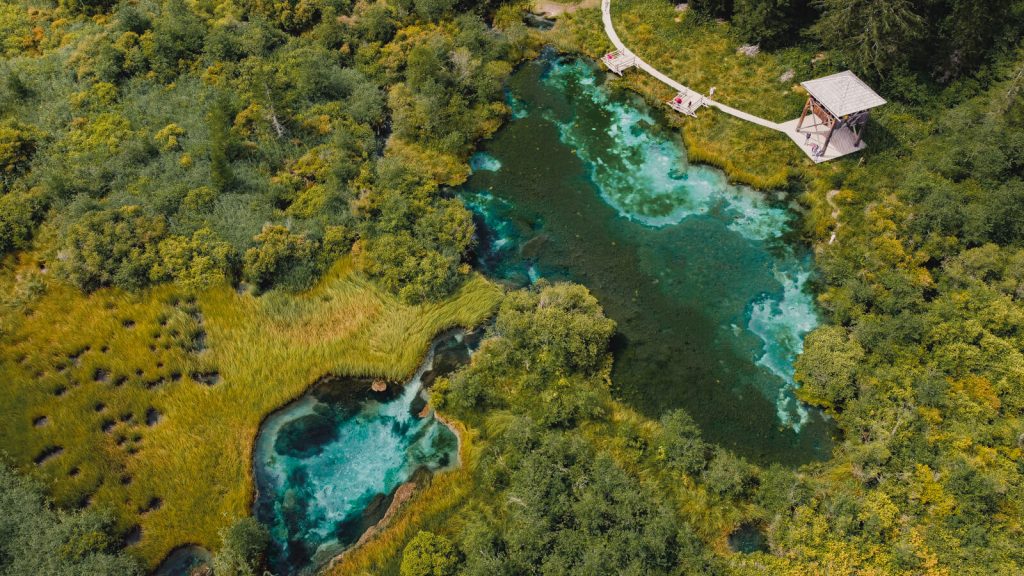 And then, the cherry on top of this day is Lake Jasna. It's a cute little town with infrastructure and tons of traction. On my visit there, I saw school groups, locals SUP-boarding in the lake, cafe studs, and simple people, who enjoy a day out tanning by the lake. Make sure to have a cup of coffee or a lemonade in the cafe by the lake, the views are incredible!
Where to stay?
Hostel Lukna in little village Mojstrana with awesome mountain views starting from 19EUR per dorm bed.
Day 5. Drive through Triglav National Park to Soča Canyon
Vršič Pass
By this time I thought I've already seen the most beautiful places in Slovenia. I was once again proven wrong and got smashed with dazzling views of undeniable gorgeousness. I planned this day to be dedicated to mostly driving along the mountain road and seeing some Slovenia tourist attractions I have mapped out, starting off with the Russian chapel and going down the Trenta mountain road.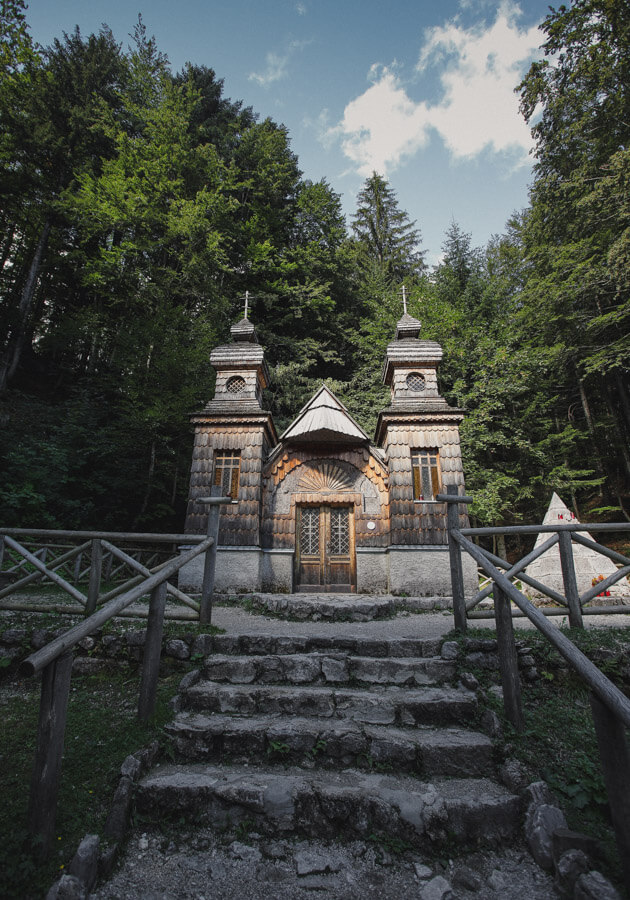 But boy, oh boy was I in for a surprise on a Vršič Pass! It definitely has the most beautiful mountain views in Slovenia you can find. And they are all along the road, so prepare to take a lot of stops as you won't be able to resist taking pictures. This is also where a lot of people start their hiking paths. But since I've already done hikes in Lake Bohinj and Logar Valley, I just felt like driving and appreciating the nature from a sitting position. Anyways, the views are right there!
Grand Canyon of Soča
The next stop in our Slovenia itinerary is the Grand Canyon of Soča river. This place is a popular spot for kayaking, water rafting, and all-round water sports. You'll be surprised by the pristine blue-green water.
If you don't feel like engaging in the water sports, you can always opt for one of the hikes around the Soča Trail.
I ended my day of driving in Kobarid where I took a pleasant evening walk to the Kozjak waterfall. Make sure you have 4EUR cash with you to pay for the waterfall entrance and snap a photo of the Napoleon bridge.
Where to stay?
Apartment Bon – newly equipped apartment in a beautiful nature for 85EUR fitting up to 4 people.
Day 6. Drive to Ljubljana and departure
The last day in Slovenia was dedicated to driving back to Ljubljana and saying goodbye to the country. However, it doesn't mean that you cannot see more of Slovenia attractions on your way.
Stop at Franja Partisan hospital, a secret place hidden in Slovenian mountains with paramount importance in the country's history. Franja Partisan hospital was a part of the resistance movement against Fascist Italy and Nazi Germany between 1943-1945. The hospital was specifically built in an inaccessible rugged terrain, hidden in between the mountains and forests, so that it would stay undiscovered.
Now it is an open-air museum which can be visited for a fee of 4EUR to see what it used to look like merely 75 years back.
From there, it is a one hour drive to Ljubljana. Take the rest of the day to discover Slovenia's beautiful capital. Otherwise, depart straight from Ljubljana airport.
Like It? Pin It!