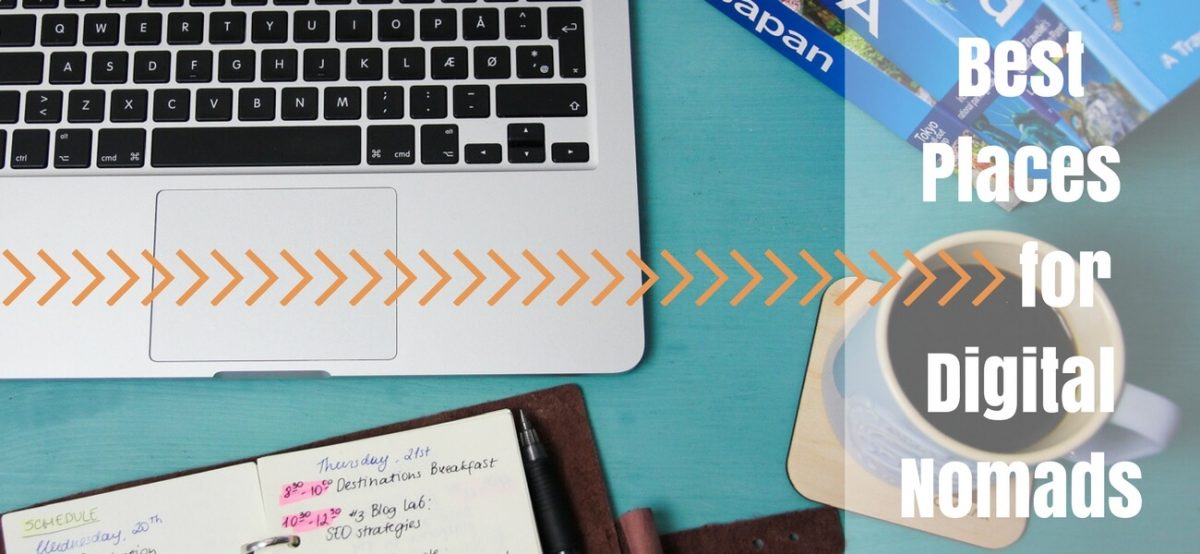 This post may contain affiliate links. I receive a small commission at no cost to you when you make a purchase using my link.
It is no secret that working remotely is becoming more popular day by day. As much as 43% of Americans are said to be telecommuting at least some of their work time. More so, some people leave the office altogether to become digital nomads working from exotic destination combining both work and vacation. And with growing amount of freelance websites, such as Freelancer, HubstaffTalent and Upwork, it is becoming even easier to find digital nomad jobs! If you are a fan of digital nomad jobs and dream of working with your toes in the sand, here's a list of best places for digital nomads according to travel bloggers who've been there, done that.
1. Hanoi, Vietnam
Hanoi has many of the same advantages of Chiang Mai, which is named as one of the best places for digital nomads, which is why we've spent 1.5 years here now. The wi-fi is generally great – we get 40Mbit/s in our flat, which is more than enough to support the important nomad tasks of Skyping, working online and downloading movies 🙂 And the lifestyle is similarly cheap: our flat is $400 a month, a street meal is generally a dollar or two, and lavish Western meals can be had for $10-15.  And how can you not love a place where the beer is $0.25 a glass?
There's a great cafe scene here, meaning there's plenty of places to work and enjoy views of the tree-lined streets and the faded French colonial charm (and endless tooting scooters, let's not sugar-coat it). The only real downside? The social scene here is mainly young teachers, rather than the more entrepreneurial crowd in Chiang Mai. You won't get lonely, but you may find yourself wanting to talk about something other than good classroom management techniques occasionally.
2. Seoul, South Korea
If internet connectivity is the name of the game, you need to consider Seoul, South Korea for your digital nomad escapades, as country has the highest internet speed in the world. This vibrant large city blends stunning traditional architecture, animated colors and great public transportation. More importantly, the internet on its worst day far surpasses other countries on their best (yes, United States, I'm looking at you). Many apartment buildings in metropolitan areas in Seoul have speeds of internet connection up to 100 Mbit/s. You're even connected while riding the subway. Pair that with a surplus of coffee shops and friendly people and you're set.
If you need somewhere more focused to work, check out one of their thirty-six coworking spaces. Off the typical nomad path, Seoul may not see the hordes of wandering computer clad travelers as other areas in Southeast Asia, but don't let that discourage you. Between the palaces, temples, electrifying street art, and hikes, this alluring city has a lot to offer. Don't forget to scope out one of South Korea's odd museums. From chicken art to a toilet house, there are a variety of unique places to explore.
Average internet speed: 26.1 Mbit/s
Average cost of living: $2,500

Co-working spaces: Hive Arena, WeWork, Garage

3. Sofia, Bulgaria
The capital of Bulgaria is slowly becoming a hip place with a bunch of interesting festivals, concerts and exhibitions happening throughout the year. With many international companies opening a place here, there's a drastic change in the number of expats, freelancers and digital nomads that choose Sofia for their new home. It is easy to see why! The country has among the lowest prices in Europe which makes the general cost of living pretty cheap.
I can't keep count of the co-working spaces that have popped in the city in the last two years with Betahaus still being one of the most popular. The internet – a digital nomad's best friend – is one of the cheapest and fastest in Europe. You can get a great speed for only 5-9 euro a month. If you are not convinced, let me tell you that traditional Bulgarian food is delicious and not expensive at all. There are many modern restaurants, cafes and bars where you can chill with your laptop, try international cuisine or mingle with the locals. If the beauty of Sofia and its rich history are not enough – exploring Bulgaria is pretty easy as the country is not that big and there's both gorgeous mountains and a long sea coast line!
More on Sofia…
Sofia is definitely one of the best places for digital nomads. There are two main reasons that prove that. First, Sofia and Bulgaria in general, is super budget-friendly destination. Second, Bulgaria has one of the fastest internet connections in Europe. As a digital nomad, I believe this is what you will look for, right? In Sofia, there are plenty of co-working places if you prefer to get your work done around others, like-minded people. If not, you can sit in every coffee around the city and use their Wi-Fi. Besides that, Sofia is a wonderful, vibrant city and no matter if you're a digital nomad or not, you need to add it to your bucket list.
  4. Riga, Latvia
If you're a digital nomad looking for a cool spot to set up shop, you should check out Latvia's capital Riga. Not only is it the by far most fun city in the Baltics, it's also home to a fast-growing and young start-up community. Because of that, there's a lot of business-minded and creative people around working on all sorts of online projects.
As you can imagine, the wi-fi connections are state of the art and there's an impressive selection of inspiring co-working spaces to pick from. On top of that, the living costs are relatively cheap, with a 1-bedroom apartment sitting at around $300 per month. That means you should have a few cents left to explore Riga's famous nightlife or check out the edgy hipster scene. Either way, just make sure you eat lots of pierogi bread rolls – they're delicious!
5. Bali, Indonesia
Bali evokes stronger emotions from travelers than many other places in the world. Some love it, while others wouldn't touch Indonesia's most famous island with a ten-foot pole. Those in the latter category are typically picturing the resort-heavy beach towns. If you look into the more remote center of Bali, you'll find Ubud – the ideal town for settling in to relax and get some work done.
Ubud is still quite developed but has preserved more Balinese culture than other parts of the island with temples around every corner and offerings laid out in the street. And, of course, there are still plenty of things to do in Ubud without compromising the authenticity.
The pedestrian-friendly town center is packed with quality Bali cafes with wi-fi. Clear Café is practically the world unto itself, with two levels of comfy seating amid a stunning garden. Kebun Bistro is a French-inspired joint with a killer Sunday brunch, but it was Kafe next door that became my go-to with a large menu and strong connection – a digital nomad's dream! Monthly rent is between $230-$480. It is difficult to get the speed of internet connection faster than 2 Mbit/s in Bali though.
Average internet speed: 2 Mbit/s
Average cost of living: $600

6. Mexico City, Mexico
Mexico City is the place I call home. It is also one of the best places, in my humble opinion, for any so-called digital nomads to set up their base and get to work. The cost of living is incredibly cheap (think US$500 a month for the basics), you have far more access to fresh foods and fruits (something that's either incredibly expensive or just…non-existent in some countries) and, best of all, you're living in one of the coolest capitals on earth. As far as the practical side of digital nomad-ing goes, the internet packages here in Mexico are reliably cheap and pretty speedy. If you're working in cafés, you'll also find that the connection isn't half bad; although, you might need to do some digging at first to find a great spot in which to get to work.
But honestly? Mexico City has it all – art, culture and, best of all, cuisine. Whether you want some greasy tacos at four in the morning or a sit-down meal at one of Latin America's best restaurants, you can find it here. If you're not that into eating (you weirdo), then you can take advantage of the national parks that surround Mexico City on all sides or explore the archaeological ruins instead. What more could you ask for?
How to stay connected as a digital nomad?
Now, before you're off to your new remote digital nomad destinations, remember to ensure stable and reliable internet hotspot that will keep you productive no matter where you go. Such devices as  Skyroam mobile hotspot are perfect for intensive working days, allowing you to connect up to 5 devices and pay by the day instead of data usage. The solution works on a virtual sim-card that can be used in 100 countries of the world, including any of the above-mentioned digital nomad havens. It is a wi-fi that you can put in your purse and never worry about sim-cards or roaming fees again.
Get 10% Skyroam discount using the special promo code: TRAVELMONKEY
---
Are you a digital nomad? Where are you based now? Where do you want to go? Share your thoughts in comments below!
Like It? Pin It!