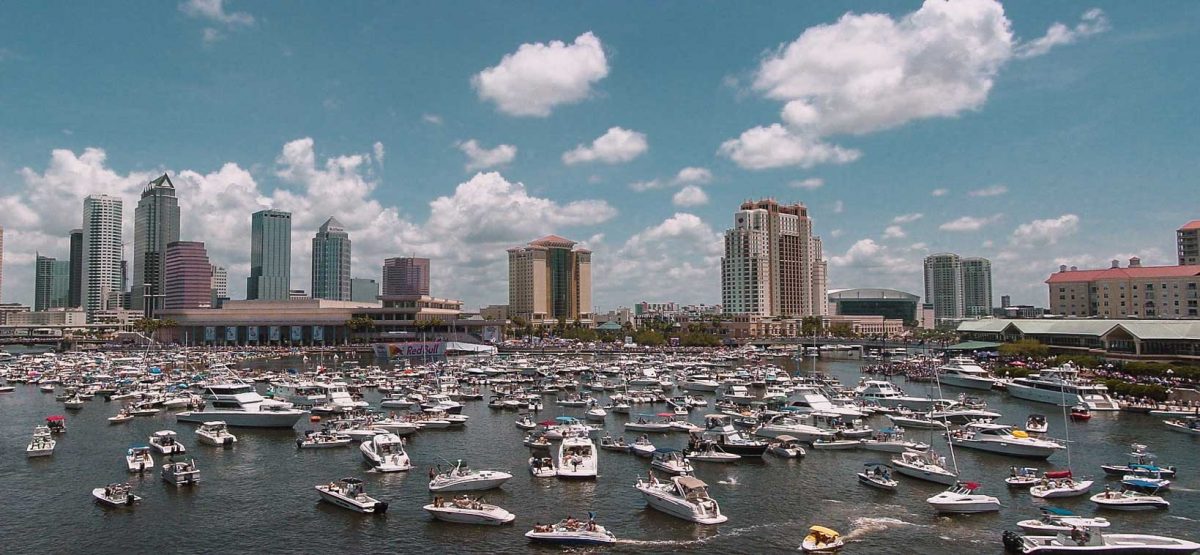 This post may contain affiliate links. I receive a small commission at no cost to you when you make a purchase using my link.
Many years ago, the Tampa Riverwalk struggled to draw visitors to the 2.6-mile waterfront pedestrian trail in downtown Tampa. Looking at the Riverwalk now, it's hard to imagine this barren past. The Tampa Riverwalk is now known for booming nightlife, restaurants, shopping, and attractions. Today, you'll find something to fit any budget, desire, and age group. Here five places to eat, drink, and shop while exploring the Tampa Riverwalk.
The Florida Aquarium
The Florida Aquarium exhibits more than 7,000 plants and animals. With its interactive experiences on each floor, it's a magnet for visitors both young and old. Habitats include everything from trees to seas, including the Wetlands Trail, Journey to Madagascar, and Bays & Beaches exhibits. Petting sea cucumbers and anemones is a must-do activity in the No Bones Zone exhibit. Here, guests can touch sea life species that have no backbones.
The aquarium allows guests ages 6 and older to do more than see fish. They can swim and dive with them, too! Snorkel through a replica of the coral reef site at Dry Tortugas, one of the Florida Keys' most famous (and hard to access) islands.
If that idea is too mild for you, consider a second snorkeling experience that allows you to swim among more than 1,000 fish, including sand tiger sharks, stingrays, and barracudas. For daredevil-certified divers ages 15 and older, a diving option allows guests to come face-to-face with the sand tiger sharks in the aquarium's largest habitat. All three experiences are recorded using action cameras, and guests receive a copy of the footage.
Aloft Tampa Downtown
Tampa's hotels offer plenty of comfortable amenities for guests. Spend some time under the Florida sun with an adult-friendly pool party at Aloft Tampa Downtown, located right along the Tampa Riverwalk. Hosted from noon to 6 p.m., Aura's Sunday Pool Party allows guests to enjoy budget-friendly cocktails while swimming and listening to live DJs. Aloft Tampa Downtown is also known for its great view of the river, hip vibe, and the WXYZ bar.
Specialty Shopping
The downtown Tampa Riverwalk is home to boutiques, unusual gifts, and art shopping. Visit one of the many storefronts located throughout the area to uncover unique finds. Stop by the Art District and explore any of the museum shops for home decor, apparel, and educational gifts. The Glazer Children's Museum, Florida Museum of Photographic Arts, Tampa Bay History Center, Straz Center for the Performing Arts, and the Tampa Museum of Art gift shops are open to the public and have items to match any taste.
Four Green Fields
For a taste of authentic Irish food and fresh pints of Guinness beer, visit Four Green Fields. The pub is America's only authentic thatched-roof Irish pub. Witness Irish entertainment during one of the weekend events. Famous Irish entertainers have been known to play there, including the likes of Sinéad O'Connor, Paddy Reilly, and The Wolfe Tones. Open 365 days a year, Four Green Fields was named one of the top 100 places to drink beer by Imbibe Magazin.
The Tampa Riverwalk Events
Enjoy annual and rotating third-party events year-round hosted by Friends of the Tampa Riverwalk. Outdoor concerts, boat parades, and other activities for all ages appear on the events calendar. Flexible seating makes a variety of programming and performances on the Great Lawn accessible. The 8 miles of Curtis Hixon Waterfront Park is the centerpiece of the Tampa Riverwalk and is perfect for walking, running, strolling, and sightseeing.
Whether you are visiting for the first time or you're a local who wants to explore something new, the downtown Tampa Riverwalk beckons. Heed the call!
Disclosure: This is a sponsored post.
Like It? Pin It!