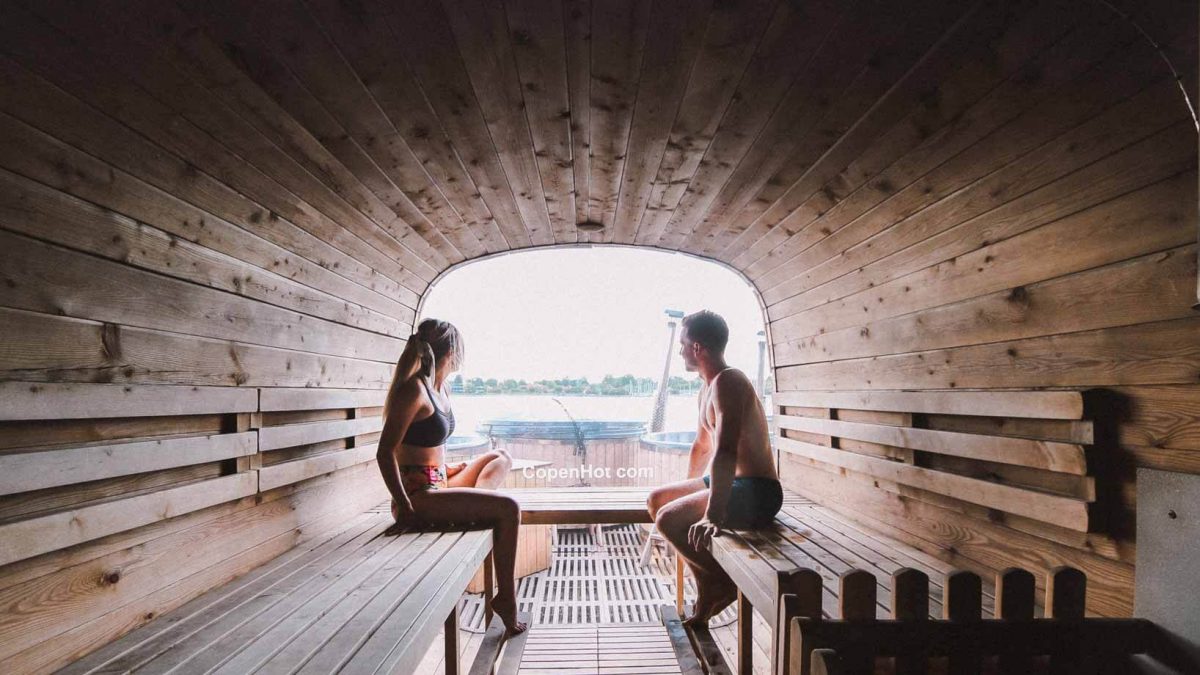 This post may contain affiliate links. I receive a small commission at no cost to you when you make a purchase using my link.
Copenhagen is not named one of the best cities to live in by accident. Besides all the greenery and great work-life balance, there is also plenty of stuff to do for every kind of person. While we've all heard of picturesque Nyhavn and magical Tivoli gardens, there is so much more to Copenhagen than that. Whether you live here or are just visiting, there are non-cliche ways to spend a weekend in Copenhagen in order to dive straight into the hygge culture.
Let's come up with a perfect weekend in Copenhagen itinerary.
Tip from Travel Monkey:
For constant update on awesome things to do in Copenhagen, install the
Pingle app.
It is created specifically to give you inspiration on things to do in Copenhagen, Malmo and
Lund
area giving you the possibility to meet new people in the process. By creating your own pingles under the suggested events, you can allow others to join you on your next adventure, be it a coffee on a Sunday morning, music festival, or an after work social gathering by the glass of beer.
Suggestions for a weekend in Copenhagen
Friday Night
If you're like me, your weekend starts on a Friday, right after you've wrapped up with that last work/study assignment and are ready to slip into a weekend in Copenhagen.
Every first Friday of the month use the opportunity to visit one of the best Copenhagen hotels Manon Les Suites and dive into an exotic atmosphere. Cocktails, swimming in the pool, and amazing night mingling with others is waiting for you at Manon's Lounge Fridays.
The entrance is 75 DKK per person, but the venue is totally worth it.
Bring friends, or create a Pingle event to meet new people who share the same passion for boho luxury, eco-friendliness and Friday drinks!
Where? Gyldenløvesgade 19, 1600 København
Saturday
Start your morning fresh with kayaking
Besides being avid chillers and beer drinkers, Copenhageners are also dedicated to healthy lifestyles. This, of course, means lots of fun sport activities.
Like it or not, after living in Copenhagen for some time, you'll start doing sports sooner or later, whether it is just going to the gym next door or joining an active sports group. One of the great ways to spend a Saturday morning in Copenhagen is to go to the sea, with your kayak, that is. You don't need any training or special skills, just pick up your buddy or simply go on your own, rent a kayak and surf under the small canal bridges at your own pace.
KajakOle rental is situated right across from Islands Brygge baths, next to the Langebro bridge and its a great starting point for a kayak trip in the canals.
Kayak rental prices
Single kayak per hour 195, – DKR
Double kayak per hour 300, – DKR
You can find more about rental prices for kayaks, tours and more here.
Where?

Kalvebod Brygge 7, 1560 København V
Rosenborg Castle
After you energized and raised your endorphins with active fun, you can ease into your weekend with some cultural perspective. Copenhagen is not short on magical castles and it is inevitable to visit at least one to pay homage to Danish royalty.
You can diversify your weekend break in Copenhagen by doing a culture/insta trip to one of the gorgeous Danish castles, such as Rosenborg. Besides the gorgeous interior where the crown jewels are kept, you can easily spend lots of time walking in the Kongens Have park, where the castle is situated.
Entrance fee: 115 DKK, free with Copenhagen card
Where? Øster Voldgade 4A, 1350 København
Go to see a play at a Boat Theater
And I have something very special planned for your Saturday evening in Copenhagen.
Have you ever been on a boat, which is also a theater?
As soon as I found that such a thing existed, I was online buying tickets asap. Yes, in Copenhagen there is a boat theater which puts on small indie performances. The boat is located right on the Nyhavn, so it is easy to reach. Every 1-2 months they have a different act showing, so head to BådTeatret webpage and find the story most compelling to you.
Where? Nyhavn 16, 1051 København K
Tip from Travel Monkey:
getting some wine before or in the
intermission
of the show has proven to raise satisfaction levels significantly 😀
Roll a game with your friends at Bastard Cafe
Bastard board game cafe is one of the most loved places in Copenhagen for hygge and friendly hangout.
Why? Because they have board games!
Lots and lots of them.
Some board games are for free, while others are for the advanced users who are willing to pay a membership fee to get in that friend's monopoly tournament. A very cozy evening is guaranteed. You'll be surrounded by groups of lively and happy friends/families, cozy atmosphere and good drinks that will go well with your game night.
Where? Rådhusstræde 13, 1466 København
Tip from Travel Monkey:
This is a great experience to share with others! Create your own pingle at
Pingle app
to invite others to join you.
Choose your favorite taste of Copenhagen beer
Saturday is a perfect day to go on a hunt for best beer in Copenhagen. Forget about the giants like Carlsberg or Tuborg and discover the spectrum of flavors from small local breweries. Head to the Warpigs brewpub in Kødbyen for selection of more than 22 fresh tap beers to choose from, most of which are home-brewed. Your head will start spinning before you even drink all because of the great selection of beers alone. They treat beer in Copenhagen really seriously.
My personal favorite is a weissbier with a hint of an elderflower taste. Goes in very smoothly.
Where? Flæsketorvet 25 – 37 1711 Copenhagen V
Sunday
Brunch in Baryl Cafe
Sunday is a brunch day. This is just how it is, brunch is the new church for Copenhagen people. Thankfully, Copenhagen brunch scene has been developing steadily and there is no lack of places to go. However, there might be a lack of room, since a lot of people here enjoy their Sunday brunch.
Baryl might be one of my favorite places to have brunch in Copenhagen simply because of their healthy menu and generous portions. The food is not only good for your stomach, but for your eyes as well, which will start consuming the dishes as soon as they arrive. Splash of colors and ingredients will not leave you hungry, for sure!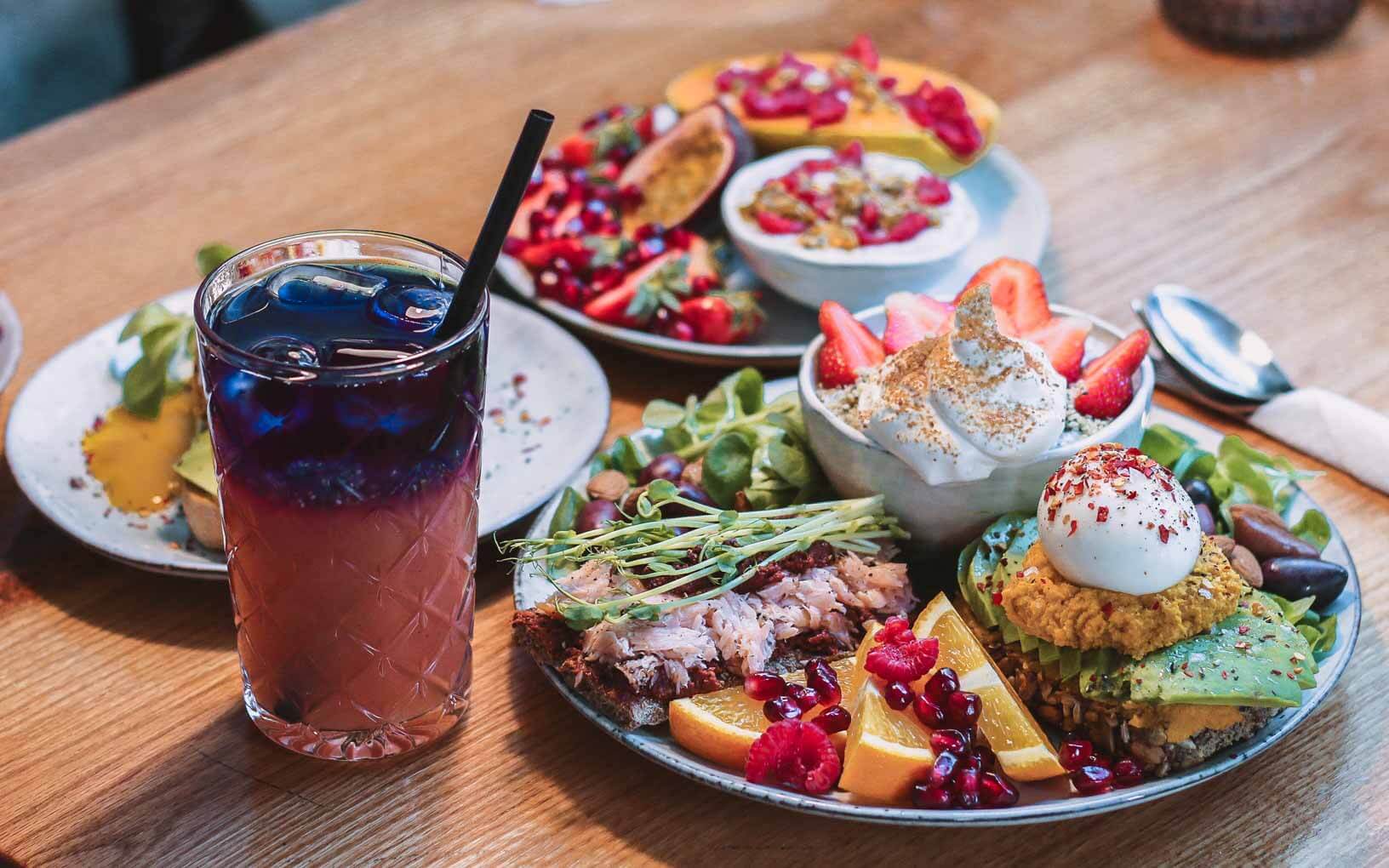 Order a Blogger plate if you are on a diet or go for a full-blown Morning plate to make sure you are full of happiness.
Where? Århusgade 78, 2100 København Ø
Sauna with HotSundays in Copenhot outdoor baths
A great way to spend a weekend in Copenhagen in any kind of weather is to fully dive into HotDays with CopenHot.
This company offers amazing open-air barrel spas and saunas with the best views in the city.
Twice a week, on Wednesdays and Sundays, CopenHot invites everyone to come and share the saunas and barrel-spas with everyone and have a great time getting to know one another. For the price of 200 DKK per person, you get 1,5 hours full of spa fun.
I suggest starting with a warm up in the sauna with a great view to the sea, then taking a dip in the chilling sea water, and jumping straight into a warm barrel afterwards for the maximum chillax. You can also order drinks to accompany you in the barrel-spa.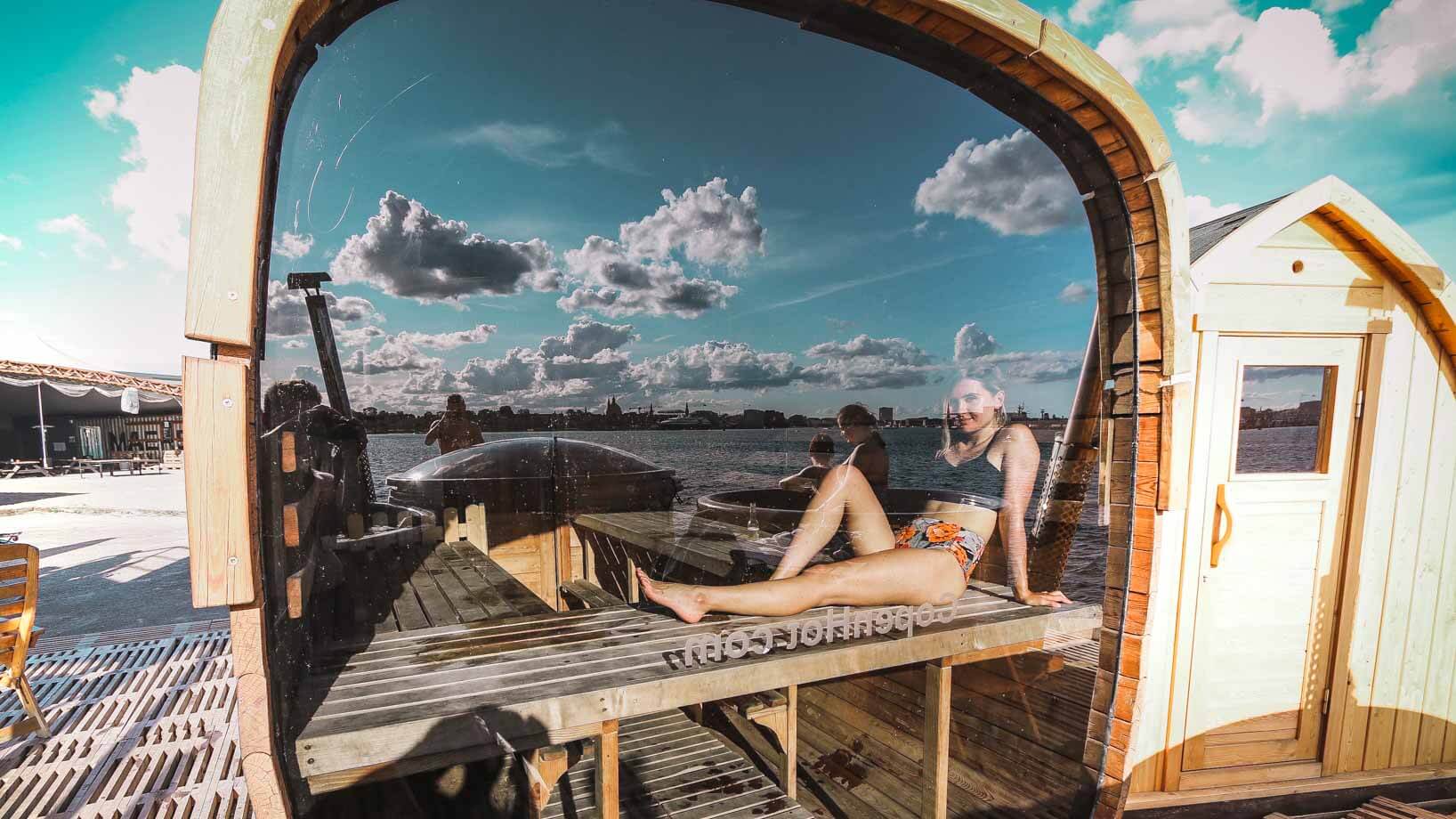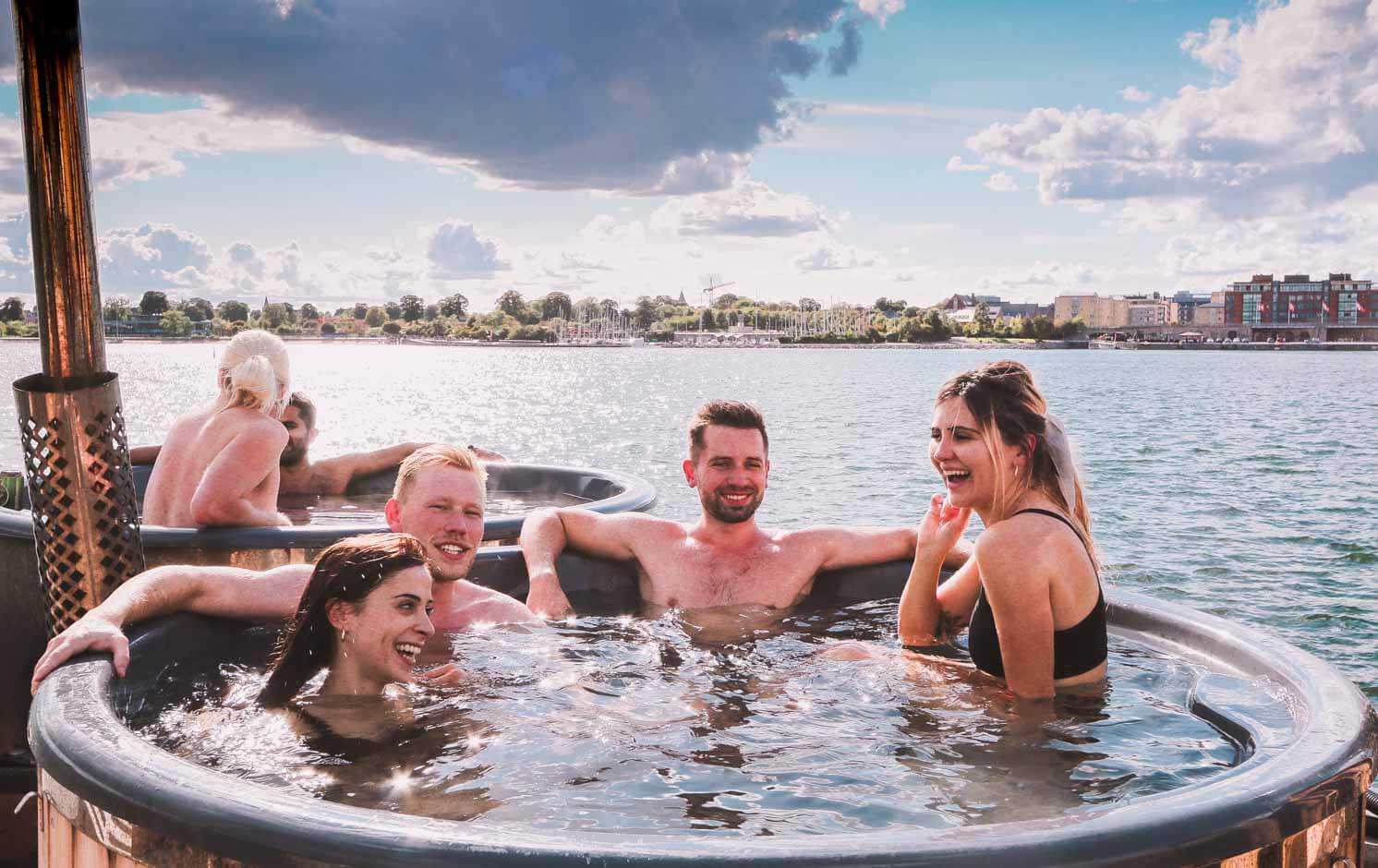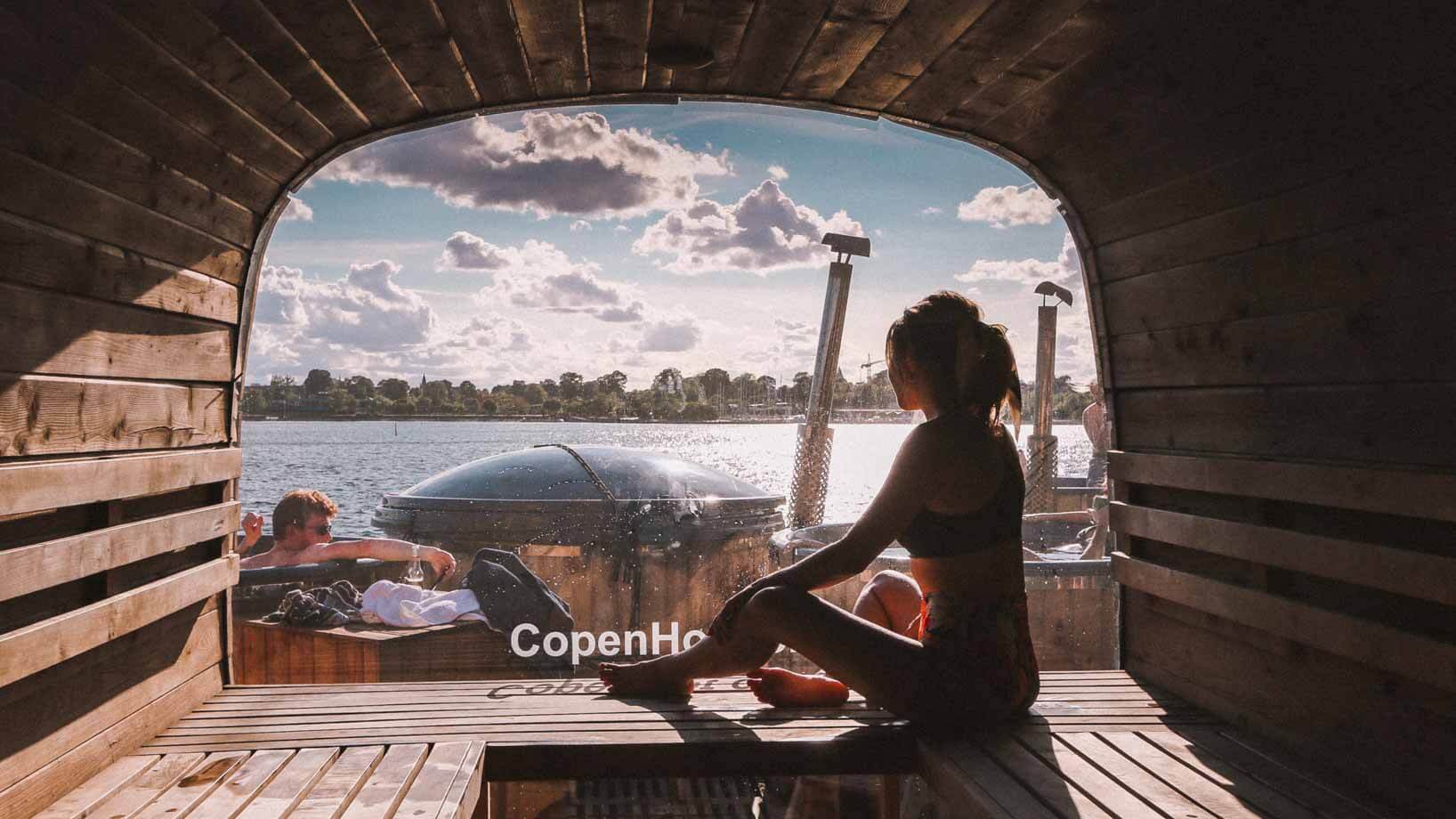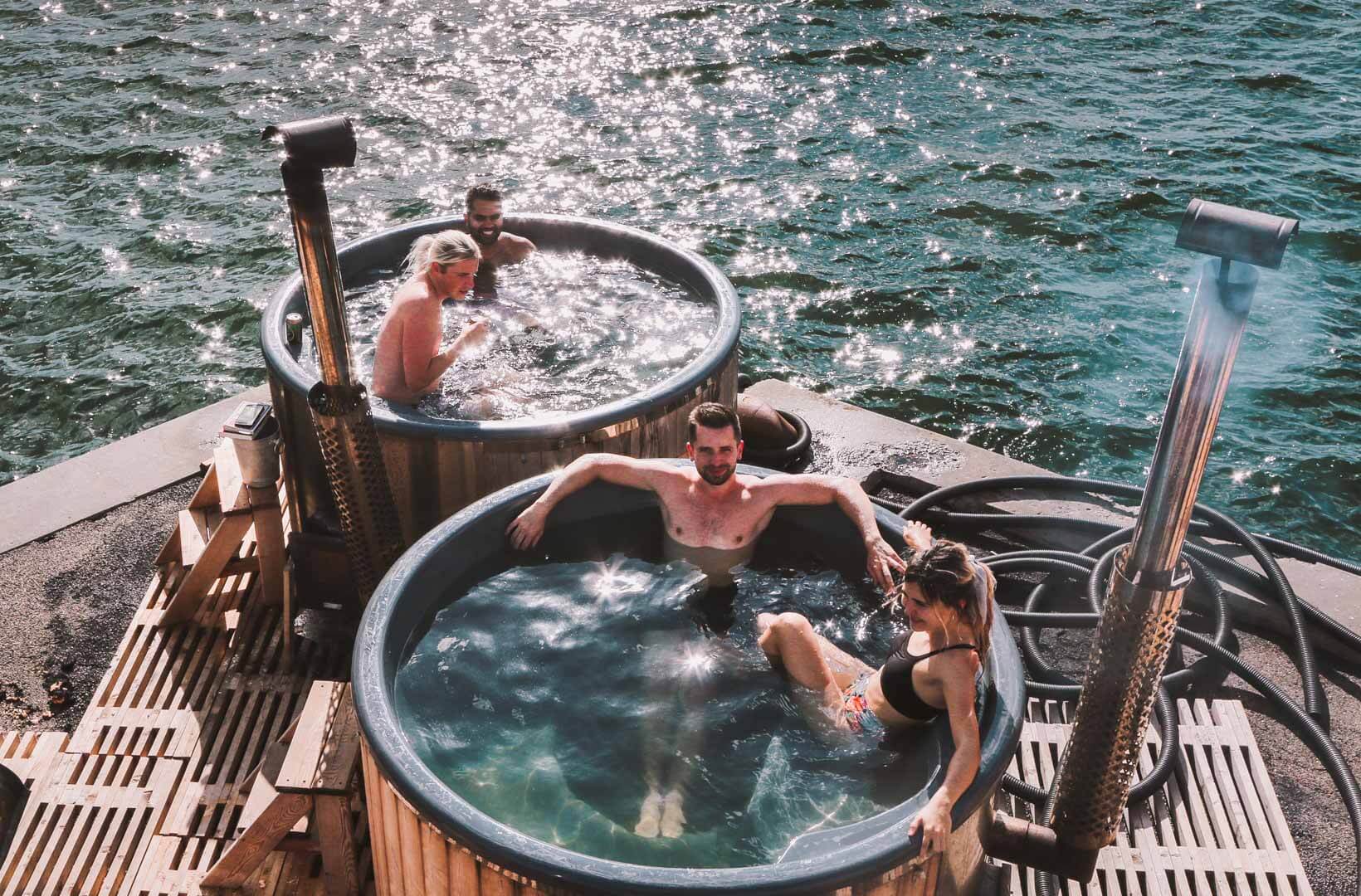 Apart from HotDays, Copenhot offers a lot of other exclusive services, which include a sailing barrel-spa that you can take out on a sail in the canal.
Tip from Travel Monkey:
This is a great opportunity to meet new people and mingle. Don't know how? Create your own pingle at
Pingle app
to invite others to join you.
There are 4 time-slots available to choose from: 12-14, 14-16, 16-18 and 18-20
Where? Refshalevej 325, 1432 København K

Get a drink at a Rooftop Bar
Chillax after a steamy sauna at one of the best rooftop bars in Copenhagen.
Who doesn't like rooftops? It makes you feel so special and exclusive because this is where you can admire the entire city and have it on your palm. Pair it with tasty cocktails and you've got yourself a great evening.
The Rooftop Bar of Hotel Danmark is situated right next to the main square of the city – Radhuspladsen, meaning that the best views are guaranteed.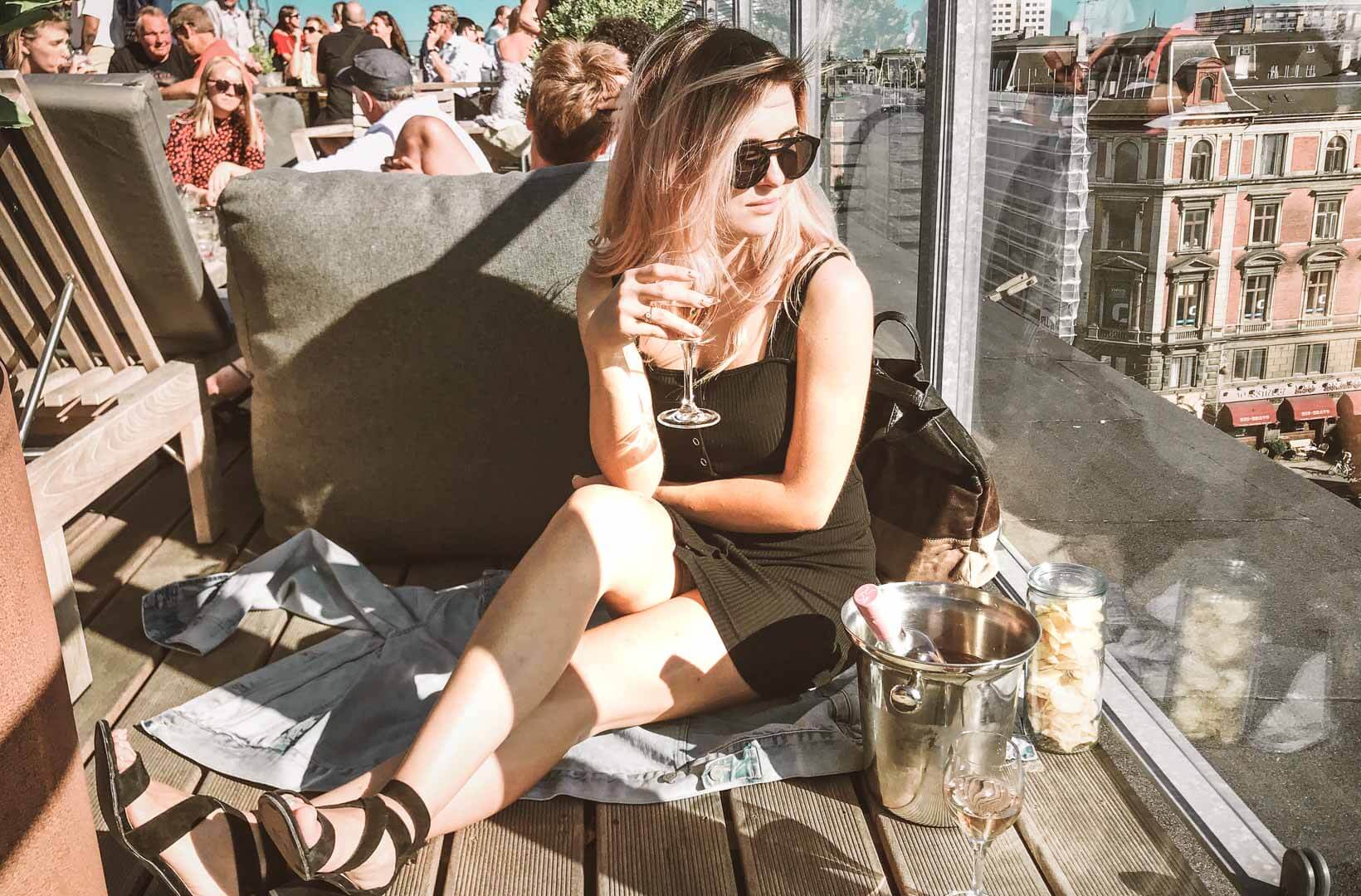 Tip from Travel Monkey: the place is small, so arrive earlier to get the best spots and views over the city.
Where? Vester Voldgade, 89, 1552 Copenhagen K
That's all my suggestions so far for a non-cliche weekend in Copenhagen! I hope you enjoy this weekend in Copenhagen itinerary and will have a blast experiencing the city like a local.
Have you seen my other content on Copenhagen? I'm in love <3. Read more here:
Looking for more inspiration on things to do in Copenhagen? Download Pingle app to always stay updated on the new things happening in the city.
Disclosure: This post has been sponsored by Pingle app.
Like It? Pin It!