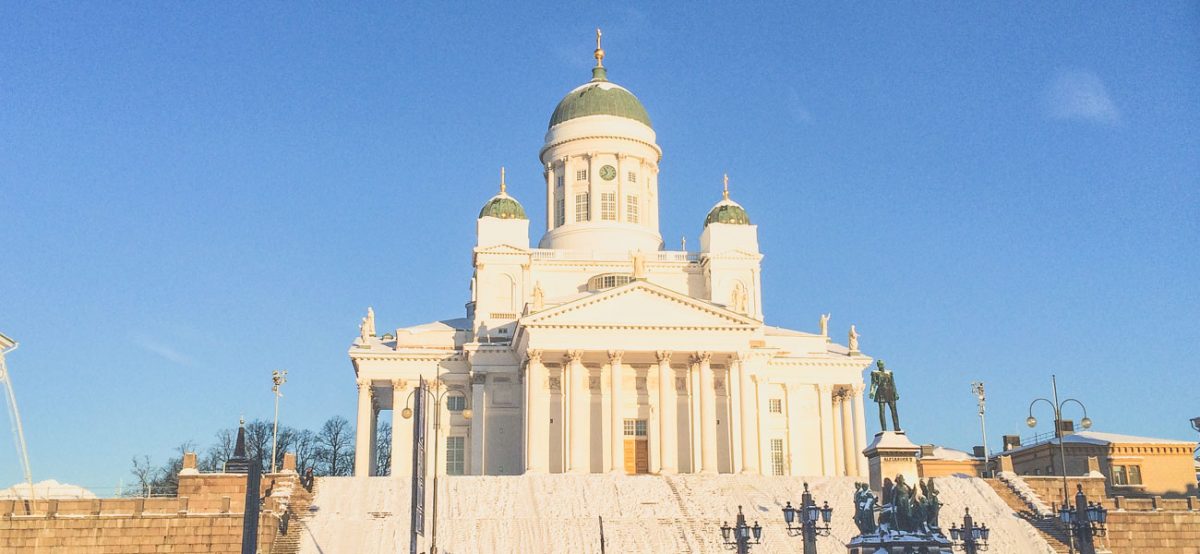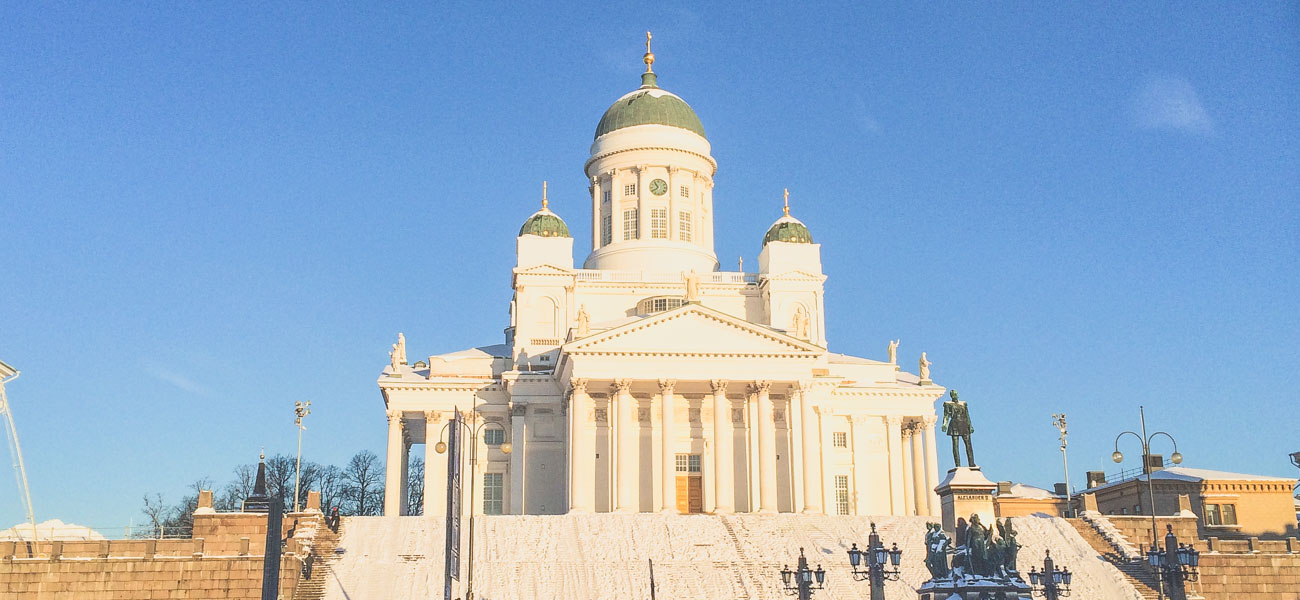 This post may contain affiliate links. I receive a small commission at no cost to you when you make a purchase using my link.
To be honest, it was never my dream to visit Finland. You know, one of those countries on the edge of the world, sounding very similar to other Nordic countries, all of which I have already visited. So I kept it aside for whenever I have spare time to go or get bored from the rest of the world.
Until this opportunity came along: Nordic Bloggers Experience was happening exactly in Helsinki! NBE is an exclusive travel blogger's experience allowing you to connect with other bloggers, see the country and get inspired. This constructive and very nicely organized blogger's gathering hosted by Finnish bloggers was one of the best conferences I have attended so far. Informative workshops, meaningful networking opportunities, party at Radisson Plaza – I took more out of it than I expected to get.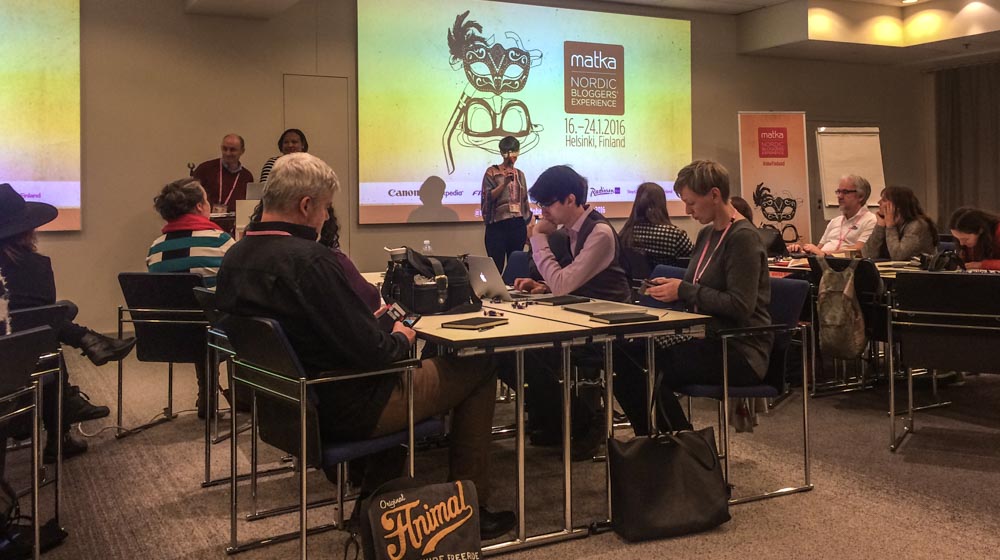 Big blogger event close to my new home, so why not? I registered, booked the tickets and left my mind open for whatever Finland has to give. And did it surprise me!!!
Before we even landed I was already having my mouth half open sitting in my Finnair flight seat. What a piece of wonderful white cloth covered by beautiful patterns of frozen lakes! It really looked like postcard picture with its pine trees covered in snow just enough to still recognize what kind of trees it was.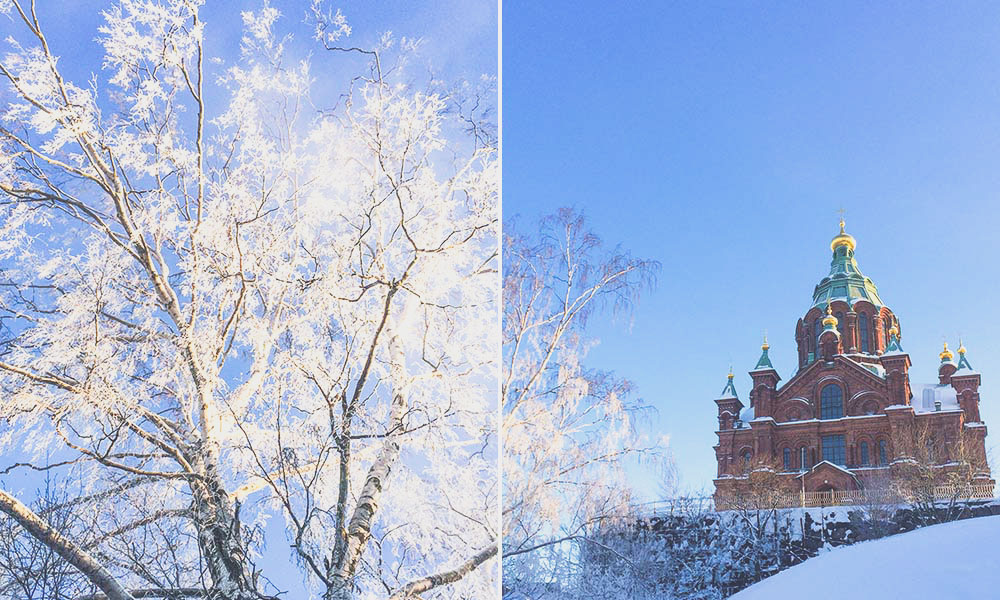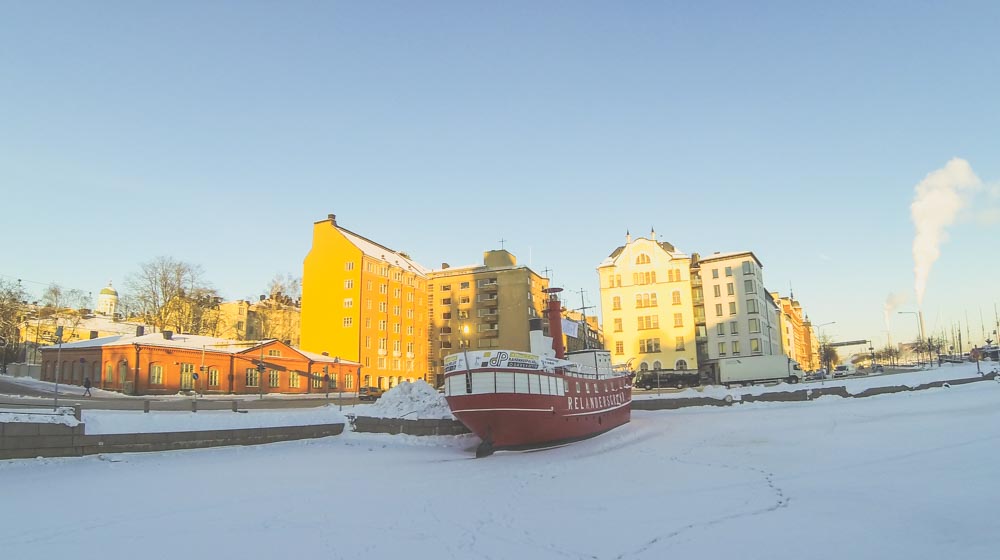 And even though the Helsinki weather was rough, -21 degrees, it wasn't much colder than windy Copenhagen (of course bearing in mind that I had two layers of pants on). But what warmed my heart is seeing kids playing with huge piles of snow right in the city central square. I haven't seen that many kids on the streets for a while! Sleighs, snow, laughter, that's my impression of mysterious Finland, a homeland of Santa Claus. Apparently, there are plenty of things to do in Helsinki in the wintertime.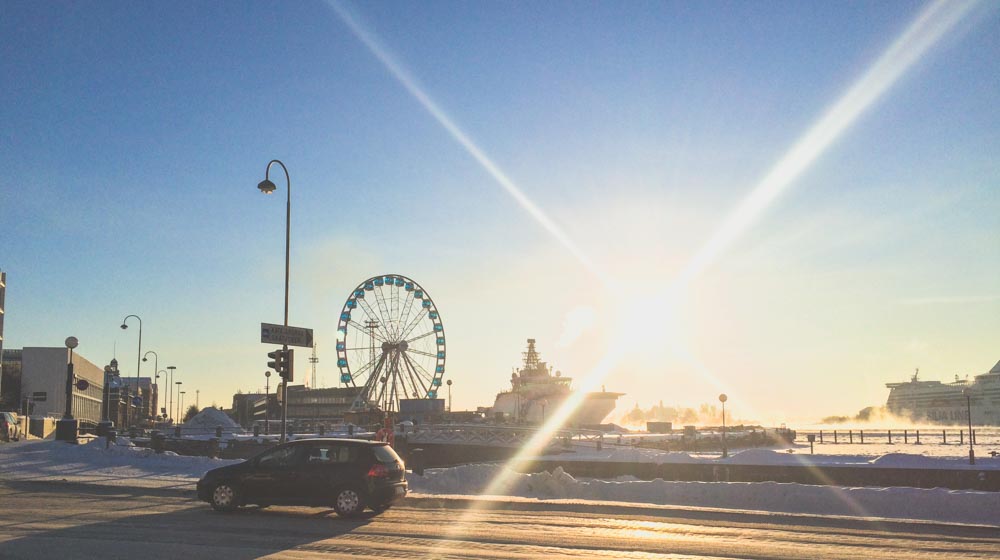 Where to stay in Helsinki?
Finding cheap Helsinki accommodation is a challenge. But there is a few affordable hostels in the Helsinki centre to choose from. I stayed in Eurohostel, which might not be situated in the very city centre, but it is still walkable distance from there. Be ready, this giant really has plenty of space to offer, with hostel being 6 stories tall.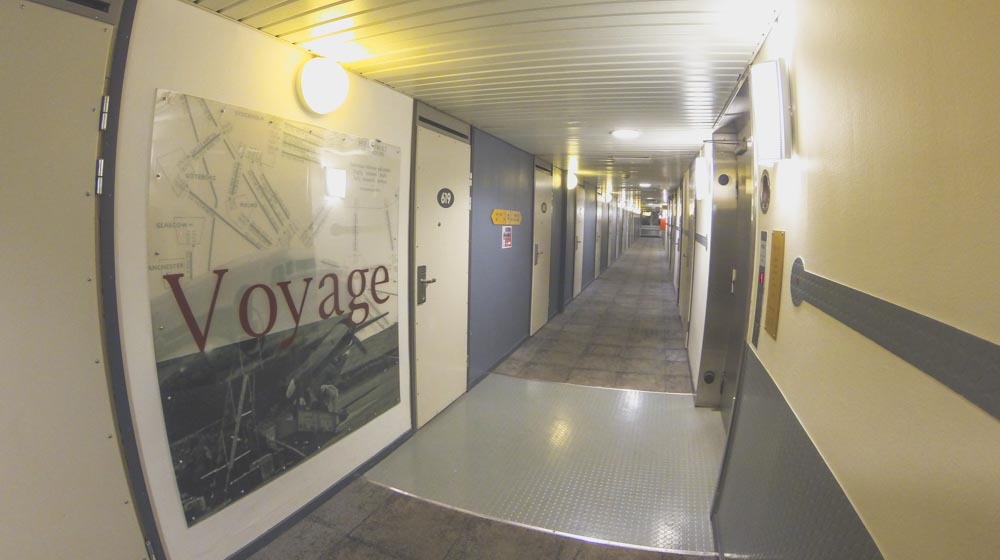 Receptionists are nice and helpful and if you are really lucky, they might even upgrade your room for free! If not, well, you can make your dreams come true by yourself, for just 5 euro extra.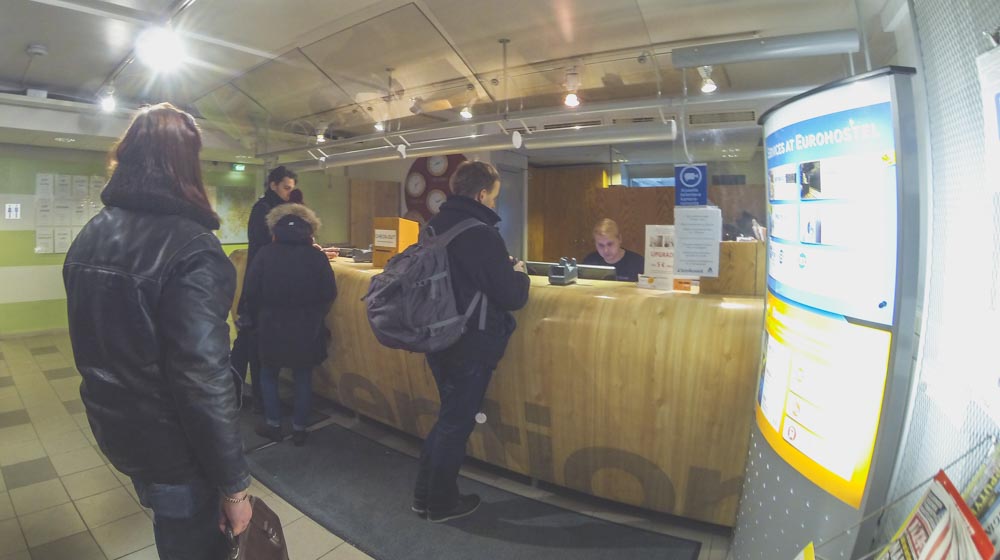 When I was standing in line to check in I heard someone say, "you have one of the cleanest hostels I've ever stayed in". I have to admit, Eurohostel is exceptionally clean, I mean, I walked everywhere in my socks only. According to my experience, all Nordic hostels uphold to this standard.
What Do You Get?
My floor had a common toilet/shower and a small kitchen with everything you need in there to cook your own food. But if you are not into cooking, the downstairs lobby of Eurohostel also has a restaurant serving pizzas and burgers.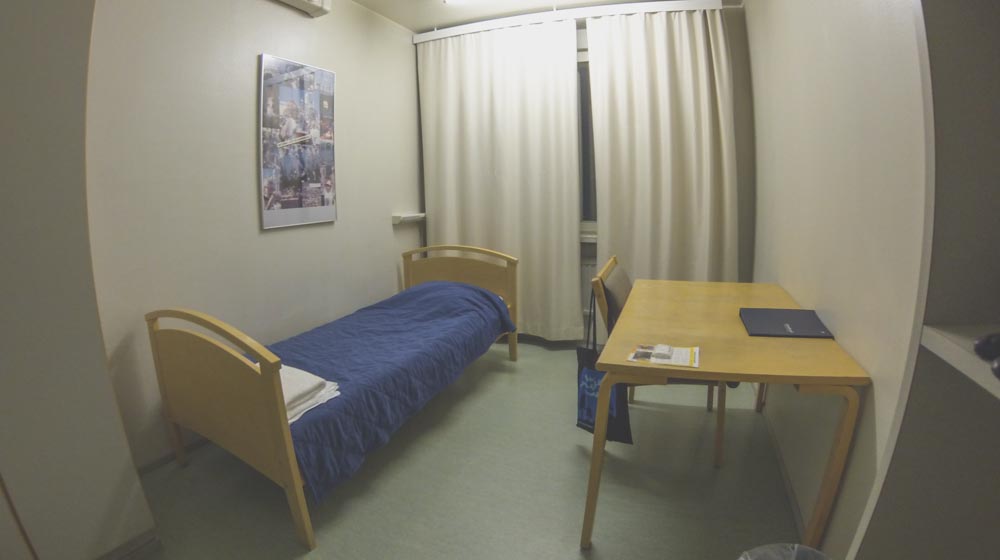 The cherry on top is free Finnish sauna! Well, technically, it's free only in the morning from 6:30 to 9:30 but for a fee of 7,50EUR you can enjoy this experience from 4:30 PM to 9:30 pm as well. Man, was it nice to steam your entire body after freezing it off on cold winter Finnish streets. I felt like blood started circulating in my fingers again. Yey! A pleasant bonus was seeing a microwave and a small freezer in the sauna room so that you could have your cold beverages with you and maybe make a sandwich? (really I don't know what the microwave is for).
The only thing that bugged me was wall thickness. If you have rude neigbours in the other rooms, you can say goodbye to your goodnight sleep. In my case, some people were talking right in the hallway all night long and of course I could hear everything. I think a sign saying "keep quiet after 11PM" would solve that problem.
All in all, I had a pleasant stay in Eurohostel for an affordable price. I can only recommend it as a budget and clean place to stay in Helsinki.
Birds in Bathrooms, really?
My first experience with Finnish bathrooms was interesting, to say the least. I was surprised to hear the sweet songs of birds which were no where to be seen. What's up with that? Even in hostel sauna instead of steaming in silence I got to sweat to the sound of someone drinking cold bear and chopping wood. I guess Fins really like sound tapes 🙂
Wrap Up
Finland was a pleasant surprise wrapped in cold and crispy whiteness of snow. It's definitely a must visit place for lovers of  winter sports and unique entertainment, such as sledging with awesome husky dogs and spotting wild deers in open landscapes of Finland. All of these you can do within a reach from Helsinki. The capital itself is a borderline between humble Scandinavian design and Russian imperialism. Street lights, nice shops and cozy trams, which will take you almost anywhere you need to be in the city.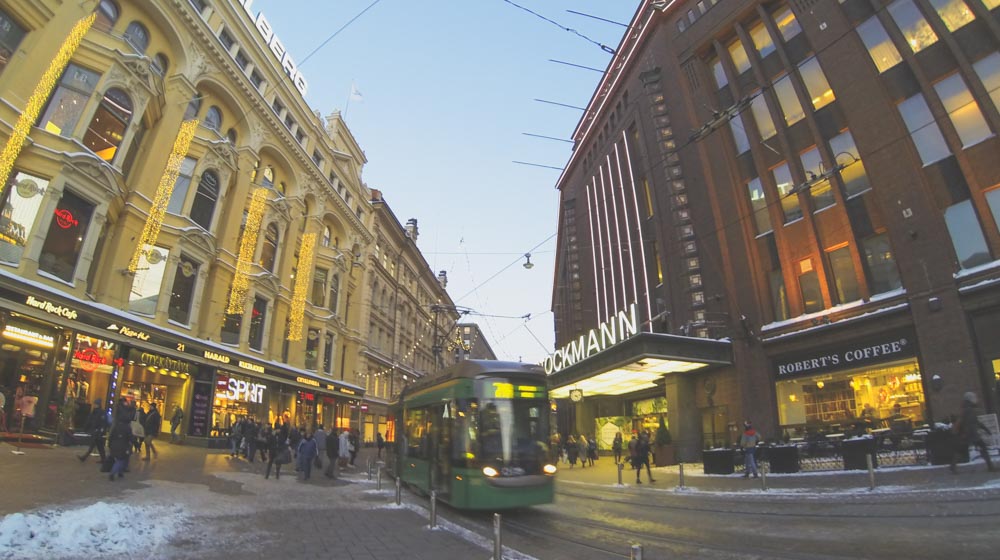 Like It? Pin It!
---
Special thanks to Eurohostel for giving a discount on my stay there. As always, all opinions are my own,  based on personal experience.