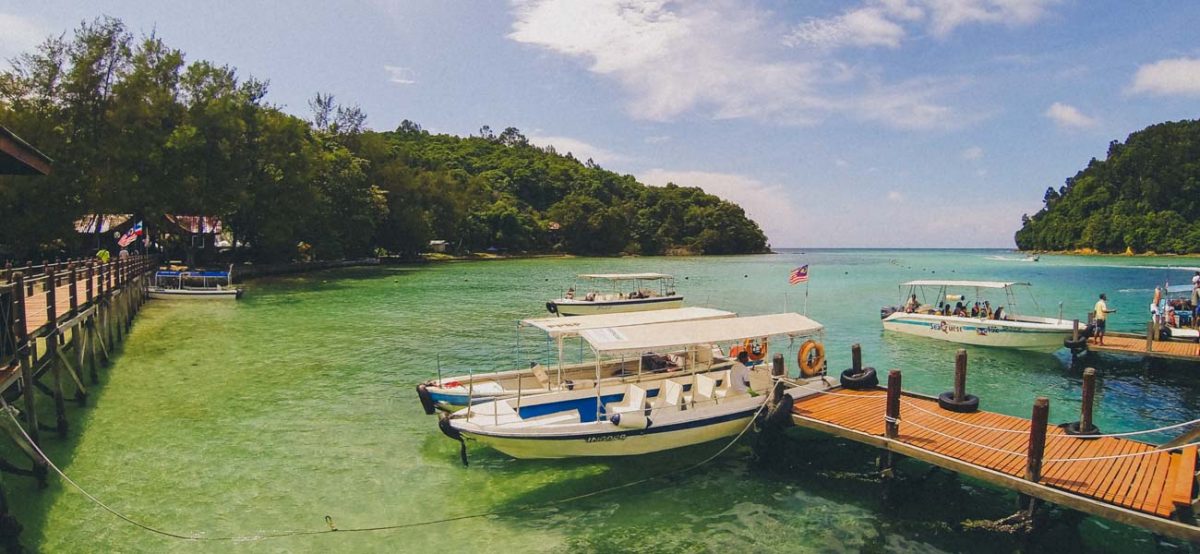 This post may contain affiliate links. I receive a small commission at no cost to you when you make a purchase using my link.
Sabah in Malaysian Borneo is a famous place for wildlife lovers. Here you can easily spot orangutans, monkeys or even elephants.
Most of the online flight booking deals, which you can find through search engine sites like Traveloka Malaysia, are likely to offer you a flight with a stopover in Kota Kinabalu. The city doesn't have much to offer in terms of sights. Therefore, instead of getting bored waiting for the outbound flight, use it as your gateway to some of the best Kota Kinabalu island hopping in the region.
Tell me, what do you think of when you imagine the perfect island holiday? Turquoise see-through water, diversity of marine life and snorkeling possibilities? Lush vegetation and tasty food? If these things are on your list, you will definitely enjoy the island hopping near Kota Kinabalu. Some of the best beaches in Malaysia are situated here.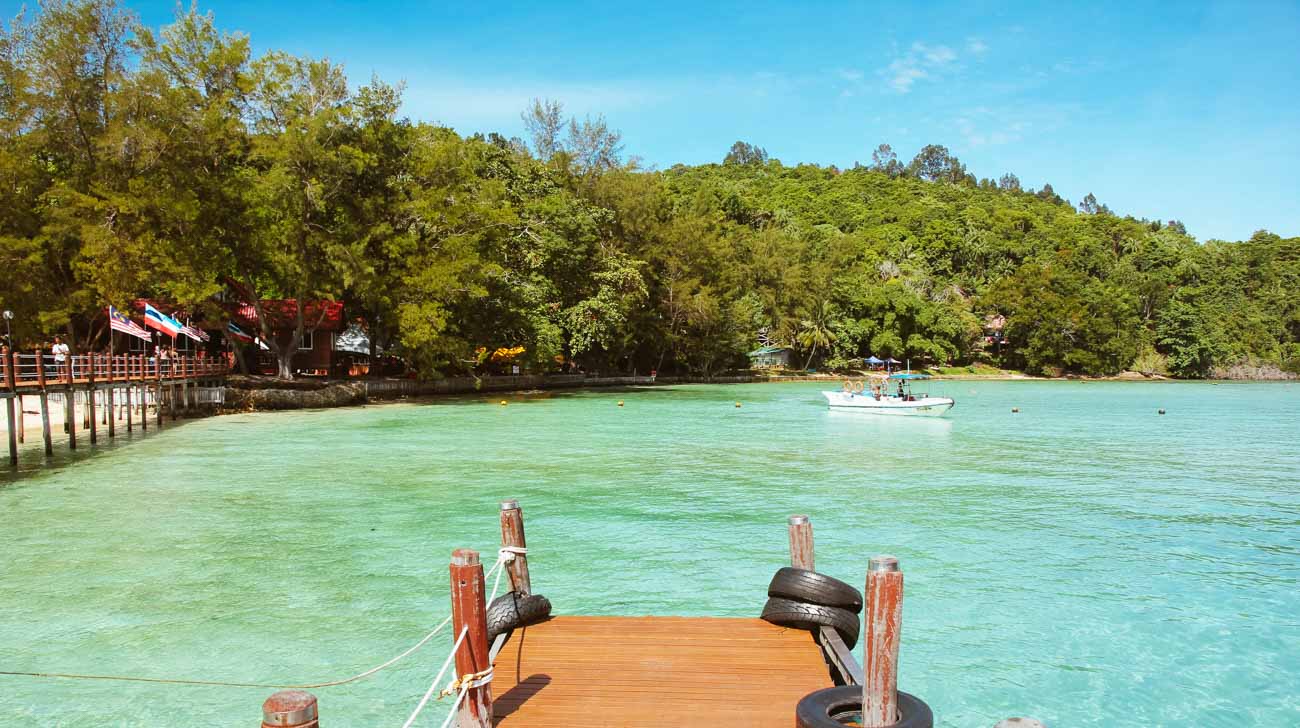 Where to get on the boat?
All boat departures for the nearby islands take place at Jesselton point. Once you get into a Ticketing hall,  you will be bombarded by tens of tour operators wanting to sell you the rides in their boat. It doesn't matter which one you choose since prices are all the same. You will pay 30MYR for a return ticket to any island of your choice. If you wish to visit more islands in one day, you have to pay 10MYR extra for each additional island hop.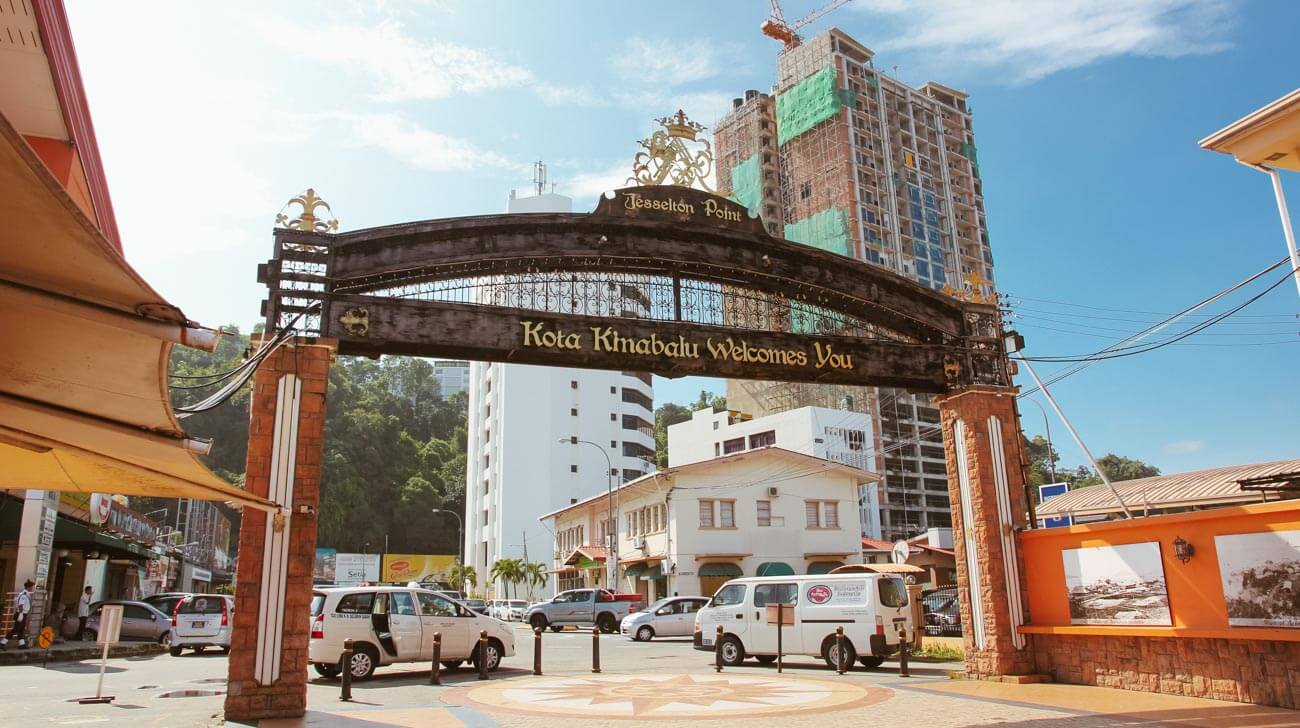 Take note that you'll need to have another 10 MYR on you for the preservation fee you pay on arrival at the island. You only pay it once for all islands you visit.
The departures take place since as early as 8 am in the morning and take no longer than 15-20 minutes. The way is bumpy as boats are rather small, but the wind that you get in otherwise tropical Malaysian weather is a pleasant bonus.
Kota Kinabalu islands
There are five islands near Kota Kinabalu that you can choose from. They are Manukan, Gaya, Sapi, and small islands of Mamutik and Sulug. I have only visited two of them, but you can easily cover all five if you have the desire.
Manukan island
Manukan island is second biggest and the most popular island near Kota Kinabalu. With its crystal clear water, it was easy to see all the colorful fish without even a mask on. The snorkeling possibilities here are fantastic, especially if you swim further away along the bridge, where tourists do not bathe. From swordfish to stingray, you can widen your marine vocabulary pretty fast.
The island is big, so you can easily spend a whole day here. If you are bored of swimming and bathing in the hot sun, you can go on a hiking trail.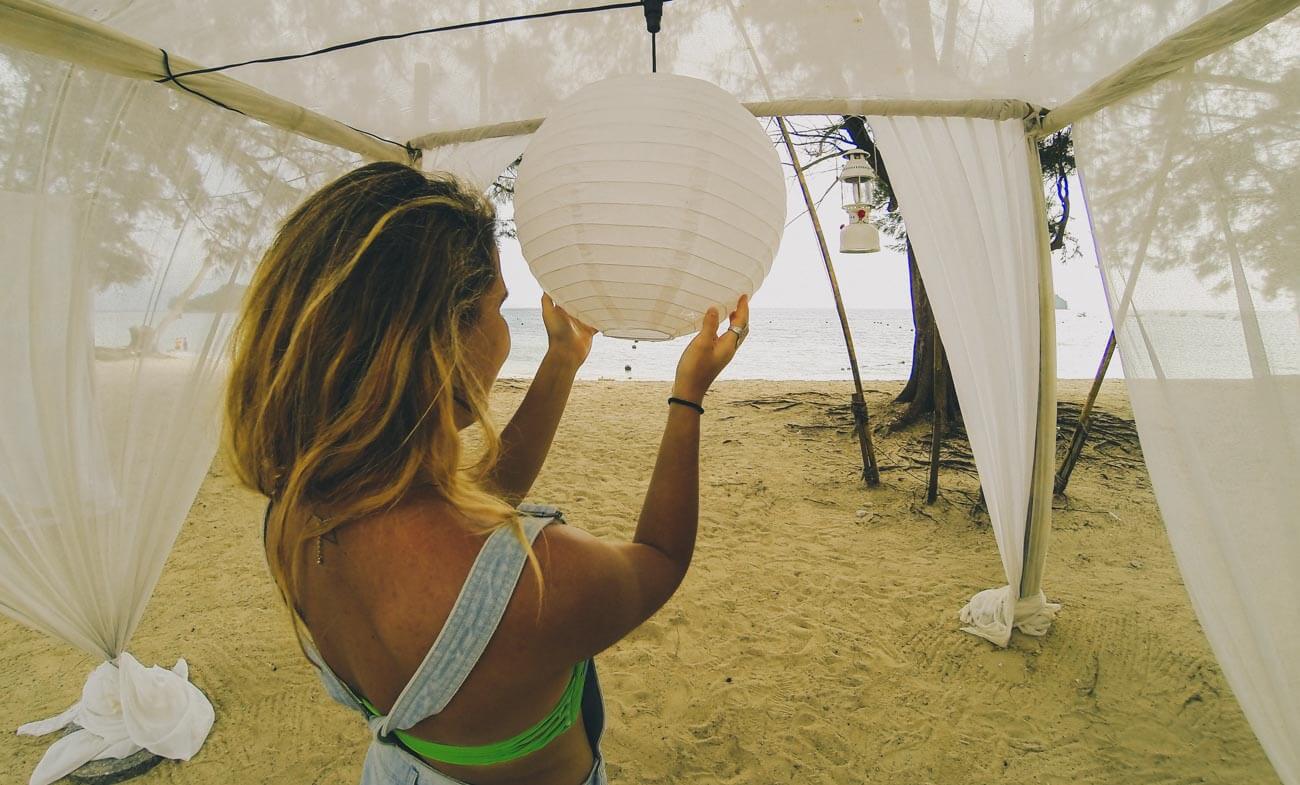 One thing to be cautious of is lizards that might swim in the sea. During our visit there, we witnessed such a creature swimming out of the ocean. The life guard said that they are not dangerous unless you irritate them. But I would be careful since they still have a poisonous bite.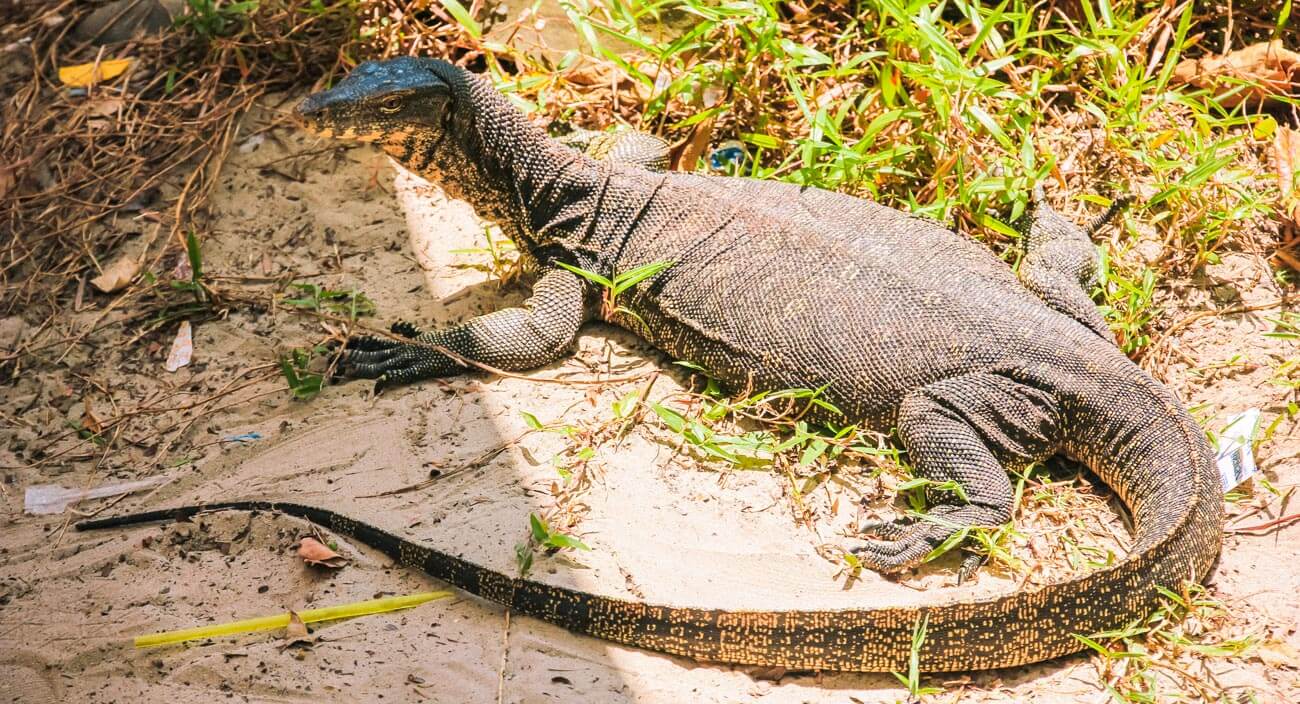 If you are interested in staying on the island overnight, there is a big luxury resort on its territory with beautiful tree houses facing the ocean, which cost starting from $170 per night. There is a possibility to camp, given you have your own tent or a hammock.
Sapi island
A smaller version of Manukan, Sapi island is by no means less beautiful.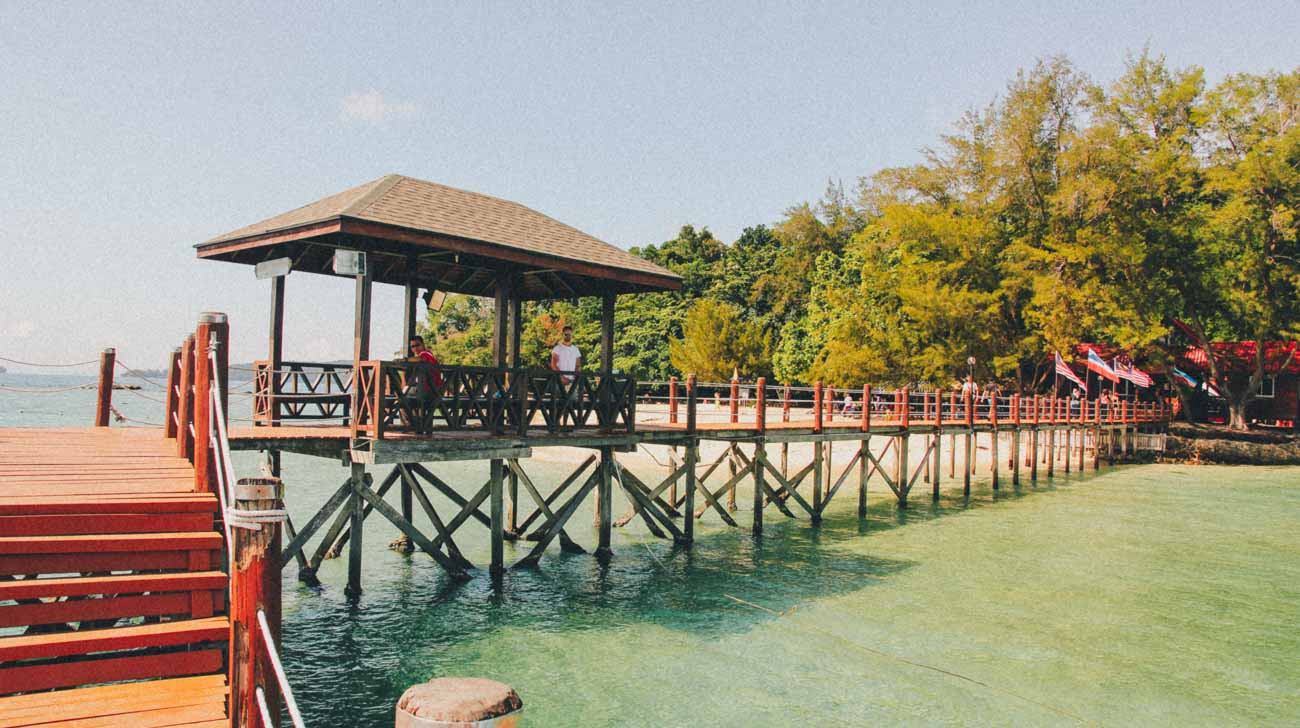 Here you'll find the same crystal clear turquoise water with similar snorkeling possibilities, which I found a little bit less interesting than on Manukan. Smaller island also means that it will feel a little bit more crowded, taken that same amount of people come to see it.


If you are tired of that, there is also a hiking trail which will lead you to a tiny secluded beach on the other side on the island. The seashore is rocky, therefore, not very comfortable. But there is a magical swing and a feeling of privacy which might be exactly what one needs after being surrounded by too many people.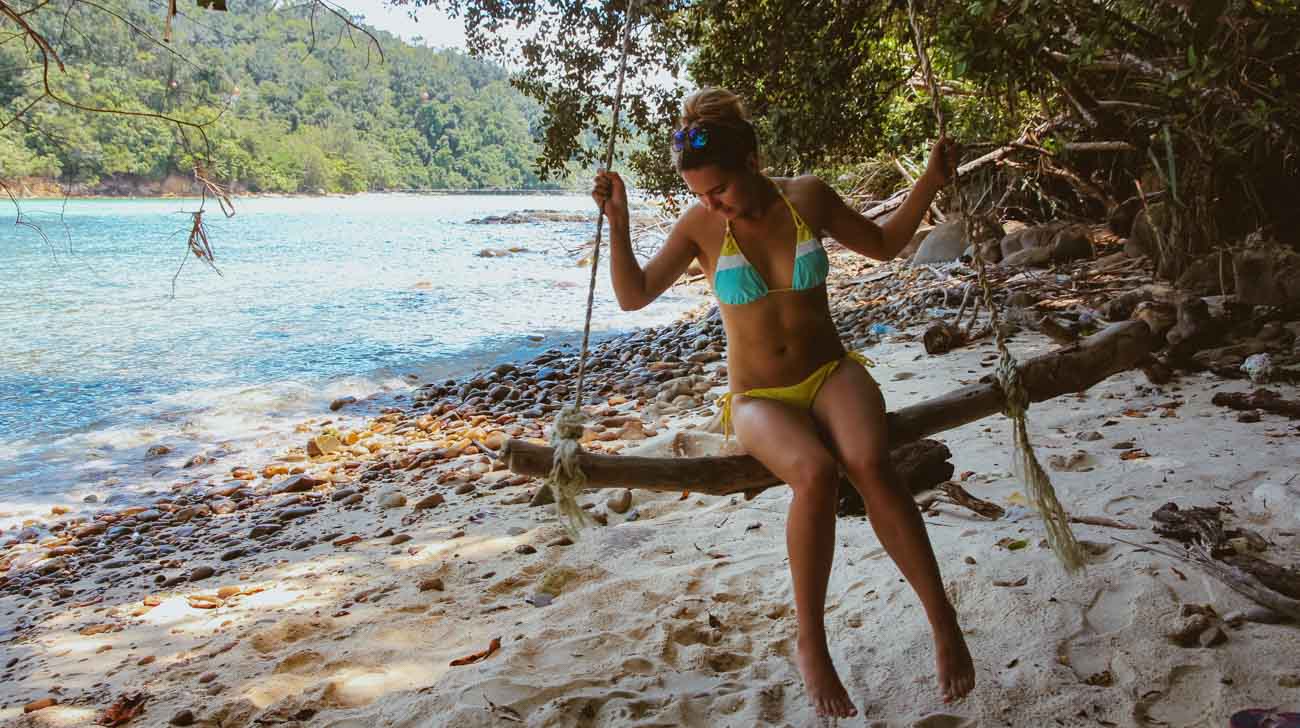 General Tips
2-3 hours is usually enough to chill on one island, therefore, you can easily visit 3 islands in one day or even all 5 if you are really eager
Be considerate of the time the last boat departs, so that you are not left on the island overnight. Usually, the last boat departs at 4 pm
All islands have free public bathrooms and shower and places where you can change
Girls, consider bringing something to cover your body once you are done swimming. Malaysia is a Muslim country and many locals come here for a holiday as well, therefore, it is not common to wear bikinis only
Bring something to read. Swimming is fun but it might not get you as much time as you think it would
Sunscreen is a must. I usually do not have problems getting sunburns, but the sun is way too strong in Sabah
You can buy snacks or have a lunch on the islands, there is usually a restaurant and a shop there. But mind that it will be more expensive than bringing your own food
How to get to Kota Kinabalu?
Flying in between major cities in the region is made much cheaper and convenient thanks to the variety of local low-cost airlines. Using the online flight booking service at Traveloka, you can find flights between Singapore or Kuala Lumpur and Kota Kinabalu for as little as $30-40. After that, you are a 15-minute taxi ride away from the city to begin your island exploration.
---
All the island lovers out there, how do you prefer to explore the tropical paradise? Do you take island at a time or wish to see all of them in one trip? Let me know in comments below.
Like It? Pin It!