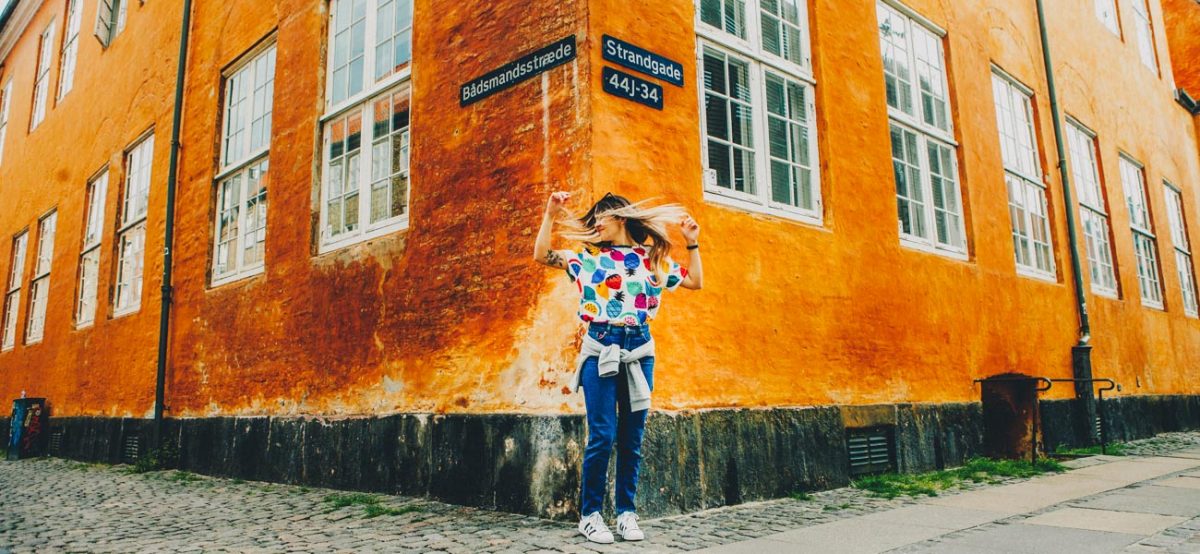 This post may contain affiliate links. I receive a small commission at no cost to you when you make a purchase using my link.
Have you ever noticed that some cities just always look good on pictures? Places like New York or Paris will most likely make your Instagram feed look chic and inspiring.
Well, I am here to challenge the privileged big cities' status and tell you that Copenhagen is the one full of instagrammable places that will look lovely and dreamy in your feed.
Living in this city for more than 5 years, I have developed a taste for my own favorite places that inspire me and make me love this city even more. Are you ready to see the insider's map of the best places in Copenhagen for picture-taking? Read on!
1. Nyhavn
You've probably seen this view on numerous postcards and blogs. Yes, the Danish classic aka Nyhavn cannot be underrated. This waterfront not only looks good but has a very important historical significance. This used to be a place of trade x sailors x beer and, of course, entertainment. Though sailing docks are now replaced by pubs and restaurants, the waterfront hasn't lost its cultural and touristic significance.
2. Any nice graffiti wall in Christiania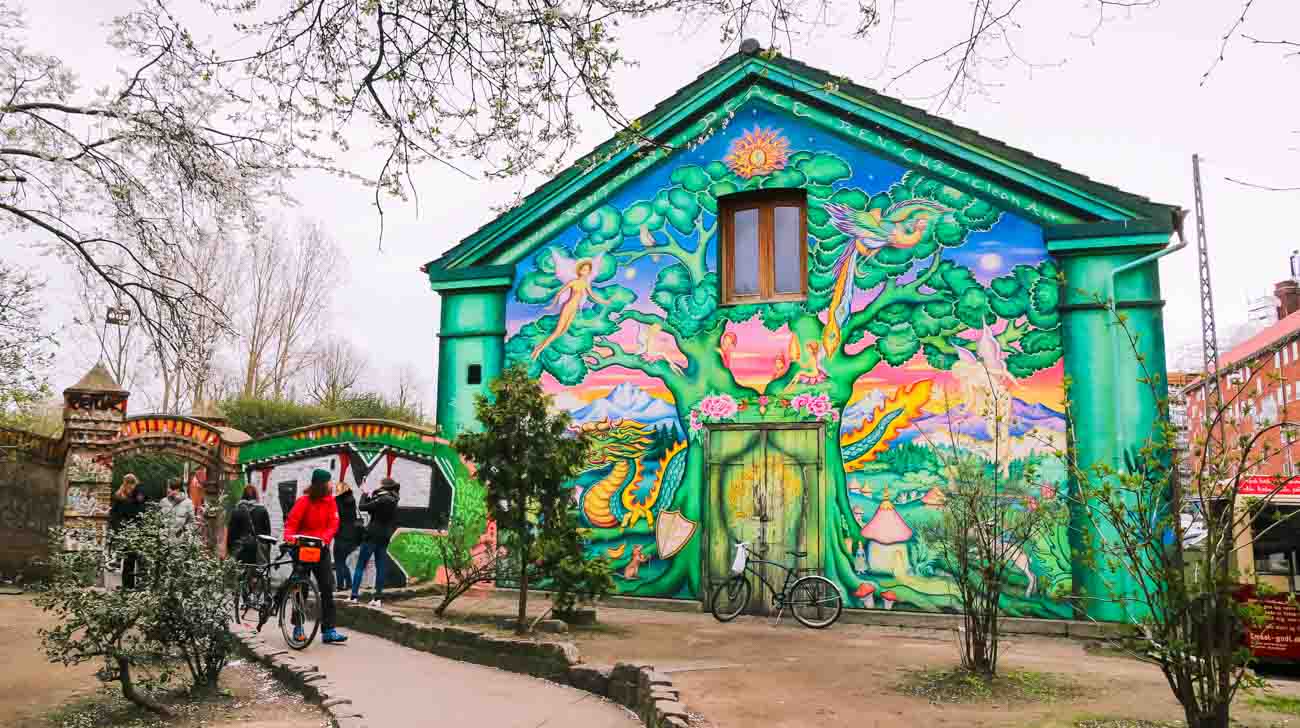 If you still don't know what Christiania is – shame on you! Let me just tell you this, it is one of the reasons why Copenhagen is always compared to the Amsterdam, get it now? ;). In between the strange buildings covered in graffiti, the green light district full of hash-pushers and lines of local goods stalls, you can find plenty of spaces for a good photo snap. Just choose any of the popular graffiti walls and here you go.
3. Nyboder houses
What's so special about these houses? Well, first off, it is not common for simple houses to last for hundreds of years. Though they were built for ordinary people, this area was rather privileged, with its own private police, school, and hospital, all in exchange for lengthy military duties of its male residents.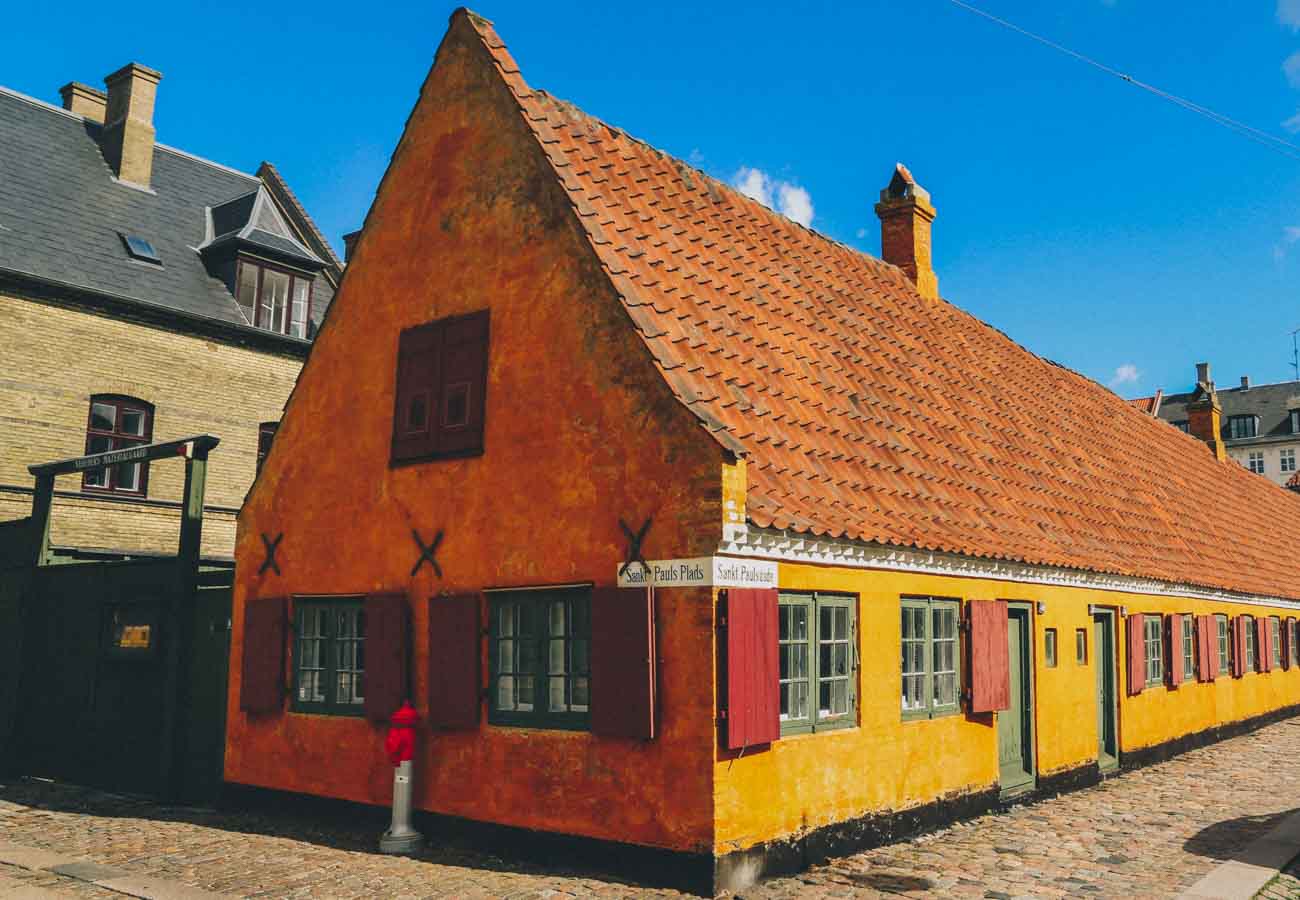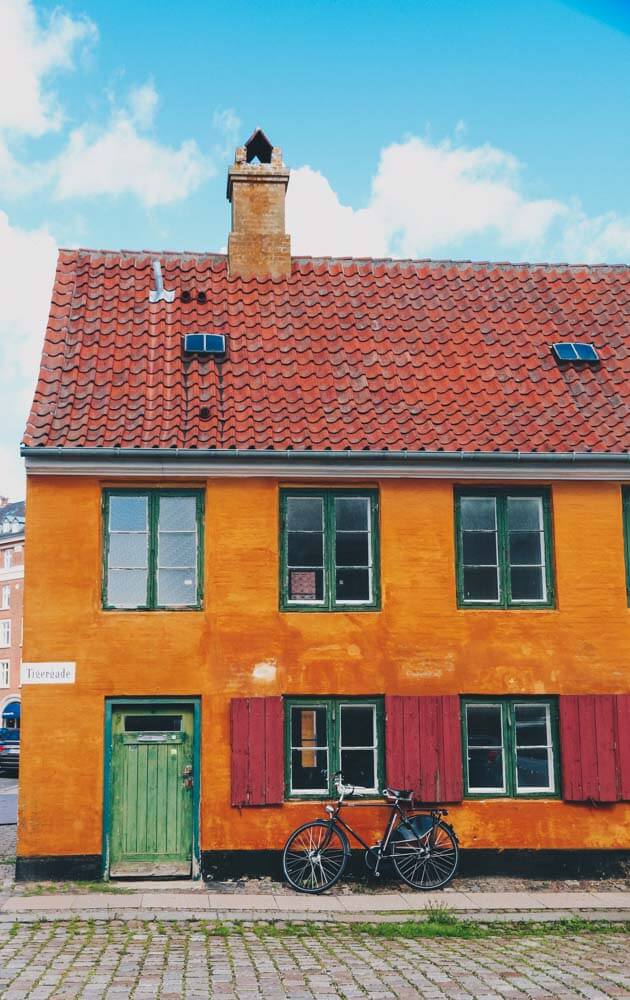 Not enough? These houses appeared in The Danish Girl movie as a place where Lili used to come to see one of the sailors she flirted with.
4. Rosengade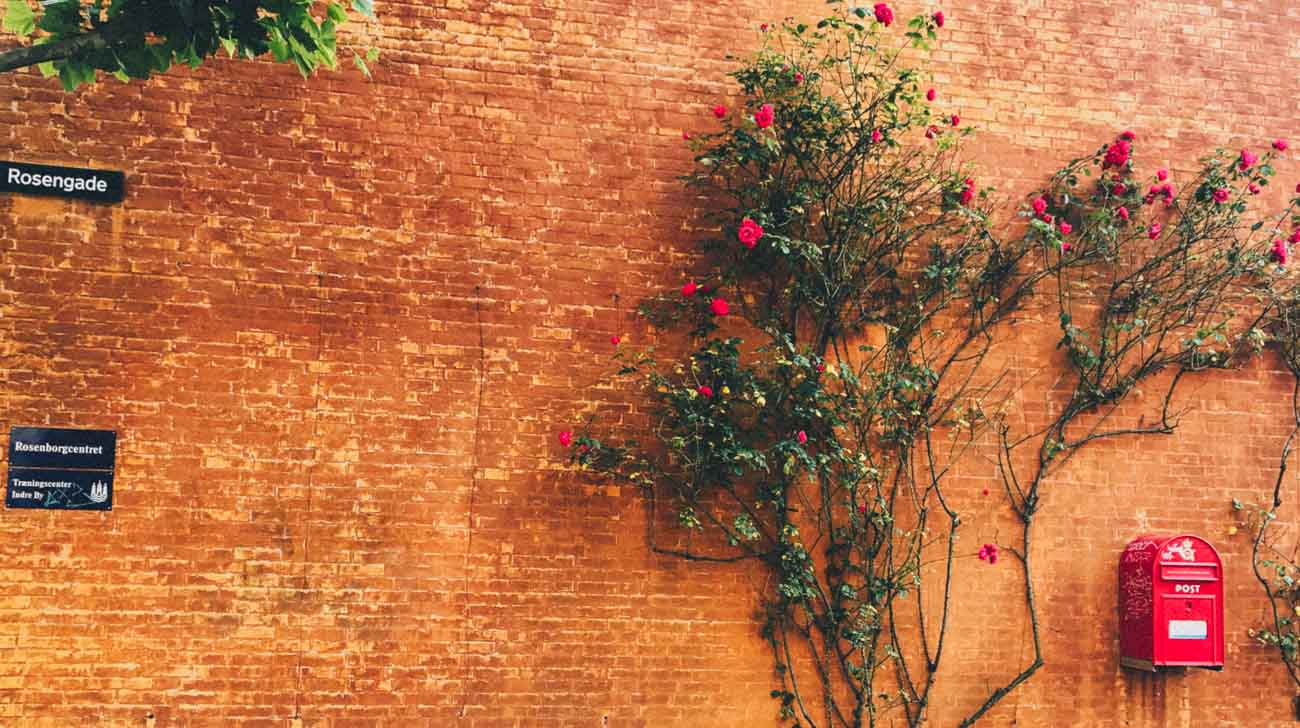 While this place is much less known, I still suggest you swing by if you're in the area. The street named after roses does not disappoint, especially if you are here in the summertime when the flowers are in bloom.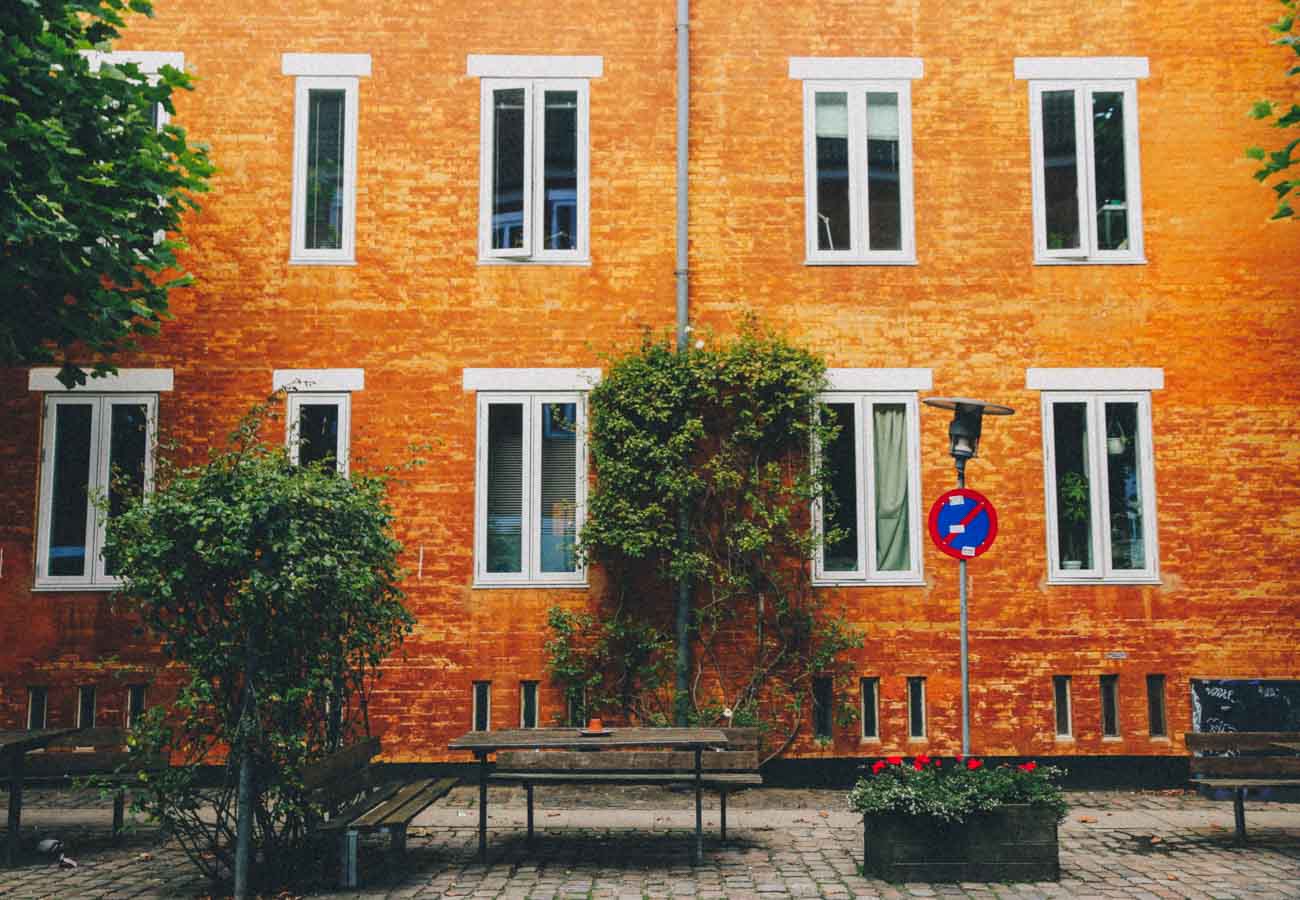 5. Street over the water
Not just a street, but a canal in one of the loveliest neighborhoods in Copenhagen – Christianshavn. On both sides of the canal, you'll find old style houses surrounded by roses and other flowers with a heavenly smell.
6. Church of Our Savior
It is not only the golden spirals of the church itself that makes you stop and follow it wherever you see it from but the views that you get once you are on the top of it. The Church of Our Savior that takes you 90 meters above the ground level is a challenge not for those weak in spirit, as the winds up there go even faster than they seem everywhere else in Copenhagen.
7. The Red, Black and Green squares in Nørrebro
If you are nostalgic over a little bit of red communism, you can find it in Nørrebro neighborhood in Copenhagen. But it is not just some tribute to communism, the squares represent equality and peace between at least 50 nations that live in the Nørrebro neighborhood. All three squares are worth taking a snap at.
8. Magstræde
Do I even need to explain? I mean, look at this place! It is the junction of colorful and brick buildings lined by corbel roads no matter where you decide to pose.
9. Christianshavn
Very similar to Nyhav, yet a completely different place, Christianshavn harbor is beautiful any time of the year. It also helps that the most instagrammable shop in Copenhagen, Munchies, is right here too. Grab a bubble waffle to make your shot ever brighter.
10. Triangles at Ofelia Plads
It is a known fact that some of the most famous designers are Danish. A great example of simplistic Danish design is the newest Copenhagen installation in Ofelia Plads.
11. The Dubliner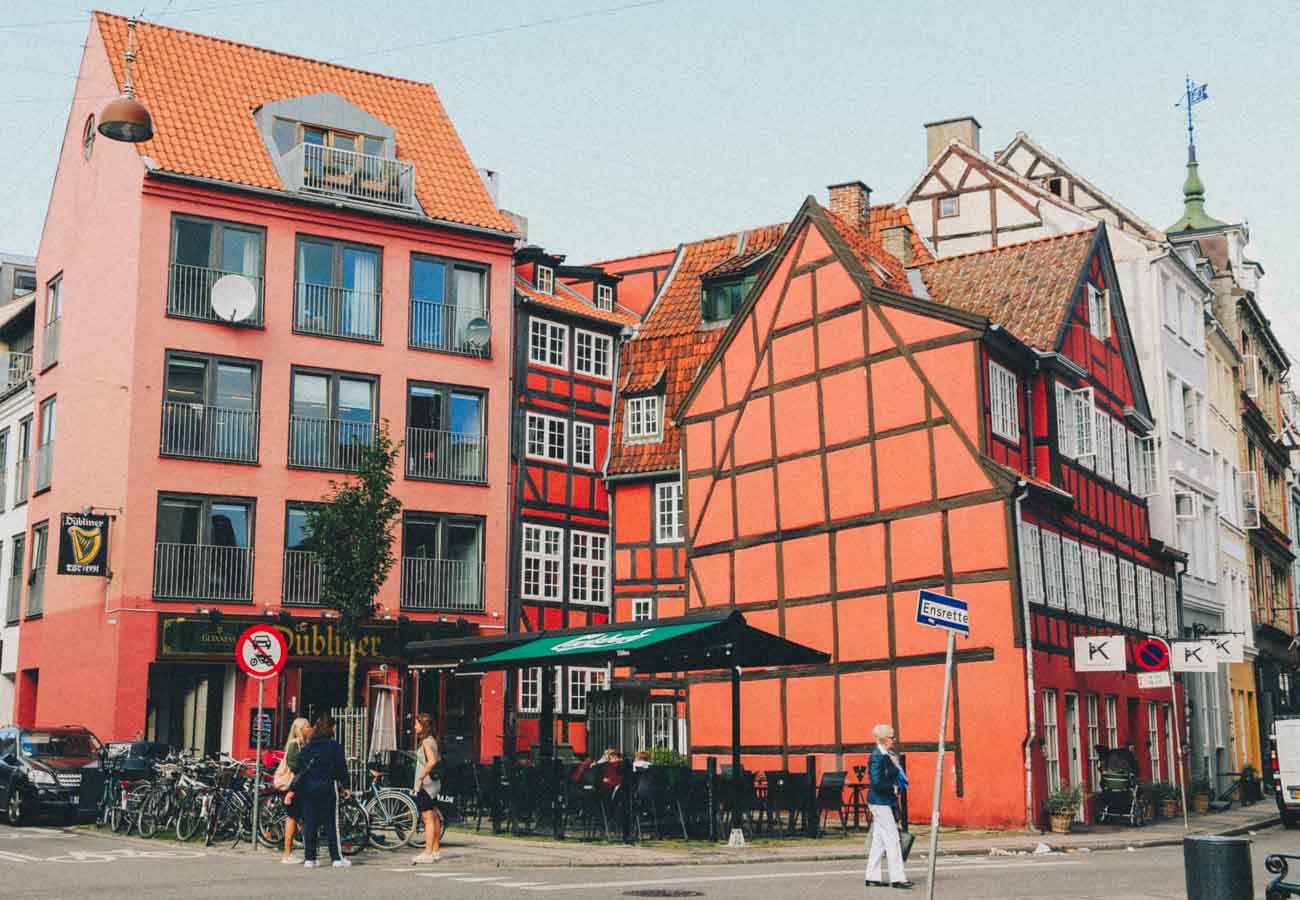 These houses, the host to a famous Irish pub – Dubliner, are hard not to notice if you are taking a walk close to Strøget or Nyhavn. It looks like the building is going to fall down, making it even more charming.
12. Copenhagen Street Food island – Reffen
It is not only the best foodie place to visit in Copenhagen during summertime but also a great spot for cozy evenings in a place that looks like a remake of industrial leftovers. If you stick around until the evening, you might even catch a Dj or a band playing inside.
13. A flower shop on Kultorvet
This fresh shop always full of beautiful plants and flowers will lure you in, regardless of whether you are buying flowers or not. At least you can take a picture.
14. Marble Church
It is one of the most beautiful builtings on the Copenhagen skyline and you will definitely spot it sooner or later. I am talking about the Marble church, or the Frederik's Church, its official name.
15. Botanical gardens
A must see and free to enter Copenhagen Botanical Gardens is one of those places that look good in a snap, combination of lush greens with rustic white staircases..mm.
16. Cirkelbroen bridge
How about a pedestrian bridge that looks like a ship? Intrigued? You should be, it is one of the newest additions to the city architectural landscape opened in 2015, but it already attracts lots of visitors.
17. Rosenborg Castle
Denmark is also a land of many glorious castles some of which can be found right in the city center of Copenhagen. Head to the Royal Garden (Kongens Have) to have a small pick-nick and take a picture with one of the most beautiful Danish castles.
18. Quiet alternative to Nyhavn
Find Nyhavn too noisy and busy? Fine, there is a great alternative in Brigadevej street in Amagerbro neighborhood with similar colorful houses. Hidden from the main street it is a rare beauty that locals keep all to themselves.
19. Islands Brygge
Come here during one of the long summer days (or nights) to witness cozy lamps hanging over the vendor shops on an open grass that disappear as quickly as Danish summer.
20. Hidden Amagergade street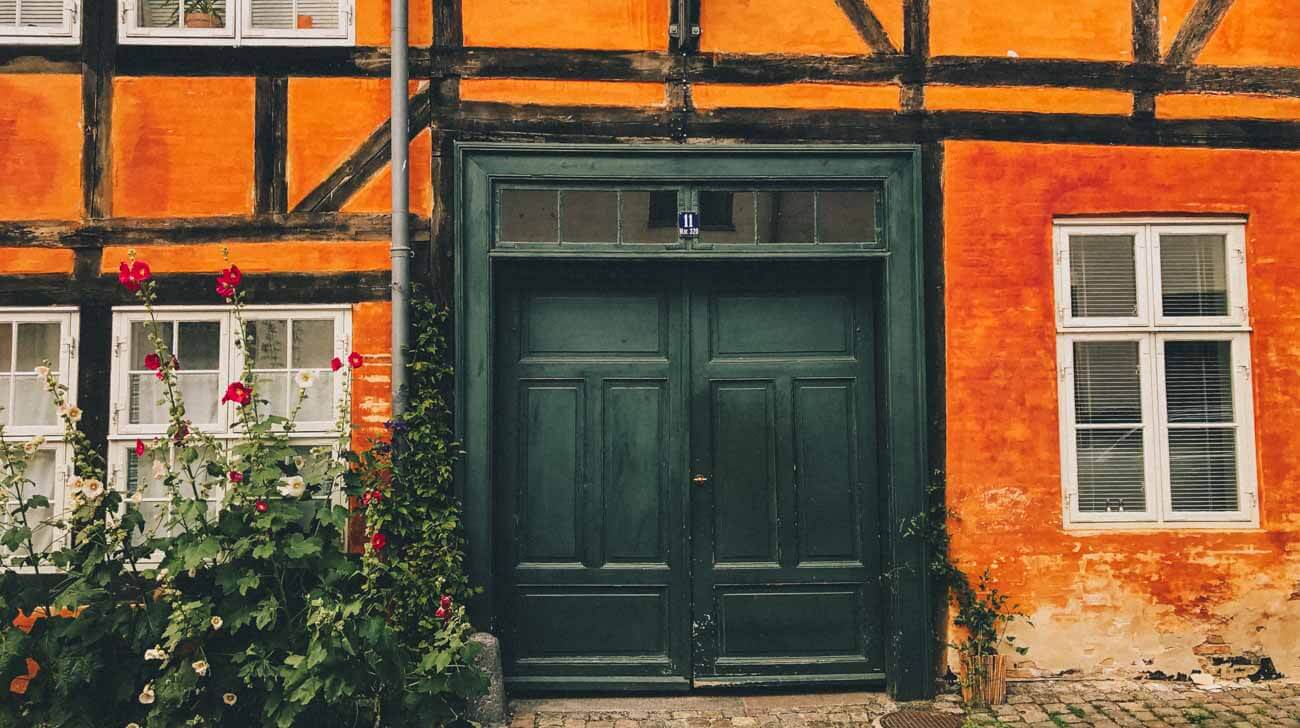 Want something special? Only those who are really eager to see something special can find this street, as it is a short one squeezed between bigger streets of vibrant Christianshavn area. Follow the corbel road and you will not be disappointed.
Have other favorites in Copenhagen? Let me know in comments below!
---
Like It? Pin It!