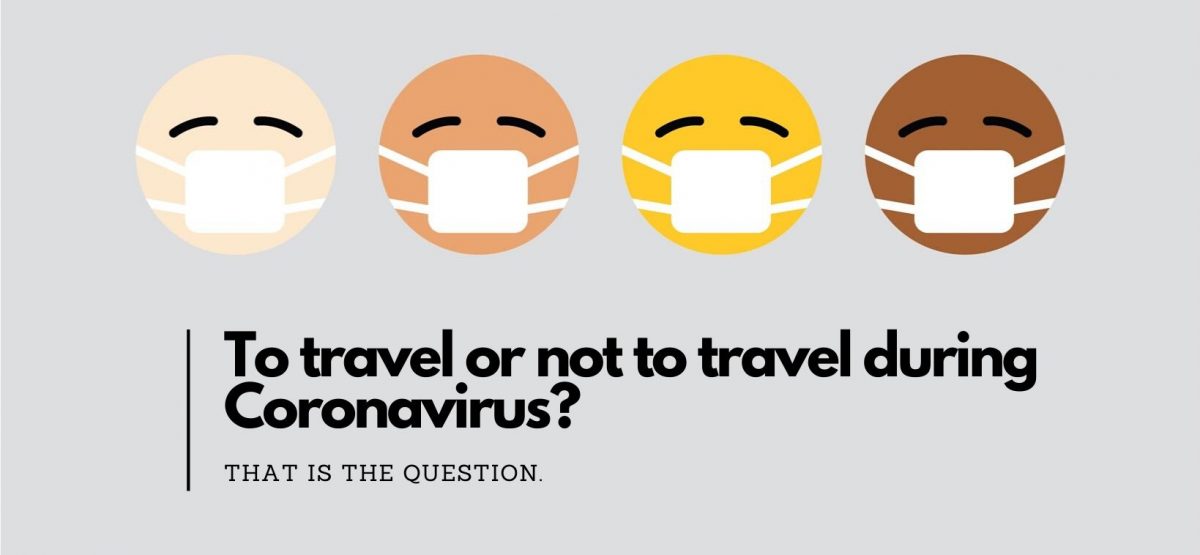 This post may contain affiliate links. I receive a small commission at no cost to you when you make a purchase using my link.
I know that your mailbox and all possible social media channels are flooded with messages about coronavirus. Your airline, employer, entertainment channel and your mom alike, all trying to tell you how to stay cautious and wash your hands. I am not here to instruct you on what to do but rather to discuss whether it is rude to travel during coronavirus outbreak from the point of view of a travel-addict.
Travel is my right, right?
You see, I am one of those who have to travel almost every month regardless of having a full-time job. Writing helpful travel blog articles and posting my photos on Instagram is my biggest hobby. Any other time, losing a day-off to simply sitting at home without using it for travel would be a painful waste, same as throwing away a bag of chips without licking the inside first!
I live for travel, I work for travel. The only thing that helps me get through months of monotonous workdays is knowing that another exciting trip is around the corner, which will enrich my life with new experiences, people and energy.
Just as ever, my calendar was packed with awesome plans this spring: a trip to beautiful Sicily in March, followed by a wicked Major Lazer concert in Amsterdam, topped by wine-sipping in sunny Georgia in April.
But for the first time ever, I do not feel sorry, angry or mad about the lost holidays (which by the way, might not even be refunded). Yes, I did not go to Italy. Yes, I will have to cancel my trip to Amsterdam and most likely the subsequent ride around the Caucasus.
But that is totally okay.
Because some things are more important than my selfish needs of indulging my desires.
And I am not talking about my health risk. Frankly, risks never stopped me from traveling before. I did not cancel my trip to Lebanon when the revolution was in full swing in December 2019, I hitchhiked in Scotland and took a car ride with questionable people in Panama, went into a cave in Thailand which could easily be flooded if the rain started.
Is it rude to travel during coronavirus?
However, it is not only my own health that is at stake here. I can be courageous and brave all I want, but the fact of the matter is, I am putting other people at risk.
What favor am I doing to my surroundings when I go to Italy at my own risk and go to work the day after? Colleagues did not have a choice in that risk, did they? There are pregnant women and senior citizens that work alongside me that might have never taken a trip like that because their health cannot withstand what mine can. How can I let them down like that?
At the end of the day, this comes down to common courtesy and your regard to others.
Is it rude to travel to risk zone and never tell your friends you meet for hugs and coffee the day after?
Is it rude to come to the office and sit in the small meeting room when your family members just came back from a ski vacation in Italy?
Is it rude to cough without covering your mouth?
Is it rude to not wash your hands and give a handshake?
Is it rude to board the plane when you are sick?
And most of all, is it rude to travel when all the world is in the lockdown for a highly transmittable virus?
Same as a courtesy, it is completely up to you. You can choose to be rude or you can choose to be polite and considerate to others.
Like It? Pin It!