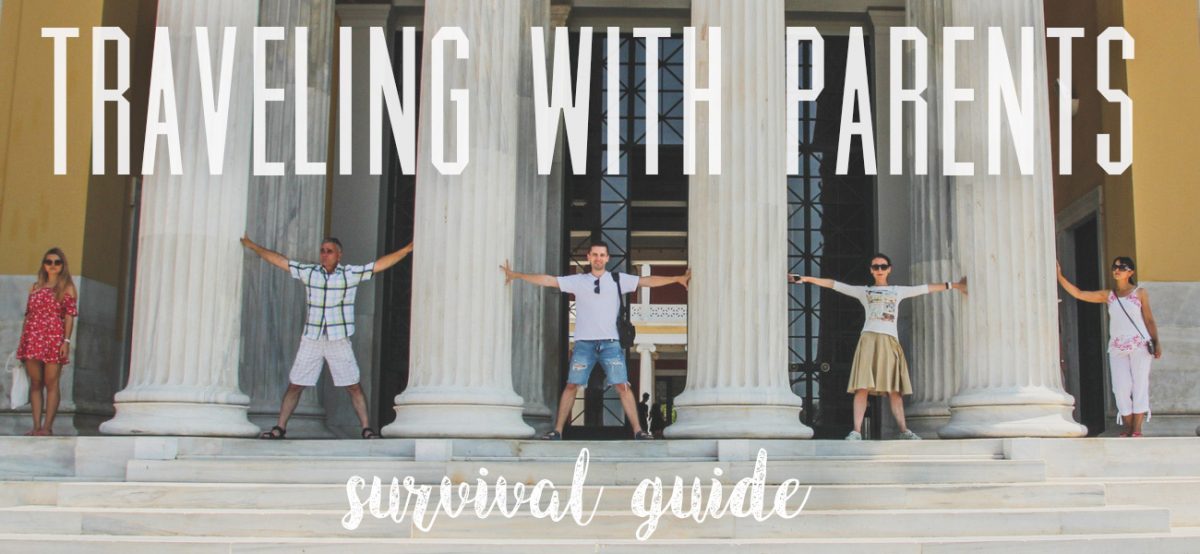 This post may contain affiliate links. I receive a small commission at no cost to you when you make a purchase using my link.
There are a lot of articles out there about how to travel with children. But what about us, grown up children who go on a trip with our even more mature parents? You think that is easy? I think that travel with parents also needs it's own survival guide.
In this global world where everyone lives anywhere but home, one of the main possibilities to connect with your parents who live far away is to travel with them. In my case, I see my parents at least twice a year, with me traveling back to Ukraine and them visiting me in Denmark.
This summer, instead of coming back and forth between Denmark and Ukraine we decided to meet some place else so that all of us could take our vacation. This place was Greece.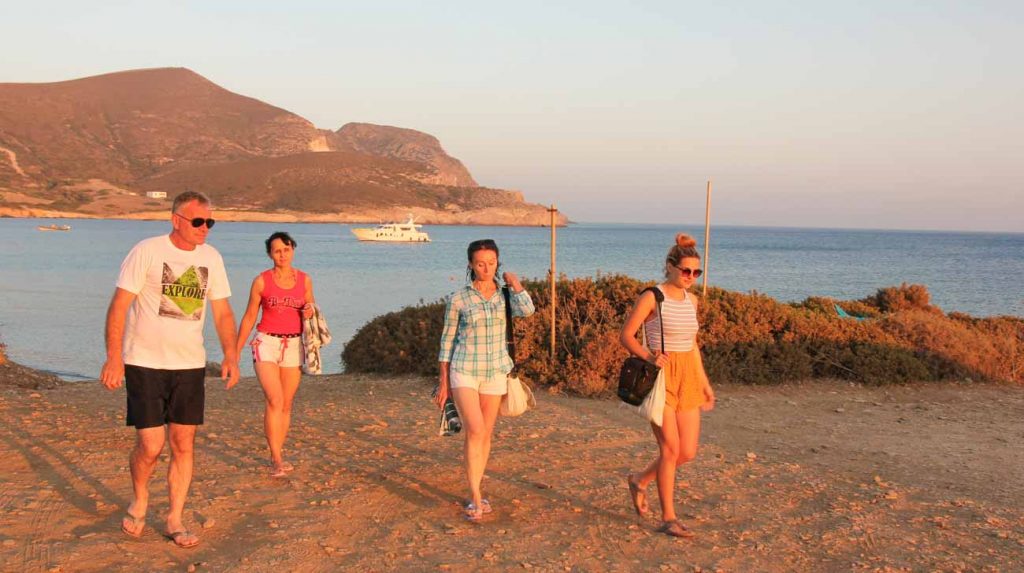 If your parents have no interests, you have to take the lead.
I don't know how much of the travelers your parents are, but my do not travel at all unless they travel with me. They are not sure what they like or want to do. Not being big planners themselves, they always rely on me to put together the itinerary and entertainment for the entire trip. That's quite a burden to bare! Especially if you want to relax on your vacation as well.
In his case, you have no choice but to either carry this burden or go for all inclusive option, where all you do is eat and swim in the pool. I spent a lot of time tailoring a perfect vacation that would fit all members of my family, including a relaxing holiday on small Antiparos island, walks on tiny white streets of Paros island and seeing some of the Athens. After all the effort, I could only hope that they would enjoy it.
In order to fuel your parent's interest in the vacation spot, send them some articles and pictures. Ask them to find places they want to visit and dishes they want to try. It will at least help you build the right plan.
Technology should be everyone's best friend.
These days I cannot imagine traveling anywhere without basic knowledge of technology. For example, I cannot book my trip without using Momondo search engine, cannot book my accommodation without having an account on Booking.com or AirBnb or even move around the city without using GPS.
It's a common fact that parents are probably not as advances in modern technology as you are. I am talking about everything else besides taking selfies, which for some reason, everyone is perfectly skillful in. Did you ever notice that?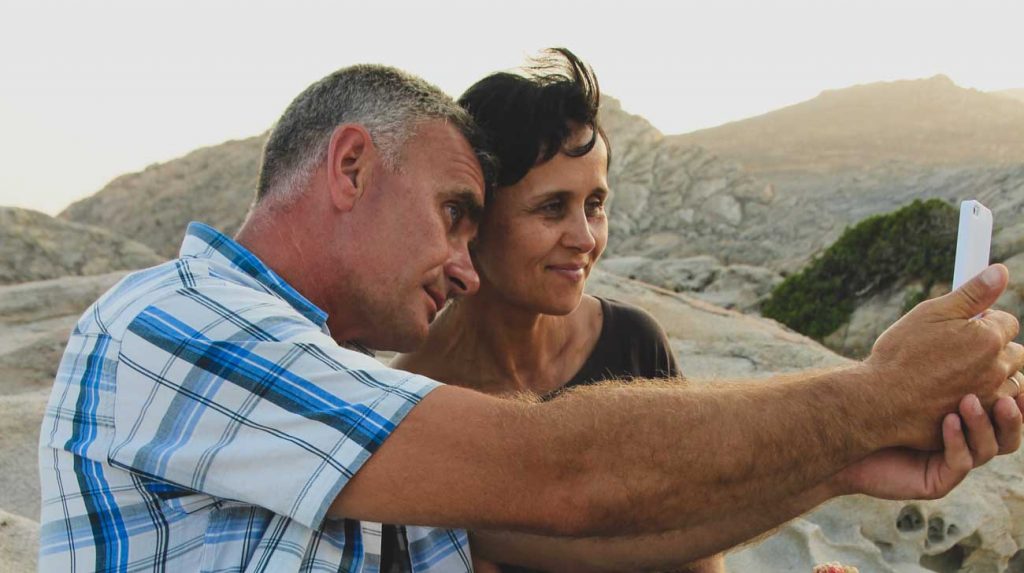 But when it comes to finding a place to eat or getting the fastest route to the hotel, parents seem to struggle. So, my advice, let your parents play a little bit with technology before the trip, introduce them to apps you like and show them how to use them.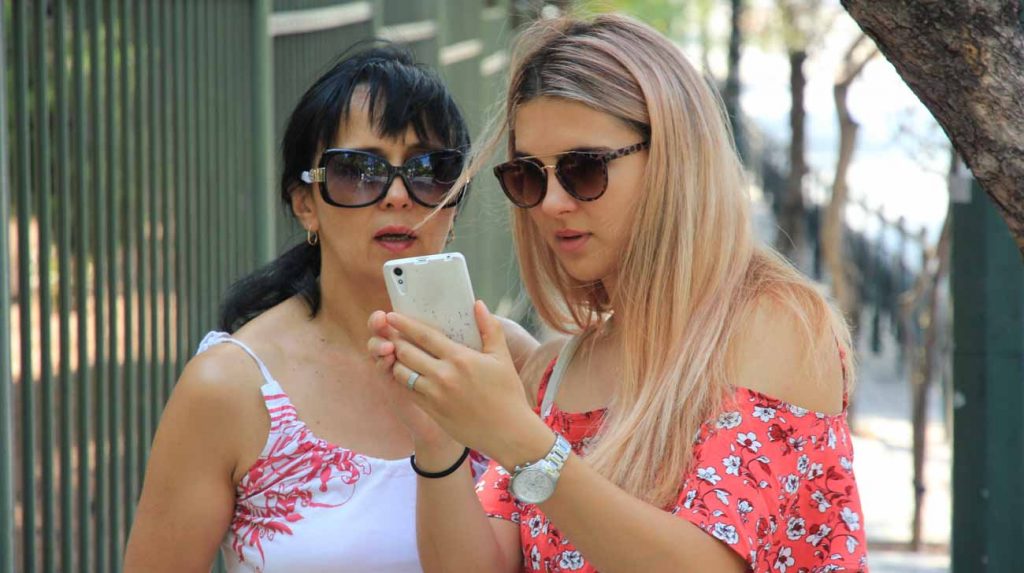 Be patient.
Let you parents take their time doing the currency exchange in their heads to figure out the cost of the meal, buy tacky souvenirs, study the menu, figure out which way to get to the hotel. Remember you first times traveling, you probably didn't get many things right as well. If they don't try, they won't learn. Besides, nobody likes a 'know-it-all', so keep your comments to yourself.
¿

Habla

inglés

?
Language barrier is something that can turn travel with parents into a travel guide job. My parents have absolutely no need for English in their daily life, so no wonder they don't speak it. But knowing at least some English words would be so beneficial in order not to have to talk to both cashier and my dad at the same time explaining how much the bus ticket costs.
My parents flew to Athens by themselves and, obviously, they were interrogated on the reason for their trip to Greece on visas to Denmark (since that's where we live). Even though you are free to move around Schengen zone on any EU visa, Greek customs were probably wary of the Ukrainians who might be coming to steal the leftovers of their jobs. My mom, being the most knowledgeable in English with her minimal vocabulary, had to explain that they were simply here on vacation and were flying back home right after. Sometimes even minimum is enough to save the situation, won't you agree?
Take it easy.
Being active travelers we thought it is best if we visited as many different places as possible, to be able to see Greece in its entire variety. You might be active and eager for some extreme adventure, nights out and active backpacking, but the truth is, parents might already be getting all that activity at work or being busy with other home things. Vacation is a perfect time for them to rest. So slow down, relax and take it easy. Slow down your regular pace and give your family a chance to truly relax.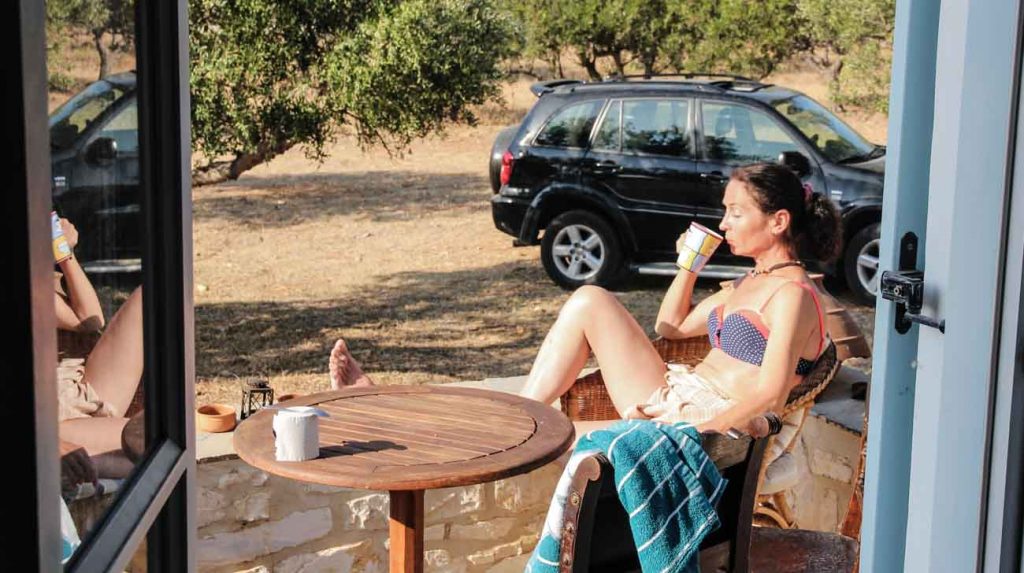 The sharp corners.
When it comes to the actual staying together under the same roof, there are a lot of dangerous areas and sharp corners. During our trip to Greece, that dangerous space was the kitchen. Two many ladies in the kitchen equals a recipe for disaster. The best advice for this one – if someone is already making a meal, leave them alone and do not disturb unless they ask for help. The best way to prepare a supper is to divide tasks among the group: let someone take care of drinks, someone else could serve the table while the other person could cook a meal.
Turn it into a game!
There's no better thing bringing a family together than games! They can save any situation and serve as the best relaxation method for everyone, allowing to relax and have a laugh. Knowing that we are going to have a lot of free time on Antiparos island, we took a few board games with us. Just a few rounds of Dixit and we were rolling on the floor laughing at our own private jokes. Games kept us awake and laughing deep into the nighttime.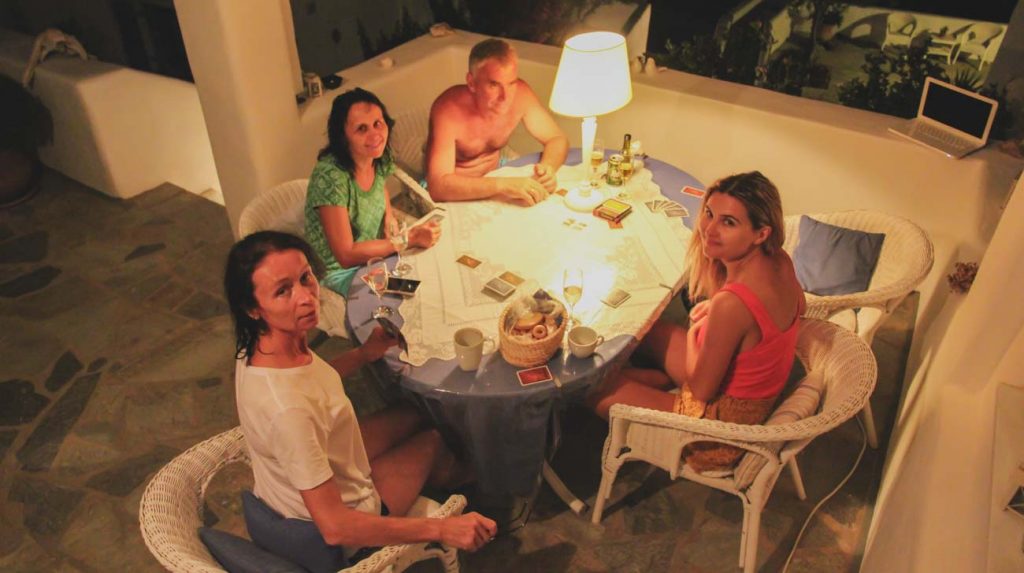 We're all children inside.
Once away on a truly relaxing vacation, you'll notice that you parents lose that usual 'I have to get things under control' hat and be truly themselves. After all, we are all children inside who want to play and have a good time.
Everyone wants to be a model.
Take a lot of pictures of your parents. They will love it! Most likely they do not pose a lot when they are busy back home, but they would definitely appreciate a stock of quality photos and home videos after their trip. Sharing pictures is another nice way of bonding after the trip is over.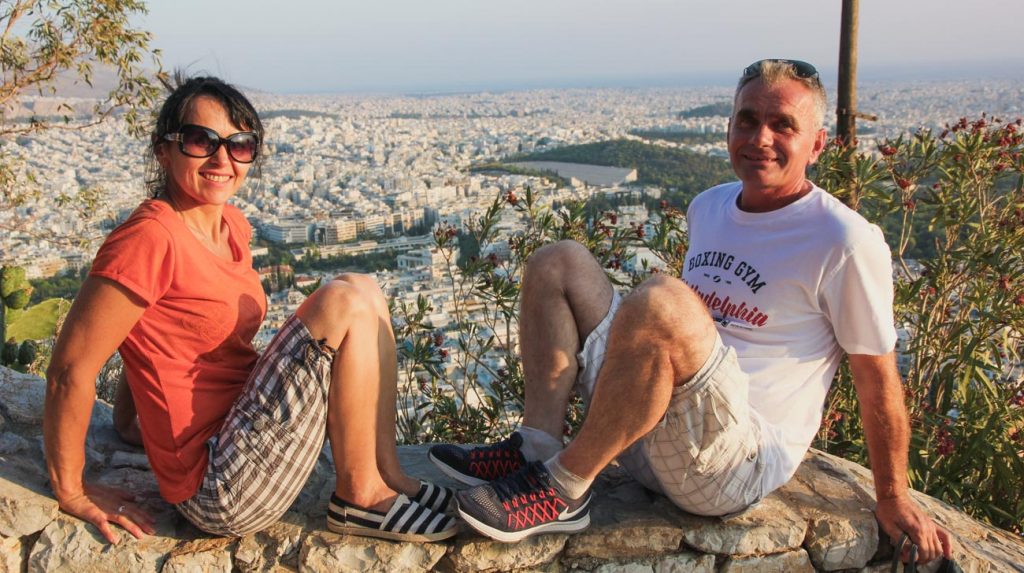 Zip your lip.
We all remember what it was like when we were 15 years old. "Mom, don't come into my room without knocking," "You don't understand anything about the music," or "This is my life and I will do what I want!" When we mature we realize that probably 50% of the time mom was right to not let us wear that ridiculous tight skirt to school, and 50% of the time parents were projecting their own insecurities on their child. Whatever the case, growing up we learn to bite our tongue and not fight those parental comments, whether we are going to act on them or not.
And even though you do not live with your parents anymore and you miss them more than anything in the world, all those annoying thoughts from when you are 15 will come right back when you travel with parents for more than a week. It is only natural to think that parents simply 'don't understand' and want to voice their opinion whether asked or not. But in order to keep everyone's vacation pleasant, it is paramount to use that skill we learn as we mature and keep the mouth shut. Do not show your annoyance or voice your unnecessary opinions.
Wrap Up
Now, I've just listed a pile of things which make it seem like travel with parents is a burden. The truth is, it isn't if you know what to expect. These are just very small things which you'll forget very fast leaving you only with great memories you have shared with your family. Trips with parents will give you an extraordinary chance to connect with them on a deeper level, especially in a setting when they are detached from their daily worries and can simply dream on and be joyful.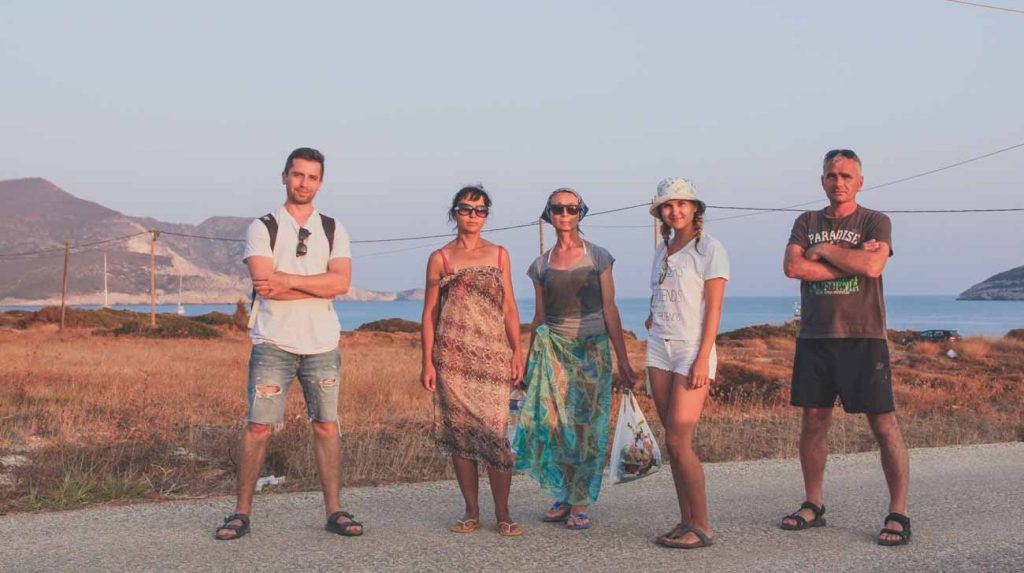 There is nothing better than showing your appreciation to those who gave you life by giving them something special in return – the world. Respect and love your parents and take them with you to some of your trips. The rewards are going to be worth all the trouble.
Like It? Pin It!
---
Dis you ever travel with your parents as a grow up? What's your experience like? Was it easy? Hard? Share your stories in the comments below!