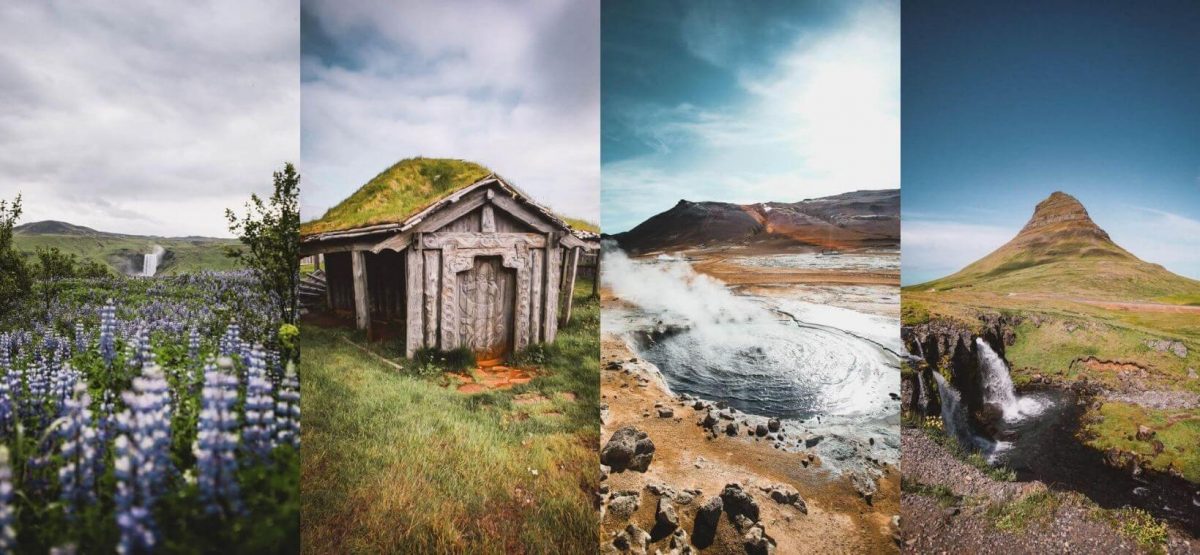 This post may contain affiliate links. I receive a small commission at no cost to you when you make a purchase using my link.
Iceland is one of the most unique places I have ever visited, offering a great combination of natural wonders all in one place. The best way to see the country is to rent your own vehicle and go on a road trip in Iceland, since there are no trains and busses are not running frequently enough. This 10 days Iceland itinerary is an optimal ring road itinerary, allowing you to experience the most of must-see places in Iceland without going too far off the main road.
Traveling in Iceland post COVID-19
Iceland was among the first countries to open its borders after a number of Corona virus cases went down in Europe. Persons residing in the EU are free to enter Iceland with few conditions. Prior to boarding the plane you need to fill out a pre-registration form detailing your contact information. Upon arrival to Iceland airport you have 2 options:
Take a COVID-19 test at the airport. It costs around $80 (11,000ISK) and the result will be texted to your phone number within 24 hours. Until then you are supposed to stay in your hotel\residence observing 2-meter distance from other people. Test results from your own country will not be considered valid.
Self-isolate for 14 days.
For more information and current updates about visiting Iceland during COVID-19, please visit the official site.
The best thing about visiting Iceland post Corona peak, is that you get a rare opportunity to be face-to-face with Icelandic nature without too many tourists since the borders are still closed to many. However, be sure to follow the country's health regulations at all times.
10 Days Iceland Itinerary Map
Here is a full map of our Iceland 10 days itinerary. We did mainly stay on the ring road with occasional detours for valuable experiences, such as seeing the puffins 🙂
Day 1. Reykjavik
Day 2. The Golden Circle
Day 3. Landmannalaugar
Day 4. South Iceland: waterfalls and beaches
Day 5. Southeast Iceland: glacier region
Day 6. East Iceland
Day 7. East fjords: Myvatn geothermal area
Day 8. North Iceland
Day 9. Snæfellsnes Peninsula
Day 10. Departure
Travel Monkey Tip: to use this map on the road, click on the top right corner button and open it in your Google Maps. Once that is done, the map will be available on your Google Maps account under "Saved." Scroll all the way to the right to find "maps" and it will automaticaly appear ready for use in real time.
---
Day 1. Arrival and Reykjavik

Total distance: 50km
The first day in 10 days Iceland itinerary will most likely be spent in Reykjavik. To be honest, we would gladly skip the capital altogether, however, we needed to await our COVID-19 test results before we could proceed further. It took only 4 hours before we received an SMS with our test results, so we could go out in the city and enjoy our first meeting with Icelandic capital and food scene.
Reykjavik city center seemed very small, but there were a few spots to see, such as the rainbow road with a view towards the capital signature Hallgrímskirkja.
We stopped for a dinner at Salka Valka Eldhus for Icelandic mashed potato with fish, which somehow reminded me of childhood food.
Where to stay?
---
Day 2. The Golden Circle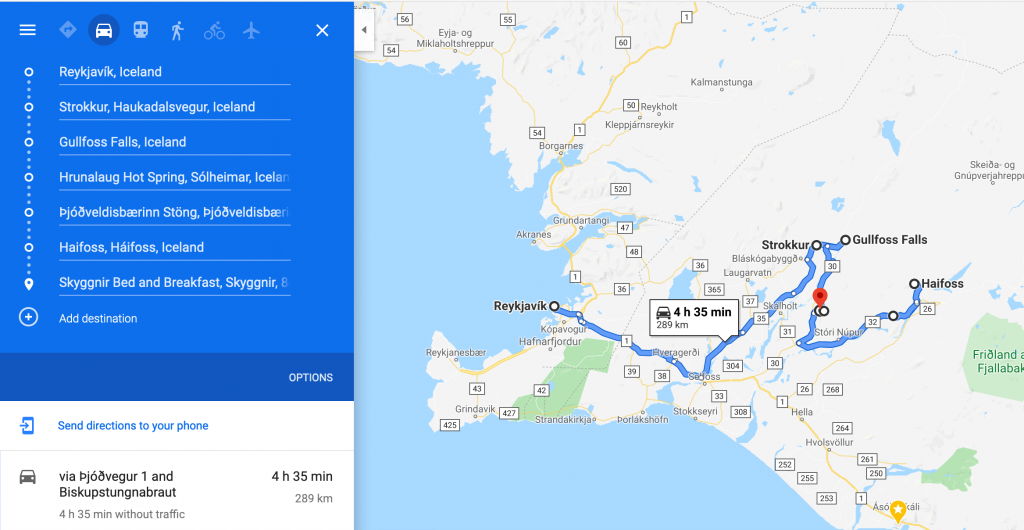 Total distance: 285km
As soon as we woke up, we immediately left the hostel because we could not wait to start exploring this country's beautiful nature.
Stop 1: Strokkur geyser
The beauty of this geyser is that it erupts every few minutes (3-10min) so you will definitely witness some action regardless of when you visit.
If you have time, you can continue exploring the rest of Haukadalur valley, where you will see other geysers (though maybe not so active), mud pools, and other geothermal activity.
Stop 2: Gullfoss falls
Gullfoss is a broad waterfall that cascades on multiple levels into a narrow ravine. As the first waterfall you see in Iceland, it is already incredibly impressive. It's hard to imagine that it gets any better. But it does.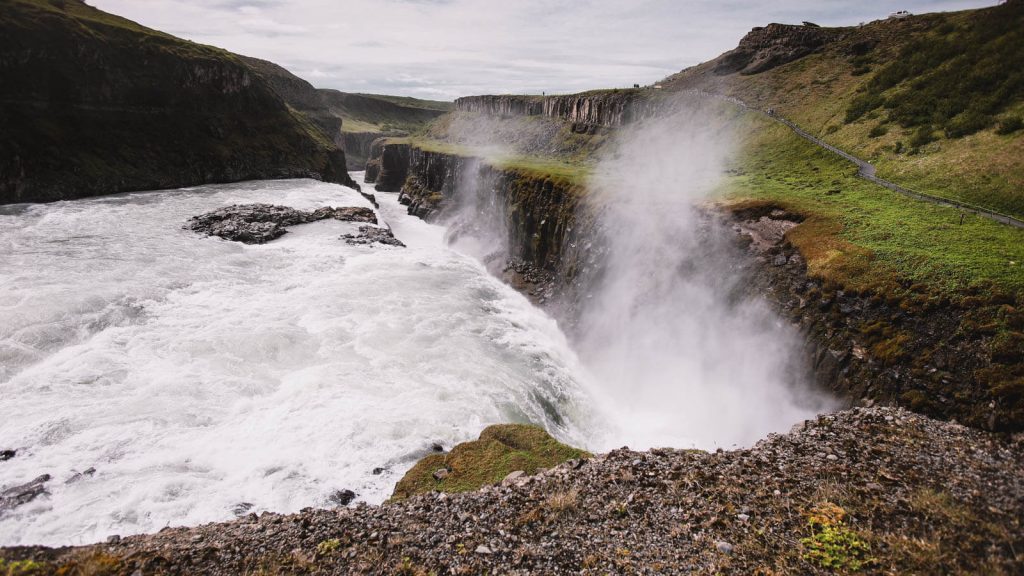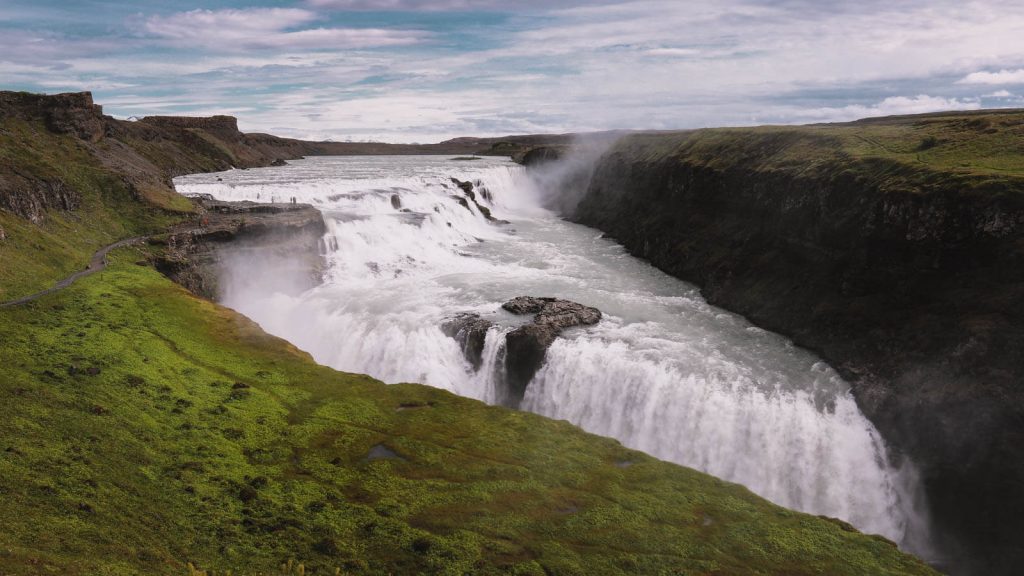 Stop 3: Hrunalaug Hot Spring
If you are itching to get deeper into Icelandic experiences right away, a good start will be relaxing in Hrunalaug Hot Spring. This hot spring is located on a privately owned territory, therefore, there will be someone sitting in the car by the gate to collect the 10EUR entrance fee. The pool is small, so it would only be fitting for 2-3 people at a time.
We decided to skip it and take the next hot spring we encounter.
Stop 4: Þjóðveldisbærinn Stöng
This tiny museum is a representation of what the old Icelandic settlements used to look like. Þjóðveldisbærinn Stöng is mainly popular due to Game of Thrones, as it was used in Season 4 to depicts Olly's village South of the Wall. It is not necessarily a must-visit, but since it was on the way, we decided to stop by.
There is a small fee for entrance (1,000ISK) which you need to pay inside.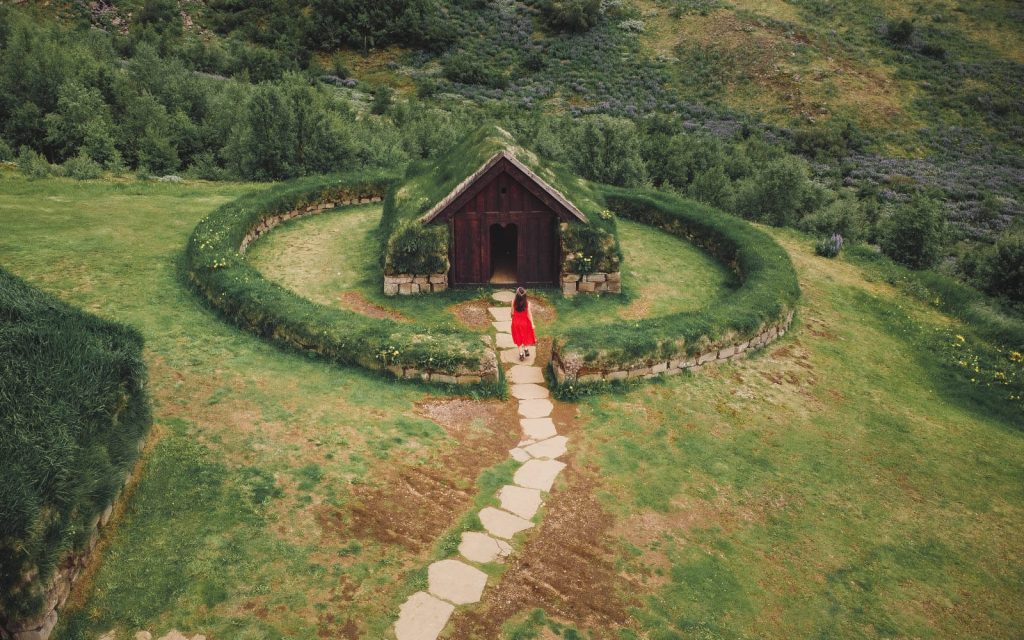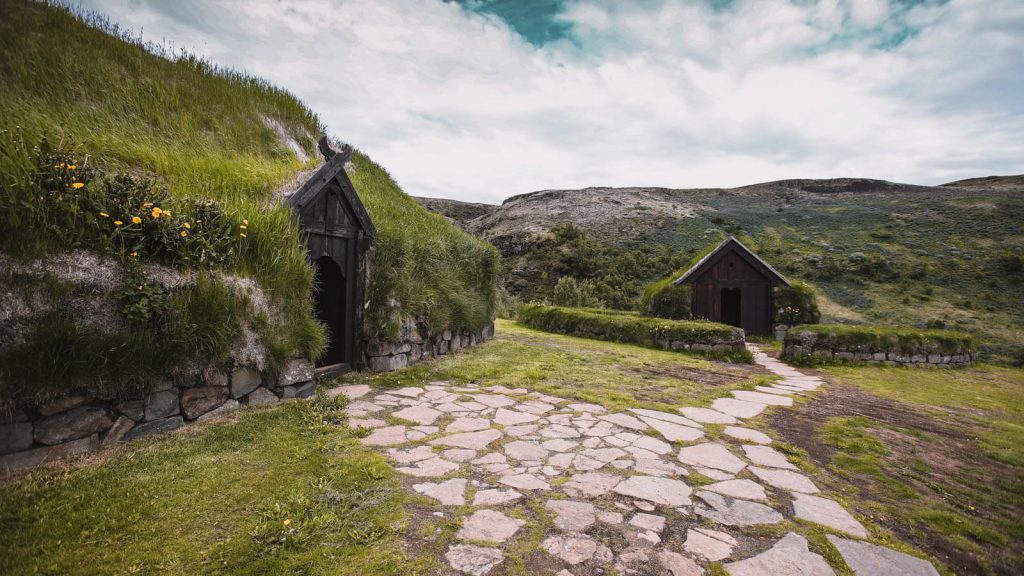 Stop 5: Haifoss
We decided to skip this waterfall as it included quite a drive, even though we had it planned into our 10 days in Iceland itinerary. But if you have the time, definitely check it out.
Where to stay?
---
Day 3. Hiking in Landmannalaugar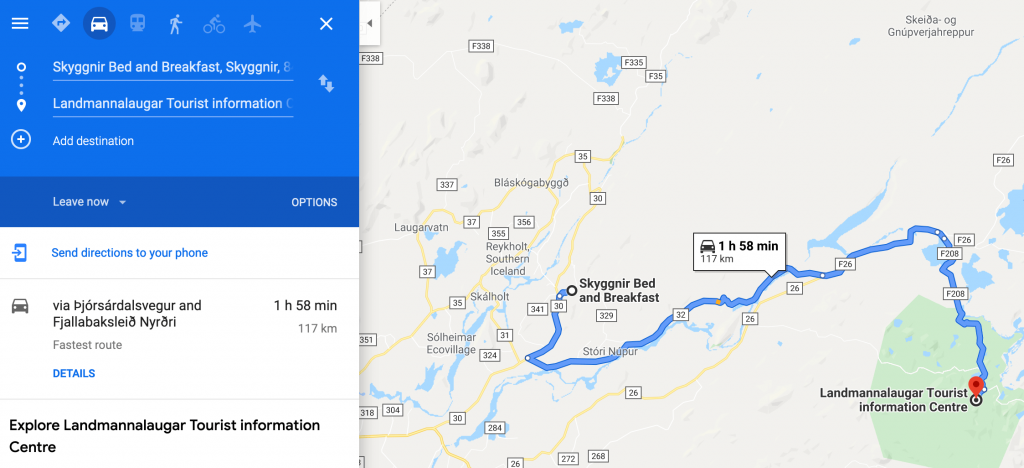 Total distance: 117km
The one thing that we are really sad to have missed during our trip is the possibility to hike in Landmannalaugar. Unfortunately, some mountain roads were still closed at the time. Please note, that the route is only accessible with a 4×4 vehicle.
However, you should definitely dedicate a day to the "rainbow mountains" of Iceland. There is a number of hiking options from 5km to 55km long. Here is a great guide with a selection of shorter hikes in Landmannalaugar that could fit in one day.
Where to stay?
Brennisteinsalda Campsite
---
Day 4. South Iceland: Waterfalls and Beaches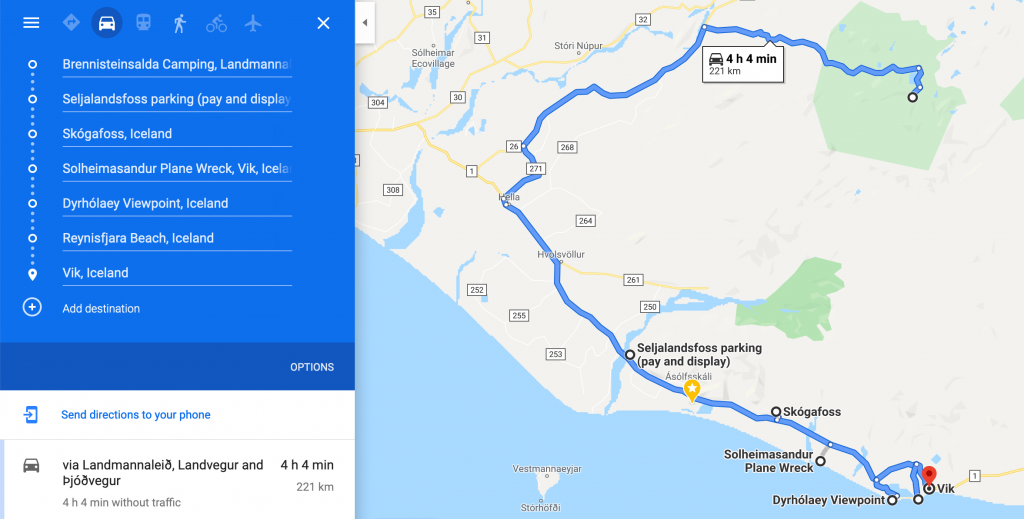 Total distance: 220km
South Iceland is probably the most picturesque area where we had the most stops during our Iceland road trip. And fairly so, because with every 10 km that we drove there was something to see and the scenery was changing from beautiful to gorgeous, from earthly to heavenly, from Mars to Venus.
Stop 1: Seljalandsfoss waterfall
Seljalandsfoss is one of my favorite waterfalls in Iceland because you can walk behind it and see what the falling water looks like from the other side. There are so many different angles that this waterfall can be photographed from. Be mindful that the parking lot for Seljalandsfoss is not free (750ISK), so make sure you have a receipt on your car screen to avoid getting a fine.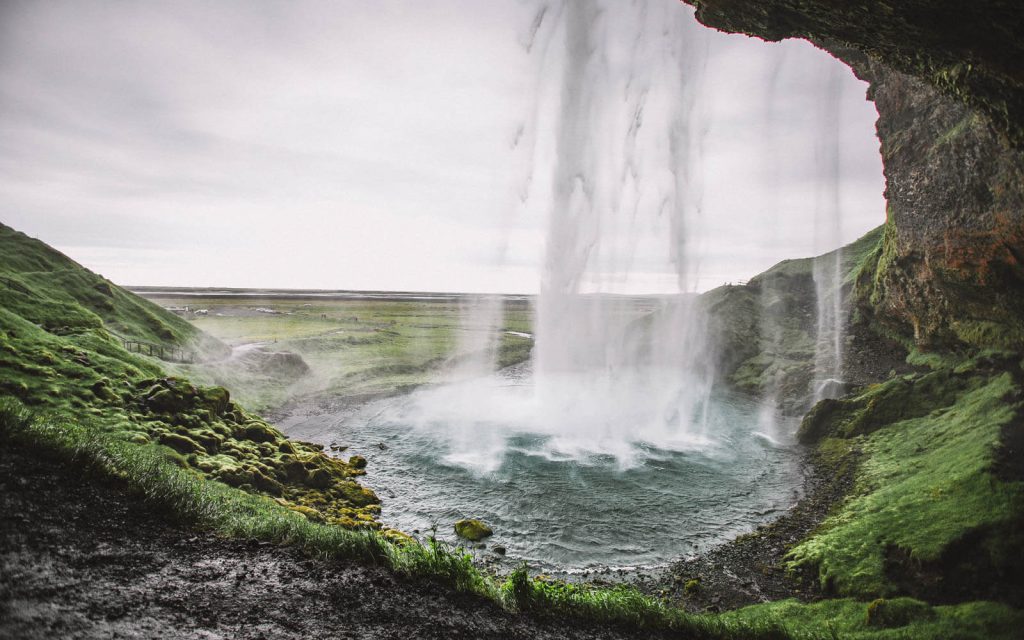 Stop 2: Skógafoss waterfall
Skógafoss is another famous waterfall in Iceland. In the summertime, when lupins are blooming, the scene is even more picturesque. You definitely will not miss it driving Iceland ring road.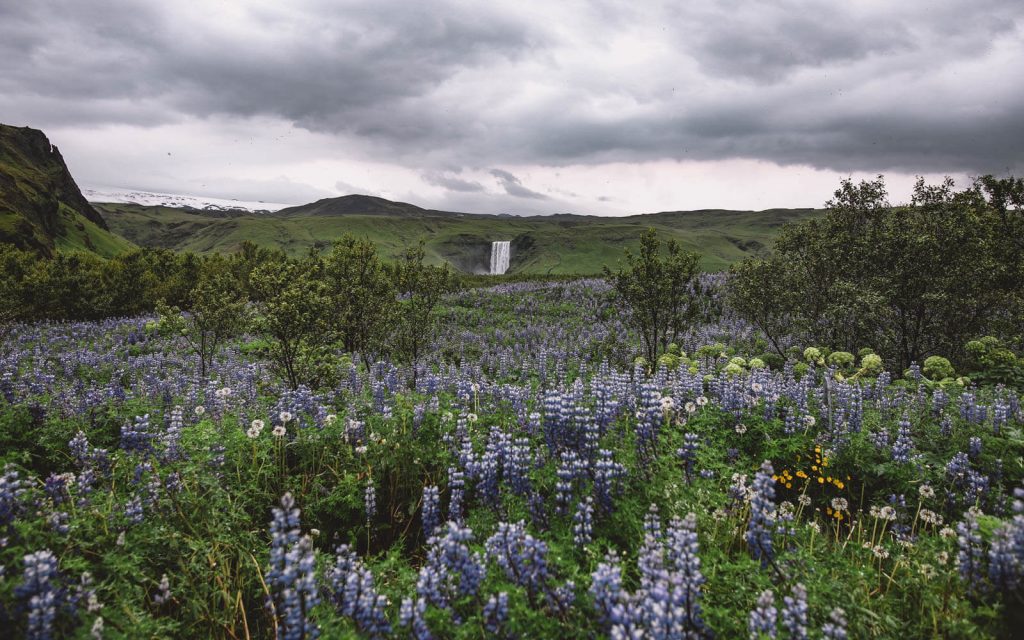 Stop 3: Kvernufoss waterfall
While you are already here and paid for parking, extend your walk to see another beautiful waterfall right int he same location.
Stop 4: Solheimasandur Plane Wreck
The remains of a crashed aircraft on a black sand beach is a popular spot for picture-taking in Iceland. Getting there is not as easy as pulling up at the parking lot like it was with the waterfalls. The crash site is a 3,5km walk from the parking place one way.
Stop 5: Dyrhólaey Viewpoint
Dyrhólaey Viewpoint is one of my favorite lookout spots in Iceland. The area is great for many reasons. First of all, you get the gorgeous view towards the pristine and endless black sand beach from Dyrhólaey Viewpoint. The deep black of the sand and the whiteness of crashing waves create a dramatic visual contrast dividing land and water.
Secondly, the area is a great place to enjoy the chaotic life of birds. The cliff is a popular spot for them to nest and lay their eggs in the summertime, therefore, it gets pretty busy with animal life that is quite amusing to observe.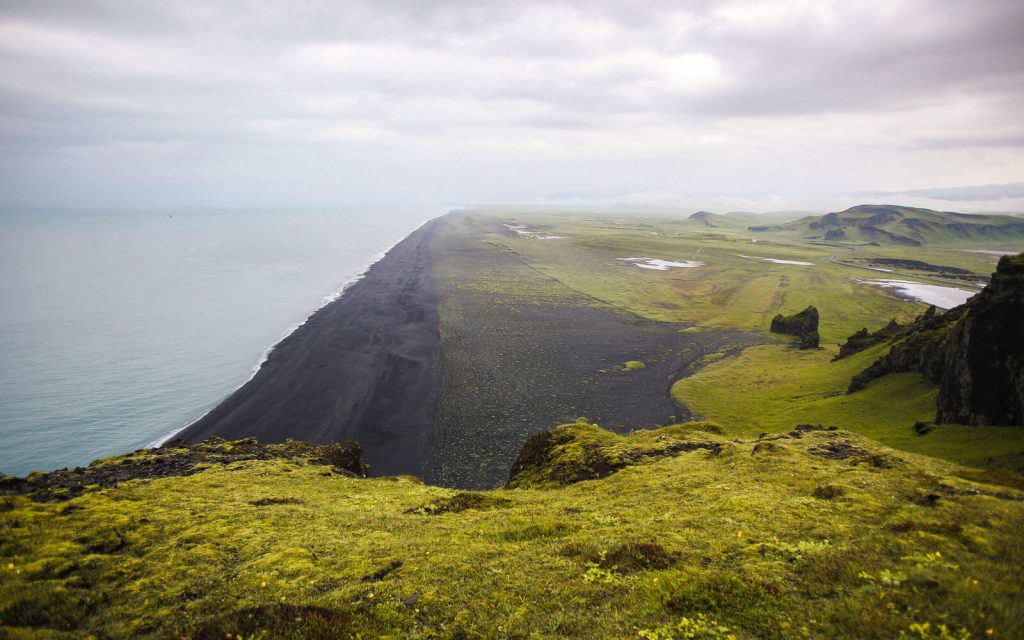 Driving all the way up can only be done with 4×4, otherwise, you can park at the hill base and just walk up towards the Dyrhólaey Lighthouse.
Stop 6: Reynisfjara beach
Reynisfjara is one of the most stunning black beaches in Iceland (there are many). It is unique due to the basalt columns formation Reynisdrangar backing up the mountain Reynisfjall. Reynisfjara beach is particularly popular, so be ready to meet a lot of people here.
Stop 7. Vik
End your day is a cute little town of Vik, a true gem in between black beaches and mountains. Be sure to check out Vik i Myrdal Church offering picturesque views and endless lupin fields in summertime.
Where to stay?
---
You Might Enjoy Reading: One Week Morocco Itinerary for First-Timers
Day 5. Crossing into East Iceland: Glacier Region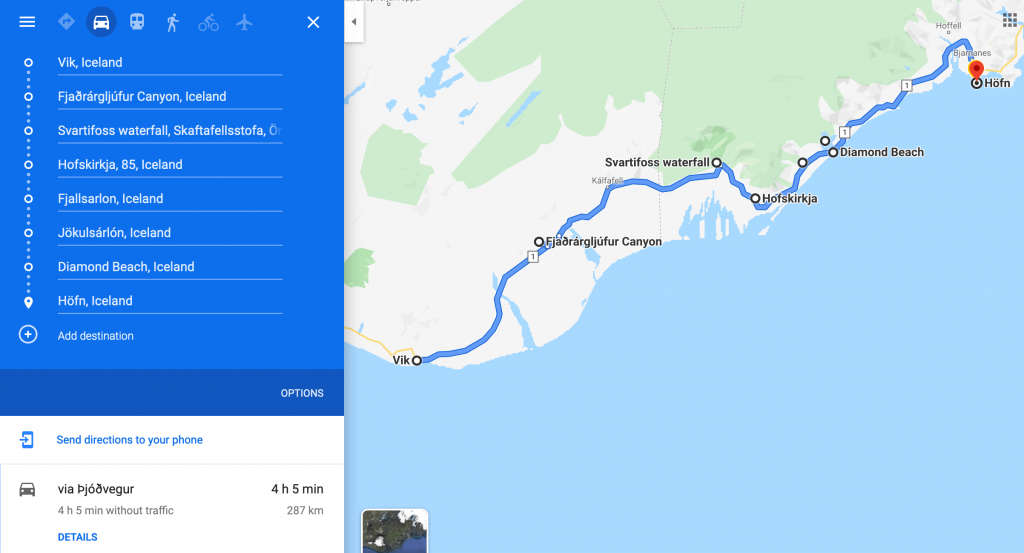 Total distance: 287km
Stop 1: Eldhraun lava field
Along the way of your 10 day Iceland road trip, you'll notice the landscapes changing drastically to the point you'll doubt if you are still on the same continent 😀
The lava fields are at no particular location but they will surely force you to stop and get out of your car because it is probably not something you have seen before.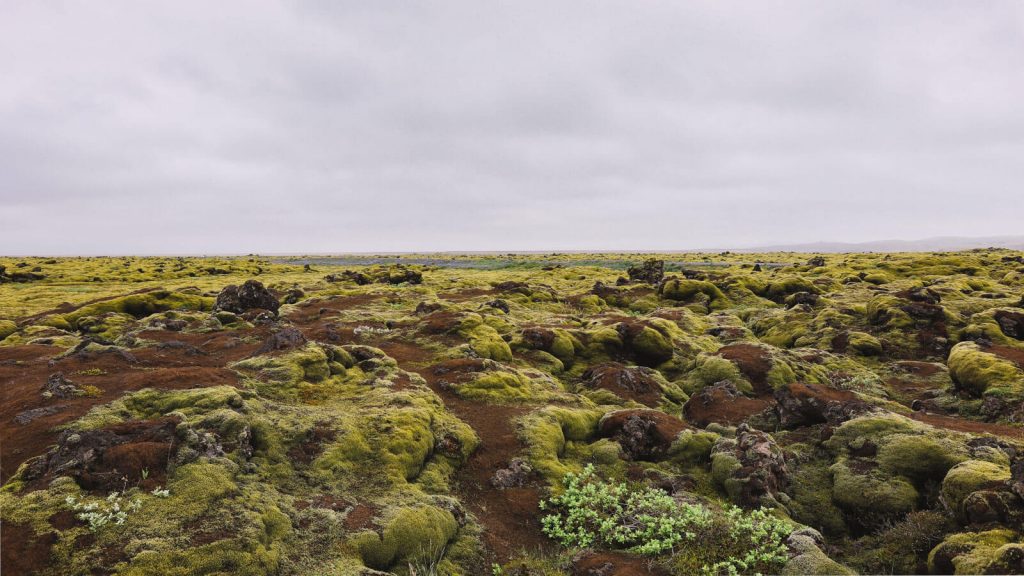 Stop 2: Fjaðrárgljúfur Canyon
Start the day with a short and easy hike to Fjaðrárgljúfur Canyon, where you can have a look at another natural marvel of Iceland. The canyon is accompanied by waterfalls and looks exceptionally beautiful in the summertime.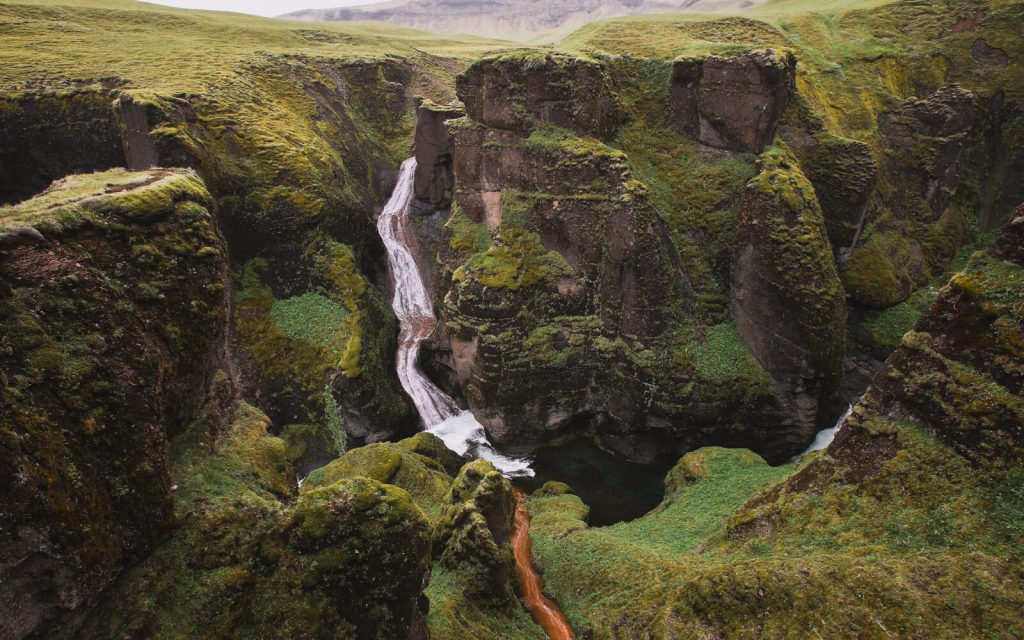 Stop 3: Svartifoss waterfall
Visiting Svartifoss waterfall requires a bit of a longer hike. Estimate around 1-1,5 hours there and back for the shortest trail to the waterfall from the parking lot (remember to pay for it).
Stop 4: Hofskirkja
On your way further east, stop for a quick shot of Hofskirkja, one of the last traditionally built churches in Iceland, where the roof is covered with grass.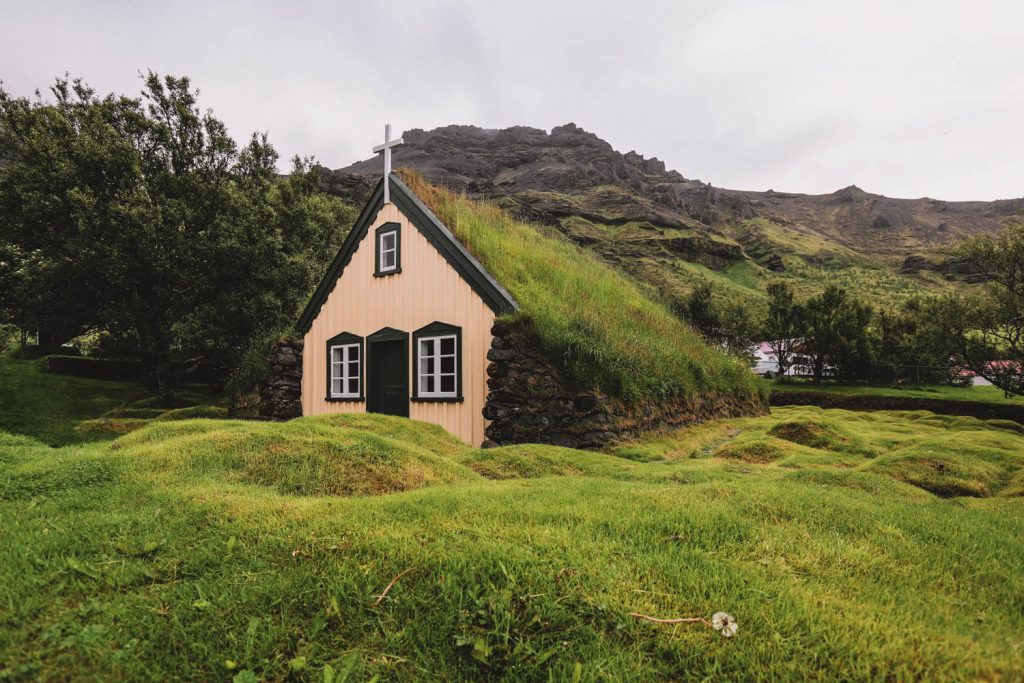 Stop 5: Fjallsarlon
We are reaching into yet another planet on a journey around Iceland – the land of Ice. The first encounter is a glacier lake Fjallsarlon. Tip of glacier Fjallsjökull reaches down to the lake and small pieces of ice are breaking down from it and floating in the water. A spectacular scene indeed.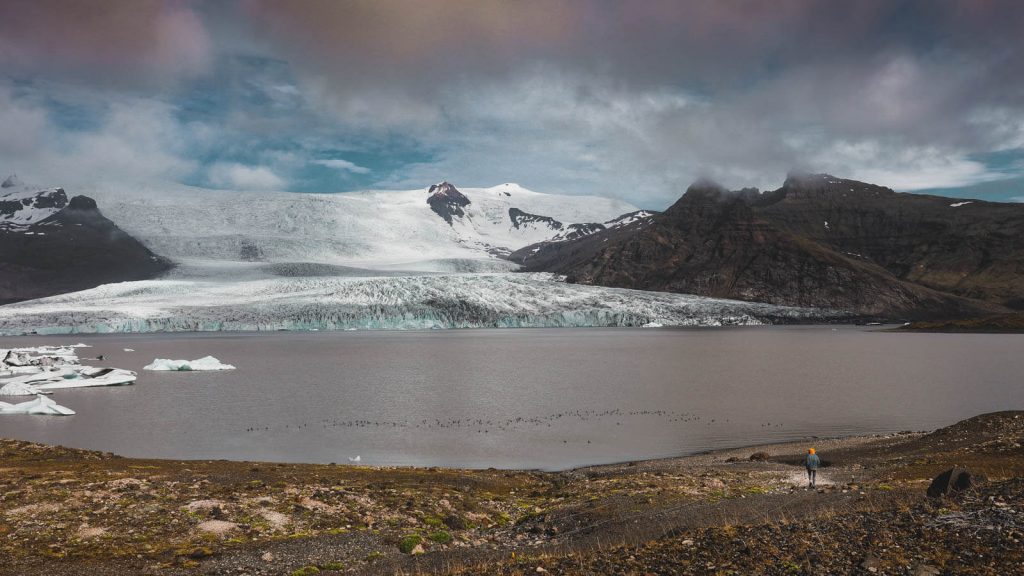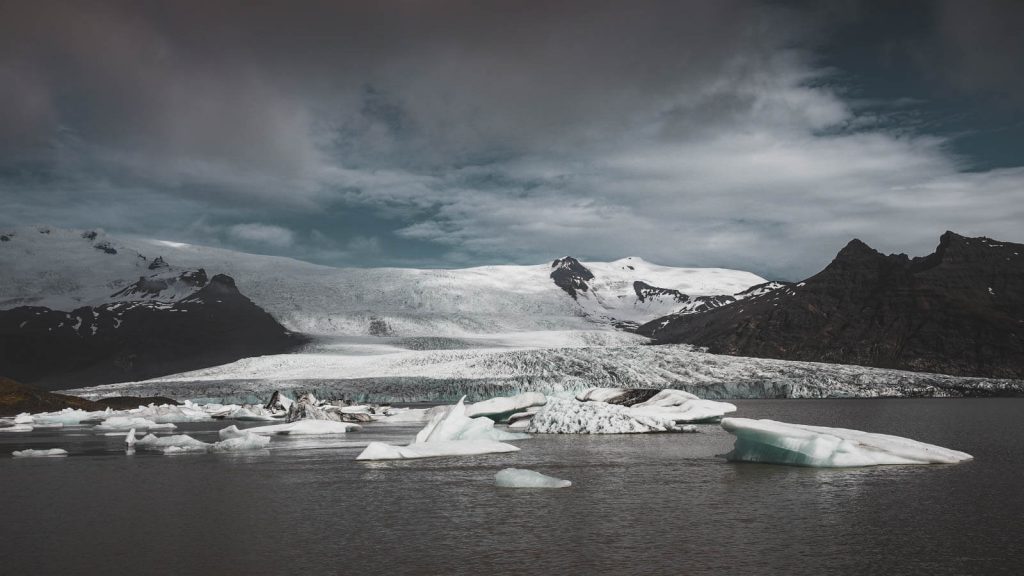 Stop 6: Jökulsárlón
Jökulsárlón lake just blew my mind away, to be honest. It is a much bigger version of Fjallsarlon lake. Here, you can hear the ice cracking and witness icebergs drifting away from the glacier towards the ocean. Take a moment to appreciate how fast the pieces of ice are floating into the sea as soon as they break off. And take note of how dangerous it is to be caught up in those water currents. Therefore, I strongly advise not to climb the icebergs, no matter how beautiful it will look on the picture.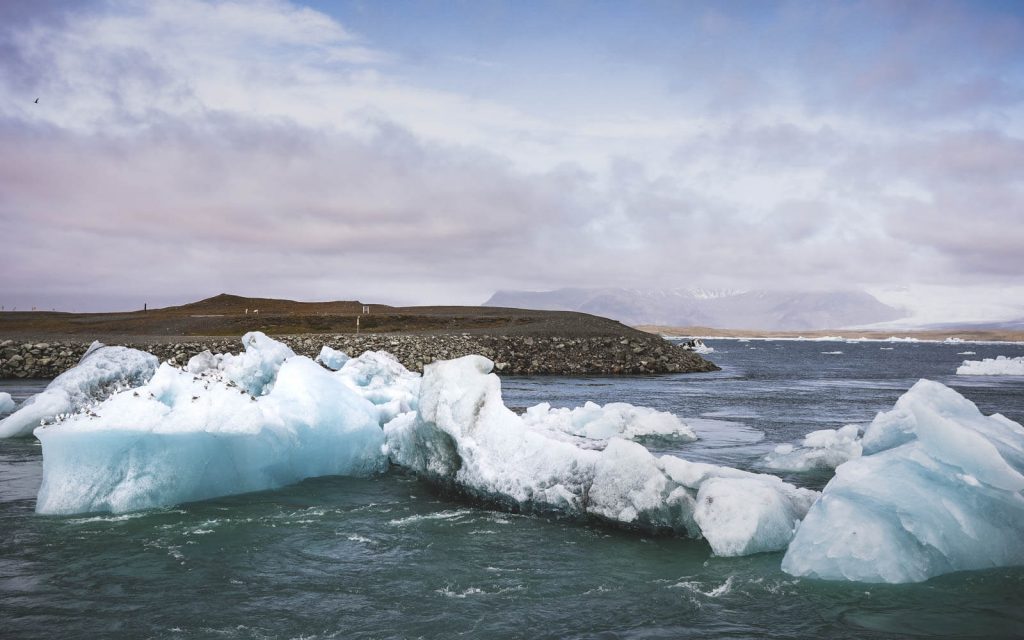 The area is also popular among wildlife. Who knew that birds appreciate freezing cold! You will definitely encounter a lot of special bird species here and maybe even run into seals, if you are lucky.
Stop 7: Diamond Beach
Yet another, but definitely not the last, place that left me speechless in Iceland. By this time, I saw so many unique spots in one country alone compared to another 40 that I have visited 😀
The name "Diamond beach" is absolutely justified. This is where the pieces of ice (the same ones that are drifting off the iceberg on the nearby Jökulsárlón) are washed ashore the pitch-black sand beach by the waves. The scene creates an illusion of diamonds scattered along the coast. The view is unreal, would you agree?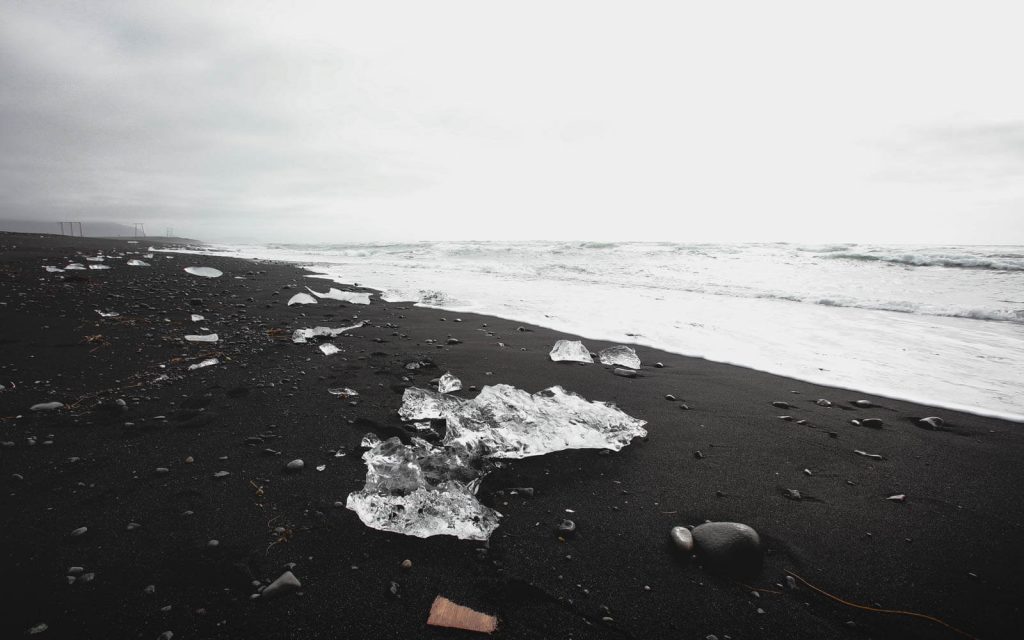 Stop 8: Hoffell Hot Tubs
This place was our first experience of Iceland hot springs. Hoffell are "not so natural" hot tubs supplied by thermal water. There are 5 tubs, each of which could fit 4-5 people. The owners kindly ask to leave 1,000ISK ($7) per visitor in the trust box, so make sure to have some cash with you.
The water is pleasantly warm and the views are very nice, so we enjoyed our stay in the pools at the end of the long day.
Stop 9: Höfn
Höfn is a small fishing town and a lobster capital of the Nordics. Many eateries in Höfn have lobster as an ingredient in some dishes of their menus. I suggest trying at least the signature creamy lobster soup with a big scoop of fat cream. Delicious!
Where to stay?
---
More Travel Itineraries from Travel Monkey can be found here.
Day 6. East Iceland: Scenic Coastal Drive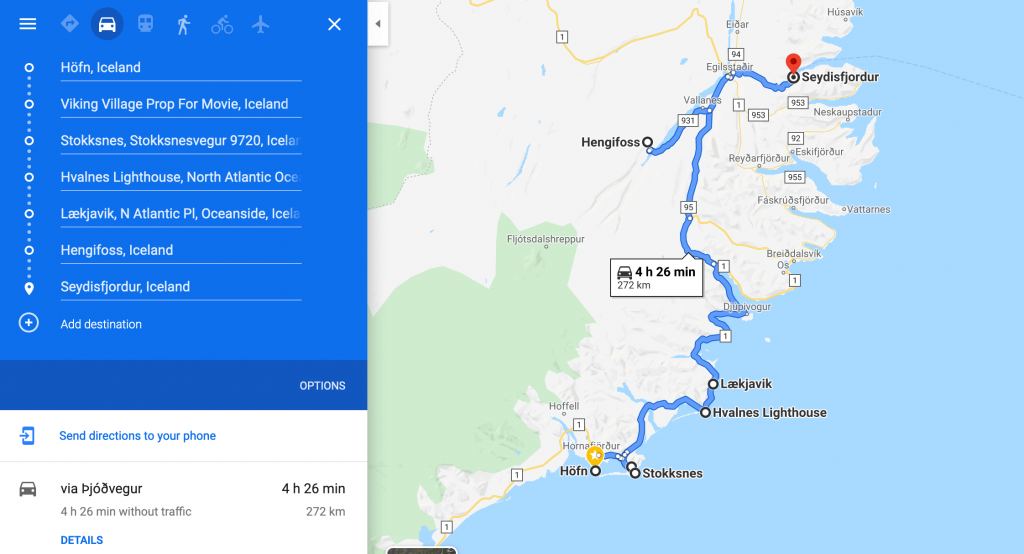 Total distance: 272km
Stop 1: Viking Village Prop For Movie
On the East side of Iceland ring road trip, you'll meet another reconstruction of old Viking civilization. Yet this one is not a museum but rather a Viking movie prop that was never actually used and ended up being a visitor site. To get there you have to drive to a Viking cafe, pay a small fee of 1,000ISK ($7). This will allow you to enter the road leading to the village. From the parking lot, it is a 15-minute walk to the site.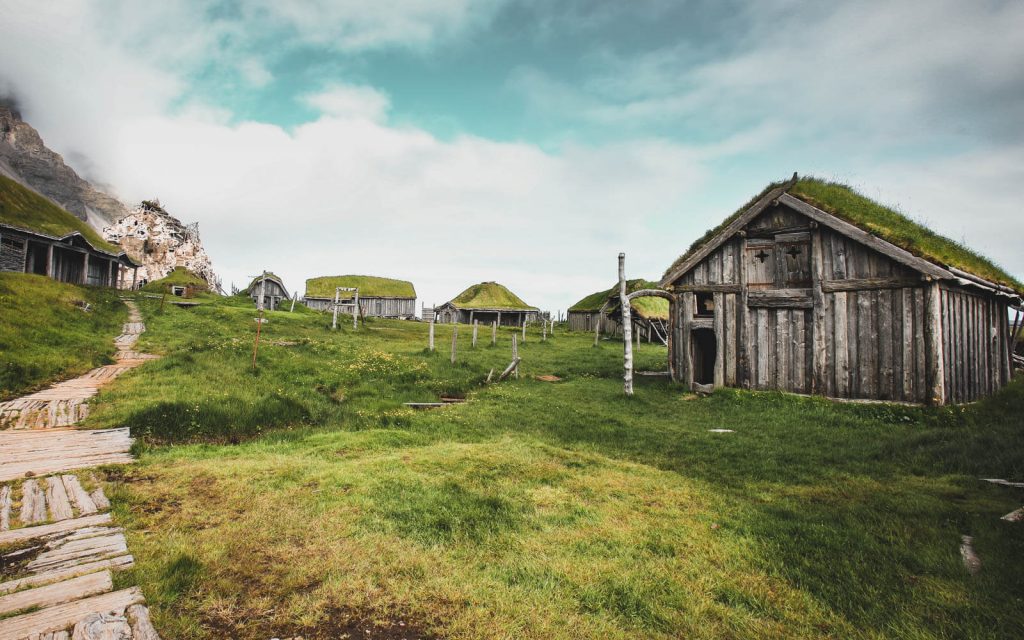 Stop 2: Stokksnes
The same ticket will allow you to drive further down to Stokksnes. The area offers a set of some walking trails, a radar station but the best thing about this place is the views! The drive towards the end of the road opens up beautiful angles of Vestehorn mountains and yet another stunning black sand beach.
Stop 3: Hvalnes Lighthouse
On your way further north you will pass a prominent orange Hvalnes Lighthouse. The stop is worth not so much for the lighthouse itself, but for the views in the opposite direction – towards the mountain and the roads.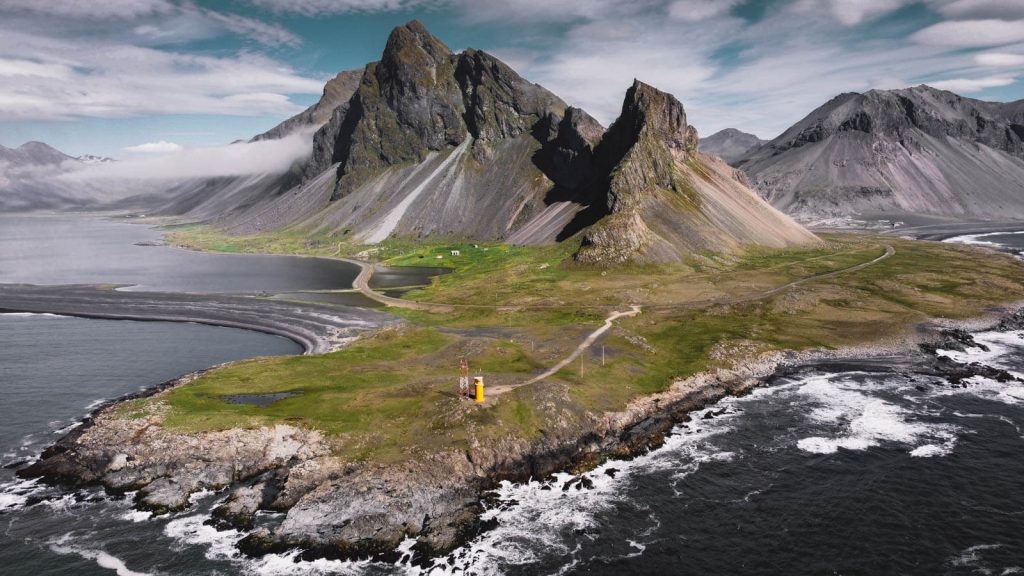 Stop 4: Lækjavik
Make a stop to appreciate a rugged coastline with another beautiful black sand beach and a peculiar rock formation sticking out from the middle of the seaside.
Stop 5: Hengifoss
To end the day, make a stop for a 1-1,5 hour long hike towards the marvelous Hengifoss waterfall, which is another one of my favorites. It is unique due to the red circles layering the cliff and a dramatic water drop, making it into the third highest waterfall in Iceland.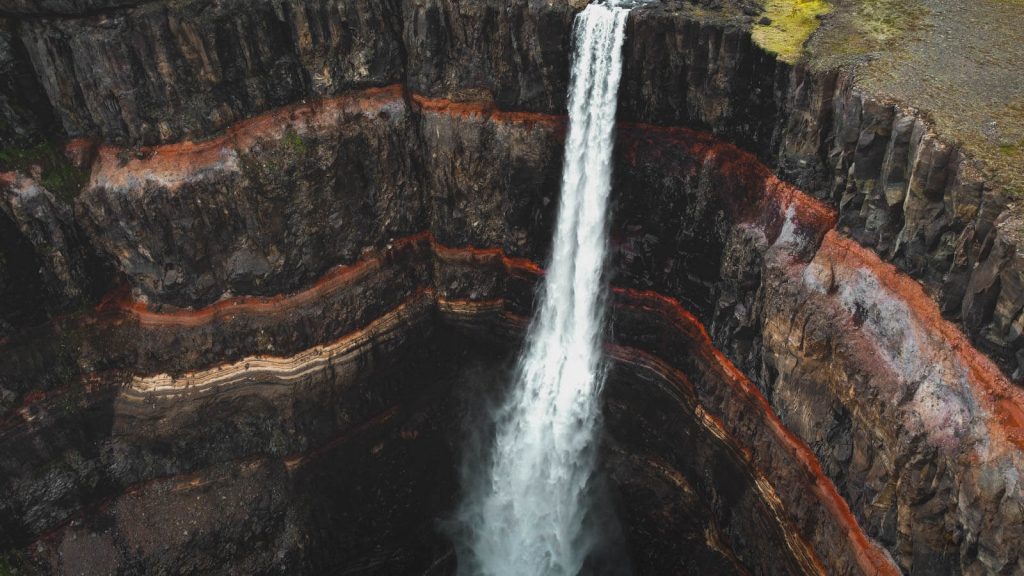 On the Hengifoss hike trail, you get a bonus view – a smaller Litlanesfoss waterfall.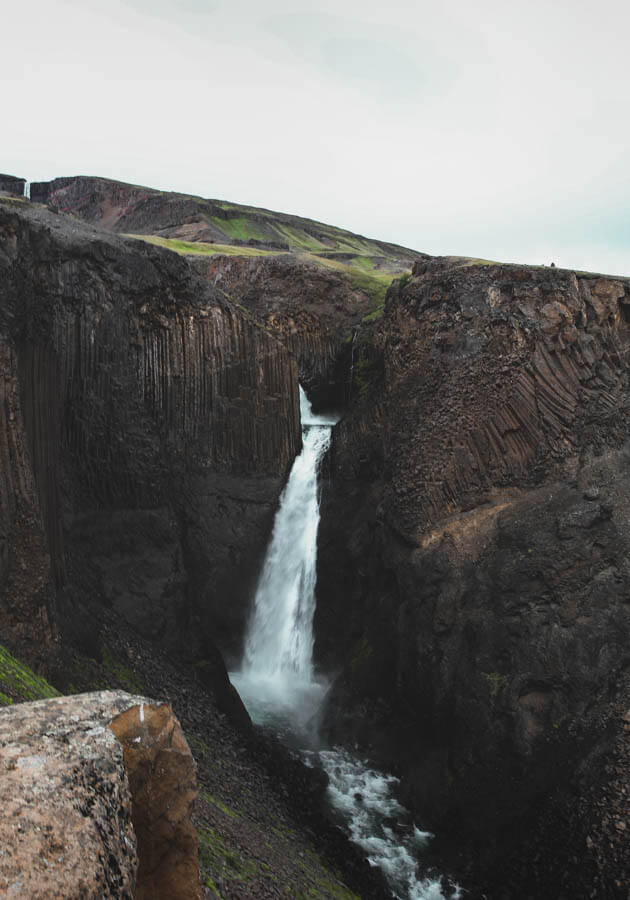 Stop 6: Seydisfjordur
Take 27 km off the Iceland ring road to relax and unwind in the small town of Seydisfjordur, picture-famous for its rainbow lane towards the town church.
Where to stay?
---
Day 7. Puffins and Geothermal Pools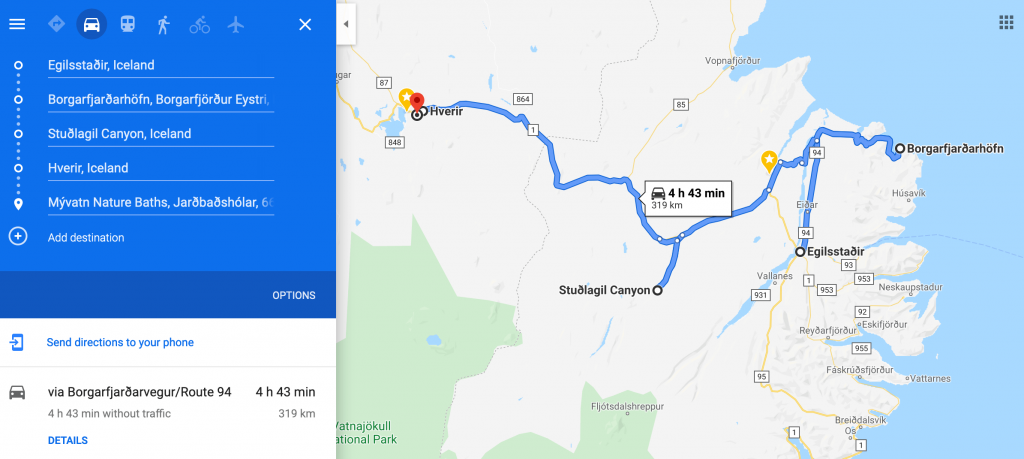 Total distance: 319km
From now on, the drives will become longer because the distances between sights become larger. No matter the distance, the drives in Iceland always offer fantastic sceneries and an endless number of sheep to keep you entertained on your way.
Stop 1: Spot puffins at Borgarfjarðarhöfn
The drive to Borgarfjarðarhöfn is 75km off the ring road in one direction but I was so incredibly happy that we decided to take it. It is probably one of the best places where to see puffins in Iceland up close and personal.
Puffins settle a little bit further up than Borgarfjörður Eystri town (which you should totally check out as well), right by the boat dock. There is a small booth where you can go in and observe the birds from, taking pictures. We visited in the beginning of July and there were countless birds. The view is fascinating. I suggest going early in the morning or later in the day, but I imagine that birds are there all day long throughout summer.
Church in Borgarfjörður Eystri
Stop 2: Stuðlagil Canyon
The canyon is reached via a turbulent gravel road but it offers an easy walking trail along the water. As often in Iceland, the bright blue water is surrounded by distinct basalt columns.
Stop 3: Coffee stopover in the middle of nowhere
To take a break in your long drive through a Mars-like desert, stop for lunch or coffee at what seems to be the only stop in the area – Fjalladyrd Kaffi. This cafe has lovely decor and it truly feels like you are drinking coffee on Mars because there is literally nothing but volcanic sand around you.
Stop 4: Hverir geothermal area
Hverir is a unique geothermal area showcasing where the energy in Iceland comes from – from underneath the ground. There will be fumes coming from everywhere and you will get a feeling as if you now arrived from Mars straight into a Venus, which is boiling with acid.
There is no fee for entrance into the area, so you can come any time and enjoy the sulfur smells and evaporations from muddy pools and underground thermal streams.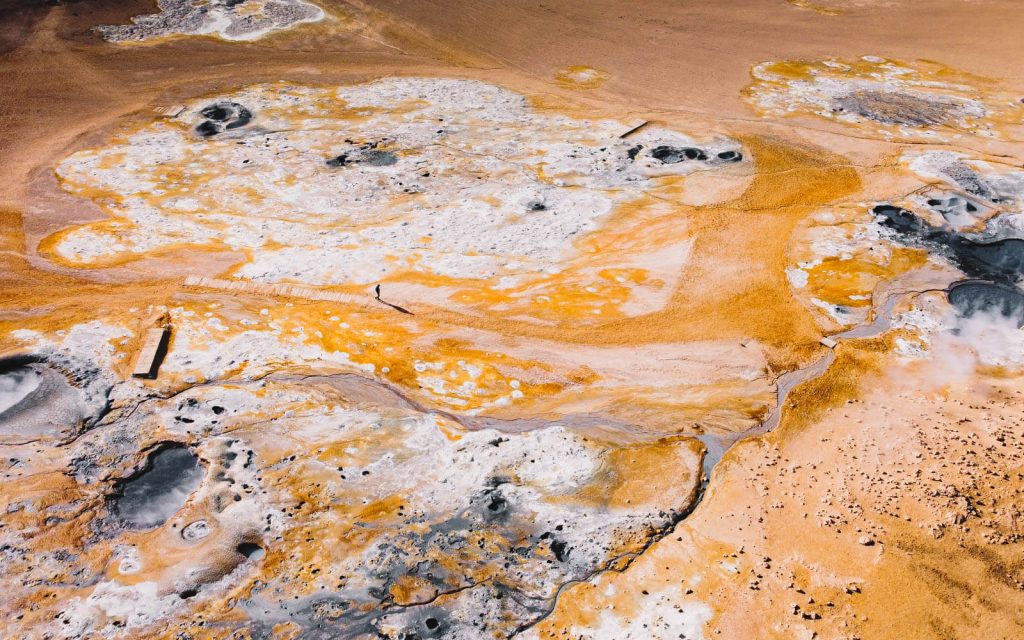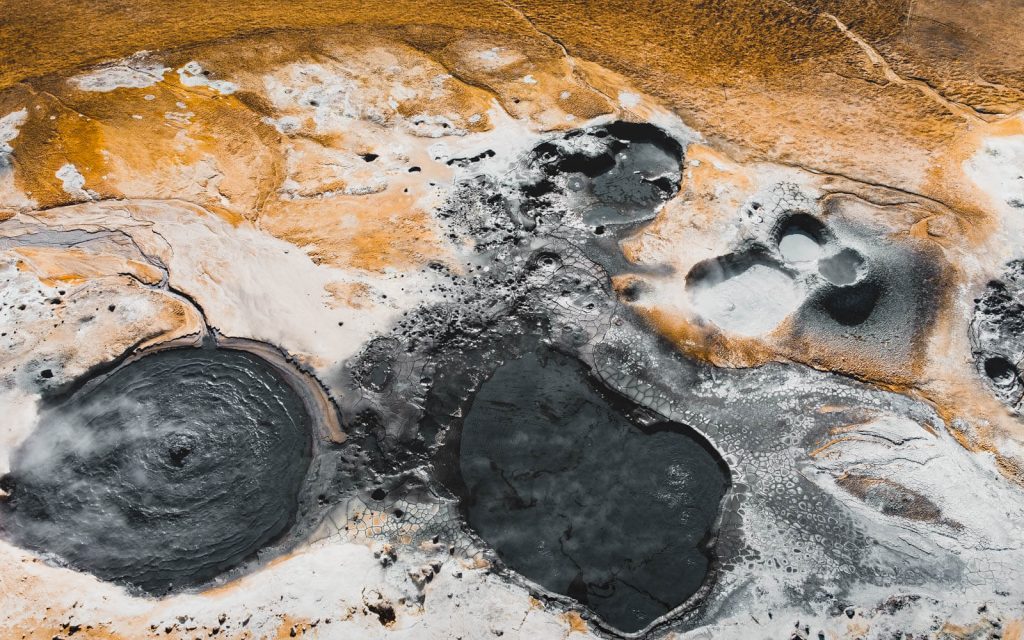 Stop 5: Mývatn Nature Baths
Myvatn Nature Baths is a fantastic alternative to overpriced Blue Lagoon in Iceland. It is a little bit more out of reach, therefore, less crowded. The entrance cost is 5,500 ISK per person. Due to the Corona situation, the venue offers a 50% entrance discount for a limited amount of time, so make sure to ask if the discount is still running.
Bring your own towel, if you do not wish to rent one at the facility. Otherwise, enjoy your stay at natural thermal pools, steam saunas, and a water bar.
Where to stay?
HLÍÐ campsite for 1,200ISK per person for perfect views over Myvatn and Hverfjall volcano
Fosshótel Mývatn for comfortable beds and great views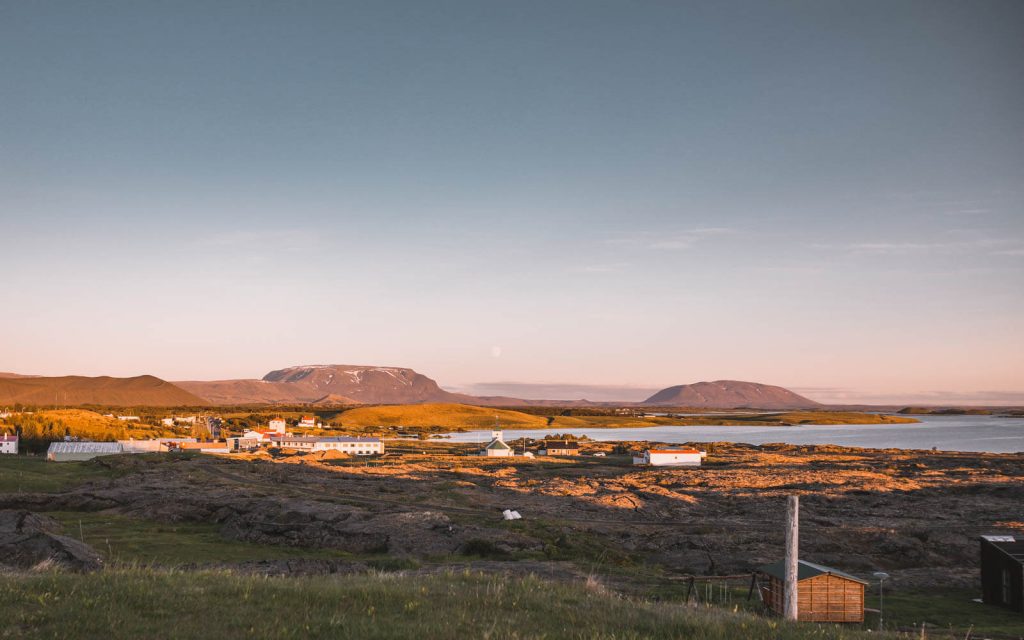 ---
Day 8. North Iceland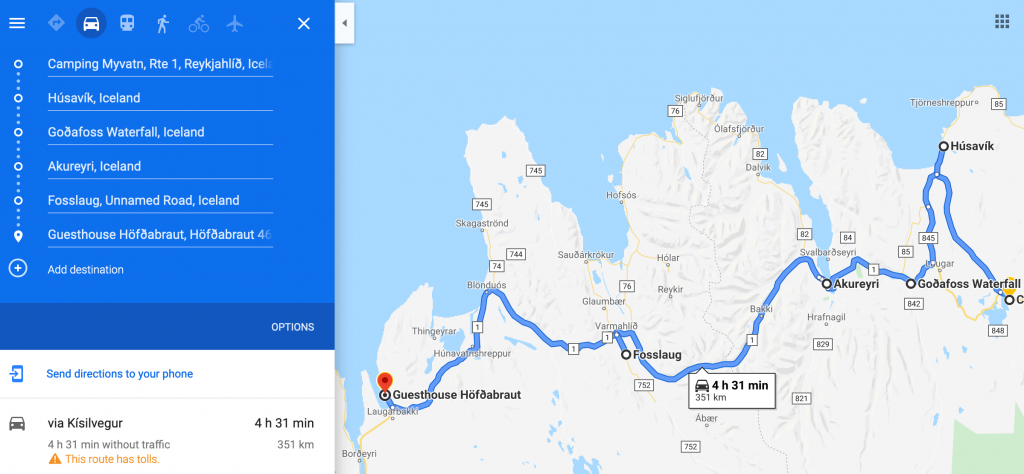 Total distance: 351km
Stop 1: Husavik
If you want to see more of wildlife, Husavik is said to be the capital of whale watching in Iceland. There are many tours that depart from here.
Stop 2: Goðafoss waterfall
The waterfall of gods is a short nice stop along the way to look at yet another beautiful waterfall in Iceland.
Stop 3: Have sushi in Akureyri
Akureyri is the biggest city in North Iceland. To be honest, it impressed me much more than Reykjavik. The city is squeezed between the mountains and the sea, making for great views from wherever you look.
We stopped here for lunch and I cannot recommend enough a great sushi buffet called Sushi Corner. The buffet is 2,500ISK and you can eat as much as you want. The sushi is nice made with fresh fish. We got full and went back on the road happy.
Stop 4: Fosslaug hot spring
These hot pools are far from our favorites, so feel free to skip them altogether. It requires a little bit of a walk along the stream and the spring itself is quite muddy. But it is a true natural Iceland hot spring. Another plus is that you will see a beautiful Reykjafoss waterfall on the way to the pool.
Where to stay?
Guesthouse 46 from 70$ per double room. This was our favorite stay throughout all of Iceland. The rooms are in a small family-owned house with beautiful views towards the seaside where whales might swim by on a sunny day. It is owned by very nice people who also do horse riding tours, in case you are interested in that.
---
Day 9. Snæfellsnes Peninsula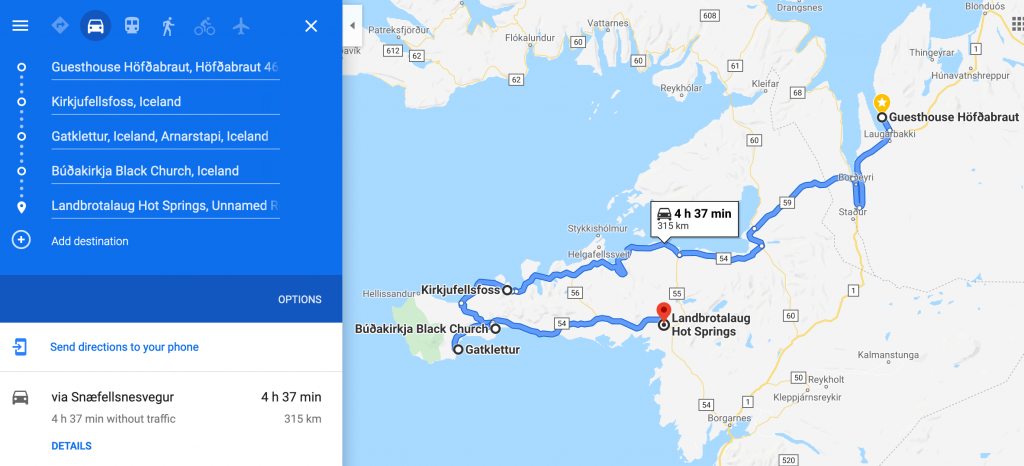 Total distance: 315km
Snæfellsnes Peninsula did not necessarily make for the highlight of our trip, therefore, it is best to leave it for last when the energy levels of this active trip are running lower or in case you decided to spend more time somewhere else and skip it altogether.
However, there are a few stops worth mentioning.
Stop 1: Kirkjufellsfoss
For the fans of Game of Thrones this mountain will be quite recognizable as the place beyond the Wall. There is a small village of Grundarfjörður right before the waterfall where we have stopped for food. It had really nice marina vide and great views.
Grundarfjörður village
Stop 2: Arnarstapi
It is worth stopping over at Arnarstapi for several reasons. First of all, you can get a nice view from Cliff Viewpoint over another busy settlement of birds. From there, do a short walk to Gatklettur, a beautiful stone arch formation, and continue walking all the way to the Stone Bridge for more amazing views.
Stop 3. Búðakirkja
It would be a shame to skip a glimpse at a famous Icelandic black church. It is only a short 2km detour from the main road to witness this cute church based in a completely isolated natural surrounding.
Stop 4. Landbrotalaug Hot Springs
What's more perfect to end the long day of driving than a chill in a natural hot spring?
Where to stay?
---
Day 10. Departure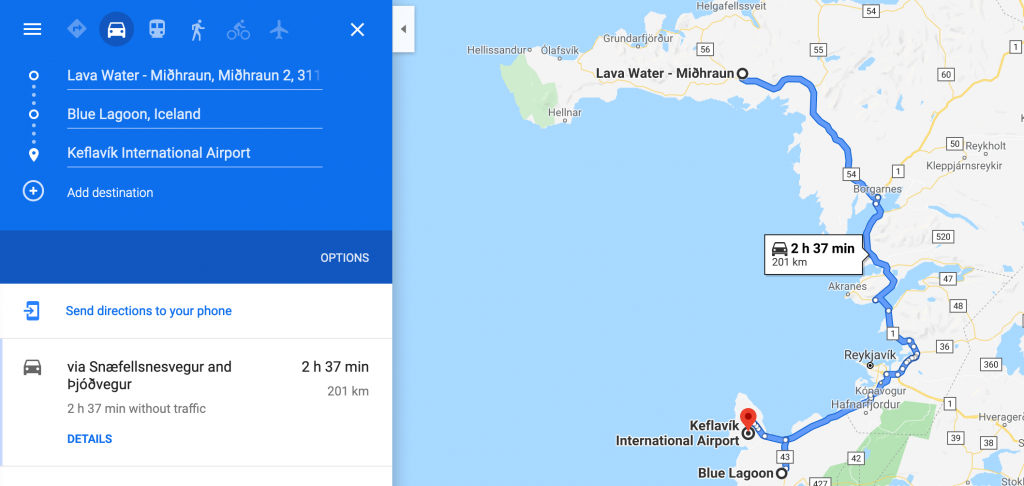 Total distance: 201km
The last day's schedule will depend on how much time you get before your flight. Because it is situated so close to the airport, you can spend the last day exploring one of the most popular spots in Iceland – The Blue Lagoon.
Thereafter, drive to Keflavik airport and say goodbye to one of the most beautiful countries you will ever see.
Tips for a road trip in Iceland
During our 10 days Iceland itinerary we averaged about 250-300km a day with plenty to see in between. It turned out to be okay for us because during the summer the days are endless and you do not get tired so fast.
If traveling in high season, it is a good idea to prebook all accommodation since it might be hard to find something last minute. There are not so many places available the further you go from Reykjavik. Yes, it makes your Iceland itinerary less flexible for spontaneous stops, but it is better to prebook and cancel later.
You are only allowed to camp in Iceland in designated campsites. Wild camping is forbidden.
Remember to pack layers of clothes and raincoats even if you are visiting in summertime. The days are long, but the weather in Iceland is always unpredictable.
Tips for driving in Iceland
For all road conditions check this website. Certain roads can be closed even in summer and the website is always updated with the newest information.
Remember that car lights always have to be on in Iceland.
You are strictly forbidden to drive where there is no clear road. It damages the fragile Icelandic soil that might take centuries to recover from tire marks left.
In many places, you will see a sign saying that flying a drone is forbidden. Respect the rules, as often they are there to protect the birds that might fly into your drone.
Parts of roads in Iceland that lead off the main ring road are unpaved and rough. If you wish to wander off into more interesting areas, rent a 4×4 car.
Seriously consider taking car insurance. There are many unpaved roads with tiny stones that will definitely fly from under the wheels and hit your car.
After doing a 10-day road trip in Iceland, I completely fell in love with this country to the point that I just didn't want to leave. Iceland is a magical land that represents many types of natural phenomena unseen in other places. Traveling in Iceland will give you a unique opportunity to see multiple wanders of planet Earth with a very short distance from one another, which can be easily explored on a 10-day road trip.
Like It? Pin It!