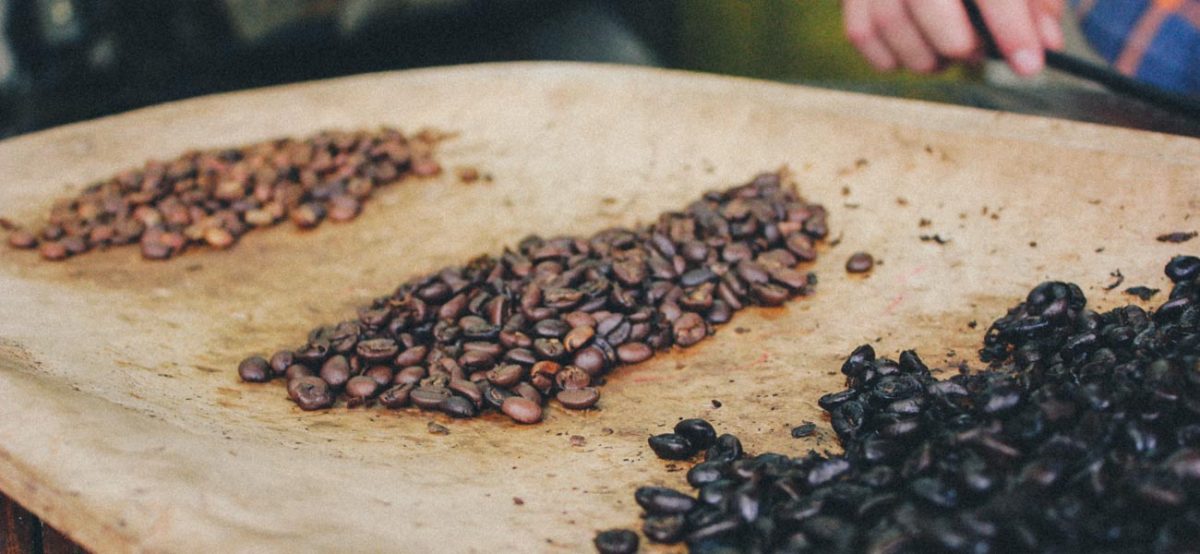 This post may contain affiliate links. I receive a small commission at no cost to you when you make a purchase using my link.
It took us around 8 hours to get to Boquete from Panama City. To learn more about technicalities of the trip you can read my post on Central America travel route.
Hostel Situation
One of the inconveniences that we have encountered in Boquete was that the hostel that we booked was no good. Of course, I cannot make that judgement since we didn't stay there, but when we arrived in the morning we understood that it was not the place where we wanted to stay. There was no reception to ask things and no other travelers to speak to, it was just a house with three rooms which were tiny and gloomy. And all of it wasn't cheaper than any other hostel in town, so we decided to walk down the street  to research other places and stumbled across Mammallena, the same hostel branch which we visited in Panama to book our trip to San Blas.
For 33$ per night for two we got a nice spacious room with three beds! (even though we only needed one double) and breakfast included in the very center of the town. We were super happy about our decision to change the hostel. But if you have a chance, try to book one of the tree houses in Refugio hostel, they are a bit more expensive, 40$, but they looked amazing, unfortunately all booked as we showed up there last minute.
What's Boquete Like?
Boquete is a small town with amazing atmosphere. Somehow it felt more cosmopolitan and international than the capital – Panama City. It is rather due to high population of American retirees and coffee farmers living in the town.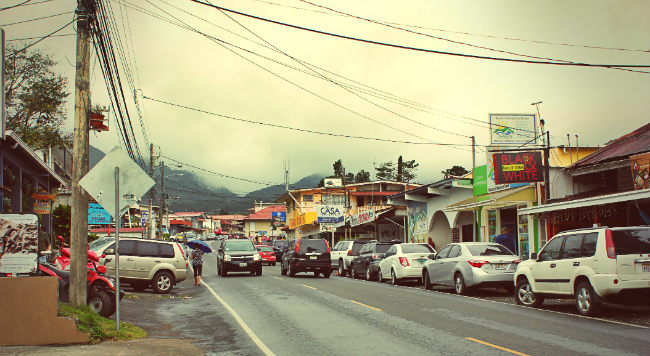 In order to demonstrate how small it is, here's a story: our first day in Boquete started with a crave for coffee and some food. We went to a tiny cafe on the central square across from our hostel and surprise – there we meet the girls who were with us on San Blas islands just a day ago! World is a small place when you are backpacking in a foreign country.
Coffee Tour
After we had a lovely breakfast, all of us decided to do a 25$ coffee tour to one of the local small farms. We booked it through Mammallena and were picked up by the tour guide straight from there. It took us 15 minutes to get there.
The farm was owned by Panamanian called Tito who exported around 10,000 kg coffee yearly to countries like Japan, Norway, etc. We had a chance to view the whole coffee preparation process starting from planting it into trees ending with final packed products for the end consumer. We have started the tour on the farm itself talking about different types of coffee trees. They look nothing like I expected.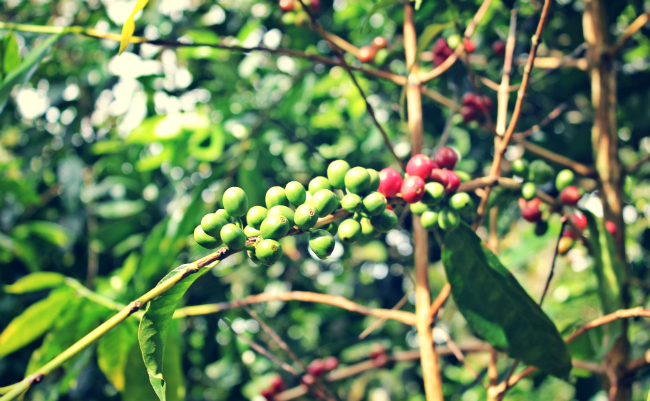 Further we continued with gathering process which usually starts in December and lasts until April. After this the beans are cleaned, separated from shells and dried for couple of months.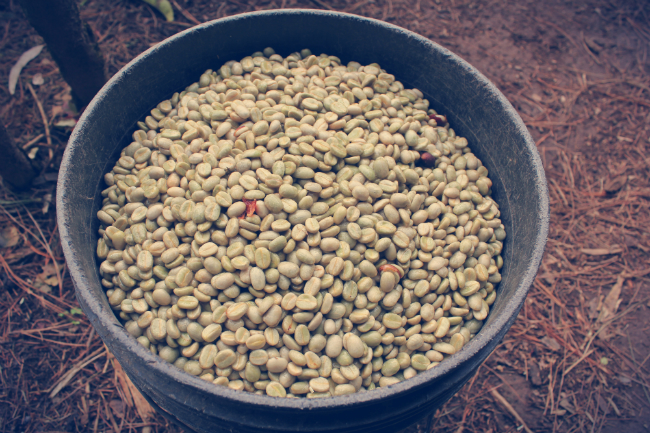 Then comes the sorting and roasting process.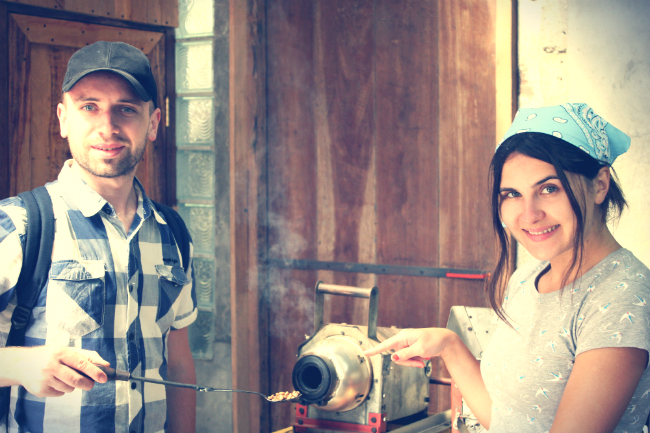 After that we have the best part of the tour – coffee tasting!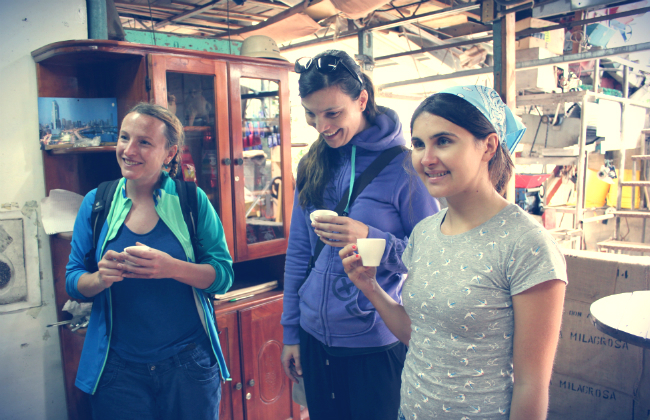 The farm was very small and their production process seemed ridiculous at times, with all the machines being self-made of whatever was available at home and no real stock to show but two bags of unroasted coffee presumably because everything else was already sold or stored somewhere else, which was doubtful. I have a suspicion that coffee tours brings the owner more profit than farming itself. But to be fair, Panama is not known to be the biggest coffee exporter, so it is to be expected. Even though this tour might not be the best you could get in Boquete, we managed to meet these amazing creatures there.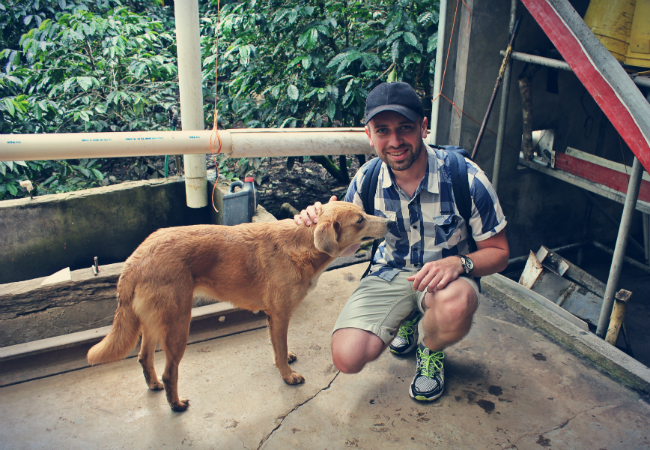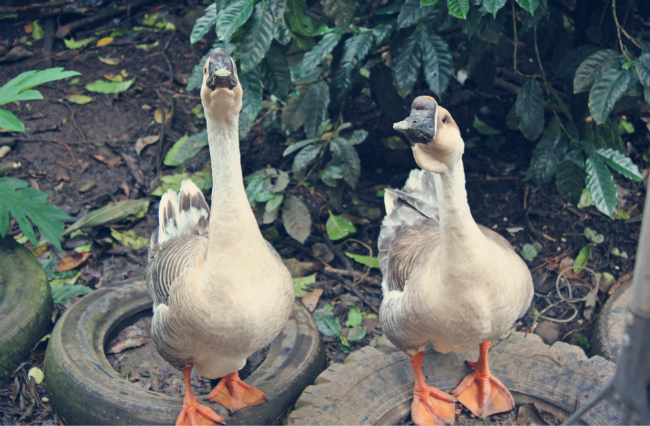 It was interesting to find out what is the difference between different types of coffee. Did you know that the darkest most roasted coffee, better know as espresso, actually contains the least caffeine of all types? We didn't know either.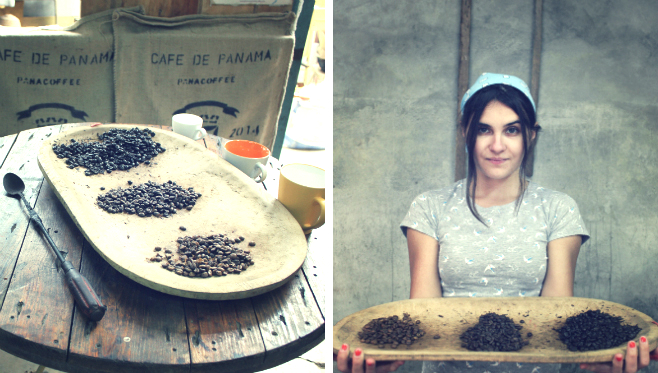 Bye-Bye Boquete
When it was time to say goodbye to Boquete, we had to take the same bus to David which we took to get here. They leave very often, every 30 minutes from a bus stop near Mammallena hostel on the main square.
Do not get confused when you see a school bus on the station, that is exactly the one that you need!