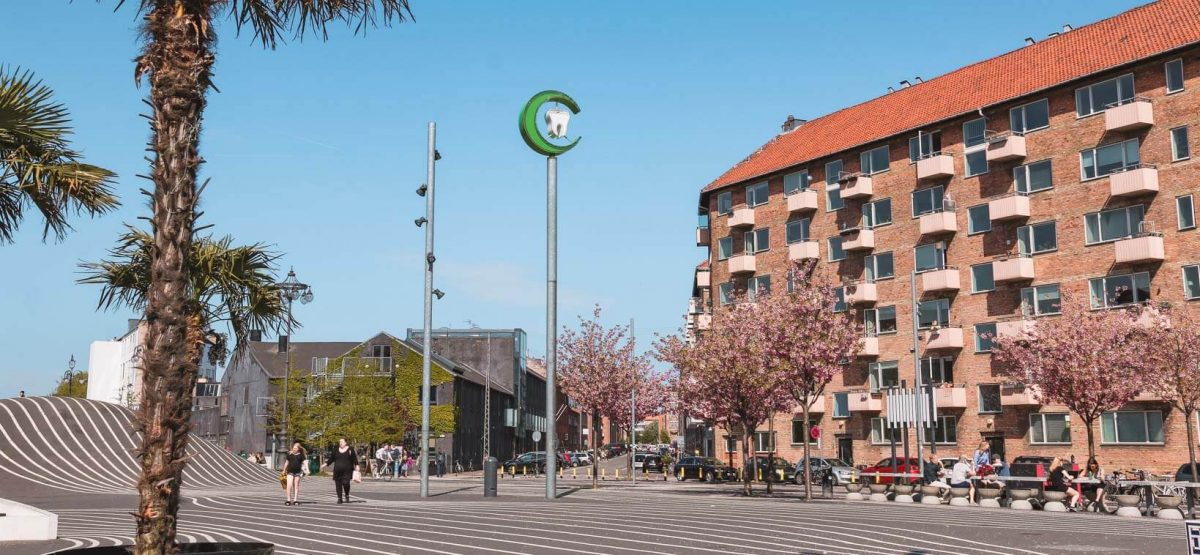 This post may contain affiliate links. I receive a small commission at no cost to you when you make a purchase using my link.
While I am not an expert in museums, castles, and monuments, when it comes to the alternative things to do in Copenhagen, I am the right girl to ask. So, if it's not your first time in Copenhagen or if you don't bother to look at a statue of Little Mermaid, I am here to offer you a fun way to explore one of the most alternative neighborhoods in Copenhagen – Nørrebro.
If you ask locals to name the best neighborhoods in Copenhagen, the stakes are pretty high that Nørrebro would be on top of the list. A cheap area at a time, it attracted immigrants to settle here, creating the clash of different cultures that made Nørrebro into one of the hippest neighborhoods of Copenhagen. You'll see lots of graffiti, kebab shops, cozy cafes, and oriental food alongside with secondhand stores and craft beer bars. The area is a melting pot of cultures at it's best and that's why Nørrebro, Copenhagen is so loved.
Visiting Copenhagen for the first time? This guide has everything you need to know in order to survive
Copenhagen on a budget
.
During the latest visit of my friends, I decided to show them Nørrebro in a fun and interactive way using a MyCityHighlight app that has a Detective Trail for Nørrebro among other trails for Copenhagen.
Explore Nørrebro using Detective Trails
What are those? Detective Trails is an application for your phone that helps you explore the city in a fun way. The trail is designed by a local city representative of MyCityHighlight, which makes the experience unique. And if you don't want to walk around with smartphone in your hand or your battery life is not in a top shape, it is also possible to get Detective Trail on print, directly from Detective Trails website.
What it will do is pose a number of challenges (17 to be exact) that you'll have to complete in order to finish the trail and get a prize at the end in the form of some of the best Danish ice-cream from Istid. Think of it as doing a treasure hunt that will help you see the city and find out interesting and surprising information about each spot you visit.
How does it work?
You'll start the Norrebro exploration at one of the main stations in Copenhagen – Nørreport station. From there, the app will guide you where you need to go, showing the next stop on the map (if you opt for the printed versions, there will be pictures and route description as well). Each stop that Detective Trail proposes will have a little assignment which you have to complete before you move on to another stop.
The questions are a bit tricky and they're definitely not something you can Google, but they don't require the knowledge of history, just your attentiveness and a sharpeye. Don't worry if you make a mistake in your answer, MyCityHighlight is a tolerable app that will give you another chance at a question. 😀
Some of the classic must-sees in Nørrebro you'll visit
The trail will take you to at least 17 awesome places in Nørrebro, so it will be a long walk with a lot of interesting spots to stop by.
1. Assistens Kirkegaard
This giant cemetery forms a rather big green spot on an otherwise small neighborhood map. Many people come here to glance at a very humble grave of a Danish fairy-tale writer and dreamer Hans Christian Andersen, who is already a big icon of Copenhagen. You'll be surprised to see that cemetery is also used as a recreational park by the locals, who don't mind picnicking next to the dead. And who can blame them? The park is very spacious and too beautiful to be passively used.
2. Superkilen (Red, Black, and Green parks)
If you've seen the pictures of Superkilen park, chances are you are already keen on visiting. After all, it is one of the most Instagrammable places in Copenhagen. Superkilen is comprised of the Red Square and the Black Square, both of which have playgrounds, hangout spots and street art, urban parks and a green grass park as well.
The entire park has an important meaning, too. The area is designed to celebrate diversity and represent the peace between different nations living in the same neighborhood in Nørrebro, Copenhagen. You'll find that the park has many elements that will seem very random at a first sight, like palm trees, a donuts stand, a Moroccan mosaic fountain, an Islamic half-moon, etc. But when you come closer to read the captions next to them, you'll see that each of the elements represents the different country of the world. The Black Square is also a great place to spot cherry blossoms at the end of April.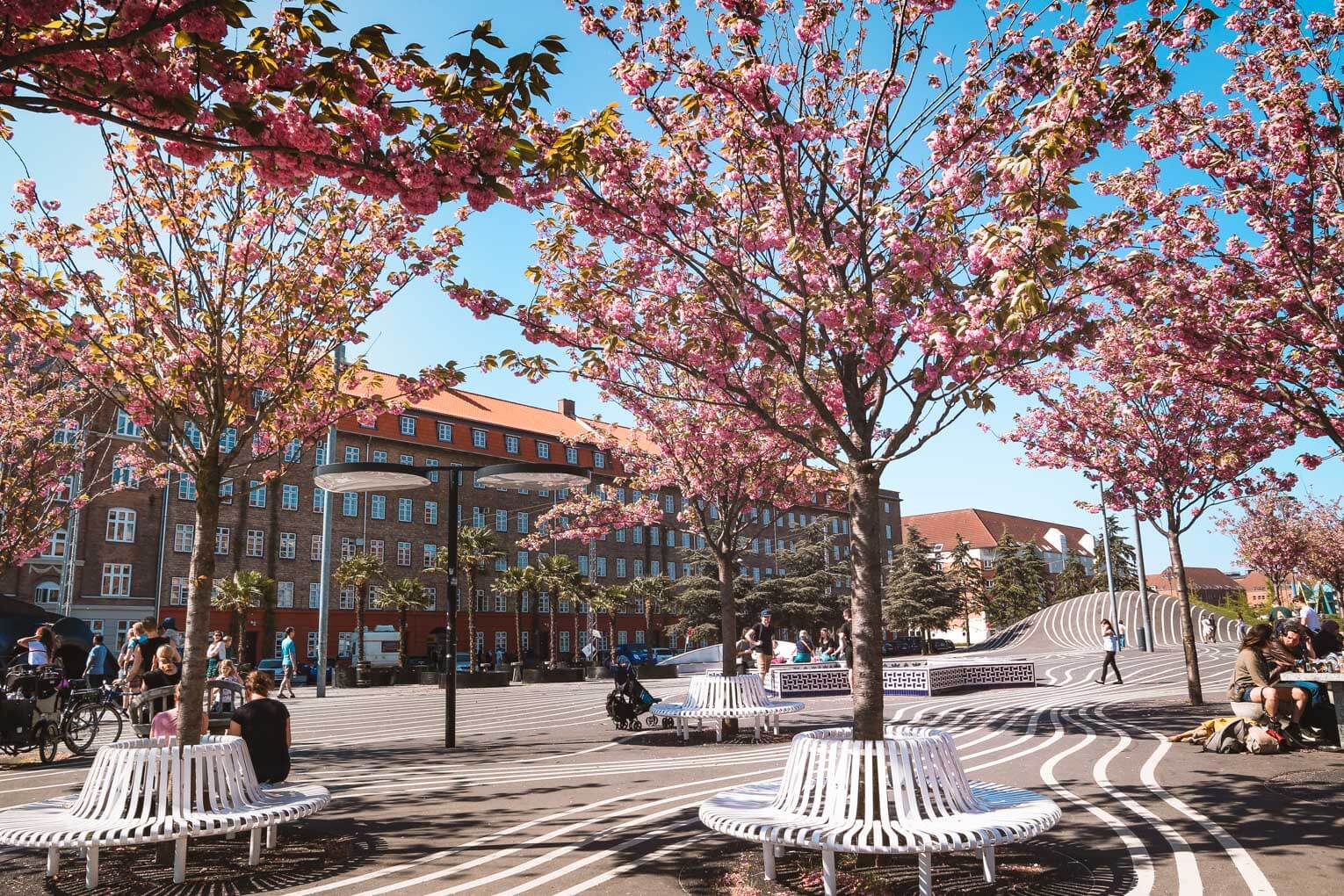 3. Israels Plads
A square right next to the Nørreport station has become one of the main tourist attractions with the opening of Torvehallerne, the twin food markets that have both cafes and specialty food shops inside. Here, you can buy authentic Chinese ingredients, raw fish, Danish candy and much more. At the same time, you can grab a cup of coffee and try a typical Danish smørrebrød.
Behind the Torvehallerne is a big square surrounded by steps where locals love to sit enjoying the sun during the spring and summer seasons. The area is surrounded by many educational establishments, such as schools and gymnasiums and sometimes you can see kids outside playing basketball or football. A great place to buy food and chill outside.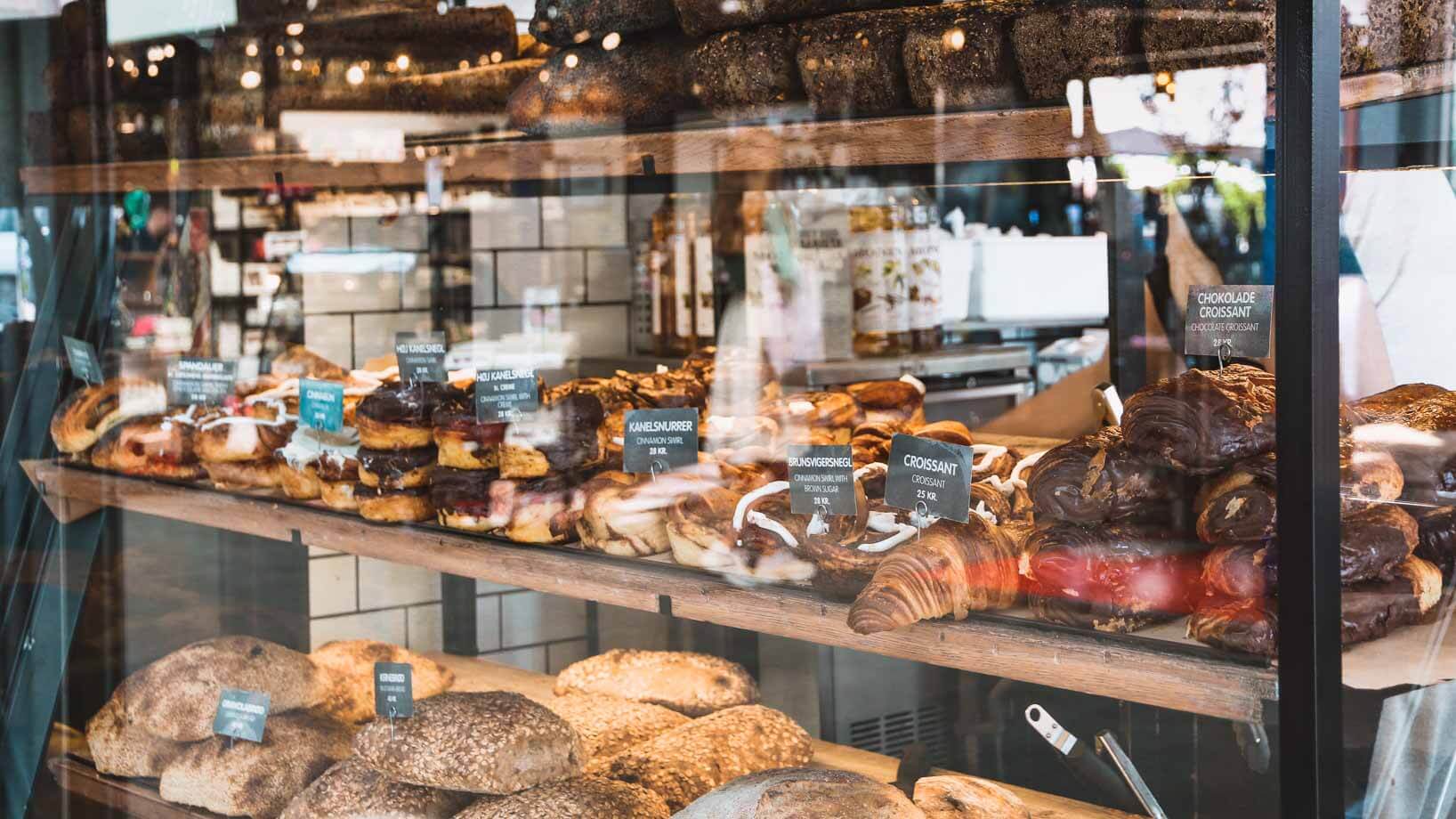 I won't reveal all the cards and tell you about the other places where the Detective Trails will lead you, but rest assured that after completing the walk, you'll be familiar with the best Nørrebro neighborhood has to offer.
How long will it take to explore Nørrebro, Copenhagen?
The trail is not short and can easily take you 2-4 hours especially if you choose to stop at some of these places to look around. It is recommended to either get a snack or stop somewhere to eat halfway the trail in order to be full of energy to complete the mission.
Don't worry about food though, Nørrebro is full of cafes, restaurants, and cheap eateries to choose from. Also, the MyCityHighlight app will suggest you some streets that are good for eating out. You are not limited by time, so you can easily stop somewhere for a meal before moving on.
Some of the best places to eat in Nørrebro are:
Stephanos Pizzabar. The arguable statement that it is one of the best pizza places in Nørrebro is supported by crowds of people who come here to eat and chill on the awesome outside terrace.
Grød at Jægersborggade 50. The best porridge chain in Copenhagen also has a location here, in Nørrebro. Order the porridge with any of the toppings to make your own mix, be it almonds, caramel sauce, apples, chia seeds and cherries or what not. The portions are very generous so you'll be full for sure.
Laundromat Café. Stop by for a breakfast or lunch. Isn't it a great idea to form a café in the laundry room so that people could communicate while they wait for their laundry to be done? Since then, the cafe idea exceeded the laundry business, but the machines are still there if you need to do your laundry while you eat 😀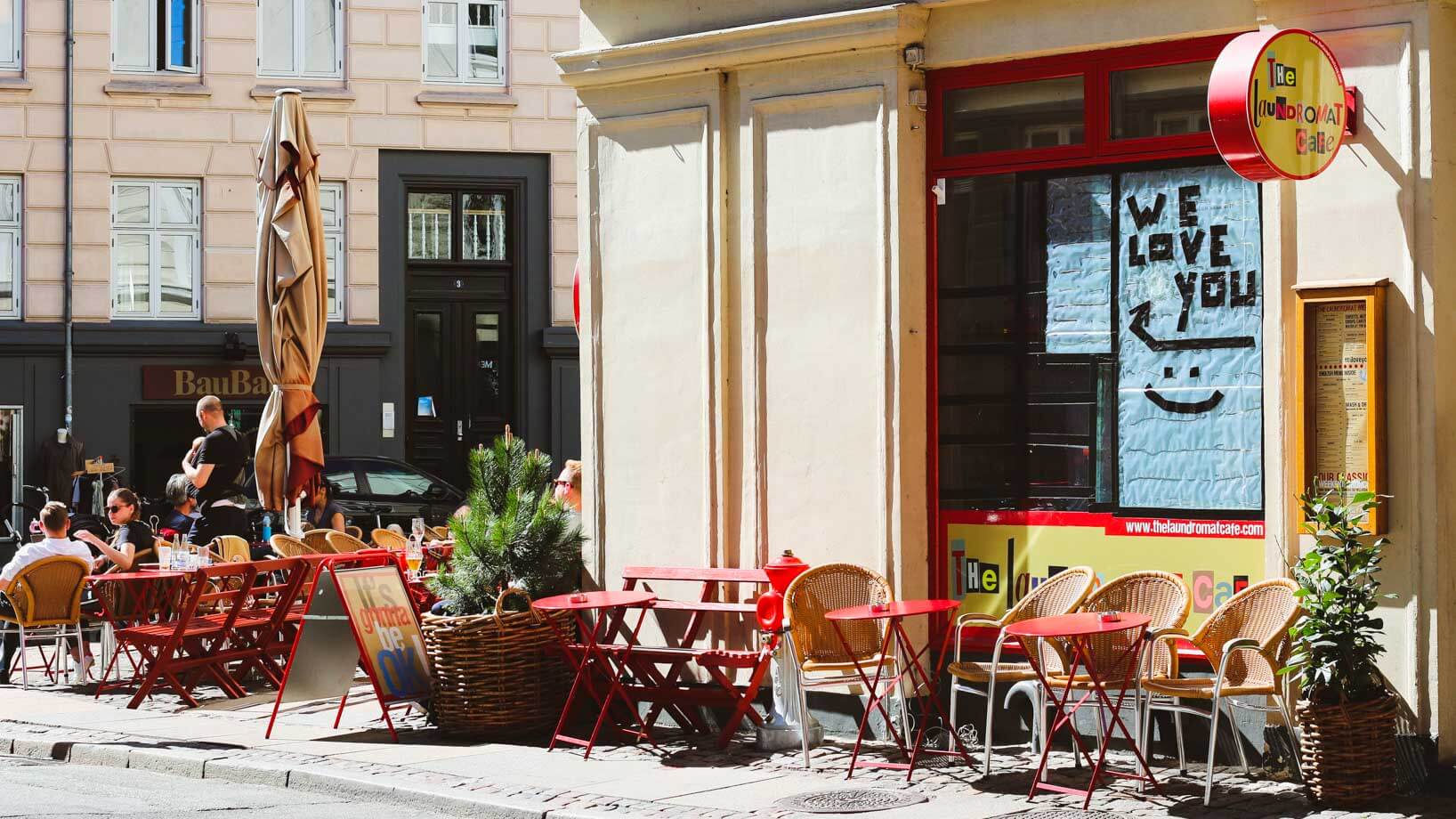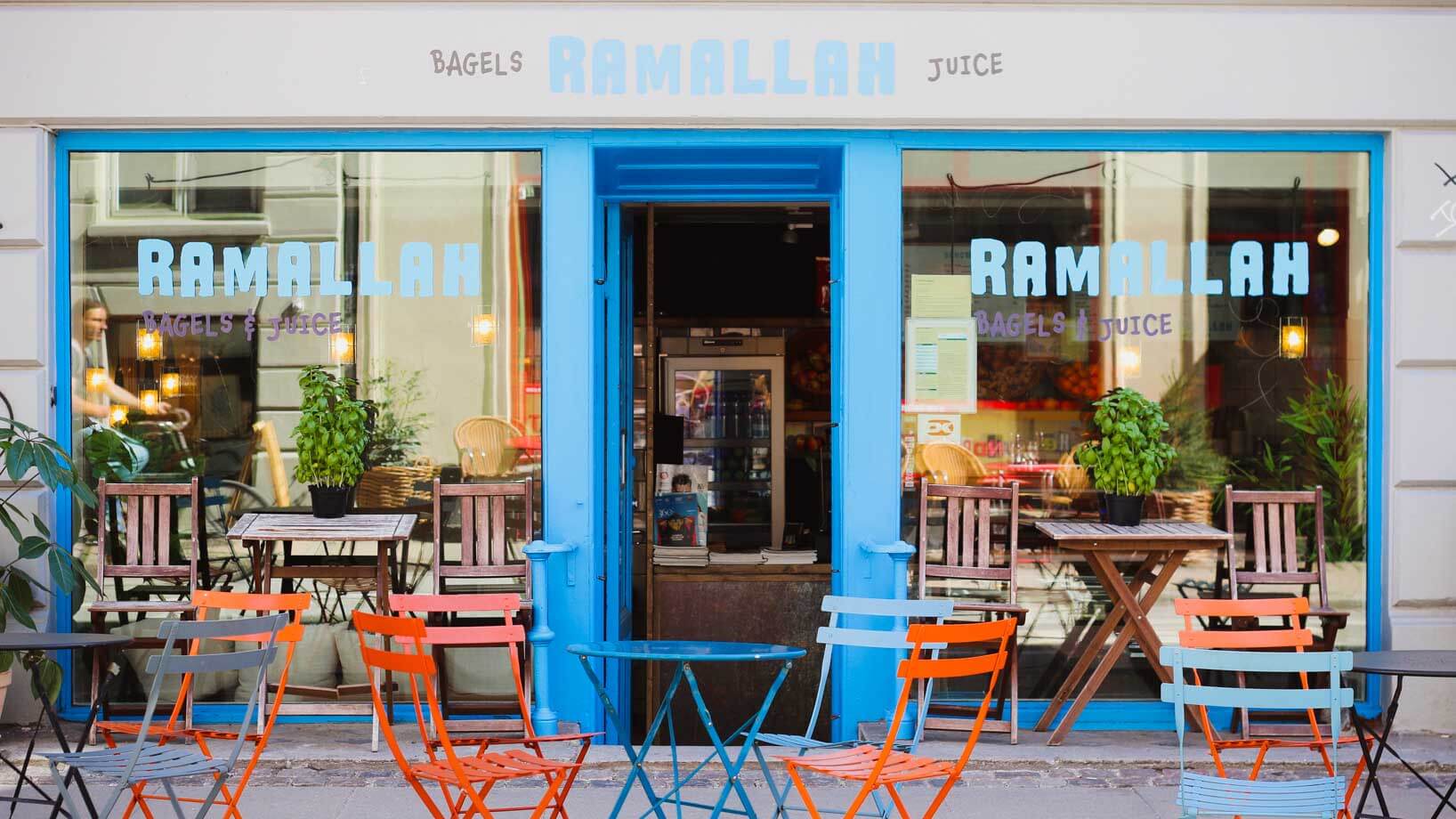 You cannot leave Nørrebro without trying at least one of the kebab places! They are the best in this neighborhood.
How to get the Detective Trail app?
You can download or get the printed version of the Detective Trail app here. It costs 45 DKK ($8), but remember, you're getting the prize at the end of it! Also, MyCityHighlight has a free city guide app with best places to visit and things to see curated by locals (not just for Copenhagen, but for big European cities as well, such as Paris, Vienna, Prague, Odessa, Amsterdam and more).
Who is the trail perfect for?
The Detective Trail is perfect for couples, friends, or even a solo traveler who wants to explore the main spots with an itinerary proposed by the local.
It is also a fun way to get acquainted with the city for the newcomers, for example, making it into an orientation game for new Copenhagen students, or making it into a team event competition for your business or a sports club.
We definitely had fun while taking the trail and got pretty tired after doing it, the good thing is – you'll end up on one of the best streets to eat in Nørrebro, so you'll be in good hands at the end of your quest.
Have fun exploring the Nørrebro neighborhood!
---
Disclosure: This article has been written by me in collaboration with MyCityHighlight.
Like It? Pin It!